Where to eat in Bydgoszcz - Polish cuisine and gastronomy in Bydgoszcz
Where to eat in Bydgoszcz - Polish cuisine and gastronomy in Bydgoszcz
If you go to another country, you may want to try some local food. Whilst the easiest way to navigate yourself among the gastronomic offerings of an unknown place is to choose a well-known fast food restaurant, we suggest you dig deeper and taste some real and unique regional dishes. Here's our short guide about the best restaurants and cafés in Bydgoszcz that can provide you with decent Polish specialities.
Polish cuisine top restaurants
Manekin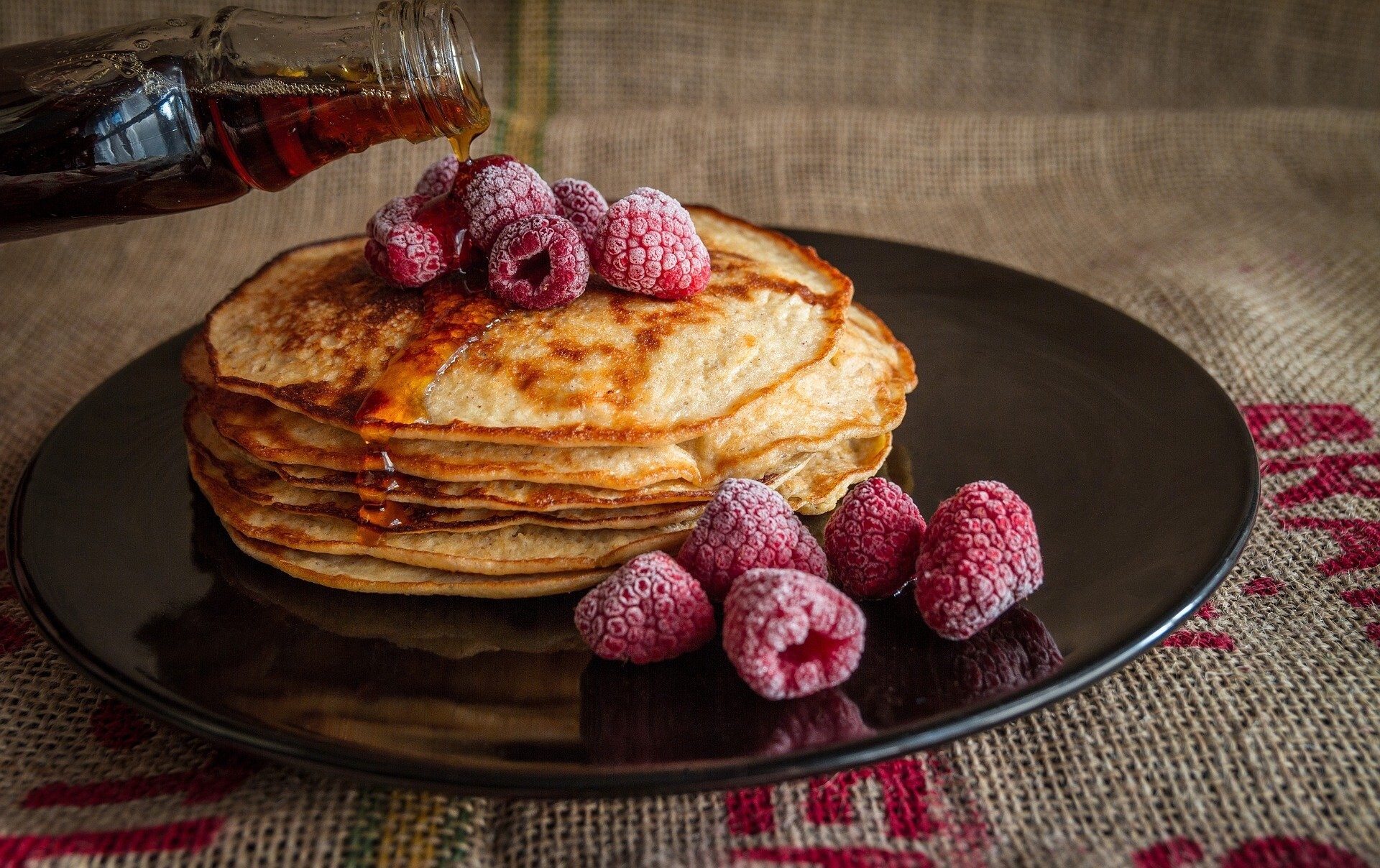 A chain pancake restaurant. Here you can eat tasty food, for very little, and that is why it is so popular (sometimes you even have to wait in line for free table!). You can have savory or sweet pancakes, as well as salads, soups, desserts and drinks - tea, coffee, wine, beer. There is a really wide choice of pancakes, you can have them with salmon, cod, spinach, shrimps, chicken, zucchini, mushrooms and many many more different ingredients. Vegetarian versions are available as well. Sweet pancakes can be with fruit or jam, chocolate, Oreo cookies, cottage cheese, gingerbread, peanut butter, whipped cream etc.
For the full menu go to the Manekin website (menu in English).
Address: 12 Focha Street, close to Opera Nova building
Opening hours:
Sunday - Thursday: 10 am - 10 pm
Friday and Saturday: 10 am - 11 pm
Kuchnia
Probably the best Polish restaurant in Bydgoszcz (that's what my friends say and I assure you, you can trust them). But, I have to warn you - it's quite expensive, at least for Polish students, so you probably won't see them eating there too often. Dinner for two people plus a glass of wine costs around 110 PLN (25 euros). I can't tell you too much about their menu, because there is none. Cooks from Kuchnia try to use only fresh and seasonal ingredients, that's why it's hard to predict what they are going to serve each day. You'll see the daily menu on the blackboard. The great thing about Kuchnia restaurant is the fact that you can see the cook preparing the food for you. There are two Kuchnia places in the Old Town - one at 4 Grodzka Street (bar and restaurant) and another at 7 Jatki Street (restaurant, more modern design). For details and pictures click here.
Karczma Młyńska
We are on the Mill Island again - here you can have really good Polish food, so if you are looking for something typically Polish, this is the place. It's located in an old granary - as you probably already know, Bydgoszcz had a very important part in agrain tradein the Middle Ages in Poland, so you'll find a couple of such buildings next to the river. When the weather is good, you can sit on their summer deck, which faces the water and enjoy your Polish meal or Polish piwo (beer).
I recommend to try bigos (hunter's stew) and golonka (braised ham hock). The meal which is very, very Polish and which can be found in every Polish home from time to time iskotlet schabowy- pork chop served with boiled potatoes and boiled sauerkraut (25 PLN). Another one would bezrazy (28 PLN) - traditional beef roll with pearl barley and beetroots - possibly my personal favorite! You can also taste some Polish soups - ask forrosół (broth, chicken soup), barszcz (beetroot soup), pomidorowa (tomato soup) orżurek (sour rye soup). You'll pay for them 7-9 PLN (more or less 2 euros).
Address: 1 Mennica Street, just next to the bridge connecting the Old Square Market with the Island. Karczma opens everyday at noon and closes at 11 pm (Monday - Thursday), midnight on Friday and Saturday and 9 pm on Sunday. You can check out the menu (in English and German) here.
Pierogarnia Stary Młyn
A true paradise for "pierogi" fans! And if for some reason you are still not familiar with them, you absolutely have to change that! Stary Młyn would be a perfect place to do so. You can have traditional boiled pierogi as well as shortcake pierogi and oven-cooked pierogi. There is a vast choice of flavours and fillings, some of them are really far from what you would expect from traditional pierogi - they have some with bananas, white chocolate, cherries and even gingerbread! There is a big choice of pierogi with meat, including chicken and fried liver stuffing, but also many options for vegetarians. They also offer some soups, salads and desserts. Be prepared to spend at least 20 PLN.
Address: 4 Poznańska Street, just next to the river and Mill Island with a big terrace facing the river. Opens every day from 11 am to 11 pm.
Warzelnia Piwa
Warzelnia Piwa is a brewery that produces its own beers, and guests can watch the entire process. You can have great homemade beer here: pilsner, wheat beer, dark honey beer and more. If you have some problems with deciding what to drink, remember that you can buy a kit of four different samples - that may be the best option if you visit the place for the first time. It's also a restaurant with Polish, Indian and Italian food in the menu. Great view from the terrace of the river and Mill Island. If you want to feel the vibe of little Venice in Bydgoszcz, this is the best place for you.
Studio Zupy
Studio Zupy is located just next to Warzelnia, in the same complex of buildings, but the entrance is on Poznańska Street. Here you can have some Polish soup with tapas for lunch for just 5 PLN. Studio zupy opens everyday at noon.
Interesting fact: every Sunday a fair takes place at 12 Poznańska street called Frymark bydgoski. Ecological food from local farmers, natural cosmetics, handmade items and much, much more can be found here from 11 am till 3 pm. If you want to eat local and healthy, there's no better place to go! Vegetarian and vegan stuff available as well. Info (Polish only) here.
Address: 8 Poznańska Street (Warzelnia), 12 Poznańska Street (Studio Zupy, Frymark).
Katarynka
Polish bistro-restaurant just at the Old Market Square, next to the Town Hall. Until noon you can order breakfast: eggs, omelets, porridge, toasts, pancakes or local sausages. You can also have a two course lunch starting from 17-20 PLN. The restaurant has big windows, which are wide open when the weather is nice, so you can feel like you're in the middle of the square. In front of the restaurant there's a small stand with natural and homemade ice cream.
Address: 3 Niedźwiedzia Street.
Opening hours:
Monday - Saturday 9 am -11 pm
Sunday 11 am - 10 pm.
Click here for the menu in English.
Śródmieście
A brand new restaurant on the corner of Wolności Square and Gdańska Street. What can you eat in Śródmieście Restaurant? Handmade pierogi, pastas, pizzas and traditional Polish dishes. Everyday there's a special offer, parts of the menu change depending on the season and availability of different ingredients. The cheapest breakfast starts from 7 PLN. Wide range of wines available. Address: 1 Wolności Square. Opening hours: 8.30 am - 10 pm.
XOXO
For a great atmosphere head to XOXO. Pub, bar and restaurant with a modern and industrial design. The perfect place to meet your friends and chat over a cup of coffee. You can also enjoy a variety of drinks, beers and wines. During the winter months I recommend mulled beer (yes, you've read it right. We like to drink mulled beer to warm ourselves up. And trust me, it's good!) and mulled cider - it's really delicious, you'll fall in love with it once you try it. XOXO also offers fresh, 14 day unpasteurized beer "Tyskie", which is kept in dark copper tanks. You can have a breakfast here (including a "Polish one"), as well as lunch or dinner. For breakfast you'll pay around 15-20 PLN, soups are 9-12 PLN and main courses cost between 20 and 60 PLN. A good place to visit with friends!
Address: 1 Mostowa Street (at the corner of Mostowa Street and Old Market Square). Opening hours:
Sunday - Thursday: 10 am till midnight
Friday and Saturday: 10 am - 2 am
Official web page of XOXO. Check what's new on their Facebook fanpage.
Milk bars
A typical Polish cafeteria-kind of place with a long history, which remains popular to this day. Milk bars were popular especially during the communist era, but they still exist and have very faithful fans. The name comes from the fact that at the beginning they used to have a menu based mainly on dairy items. Nowadays, they usually offer non-dairy dishes as well. The biggest perk is the price: it's very, very cheap, for as little as 10 or 15 PLN (2-3 euros) you can have a nice lunch and feel satisfyingly full. Moreover, you usually don't have to wait too long to receive your order. That's why students like these places so much.
If you want to check this out, it's worth knowing that the most popular milk bar in Bydgoszcz is probably the one called "Kaprys" on 1 Skłodowskiej Street. Other milk bars are:
"Dworcowy" 75 Dworcowa St.
"Mikrus" 51 Waryńskiego St.
"Krokus" 28 Konopnickiej St.
"Miły" 12 Sułkowskiego St.
"Jagienka" 23 Wojska Polskiego St.
Po Co (Post Coffice)
A small but cozy coffee shop at the entrance to the Old Town. A charming place with comfortable chairs and pillows. Very bright - it has a big window, so you can people watch. It has the best coffee I've ever had in this city so make sure you go there! Baristas really know how to do their job, they will ask you very precisely what you want, so they can be sure they can give you the coffee that you need at that very moment. They can also tell you all about different types of beans and flavors, preparation processes etc! You can enjoy your coffee accompanied by homemade pies; you can also have a sandwich or lemonade. This place also serves as a shop, where you can buy the best quality coffee, yerba mate (herbal tea), tea or hot chocolate (and the equipment needed to prepare it at home) and also as a post office (that's where the name comes from)! You can buy the coffee and send it to someone as a present, as you would do at a real post office. Po Co organize some workshops and 'cupping meetings', where you can learn a lot about coffee! I highly recommend it.
Address: 61 Długa Street.
Opening hours:
during the week 8 am - 6 pm
On Saturdays from 10 am till 8 pm
Sundays 12 pm till 8 pm.
Official website of Po Co. Facebook
Landschaft
Gimnazjalna Street is the most hipster place in Bydgoszcz. It all started when Landschaft appeared in one of dilapidated terraced buildings on the street. Nowadays, more buildings have been renovated, and Landschaft is surrounded by other hipster neighbours, which I can also recommend. What can you get in Landschaft? You can get really, really good quality coffee (provided by Audun Coffee, boutique coffee producer, based in Bydgoszcz and run by Audun Sørbotten, 2015 World Coffee Roasting Champion, who settled down in Bydgoszcz few years ago), eat some homemade cakes (sometimes vegan options are available) or drink local beer whilst relaxing on vintage sofas or deck chairs in front of the entrance. You can also buy some clothes, as Landschaft has it's own vintage concept store and organizes a flea market from time to time. Unique, laid-back vibe, with interesting people!
Landschaft. Address: 6 Gimnazjalna St.
Opening hours:
Monday - Thursday: 9 am - 8 pm
Friday: 9 am - 10 pm
Saturday: 11 am - 10 pm
Sunday: 12pm - 6 pm
Strefa
Great coffee, teas, local beers, homemade food, pies, breakfast and lunch offer. Cozy and laid-back atmosphere, friendly people and huge windows with a stunning view of Bydgoszcz's biggest treasure: Mill Island and Młynówka River. In the summertime take a deck chair and enjoy the small, but beautiful beach, situated on the riverbank. The perfect place to meet your friends. In Strefa you can take care of both your body and mind and relax with some yoga and meditation classes in their specialist room! Once a month in Strefa a Language Zone tandem meeting takes place, so if you're eager to meet other foreigners in Bydgoszcz or just want to practice other languages, I'd recommend you to try there. In Strefa you don't have to worry about crazy Polish pronunciation, the staff speak good English!
Address: Mill Island, 11 Długa Street (entrance from Przyrzecze St. ) Take a look here and here.
Opening hours:
Monday - Thursday 3 pm - 10 pm
Friday - Saturday 12 pm - 12 am
Sunday 3 pm - 10 pm
---
Photo gallery

---
Want to have your own Erasmus blog?
If you are experiencing living abroad, you're an avid traveller or want to promote the city where you live... create your own blog and share your adventures!
I want to create my Erasmus blog! →