Polish cuisine - The gastronomy of Poland and traditional dishes
Polish cuisine - The gastronomy of Poland and traditional dishes
Discovering a new country is not only about visiting the monuments, museums or touristy places, it is also about getting to know the people, their customs and traditions, and of course, the food. Knowing that temperatures in Poland can drop to -20 degrees, Polish cuisine consists of lots of soups, meat, potatoes and in general, heavy foods in order to keep people nice and warm during winter (and let's be honest, autumn and spring also tend to be rather chilly).
So, if you are going to Poland forget about eating Caesar salads or fresh fish and stop counting your calories (unless you are going to be in the north of the country), and get familiar with names such as pierogi, kotlet or bigos.
Basic Polish products consist of bread, sausages, ham and cheese. They also use beetroot, cucumbers (gherkins), sour cream and cabbage. Therefore, a typical Polish dinner would consist of soups to start with (beetroot soup (barszcz) is very popular and so is chicken soup (rosół)) and then a large plate filled with meat (most likely kotlet) and boiled or mashed potatoes and let's not forget about cabbage salad or a nice plate of gherkins or beetroot.
If it so happens to be a Sunday dinner with family, a shot of vodka (or two... ) is an appropriate addition to digest the food.
Polish cuisine - What to try
Pierogi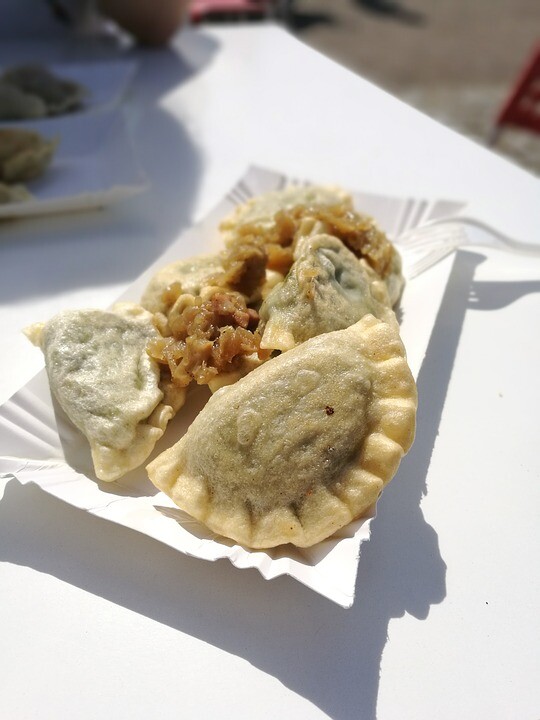 Probably one of the most famous Polish dishes; everyone going to Poland needs to try it at least once. Pierogi are semi-circle shaped "dumplings" made from noodle flour dough, or sometimes from pastry dough. They can be stuffed with quark cheese, meat, mushroom or even fruit and they are usually boiled, but can also be baked or fried. The most famous ones are probably: pierogi ruskie (with quark cheese) and pierogi z mięsem (with meat). You can buy them almost anywhere - in food shops, restaurants, milkbars, school canteens, etc. Enjoy!
Placki ziemniaczane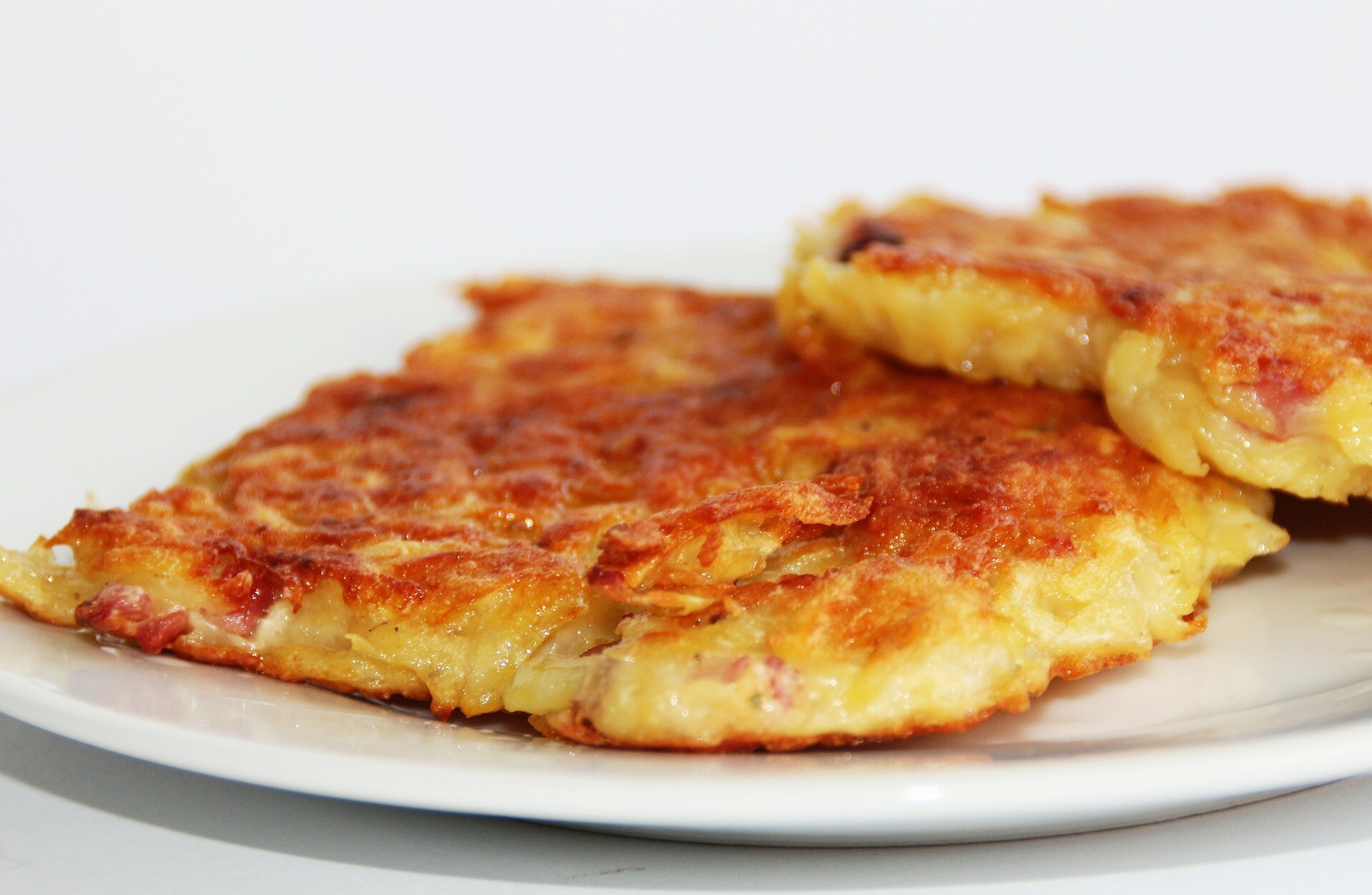 Potato pancakes are often served in Poland with meat sauce, goulash or sour cream. They became especially popular during World War II when there was little to eat, as you only need one or two large potatoes, onion, eggs and salt and pepper to prepare them. Definitely one of the most popular dishes that you can order at almost every restaurant that serves Polish food.
Kotlet schabowy z ziemniakami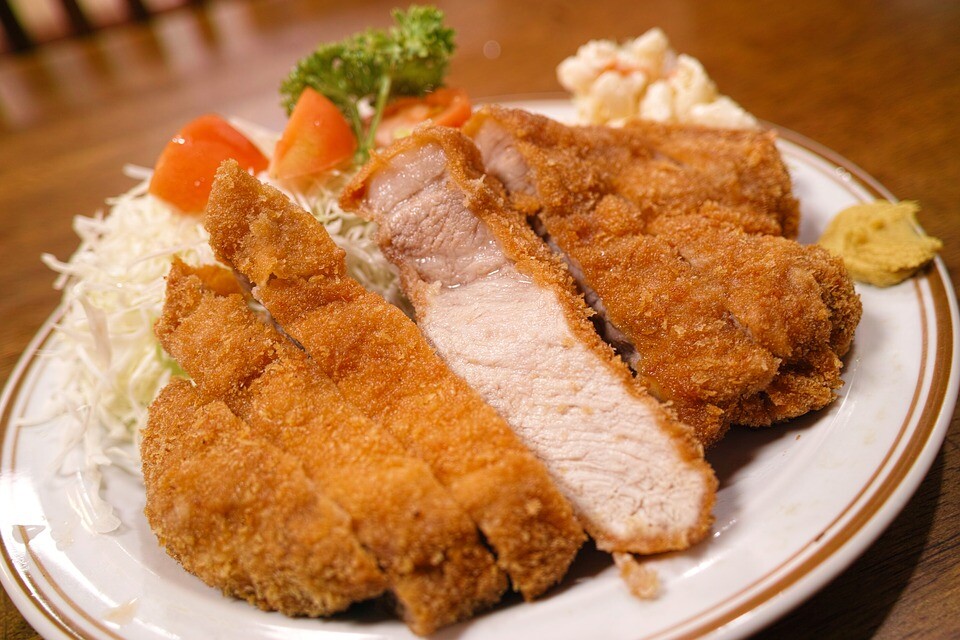 Polish schnitzel with potatoes is a dish that can be found almost every Sunday at any Polish house. Even though some may say that it's just a pork cutlet in a coating, dished up with potatoes, the taste will leave you speechless and wanting more. In order to prepare a delicious schnitzel, you can't just pick any pork meat, it has to be of high quality. It's one of the dishes that you will find in every Polish restaurant. So go and enjoy!
Gołąbki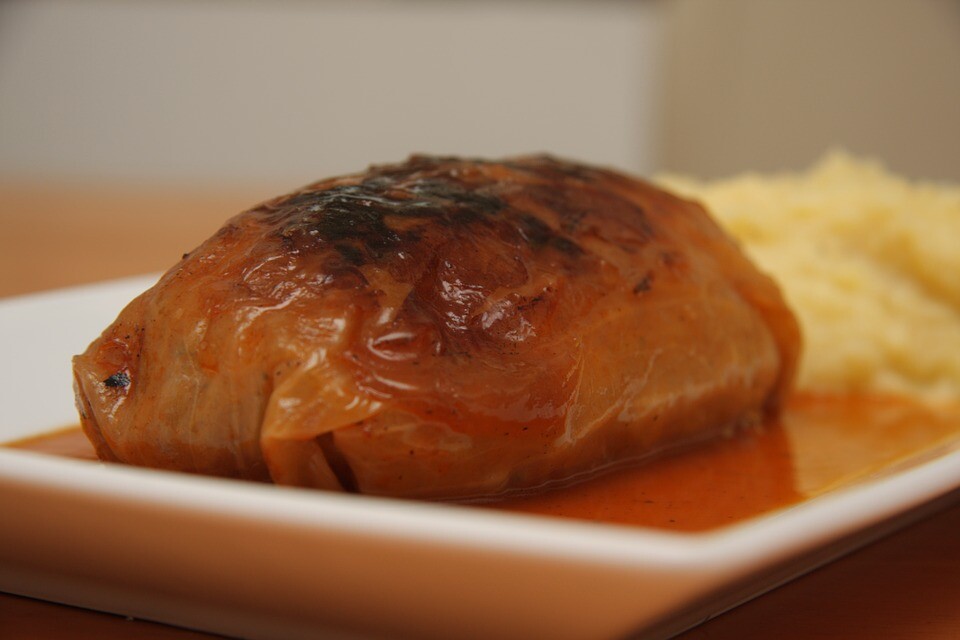 Gołąbki, which literally means "pigeons", has nothing to do with eating birds. It's a cabbage roll made from soft-boiled cabbage leaves, stuffed with minced pork or beef, chopped onions and rice. It's baked in a casserole dish and served with a tomato sauce. Easy and yummy, it should be on everyone's Top Polish Food list.
Naleśniki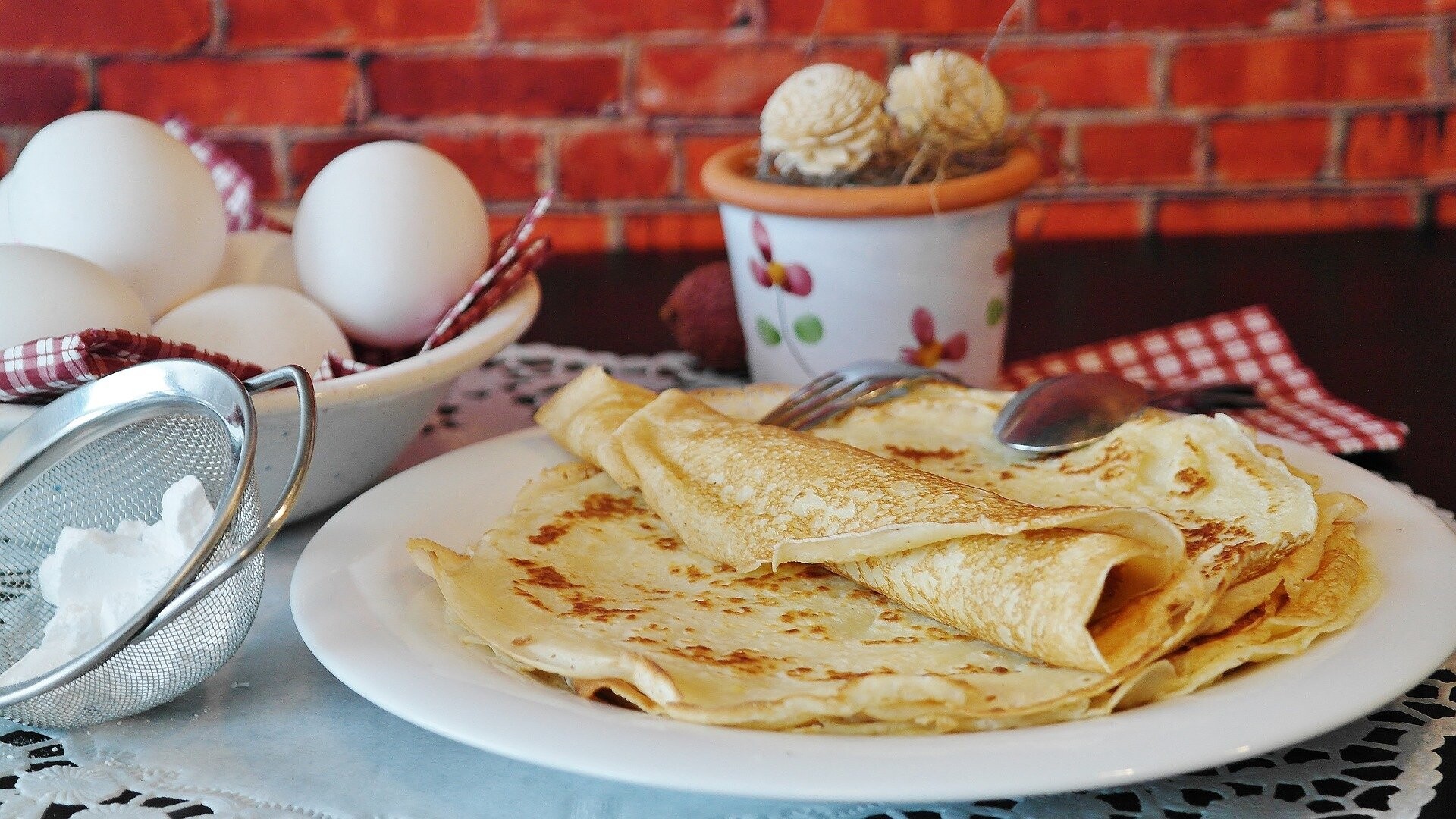 Naleśniki are the Polish version of pancakes or crêpes. They're thin and round cakes cooked in a frying pan and are super easy to prepare, you only need flour, eggs, milk and a little bit of sugar and salt. It's very popular in Poland and can be eaten just with sugar, but also with jam, fruit, such as bananas or apples or many different savoury fillings. They're a great option for a quick student lunch! There are many pancake restaurants in Poland, sometimes they are called "naleśnikarnia".
Żurek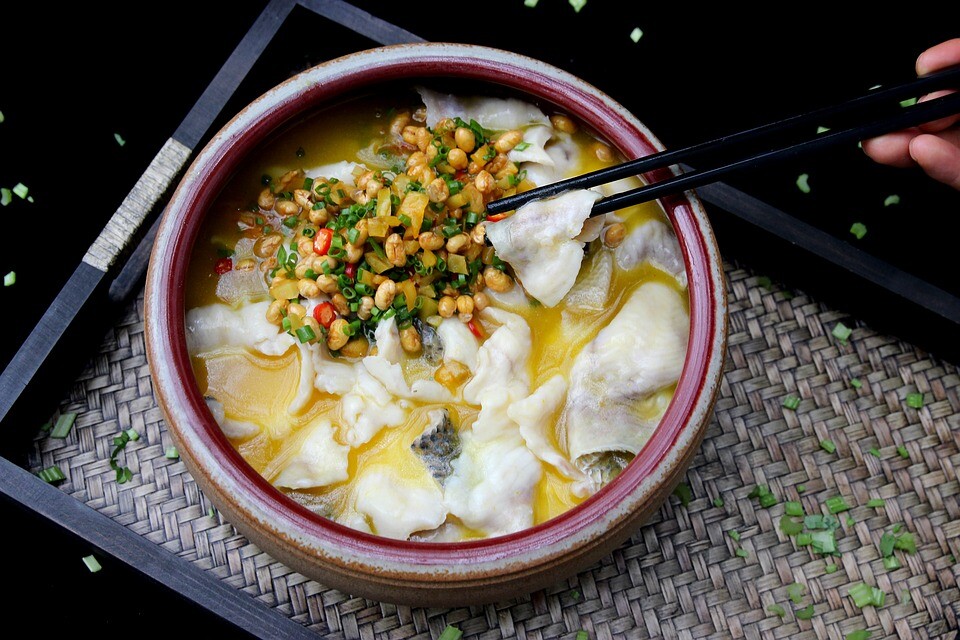 A typical national soup, probably the most exotic for foreigners. Traditionally it used to be eaten during Easter, but you can have it whenever you want; you'll probably find it in any Polish restaurant. It's a sour rye soup with potatoes, eggs and white Polish sausage (biała kiełbasa). Sometimes it is served in a bowl made of bread or simply in a plate with a slice of rye bread. Absolutely delicious!
Barszcz czerwony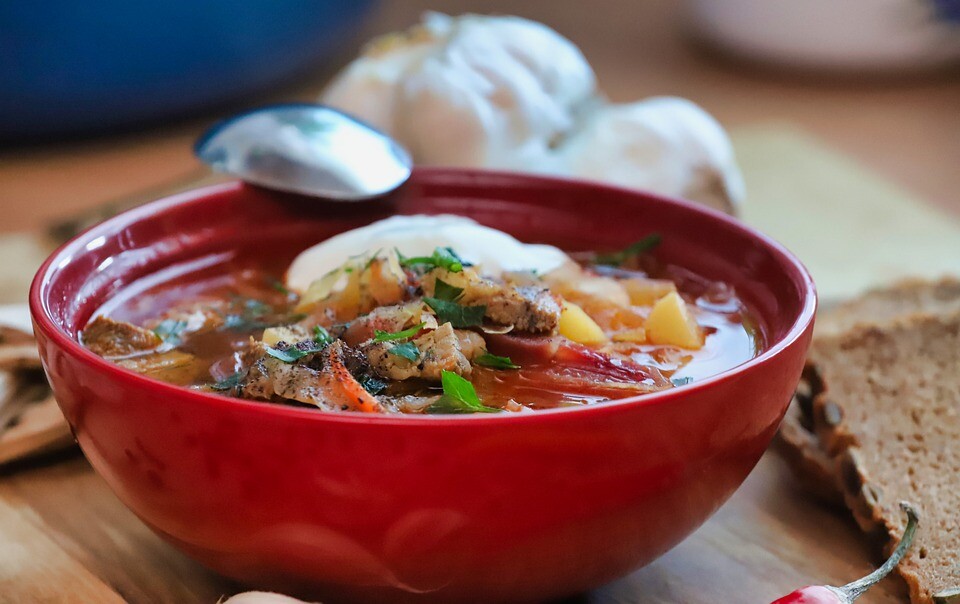 Red beet borscht. Another soup, in this case with beetroots as the main ingredient. Sometimes prepared with sour cream (to thicken the soup) and served with mashed potatoes. Also can be served with uszka (kind of small pierogi). Barszcz is also one of the typical soups for Christmas Eve supper - in this case it's a clear barszcz, with no cream.
Bigos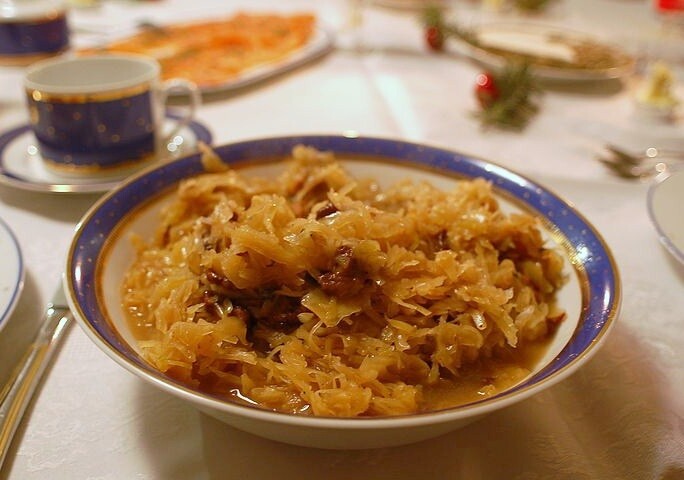 Hunter's stew containing chopped meat with sauerkraut and cabbage. It can be prepared in many different ways, most typically with dried mushrooms and some kiełbasa (smoked sausage), as well as with dry red wine or raisins and plums. What's peculiar is that it gets better after a couple of days when you've reheated it a couple of times so the flavours can mix and fuse altogether. It goes best with a slice of bread!
---
Photo gallery
---
---
Content available in other languages
Want to have your own Erasmus blog?
If you are experiencing living abroad, you're an avid traveller or want to promote the city where you live... create your own blog and share your adventures!
I want to create my Erasmus blog! →