How To Make a Good Picante Sauce
My Family's Picante Sauce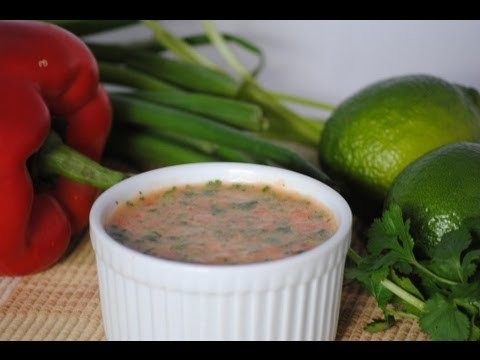 There's one thing that I always enjoy in foods, and that is when they have a touch of spiciness that makes the palate feel an indescribable pleasure in each dish. This is something along the lines of a family tradition, since in my home we have always loved to accompany our meals with something spicy. And I'm not talking about going overboard with the spice, since the idea isn't that you lose the natural flavor and replace it with spiciness... it's only a "small touch, " or a little more if the food merits it; picante sauce makes dishes much more delicious. My dad makes it, and for as long as I can remember he has used it as an additive for almost all (which is not to say all) foods.
I remember when I was small, my brothers and I played by daring each other to do things as part of standard childhood mischief; and the greatest challenge of them was all was to eat an entire spoonful of "Dad's famous picante. " In those days, we thought and felt that there was nothing in the world spicier than that picante. As we grew up, this recipe passed into our hands, and we understood that the level of spiciness could be modified, and so for those people who don't enjoy it we could simply leave the spice out entirely, or only add in a little. And for those for whom spiciness is fundamental to their daily diet (like Mexicans) we could add it in like there was no tomorrow. Personally, I prefer to meet halfway, or as I always say, "Not too little, not too much. " And so for many of the gatherings I go to with friends and acquaintances, I prepared the famous picante to accompany all of the foods.
Usually, my dad tends to be very mysterious with his recipes, but he also knows that we can't be the only ones to know such a delicious recipe. And one afternoon a long time after making it, he told me that the seasoning (the good flavor in foods) is in the hands. He told me that this isn't hereditary, but in some way I also had it. (I don't want to brag, but my meals always turn out delicious. ) In spite of this, I disagree with him a little in this sense, but I feel that it isn't too far from reality. The truth is that certainly the seasoning is in the hands, but it is also in the heart. Since I feel that to prepare something with love and put the utmost effort into seeing that the other person enjoys the meal, that will certainly ensure that the dish will be delicious. And if perhaps this doesn't happen on your first try, you can be certain that you'll do it on the second, or on the third. After all, practice makes perfect.
I will share with you how to prepare that delicious picante, but I will not adhere to my dad's instructions, so that all and every one can prepare it according to their taste and/or tolerance of spiciness. The first step is to obtain the following:
Ingredients:
1 red onion
1 bunch of chives
Sweet chili peppers (red and green)
1 small bunch of cilantro
½ cup of water
¼ cup of vinager
2 teaspoons of tomato sauce
Salt
A pinch of sugar
Spice to taste
The juice of 1 lemon
Advice:
My dad's advice is to always chop the ingredients as finely as possible. This will be more pleasing to the palate, and it will allow the ingredients to combine in a unique manner. As such, when the time comes to chop, I recommend you do your best, and don't leave anything larger than a grain of rice. If you have to, use a blender.

Another piece of advice is to look for a hermetically sealed glass container with a lid, and after preparing it leave in the refridgerator for a minimum of 24 hours before eating. Even if you want to eat it as soon as it's prepared, that wouldn't be a problem; what happens in the 24 hours is that it ferments a little so as to better incorporate the flavors.
The consistency of the picante depends on personal taste. Nevertheless, it is recommended to not leave it too thick, so it can be easy to add to food and it won't fall off at the moment you use it.
The quantity of spiciness, as I said earlier, depends on yourselves. If children are going to eat the final product, it won't be good if it's overly spicy so that they can't tolerate it. You should add a sensible quantity according to who is going to eat it, or warn them how spicy it can be.
With all said and done, it's time to learn how to make the picante.
Directions:
The preparation is without a doubt very easy when you take into account the previous advice, as all you have to do is finely chop all the ingredients (onion, chives, sweet chilis, cilantro). Remember, in very tiny pieces. Once everything is well-chopped, you should mix it with the water, vinager, tomato sauce, and lemon juice; as soon as this is done, proceed to pour the mix into the container and stir it for a minimum of 5 minutes. Then throw in spice to taste, and the two pinches of salt and sugar. Finish off by covering the container and leaving it to chill in the refrigerator. As I said earlier, it's more delicious (at least for my family) when you leave it to chill a little bit before you eat it.
Cost of preparation:
All of the ingredients you can obtain practically anywhere in the world, whether you are in Colombia or Europe, and the best part is that the cost of the mixture will not exceed 9, 000 pesos, which is approximately 2. 50 euros. That is to say, for a very cheap price and an uncomplicated preparation (because since I was a kid I was preparing it), you can have a delicious sauce that can accompany almost any dish.
Note: Another excellent accompaniment for foods is garlic sauce. If that interests you, I'll leave the link here below. Don't forget to visit all my blogs and see the world through my eyes, from trips to recipes, places, and much more.
https://erasmusu.com/es/blog-erasmus/recetas-erasmus/como-hacer-una-exquisita-salsa-de-ajo-560556
---
Photo gallery
---
---
Content available in other languages
Want to have your own Erasmus blog?
If you are experiencing living abroad, you're an avid traveller or want to promote the city where you live... create your own blog and share your adventures!
I want to create my Erasmus blog! →