TYPICAL SPANISH FOOD: TRADITIONAL POTATO OMELETTE (JUICY!)
Potato omelette is one of the signature dishes of traditional Spanish cuisine. But do we really know the origin of this exquisite delicacy?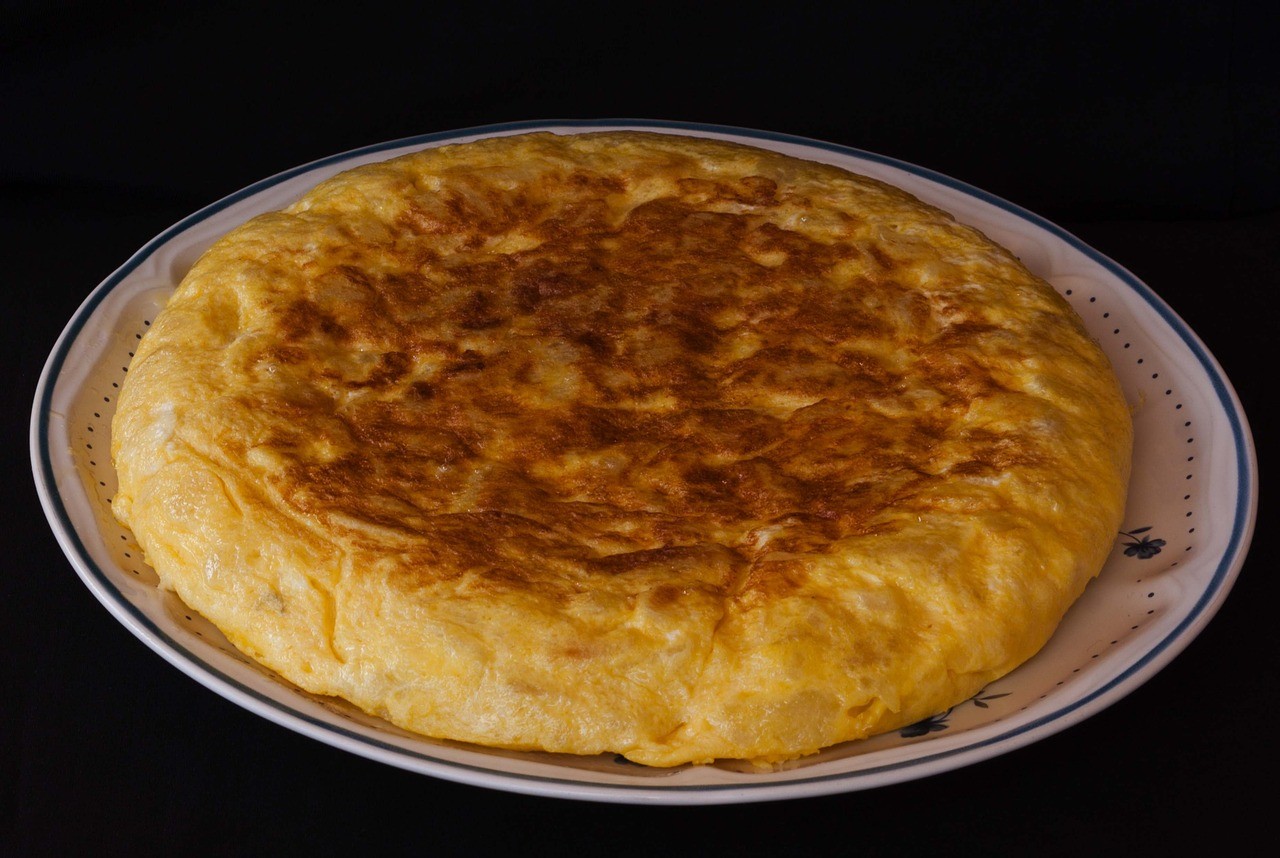 The mix of chance and necessity were the key ingredients that led to its creation in the the town of Villanueva de la Serena, Badajoz, Spain. Interestingly enough, initially potato was not added as the main ingredient but rather complemented the wheat flour (a more expensive and scarce ingredient). Perhaps we should thank the physiocrat José De Tena y Godoy for the magnificent discovery. Like many dishes of the time, the oven was the main means of cooking, but the use of the frying pan revolutionised everything. Even though there's debate on its origin, the earliest dating is in Villanueva de la Serena.
A dish that not only fed the 18th century population has survived to present day with a number of variants all with the distinctive and exquisite taste that everyone attributes to the Spanish omelette, today internationally renown.
RECIPE
INGREDIENTS FOR 4 PEOPLE
Obviously, potato omelette, or Spanish omelette has a list of essential ingredients, however when it comes to quantities, these can change depending on how we want it to look, so I will give you my dad's potato omelette recipe: with onions, juicy and 'finger-licking good'.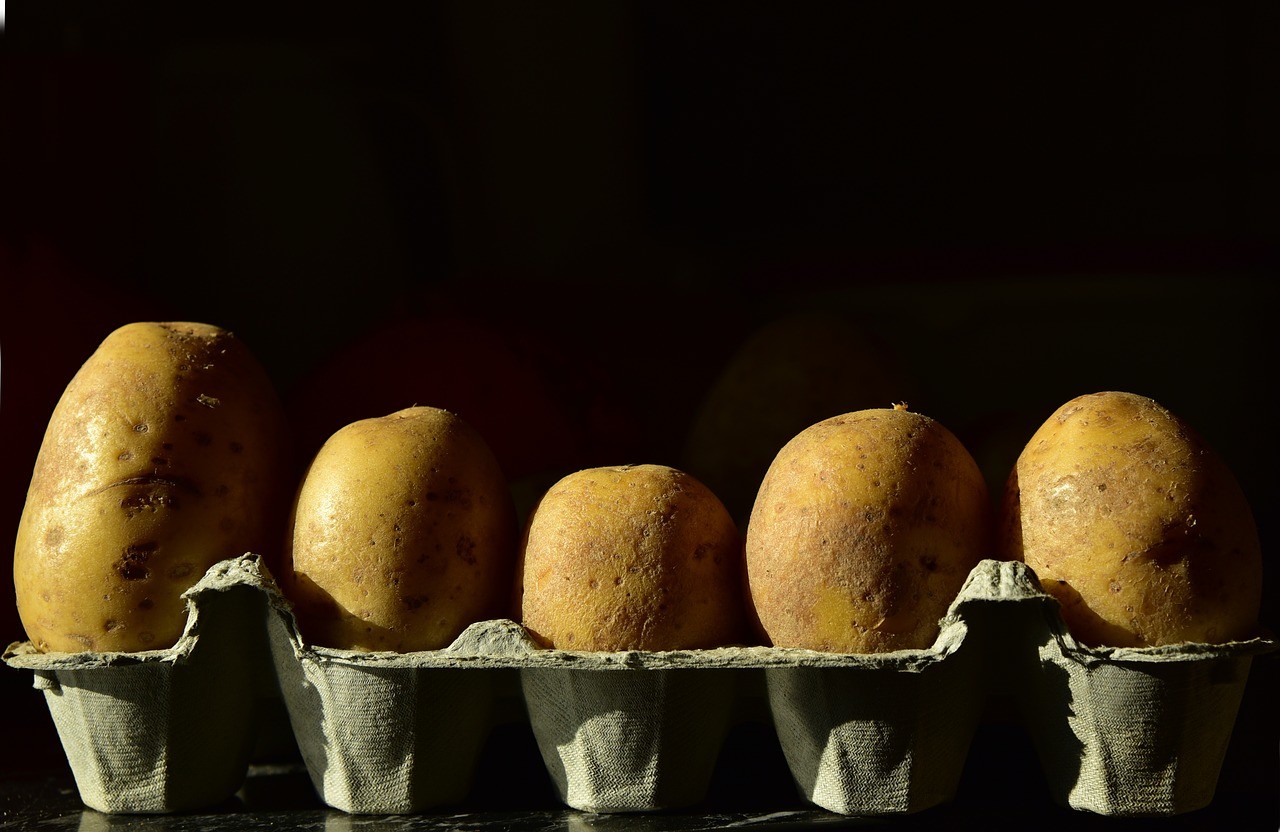 -3 large potatoes (as long as they're not tiny, don't be stingy).
-A large onion, or two small onions (as a lover of onions sometimes I'll even put two large ones in).
-4 or 5 eggs.
-Salt to your taste.
-Oil for frying.
STEP 1: PREPARE THE INGREDIENTS
First things first, open Spotify and put on one of those feel good playlists. You have to make an omelette with love.
-Peel the potatoes and cut them into small cubes. Some people cut them into strips but personally I like the texture more this way. Also they don't take too long to make.
-Peel and cut the onion. This time I'll leave the method of cutting up to you. You can cut them in very small cubes too to give flavour but you can't tell too much in the texture. If you're an onion lover, you can cut them in strips so you can appreciate how the textures of this and the potato mix.
STEP 2: A GOOD MIXTURE
-In a big frying pan pour in a large quantity of oil (you have to cover the potatoes), turn up the heat and wait for it to warm up.
-When it's hot, lower the heat from 9 to around 7/6 (approximately), then put in the onions.
-After around 5 minutes, add the potatoes. At this point I usually put on a series whilst the potatoes cook, because they take a good while and we can't get absent-minded. We have to stir them occasionally.
-When they're soft take them out and put them on some kitchen paper to drain the oil. I tend to be naughty and try them, to make sure that they're at the correct point. It is better to overcook them a little than to make them hard.
-Whilst they're draining, break 4 or 5 eggs in a bowl and mix well. Then pour the onion and potato mix in with the eggs. Add salt and mix it all up. I usually try the mixture to see if there's enough salt.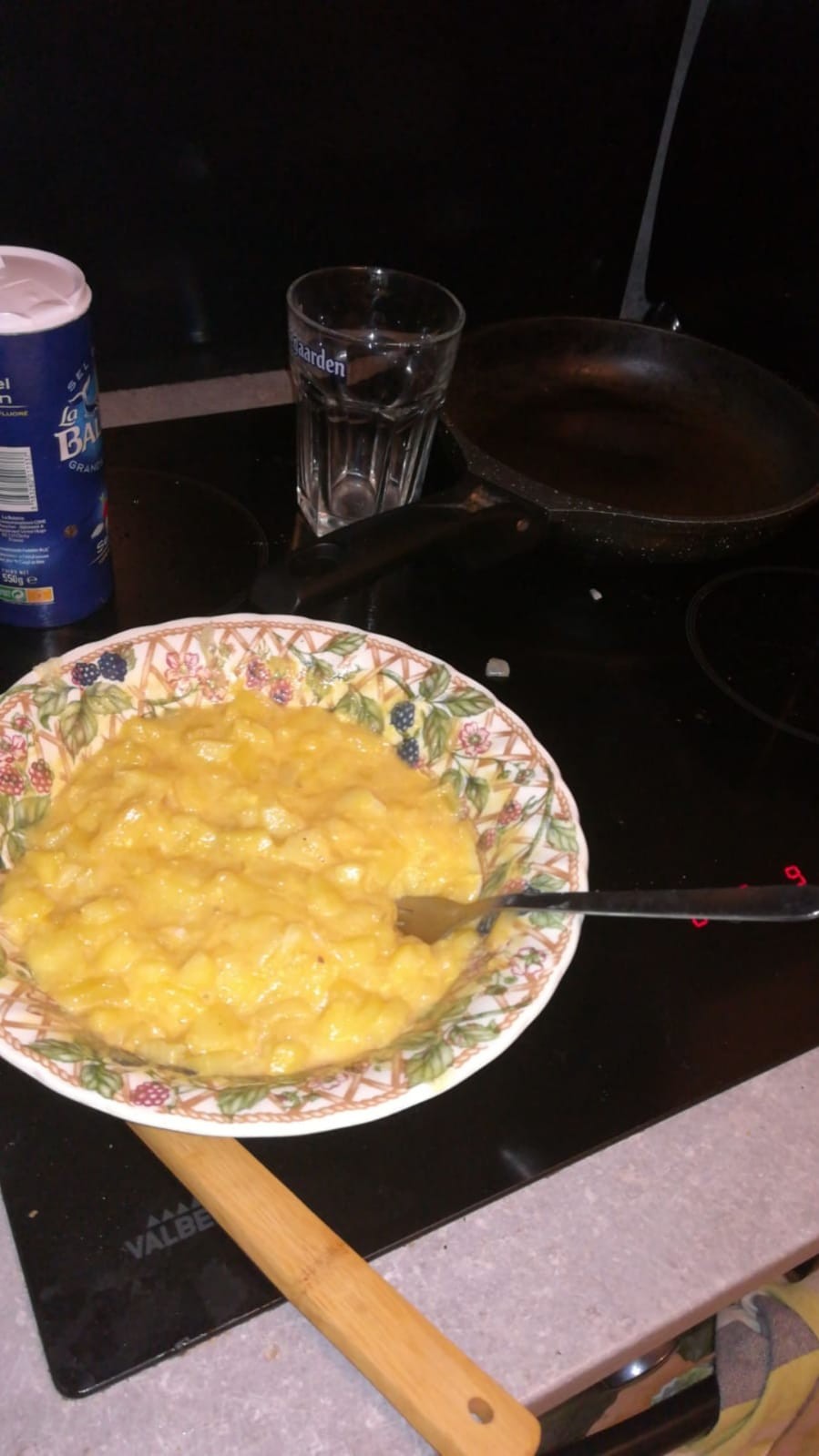 STEP 3: IN THE FRYING PAN
-Put a bit of oil in the pan and once hot (we can turn the heat up) pour in the mixture. After 2 minutes, using a plate to help us, turn it over and wait another 2 minutes.
STEP 4: TO THE TABLE!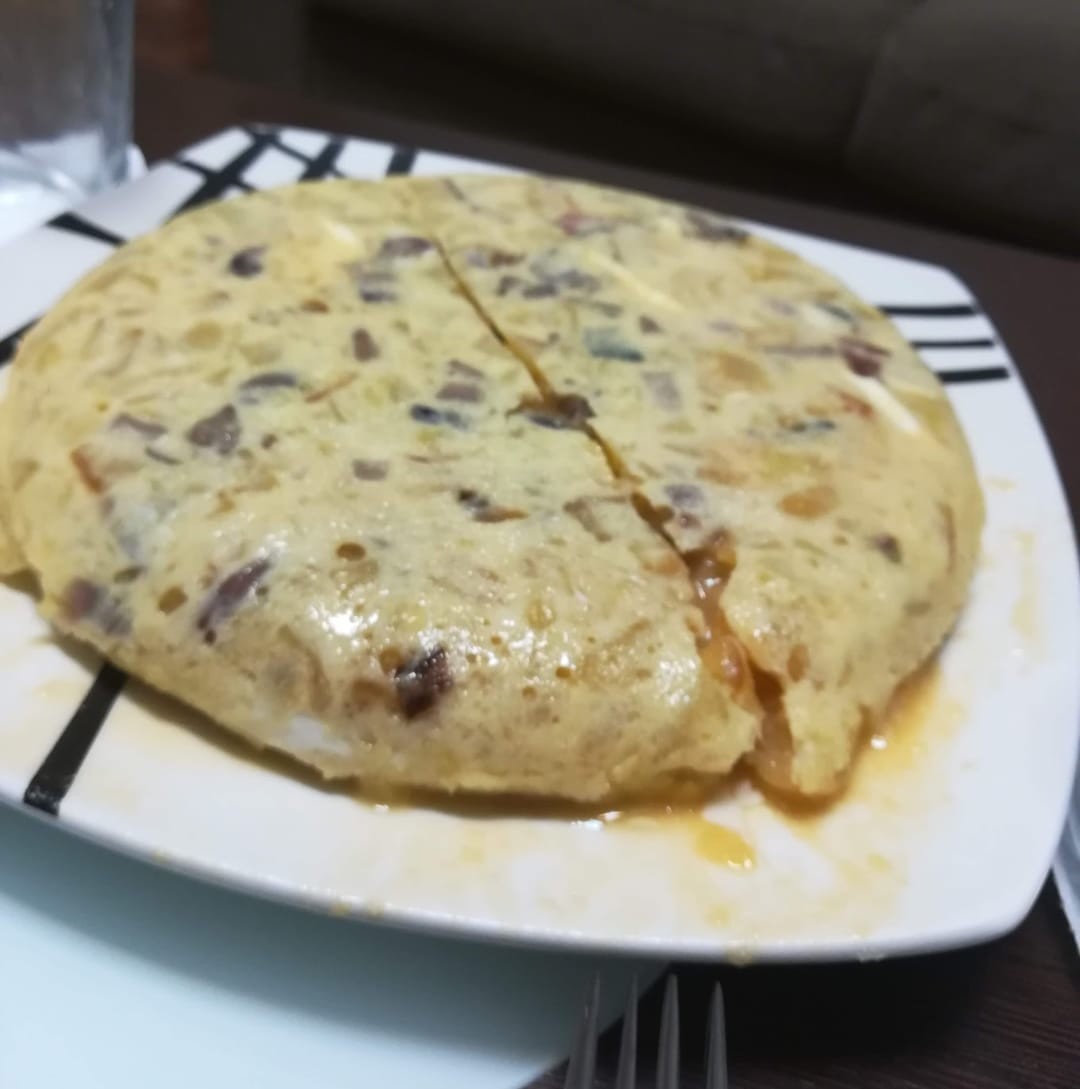 If it has turned out well, when you cut it, the runny egg will ask you to eat it all right away.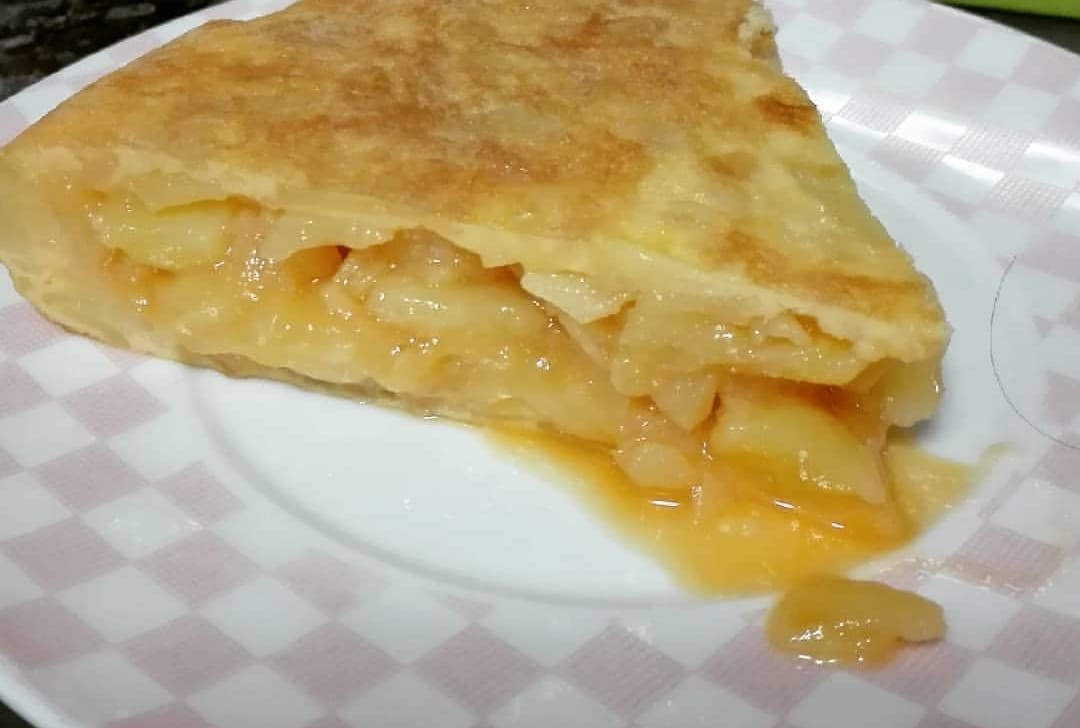 WHAT DO YOU EAT IT WITH?
Potato omelette is, in my opinion, a dish that you can't eat without bread.
Although the taste and texture of the omelette alone can give you everything you need from it, we can always through another thing into the mixture like grilled courgette or a bit of chorizo. There are also some people that put pepper sauce in the container for whoever wants it. Fried green peppers are my favourite thing to mix in.
In Spain potato omelettes are also eaten often in sandwiches, either for a picnic or to eat with your friends during the holidays, etc.
IMPORTANT!
Be generous with the oil (you can reuse it later for another time)
Salt is key for a good omelette
If you aren't an expect in flipping an omelette, ask for help, four hands work better than two.
I hope you liked the recipe, enjoy your Spanish omelette!
---
Photo gallery
---
---
Content available in other languages
Want to have your own Erasmus blog?
If you are experiencing living abroad, you're an avid traveller or want to promote the city where you live... create your own blog and share your adventures!
I want to create my Erasmus blog! →