Andalusian gastronomy and its vegan versions
Hello again everyone! Welcome to my latest post in this blog which covers everything Spanish, I have already written about places to visit, recommendations, recipes; etc. On this occasion I am going to focus on Andalusian gastronomy. As I already wrote in my last post on food from La Mancha, every place in Spain has its own traditional recipes and different ways of cooking. I have spent the last 3 years living in Córdoba, in Andalusia. The region has many dishes worthy of a mention, many dishes loved by tourists as well as many possible ideas for an international dinner or lunch where each person prepares a dish from a specific country.
Also, I am going to makes these recipes vegan so that you can try them in case you are a vegan or going to share this meal with vegans. Some of the recipes, like gazpacho and salmorejo, are vegan by nature
7 Andalusian/Spanish recipes
1. Flamenquines
This recipe is normally made with ham and pork fillets but in this case we are going to use vegan ham and seitan (a wheat based meat substitute). The ingredients for 4 flamenquines are:
4 seitan fillets
4 slices of vegan ham (can also be made without this)
Optional: vegan cheese
Olive oil (to fry), salt and pepper
For the meat coating: 100 grams (g) of wheat flour, 200g of grated bread, water to mix with the flour until it replicates the egg texture or something thicker.
First you should season the seitan fillets with salt and pepper (if they are all the same shape then it will be easier to roll them up). Then put one slice of vegan ham on top of each fillet. Now the original recipe does not include cheese but I like to use it so if you want you can put a slice of vegan cheese on top of the ham. Then you roll them up into a cylinder shape, nice and tight so that they don't open when fried. Once they have this shape, rub over it the flour and egg mixture (you can add a bit of salt, turmeric and black pepper to add extra flavour) and then over the bread crumbs. (I like it best when it contains garlic powder and parsley).
Once you have done all this, all you need to do is fry them in a pan with a lot of oil and once cooked, put them onto kitchen paper to lap up the extra oil and they are ready to serve. They normally are accompanied by chips or a salad.
2. Gazpacho
This recipe is very famous in the whole of Spain and you can even buy gazpacho in supermarkets and shops. It is mostly drank over the summer and the original recipe is vegan.
The ingredients for around 1 litre of gazpacho are:
1 kilogram (kg) of tomatoes
1 red and 1 green pepper
Half an onion
1 cucumber
1 or 2 cloves of garlic (up to you)
50 milliletres (ml) of oil, a spoonful of salt, 30 ml of vinegar
250 ml of water.
There are lots of different variations when it comes to making gazpacho, some people add bread to make it thicker, others use strawberries or raspberries, etc.
You should put all the vegetables in a mixing bowl and when they are well grinded down, add the other ingredients. Then you can go adding things to improve the texture and taste. I like to serve it with a squirt of oil and some chopped vegetables from the recipe on top. You can drink it like a cold soup with a spoon or just drink it directly.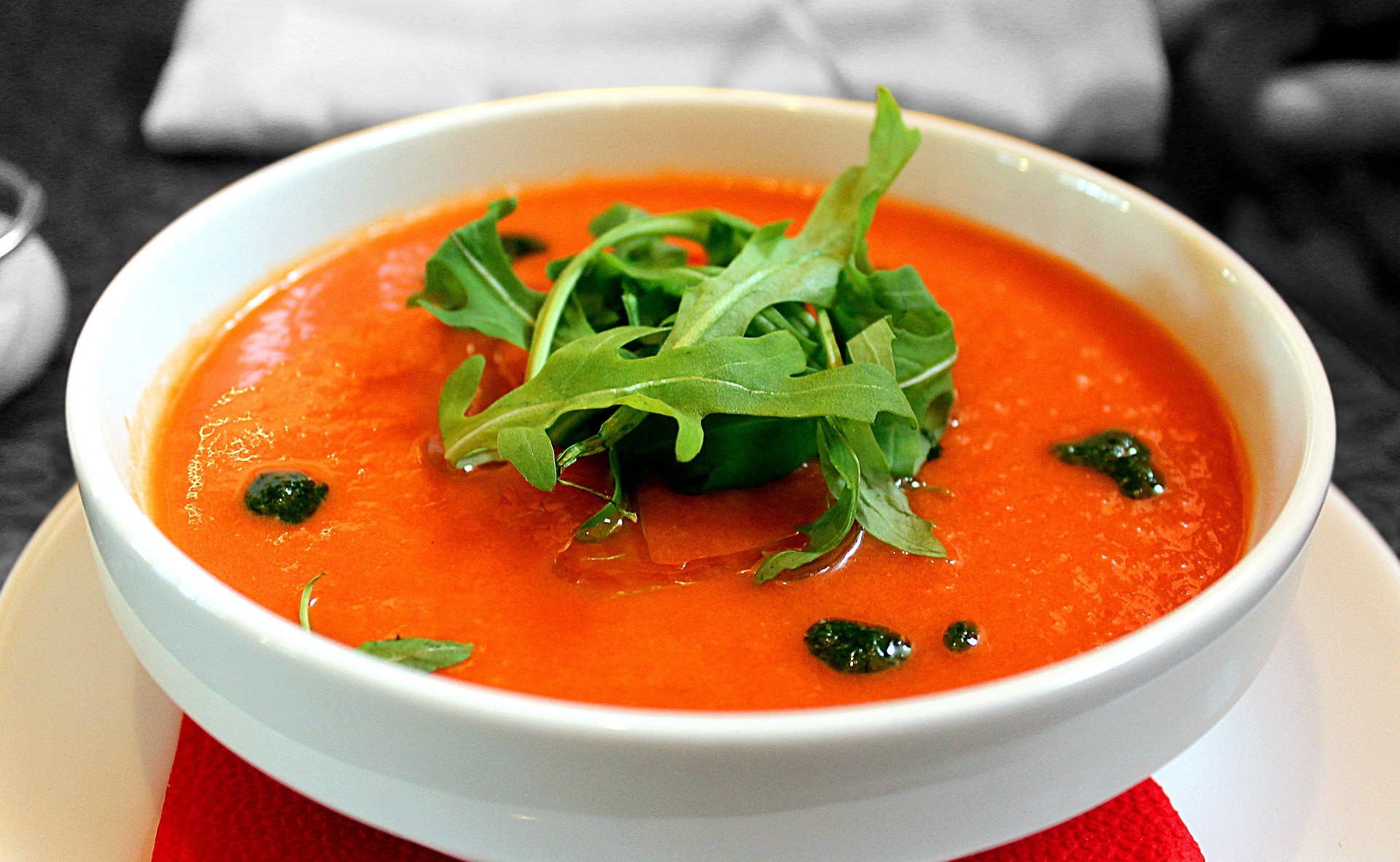 3. Salmorejo
Salmorejo is a typical dish from Córdoba and can also be found in most supermarkets. It is not as light as gazpacho and tends to be served as a tapa or as a starter. It is another originally vegan recipe.
The ingredients for 6 portions are:
150 ml of olive oil
1 kg of ripe tomatoes
200 g of bread crumbs
1 or 2 cloves of garlic (up to you)
A small spoon of salt.
Cut the tomatoes into quarters and grind thoroughly. After, add the pieces of bread, garlic and salt. When it has the texture of smooth purée, add the extra virgin olive oil bit by bit whilst you continue to crush up the mixture.
This dish is normally served with a hard boiled egg and ham but also goes well with just a slice of bread.
4. Aubergine with salmorejo/ aubergine with sugar cane honey
These two are another one of Córdoba's typical vegan tapas which you can find in most bars.
The quantity depends upon the amount of aubergines that you want and you should cut them in thin strips, the thickness of half a finger. After this, coat them in a mixture of flour and water, as well as salt, black pepper and any spices you wish to add flavour. Then fry them in a lot of oil and put them on some kitchen paper and leave them to dry.
You have two options, accompany them with salmorejo or drizzle honey on top of them.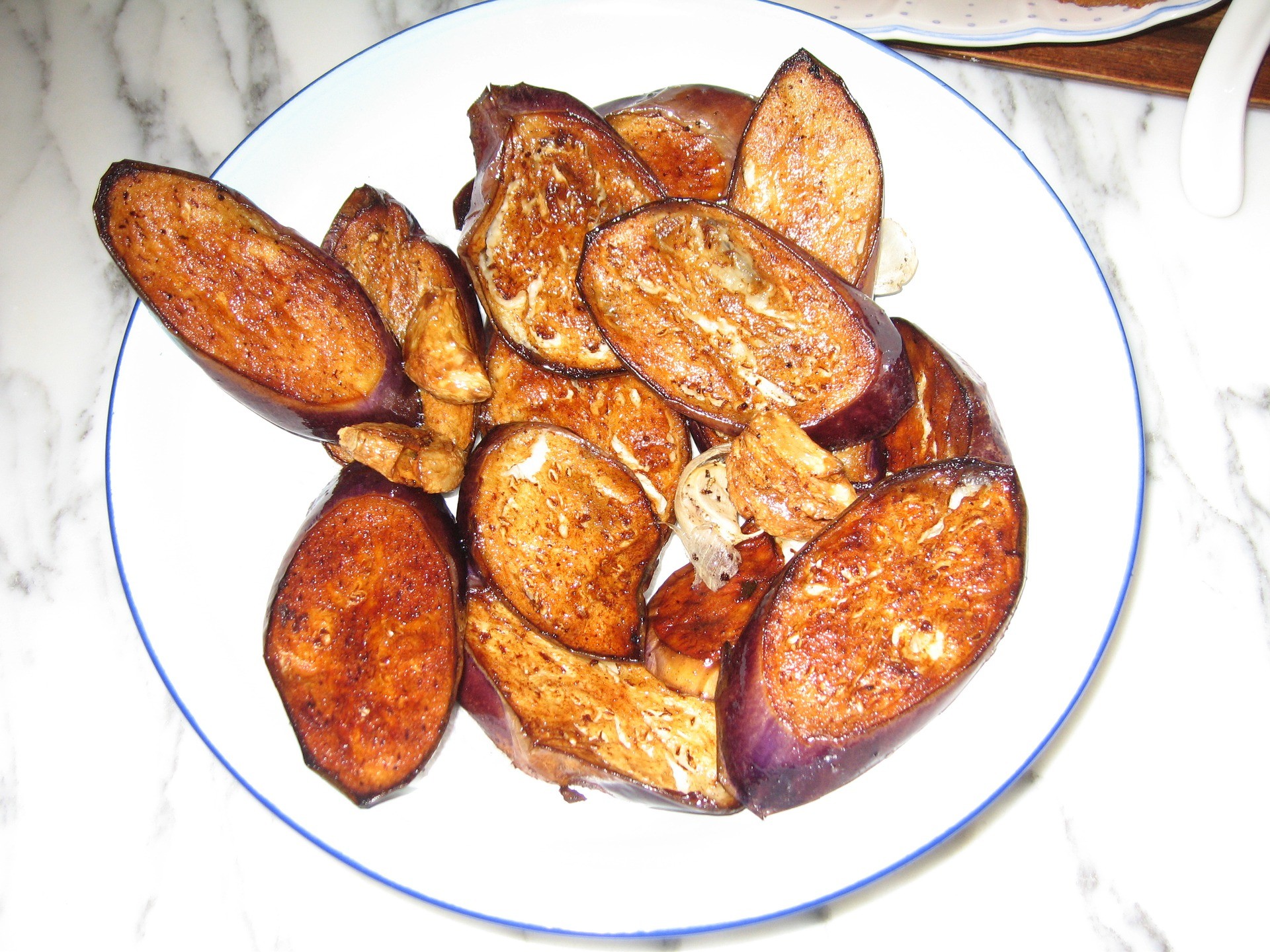 5. Tortilla/ tortilla with salmorejo
Even if you're not from Spain, I am sure that you have heard about tortilla. The original recipe is vegetarian as the main ingredients are potatoes, eggs and onions for those who like them.
The vegan option follows the traditional recipe but uses chickpea flour mixed with water instead of eggs. The flour mix should have the same texture as eggs. Also add a bit of vinegar in order to smooth out the taste of the chickpeas. You put the same amount of water as you do flour, around 10 spoonfuls but you can add more of either as you go in order to get the right texture.
Then fry 5 or 6 medium sized potatoes as well as an onion in a lot of oil, or if you want a healthier alternative, in 2 spoons of oil with salty water. Once they are nice and soft, mix them in a big bowl alongside the flour and water mix. In a frying pan add 2 or 3 spoonfuls of oil so that the mixture doesn't stick (it's crucial to have a good frying pan which food doesn't stick to) and cook for 7-10 minutes. Then flip the tortilla carefully, placing a plate on top and fry the other side for another 7-10 minutes. Of course if you want it more cooked or crispier cook both sides for longer.
One of the typical tapas from Córdoba is a slice of omelette bathed in a bit of salmorejo.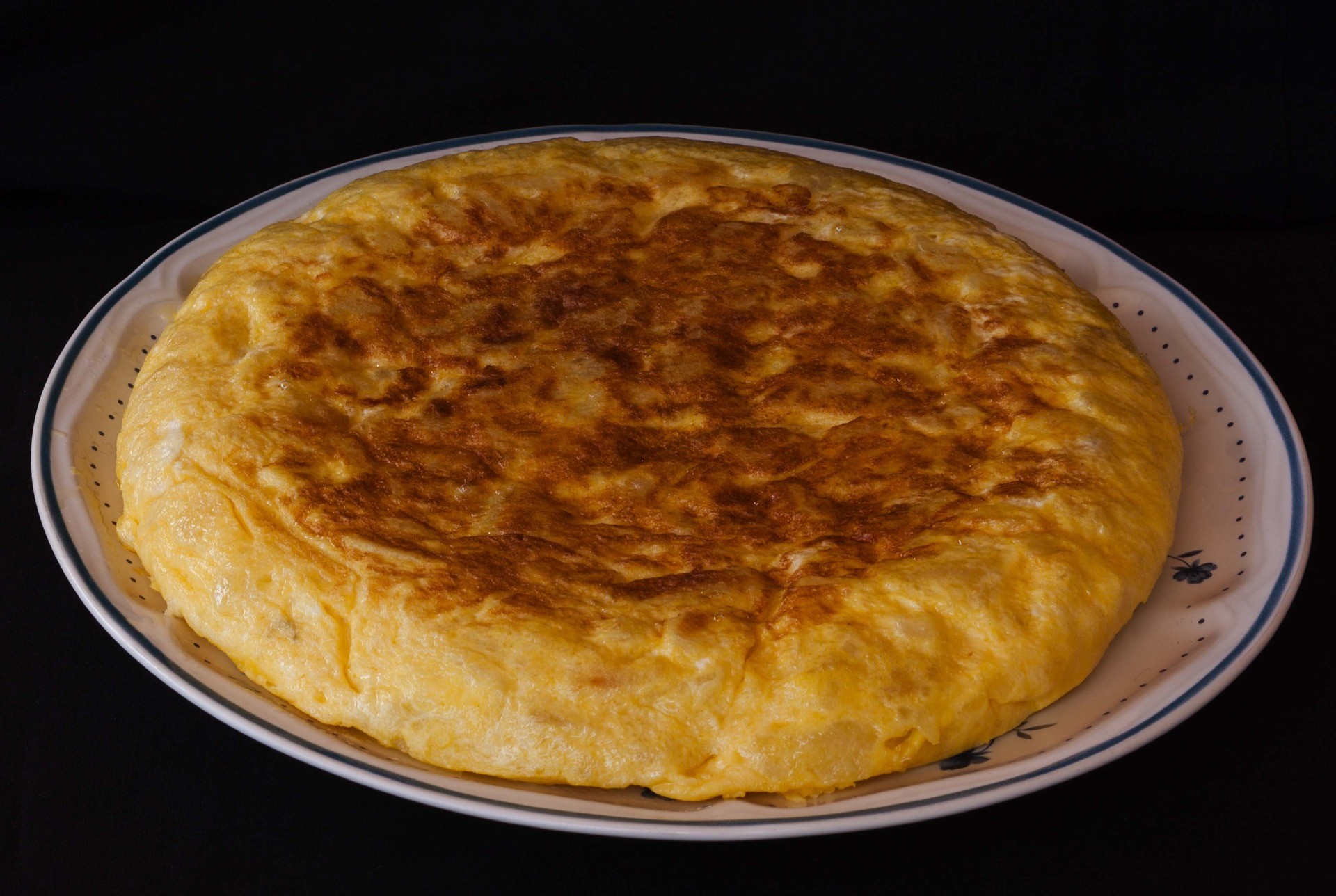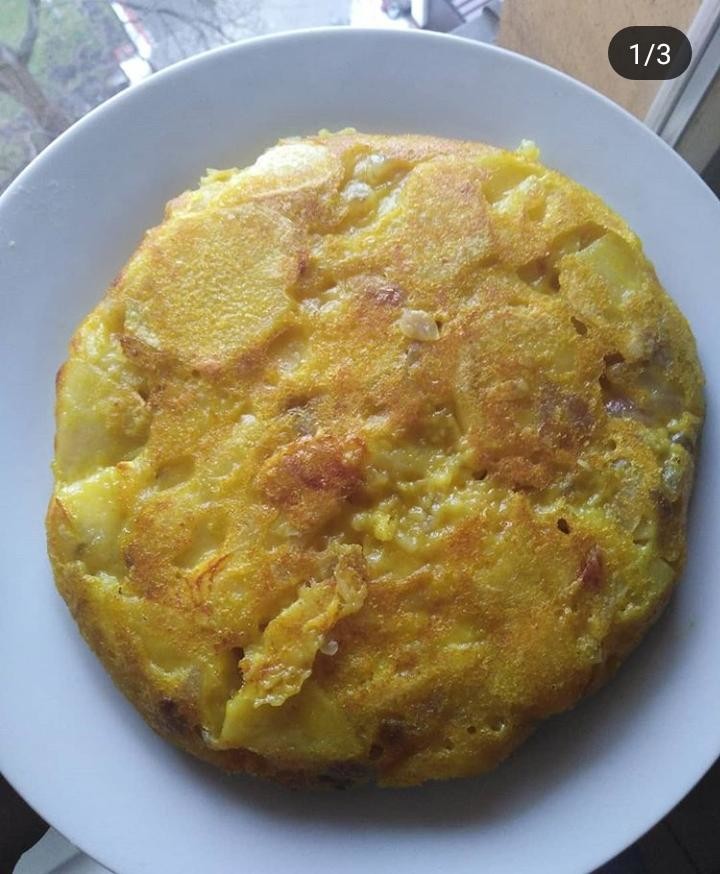 6. Patatas bravas (potato wedges
Potato wedges are also a dish which is eaten all over Spain, with varying degrees of spiciness depending on the area. In Córdoba they tend to be served with mayonnaise most of the time so if you are vegan you will have to ask them before hand not to put it on.
The process of frying the potatoes is the same, you cut them into dice shapes and fry them in an abundance of oil although you can also cook them in the oven. The "salsa brava" is a spicy sauce which you can also buy ready made but if you want to make it yourself, all you need is to mix and crush: 2 spoonfuls of pepper, 1 medium sized onion, 250g of water, 20g of flour, 2 spoonfuls of olive oil, 1 clove of garlic and a pinch of salt although I also like to add a bit of tabasco to make it that bit spicier.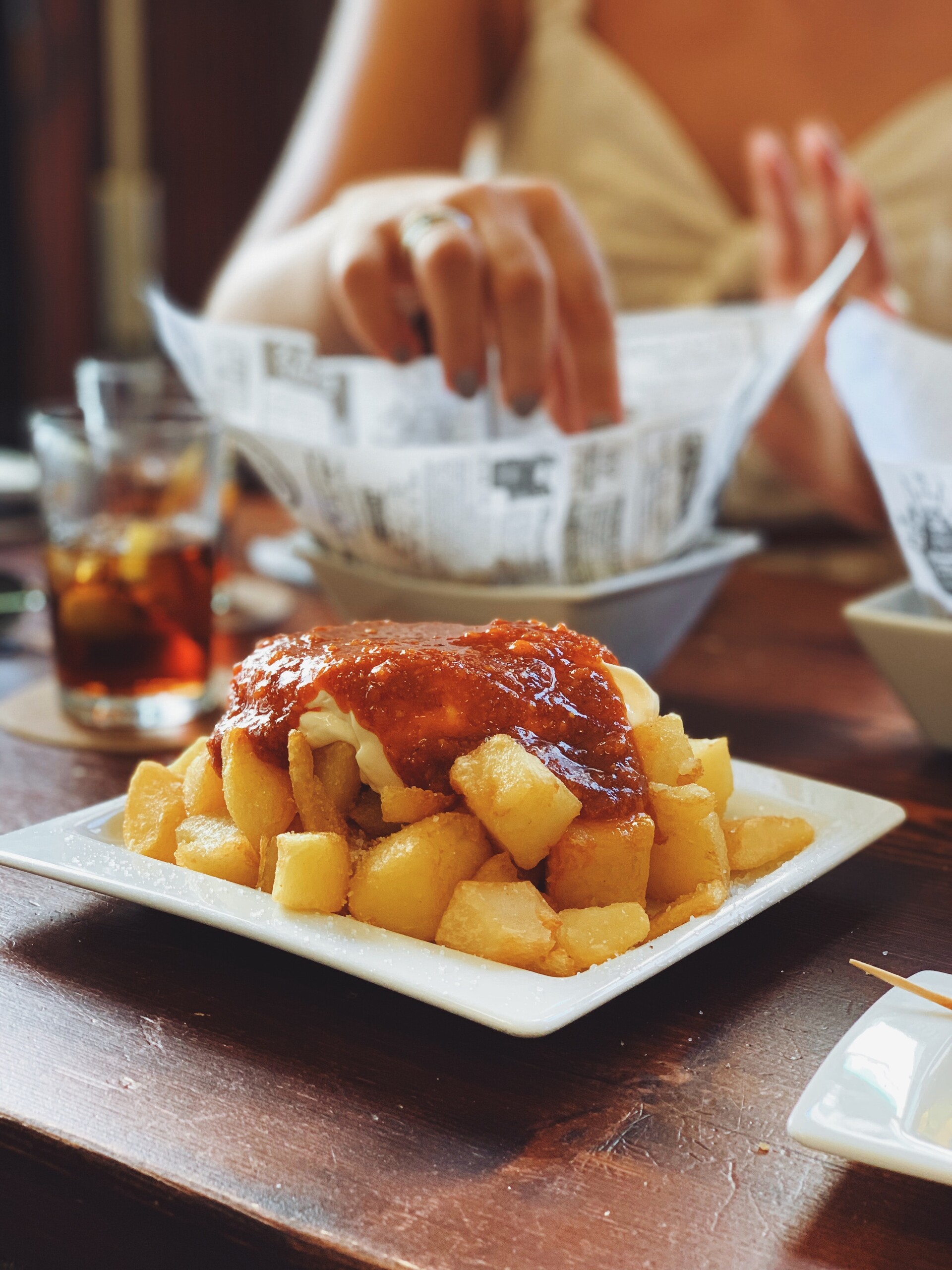 Fuente
7. Ajoblanco
This is another very simple vegan recipe although it is much better home made, because the one I have bought at supermarkets wasn't very good.
The ingredients are:
150g of one day old bread
500ml of water
100g of crushed almonds (uncooked and unsalted)
1 clove of garlic
2 spoonfuls of vinegar, a pinch of salt, 100ml of extra virgin olive oil.
You have to soak the bread in the water for a few minutes and then put into the mixing bowl alongside the garlic clove, the almonds, the salt and the vinegar. When everything has a purée texture, add the olive oil bit by bit whilst you mix.
Did you like these recipes? Well don't lose out on some of the best ones The definitive guide to a vegan Erasmus 2021. Eat vegan during your time abroad!
---
Photo gallery
---
---
Content available in other languages
Want to have your own Erasmus blog?
If you are experiencing living abroad, you're an avid traveller or want to promote the city where you live... create your own blog and share your adventures!
I want to create my Erasmus blog! →