Homemade "Francesinha"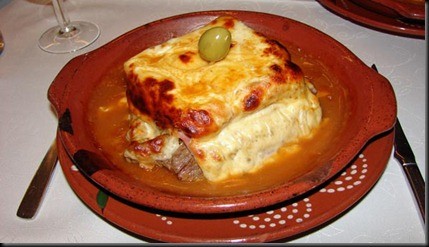 Just... so...amazingly... good...
Oh, my apologies, I'm feeling a bit homesick I believe. How are you all doing, my friends? Me, I'm currently hungry as hell just by looking at the image above. God, how I miss this particular dish. It's a "francesinha" from a restaurant in my hometown of Vila Nova de Gaia called Locanda, which cooks these "francesinhas" in a wood oven. And it is just... so great.
A true Portuguese must have at least heard about the incredibly famous specialty from Porto, the "francesinha". The best ones can be found in the restaurants and taverns all around the city and they're all unique, as in none of them have the exact same flavor as the other. The reason why they're all different is mainly because of the sauce that has several variations from place to place. It never changes that much, I mean, the basic ingredients are always there, but there may be certain additions that can put it on another level (of course, it can go the other way around too). As for the sandwich, the ingredients for it don't change as much as the sauce's. The quality of the meats and the cheese has to be good, of course, like everything else. But these different tastes are what makes it worthwhile to try it in as many places as possible!
You can also do your own version at home. It may not be as good as a "francesinha" made in a wood stove (for me these are the best ones), but it will taste delicious anyway, most likely. As I said before, the ingredients for the sauce usually vary; if do a quick google search you'll get all kinds of combinations, but this one below I can guarantee you'll like it (because it's a mother's recipe, after all):
Sauce
Ingredients (4 people):
Olive oil
Garlic - 1 clove
Onion - 1
Pepper- q. s
Tomato paste - q. s
Beer - 1
Whiskey - q. s
Port Wine - q. s
Piri-Piri - q. s
Mustard - q. s
Knorr meat stock - 1 cube
Cornstarch flour - if necessary
You fry the onion and garlic with the olive oil. When everything is with a blond color, add the beer, and then the tomato paste, the meat stock, piri-piri, mustard, whiskey and the port wine, in this order. The quantities, as specified, are all by estimate (except the garlic and onion), and as you go you'll give it a couple of tastes to check.
Next you use the blender to mix all the ingredients for the sauce, so as to get it more creamy and uniform. If needed, add a tablespoon of cornstarch mixed in a little water to thicken the sauce. Let it boil and it's done.
Sandwich
Ingredients:
Bread loafs
Ham
Sliced cheese
Sausages
"Linguiça"
Eggs - opcional
Steaks
For the sandwich, you put in layers on the bread the ham, the grilled steak, 1 sausage cut in half (vertical position) and the linguiça cut equally.
You then cover the sandwiches with the other pieces of bread and cover the bread with slices of cheese in all sides (you can put an extra slice on the top, though it's not really necessary. 4 usually suffice. ). Then, after you put them in the oven for the cheese to melt, you can then put the egg on top you like. When you serve them, you just add the sauce and it's done!
Tips and curiosities
According to history, this dish was invented in the 60's by a Portuguese immigrant that had just returned from France that decided to try and adapt the popular french snack "croque-mounsieur" to a more Portuguese version, through a special sauce. Hence the name "Francesinha" (Little Frech or Frenchie in English). And this greatness of sandwiches is the result.
In 2011, it was considered to be one of the 10 best sandwiches in the world by the north-american website AOL Travel.
There are many variations of the true "francesinha", and so they can't quite be just as delicious as the original. The most known variation is the "Francesinha Poveira", born in Póvoa do Varzim in 1962, made with wide breadsticks and traditionally served without any sauce.
The most famous spots for their "francesinha" in Porto are: Bufete Fase, Regaleira, Café Santiago, Capa Negra, Convívio, Lado B, Locanda and Café São Nicolau.
As any Portuguese should know, a good "francesinha" must always be accompanied by french fries and a nice ice-cold beer.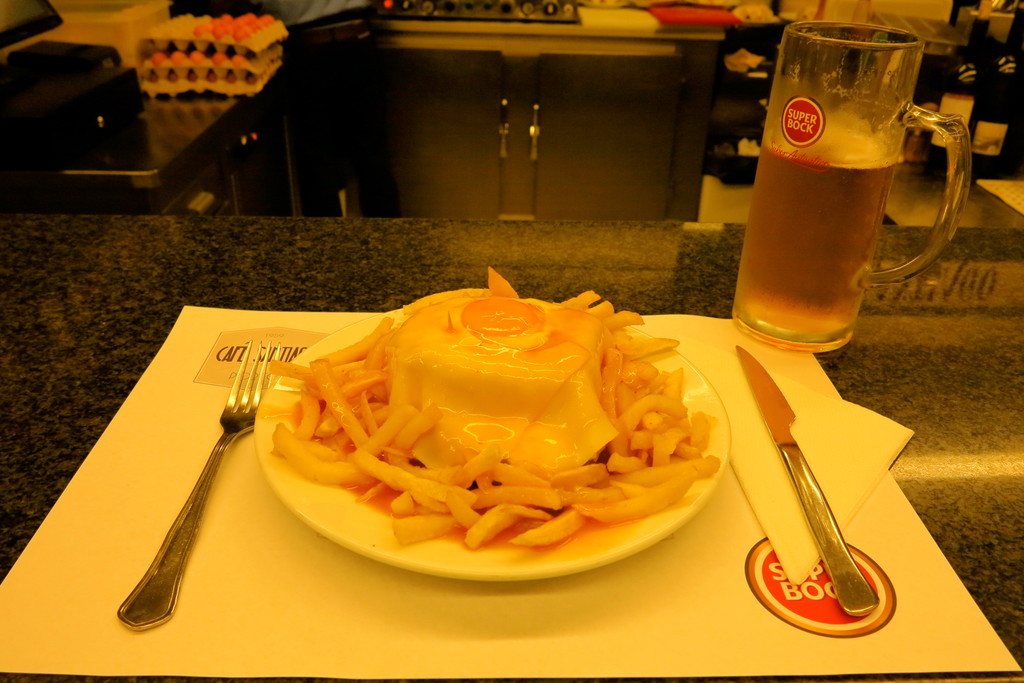 Looks good, doesn't it? Well what are you waiting for? Get to shopping for all the necessary stuff and make a nice dinner of "francesinhas" with everyone! No need to thank me, as the fact that this amazing food may get more recognition internationally is already enough of a reward.
---
Photo gallery
---
---
Content available in other languages
Want to have your own Erasmus blog?
If you are experiencing living abroad, you're an avid traveller or want to promote the city where you live... create your own blog and share your adventures!
I want to create my Erasmus blog! →