Exeter neighborhoods - The most important districts of Exeter
Exeter neighborhoods - The most important districts of Exeter
Exeter is a small, compact city. This section of the guide will outline the different areas in the city. Whether you're more into being in touch with nature and spending your free time in a tranquil environment or prefer the busy city lifestyle, Exeter has something for everyone.
The university campus
Exeter is a 'campus university', meaning that the university buildings are all contained in one area, rather than being spread throughout the city. If you choose to live in one of the halls of residence on campus, you can have the liberty of waking up late for your classes, as you'll only ever be a short walk away! You'll also get a real community feel, as a huge number of student living in the halls on campus, so expect a lot of parties!
Streatham Campus is the huge main campus and has a lot to offer. It's about 20 minutes walk away from the city centre, or 10 minutes by bus. Within the 280 acres of landscaped grounds, you can find the university lecture theatres, libraries, museums, a nightclub, a bar, numerous restaurants and cafés, a theatre, a cinema, a medical centre and various student halls, to name a few. The campus is often regarded as one of the most beautiful campuses of any UK university.
Surrounding university area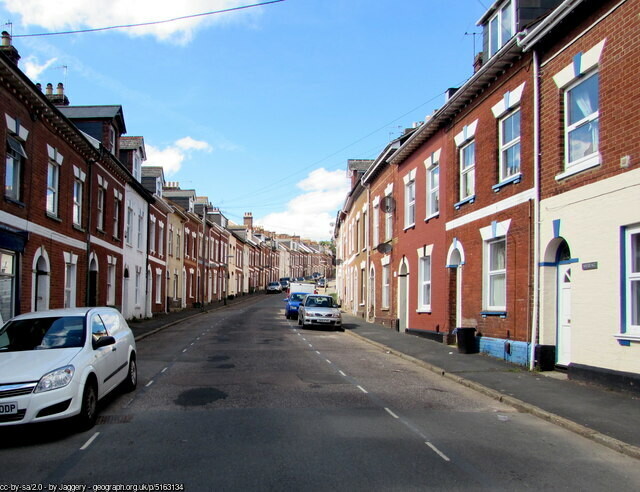 This refers to the area closest to the campus, and consists of some of the streets mentioned in the accommodation section above; Union Road, Pennsylvania Road and Victoria street, and the smaller side streets which connect to these ones. Due to its proximity to the university, lots of students live in this area.
Union Road
If you choose to live on Union Road, you'll be able to take advantage of larger, more spacious student houses, often shared between as many as 9 people, which makes for a great sociable atmosphere. Being so close to the main campus, living on Union Road means your commute to the main campus is short, between 5 and 15 minutes, which makes early mornings just a little bit easier! Many of these houses have gardens, great for relaxing when the sun makes an appearance.
Along Union Road, there is a convenience store called Saunders, which is great if you suddenly realise you've run out of milk or need to pick up some more beers. The store is open from 7.30 am until 11 pm every day. It's one of the main roads towards the campus, so during rush hour expect quite a lot of traffic.
Pennsylvania Road
Pennsylvania Road is home to some of the most sought-after student houses in Exeter, and it's easy to see why! As the houses on Union Road, those on Pennsylvania Road are large and spacious, and are situated a little further back from the road itself. There are always people walking up and down this road, so expect to bump into several people you know on your way to and from campus - this street has a real community feel.
The walk from Pennsylvania Road to campus is between 10 and 15 minutes, and it's between 5 and 10 minutes from the city centre, meaning you'll never need to take a taxi on a night out, whether you're going to party in one of the clubs in town or in the student union venue. There's also a Co-op convenience store!
Victoria Street
Victoria Street - usually referred to as Vic Street by students - is probably more in line with what you'd expect a student house to look like! The street has a lot of character, with its identical terraced houses and front doors opening right out onto the street's pavement. The doors are all painted in different colours, and practically every house is inhabited by students. The houses are cosy and quirky, plus they all have their own gardens, which is great for summer parties. You can certainly see why this is a student hotspot!
This probably isn't the street for you if you can't handle the noise from parties, but if you want to live surrounded by other students, you can't go wrong with choosing this area.
Vic street is about 10 minutes walk from campus, and 15 from town. The neighbouring streets of Springfield and Culverland Road share much of the same characteristics as Vic street. You also have the Saunders convenience store a short walk away.
City centre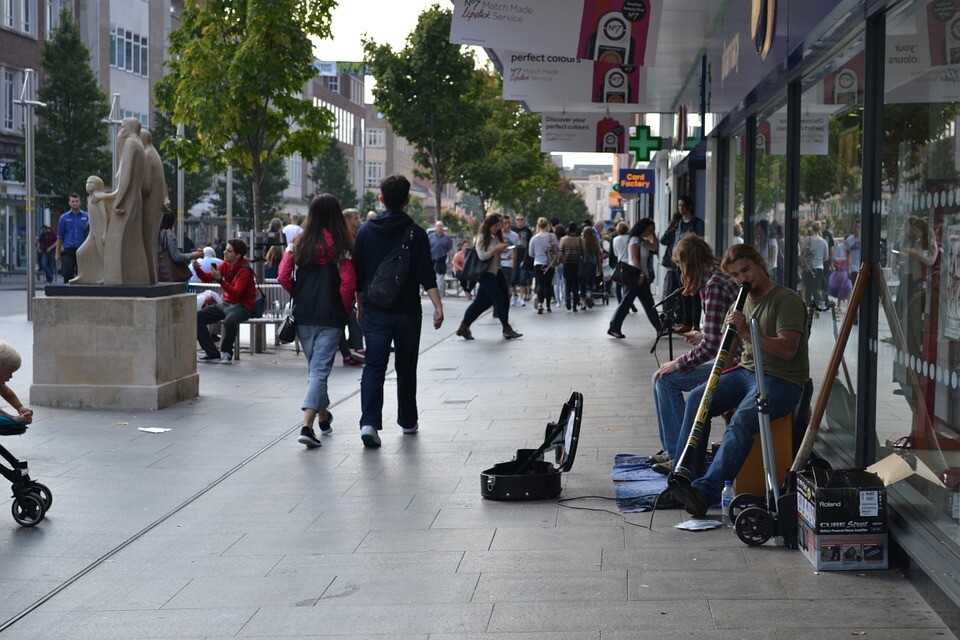 This area refers to the High street, as well as Sidwell and Fore street, which are essentially extensions of it. It's great for those of you who love the culture of being able to eat out, as living in the city centre means you're only ever a short walk away from numerous cafes and restaurants. Imagine being able to go from laying on your bed to being sat in a cafe ready for a buffet breakfast in just a few minutes! City centre living is also ideal for shopaholics, as both the independent and chain stores are within a stone's throw from one another.
On the High street, you will find all the usual chain shops and restaurants, and the Princesshay shopping centre. Sidwell street is home to a vast array of takeaways, cafés and discount stores, whereas Fore street has more of a focus on independent stores and cafés. The city centre is where the main student bars and clubs are located, although students don't really tend to live on these exact streets. There's also a train station (called Exeter Central), and the bus and coach station. You can read more about what the city centre has to offer in the things to see and do in Exeter section.
Mount Pleasant
This area is situated a little further away from the university. Life here is more peaceful and laid-back, as fewer students live here. If you want to get away from the hectic city centre and campus atmosphere, the Mount Pleasant area is made for you! This area is about 25 minutes walk away from the main campus, and about 20 minutes walk to the city centre. Some of the main streets in this area are Mount Pleasant Road, Old Tiverton Road and Pinhoe Road.
The houses are generally large and spacious, with well-kept gardens. Despite its more calm location, you're still not far from the campus (20-30 minutes walk) or city centre (15-minute walk). There are also some lovely tranquil parks close by where you can bask in the sun on a nice day.
Due to being further away from both the campus and shops, this area is less popular with students. Having said this, quite a lot of students do still choose to rent houses here. In general, the houses here are larger and better maintained, and there's less noise and rubbish on the streets. There are a few convenience stores here too, and some good pubs.
St. Luke's campus
St. Luke's campus is one of Exeter's three campuses - the other being Streatham campus and Penryn campus (in Falmouth, Cornwall). It's a world away from Streatham campus, as the atmosphere is far more peaceful and the campus is much smaller. On sunny days students flock to the green in the centre of campus to socialise and study, and in winter people go to drink coffee and seat on the bean bags in their on-site cafe.
This campus is much smaller and only teaches a few subjects such as Medicine and Radiotherapy. There's a library, study centre and café-bar on campus. Some students who study on this campus choose to live on one of the nearby streets, such as on Heavitree Road - where there is also a large student accommodation complex. This accommodation site has a really great community, and a mix of both older and modern buildings, with a sculpture, green spaces and trees and flowers. There's also a big Waitrose supermarket in the area, and a hospital. From St. Luke's campus to the city centre it takes about 10 minutes on foot, and about 35 minutes to the main campus (Streatham).
The Quay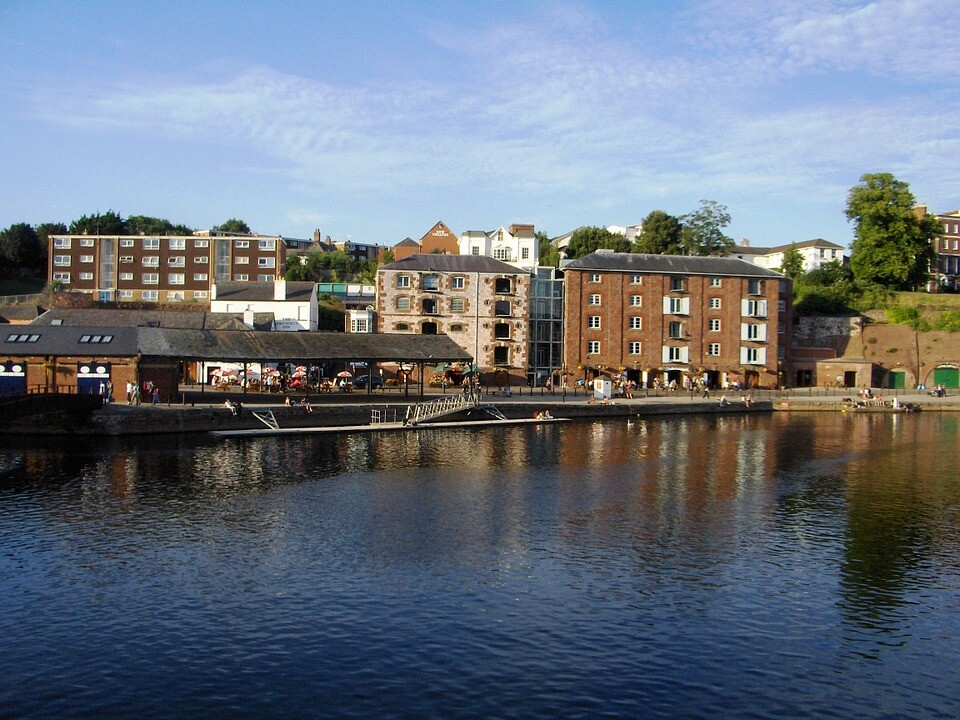 The quay is one of Exeter's most beautiful spots, with its quirky buildings looking over the water, and selection of boutiques and restaurants, it's no surprise that the people of Exeter love this spot. Whether you choose to spend frosty winter mornings walking along the waterside footpaths, or sunny days drinking cider outside, everyone enjoys the quay.
Set on the river Exe, the quay boasts a selection of independent restaurants, cafés and boutiques, as well as some bars, pubs and a nightclub. There is also a bowling alley nearby, and you can even go canoeing and kayaking on the river. On sunny days, people flock to the quayside to take in the scenery whilst enjoying a hearty meal. Students don't really tend to live here, as it's about half an hour's walk away from the university. However, it's only 10 minutes from the city centre, so stopping there for lunch after a morning's shopping is a great idea!
---
Photo gallery
---
---
Content available in other languages
Want to have your own Erasmus blog?
If you are experiencing living abroad, you're an avid traveller or want to promote the city where you live... create your own blog and share your adventures!
I want to create my Erasmus blog! →