British cuisine - The gastronomy of Britain and traditional dishes
British cuisine - The gastronomy of Britain and traditional dishes
Now onto the thing you have all been waiting for… Food! Bristol is known as a city of food, with lots of award-winning and Michelin star restaurants, there are enough restaurants to explore something new almost every day. Whilst this may not be something that will suit your student budget, in this next section, we will look at British cuisine, in particular, the gastronomy of Bristol, followed by the best places to eat in this city full of wonders, aiming to stick to those student-budget-friendly places!
British cuisine - What to try:
England can be cold and for that reason, I believe we have mastered those comfort foods that warm you up on those cold winter days... Let's have a look at what's on offer!
Sunday roast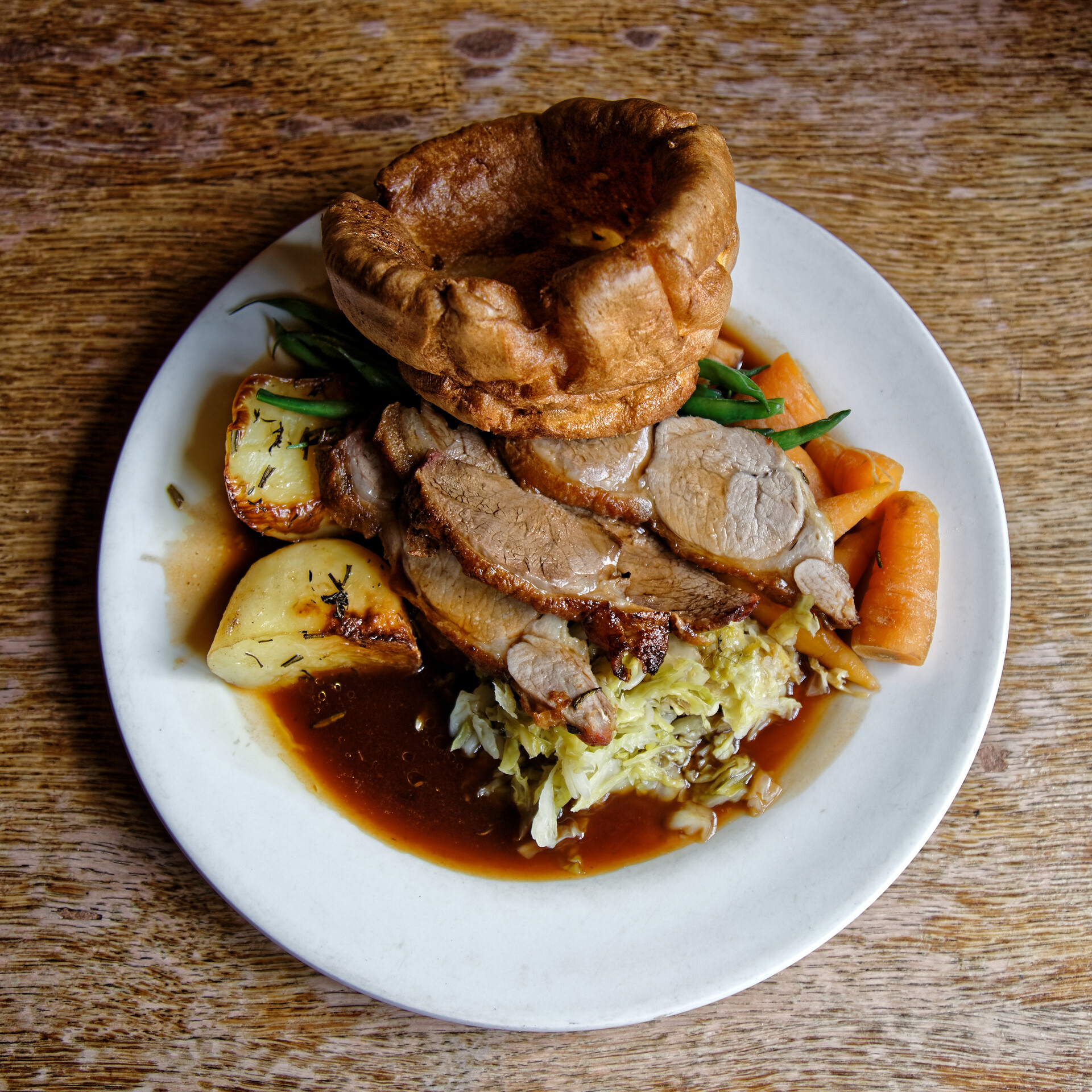 Sunday is many brits' favourite day of the week thanks to the wonderful creation of the roast dinner. Of course, you can eat it on whatever day you wish but most pubs and restaurants will only serve it on a Sunday. The beauty of it is that it can vary so much, yet you still know what you are going to get. Variations can include:
Roast potatoes: the heart and soul of the dish (in my opinion). potatoes are boiled, seasoned and then roasted in the oven to give you a fluffy potato on the inside and crispy on the outside, in other words, beautiful inside and out. It can be difficult to get these just right but goose or duck fat are a good alternative to oil to give that extra crisp. On the other hand, if you are a vegetarian, olive oil will do the job. If you are willing to give them a shot, have a look at this recipe for your ultimate roast potatoes.
Roast meat: restaurants and pubs that serve roast dinners will usually offer three types of meat; beef, chicken, and pork or lamb. Whilst it can seem like a difficult task to cook the meat for a roast dinner, once you have done all the preparation you will just need to pop it in the oven and keep an eye on it for a couple of hours until it is ready to eat.
Yorkshire pudding: made from a type of batter consisting of flour, eggs, milk, or water, Yorkshire puddings are sure to steal your heart and your taste buds. The secret to this, according to this BBC good food recipe, is "to have the fat sizzling hot and to not open the oven door"... Or just take a look at this article about Supermarket Yorkshire pudding taste test for your best packet bought, frozen Yorkshire puds.
Vegetables: Again, this will vary from home to home, family to family and pub to pub, however, this section of the mighty roast will usually consist of carrots (honey glazed are a classic), broccoli, peas or runner beans, roasted parsnips and swede, carrot and potato mash. Last but not least, the magical cauliflower cheese for all those cheese lovers.
Gravy: in general and traditionally, gravy is made using all the juices left from the meat with some added flour to thicken the sauce, seasoned to taste. Nowadays, a lot of people use gravy granules which can be purchased throughout supermarkets for convenience. If you fancy some fancy gravy, you can invest the time and make something like this onion gravy.
Nut roast: although this is not a classic element of a roast dinner, with the fast-growing rate of vegetarianism, I thought I would include this one for vegetarians who want to get in on this. Made up of nuts or lentils and vegetables this is a wonderful meat substitution in a roast dinner.
Fish and chips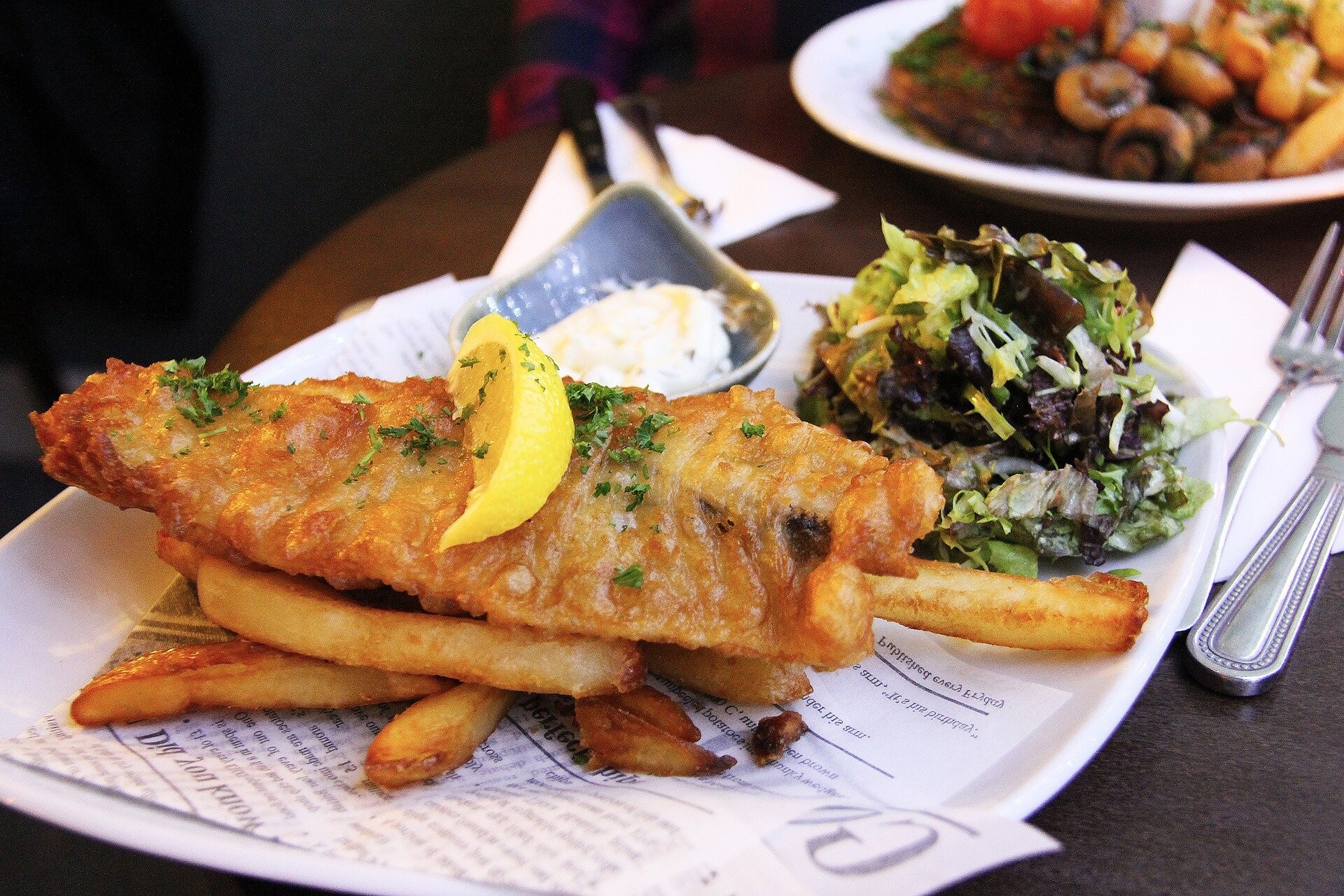 This is a classic when you take a trip to the seaside but it is also something that will crop up as a traditional British dish all over England. The classic will consist of fried battered fish (usually cod) served with chips. You can also have battered sausage or chicken nuggets (basically anything battered) with mushy peas, which are an acquired taste but are classically served with fish and chips. Be careful if you go to a fish and chip takeaway shop though, if you order large chips it is large, so unless you have a big appetite, I would suggest opting for the small chips alongside your fish. Most pubs will serve this dish too.
Shepherd's pie or cottage pie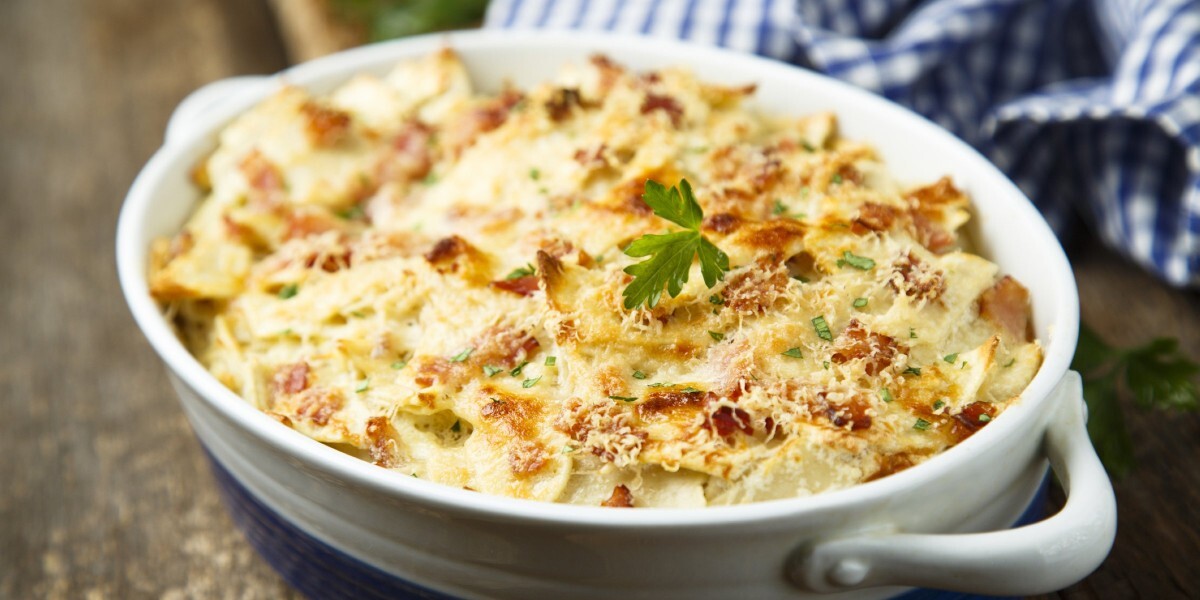 A traditional dish to warm you up on a cold day and although they are largely the same, there is a difference between the two. Shepherd's pie is made with minced lamb (i. E. Sheep) and the cottage pie is made with minced beef. Accompanied by vegetables and a mashed potato topping, this is not one to be missed during your time in Bristol. It might be more difficult to find this one in pubs and restaurants etc, so it is best to give it a go yourself - it's not a difficult one to make. Take a look at BBC good food to find a recipe!
Stews or casserole
Another one to warm your belly. Stews were traditionally made as they were cheap and hearty. With a type of meat, usually beef, root vegetables, potatoes and stock, stews are 'stewed' on the heat for a number of hours to produce a delicious, filling, and comforting dish. Have a look at this Beef & vegetable casserole recipe for an example.
Bangers and mash
Delicious British sausages served with creamy mash potato (and usually gravy), a classic meal that both kids and adults love.
Steak and kidney pie
The name says it all really. Bits of beefsteak and kidney with gravy in a pastry pie.
English breakfast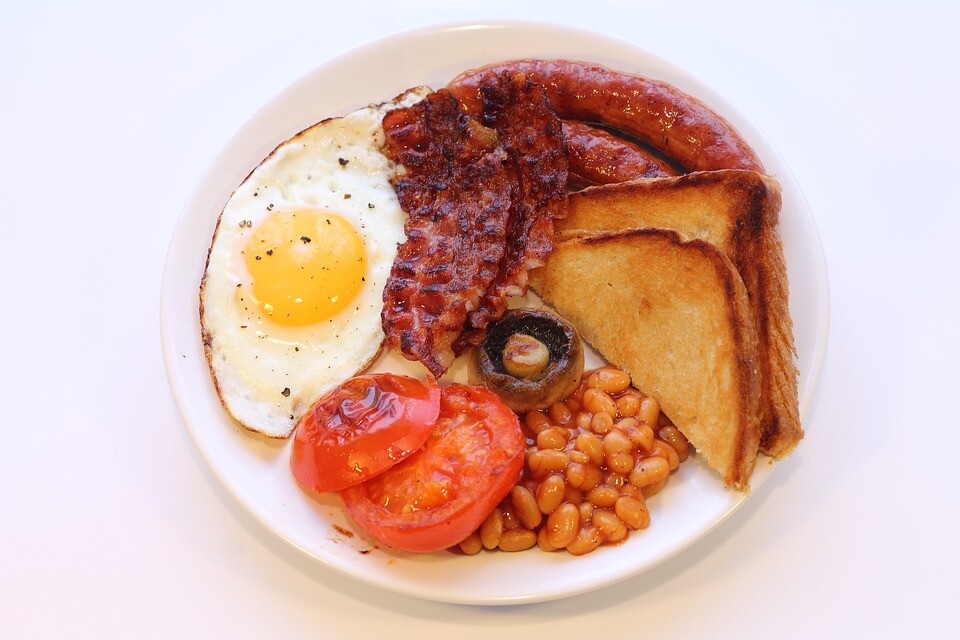 As English people, we love a good cooked breakfast to get us ready for the day or to cure that hangover. English cooked breakfasts usually consist of the following:
Eggs: eggs are vital when it comes to an English cooked breakfast and the beauty of them are that you can cook them in different ways to suit your tastes. Whether you want them fried, boiled, poached, or scrambled, eggs are a must to complete your English breakfast.
Meat: again, with the meat, you can choose whatever you fancy. Usually, English breakfast comes with sausages or bacon - or both! Nowadays, there are great meat-free options for vegetarians, take a look at Linda McCartney's meat-free sausages or Quorn version of meat-free bacon.
Baked beans: Heinz baked beans are the best option here but you can buy supermarkets own brand beans for as little as 23p at Lidl.
Cooked tomato: buy some large salad tomatoes, chop them in halves and fry or grill them to add some vegetable-goodness to the dish.
Hash browns: we love potato in all shapes and sizes in Britain, potatoes shredded then fried is a delicious addition to your English breakfast. You can make them using recipes like this BBC recipe or you can buy them from the supermarket in packets and cook them from frozen.
Mushrooms: depending on what you prefer, you can grill large portobello mushrooms, which is what you will see in most cafes you visit for an English breakfast. Alternatively, you can slice and fry small white button mushrooms - yum!
Toast: this one is fairly self-explanatory. Grab your favorite type of bread and whack it in your toaster. All accommodation should come with basic amenities such as a toaster - British love toast!
Puddings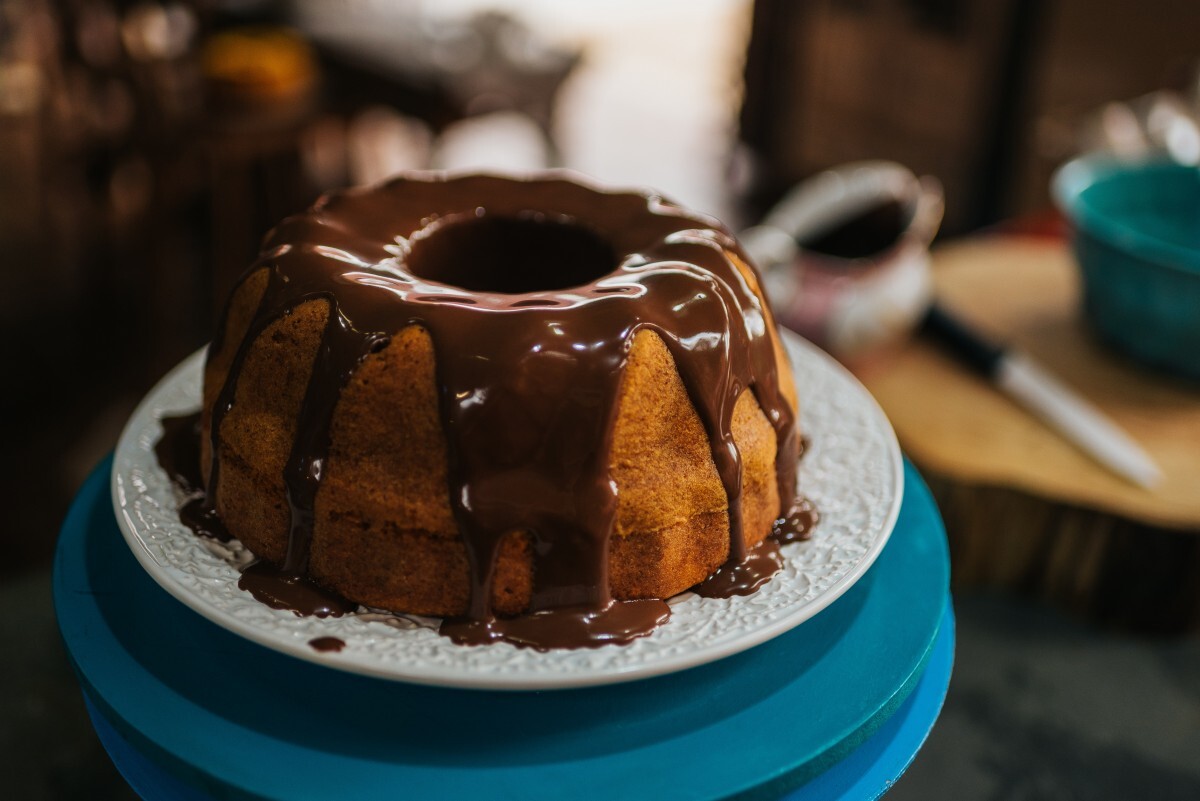 Chocolate brownies: for all those chocolate and cake lovers, this delicious, squidgy bake is sure to tickle your fancy and get you hooked. They taste best when fresh out of the oven and served with vanilla ice cream. Give them a go at home with this highly-rated recipe.
Sticky toffee pudding: you need a sweet tooth for this one, this is my go-to-pudding. Cake covered in toffee sauce; what more could you want? It speaks for itself really.
Victoria sponge cake: this simple yet classic sponge cake is topped with either buttercream icing or whipped cream, fresh strawberries and or raspberries, and delicious strawberry or raspberry jam sandwiched between the two layers of cake. Perfect with a nice cup of English tea.
Bread and butter pudding: the ingredients are in the name, really. Layers of buttered bread are slathered with a custard mixture and oven-baked to perfection. Simple and quick to prepare, this delicious pudding takes about an hour to make from start to finish.
Where to eat in Bristol - British cuisine and gastronomy in Bristol
Bristol doesn't have its own cuisine as such. There are hundreds of restaurants, cafes and pubs to explore and discover delicious and original dishes, where you will find every cuisine under the sun. In this section, we will take a look at a few foods and drinks that come from the west country, which is where Bristol is situated, and a list of some of the best foody places that Bristol has to offer.
Cider: the west country is largely farmland, hence the west country 'farmers' accent discussed earlier on in the 'language section'. As well as lots of dairy and cattle farms, there are a lot of apple orchards. Apples are picked, pressed, and fermented to produce this wonderful alcoholic beverage. When Britain stereotypes the west country, particularly somerset (a county nearby to Bristol), we think of red-cheeked farmers drinking cider listening to the Wurzels; a band that sings about cider!
The Orchard Pig is a local somerset cider that has been voted as the best cider in Bristol for two out of the last three years and was voted for by the people of Bristol in the Bristol good food awards, so be sure to give it a try! Also, why not board the Cider Boat, The Apple, and drink cider midweek (when it is cheapest) whilst floating... Only in Bristol, hey?
Cream tea: cream tea consists of tea, scones, clotted cream and jam, and it is either known as devon cream tea or Cornish cream tea. Although it originated in Devon and Cornwall, it is enjoyed all over the UK in special afternoon tea cafes and it is delicious - and very British!
Places to eat in Bristol
St Nicholas Market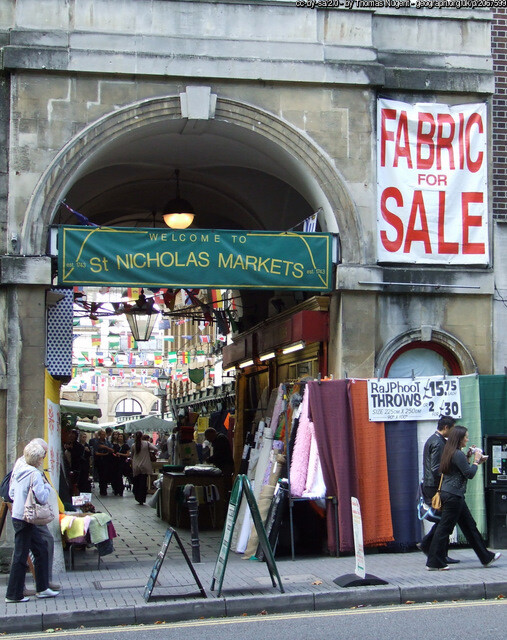 Named one of the 10 best UK markets, St Nicholas Market should be a definite stop on your list of places to explore. As well as stalls bursting with fresh fruit and veg, you can pay £6 for a big portion of meat, Indian or Thai.
Cafe Revival: located on the edge of St Nicholas's Market, Cafe Revival is Bristol's oldest coffee house and serves killer wraps and jacket potatoes all for less than £5.00.
The Whopping Wharf: the Whopping Wharf is a new, community neighbourhood based on Bristol's Harbourside, making use of derelict land that was not used for some time. There are lots of new, interesting, community-based concepts here, as well as lots of cafes and restaurants. Be sure to check it out! Among them is the Pickled Brisket, Bristol's "only salt beef bar", with very reasonably priced dishes, so be sure to head down there all you beef and meat lovers!
Harbourside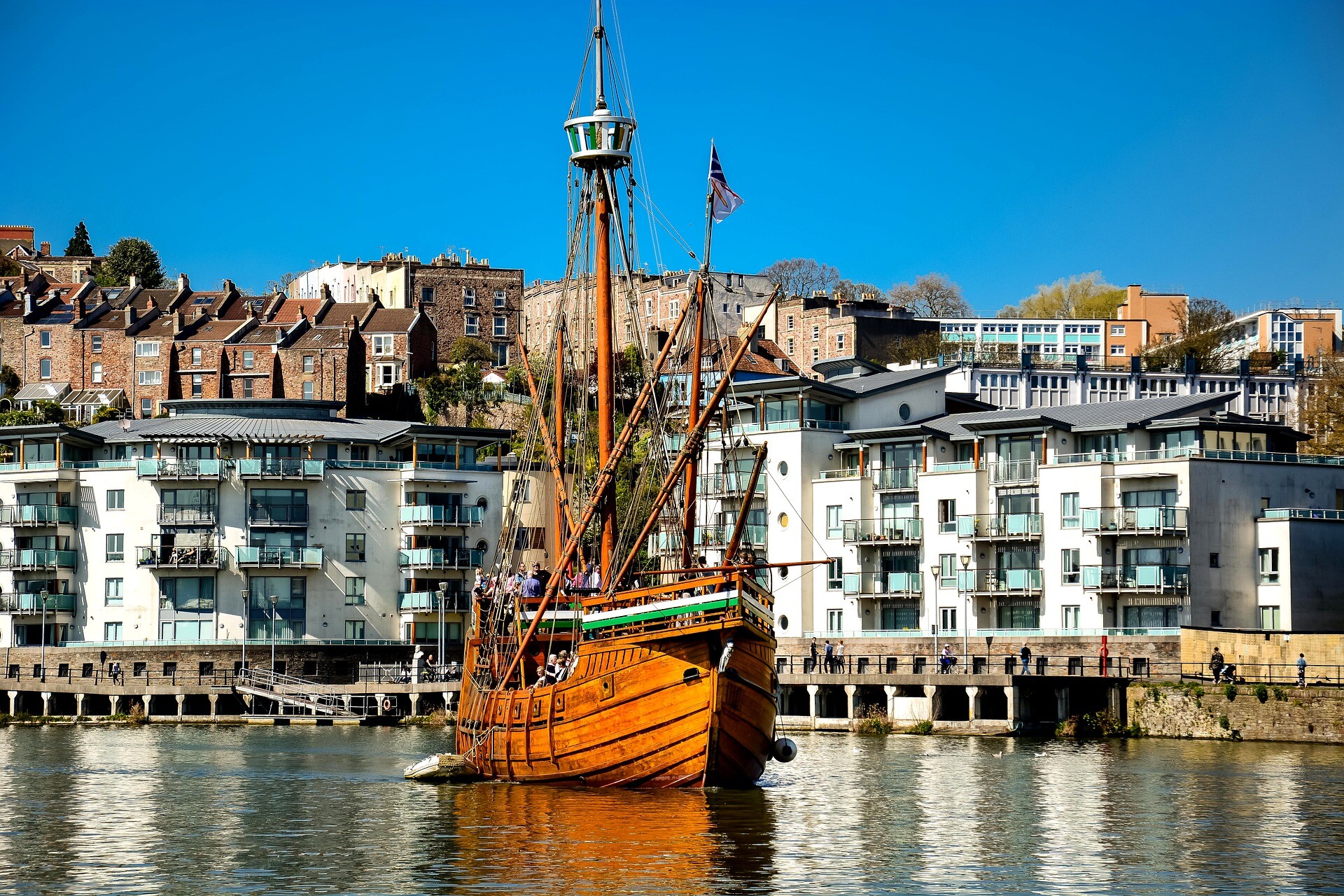 Harbourside is a good area to head to for food, there are lots of good options waiting to be explored there but here are a few of the best:
Za Za Bazaar: here, at Za Za Bazaar Harbourside you will find anything you can ever imagine! With set price menus for buffet, you can eat lunch for less than £10.00.
No 1 harbourside: this restaurant prides itself on focussing its menus on local and seasonal produce. At No 1 Harbourside, all meals are between £6.50 and £12.00 and are 100% worth the money and a visit.
The stable: also located on the Harbourside, The Stable is part of a wonderful chain that primarily does pizzas. You can eat delicious meals here for around £12.00. Take a look at this Evie's experience to see read just how great it is.
Three brothers burgers: this burger place is great! It is located on the welsh back, which is still a part of harbourside and here you can grab a great lunchtime special for £5.00 and they offer some good vegetarian options too.
Gloucester Road and Stokes Croft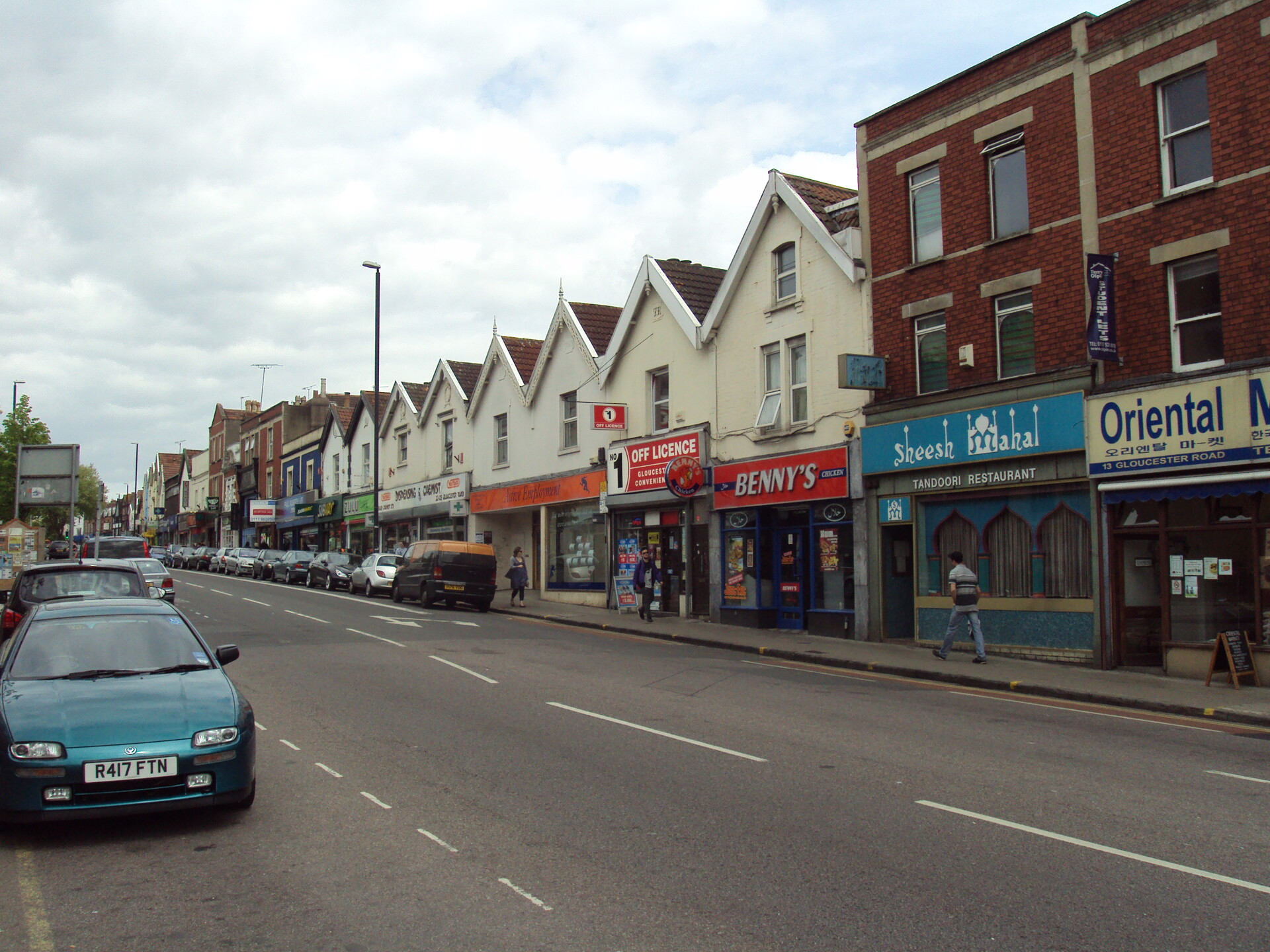 This is another good area to head to with lots of different options all at reasonable prices:
The Canteen: a good place for a light bite and a bubbly atmosphere. At the Canteen you will get free soup and bread with all meals. Eat here for less than £10.00 for a hearty meal.
Pieminister: at Pieminister you can try the traditional steak and kidney pie mentioned in the previous section. With lots of interesting pies to choose from, there is something for everyone. They even do some fantastic vegetarian pies such as the feta attraction, which I definitely recommend trying even if you are a meat-eater! There are actually two Pieministers in Bristol, find them on Stokes Croft and broad quay. Eat a pie plus one side for just £7.50.
The social: at The Social you can grab some good food for reasonable prices. They serve breakfast, lunch, dinner and Sunday roast so you can go any day of the week for any meal. They even have a garden to chill in!
Biblos: Whilst in Bristol, you have to try a Biblos. There are three of them in Bristol and they appear at lots of UK festivals throughout the summer! Known for their incredible wraps, bursting with flavours, you can get a regular for just £5.00 or a large for £7.00… and a large is large! There are lots of other delicious options too such as sharing platters and salads so be sure to check it out. There is one in Stokes Croft, one on Gloucester road, and one in St. Werburghs.
St. Werburghs city farm: be sure to check this place out. At St. Werburghs city farm you can visit the allotments, the farm animals and then head to the farm cafe for some local, organic food in a hobbit-like building. After releasing your inner child on the farm you can head to the neighbouring pub, the farm, which has lots of drinks on offer, as well as food and a lovely garden to enjoy this all in on those sunny days. Head around the corner from the city farm to Hopetoun road to find this.
Picnics: British love to picnic and Bristol has some beautiful places to do so. Make yourself a packed lunch, grab a blanket and head down to one of the many parks in Bristol to eat your homemade lunch. One of the best and most popular places is Clifton downs. Located on a giant green in Clifton, you will see runners, dog walkers and plenty of people enjoying a picnic up there on the sunnier, warmer days. For more perfect-picnic-places in Bristol, keep exploring.
Bristol is full of pleasant surprises and what is certain is that you will have plenty of interesting, quirky and yummy places to discover throughout your Erasmus year. The possibilities are endless…
---
Photo gallery
---
---
Content available in other languages
Want to have your own Erasmus blog?
If you are experiencing living abroad, you're an avid traveller or want to promote the city where you live... create your own blog and share your adventures!
I want to create my Erasmus blog! →