Where to eat in Brussels – Gastronomy in Brussels
Where to eat in Brussels – Gastronomy in Brussels
Here you will find a list of places you should pick to discover Belgian cuisine. Some of those places may however not be suitable for all pockets especially student ones. Nonetheless, you should try one of these at some point even if not all because trying authentic Belgian cuisine can be of amazing satisfaction. Moreover, as said previously, you will be happy to know that you can taste cuisines from all over the world in Brussels so a little section will be dedicated to the best places to try them.
Belgian cuisine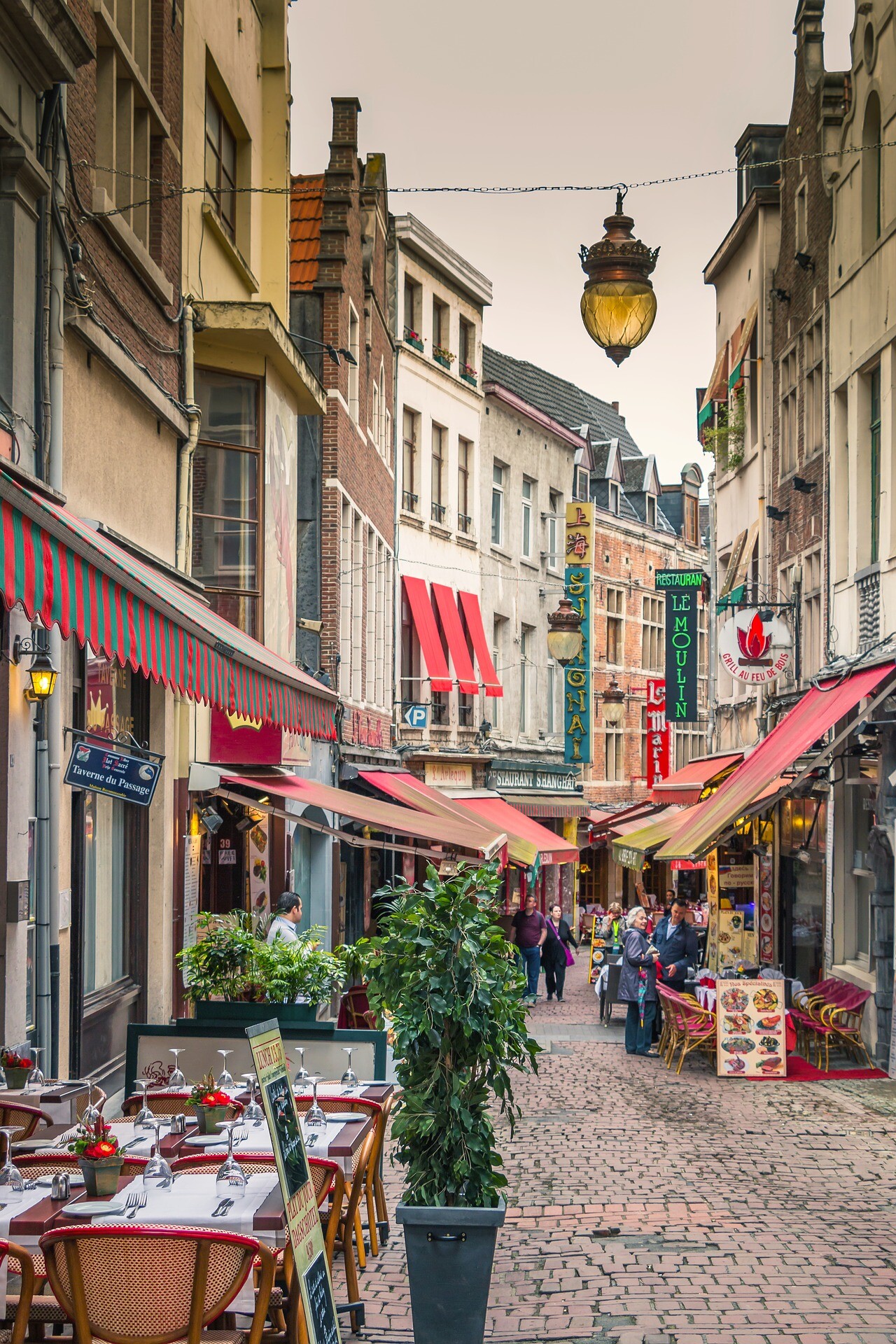 C'est bon, c'est belge, la Terrasse
This is THE restaurant that serves Belgian specialties that you shouldn't miss. It is situated in the heart of Brussels in the district of the Sablons. The menu is filled with traditional Belgian dishes. A large selection of typical and local dishes as well as drinks. The setting is authentic and warm which is a great example of Belgian conviviality. Bonus advice: try their "carbonnade flamande", it is delicious.
Prices range from 11 € to 20 €.
La fleur en papier doré
Here's another incredible Brussels place, this café has an illustrious history. This is the place where the surrealist René Magritte (one of the most renowned Belgian painters in the world) used to go. Situated in the city center near the Gare Centrale, artists and writers still visit this café. Not only can you enjoy a good Belgian beer in there but you can also taste the best traditional dishes of Brussels. Bonus advice: their "stoemp saucisse" is incredible.
Prices range from 11 € to 20 €.
Le Fin de siècle
This is one my favorites, the prices are really affordable and you can enjoy the most typical Belgian and Brussels cuisine. The setting is very simple, without ceremony, "à la bonne franquette" which is typically Belgian. The tables are designed in a way that allow for impromptu and happy encounters. It is not possible to book a table so you need to be patient at rush hour. The kitchen is open till 1AM which is ideal for the late eaters. It is located 5 minutes by foot from the Bourse in the city center. Bonus advice: try their beetroot goat cheese salad.
Prices range from 11 € to 20 €.
Vismet
Here's the best fish gastronomic place in Brussels. You can find it the Michelin guide which is proof of its exceptionality. The atmosphere is jovial and the service is typical Brussels. The food pays homage to seafood which is the star of the place although you can find meat dishes, the dishes are generous and fresh. It is certainly one of the most expensive restaurants of this list but if you're a fish fan, then I highly advise you to go. Bonus advice: you should definitely try the Pollack "à l'ostendaise", typically Belgian and exquisite.
Prices range from 21 € to 40 €.
Le Royal
The "Brasserie Royal" is a renowned place in Brussels. Situated in the district of Sainte-Catherine and designed by the famous Belgian architect Pierre Bourgeois, it feels like this place always existed. The food is varied and elegant, the classic dishes of Belgian cuisine sit side by side with more contemporary meals. Don't be afraid to try their fish dishes as they perfectly cook them. Bonus advice: just sit at the terrace and have some oysters accompanied by a glass of champagne. Moreover, their shrimp croquettes can be ordered by piece so if you just want to have a taste at one before eating the main course, feel free to do so.
Prices range from 41 € to 60 €.
Amadeo
Situated in the Sainte-Catherine area but closer to the Bourse in the city center, Amadeo is THE place to go for the carnivores. For 15€, you get to eat as many spare ribs as your belly can fit. They are accompanied by Belgian-baked potatoes and a salad. You can stay seated as long as you're hungry and ask for more! The meat is delicious, caramelized and tasty. Bonus advice: prepare your stomach for a food orgy!
Au Pré-Salé
The Pré-Salé offers meals between earth and sea, which is typically Belgian. The decor is really amusing and resembles the back of a butcher's shop with typical tablecloths. It is again located in the Sainte-Catherine area and prices are quite affordable. Bonus advice: this is the place to have "moules marinière", their mussels are very good and accompanied by fries with Tartare or Pickels sauce.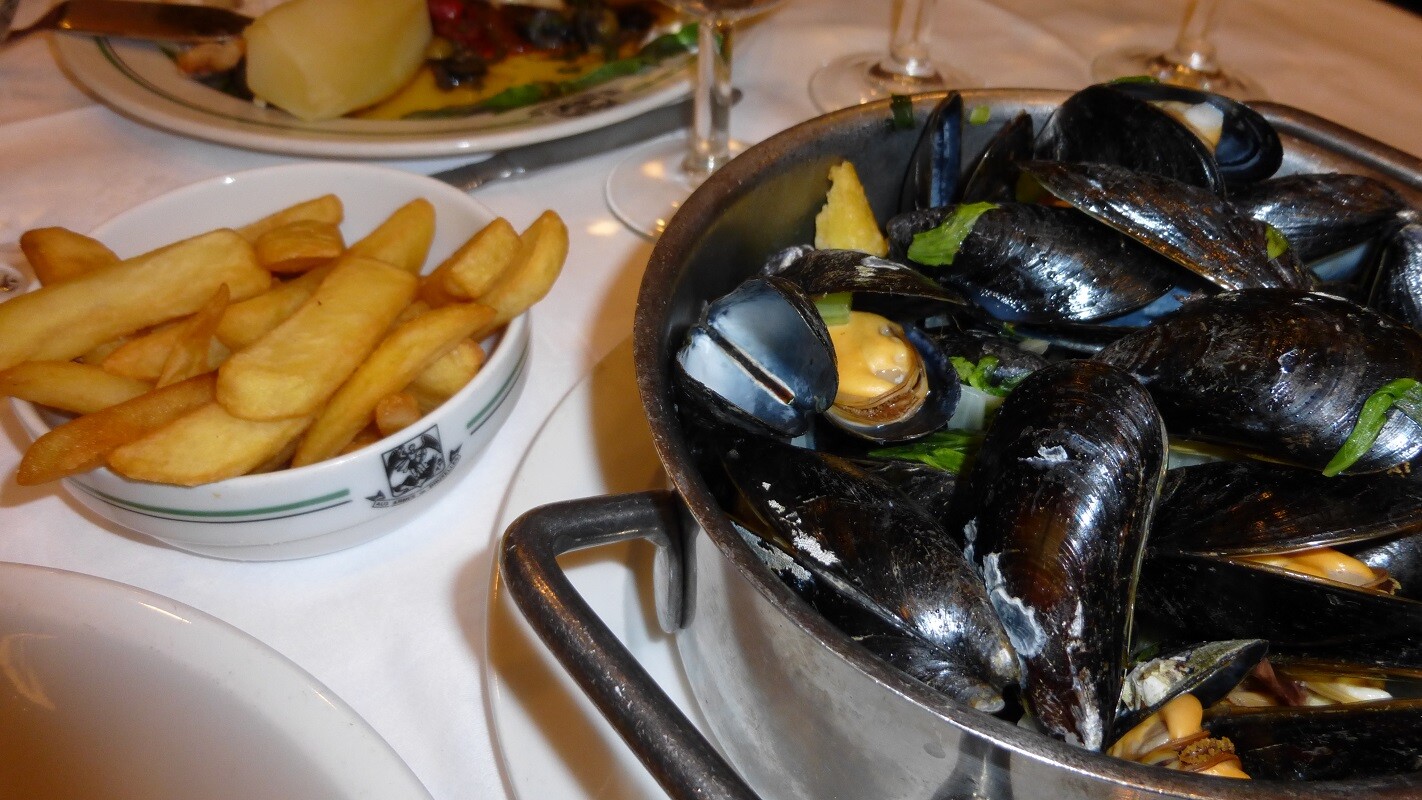 Prices range from 15 € to 35 €.
Chez Léon
This is the biggest restaurant of Brussels, it is situated in the mythical "Rue des Bouchers" and their specialty is of course the "moules frites". Their impact has been so major that the restaurant has started expanding into a chain in France and London.
Prices range from 11 € to 20 €.
La Bastoche
This "brasserie" is located in the district of the Cimetière d'Ixelles, this is the student place to go as it's cheap and the food is good. They propose various dishes, from pasta to salads to meats, all with a Belgian touch. If you're feeling hungry after finishing your classes and don't want to end up in Quick, go there! This is the unbeatably cheap spaghetti! Bonus advice: their Ricotta Spinach Cannelloni is amazingly cheesy and delicious.
Prices range from 11 € to 20 €.
Friture René
Situated in the commune of Anderlecht, this place deserves for you to draw away from the city center. They serve the utmost traditional Belgian food there in a without-ceremony atmosphere dear to Belgian culture. Prices are reasonable and the food is of definite high quality. Their "moules frites" is delicious! If you're not convinced yet, you will be surprised to know that your perfect Belgian fries' basket gets constantly refilled by the waiters. Bottomless Belgian fries? This is not a typo. The decor is also perfect: outdated bulky wood furniture. Bonus info: tasty, tasty, tasty. The highlight of the menu is a 300-gram horse steak, which arrives with several sauces to choose from.
Prices range from 21 € to 40 €.
Frit'Flagey
This is just a "frietkot" (which is a fries stand), no chairs, no tables. Sitting on a corner of the "Place Flagey", you will regularly observe a long queue in front of this fries counter but the client is rapidly served so no worries. If you don't wish to eat standing, you can always walk to the Ponds of Ixelles to eat with a view or you can go to the bar "Le Pantin" where they allow you to have a beer with your fries cone. Bonus advice: You can choose to have your fries served in a cone or a plastic prunnet but know that you will probably get more fries in the cone and they also keep warm longer in it.
Prices are less than 10 €, price for a generous cone of Belgian fries is 2.50 €-3 €.
Maison Antoine
This "frietkot" is known among locals as the best frietkot of all Brussels. Well, I won't confirm or deny that statement but I can tell you that their fries are surely traditional (double cooked in beef grease). It is situated on the "Place du Jourdan" near the "Quartier européen". You can enjoy those fries in many bars of the square. Bonus advice: don't forget to try one of the numerous Belgian sauces that are on display, the most typical one in Brussels is the "sauce andalouse" so don't hesitate to ask for that one.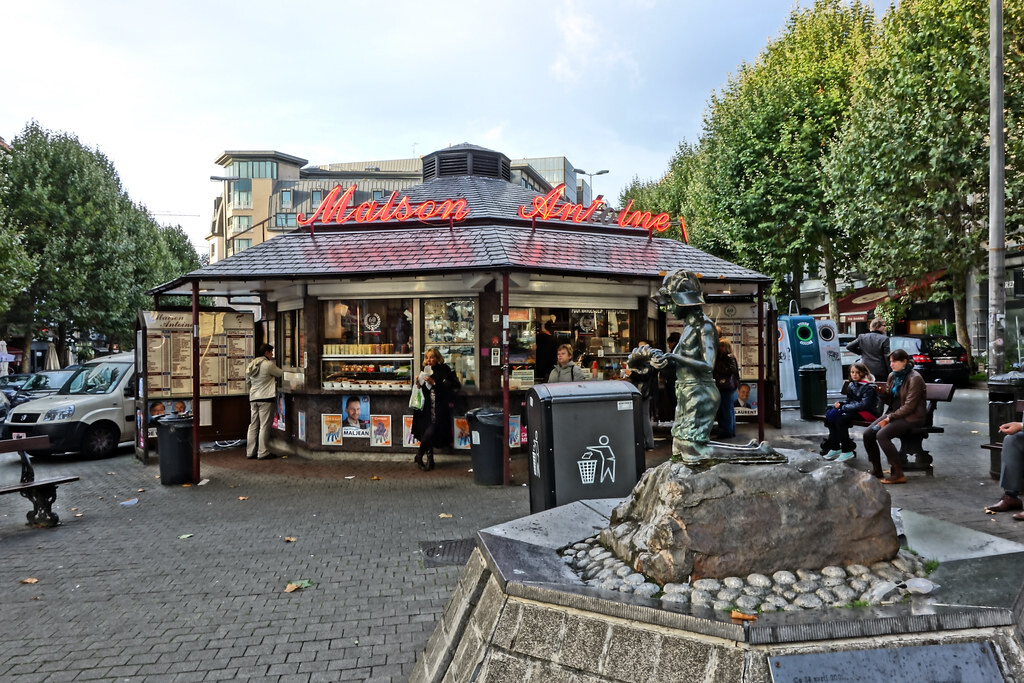 Prices are less than 10 €, price for a generous cone of Belgian fries is 2.50 €-3 €.
International cuisine in Brussels
Ellis Gourmet: Ellis Gourmets represents a Belgian burger restaurant chain. Two of their restaurants are located in Flagey and Place Sainte-Catherine. This is not your normal fast food chain burger; those ones are high-end. A large selection of burgers is available, the beef is tasty and tender. They even have a salmon option! Bonus advice: have a try at the coleslaw, it's high rated on my count.
Prices range from 15 € to 35 €.
Green Mango
Here's another burger place that you must definitely check out, this is my personal favorite. Not only do they serve delicious burgers, they also have Thai soups and salads. It is also possible to sip on fresh juice cocktails (with or without alcohol) and smoothies. The burgers are suited for every appetite, from the Fat Boy to the very-very-big-eater-oriented T-REX. And they also have vegetarian options! It is situated in the Vleurgat district of Ixelles, between the "Avenue Louise" and the "Bascule" of Uccle. Bonus advice: you may want to book a table in advance as this place is very successful and the room is not that big.
Prices range from 11 € to 20 €.
O'Liban
Lebanese restaurant located in the district of the "Bascule" in Uccle, they offer Middle-Eastern cuisine in the form of meze that are super good. Don't get it wrong though, it is a restaurant, not a simple kebab place. Bonus advice: check out their kebab-style sandwiches at lunch time, they're delicious and perfect when you're on the go.
Prices range from 11 € to 20 €.
Bab Al Hara
Here's a personal favorite, Bab Al Hara is a Syrian restaurant that you can find on the Boulevard Anspach in the city center as well as close to the Clemenceau metro station, near the "Marché de l'Abattoir", 15 minutes walking from the city center. This is not your average Middle-Eastern food although you might feel like desisting from going in at first as the setting is not very glamorous. However, they serve some of the best Middle-Eastern food of Brussels and the personnel is beyond likeable. Accompany your falafel and/or wood-baked meat and chicken with the famous Syrian mezes like hummus, eggplant salad, parsley tabbouleh, lemon-fried cauliflower and so on, you will have the best time of your life and this is vegetarian-friendly too! Bonus advice: ask for the hot and spicy bread, it is exquisite.
Prices range from 11 € to 15 €.
Cap Africa and Soleil d'Afrique
In the cosmopolitan African neighborhood of Brussels, Matongé, you will find many restaurants specialized in cuisines from all over the world. Cap Africa and Soleil d'Afrique are among the best. They serve only General African food like the Chicken Mafé, the Chicken Yassa, grilled goat and tilapia. They also have a selection of Belgian beers so you can enjoy it with your meal. In Cap Africa, they have a student menu and in Soleil d'Afrique, the food is shockingly affordable for student pockets. Quantity, quality and cheap. Bonus advice: don't forget to try some famous fried plantain bananas!
Prices are less than 10 €.
Toukoul
Ethiopian cuisine has a very distinct gastronomy in the African landscape and Toukoul is like Ethiopia itself. You get to eat some of the best dishes and sauces with your fingers and thick little crepes. The setting is modern and African and the restaurant is located in the city center of Brussels. Be prepared to taste totally new flavors and spices. Bonus advice: don't hesitate to ask the staff specific questions you might have as this will maybe be totally new culinary territory for you.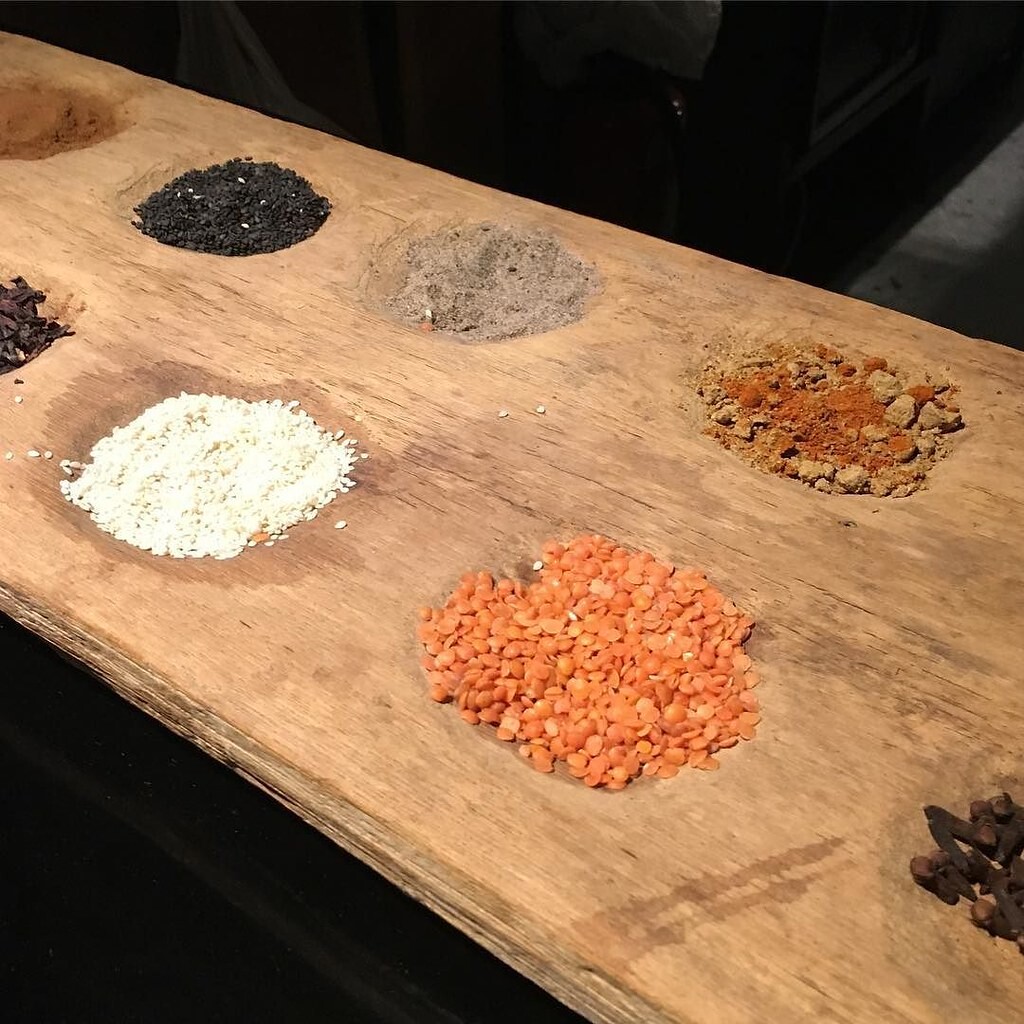 Prices range from 21 € to 40 €.
Anarkali
Also in Matongé, here's an Indo-Pakistani restaurant that offers an all-you-can-eat Indian dinner. The food is delicious and cheap. It is suited as much for the carnivorous as for the vegetarian. For the most basic and cheapest formula, you can pick among a cold buffet with starting courses and salads; a warm buffet with starting courses and a large selection of main courses; and you can finish with a dessert and coffee. Bonus advice: their naan bread is so delectable and the lentil curry is stunningly good!
Prices range from 15 € to 35 €.
L'Antarctique
Fish lovers are going to fall for this one. L'Antarctique is located in Lemonnier near the Gare du Midi. This is pure uncomplicated fish food. By arriving at the ground floor, you'll be surprised that it looks like you're at a fishmonger's. Indeed, here, there's no menu. You pick the types of fish and seafood you want in your plate, you choose for grilled or fried and you pick the side dishes. They weigh your mix of king shrimps, sole and calamari, and you pay the market price of fish. Isn't that wonderful? Bonus advice: remember you're in Belgium, you may want to have some natural mussels.
Prices range from 21 € to 40 €.
Cosi Com'è
Here's an excellent and cheap Italian place. Some Italian-Belgians say you can get the best and most traditional pizza of Brussels there. It is located in the commune of Forest, outside of the city center and Ixelles, but this restaurant is worth drawing away from those areas. Bonus info: they offer pasta and sizeable pizza with this thin dough you can normally only find in Italy.
Prices range from 11 € to 20 €.
Ninja House
Another all-you-can-eat place, may your bellies beware. All sorts of sushi, rice and noodles are available. The quality of the sushi is good. You receive a list which enables you to enjoy 6 rounds to order anything you want, you just have to tick whatever dish you want them to serve you and the efficient staff takes care of your order (very) quickly. However, be sure not to let your eyes be bigger than your stomach as you get a fine for every sushi you might waste. Bonus advice: their chicken teriyaki is phenomenal and justly caramelized.
All-you-can-eat lunch is 18 € and all-you-can-eat dinner is 26 €.
Umamido
This one's for the ramen lovers. The creator of the Umamido restaurants is a Belgian expat who lived in Japan for a few months. He fell in love with this noodle broth and decided to come back to Belgium to popularize the dish. What is interesting about this place is that he decided he would have a Polish chef to concoct the recipes as, according to him, the Polish are broth specialists. Polish-Japanese-Belgian hybrid? If you didn't know by now, diversity is what makes the essence of Brussels. The restaurants are located in Place Flagey, Place Sainte-Catherine and in the district of the Châtelain. Bonus advice: the place is ideal if you're in a hurry as the quality ramen is served fast, and make sure to taste their delicious gyozas.
Prices range from 11 € to 20 €.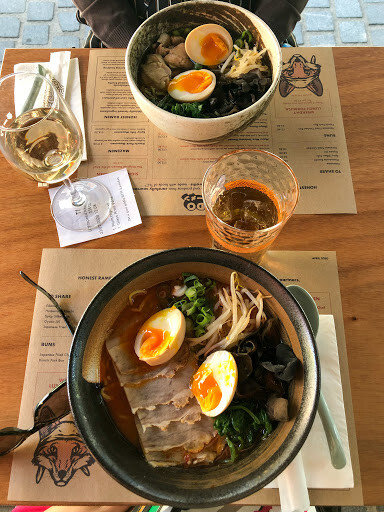 Beyzade
Everyone knows about kebab food from Turkish cuisine. However, if you want to discover the numerous other rich dishes from Turkey, you might as well pass by Beyzade. This is a traditional Turkish restaurant located in the commune of Schaerbeek, they have quite an exhaustive menu which will allow you to discover Turkey as you never did.
Prices range from 11 € to 20 €.
7 Saveurs
First and foremost, in Brussels, we call "dürüm" the famous kebab. The Turkish give the name "dürüm" to their wrap bread. In Turkey, a dürüm is simply a kebab with the normal bread being replaced by the dürüm bread. However, Brussels, with the whole mix of cultures that has been occurring for decades, has acquired its own variety of dürüm kebab. From the 1980s, when the Turkish started owning diners and "friteries", they created their own dürüm inspired by the Belgian "mitraillette". You can ask for this hybrid dish to be filled with meat/fish/chicken/falafel/shawarma (called pita meat here) as well as various crudités and fries.
The choice of sauces is extremely varied in Belgium as we have our own specialties (andalouse, samouraï, bicky, pili-pili…). The dürüm sandwich is outstandingly popular in Brussels and Belgium, and you can find places to get one everywhere in the whole city, as they are present in almost every neighborhood. However, I picked the 7 Saveurs diner as it is my personal favorite, everything is good there and they also have red cabbage and cucumber options in the choice of crudités. The restaurant is located in the Buyl district, which is 10 minutes by foot from the ULB university in Ixelles. Bonus advice: they offer a unique perspective on the Belgian dürüm with the Dürüm Bazooka; double up your pleasure with this enormous double dürüm.
Prices are less than 10 €.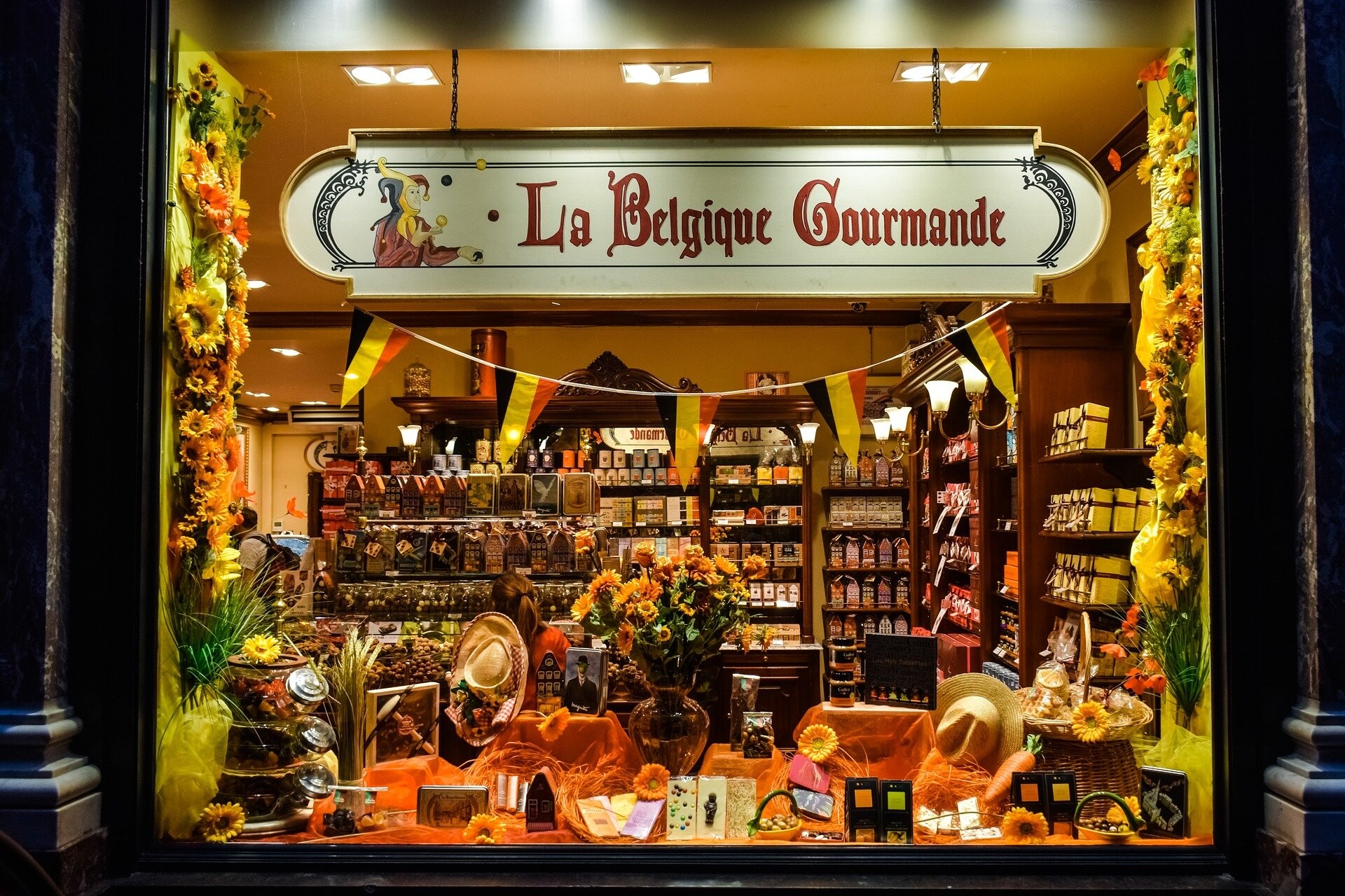 ---
Photo gallery
---
---
Content available in other languages
Want to have your own Erasmus blog?
If you are experiencing living abroad, you're an avid traveller or want to promote the city where you live... create your own blog and share your adventures!
I want to create my Erasmus blog! →