Nightlife in Brussels – A guide to nightclubs and going out in Brussels (Part 1)
Nightlife in Brussels – A guide to nightclubs and going out in Brussels (Part 1)
In Brussels and Belgium, we have our own word to describe going to party, "guindailler". The "guindailles" usually involve a lot of drinking. It is then natural to bring you to this very important chapter, the nightlife in Brussels. Many places are odd and there is music for every ear. Here you will get a detailed overview of every bar and club worth visiting in Brussels.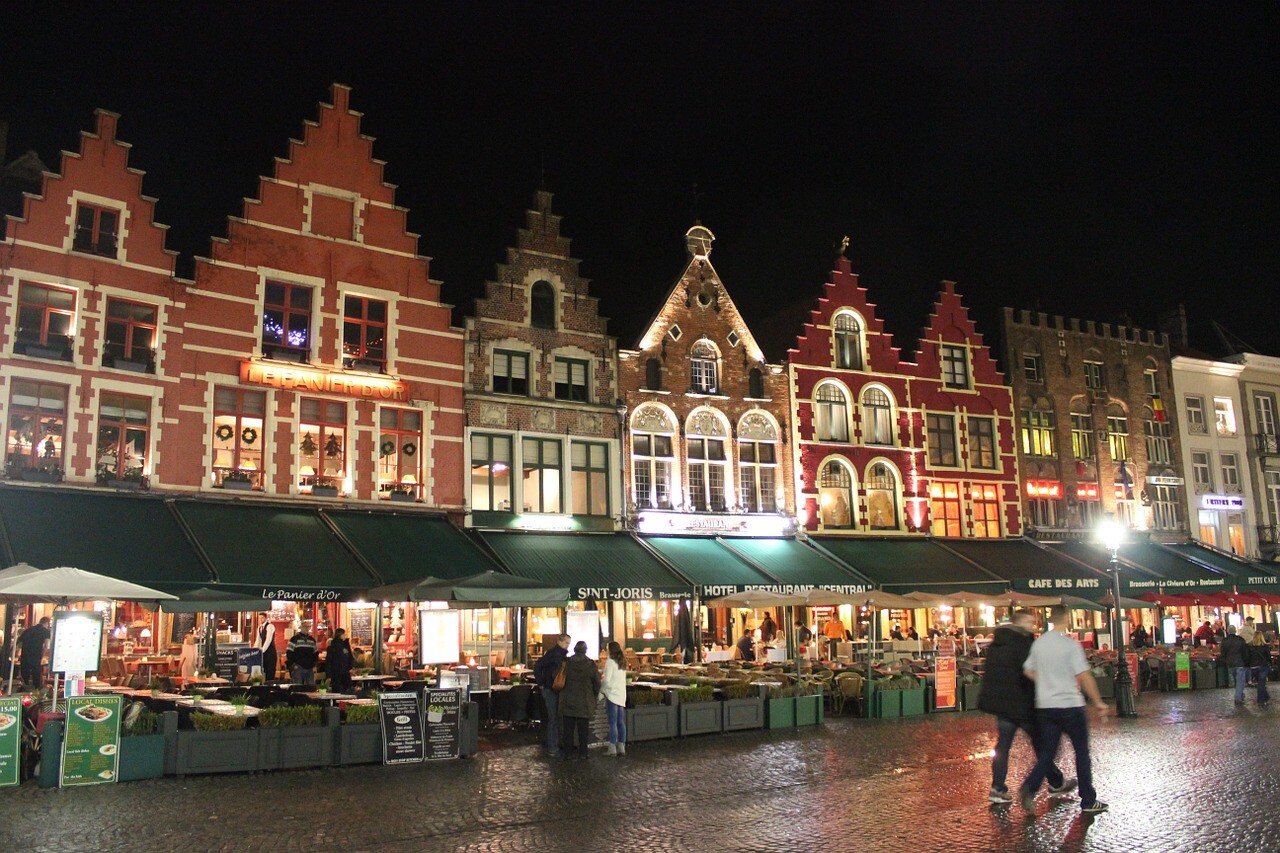 Bars in the city centre of Brussels
Bars consist of the basis of Brussels nightlife. This is where you will spend most of your time partying or at least where you will start your night as cafés are ideal to gather with your squad and entrance is free. The manager of the bars understood that well as they hire DJs to guarantee the musical atmosphere; some of them even transform into veritable clubs at certain hours.
Délirium Café
The beer aficionados adore this place. It is located in the "Impasse de la Fidélité" close to Debrouckère metro station in the city center. You can taste about 2,500 varieties of beer from all over the world there. Since 2004, the Délirium Café holds the world record in the Guinness World Records book for its list of beers offered on board. You can select from Trappist beers (famous abbeys in Belgium), fruit beers to strong dark beers. They even have innovative and unusual flavors like chocolate, banana, coconut, spicy, spéculoos… The staff is there to give you pieces of advice if you don't know what to pick, they really listen to you before you have to make your choice. The decor is quasi-historical with hundreds of items reminiscing of beer history. Plus: every Thursday, they have jam sessions or concerts.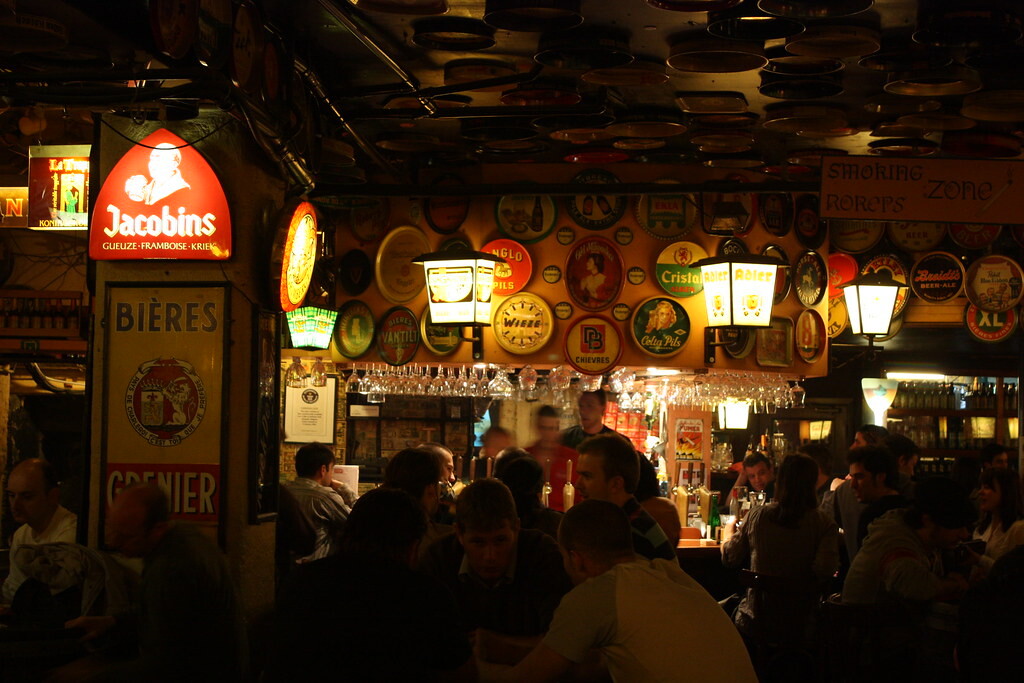 Floris
Tequila and absinthe bar: right in front of the Délirium Café, you have the Floris Bar. Here's an absinthe bar, this alcohol was formerly illegal but now it is witnessing a rebirth. They have over 400 varieties of absinthe! You can also taste more traditional spirits like whiskies, liquors and rums of which they have a large selection. And, it is cheap. Plus: taste a Seven Tiki or a very intriguing Captain Morgan Black.
Le Corbeau
This is a bar situated near the Rue Neuve in the heart of Brussels. During the day, it is a restaurant that serves Belgian dishes but when the night comes, music gets loud and people come here to dance on the tables! The music is commercial and every butt is invited to shake on the tables. The room is authentically Belgian from the beginning of the 20th century, this setting makes it an incredible place.
Celtica
This disco bar is situated close to the Bourse. On the ground floor, there are often rock concerts that you can enjoy. For the soccer fans, you might as well go watch the match there as they have an unbeatable happy hour on beer bottles and the cheerful soccer experience is equivalent to that of the one occurring in the stadium. Get to the second floor and the atmosphere changes completely. This is a mainstream music club right there. The atmosphere is overexcited and lots of British people spend their night there. If you want to have a loud party, this is your way to go.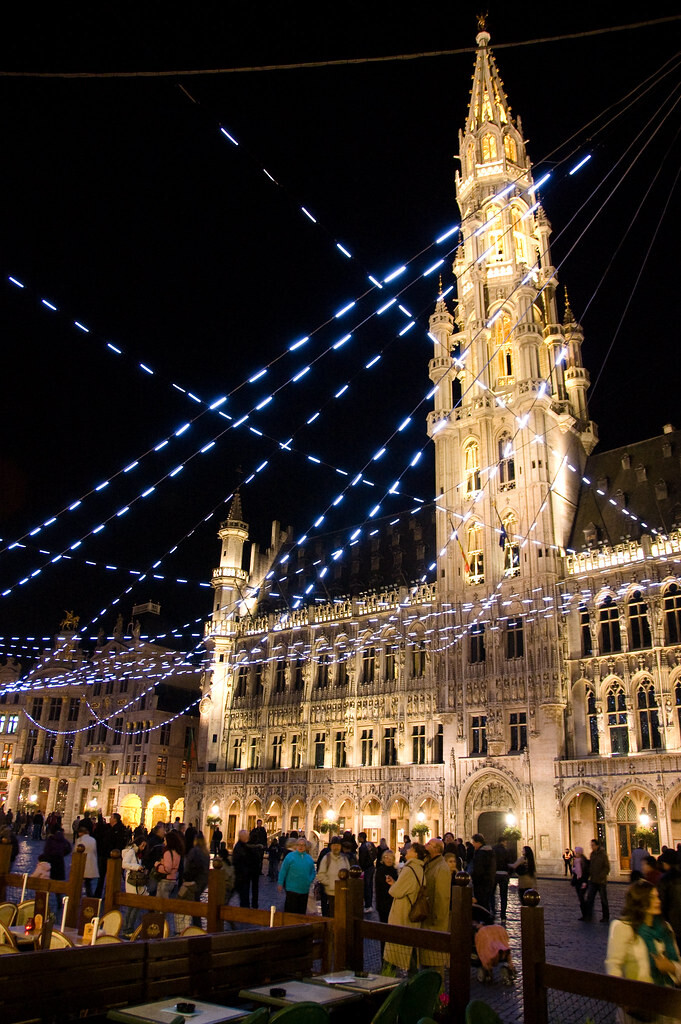 Bonnefooi
Bonnefooi offers concerts almost every night from talented DJs and instrumentalists. Bonnefooi means "by chance" in Brusseleir. The music is really amazing for the music lovers. You can randomly discover new music there. Broke students will be glad to hear most of the gigs and DJ sets come free of charge and often played by local artists (as well as some big names). It is also the place to be for the late partygoers as this bar is open until the wee hours of the morning. The beer is good, the music is good and they have an amazing inside balcony on the second floor with couches to make you comfortable. Bonnefooi is must-go-to in Brussels.
Zodiak
Near the Grand-Place, Zodiak is for those who enjoy electronic music. The DJs playing there on Saturday night are very good. Prices are reasonable and staff is nice. If you're craving for musical discoveries, that's your place to go.
L'Épicerie moderne
This is not really a bar albeit not a club either. The Épicerie Moderne plays in-depth electronic music which gives this uncommon party place an alliance of conviviality and good music. It is also kind of a bistro as they serve delicious bagels too!
Big Game
This sports bar sits right to the side of the Bourse, in the heart of Brussels close to the Grand-Place. It's open every day from noon till the end of the night. They have a happy hour and drinks are moderately priced. The list of beers on the board is endless and doesn't cease to grow longer. This bar is very popular among locals and tourists and you can even party like you're at a club downstairs. They also have 25 screens placed everywhere in the bar that broadcast different sport competitions (even the Superbowl), make your choice!
Saint-Géry district
In the heart of Brussels 1000, 2 minutes away from the Bourse, this district is built around the Halles Saint-Géry bar. It is very popular among Brussels people, with countless bars and terraces where you can sit back, sip a drink and enjoy your time.
La Machine
The Machine is in the Saint-Géry district, they offer 59 beers, 70 cocktails and 60 spirits and liquors. The setting is charming and you can attend jazz, soul or rock concerts in there.
Le Swan
Located in the lively Saint-Géry district, the Swan bar is cozy and relaxed by day but becomes vibrant, dynamic and urban by night. They have a wide selection of cocktails and beers. They play R&B and hip hop music at night but also Latin music.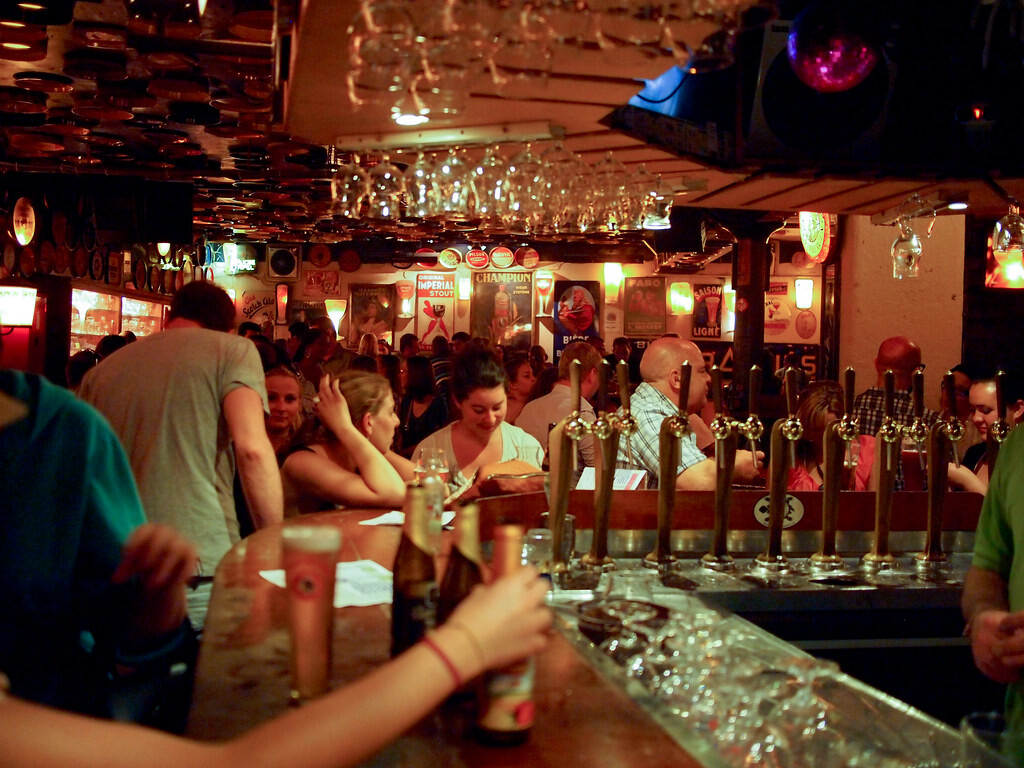 Mappa Mundo
This is one of the most beautiful bars of the Saint-Géry district. Mappa Mundo's clientele is very cosmopolitan and enjoyable. The terrace is full in summertime and they offer all sorts of cocktails and beers.
Chili
Here is my personal favorite, the Saint-Géry-located Chili bar consists of a small room and a very large terrace that is packed the moment rays of sun show off in spring. They have lots of fresh and delicious cocktails, a good choice of beers and appetizers. The major advantage of the Chili bar is the super likeable boss of the place who will make you feel like you're at home. When night falls, they will gladly put on a song you'd want to listen to and let you dance your butt off. This right here could become your headquarters.
Mezzo
The Mezzo bar transforms into a real club at night as it possesses a real dancefloor at its core. The DJ takes on a very eclectic set, there's definitely one song you'll want to shake to. Beers are affordable but other types of alcohol are quite expensive in that one.
Rock Classic
If you're into rock music, this is your place to go. Situated a little bit farther than the Saint-Géry center, this bar organizes attractive concerts and showcases for you to party until dawn. Beer is cheap too!
Dali's Bar
Close to the Grand-Place in the "Rue des Bouchers", the Dali's Bar offers excellent electro-oriented music while you can enjoy your drink.
L'Archiduc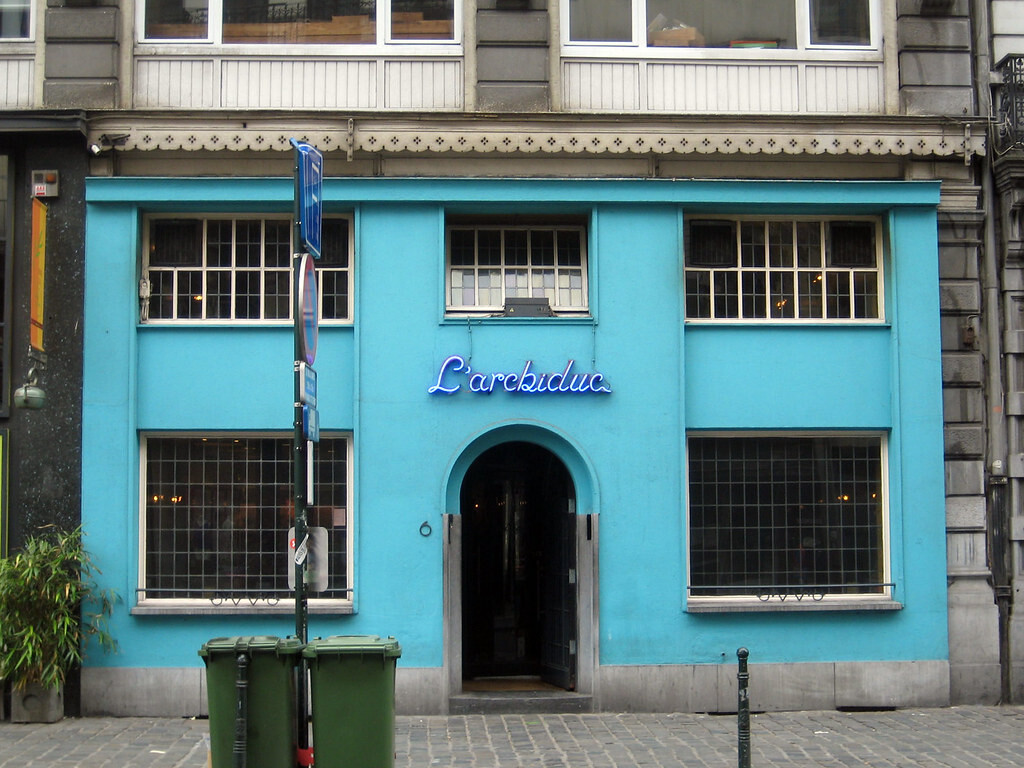 This is the legendary jazz bar of Brussels, close to the Bourse. It is quite expensive but they have an excellent selection of cocktails and spirits, which the bartenders are famous for. However, if you like jazz music, this is the place to go as they host some of the best concerts of the city. As with any respectable bar in Belgium, choose from more than 200 beers, grab it and sit in the courtyard with a full view of every angle of the bar. Lady Gaga, Tony Bennett and Grace Jones have been clients of the bar.
Bars in Flagey, Brussels
Bar du Marché
2 minutes away from the Belga, the Bar du Marché sits on a corner and the atmosphere is young, dynamic and relaxed at the same time. You get appetizers there, and they have a happy hour too. The setting is modern and really classy. At night, they have a bigger room at the back where you can go at some moves.
O'guera
This Portuguese bar offers the cheapest drinks of the neighborhood, a vodka is €5. Inside is a room/dancefloor led by a DJ's music that plays eclectic mainstream music to allow you to have a great party night!
Belga
In the heart of the Flagey district, the Belga has a posh clientele but not only as it is quite affordable. This is an unmissable café with a huge terrace where you can get a sandwich during the day or a quick breakfast in the morning. At the same time, it is definitely part of Brussels nightlife as it transforms as great drinking place when the sun sets. The place is very successful, you need to be aware that seats might be difficult to get, so be patient.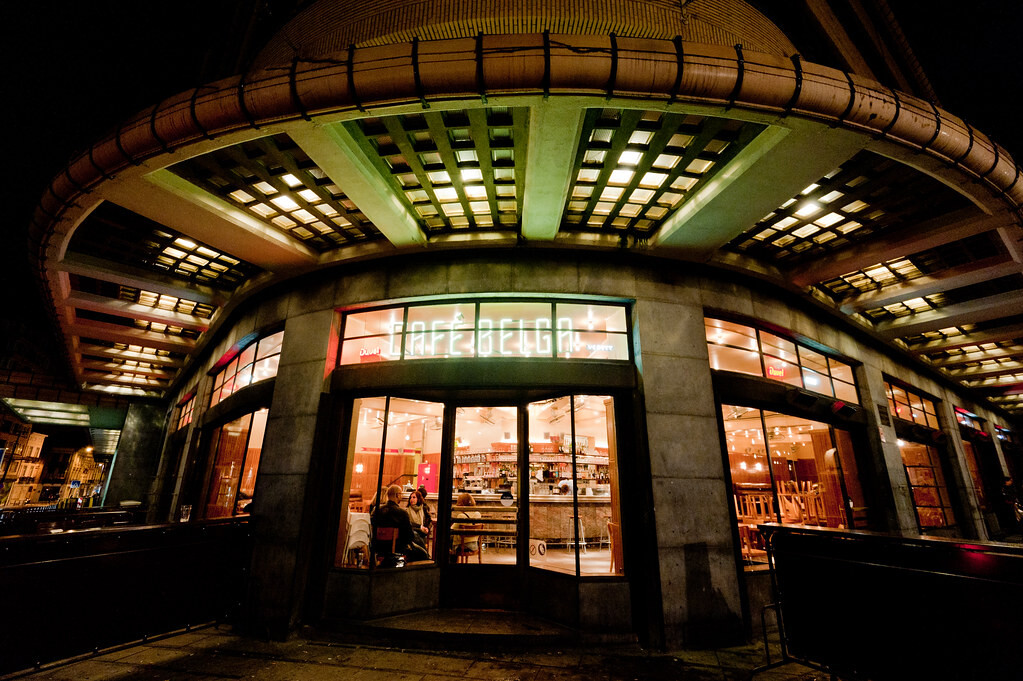 Bars in Cimetière d'Ixelles, Brussels
Students of the ULB and VUB campuses converge at party neighborhood Cimetière d'Ixelles, close to the area's cemetery.
Waff
Located in the district of the Cimetière d'Ixelles on the Chaussée de Boondael. It is cool setback bar that has a happy hour on cocktails after class, all the ULB students who finish class at 6PM get there to have a double drink for the price of one. Don't forget to ask for peanuts with your drink. They also have a terrace on the rooftop that is really enjoyable on warmer times. At night, staff remove some tables so that the bar becomes a small dancing place where you can enjoy the best time of your night.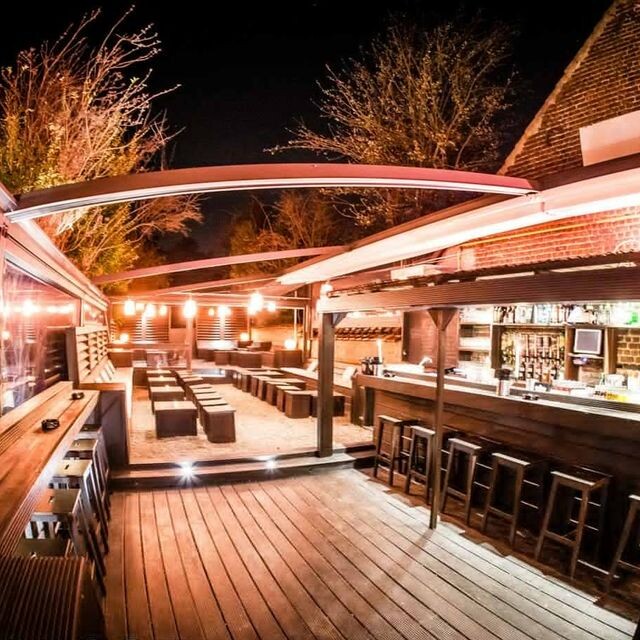 Source: Visit Brussels
Café d'Ixelles
Here's a cool bar on the Chaussée de Boondael where you can go have a drink after class or later until the morning to enjoy listening to smooth R&B and hip hop music. They have good cocktails and special beers that are written on board.
Gauguin
Here's my personal favorite, the Gauguin is also located in the district of the Cimetière d'Ixelles on the corner of the Chaussée de Boondael. This is a very simple and cheap place, the music that is played comes from the radio speakers and the setting is typically that of a Belgian woody brasserie. The managers are beyond nice and they have a great selection of drinks and cocktails. You can enjoy a real Belgian cocktail there for only 3.50 €… the Blanc-Pomme-Cerise which is a mix between pure pékèt and apple cherry juice. Check out their board!
Le Tavernier
Still on the "Chaussée de Boondael", the Tavernier is known among every student, it's always open, they have concerts and an excellent selection of affordable beers. The terrace is covered and heated during rainy days and winter. Le Tavernier offers an exposed-brick dance setting to lovers of electronic sound. In winter there are leather sofas to lounge on but summer nights are reserved for sipping their signature mojito on a spacious terrace amidst colorful lights.
El Café
El Café is a restaurant bar that serves quite good fancy Mexican food day and night. When the sun sets, they put the speakers on loud and loads of people arrive to dance. It is however a little bit expensive but try their Daiquiri Strawberry, it tastes like sorbet.
Havana Bar
This one is for the party animals. When you get there, you'll probably be drunk and you will only feel like dancing to the world music sounds that are screaming from the speakers! It is located on the Avenue de l'Université.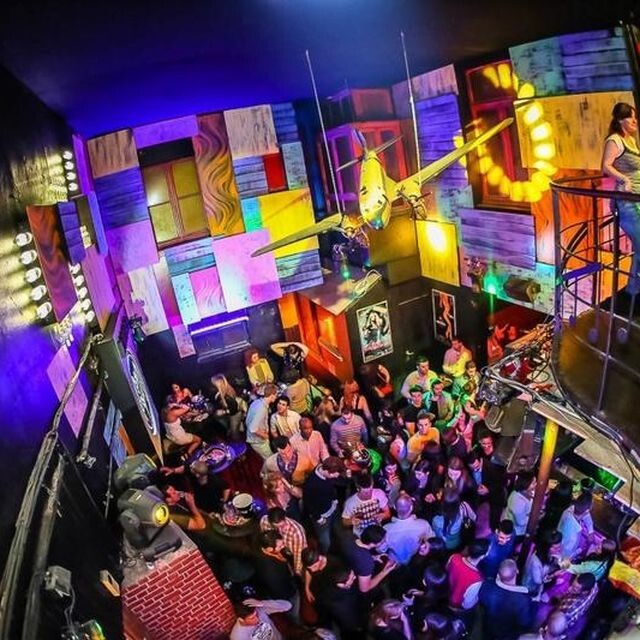 Source: Visit Brussels
Bars in Châtelain, Brussels
This district of Brussels in Ixelles is the ultimate posh party district, it is especially very active on Wednesday nights, so choose to sit at whatever bar that you may find there and enjoy a lively atmosphere in the middle of the week.
Bars in Uccle, Brussels
Barabar
This bar is located in the commune of Uccle, close to Ixelles and the ULB. It is a very popular place in Brussels, especially for the partygoers and socialites. They play mainstream music as well as kitsch songs and oldies you will be glad to shake to. Drinks are quite affordable there and this is a bar that enjoys having two floors so that it can welcome as many people as possible.
---
Photo gallery
---
---
Content available in other languages
Want to have your own Erasmus blog?
If you are experiencing living abroad, you're an avid traveller or want to promote the city where you live... create your own blog and share your adventures!
I want to create my Erasmus blog! →