Festivals in Brussels – Festivals and events in Brussels
Belgians love their folklore and they are really attached to their ancestral and contemporary celebrations. Moreover, Brussels organizes some of the best cultural events of the country. The attendance is free of course, you just have to bring your soul into it. However, if you want to have drinks, buy them in advance at your local supermarket, so that you won't spend too much in the drink stands. These types of celebrations are also a good opportunity to taste a "bicky" (Belgian burger) or some other delectable greasy food.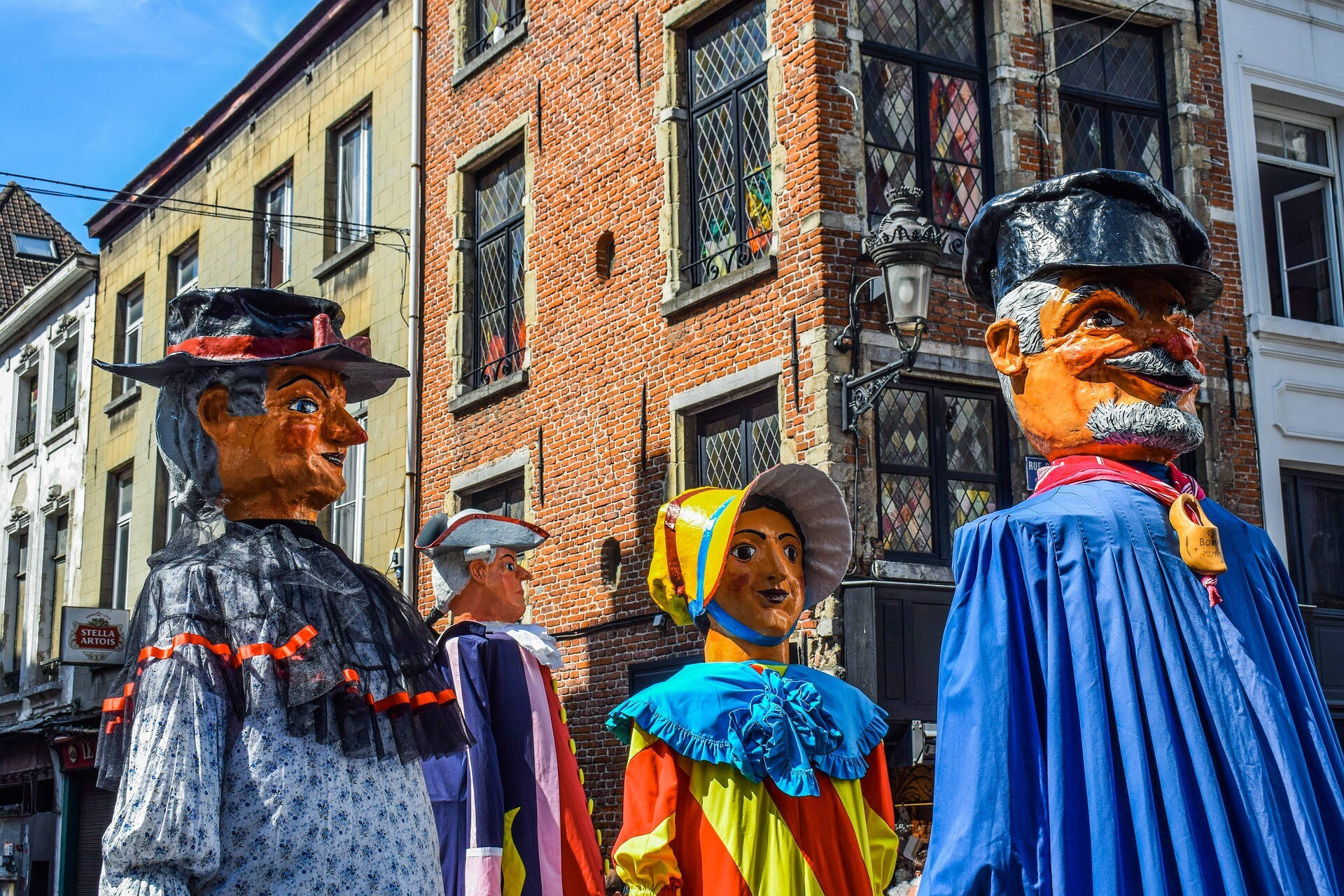 Fête nationale
The Belgian National Day is celebrated on July 21st. That day commemorates the independence of Belgium in 1831 and the enthronement of King Leopold I and his swearing to remain faithful to the Constitution.
From the morning, many free activities are available to adults and children on the Place Poelart at Louise metro station, in front of the Palace of Justice. A "police village" is also there. There is also a military and civil parade taking place there. In the Royal Park of Brussels, next to the Royal Palace, many ludic activities are available to children, as well as a "safety village" and a "European village".
At 11PM, the whole day is brought to a cheerful close with a fireworks show, people are invited to gather of the "Place des Palais" in front of the Royal Palace.
Zinneke Parade
The Zinneke Parade is a biennial parade taking place in the city center of Brussels that was initiated in 2000. "Zinneke" means "bastard" in Brusseleir, this sarcastically humorous formulation aims to embrace Brussels diversity. The parade gathers 1500 participants and is the result of long process of encounters and collaborative creation between amateur and professional artists, of different ages and backgrounds. The parade consists of some 20 artistic live performances following each other. It attracts between 50,000 and 80,000 spectators. Each parade sees a new theme like "water", "fragile" or "mess". The 2018 upcoming theme will be "illegal".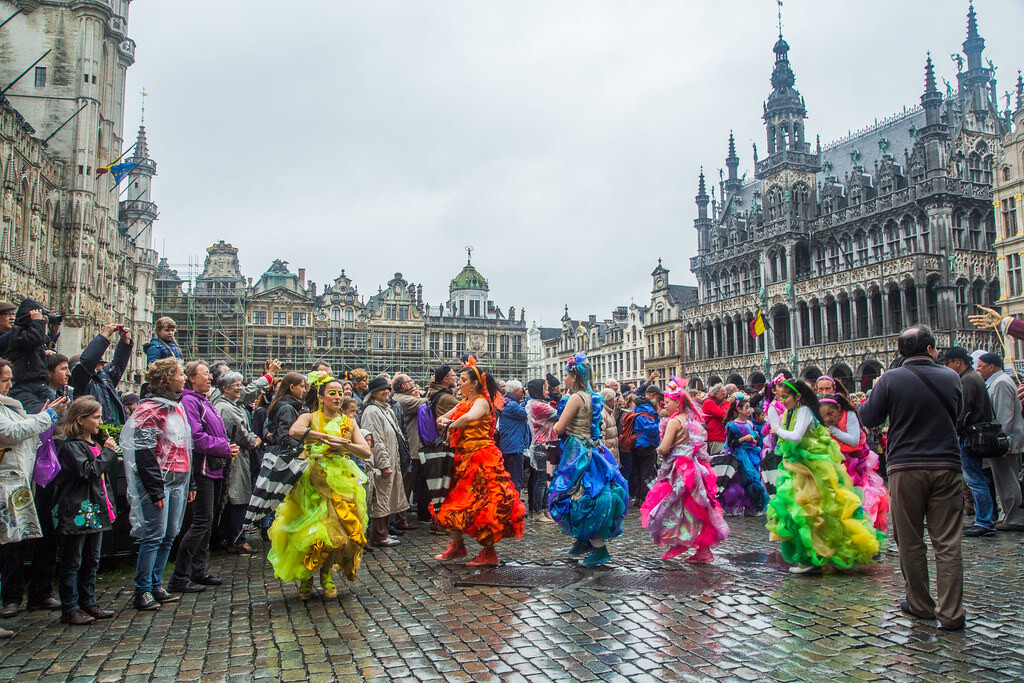 La fête de l'Iris
The Iris celebration is a folkloric party taking place in June and celebrating the City of Brussels. It is called "Iris" because it's the flower you can see on the flag of Brussels, the symbol of Brussels. During the Iris weekend, a whole lot of activities are organized throughout the city including free concerts.
Saint-Guidon Procession
This procession takes place in the commune of Anderlecht and celebrates Saint Guy of Anderlecht who was a Christian saint. He is mainly the patron saint of animals with horns. Every year, in September, a long procession of 400 people participate in the reenactment of the life of the saint in the streets of Anderlecht. The parade is composed of disguised participants and Giants (which are big costumed figures). Alongside the celebration, there is huge open-air market and funfair that gives even more life to the day.
La Nuit blanche de Bruxelles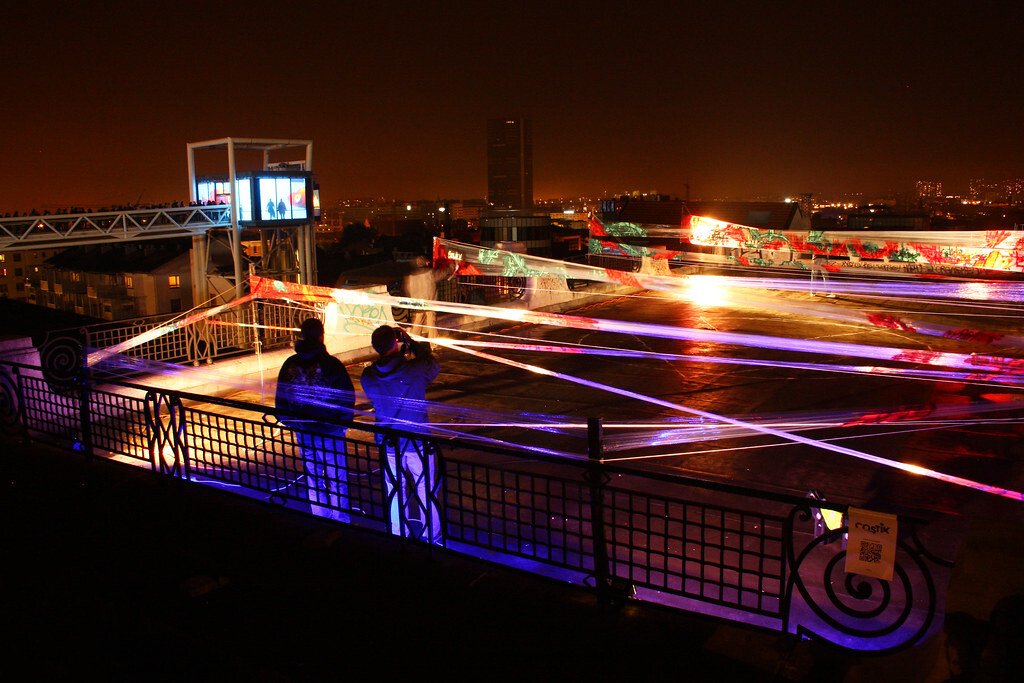 The 'Nuit Blanche' (All-Nighter) of Brussels is an annual night-time arts festival that takes place in October. It is a free festival where you can attend private and private art galleries, museums and live performances (film, music, dance, performance art) throughout the city center AND for free. There are many distinct other activities every year in regard to a different theme. So get some drinks in your bag and get ready to explore this magical night.
Piknik Électro
Here's a summer environmentalist tradition taking place in the parks of the capital. Many Sundays from June to September are dedicated to the convivial gatherings of music lovers. Visitors are invited to enjoy the sun and moments lit up by DJ sets, drinks pouring at the bar and many other surprises. So dig up a blanket and food and spend your afternoon to the sounds of electro music.
Bruxelles-les-Bains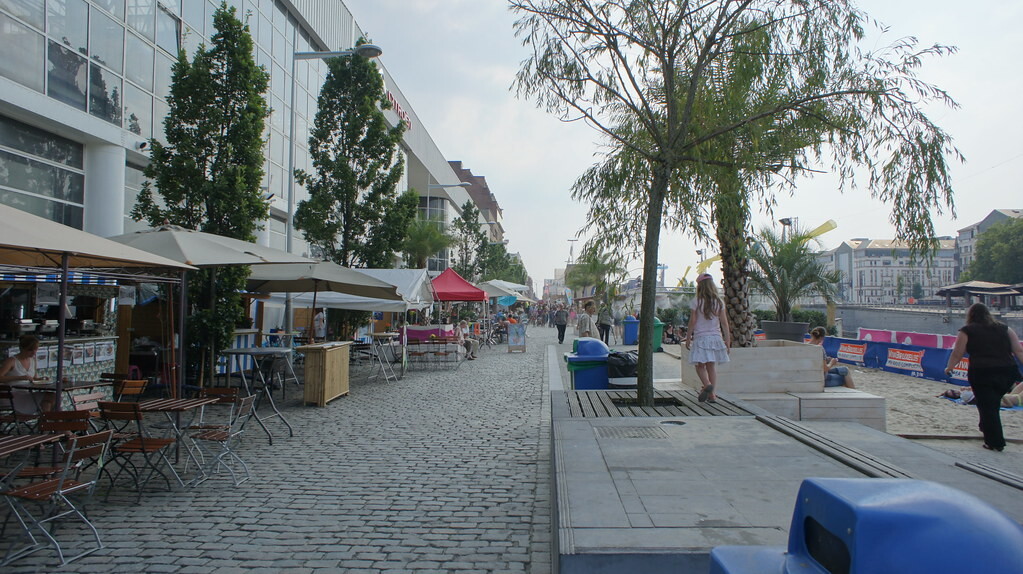 Here's another summertime event that is organized by the city of Brussels since 2003. An attempt to a translation would be "Brussels Beach". You've read well, between July and August, an artificial beach gets built up on the Brussels-Charleroi canal in the heart of Brussels close to the city center on the Place Sainctelette, there are a lot of sport and fun activities taking place, you can even enjoy an open-air movie. Of course, let's not forget about food, there are some food stands, especially one that offers Moroccan food and tea. You can also have a drink and appetizers and enjoy alfresco life. You can walk on the sand imported from the beaches of the northern Belgian coast or relax on deckchairs among palm trees. Once in, visitors instantly feel like they're on vacation, far from the cars' noise and the city's turmoil. Bruxelles-les-Bains is a place where cultures, colors and trends meet. Diversity is one of the great richness of the European capital and is the defining ingredient in the success of this unique summertime event.
Belgian Pride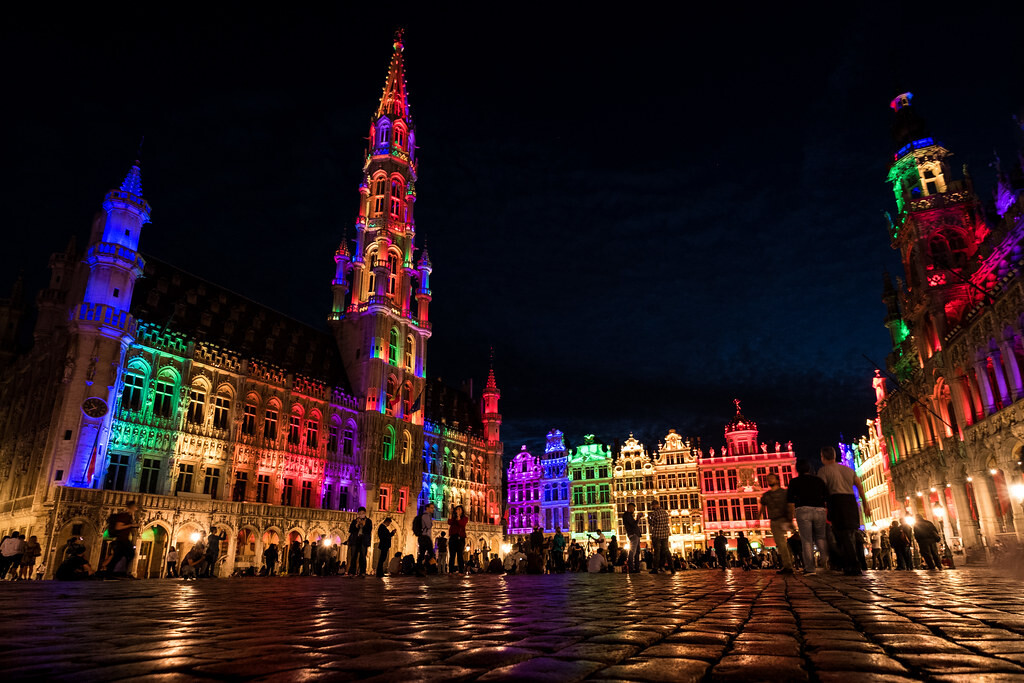 The Belgian Pride is the Belgian version of the Gay Pride Parade, it takes place every year in Brussels in May around the International Day Against Homophobia. It is a festive and militant celebration and people from all Belgium travel to Brussels to participate in it. The event displays a political character as most political representatives make an appearance there. It also displays a cultural character as the event is about tolerance of all sorts, racism and xenophobia are dismissed here.
Couleur Café Festival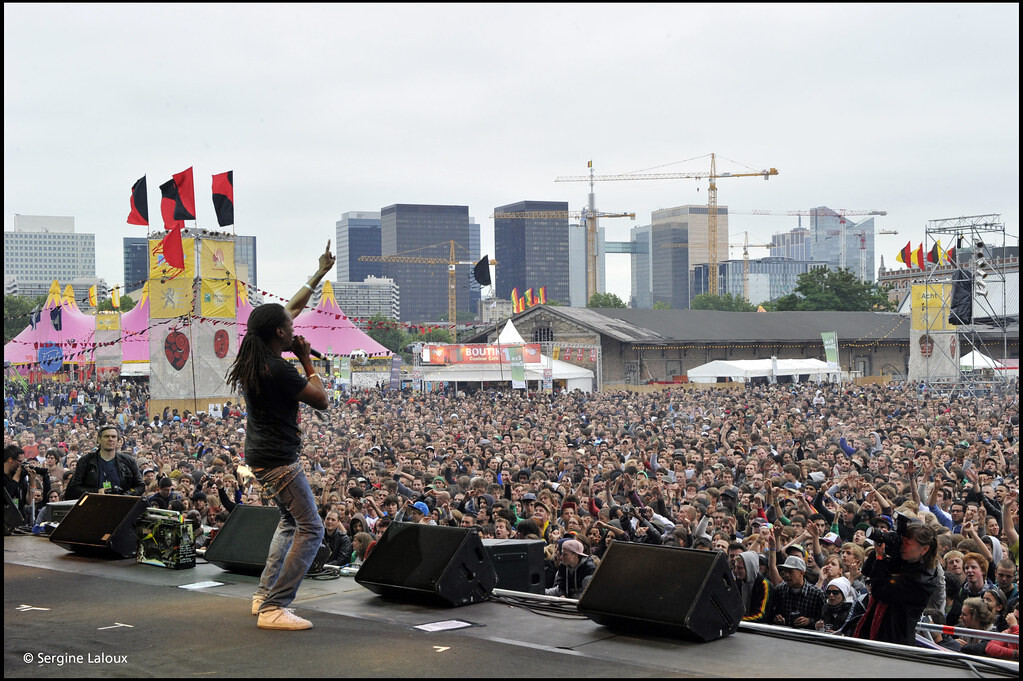 This is a world music and urban music festival taking place in Brussels at the foot of the Atomium. It lasts 3 days in June. It is known as the cheapest festival in Belgium but that doesn't mean that they don't get major headlining artists. Festival-goers have been able to enjoy concerts by Snoop Dogg, Sean Paul, Damian Marley, Nas, De La Soul, Erykah Badu, Alpha Blondy and many many more. It is a very eclectic festival with genres ranging from R&B, hip hop, soul, reggae, salsa, raï and even rock and electronic music. It is like a big village inside the city with its own squares and little streets. They organize many activities during those 3 days such as successful dance workshops, fireworks, artistic exhibitions, street art displays and other oddities giving rhythm to the festival. There is also a world cuisine village where you can experiment new culinary delights and there is an artisanal open market where you can buy handmade objects and curiosities.
---
Photo gallery
---
---
Content available in other languages
Want to have your own Erasmus blog?
If you are experiencing living abroad, you're an avid traveller or want to promote the city where you live... create your own blog and share your adventures!
I want to create my Erasmus blog! →