Bread in a pan
If you're craving bread but you're not at home, like me currently since I'm on Erasmus, and you do not have a working oven or the right equipment, keep reading - I'll show you a few simple steps to make bread in a pan!
Yes, you read just fine! Quick bread cooked in a pan. It will save your time and money because not only is it a super easy recipe, but also it takes few ingredients and they are easily at hand.
I found this recipe when, precisely, I wanted some bread to make a sandwich but I found myself in a situation where I could neither bake it in a traditional way, or wait the leavening time, nor buy it outside, since it was Sunday and everything was closed.
Now I'll list you the few ingredients that are needed to make a dozen of sandwiches, based on the size that you want to get.
Ingredients
200g flour type 00
3 spoons of olive oil
1/2 spoon of bicarbonate
1 spoon of salt
100ml of water
Few and quick steps
In a bowl sift the flour, mixing in the salt and the bicarbonate.
Add the oil, begin to mix adding a little at a time the water.
You should get a soft pastry, homogeneous and hard.
Add a little bit of flour in the pastry or over any surface where you'll spread the dough. Spread it until it has a thickness of around 1 cm and with a glass or something like that, begin to cut it into circles.
Heat an anti-adherent pan greased with oil and cook the breads in a low flame for a couple of minutes each side, about 3 minutes or until they get this desired brownish colour. However, pay attention not to burn them.
Eat them simply like that or fill them with whatever you like.
Easier than that it is impossible! Better to make the bread at home than always go buy it right? This recipe will become your salvation every time that you feel like a real piece of bread and gluten free. One you've tried it, you will not be able to do without it!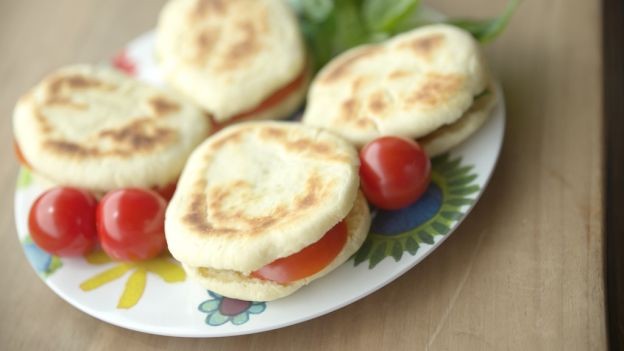 Advice and curiosity
For those who prefer a little lighter bread, the dough can be made with another type of flower, try the whole wheat one! Moreover, you can also stuff them before cooking them: place the ingredients that you fancy one one piece of bread - I recommend mozzarella and tomato sauce - and close it with another one. Press the edges with your fingers so that it is sealed properly, make sure you're not putting to much strength into it, otherwise the filling might come out. Do it with different fillings, it is great as a snack and if you have guests at home, they will be excited. In just some minutes you'll have some delicious sandwiches ready to delight your palate.
---
Photo gallery
---
---
Content available in other languages
Want to have your own Erasmus blog?
If you are experiencing living abroad, you're an avid traveller or want to promote the city where you live... create your own blog and share your adventures!
I want to create my Erasmus blog! →