Totally oriental Turkey!
Architecture and landscape

8 / 10 points

Entertainment

6 / 10 points

Culture and customs

6 / 10 points

Transport

8 / 10 points

Gastronomy

6 / 10 points

Prices

8 / 10 points

Party

4 / 10 points

Weather

10 / 10 points
---
There is a lot to share! Let me start how I actually found myself in Turkey. So there was an announcement on the Facebook profile of my university that they were looking for 10 students to go on exchange to Ankara, Turkey for 2 weeks. What's more, the program was almost free! All we needed to cover were 30% of flight expenses. So I was chosen from the list of applicants and there I traveled!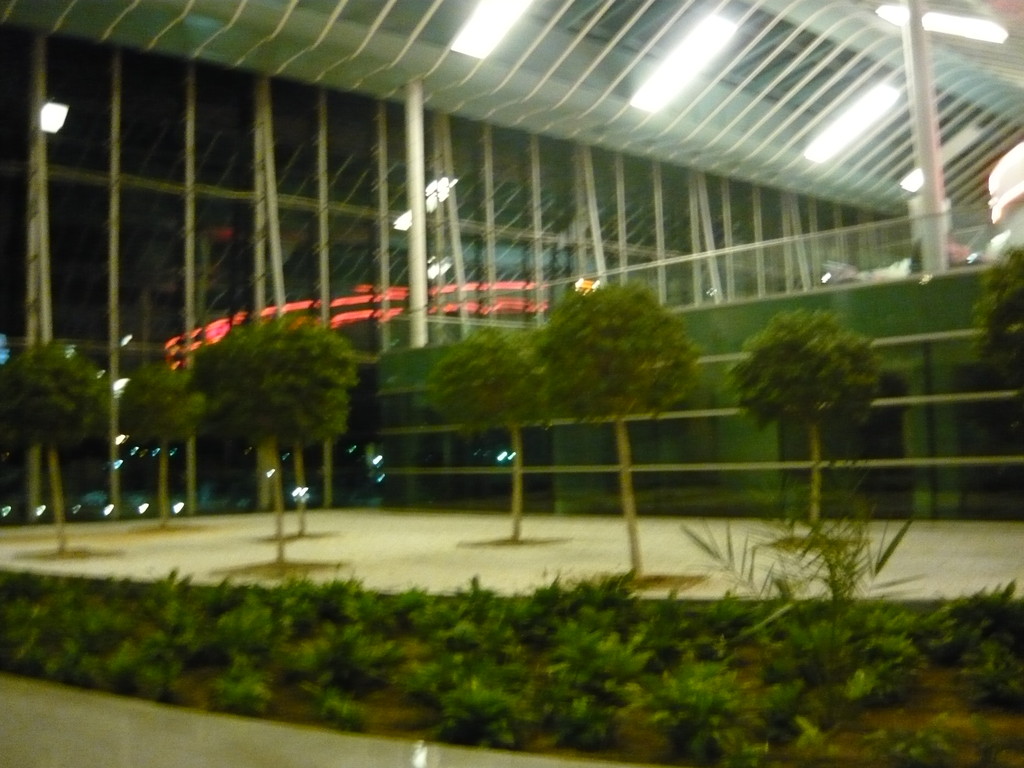 This is how Ankara's airport looks like inside.
I reached Ankara flying with Lufthansa from Poznan (Poland) to Frankfurt (Germany) and then after 11 hours of waiting in the airport my plane took off from Frankfurt to finally reach Ankara. Fortunately, I was not alone because three of my university friends were also accepted in the program.
I have to say, it was not only a cheap and fun holiday, we also had to work a lot! The program was one of the European Life Learning Programs called "Intensive Entrepreneurship Summer School Ankara 2012" and it was very intensive!
We had to find our way to hotel by our own so we took a cab which was the easiest option. But that was just an illusion, because even the cab driver couldn't find the way and was asking some people where the hotel was located. Our hotel was situated 11 km from the airport and actually the way was pretty easy. Gladly we found the hotel and at 3 am we reached our sleep spot for the next two weeks.
Ankara welcomed us with a beautiful sunny morning. It stayed like that for another 2 weeks of our stay. The hotel had a great view from 7th floor, it was stunning and the neighbourhood was also pretty fun. The beautiful spot right next to our hotel was the city park which had an amazing fountain with colourful shiny lights!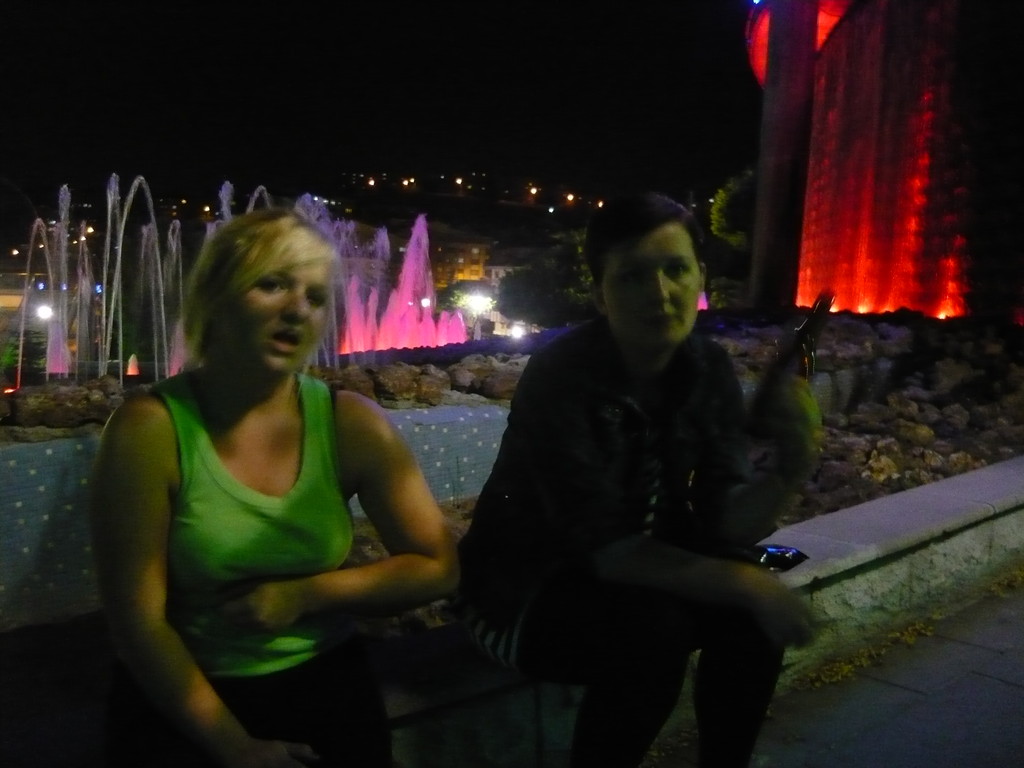 Shiny fountain with colourful lights behind friends of mine.
When the time for classes came, the building of our host university, Turgut Ozal Universitesi, surprised us. It was built in 2009 and is a great sample of architecture. The floors and walls were covered with marble and there were fancy facilities that any public school can just imagine (a recording studio, a game's room with X-box and play station, snooker, table football and many others! )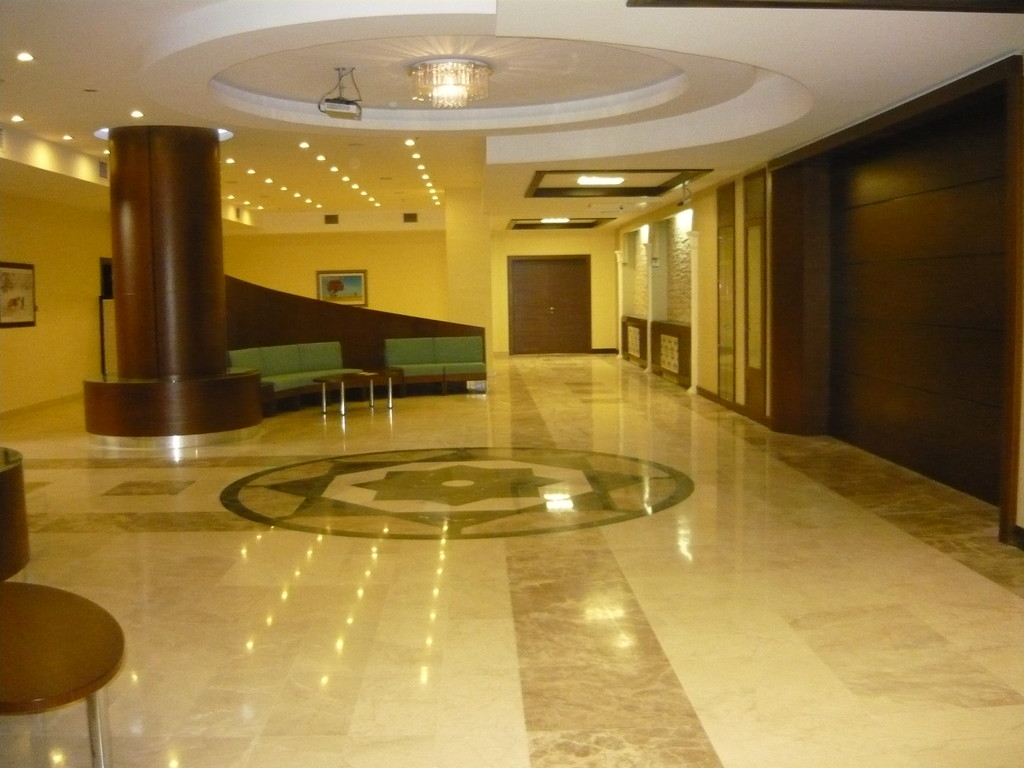 Turgut Ozal Universitesi main hall.
Our classes were taught by teachers from 4 countries: Poland, Lithuania, Portugal and Turkey. Those were the four participating countries in the program. The Polish professor started, with the hardest work- a business plan! We were divided into different groups of people from different countries to make the bonds stronger and help exchange different ideas. Because as we know, Erasmus is all about the multicultural experience. The classes lasted from 10 am to 5-5. 30 pm with a lunch break and some short coffee breaks. It was a little bit hard to work with the others, because everybody had different views on things and different academical experiences.
For me the best work mates were Portuguese people. They are very hardworking, were helpful and full of ideas. They also share the same point of view as me. The worst were Lithuanian (only girls were there) and some of the Turkish people that turned out didn't understand that much of English... Well, some of them did, and even very well, but my group had another type of guys.
The most positive and entertaining time of the working day was the lunch break. Here we have got examples of the Turkish cuisine.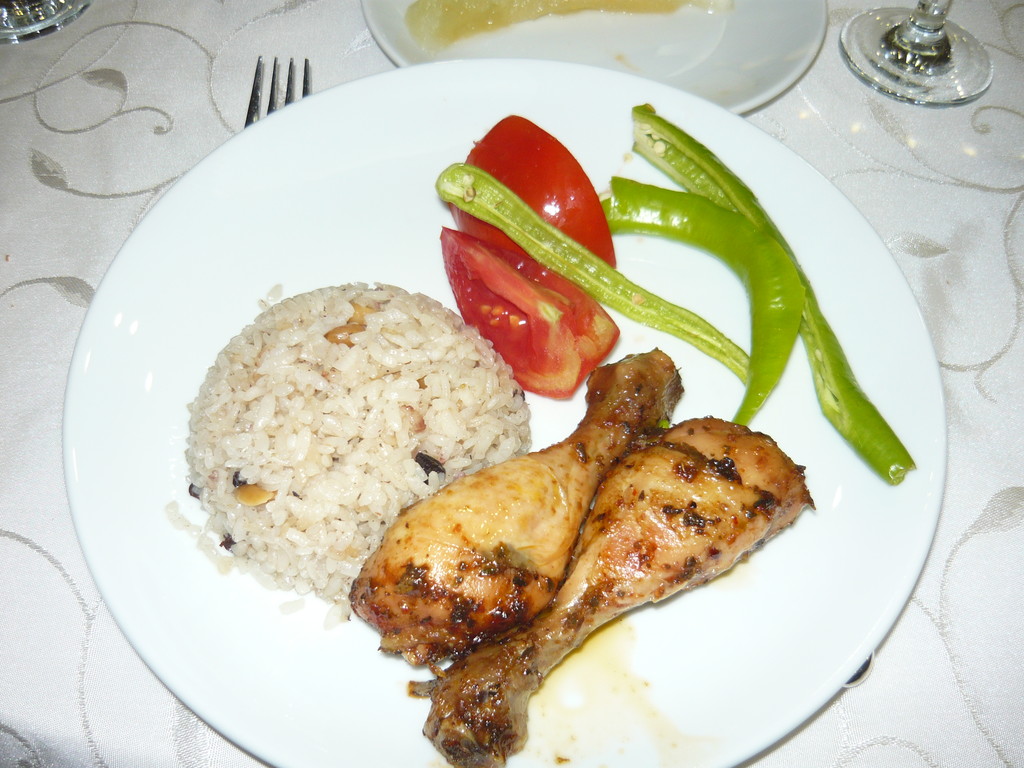 I cannot say I did not like it - Turkish cuisine is just too heavy, for my stomach at least! I also expected something more oriental than rice and chicken. The dish looks nice on picture but be careful with the green, delicious looking veggie! I first thought it looked like beans so I put a big portion into my mouth and... then I regretted! It turned out to be a hot and very spicy green pepper! Seriously!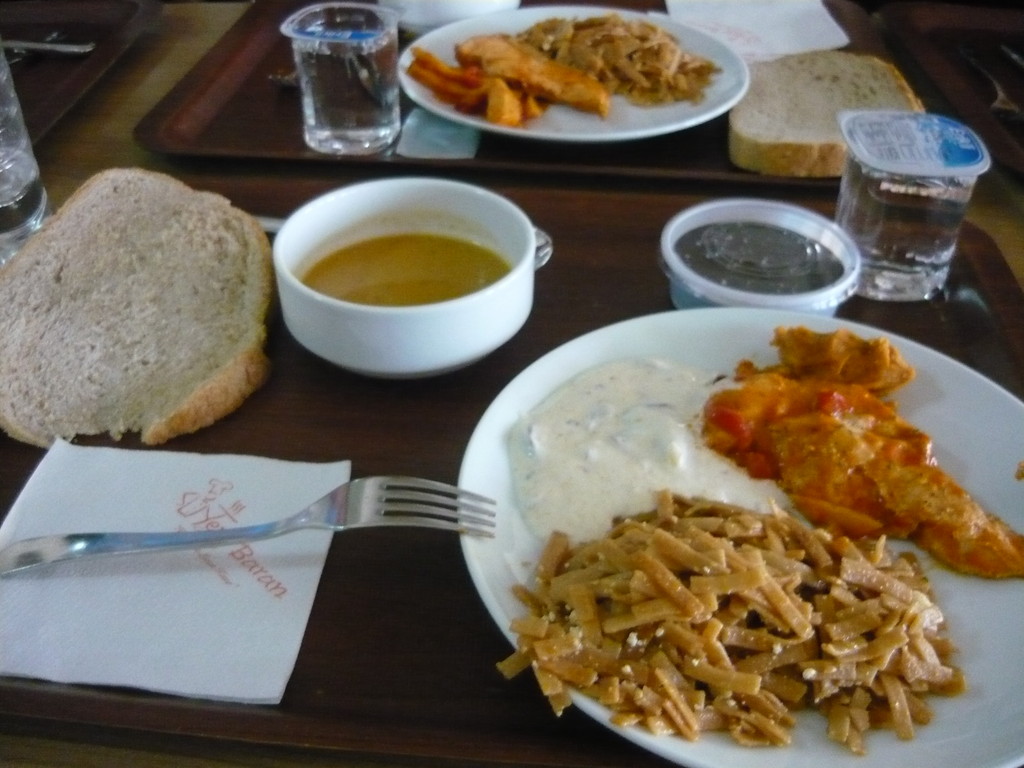 Next is an example of another Turkish dish, served for our lunch at the University's canteen. The brown thing on the down left part is... pasta! A very good one actually. This dish tasted very good and I enjoyed it. The white thing up there is a fresh cucumber dressing and on the right you can see a chicken breast, so delicious! Speaking of Turkish food, I couldn't miss Turkish sweets! The best one is "Baclava".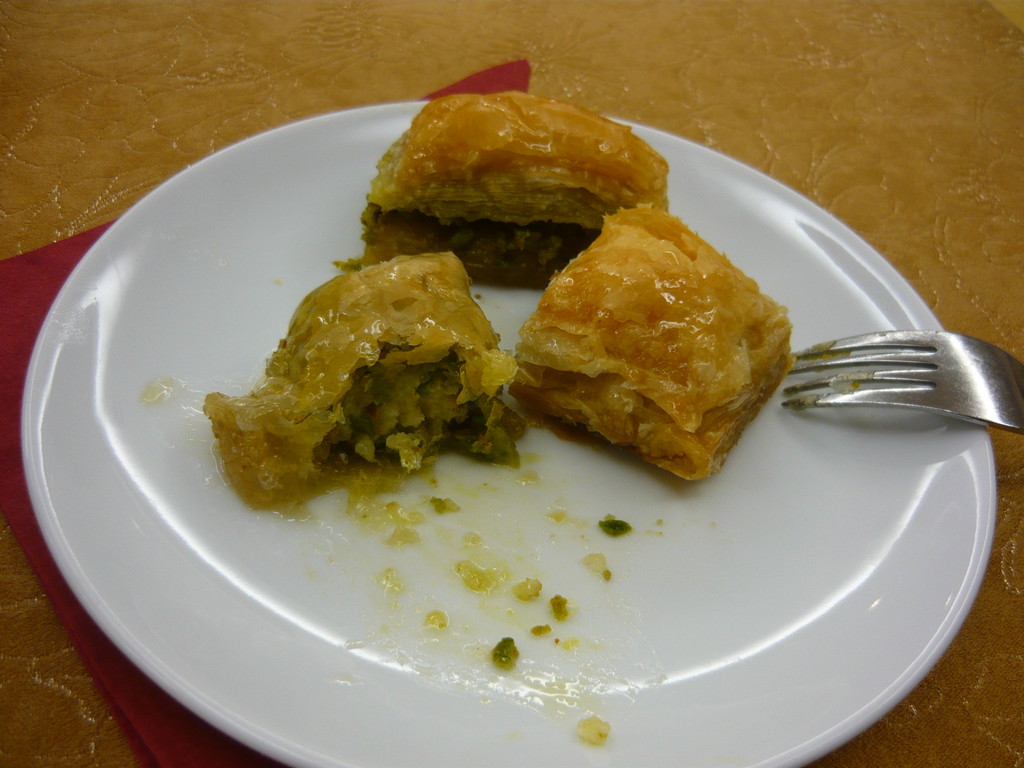 These sweets are a squared made of French cake stuffed with honey and some nuts. It's very sweet so one would be enough, but it wasn't. Another sweet and even more delicious thing is on the picture below. Unfortunately I cannot remember the name.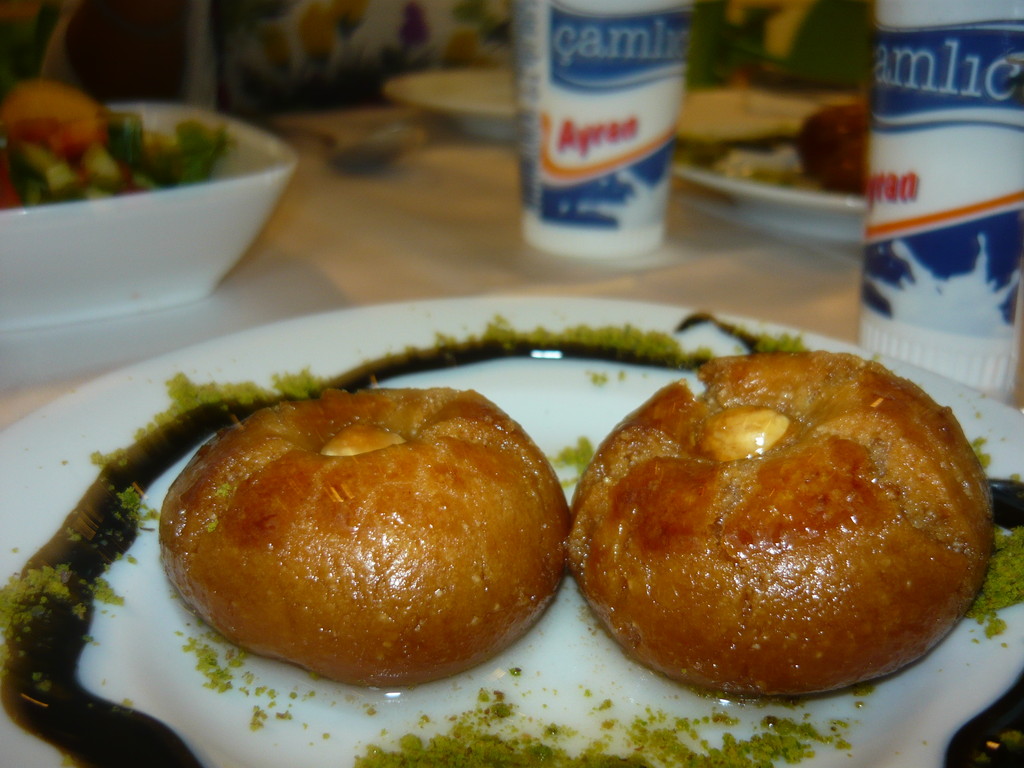 Ok, the food in Turkey is one of the most important aspects of this culture to mention but I didn't go there just to eat! My destiny is to travel! Using every single hour of break from classes, we were trying to find a way out to the city. Fortunately being an entrepreneur and using our language skills, we could buy bus tickets and follow the right directions. The best known city out of Ankara is Kizilay. It is so famous because of the expensive luxury shops and some typical Turkish markets where you can buy generally everything!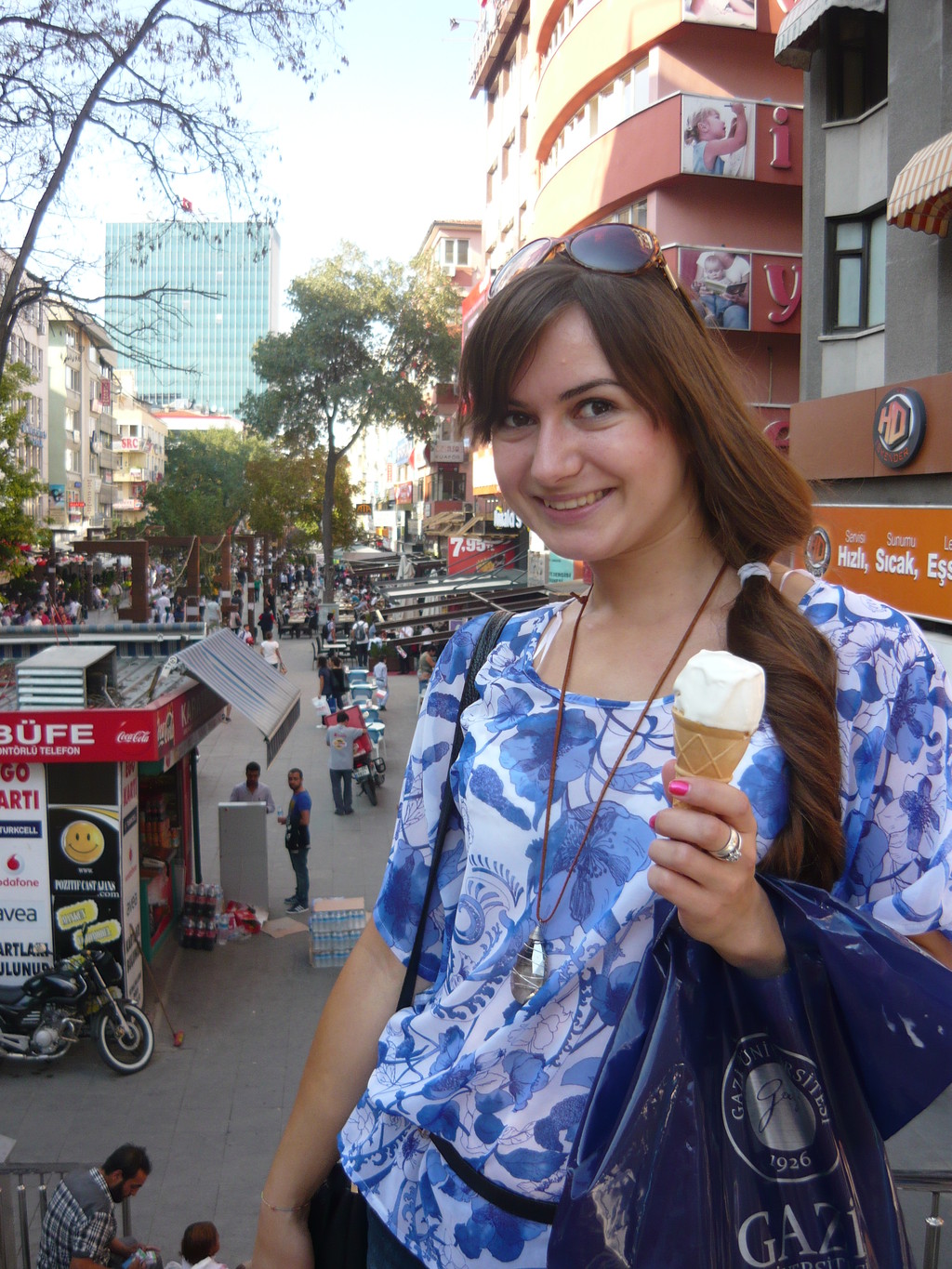 Behind me, there's the view of one of the main touristic streets of Ankara.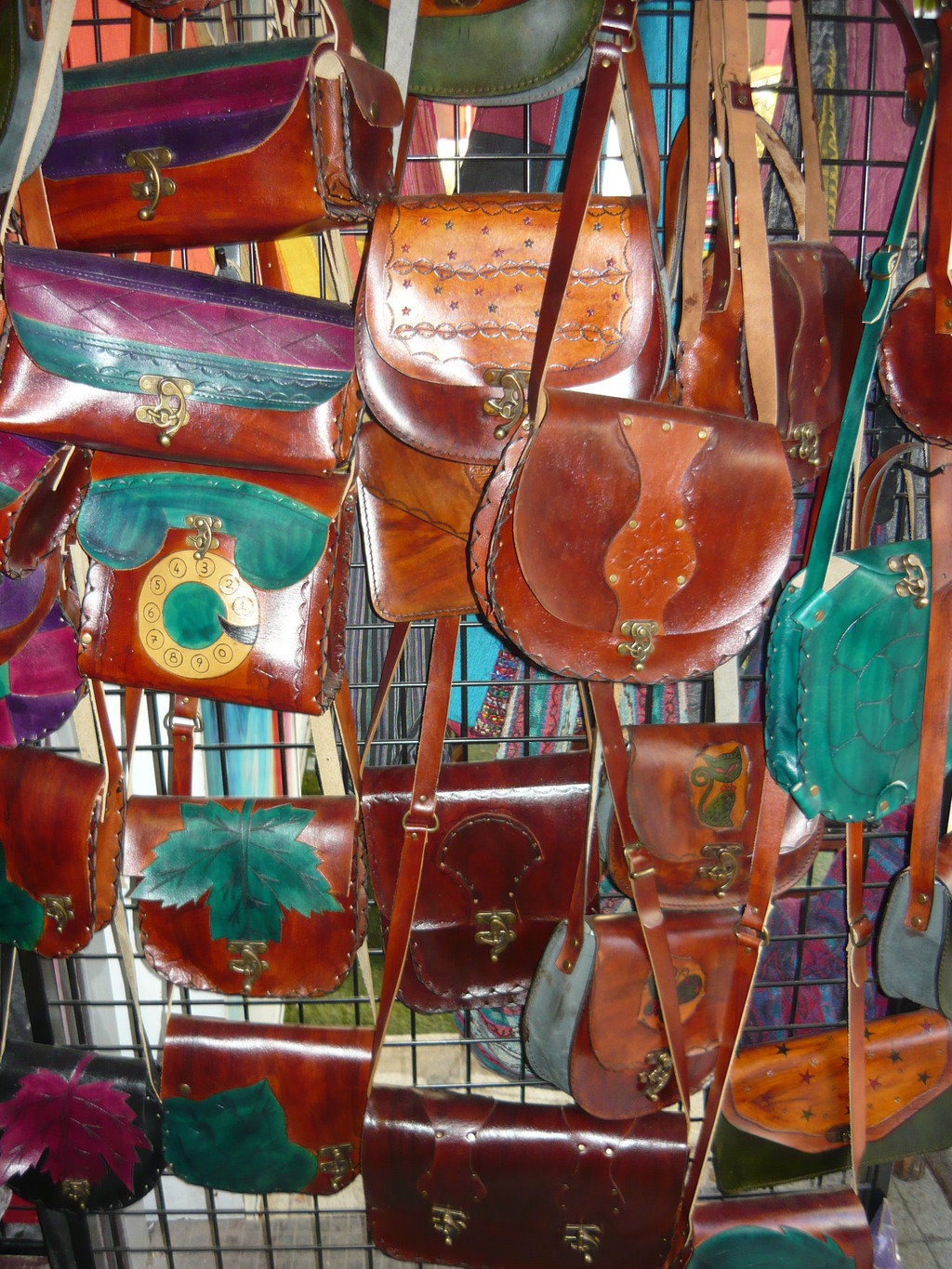 Here is what precious and unique souvenirs you can get from the stores.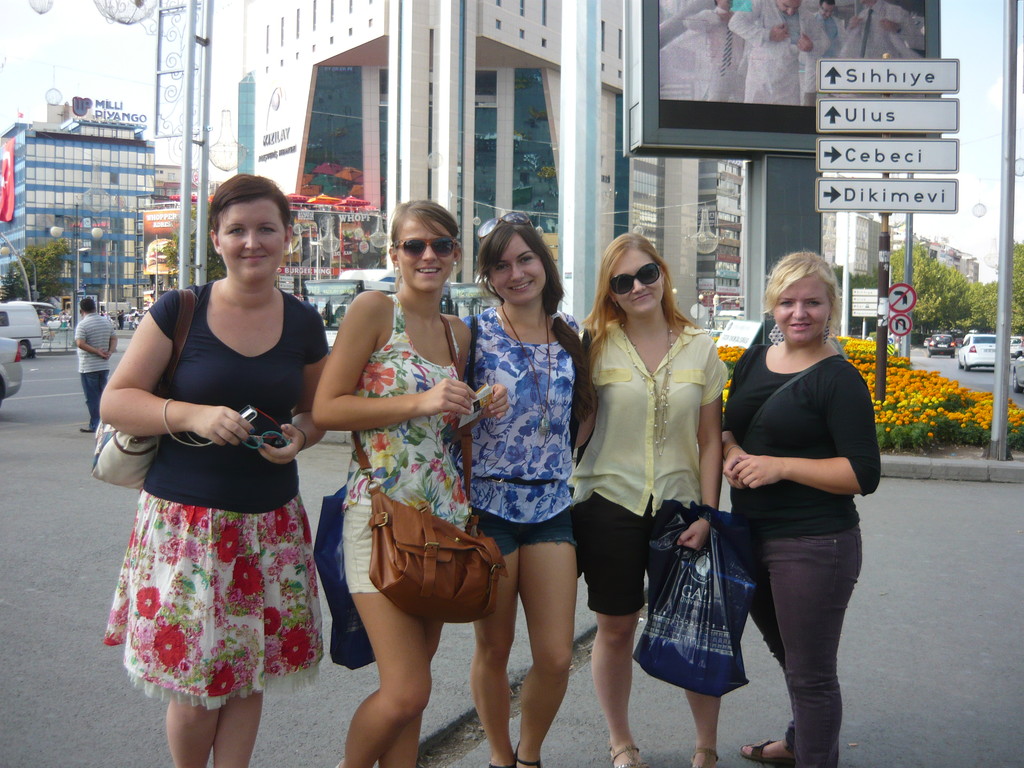 "Girls just wanna have fun" so we skipped some classes to discover the city center.
The very fist time we left University alone, it was hard to find the way to Ankara. Of course, nobody had planned a trip to the city for us. Finally we did find the way. We enjoyed our expedition and we are definitely coming back for more! The story will be continued... I hope this will to be useful for somebody of you guys.
---
Photo gallery
---
---
Content available in other languages
Share your Erasmus Experience in Ankara!
If you know Ankara as native, traveler or as exchange student... share your opinion on Ankara! Rate different characteristics and share your experience.
Add experience →