Christmas Eve with Polish Family
Christmas Eve with a Polish Family
The International Students Office of University of Lodz came up with this amazing idea of "Christmas with a Polish Family". Not only to give a closer look into Polish traditions but make students far from their homes feel at home perhaps at least for a while. As soon as they sent an email asking us whether we would like to take this opportunity or not, I replied with a YES and all the details required without a moment of hesitation. I am a Muslim but I love celebrations, if it's something which brings people closer, which promotes sharing, which spreads smile and happiness; I would always be ready to become a part of that regardless of religion, beliefs etc.
Fortunately after two weeks or so, I received a confirmation email for my stay along with the details of Host. Quite soon I received another email from my host herself who is a PhD student at Faculty of International and Political Studies. Her name is Natalia. After knowing my diverse background, she was very happy as she also considers herself to be a world citizen. Thus we shared the same attitude.
Finally after a long wait the Christmas Eve finally came. I was super excited. I had been asking my Polish friends about this eve, of what things I should take care of, if there are any colours I should not wear etc. Because it was something I was really looking forward to. I somehow knew that this one Eve will have an impact on how I see things.
Natalia's house was not in Lodz, so she offered me the ride. To be more specific she was living in Tuszyn which is a small town next to Lodz. During our small journey we got to know each other more. The most amazing part was that she could speak Hindi and Arabic, something which is completely not normal for the Polish People. In fact she is the first and the only Polish person I know who can speak these languages.
We reached the house and the first thing I noticed was perhaps the big forest in front of the house. Isn't it something some people dream of, actually I do! And then I encountered Florika- the big super active dog.
Natalia took me inside and I received a warm welcome from her sweet family. Her godmother's family was also there. I felt bit nervous in for the initial few minutes, but soon they made me feel at home. They were all curious and they wanted to talk me, however we had the language barrier. But Natalia helped us in breaking that.
First we enjoyed some tea with traditional Gingerbread and another cake called Makowiec which is actually a poppy seed rolled cake. There were some nice ginger and cinnamon cookies as well which were made at home. I also learned about the tradition of sharing Oplatek- the thin Christmas wafer; along with best wishes for Christmas and the New Year ahead.
There was still time till the main feast however her godmother had to leave so everybody got their presents from her and so did I.
Soon Natalia's godfather and his family joined. We then moved to another bigger room for the main feast. We again exchanged Oplatek and a lot of wishes. I didn't understand most of them but obviously they were wishing me all the best for everything.
Now let's come to the food customs. So in Poland they prepare 12 dishes on the Christmas Eve. The number 12 is because of the 12 months in a year, and it can also represent the 12 Apostles of Bible. They don't consume any meat except fish.
We started the meal with a mushroom soup with some pasta inside. Then there were loads of other delicious dishes and salads to choose from. Most of them contained fish. Carp is the most popular- the heroine of fishes on Christmas Eve. It was super delicious. I tried other really nice fish as well. There were salmon swirl rolls with spinach and cheese you would simply love them. Sauerkraut is another traditional food that has to be on the table. It is actually fermented cabbage and can be served in various forms. And how can the most famous Polish food not be there! So yes there were delicious vegetables stuffed dumplings known as Pierogi in Polish. The first Polish word that I learned perhaps was pierogi.
Another interesting tradition is keeping an extra plate for food and a place for a person. In case someone comes and knock at your door, you cannot refuse him, rather invite him and have a plate ready for him already. I think it's beautiful even though my friend told me that it's not common to have such a person on door these days but still they do it.
When you are eating so much, you should have something to aid you in digesting all that may be. And there is a delicious solution for that- Kompot. It is a dried fruit Compote. It had apples, figs, apricots and many other dry fruits. It is made by slowly heating them for quite a long time. This was the best drink I ever had.
After dinner, started the happiest part: the gifts. Natalia's mother played the role of Santa Claus. She was such a sweet and energetic woman. I felt she had loads of positive energy to share. So how it works! If you want to get your gift, you had to sing a Carol. Even I was not spared and I had to sing a song in my native language to get it. Well for the gift I did it, I warned them about my ugly voice before though but they were ready for it. Here is a translation of what I sang, actually I love this poetry, and it somehow gives me strength and positive vibes.
You are the light, spread with glory
You are river, Oh uninformed one
Let's flow somewhere, let's fly somewhere
Where your Heart is happy, your destiny is there
Suddenly I realized that I actually sung something, I never do it normally unless I am in my complete comfort zone. It was strange; I just met them all 2 hours ago perhaps. May be that was the beauty of what we were sharing. I cannot even find words to describe that bond.
I wrote a letter for them, which Natalia read and translated for everyone. They were all so happy. For some people it might have not been so important. I wrote all the wishes with my heart but still it was a paper. However they reacted as if it was something very valuable and I was more than happy for that. I think giving best wishes to someone is the easiest yet the most important thing you can do for someone. And I received so many wishes that day.
I then went with Natalia to her room. We practiced some Hindi and Urdu together. We talked about so many other things, religions, countries, politics, life, the World. I rarely find people who think like me, and she was one of those. She herself is the biggest gift I got for Christmas.
After that some more of their family friends visited them. They brought with them nice cookies and a delicious Cheese Cake. There was this beautiful girl who played beautiful violin. They sang so many Christmas Carols. For some of those they had the lyrics printed. I don't know how to read Polish well but I tried my best to join them. And here is my favourite one:
Chwała na wysokości,
chwała na wysokości,
a pokój na ziemi.
Glory to God on High,
Glory to God on High,
And peace on earth.
We ended our eve with a family photo.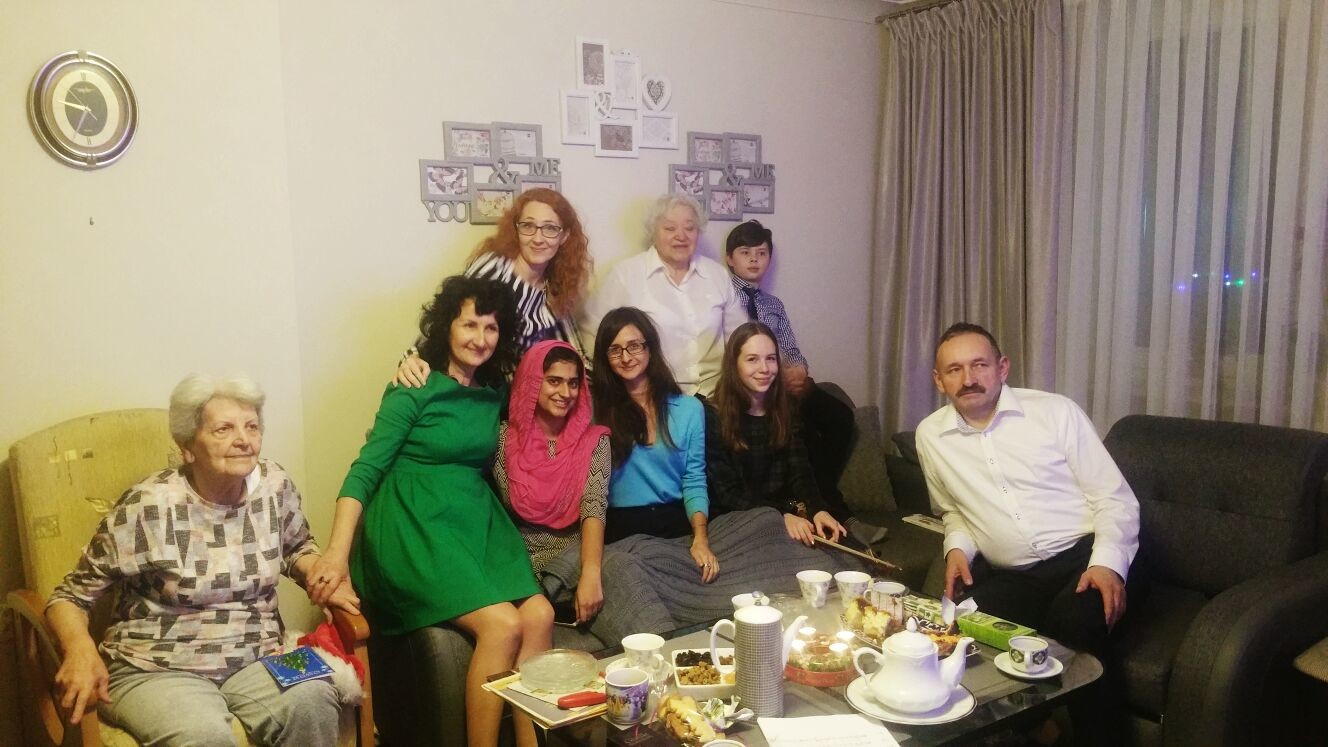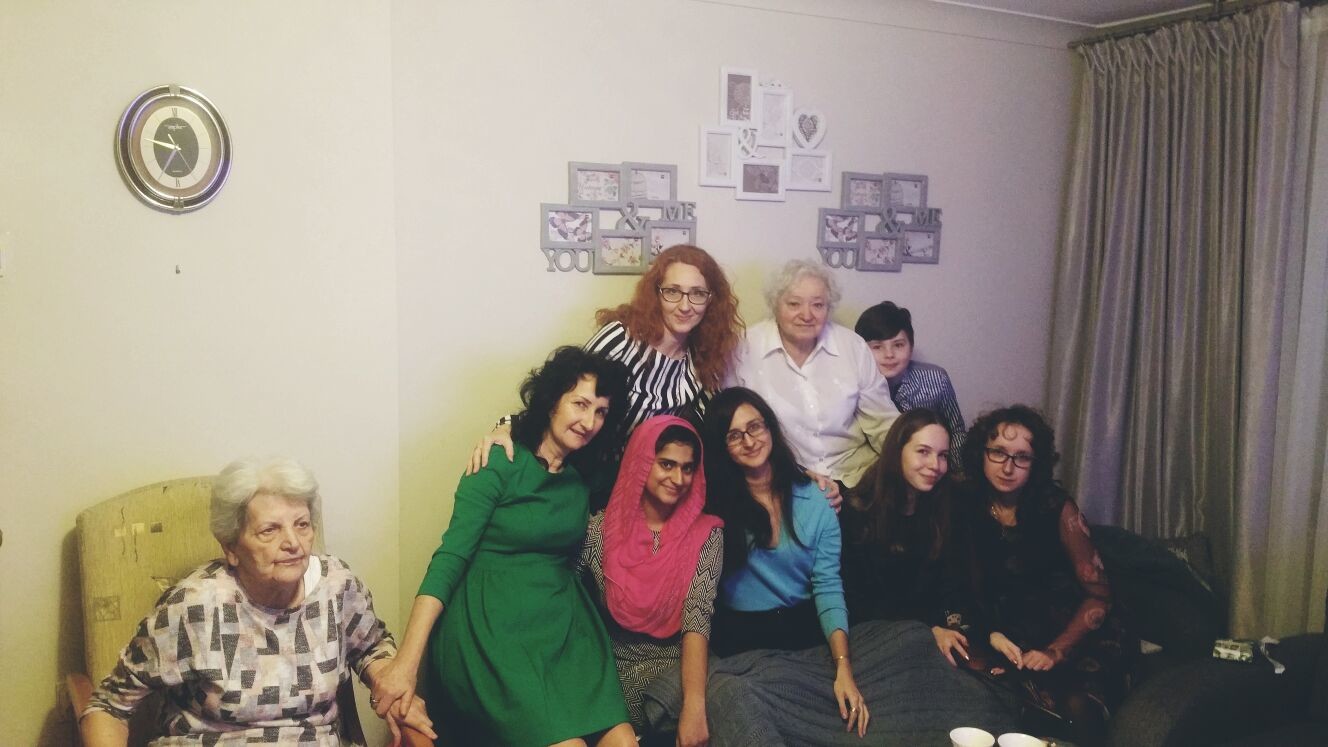 Not only I received so many gifts, they also packed a lot of food for me. We once again exchanged good wishes for Christmas and New Year. And Natalia dropped me back at my house.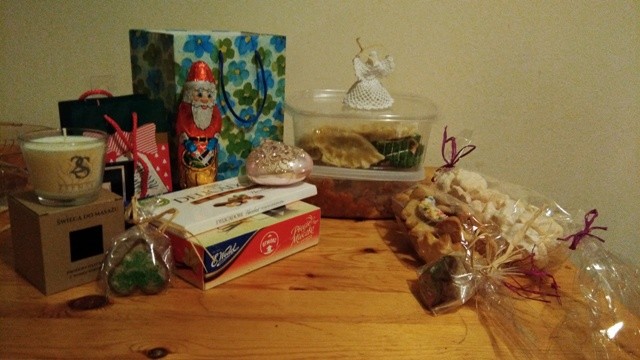 So that was my Christmas Eve with a Polish Family, or now I better say My Polish Family. And now I am up for new experiences with even more confidence as I have more prayers and an Angel to protect me.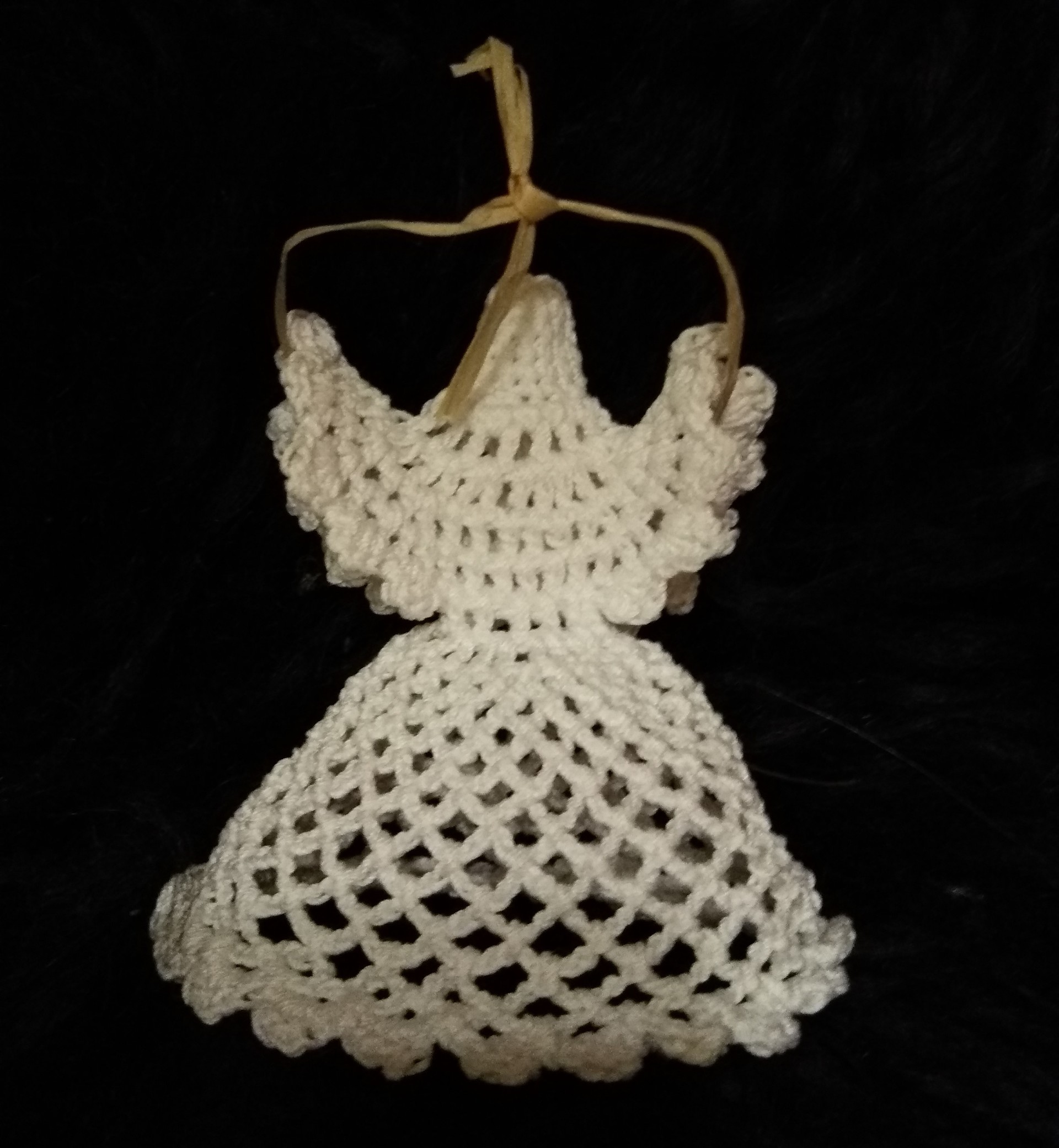 ---
Photo gallery
---
---
Content available in other languages
Want to have your own Erasmus blog?
If you are experiencing living abroad, you're an avid traveller or want to promote the city where you live... create your own blog and share your adventures!
I want to create my Erasmus blog! →