What to do in İzmir - The best things to do and see in İzmir
What to do in İzmir - The best things to do and see in İzmir
After seeing the top attractions in Izmir you're probably wondering: "what else is there to see?". Well, you've come to the right place! We've prepared a complete guide of places you should definitely see during your stay in İzmir.
Museums in Izmir
Given İzmir's rich history and culture, it's no surprise that the city has a plethora of museums which recounts the city's story, covering a multitude of topics and interests. Visiting just a few is a great way to learn about your new host city!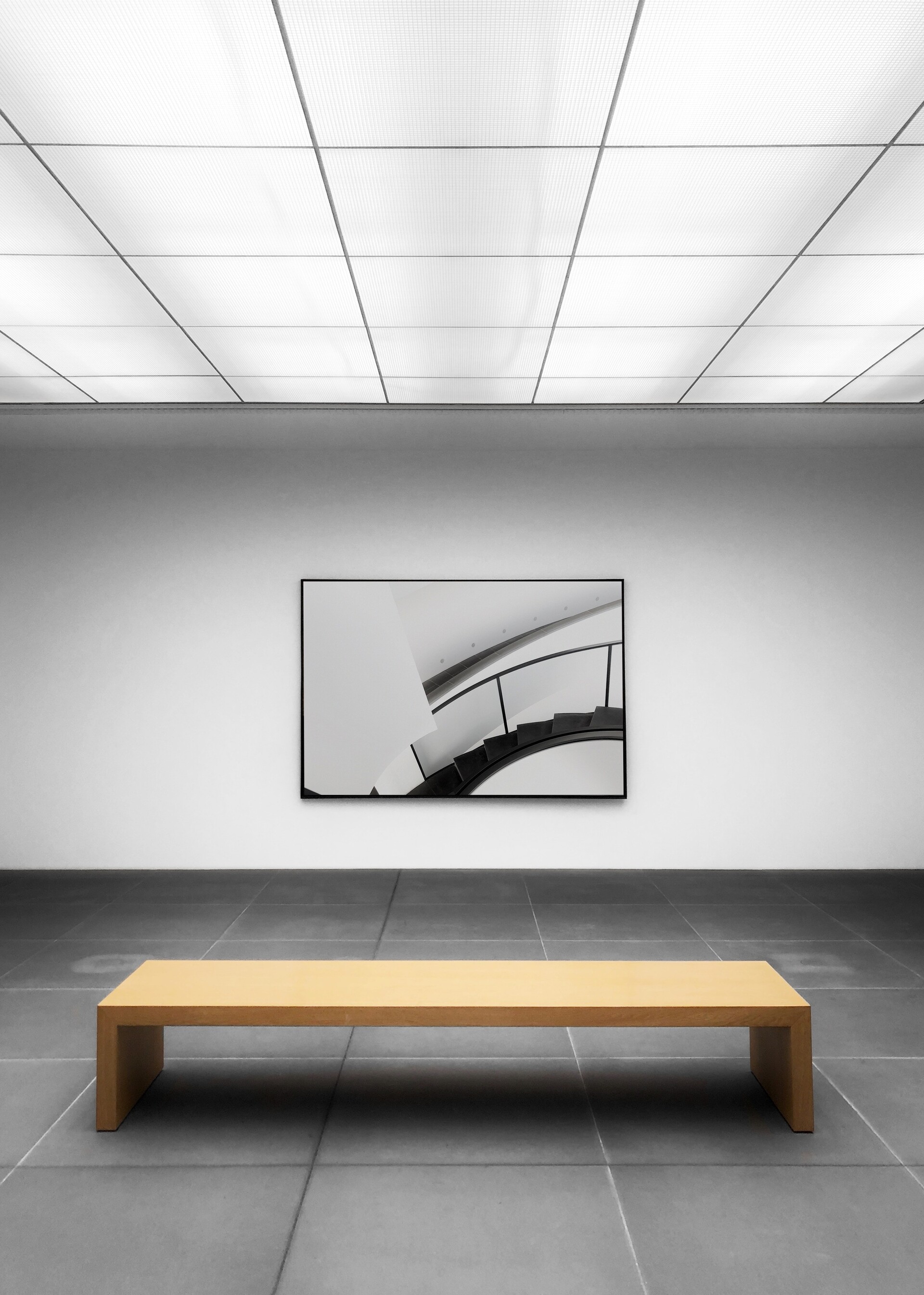 Here is a list of some of İzmir's best museums, most of which are free with an İzmir museum card (for 7 days this will cost you 325 TRY/£28).
Key Museum
This is considered heaven for all car lovers. The 7000 square metres museum boasts a comprehensive collection of 130 classic cars and 40 vintage motorbikes dating from the 1880s to 2011 and from all over the world. The collection is outstanding, including the first cars ever produced by brands like BMW, MINI, Mercedes-Benz, Ford and Porsche. Unfortunately, it's not so easy to get there, being a bit far out in Torbali district. From İzmir you will have to get the underground and then a taxi to the museum.
Admission is 20 Turkish Liras (£2)
For students: 10 Turkish Liras (£1)
Working hours:
Wednesday to Sunday: 10:00 am - 17:00 pm.
Ahmet Piriştina City Archive and Museum
This small museum is essentially an archive, containing all public documentation on İzmir's history, culture and society. It is also an archive of the İzmir Metropolitan University. To reach the museum you can get the underground stop at Çankaya or get the number 5, 311, 581 or 486 bus.
Working Hours:
Weekdays: 8:30 to 17:30
Saturdays: 9:00 to 17:00.
Sundays are closed.
Ethnography Museum
Housed in a splendid stone building that once functioned as a hospital in Konak, this museum showcases arts, crafts and customs of İzmir. Its collection includes everything from camel wrestling, tonazar boncuks(traditional glass amulets). Admission is free.
Working hours:
From Tuesdays to Sunday: 08:30 - 17:00
Arkas Naval History Center Museum
Situated in Bornova, the museum opened its doors to visitors in 2012. Once the dwelling of the Arkas family, the building houses a collection of ship models, paintings and antiques.
Working hours:
Open on Tuesdays, Thursdays, Saturdays: 11:00 - 17:00
Atatürk Museum
Built as a carpet merchant's house between 1875 and 1880, this stately white building ended up as the founder of Turkey Atatürk's residence during his visits to the city, and he stayed here on a number of occasions between 1923 and 1934. It now contains a museum in his honour. Exhibits include the great man's clothes, furniture, books, etc. The museum is located on the First Kordon (Atatürk Street). Entry is free.
Working hours:
Winter: 08:00 - 17:00
Summer: 09:00 - 19:00
Bergama Museum
Located in the area which bears its name, the museum exhibits archaeological and ethnographic items from the excavations of Bergama, an ancient Greek city. These include sculptures of Pergamon school, items from Pitane and Gryneion and terra-cotta from Myrina.
Admission fee is 5 Turkish Liras. (£0.43)
Working hours:
Winter: 08:00 - 17:00
Summer: 08:00 - 19:00.
Bostanlı Open Air Archaeological Museum
The city's Archaeology Museum has some gems in its collection, including a late-Hellenistic-period bronze statue of a runner found in the Aegean Sea near the ancient city of Kyme, near Aliağa. The museum is a short walk up the hill from Konak Square.
Çeşme Castle and Archaeological Museum
The castle was built in 1508 during the Beyazıt Period. The Archeology Museum is located in the castle, which has been very well preserved until today. Initially a weapons museum, it now exhibits artefacts obtained from excavations in the ancient city of Erythrai which have been going on since 1964. These include marble sculptures from Çeşme as well as pottery and architectural items.
Admission fee is 8 Turkish Liras (2 euros) (£0.69)
Working hours:
Winter: 08:00 - 17:00
Summer: 08:30 - 19:00
Ege University Ethnography Museum
The museum was created in 2004 with the aim of archiving and exhibiting objects related to folk music, traditional costumes, folk dances and folk music instruments from Balkan Countries and Turkey. It has a vast collection, with 2,300 pieces of traditional clothing and 110 pieces of folk music instruments.
There is a small admission fee.
Working hours:
Tuesday, Wednesday, Thursday, Friday, Saturday: 09:00 - 17:00
Agora Open Air Museum
Before there was İzmir, there was Smyrna, an ancient Roman city on the Aegean coast of Anatolia (now Turkey). The Agora Open Air Museum is the most compelling evidence of Izmir's past life. The Agora of Smyrna is one of the best preserved ancient agoras in the world today, in large part due to the excellent Agora Open Air Museum on site. Built by Alexander the Great and later rebuilt following an earthquake, the still-standing columns, archways and structures offer a glimpse into what a Roman bazaar must have looked like. Walk through Colonnades of Corinthian columns and among statues of ancient Greek gods and goddesses.
Admission fee: 10 Turkish Lira (3 Euros) (£0.86)
Working Hours (Everyday):
Winter: 08:00 - 17:00
Summer: 08:00 - 19:00
Ephesus Museum and Archaeological Site
The museum was founded in 1964 to house excavations from the Ephesus archaeological site (in İzmir). At this charming and well-organised museum, there are not only findings from the ongoing excavations at the Ephesus site, but also artefacts from the Cukurici Mound, the basilica of St John, and the Temple of Artemis. One of the exhibitions includes a collection of coins from the Archaic Age of 800 BC to the time of the Ottoman Empire. You can see statues of Artemis, Isis, the head of ancient Greek philosopher Socrates as well as many others.
Admission fee: 40 Turkish Lira (£3.40)
Working hours:
Winter: 08:00 - 17:00
Summer: 08:00 - 19:00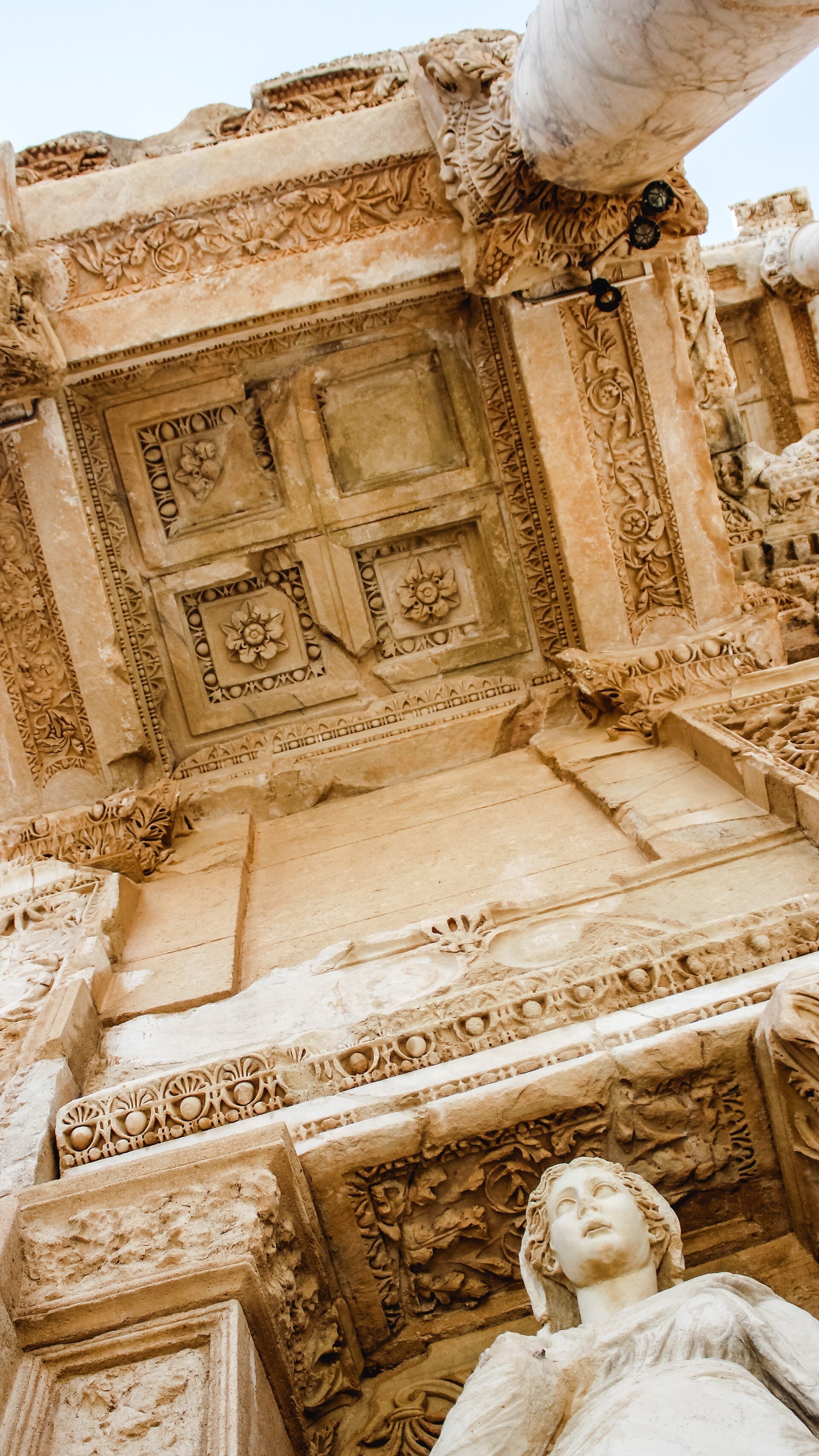 Hamza Rustem Photography Museum
This is definitely a must see for camera buffs. The museum charts the evolution of photography through time and has very old photo machinery and equipment as well as old pictures of Izmir and of certain families. You can get the underground to Karşıyaka-Mavişehir and from there it's only a 10 minute walk.
Entry is free.
Working hours:
From Tuesday to Monday : 09:00 - 18:00
İnönü House Museum
In this house located in Konak, the second president of the Turkish Republic, Ismet İnönü was born. İnönü is a national hero having played an important role in achieving Turkish independence. The museum contains his personal items, clothes, books, etc.
Working hours:
Monday to Friday: 09 :00 - 17:00.
İzmir History and Art Museum
This museum boasts one of the richest collections of ancient artefacts in the country and its Sculpture pavilion – crammed with masterpieces from ancient Smyrna, Teos, Miletos and Pergamon – is very impressive. The Precious Objects and Ceramics pavilions contain jewellery, coins and pots with informative labelling in English. Highlights include the coin collection in the Precious Objects pavilion, which have some of the coins minted at Sardis during the reign of King Croesus, dating back from early 7 century BC.
Admission fee: 5 Turkish Liras (£0.43).
Working times:
Winter: 08:00 - 17:30
Summer: 08:00 - 19:00
İzmir Women's Museum
The museum opened in 2014 with the aim of celebrating the role of Anatolian women throughout history as well as notable individuals.
Working hours:
From Tuesday to Saturday: 09:00 - 17:00
The House of the Virgin Mary
This Catholic shrine located onBülbül Mountain in Ephesus was apparently the home of Mary, the mother of Jesus Christ who was taken here after her son's death. It has become a site for Catholic pilgrims with a special celebration every 15th of August.
Admission fee is 20 Turkish Lira (£1.71).
Working hours:
Winter: 08:00 - 17:00
Summer: 08:00 - 18:00
Ege University Paper and Book Arts Museum
The museum was established in order to introduce the place of paper and books in world cultural history and to make students of all educational levels fall in love with reading. The lower floor of the building is reserved for paper and the upper floor for books. On the paper floor, there are pieces related to the history and production of paper, especially papyrus and parchment samples, and paper art are exhibited. On the upper floor there are objects related to book arts and printing techniques.
Working hours:
Tuesday, Wednesday, Thursday, Friday, Saturday: 09:00-17:00
Mosques in Izmir
Given its rich, multicultural past, İzmir is home to many beautiful religious buildings whether it be mosques, churches or synagogues.
Hisar Mosque
One of the historical mosques of Kemeraltı established in 1598, its interior contains one of the most striking examples of Ottoman Islamic artwork in İzmir. However, rather conflictingly, in its construction some baroque touches were also added to the mosque. The mosque is open from dawn to night and entrance is free.
Yalı Mosque
You can find information about this mosque under the 'Top attractions to see in Izmir' section of the guide. Entrance is free.
Mosquee Bleu (Çinili Camii)
Located in Zafertepe, Konak, the mosque is relatively new compared to others in the city, having been constructed in 1988. It is well known for its striking blue tiled facade, such is the beauty of the building that you may have to wait a while in line before being allowed in.
Churches in Izmir
Ayios Haralambos Church
Located in Çeşme, the 19th century Greek Orthodox church is now used as an exhibition hall where organised conferences, concerts, book signings and even operas are held. Inside, the church is all white save from light blue and golden details adorning its arches, a truly stunning sight.
Saint Jean Church
Built in 1862, this church is the seat of the Roman Catholic Archdiocese of Izmir and is dedicated to John the Evangelist.
Buca Protestant Baptist Church
Founded as the All Saints British Protestant Church, the building was built in 1834 by an immigrant community, mostly British. The building itself is in the style of a classic English parish church. In 1961, it was handed over to Buca Municipality.
Synagogues in Izmir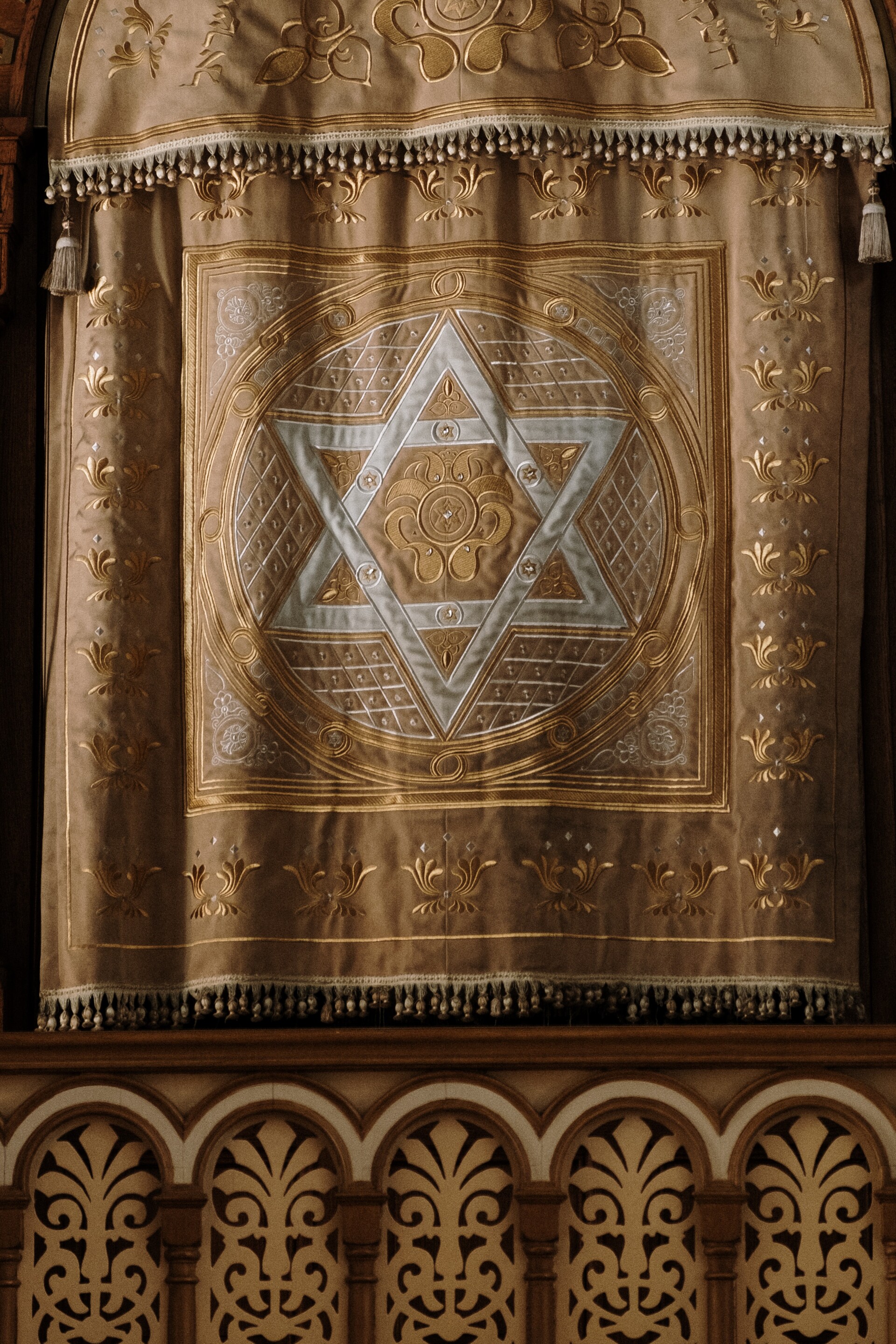 Kemeraltı Bikur Holim Synagogue
Meaning 'visit of patients' in Hebrew, The Bikur Holim Synagogue is a Sephardi synagogue completed in 1800. This stone building still serves as a synagogue.
Karataş Bet (Illel) Israel Synagogue
The holy place was built in 1905 by a growing Jewish bourgeoisie who had found a new residential area on the southern coast and hills of the gulf which is now Mithatpasa Street. Bet Israel is the largest and most magnificent synagogue of Izmir and religious marriage ceremonies usually take place here.
Places of Interest in Izmir
Markets
If you are looking for shopping areas, you won't struggle to find them in İzmir. The city offers a great variety of shopping outlets from big shopping centres to local marketplaces.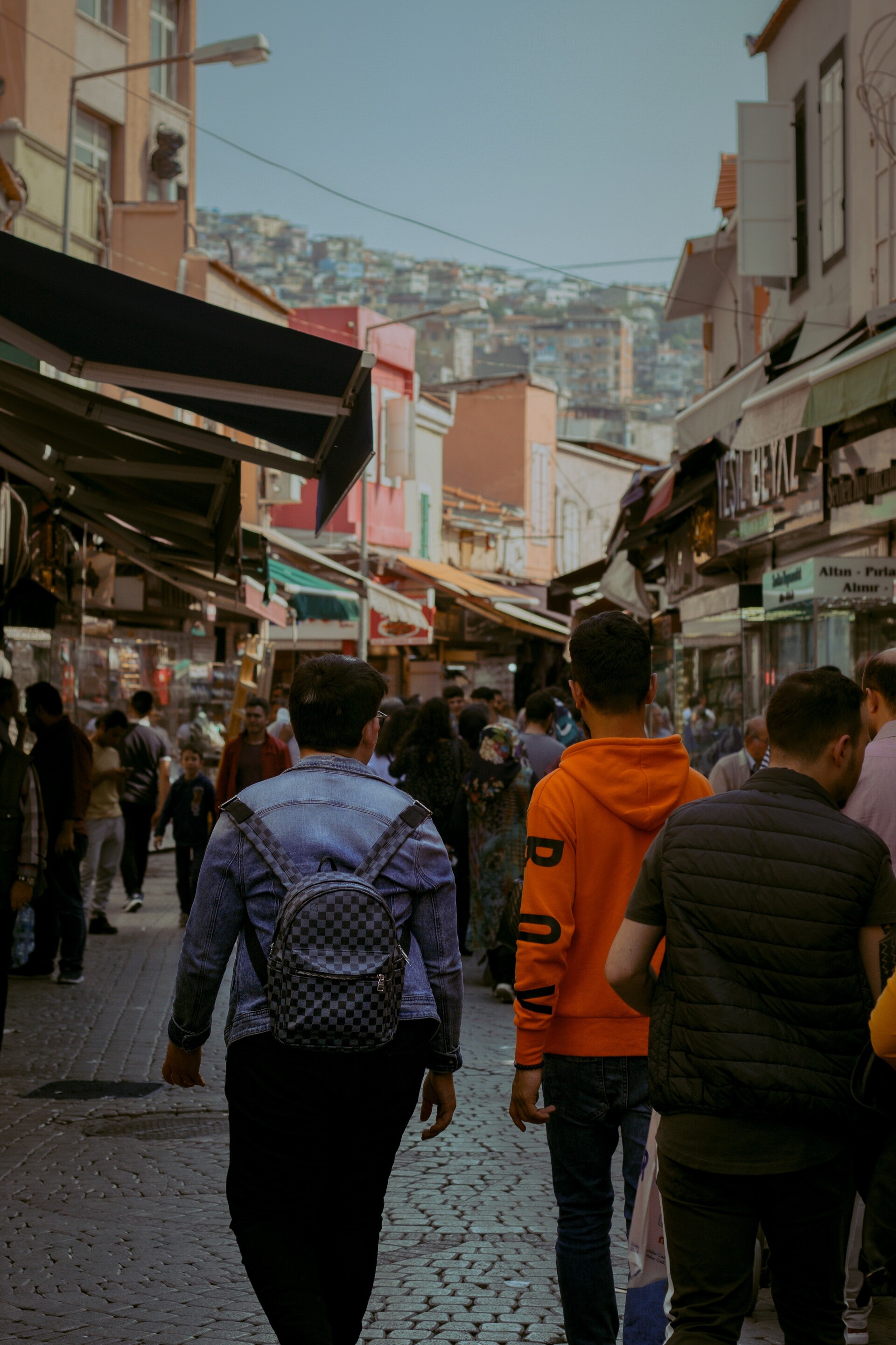 Old Bazaar Kemeraltı
A bazaar is a permanent street of shops where goods and services are exchanged or sold. Kemeraltı is located in the centre of İzmir in Konak. The old bazaar has a history spanning 400 years. In the past there were caravansaries, (street side inns) here which were free to house weary travellers. Such was the fame of the market, that people would travel here to buy or exchange goods and then stay in one of the inns. It boasts a wide range of goods from pottery to carpets to ceramics to clothing to food.
The bazaar is very complex and confusing, making it very easy to get lost in its maze-like alleys.
In Kemeraltı, there is a former inn called Kızlarağası Caravansary. It is now a shopping centre full of 200 small shops; souvenir shops, tattoo studios, antique shops and so on. This is a great place to relax and enjoy a Turkish coffee cooked on the fire in a cup. If you drink a Turkish coffee, they say you will have a good memory for 40 years.
Shopping Centres
As is the case in most modern cities, there are a bucket load of shopping centres in İzmir. Here is a list of them as well as their locations:
Agora Alışveriş Merkezi - Balçova

Park Bornova Outlet - Bornova

Forum Bornova Alışveriş Merkezi - Bornova

IKEA İzmir - Bornova

Kipa Balçova - Balçova

Kipa Çiğli - Çiğli

Kipa Bornova - Bornova

Kipa Forum - Bornova

Kipa Gaziemir - Gaziemir

Kipa Torbalı - Torbalı

Konak Pier Alışveriş Merkezi - Konak

Metro İzmir Alışveriş Merkezi - Gaziemir

Palmiye Alışveriş Merkezi - Balçova

YKM İzmir - Konak

Selway Outlet Park - Balçova
There are also a great number of local markets across the city's different districts:
Gaziemir
Saturdays - Dokuz Eylül District
Sundays - Emlak Bankası Houses
Wednesdays - Atıfbey
Fridays - Aktepe District
Balçova
Wednesdays - Balçova
Saturdays - Centre
Bornova
Tuesdays - Doğanlar District
Wednesdays - İnönü District
Wednesdays and Sundays - Bornova, Çamkıran and Çamdibi
Thursdays - Evka 3 Marketplace
Fridays - Atatürk Mahallesi and Işıkkent
Saturdays - Evka 4 and Özkanlar
Sundays - Altındağ and Pınarbaşı
Buca
Wednesdays and Sundays - Şirinyer Centre
Wednesdays and Sundays - Evka 1
Wednesdays and Sundays - Yıldız District
Wednesdays and Sundays - Çamlıkule District
Wednesdays and Sundays - Gediz District
Saturdays - Barış District
Sundays - Buca
Çiğli
Saturdays - Çiğli Centre
Saturdays - Evka 2
Saturdays - Egekent Marketplace
Wednesdays - Evka 5
Sundays - Balatçık
Güzelbahçe
Karşıyaka
Wednesdays - Bostanlı, Nafiz Gürman and Alparslan Districts
Fridays - Esin Sitesi, Erenler, Kilise District
Saturdays - Şemikler, Gümüşpala, Elit Sitesi, Çiçek and Adalet Districts
Sundays - Yamanlar, Cumhuriyet, Örnekköy, Çay Districts
Wednesdays, Fridays, Saturdays and Sundays - Karşıyaka Marketplace
Konak
Wednesdays - Güzelyalı, Gültepe, Kooperatif Evleri, Limontepe, Ferahlı, 19 Mayıs and Eserkent
Thursdays - Hatay
Fridays - Esendere, Eskiizmir, Toros, Gürçeşme, Bozyaka, Günaltay and Kahramanlar
Saturdays - Karabağlar, Yeşilyurt, Millet, Leandnt and Uzundere
Sundays - Eşrefpaşa, Güzelyalı, Çimentepe, Yenişehir and Alsancak
Narlıdere
Wednesdays and Sundays - Narlıdere
Parks and Green Spaces in Izmir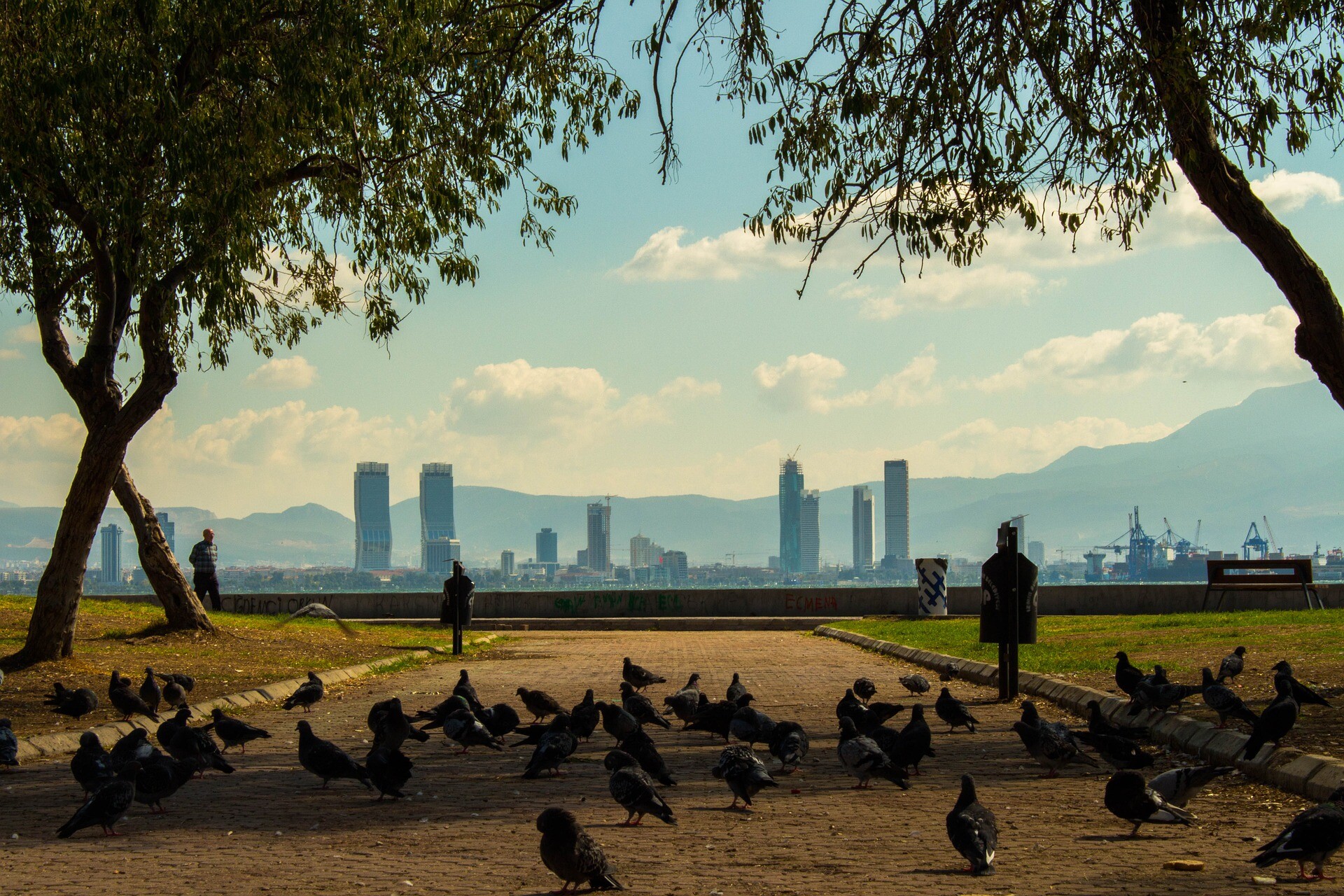 Despite being a metropolitan city, İzmir also has a lot of green spaces. Here is a list of some of the parks and green spaces in İzmir
İzmir Natural Life Park
In 2008, the first Turkish zoo, Fair zoo, was converted into the first Turkish Wildlife Park located on a 425,000 square meter area in the Çiğli-Sasalı district. The project was funded by Izmir Metropolitan Municipality.
The Wildlife Park houses over 2600 animals, covering 138 different species as well as over 250 plant species. The animals roam around freely in surroundings which are similar to their natural habitats. It is incredibly popular with 900,000 visitors a year.
The park is easy to reach:
Ferry: Karşıyaka Ferry Station + Bus 777
İzban Metro: Çiğli Stop + Bus 751
The park is open for 365 days a year but closing times change according to the seasons. Admission fee is very affordable: 2 Turkish Lira (£0.20) for students and 5 Turkish Liras (£0.45) for adults.
İzmir Bird Paradise
Due to its huge wetland, İzmir Bird Paradise hosts 205 bird species. The area takes up 8000 hectares and is located on the migrating path that birds take, making it a popular habitat, so much so that 50,000 birds visit the field every year. The best time to go is during the autumn and a bicycle is recommended to make your way round the vast area. Bird paradise isn't so far from the city, in Menemen. You can get there by taking the number 751 bus from Sasalı- Çiğli or any bus operating on the Konak-Mavişehir line.
Homer Valley
This is the perfect escape from the hustle and bustle of İzmir. Believed to be the birthplace of Homer, author of some of the oldest known western literature texts The Iliad and The Odyssey, the valley is located roughly 30 minutes outside downtown İzmir. Enjoy a trek or a drive up the valley which offers fantastic views of the entire city! Without a car you can get there by catching a bus from Özkanlar. Admission is free.
Beaches in Izmir
Once in Izmir be sure to take advantage of its position on the coast and its beautiful beaches. Here is a list of a few of the best ones.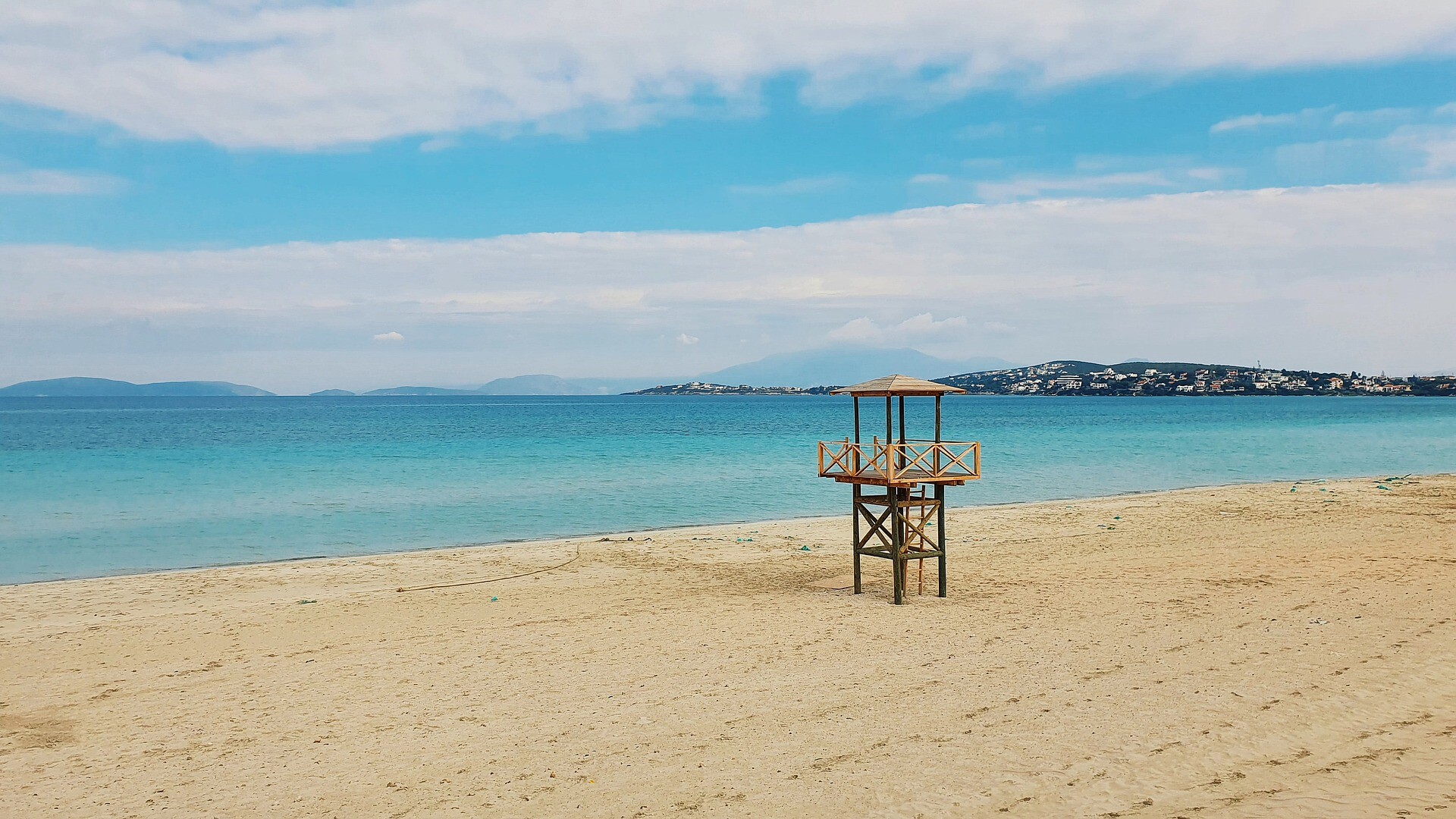 Bodrum Bay - Karaburun
Bodrum Bay is very natural and untouched by human hands. You will also be able to find close by plenty of restaurants and remember to bring a snorkel because in its clear waters you are sure to see plenty of fish.
Sazlıca Bay - Foça
Between New and Old Foça, Sazlıca Bay is ideal for a day trip or camping with plenty of bays to bathe in both large and small.
Bademli Bay - Dikili
This beach contains some real gems like Kalem Island and Bademli Koyu which you could easily mistake for an exotic, tropical paradise with its crystal-clear waters.
One of the most well known is Fame Beach. On the weekends it may be crowded given its popularity.
Ilıca Beach - Çeşme
With so many spaces of shallow water for kids to frolic in and its fine, fine sand, this beach is perfect for families.
Altınköy Bay - Urla
A truly stunning setting, its turquoise-blue waters are surrounded by thick forest. You can reach it through the entrance of Altınköy Ranch House but don't worry, you don't have to be a resident to access it.
Dolungaz Bay - Karaburun
This is a great bay for camping as although just as beautiful, it's not as well known as say Mimoza or Bodrum Bay. Be prepared however to bring your own food as you won't find any restaurants there.
Delikli Bay - Alaçatı/Çeşme
5km (3mi) from Port Alaçatı, this is a very calm beach and not very popular as you have to have a car to get to it.
Ildırı - Çeşme
This bay is rated as one of the most beautiful in İzmir. It's definitely worth a visit as it's by an idyllic, small town.
Mimoza Bay - Karaburun
Undoubtedly one of Karaburun's most charming, tranquil bays, protected from the wind with few waves. The beach is made up of pebbled stones and doesn't tend to be very crowded.
Aya Yorgi Bay - Çeşme
Whilst a normal beach during the day, when it gets dark this beach converts into a party paradise with concerts and partying. It's easily reachable from Alaçatı.
Amusement Parks
Oasis Aquapark Çeşme
Oasis Aquapark is a 60,900 square metre water park opened in 2016. The huge complex contains a hotel, swimming pool and a sports centre meaning there are so many activities you can do there including dance classes, water volleyball, foot tennis as well as go on fun water slides. It is currently closed due to covid but will reopen soon.
Aquapark Entrance: 90 Turkish Liras (£7.75)
Working Hours:
Bornova Aşık Veysel Recreational Area
In the centre of Bornova, this is a massive indoor sports centre with 12,000 square metres of ice-skating and ice-hockey rinks, walking trails, basketball and tennis courts, volleyball and football fields and much more.
Entry is 10 Turkish Lira (£0.86) for students and 15 Turkish Lira (£1.30) for adults.
Coşkun Amusement Park
Coşkun Amusement Park has plenty of rollercoasters and rides to satisfy the most hardcore adrenaline junkies. It is extremely popular so if you want to go, make sure you book in advance to avoid the queues.
Working hours:
---
Photo gallery
---
Want to have your own Erasmus blog?
If you are experiencing living abroad, you're an avid traveller or want to promote the city where you live... create your own blog and share your adventures!
I want to create my Erasmus blog! →