Soy sauce chicken recipe
Soy sauce chicken is typically an oriental dish that I particularly love. It's very easy to make and it's a perfect variation of grilled chicken. Because of eating grilled chicken as much as I like, I need to vary at times, and I then opt for curry chicken or marinated soy chicken.
The tastiness of the dish consists in its marinade preceding the cooking. So I need an hour and 15 minutes to prepare it. During the first hour you all need to get the chicken marinated, without doing anything.
Let's see all the steps one by one and all the ingredients.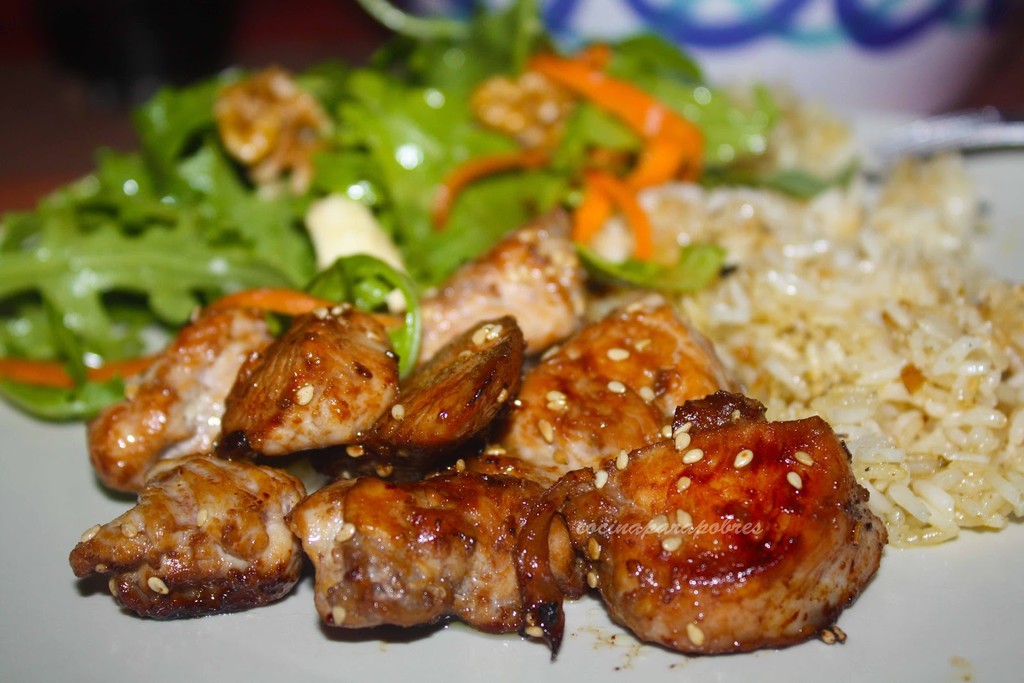 http://cocinaparapobres.blogspot.com.es/2012/12/pollo-marinado-con-soja-y-sesamo.html
Ingredients
The quantities aren't specified because it depends on how many people you want to serve. I did it for myself though, so one big slice of chicken breast or three fillets are fine.
Chicken breast
Soy sauce
Garlic
Onions
Black pepper
Honey
Lemon
Oil
Preparation
Slice the chicken breast into small fillets.
Put the minced garlic into a container and a chopped onion.
Add the slices of chicken and dunk them into the soy sauce.
Squeeze the lemon and add a pinch of pepper.
Honey.
Leave the marinade in the container about 2 hours.
Once it is well marinated, fry it in a pan with little oil and let it brown.
Add the sauce of the marinade.
Let it cook for a few minutes with the top.
Serve it hot.
Curiosities
The dish could be served cold as well, it's good in any case. The longer you leave the marinade, the more you'll taste the soy sauce. You may also accompany the food with some oriental rice or basmati rice placed on the side of the plate, or also mixing it all together, so that the rice should be dunked into the soy sauce. In this way you can cook any kind of meat or fish, but chicken is the best to go along with the taste of soy. The soy sauce can be left as a stock or let to dry up and stick to the chicken. You can also decorate the dish with some sesame seeds afterwards. Another thing I often do is add (as you can see from the recipe) some honey into the mixer used to marinate the meat, in order to create that sweet and sour taste typical of oriental food.
---
Photo gallery

---
---
Content available in other languages
Want to have your own Erasmus blog?
If you are experiencing living abroad, you're an avid traveller or want to promote the city where you live... create your own blog and share your adventures!
I want to create my Erasmus blog! →