Potato Gnocchi: An Italian Recipe
Gnocchi is a type of pasta typical of Italy, which is prepared with a base of two ingredients: potatoes and flour, although you can add more ingredients to the basic recipe. For example, you can make courgette or spinach gnocchi.
However, it's a very cheap and simple dish, although it takes a little patience to prepare.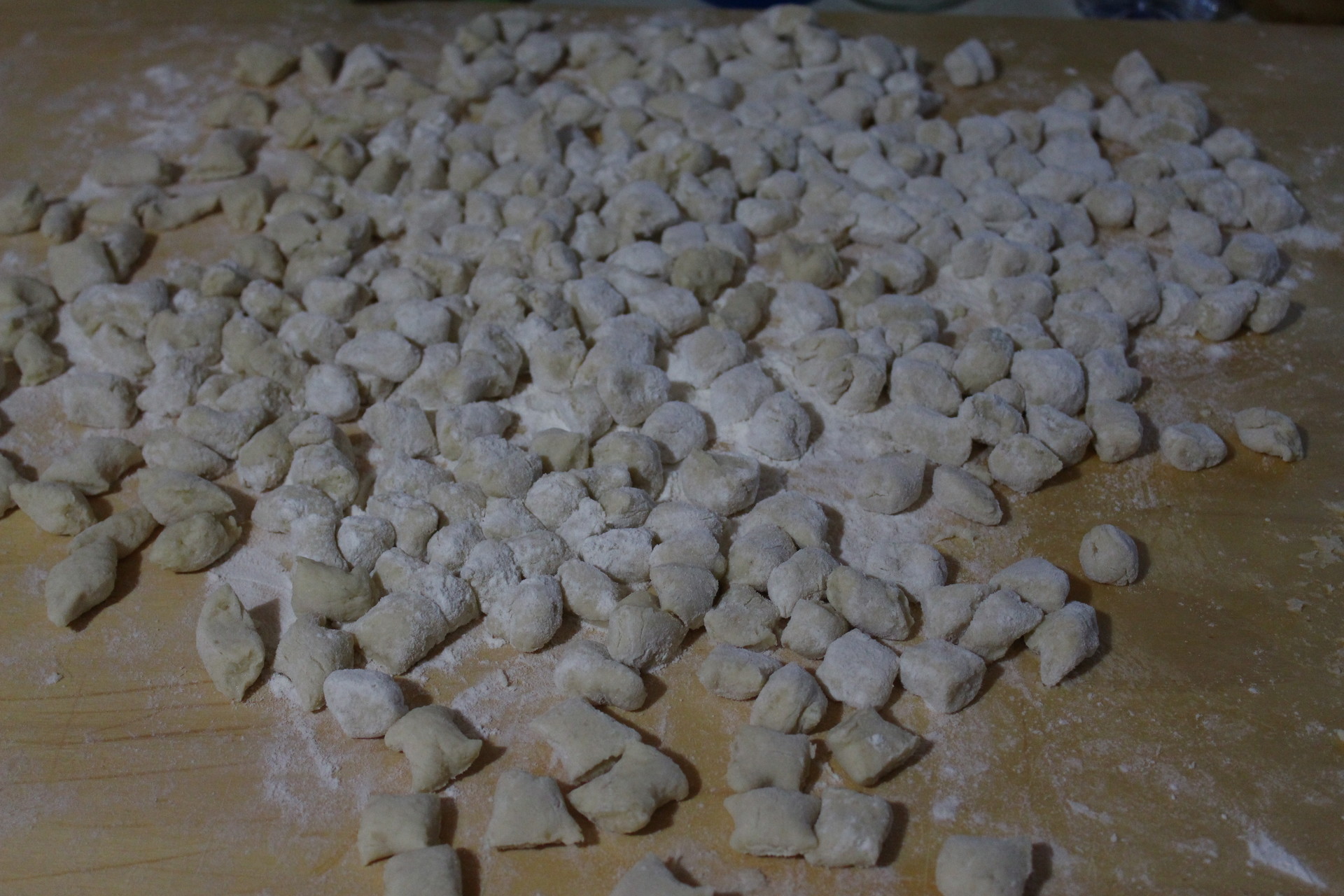 Before anything else, it's very important to choose the right type of potato so that the mixture turns out well. The potatoes shouldn't have too much water, because the mixture will turn out too sticky and you'll have to add lots of flour for it to return to "normal". Adding too much flour to the gnocchi will make it too hard and heavy, whereas they should be soft and light. For that reason, I recommend using red potatoes, since they are the best for this recipe.
Next, the sauce that will accompany the gnocchi is important. In this case, I will give you the recipe for gnocchi with a simple but very good tomato sauce.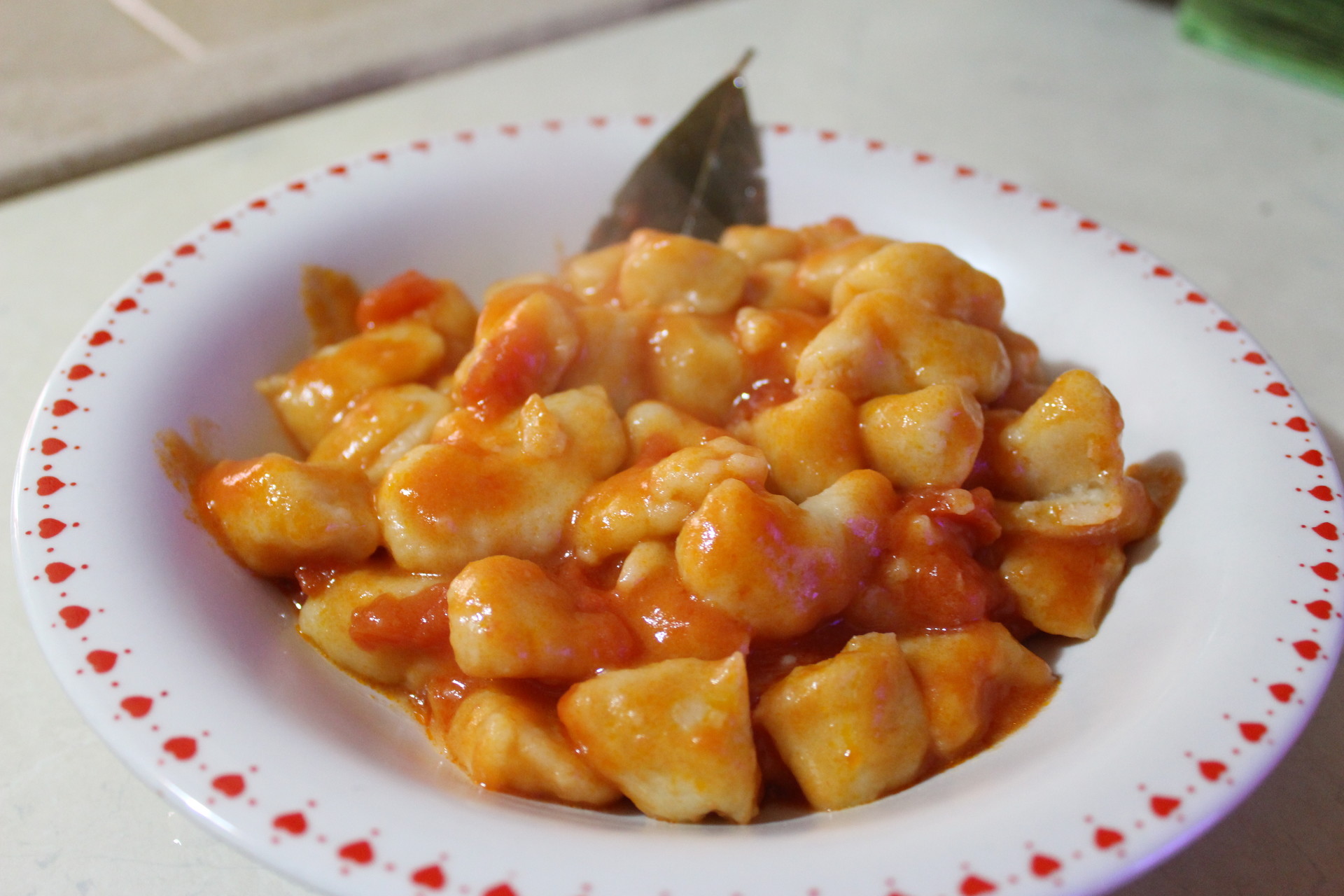 The mixture can be frozen and used another time, so I recommend preparing several portions, since it doesn't take long at all to cook them in water (only 5 minutes) which could come in useful for a day where you don't have much time to cook :D.
These are the ingredients for 5 people:
Gnocchi:
- Potatoes: 1. 5kg
- Flour: 300g (more or less, depending on the consistency of the mixture... )
*Gluten free option: simple, use any type of gluten free flour.
- Salt
Sauce:
- Crushed or chopped tomatoes
- Onion
- Carrot
- Celery
- Bay leaf (opcional)
- Salt and oil
Method
1. Put the potatoes with their skin on to boil in water (after washing them) for around 30 minutes, or until they're ready (you can check with a fork: if they're soft, they're ready). It's important to leave the skin on so that water doesn't get in!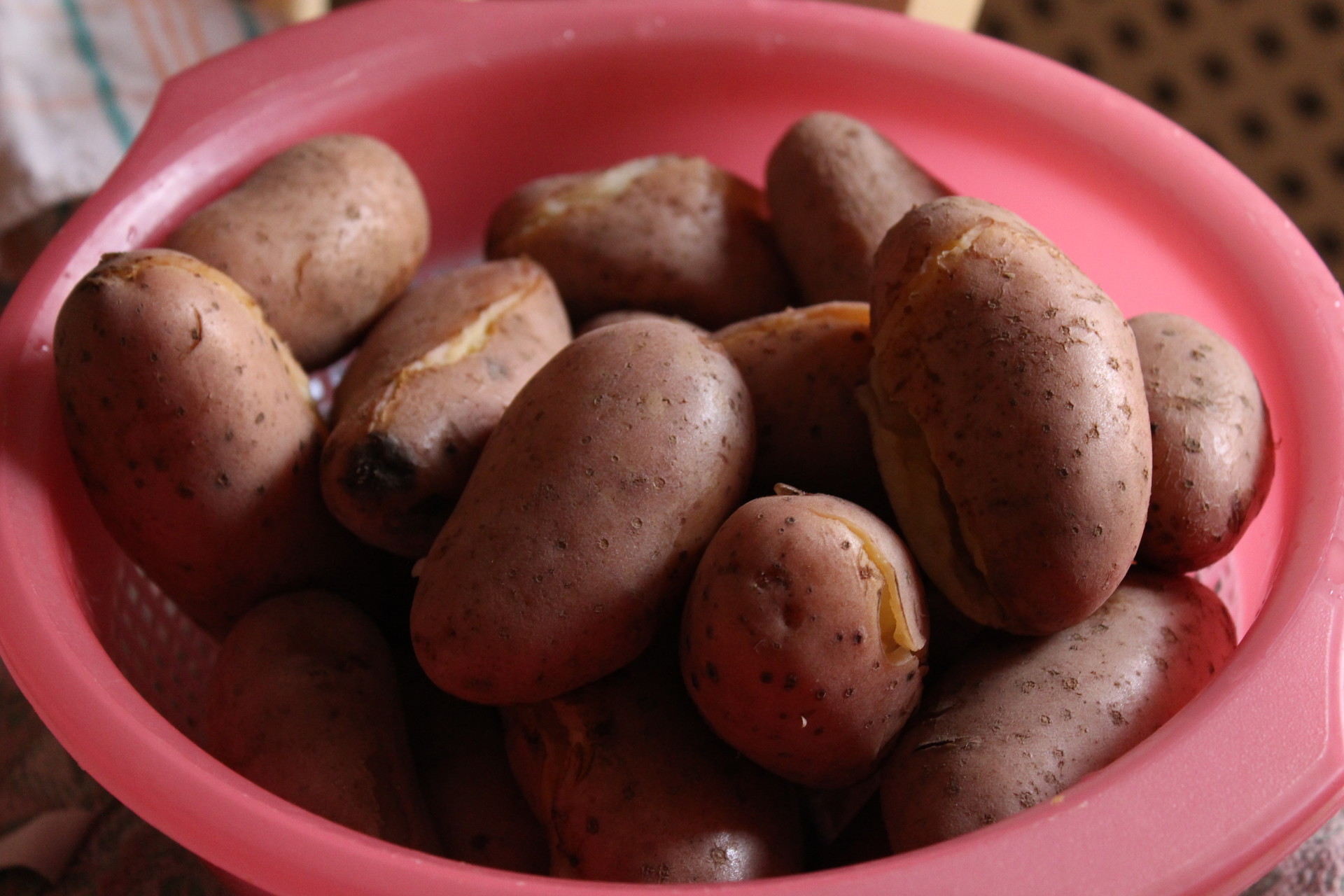 2. Now you need to remove the skin from the potatoes, being careful not to burn yourself. In fact, I recommend waiting until they've cooled a little. To do this, you can strain them and leave them to sit for 10 minutes.
3. Then, you need to mash the potatoes with a fork, ore ven better, a potato masher, so that they become one big mixture. When the potatoes are mashed, it's important to leave them to cool completely. If they're still warm, the mixture will turn out heavy.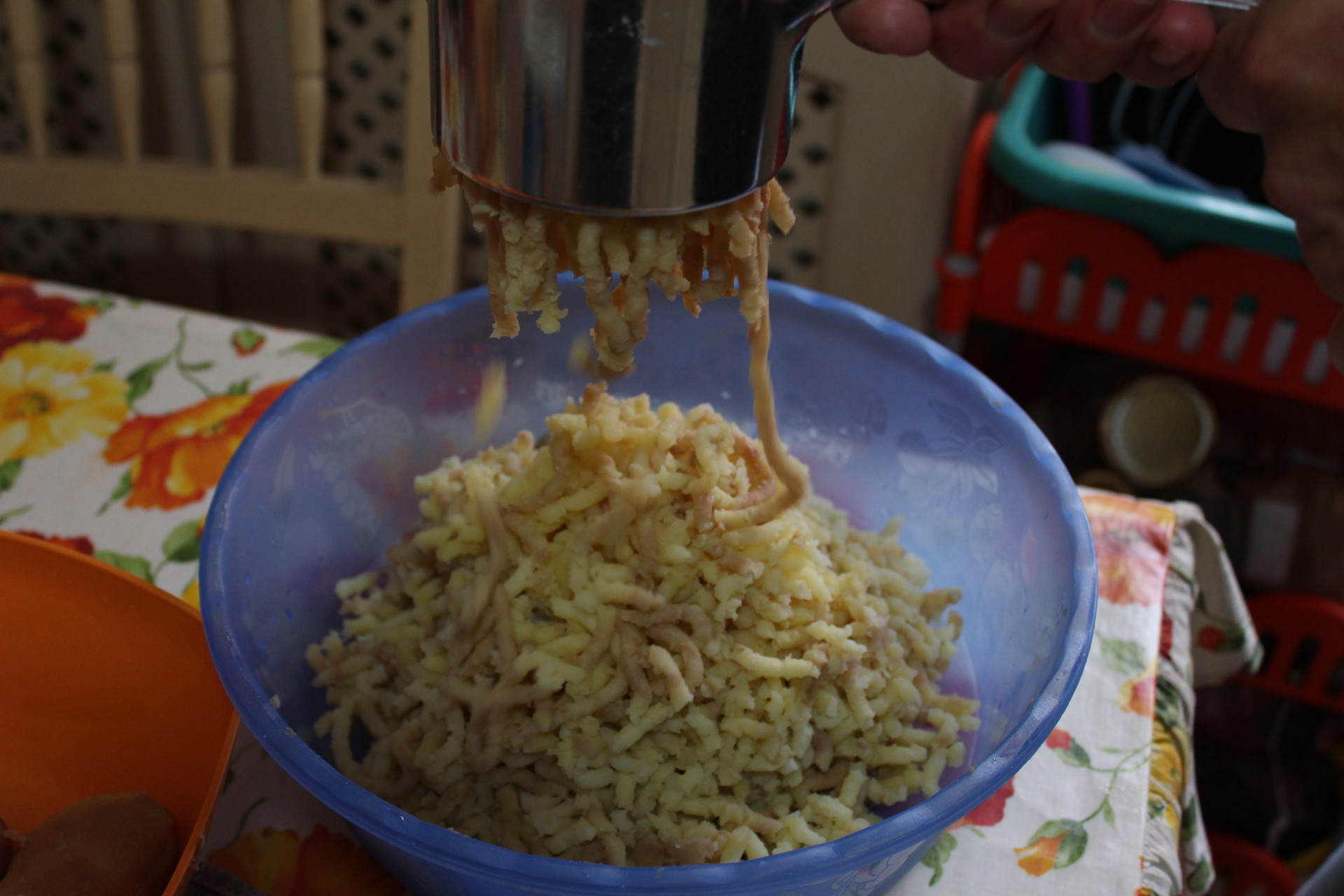 So that the mashed potatoes cool more quickly, you can start to put them on the wooden board or the table where you'll prepare the mixture, with a bit of flour on the surface, like this: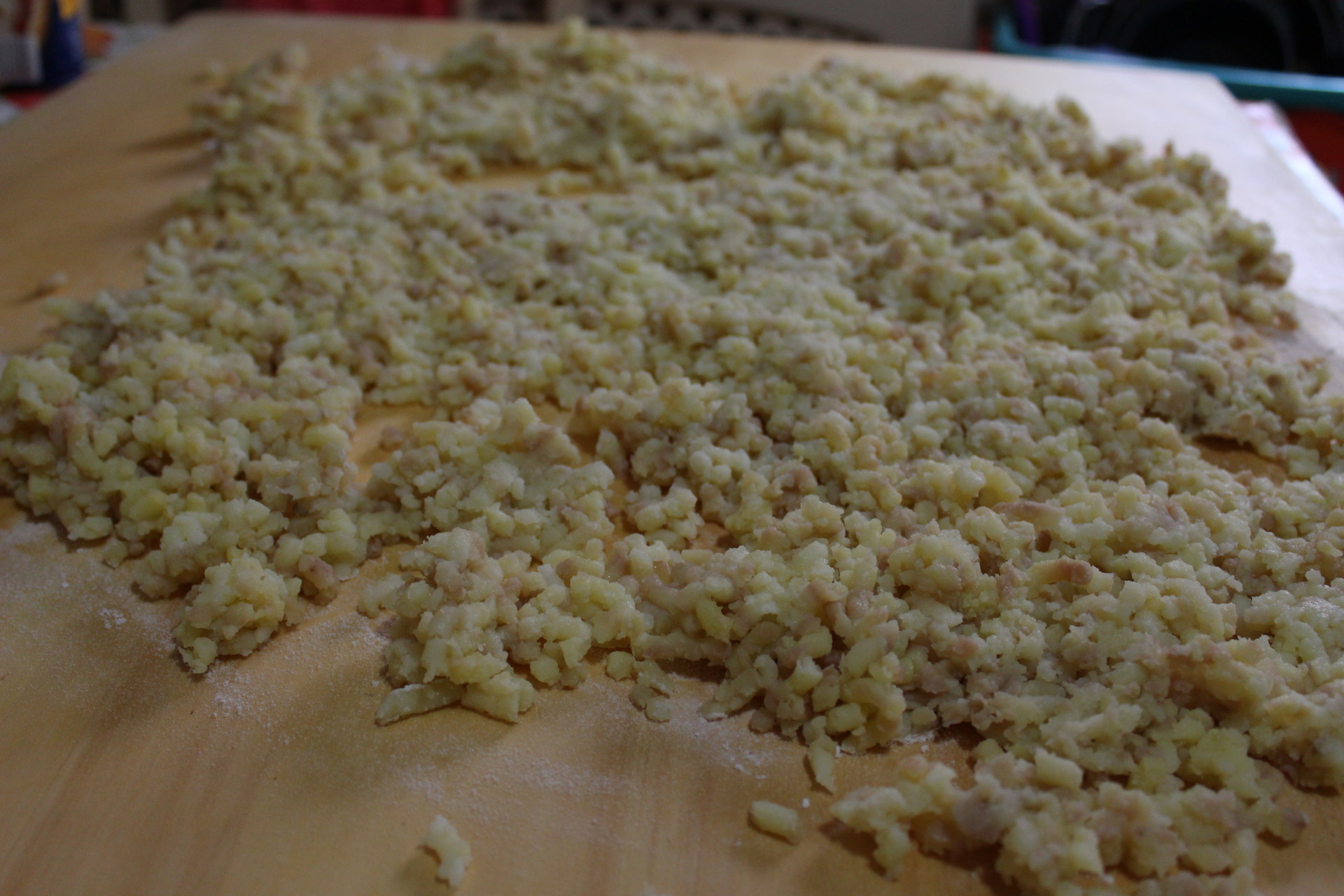 4. When they have cooled, it's time to start mixing in the flour bit by bit, kneading with your hands, and adding the flour in small quantities. The mixture that we're aiming for is uniform and easy to knead, so it shouldn't be sticky or have any hard bits. For this reason, the amount of flour will dependo n the humidity of the potatoes.
5. When the mixture is ready, you need to separate it into smaller parts and create cylinders with your hands, which will then be cut with a knife to more or less 2cm pieces to form the gnocchi. Repeat the process until the mixture is all used up. It's always necessary to add a little flour so that they don't stick together.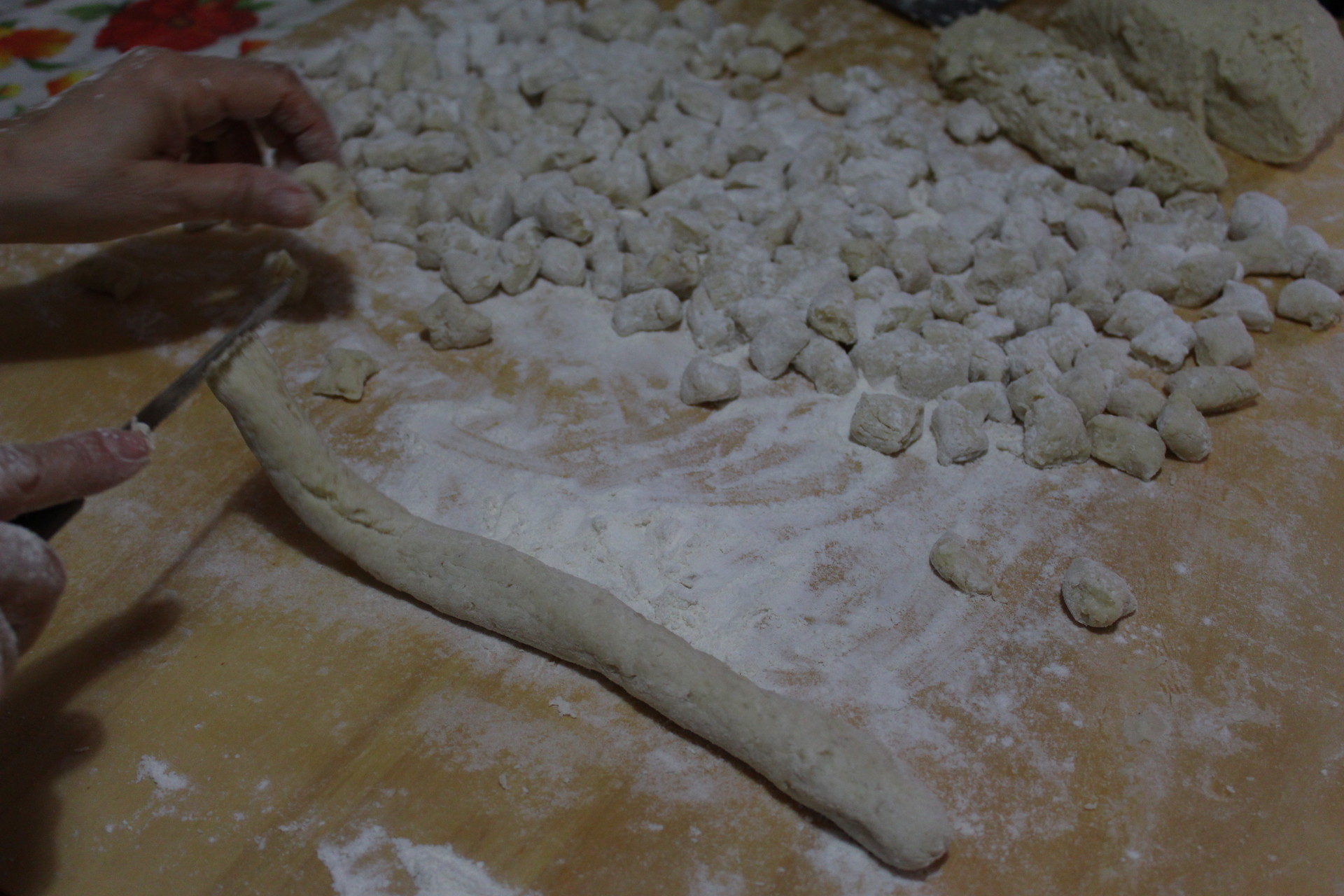 6. Now all that's left it to cook the gnocchi (I recommend boiling them as soon as you've finished making them – another alternative is to freeze them). Fill a saucepan with water and add some salt once it begins to boil. The gnocchi takes around 5 minutes to cook: at the beginning, they go to the bottom, whereas when they're ready they start to float to the surface. That's when you can remove them with a slotted spoon and add them to the sauce.
The sauce
You can use any type of sauce (pesto, sage and olive oil, etc. ), but this time I'm going to give you the recipe for what is known as "Sugo Finto" in Italy.
In a saucepan, sauté oil, chopped onion, a piece of carrot and a stick of celery. When they have heated up a little and the oil has gathered the flavour of the other ingredients, add the crushed or sliced tomatoes, add the bay leaf and the salt and leave it to cook over a low heat for 20-30 minutes, covered with a lid. If the sauce is too thick, add a little water.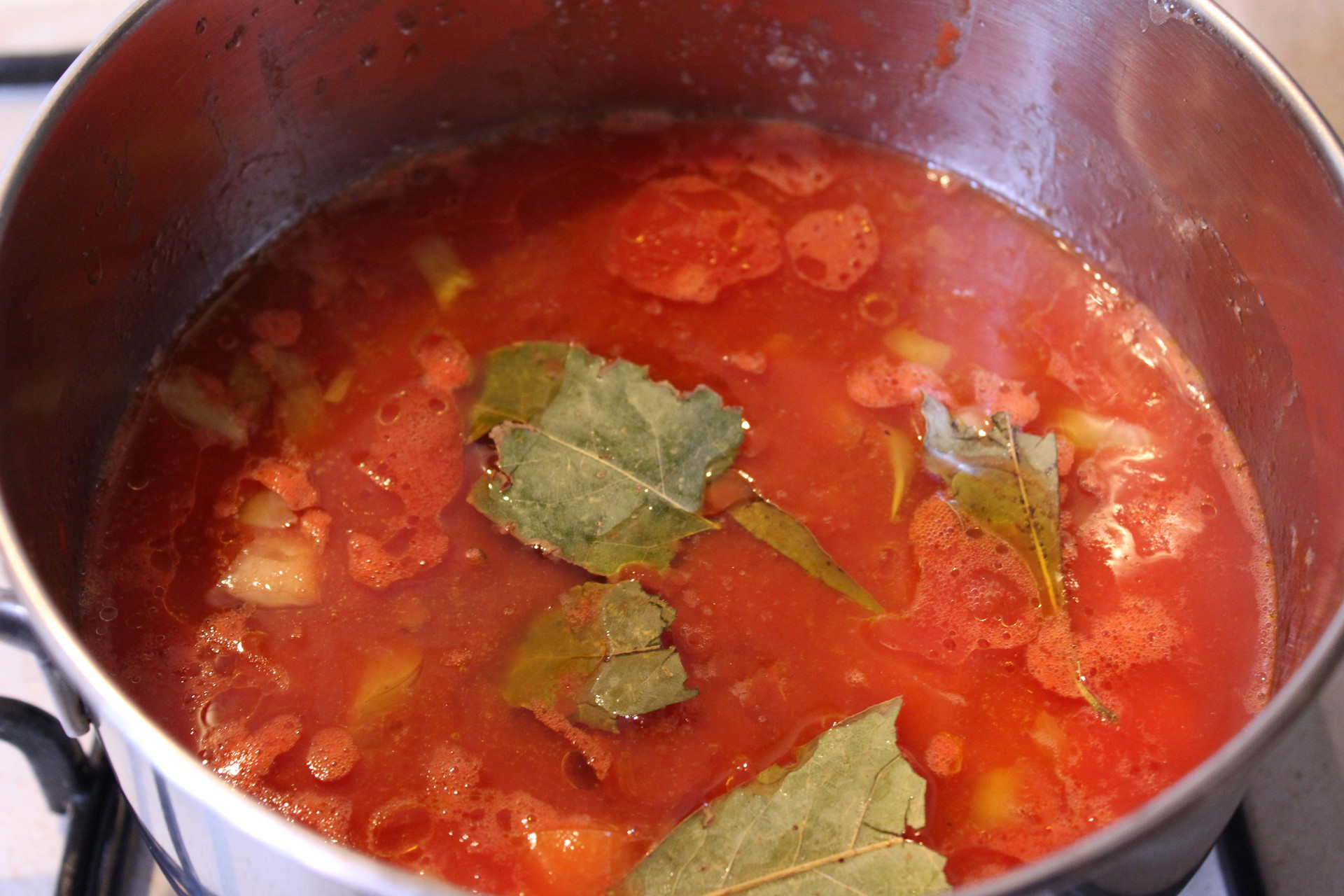 - It's advisable to prepare the sauce whilst the potatoes are cooking.
Buon appetito!
---
Photo gallery
---
---
Content available in other languages
Want to have your own Erasmus blog?
If you are experiencing living abroad, you're an avid traveller or want to promote the city where you live... create your own blog and share your adventures!
I want to create my Erasmus blog! →