Banana Pancakes
One rainy Erasmus day I was just craving pancakes. I'm not one for cravings, but when I get one, I get it strong, and I need to eat it no matter what. The problem is that when I started to make my pancakes, it seemed that all the planets aligned against me to make this day terrible because I didn't have any eggs in the fridge. My first reaction truthfully was thinking of picking up the umbrella and going to the supermarket on campus just to buy eggs to make my pancakes. But then I remembered a vegan friend of mine who loved to make pancakes, and of course, she had to make them without eggs.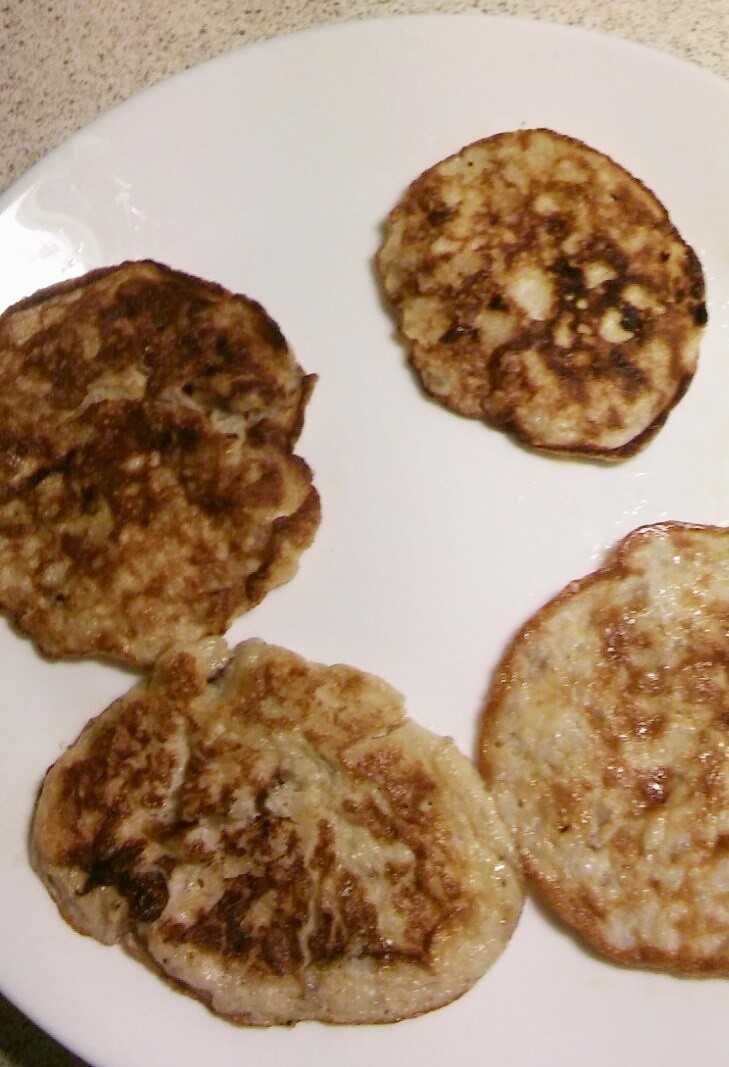 It turns out I never knew that bananas in sweet things are a good substitute for eggs, and bananas in my house are always left over. So, I decided to make some banana pancakes . And the truth is that I liked the results so much that I never made them with egg during what remained of my Erasmus, and when I arrived in Madrid I made them for my mum and she also loved them.
As always, the majority of recipes can vary depending on what ingredients you like, but if you don't like bananas you can substitute all of them in the recipe for egg. I'm going to write the initial recipe for you that I had, but modified, because as I repeated it and added different things I realised they were even tastier (although I always overcooked them on the heat and they ended up somewhat burnt, but this is just my thing and doesn't have to happen to everyone).
Ingredients for the pancakes (for 2 people):
Two bananas (that are preferably overripe)
50 grams of flour
50 grams of oats (but if you prefer to use more oats than flour or vice versa that's okay, they do practically the same thing, but I only mix them so that there is a distinct flavour and it doesn't taste too much like dough)
Milk (it doesn't matter what type you use)
Olive oil
Lemon (optional)
Honey or cinnamon (optional)
Preparing the pancakes:
Firstly, dice the bananas. After this choose one of these options: if you have a mixer, you can whisk them in this. If not, put the pieces in a bowl and, with a fork, beat the pieces until they become a thick dough ( whether there are unmixed pieces or not is a matter of taste. It seems to me that since they are bananas, biting into the pancake and finding a piece of the fruit gives it a rich touch).
In the same bowl, or in another, mix the beaten bananas with the flour and oats and put some lemon zest, honey or cinnamon to give it a little bit of flavour (any of these ingredients are optional, you can leave them without any of these so you only taste the bananas). After, add a glass of milk and a tablespoon (heaped) of olive oil . Remove all the mixture, and if you find it a bit thick you can add a splash of milk and then remove it. The dough has to be a balance between runny and thick , like a vegetable cream.
Put oil or butter in the pan and start pouring in the mixture in batches in a circular motion, with a little saucepan or a big spoon to control the size of your pancakes. When the face up side of the pancakes starts to bubble it means that you can flip them over. Repeat this until you have enough pancakes.
Dressings for the pancakes:
You can eat the banana pancakes as you want, but here I'll leave my favourite ingredients to dress them with, since by itself the pancakes will not taste like dough, but banana, (obviously) so you have to combine them well with something so that you do not have very contrasting flavours.
I like to eat them with Philadelphia cheese spread (Philadelphia or whatever brand, I say that so that you have an idea of which one), with avocados, chocolate that also makes a perfect combination with the banana, jam (for me I only like the ones with red fruit) and any type of fruit.
As always, if any of you that read this have another combination that you like to go with your pancakes and you want to share them, leave them in the comments!
Guardar
---
Photo gallery

---
---
Content available in other languages
Want to have your own Erasmus blog?
If you are experiencing living abroad, you're an avid traveller or want to promote the city where you live... create your own blog and share your adventures!
I want to create my Erasmus blog! →