Athens neighborhoods - The most important districts of Athens
Athens neighbourhoods - The most important districts of Athens
Counting more than 4 million inhabitants, Athens is a capital with not only a big city centre, but also a great number of districts that share different characteristics and opportunities. In the following lines, I will try to take you on a short, virtual guided tour around the areas where students choose to live around Athens in order to provide you with the best information possible on the cost of living combined with that of going out.
Although you will probably go out in the region you will be living in, Athens offers a wide range of choices to try, satisfying every single taste, but you are probably going to meet lots of people so you will need to move from one suburb to another to meet your friends or hang out. The capabilities of various modes of transport - from metro and train to buses, trolleybuses and tramways - make students often change the hangout, depending on the season. In the summer, young people leave the center and choose the beachfront food outlets, while spring is a good opportunity to get to the centre with the bus or subway or the tram to the north, as in Neo Iraklio.
Centre of Athens (Monastiraki, Psirri, Plaka)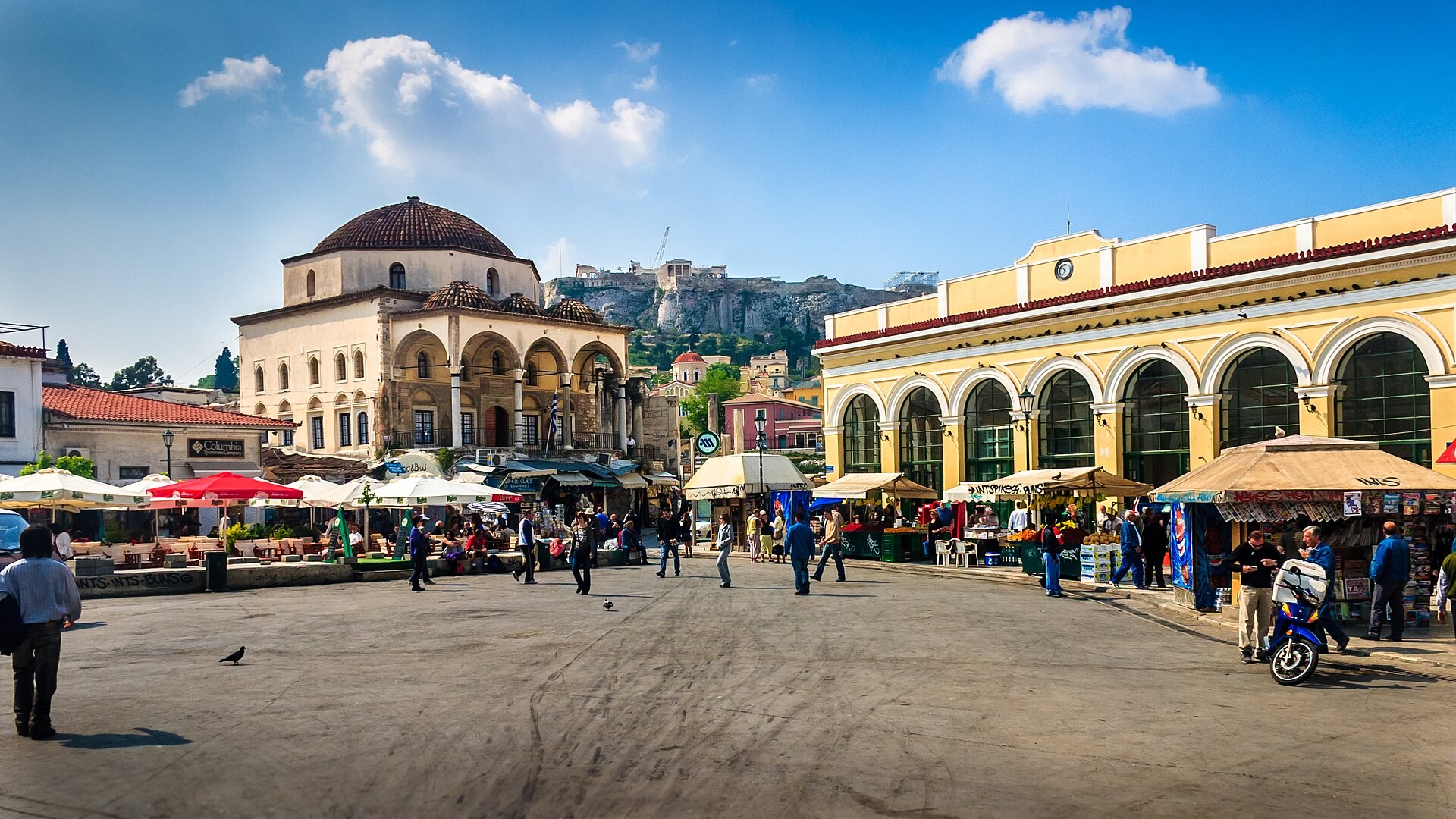 Living in the centre of Athens brings everything you need to your feet, like shops, bars, archaeological sites, and any kind of entertainment. However, the houses you will find here are usually old and not in the perfect possible condition, as these districts are the most historical in Athens, but you will definitely not need to spend too much time on public transport in order to reach your university or go out at night.
Keep in mind that Plaka, as one of the most important parts of Athens, can be really expensive when it comes to accommodation, while Monastiraki and Psirri can be cheap, but although they are almost always crowded they are considered to be a little dangerous at night when there are not so many people walking on the street, so try to always walk back home with someone.
Zografou
It is an area that is a synonym with students, as most of the faculties of the University of Athens are here, so the majority of the students opt for this place to live in. Here, you can also find the university campus and the dorms. Zografou is the perfect choice for you if your faculty is here, as you will not need long hours of crowded transportation to get to the university, and you will live among many other people your age.
The rents are a bit prohibitive, as they range between 200-300. In addition, there are many food and coffee places filled with students at low prices for you to choose from. On the other hand, transportation to the centre of Athens can be a little difficult, as, after midnight, it is really difficult to catch a bus, and there is no metro station close by.
Kolonaki
This is probably the most expensive part of Athens, so I wouldn't recommend it to someone who wants to live in Athens on a student budget. It may be one of the safest parts of the centre of Athens to stay at, but the rents of the houses are pretty expensive (280-400 euros).
However, it is a nice place to hang out with your friends, as it has many bars, coffee and food places with affordable prices. Here you will normally find primary education and law students, as these faculties are within walking distance.
Exarheia
It is located within walking distance from the centre of Athens, and I would definitely suggest it to the "alternative" kind of students, as, apart from the low rents (about 200-280) euros, it has many places of interest. Here, you will have many extremely cheap options for food and drinks, you will have the chance to taste ethnic dishes from Eastern countries and have really cheap kind of alternative entertainment.
In this area, you will see students walking around at any time of the day and night. You will find yourself in the centre of student life, as there are many faculties close by, but it is not considered to be one of the safest places in Athens, and that is why you will notice the high existence of police around.
Gazi
It is also called Kerameikos, and it is the epicentre of the night entertainment in Athens for the students of the centre. Here, you can find an apartment at a logical price, around 200-250 euros, and you are really close to the metro station of Kerameikos, which means that you can have access to many places in Athens.
In addition, there are numerous clubs, bars, coffee places where you can hang out with students from all around Athens, and, of course, you have the Technopolis at your feet, the place where most of the Athenian Young Festivals take place. Gazi never sleeps, as many of its outlets and clubs work overnight too.
Panormou
It is also a student-filled place accessible with the blue line of the metro, with affordable prices, both for rents and for social life. The rents cost between 180-300 euros, while the whole region is filled with student-friendly places for a beer, coffee, games with friends or even a party night out. Panormou tends to be extremely lively at night, and it is just three metro stations away from the city centre, providing easy access to it.
Koukaki - Kallithea- Nea Smirni- Petralona
Many students choose Petralona, Kallithea and Koukaki to stay at, as they are within walking distance of the heart of the center, and they are areas where one can find old blocks of flats with low rents that reach 180-250 euros per month.
These four districts are one next to the other and they are full of student flats and ideal spots for a quick bite or a drink. They are also situated close to Panteion University. In addition, they have a really good connection with the city centre by bus-even a night one- and by metro. That is why young people choose to spend their nights out there.
Peristeri
Peristeri is a west suburb of Athens, reachable by metro or bus. It is considered to be one of the cheapest and the second biggest suburb of Athens, so many students choose it as a place to hang out or even stay at. It is hard to find an apartment here, as there are not many available, but the prices are really good for a student, with an apartment costing up to 250 euros.
In this vivid municipality, you will find a beautiful shopping centre full of cafeterias, outlets for food and great parks where there are numerous events and local festivals, especially in the summer. It is ideal for those of you who want to live in a cosy family atmosphere and get to know the local customs.
Aigaleo
It is located next to Peristeri, and due to its proximity to the Technical University of Athens, it is full of students and student places. The average rent you will find here for a normal apartment will be 220 euros, and there are plenty of supermarkets, local shops for clothes or shoes and anything you might need during your stay here. It is reachable by the blue metro line, and there are streets full of Rakadika, bars and cafes at affordable prices, where you can meet hundreds of young students from all around Athens hanging out with their friends. For the athletic types, here you can find one of the biggest parks and green pneumons of west Athens, where you can go running, walking or for any other kind of activity.
Neos Kosmos - Dafni
These are places many students choose to stay at, due to the high availability of offered apartments for students. They are located in the middle of the centre of Athens and the coastal part too, so they are ideal if you want to hang out in both these areas. They are rich in nightlife opportunities and markets for shoes and clothes, and the apartments are pretty new, with the prices rising up to 200-300 euros.
Faliron
The perfect area for those who love to live close to the sea and perform sports, as you can enjoy the open space, with the sea breeze and a bunch of parks with a lot of greenery. The prices of the rents here are 230-320 euros, something that equals the good ambient of the place. Here, you can have a walk close to the sea every day, exercise sports, walk safely at night, and the transportation to the city centre is pretty good by metro and bus as well.
Glyfada - Voula
This area is on the coastline of Athens, and it is considered to be expensive in comparison with the centre, either in terms of a flat- as it will cost you around 250-400 euros- or of the living expenses. If you want to spend a little more money with a better quality of life, classy nights next to the sea, and good-quality food you can chose these areas to stay. The great views and the relaxing ambient will pay you back all the money you spend here. Keep in mind that if you live here, you will probably need one hour more or less to reach the centre of Athens.
Piraeus
Those who rent an apartment and study in Piraeus are lucky enough, as the area has been upgraded quite a lot in recent years, with many shops that can provide you with anything you need in your everyday life. There is a University close by, so you can easily choose to live in that area, and there is a really good connection to the centre of Athens.
In addition, Piraeus has the main port of Greece from which you can travel to any Greek island. The city is almost as big as Athens, and it is considered to be a big and cheap district, so you will find anything here, a wide variety of bars and pubs, remarkable places to eat and old markets on a really low budget. An apartment will probably cost you about 180-250 euros.
Neo Irakleio - Nea Ionia
They are located close to the north suburbs of Athens, which are supposed to have more modern buildings and plenty of parks, so they are a little more expensive than the centre of Athens, too.
Your apartment price will probably rise up to 450 euros, but if you don't have another option than stay close to the University that is located here, this is what you need to pay. However, there is a broad market place that contains anything you need at normal prices, and here there is the OAKA stadium, where you can watch great events, basketball matches or just go jogging.
---
Photo gallery

---
Want to have your own Erasmus blog?
If you are experiencing living abroad, you're an avid traveller or want to promote the city where you live... create your own blog and share your adventures!
I want to create my Erasmus blog! →