Where to eat in London - British Cuisine and British Gastronomy Restaurants
Where to eat in London - British Cuisine and British Gastronomy Restaurants
British weather often calls for comfort food and that is what you'll get! Hearty, wholesome and simple, you couldn't describe it as 'diet food' but it is perfect to snuggle up with on a rainy Winter's evening. There is a focus on home baking, with plenty of cakes and puddings to keep you warm. Potatoes feature heavily, as do pastries and different types of batter.
Of course, there are plenty of varieties of tea. If you are invited round to someone's house, expect to be offered a cup of tea and maybe some biscuits. This is considered basic good manners in England.
British Cuisine - What to try
Sunday Roast
This is traditionally served on a Sunday when the entire family gets together to eat the Sunday roast. A special version is served on Christmas day. It varies among families and consists of a number of dishes which include:
Roasted meat: This is typically roast beef although people have chicken, pork, lamb etc. and on Christmas day it is traditionally turkey. It just goes on preference. Vegetarians often have a nut roast, which is a hearty roasted vegetarian dish based on nuts and grains.

Yorkshire Pudding: This is a savoury baked pudding made from batter, similar to pancake batter. It features in other British dishes, such astoad in the hole.

Potatoes: Traditionally, they are roasted but they can also be mashed or boiled and it's not uncommon to have a combination of them.

Vegetables: Accompanying vegetables are usually peas, carrots, broccoli, runner beans, roasted parsnips and carrot and swede mash. People don't typically have all of these at one time and it is not uncommon to also have cauliflower cheese (cauliflower baked in a cheese sauce) or red cabbage too.

Gravy: This is a sauce traditionally made from juices from the meat and flour. Nowadays most people make it from gravy granules for the convenience!

Condiments:These can include bread sauce (sauce typically made from stale bread), mint sauce, horseradish, apple sauce and cranberry sauce. This often depends on what meat is served.

Christmas Roast

Pigs in Blankets: Sausages wrapped in bacon. These feature especially at Christmas time.

Stuffing: This is made with breadcrumbs and usually features some sort of herb. It can be used to stuff the roasted meat or eaten alone as an accompaniment.
Many families go to the pub to enjoy a Sunday Roast and the leftovers are often used to make other dishes, such as bubble and squeak(fried leftover vegetables) and the meat is often eaten cold, in sandwiches or another way the following day.
Full English Breakfast (Fry-up)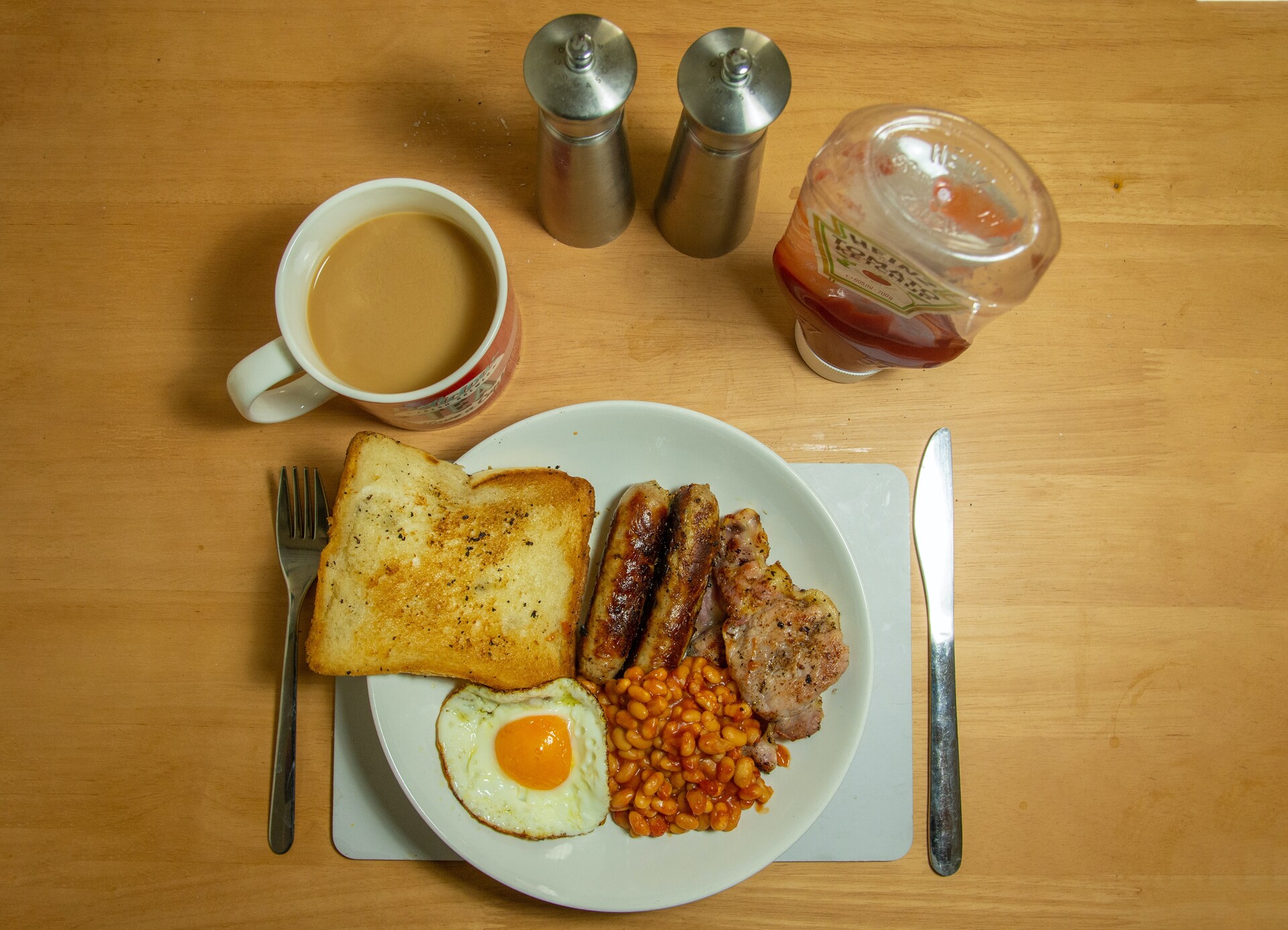 Nearly everything is fried so this dish is not for anyone on a diet. People usually eat it when they are hungover and on weekends. Again, its components can vary and it is often enjoyed with tea, coffee or orange juice. It includes:
Toast and/or fried bread: Either bread toasted with butter or bread fried in oil or butter.

Eggs: Eggs can be either fried, poached or scrambled.

Grilled or fried mushrooms and tomatoes

Baked Beans: Stewed haricot beans (most commonly) in a tomato sauce. They usually come in a tin and are often enjoyed on toast (beans on toast).

Sauces: Brown sauce and/or Ketchup are usually eaten with a fry-up.

Bacon and/or sausages

Hash Browns: Shredded potatoes, usually baked from frozen. They can be fried in a pan if made from scratch

Black Pudding: A sort of sausage made from pigs' blood. This isn't the most popular thing nowadays so a lot of full English breakfasts won't include black pudding or you can always ask not have any put on your plate.
Shepherd's pie/Cottage pie
Minced meat in a tomato sauce or gravy topped off with mash potato, sometimes with grated cheese. Shepherd's pie is made with minced lamb, whereas cottage pie is made with minced beef. It is often with carrots, peas and onion.
Stews
Stews, which were eaten a lot during WWII as they were easy/cheap to make, usually consist of a starch such as potatoes or pearl barley, a type of meat (usually red meat like beef, lamb etc. ), root vegetables (carrots, onions, swede, parsnip etc. ) and sometimes other vegetables which are grown in Britain such as cabbage. This is all cooked and served in a hearty broth - it's definitely comforting during the winter months.
Fish and chips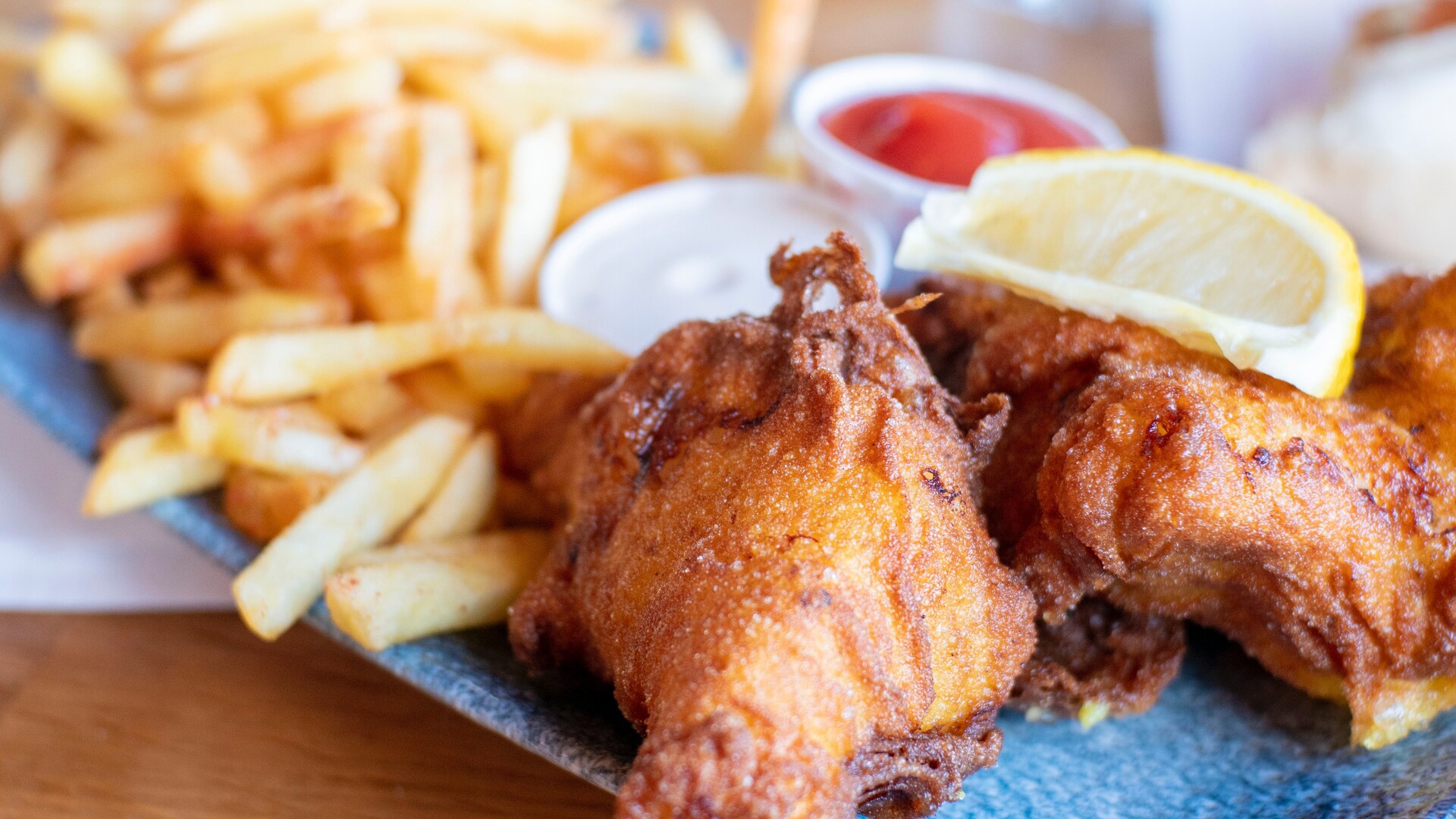 Fried battered fish served with chips. It is usually served with salt and vinegar, mushy peas, baked beans, gravy, curry sauce, pickled onions, pickled eggs or on its own. It is often eaten on good Friday although people eat this all the time.
Crumpets
Small circular cakes with many holes. They aren't sweet and are often eaten for breakfast with butter, jam, marmite or some other spread.
Trifle
An English dessert made with sponge, a fruity jelly, custard and cream. The sponge is traditionally soaked in sherry and it also features fruit. It is often served at Christmas, as an alternative to the traditionalChristmas Pudding.
Christmas Pudding
A very rich pudding enjoyed at Christmas. It is aged over a month or so and contained lots of dried fruit and brandy. It is often eaten with cream, custard or brandy butter (made from brandy and butter). Before eating it, people pour brandy over it and set it alight.
Sticky toffee pudding
Usually served warm and with ice cream or custard, this is a sponge cake with dates covered in a toffee sauce.
Bread and butter pudding
A dessert made out of stale bread, sultanas, eggs, milk, sugar, spiced with cinnamon and nutmeg and baked in the oven. It is usually eaten warm.
Scones
A crumbly sort of cake. They can be sweet with raisins or baked with cheese. They are usually enjoyed with clotted cream and jam with a cup of tea (known as cream tea).
These are traditional British dishes but cuisine in Britain is very multicultural and you will find just about anything.
*NB: Full English breakfasts and roast dinners are all served in Toby Carvery Restaurants across London. Check their website to find your closest one.
British Cuisine Restaurants
British cuisine and gastronomy aren't one of the most renowned cuisines in the world, a lot of people seem to think all we eat is fish and chips, and whilst a good fish and chips would please the majority of British people, that's not all what British cuisine is about. A lot of English dishes are quite stodgy due to the temperature being cold for the majority of the year, nevertheless, in recent years chefs and traditional eateries alike have put a modern spin on a lot of what could be considered a 'British dish'. Gone are the days of simple roast dinner, nowadays it's all about quirky savoury pies, intriguing soups and unique desserts.
Golden Union Fish Bar
Located in West London's Soho district, this fish & chip restaurant (also commonly known as a chippie) is one of the best. Their choice of fish ranging from Cod and Haddock to Salmon and Plaice is delivered daily and their frying oils are changed up to 8 times a week, so a fresh-tasting, British dish is guaranteed! The prices aren't the cheapest for a chippie, but they are fair with a large portion of fish with chips costing you£13.95.
The closest station to the fish bar is either Oxford Circus station (Bakerloo, Central and Victoria lines) or Tottenham Court Road station(Central and Northern lines).
Battersea Pie Station
Despite the name, this Pie Station is located in Covent Garden; their pies are made with the proper, old-fashioned pastry, free-range meat and fresh vegetables which are all sourced from the British Isles.
They have a variety of sides ranging from simple mashed potatoes to the more sophisticated, like the fresh garden peas with butter and mint, as well as pies which also range from the more simple and traditional, such as steak & ale or chicken & mushroom, to the more exotic, such as butternut squash and goats' cheese; and from just £5.95 per pie. This restaurant really is worth a visit!
The closest station is Covent Garden(Piccadilly line) or Leicester Square(Piccadilly and Northern lines).
E. Pellicci
E. Pellicci restaurant has been serving quality full English breakfasts (fry-ups) since 1900 in East London and the current chef, Maria, has been cooking for the restaurant since 1966! Despite the restaurant name clearly not being English, they are famed for their Full English Breakfast (of which, they also have a vegetarian version) which will only set you back £5.50 or £5 respectively. They also serve other British classics such as smoked salmon with scrambled eggs and typical British desserts ranging from jelly and ice cream to jam roly-poly and apple crumble.
Bethnal Green (Central Line) is the closest underground station and there is also Bethnal Green overground station.
Rules Restaurant
Located in West London's Covent Garden and being over 200 years old, Rules Restaurant is one of the oldest in London - it specialises in game, oysters, pies and puddings so it really does grab the essence of British cuisine. Notable famous people, such as Charles Dickens, have eaten there so the food must be good, right?
The price of starters ranges from £8-£17 and main dishes are on average about £25, so I wouldn't necessarily recommend this restaurant on a student budget, however, if you do have family or friends coming to visit who would like to try high-quality British food, then this would be a good place to take them.
The best stations to go to are Charing Cross (Bakerloo or Northern lines and overground services) or to Leicester Square station (Northern and Piccadilly lines)
Hix's FishDog
Here we take an unexpected turn as Hix's FishDog is actually a food truck (more specifically a vintage Citroën H Van) that serves a British favourite - fish finger sandwiches. A quick breakdown for anyone who doesn't know what a fish finger is - a fish finger is a breaded fish (usually a whitefish such as cod or haddock) shaped in a long, thin rectangle.
FishDog not only encompasses a popular British dish but also puts its own twist on it by serving the fish fingers in a hot dog bun accompanied with mushy peas and tartare sauce with a side of chips! However, it doesn't stop there, Hex makes a beautiful fish soup out of the bones and fish croquettes with the meat he doesn't use in the fish fingers themselves. Visit the Instagram, Facebook or Twitter page to find out which locations the van is going to be in!
As this is a food truck, it moves around. To check where it's next going to be, have a look at the website Hix's FishDog.
Chain Restaurants
As mentioned before, British gastronomy is extremely varied, that is to say, that British people don't spend every day of their lives eating roast dinners, English breakfasts and tea with scones (okay, a lot of them do drink tea every day). In fact, Indian cuisine is one of the most popular in The United Kingdom with some of the most famous curry houses in the Midlands and in Yorkshire! So, here are 10 of the most popular chain restaurants in England:
JD Wetherspoons
Wetherspoons is like a chain of gastropubs which are probably the most famous in the UK. It's so popular amongst students due to the cheap drink prices, drink offers and daily deals with food and drinks. They serve a variety of foods ranging from typical British food to American diner-type food (hot dogs etc. ), pasta, salads and they even do breakfast. Prices vary slightly depending on the area of the establishment (it's likely to be more expensive if you go to one in Central London than it would be in greater London). Regardless of the exact price, it's still a very cheap place to eat or have a drink, so you have to go to at least one!
Pizza Express
This restaurant is also a top pick for students as it also participates with the "Tastecard" scheme (please check the section on saving money in London for more details on the Tastecard). It serves up delicious Italian foods ranging from a selection of pizzas, pasta and salads which don't cost a lot at all! What's more, you can either enjoy their food either in one of their stylish restaurants or in the comfort of your own home by ordering your food to take away! Different branches of the restaurant also have different deals on, all you have to do is access their website, find your nearest one using the search tool and you can see all the deals on offer, it couldn't be easier.
Itsu
Itsu is probably one of the best places to eat if you like Asian food. Not only do they serve low-calorie, healthy and extremely tasty food which is also low in saturated fats, but they also provide an amazing atmosphere in their restaurants and such a wide range of different meals for such a low price. Their sushi and salad boxes are really popular if you only have time for a quick lunch, or if you want something more filling, you can order one of their hot meals which are amazingly comforting in winter and even somewhat refreshing in summer. Prices are around £6 for a filling meal.
Turtle Bay
One of the most amazing places to eat and enjoy professionally made high-quality cocktails! The whole idea around Turtle Bay revolves around Caribbean eating, drinking at atmosphere. They're always playing one of their reggae playlists and the decor really makes it feel as if you're in some sort of Caribbean paradise. The majority of their starters cost around £5, £11 for their main meat dishes (Caribbean-style burgers and salads are also available) and their lunch platter, which consists of wraps, toasties and flatbreads cost £7. They have an amazing selection of tropical and exotic cocktails which cost £7.15 or are 2 for 1 at happy hour (happy hours change depending on which location you're in).
Las Iguanas
With happy hour all day every day at this South American and Latin inspired restaurant & bar, you don't really have to think twice about going. Tortilla Tuesdays are always a popular option for students as they serve 2 for 1 burrito, enchiladas, fajitas and chimichangas every Tuesday. The menu, in general, is an extensive list of Latin delights which would suit even the fussiest of eaters, the food is cooked to a high quality and the cocktails are more than 'amazing'.
Bills
Bills has a great atmosphere. It always has a cosy feel about it and the service is known for being exceptional. Regarding the food, the breakfasts and brunch are legendary. The vegetarian breakfast is especially to die for. However, you can also get a full English or pancakes. For lunch, Bills serves both British classics and some more international dishes. You have your choice of fish pie or shepherd's pie amongst many others. The dessert menu is also full of British favourites, including sticky toffee pudding. To drink, there is the usual selection of soft drinks, a selection of wines and a seasonal cocktail menu.
A main course typically costs from £10-£15.
Nandos
Okay, this restaurant didn't originate in Britain but known there as a 'cheeky Nandos', you will hear a lot of talk of it. Ed Sheeran and Example even sang a song about it. It is a mix of Portuguese and African cuisine and most commonly known for its flame-grilled peri-peri chicken. You order according to the peri-ometer, choosing from mild...ish, medium, hot, extra hot, herb and lemon or mango and lime. It is important to remember that you order your sides separately as they don't come included. In this way, you put together your own meal.
A typical meal (main course and drink) usually costs around £10-£15.
Pret-A-Manger
It may have a French name but I promise you it is British. Translating to 'ready to eat', Pret a Manger provides a healthier alternative to fast food. The food is fresh and a good option if you're on the go. You can choose from a variety of salads, baguettes, sandwiches, wraps, soups, breakfast items… There is something for everyone.
It is known for having good vegetarian and vegan options and there is even a veggie pret in London (serving only vegetarian food)! In terms of drinks, there is a selection of coffee and hot drinks, some interesting juices and smoothies and various soft drinks.
The prices are affordable for students.
Greggs
Greggs is a British bakery, which is seemingly everywhere. If you're after something cheap, warm and comforting, Greggs is the place for you. It sells a range of sandwiches, baguettes and wraps as well as cakes, pastries, etc. They even have soup to warm you up during Winter!
Slug and Lettuce
This is more of a bar with food; offering a lunch and evening menu, a breakfast menu, desserts, cocktails and more. They offer a range of food, including salads, burgers, wraps and some British favourites (bangers and mash, cottage pie, fish and chips, etc). The drinks menu is extensive with many cocktails, a selection of wines, beers, ciders, cocktails, hot drinks and soft drinks. It has a classier feel to it so it is a nice place to go if you're celebrating.
There are many offers making this bar affordable for students. Cocktails are two for one all day every day!
If you want to have a look at some of the places that other international students in London have eaten at, then please check out Erasmusu.
---
Photo gallery
---
---
Content available in other languages
Want to have your own Erasmus blog?
If you are experiencing living abroad, you're an avid traveller or want to promote the city where you live... create your own blog and share your adventures!
I want to create my Erasmus blog! →