Public Transport in London - Getting around London
Public Transport in London - Getting around London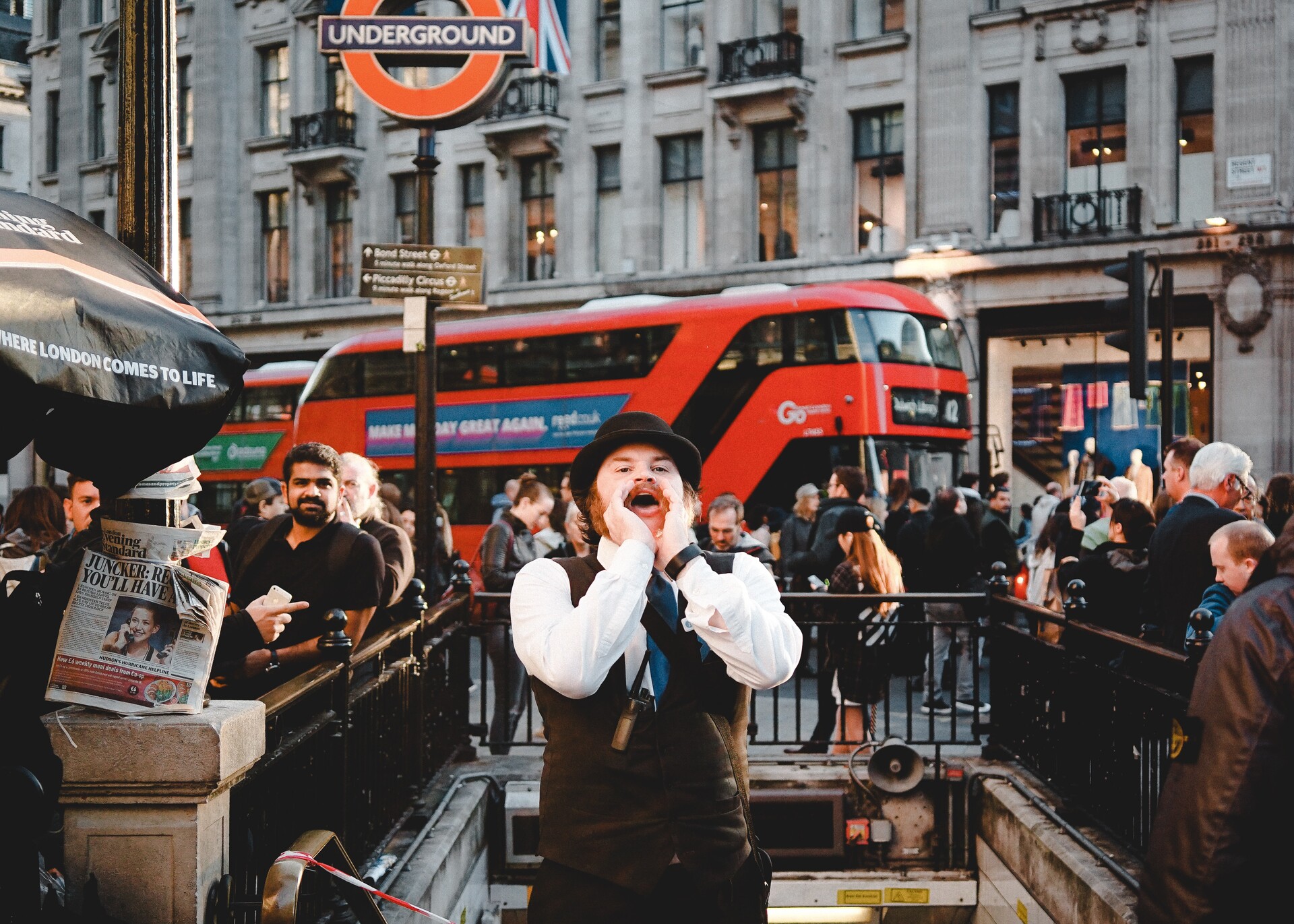 Despite London's size, getting around the city and even to and from central London to greater London, couldn't be easier! With trains, buses and the underground services (usually) running on time, you can go from point A to point B problem free! All public transport runs from Monday to Sunday; there are loads of night buses (usually running for 24 hours), the underground services which run until midnight (more or less) and a night tube service running on Fridays and Saturdays on the Victoria and Jubilee lines and most of the Central, Northern and Piccadilly lines. Please click here for complete details of the night tube and here for information on trains, buses and the underground.
Oyster Cards
It's important to remember when coming to London that none of the TFL London buses will accept cash payment for a ticket, you have to use an Oyster card or contactless debit/credit card in order to pay! Oyster cards can also be used on London overground and underground trains.
There are 3 options that you can choose from to buy your Oyster card:
By visiting the official online website, filling out the details and having it posted to you (obviously you would have to wait until you have found some accommodation).
By going to a train station; you can purchase them from a manned ticket booth or a self-service machine. Unfortunately, the manned ticket booths are being phased out of the London Underground stations, so if you want to speak to a human you will have to go to one of the Overground national rail stations. These stations are: Euston, Liverpool Street, London Bridge, King's Cross, Marylebone, PaddingtonandWaterloo.
By going to a newsagent (like a high-street convenience store) which has the blue Oyster logo in the window.
The Oyster Card itself is actually free but you pay a £5 refundable deposit which will be returned to you with any remaining balance when you no longer want it.
Oyster cards are incredibly easy to use, you just top them up with some money and go which also means you don't have to pay a monthly fee or anything. Pay attention to your Oyster card balance as it can go into negative numbers which will prevent you from getting on a bus, train or tube (it's actually quite embarrassing). Top up points are located in newsagents and train stations, alternatively, you can set up an auto top-up if you create an online account.
Bus Fares on Oyster and Contactless Cards
Oyster and contactless debit or credit cards have a cap on them when using them on a London bus service. A single fare (pay as you go) when you touch in on the bus (there's a machine next to the driver with a yellow circle - this is where you touch in) will cost you £1.50 - there is a daily cap on all cards at £4.50 and a weekly cap (only applies to contactless debit or credit cards) at £21.20 for both adult and 18+ student Oyster cards.
You can also get a 'hopper fare' which means that if you make a bus journey using a contactless or Oyster card, you can make a second journey free if you travel on another bus within 1 hour of touching in on the first bus.
*NB: Cash can no longer be used on London buses to buy any sort of ticket.
You can also purchase a 7 day, monthly or annual bus pass for your oyster card. The price of these passes are pretty expensive for a normal adult card (an annual pass costs £848!) so I would definitely recommend applying for an 18+ student Oyster card. The prices for 18+ Oyster card passes are as follows:
7 day pass - £14.80
Monthly pass - £56.90
Annual pass - £592
To check if you're eligible for an 18+ student card, please check the terms and conditions here.
Train and Underground Fares on Oyster and Contactless Cards
Just like when using the London buses, there is a cap when using an Oyster or contactless card on the overground or underground trains. The most relevant zones in London for students coming to study or work are all zones from 1-6 (central London to greater London).
*NB: Peak-times are from Monday - Friday (not including public holidays) from 06:30-09:30 and from 16:00-19:00.
The caps on a normal adult Oyster card from zones 1-6 are the same as the caps on an 18+ student Oyster card from zones 1-6 as follows:
Daily Anytime - £12
Daily Off-peak - £12
Monday - Sunday (contactless cards only) - £60.20
Obviously, the fewer zones you're travelling through, e. g. an area in zone 1 to an area in zone 3, the lower the price will be (if worst comes to worst, there'll be no price change).
If you want to know the exact amount of money a journey from one zone to another will cost you, then use the single fare finder.
Tickets:
Train and Underground fares using a paper ticket
Unlike the bus, you can buy a physical paper ticket with cash from any train station, either at the ticket desks or by using the machines. Ticket prices, like the Oyster card, also work on an off-peak/peak times basis and depend on which zones you're travelling from/to.
An all-day ticket which you can go to and from any of the zones between zone 1 and zone 6 (including the underground) costs £17 if it's an anytime ticket or £12 if it's an off-peak ticket, you can also use a discount if you have one, to get some money off either one of the tickets. You can also use this ticket on buses but you can only purchase them from train stations (either from the machines or from a ticket desk).
Saying that, it works out cheaper to use an Oyster or contactless card.
If you want to find out the cost from a particular stop in London to another particular stop or any information on overground delays, then please check here: Southwest trains.
For any information on arrival times, delays or line closures on the tube network, then please check here: TFL.
Discounts
As mentioned before, tickets aren't used anymore on buses, London buses will accept an Oyster Card, contactless debit or credit card or an all-day travel card for all zones, however, you can get a discount (if you're eligible for one) put onto your Oyster card which will only provide a discount for the underground, DLR, the overground, TFL rail and National rail but not buses or trams.
You can also apply for an 18+ student Oyster Card which will give you 30% off of the adult price for travelcards and bus pass season tickets. You should be able to get one of these cards if you're 18+ and living at a London address during term times (semesters) or on a mandatory work placement.
For full eligibility details, please check here: 18+ student Oyster card.
Discount railcards are reserved for:
Persons aged 16-25
Disabled persons
All railcard discounts can be put onto an adult or 18+ student Oyster card, all you have to do is bring your railcard to a Tube (underground) station and ask a member of staff to set it for you.
16-25 Railcard
The 16-25 railcard is probably one of the most common amongst students. It only costs £30 for a year and gets you 30% off of travel fares, you can buy one online and you can use it within London and nationally, so if you want to go and explore other cities in England, you can do so without having to pay too much! Just remember to have a passport photo available for your card!
Check your eligibility here.
Disabled Persons Railcard
A disabled person's railcard is more or less works the same as the 16-25 railcard, except for disabled people (obviously). It can also be added onto an adult Oyster card and gets you 30% off travel fares on the Underground, Overground, DLR, TFL rail and most National rail services. You can also use a physical card to get a discount on train tickets. The disabled person's railcard only costs £20 for the year.
What's more, if you're using an Oyster card, you can also get 30% off an off-peak day travelcard for zones 1-6 for one adult travelling with you for your whole journey!
Check if you qualify for the disabled persons card here.
Santander City Bikes
If public transport isn't your thing or you simply want to be a bit more healthy, you also have access to the Santander City Bikes. All you have to do is go to one of the docking stations with your bank card and touch the screen to start.
The bikes are free for the first half an hour and then cost £2 for every other half an hour. Alternatively, you can become a member and use the bikes all year round for £90. There are over 750 docking stations located every 300-500 metres.
+Uber
Of course, Uber taxi services are available in all of London, the only issue is you have to download the app and also need to have an internet connection in order to use the app, but if you get a British SIM card which includes internet, or have some sort of internet roaming data deal on your original SIM card, then you should have no problems with using Uber.
Continue to Cost of Living in London
---
Photo gallery

---
---
Content available in other languages
Want to have your own Erasmus blog?
If you are experiencing living abroad, you're an avid traveller or want to promote the city where you live... create your own blog and share your adventures!
I want to create my Erasmus blog! →