The best student city!
Architecture and landscape

10 / 10 points

Entertainment

8 / 10 points

Culture and customs

6 / 10 points

Transport

10 / 10 points

Gastronomy

6 / 10 points

Prices

6 / 10 points

Party

10 / 10 points

Weather

6 / 10 points
---
Why did you choose to go to Leuven, Belgium?
I actually didn't decide to do my Erasmus there at the first time. My first option was Budapest (Hungary) but I couldn't get the place so I ended up on my second option, Leuven! I chose it because I didn't want to go to Spain because it's too close and similar to my home country, Portugal, and in many of the other countries the teaching language wasn't English. In fact, in some of them you had to take a certificate of German/French/whatever.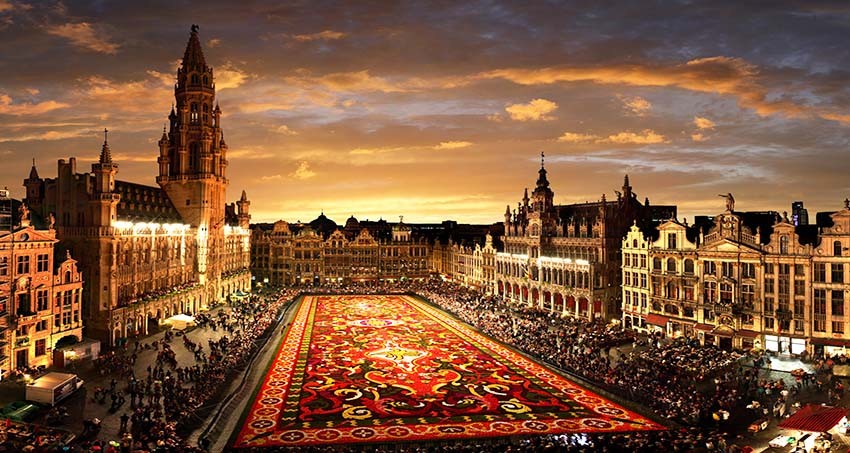 (Source)
The other countries either were too expensive or not central, like Norway, so I picked Belgium just by crossing out the other ones. I wasn't too excited about it I must say.
How long is the scholarship? How much money do you receive to help you with living costs?
I went for 6 months (2nd semester) and I received around 1400€ in total. Before I went they gave me 80% of it and they will give me the other 20% now that I arrived.
What is the student lifestyle like in Leuven?
Leuven is a student city! Everywhere you go the majority of people you see have the same age as you (or at least just a few years younger/older). Being so, the city is prepared for us students. You have all the support you need, all the parties you ever wanted, and lots of other activities!
It's very very interesting because the faculties are spread all over the city and if you are studying some technical course like architecture or biochemistry you'll have classes on a campus outside the main ring (Heverlee). The city is student-focused really. The best you could ever ask!
Besides, they have lots of international students! This year we were 13000 or something like that so everyone understands your situation, they are used to foreigners, they speak English perfectly (even in supermarkets, McDonald's... ), and they have lots of things prepared for us international people!
Would you recommend the city and the University of Leuven to other students?
Definitely! The city is very pretty with old buildings in perfect condition. You have parks, cultural places, places to hang out, a beautiful main library.
You will need a bicycle and you can go everywhere in just a few minutes!
Another great thing is that the train system in Belgium is really good. If you are under 26 get a GoPass and you can easily go anywhere in Belgium! It costs 50€ and has 10 trips, so basically you pay 5€ to go anywhere inside Belgium. You just have to write down on the ticket where are you departing from and where do you want to go before entering the train.
The GoPass is also great to go to neighbouring countries because you can use it to pay 5€ to get as close as you can to the border and then just pay the rest of the trip to the city you want like Luxembourg, Amsterdam, Maastricht, Berlin...!
Believe me, you will travel a lot if you study in Leuven. You also have the help of Eurolines (buses) and Ryanair! I went to 6 different countries in 5 months and everything was cheap!
What is the food like?
I would say the typical food is: fries, beer and waffles.
Get used to fries. You'll eat them in every dish especially in the university canteens! Also they have small "frituurs" in every corner so you just take a portion of fries with sauce to go.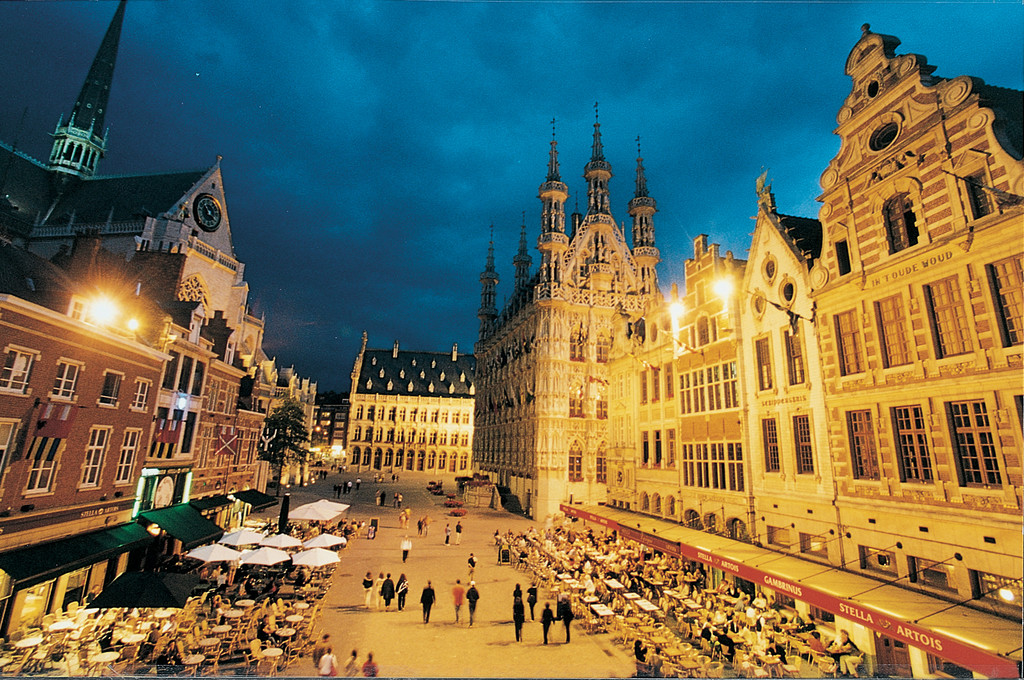 (Source)
The beer is obvious. Belgium is known for the beer so expect good beer and a huge diversity. The one you'll drink the most is Stella Artois, a normal pint. However then you have so many beers to choose from: double, triple, flavored, trappists. A universe of alcohol!
Also, try the waffles. They are so good!
How did you find your accommodation?
I found it through Erasmusu! Well, actually my house found me. There was a girl leaving Leuven that needed someone to stay with her room so I was really lucky.
I was an exception because the chances you find a place to stay like this are minimal. However, don't get sad. The best way to find a place is to go to the Housing Service and there you have a list of rooms, houses, studios and residences to choose from. They even let you use their phones for free so you just sit down one afternoon and make as many phone calls as you can, schedule some visits with the landlords or students that are living at the moment in the places and pray a bit.
My advice would just be to go as early as you can. If you go late you will still get a place to stay (don't worry, you won't have to sleep on the street) but it will probably be far from your faculty/center, you'll pay more that you should or the place will be ugly and dark.
What are the accommodation prices like? What are prices like for other things in general?
I paid 340€/month for a shared house in the center. I shared the house with two other students that paid only 270€ because they had to share a room and I had my own. The house was great but with some problems. However, it was a really nice price.
The overall housing prices can vary a lot but you normally pay 250-500€. It depends if you want a room or a house, if you are in good location or not, if the place is good or old, if you have just a bed and a few more things or if you already have everything you need.
Is the language easy to get to grips with? Are there language courses available at the University?
Belgium is a trilingual country. You have the Flanders and Wallonia regions. In Wallonia they speak French and in Flanders they speak Dutch (Flemish). You also have a small region where they speak German. In Brussels they speak both but actually you ear them using a lot more French than Dutch.
Leuven is part of Flanders so they speak Dutch. You don't really need to learn it because they speak English everywhere and you can avoid all the Dutch courses and just have English subjects, but it's still good to at least know a few others and try to mash up with their culture eh?
I took a 6 months Dutch course and it was very interesting to learn a new language! If you want you can also do it in the ILT, a language school they have. If you are going in the first semester you can just have an intensive course before the classes start. In the end you will have an exam and get a certificate if you are successful.
If your home university accepts you can even get ECTs for the Dutch course like I did. You get 6 credits!
What's the easiest or most economical way to travel to Leuven from your city?
I live in Lisbon so I had two main options:
By Ryanair to Porto or Faro (around 20€) and then from there to Charleroi Airport. From Charleroi you'll have to take a bus and then the train to Leuven. You'll take about a hour and a half from Charleroi to Leuven and you'll spend 13€ if you have a GoPass;
By TAP or Iberia to Brussels International Airport. Then take the train to Leuven. This is the easiest way but not the cheapest, of course. It's good for when you are going for the first time or leaving for the last time because you'll probably have a lot of bags and by TAP and Iberia you are allowed to take 20kg (by Ryanair you'll have to pay extra). Also, pay attention to TAP promotions. They normally allow Erasmus students to take 10 extra kgs without paying if you show a documents that proves that you are Erasmus (like admission letter, student card from your university abroad, something like that).
Where would you recommend to go on a night out in Leuven?
You have a big square full of bars: Oude Markt, called the longest bar in Europe. When you want to go out you'll come here and then just pick a bar to stay for the night or hop in and out! The bars are very different so just explore and you'll find the ones you like the most.
Seven Oaks is a bigger bar in the center, outside Oude Markt. Students usually go there around 3 am until morning! You'll dance a lot and have loads of fun, I promise!
Now pay attention to this "Leuvenish" tradition: they have bars run by students that belong to each faculty! They are called Fak Bars and are spread all around the city. The good part? Student environment and 1€ Stella Artois (sometimes even free). The best one is Letteren, the bar of the Faculty of Letters. Go there and check for yourself!
If you are in for a calm night go to Stuk (the cultural center) on Saturday nights for free Jazz concerts, to the Blauwe Kater on Mondays for free Jazz and Blues concerts or to Amedee, an intellectual bar full of bearded guys where you can play all the board games you want (well, actually they are all in Dutch so you can only play the ones that don't require Dutch knowledge like Jenga, Risk or Uno).
You'll also be invited to some parties in residences or student houses, or you can throw your own party eh? :D
And for eating? Can you recommend some good restaurants in Leuven?
Amici Miei! The best Italian restaurant. If you say you are a student you'll pay 7, 10€ for most of the dishes and drinks.
What good cultural sites are there to visit?
Go to Stuk! It's in the Leuven cultural center and besides a nice lounge bar with free wi-fi where you can go during the day to study or during the night to have a couple of drinks, you also have free concerts, cinema, performances, dance, theater... It was my favourite place in Leuven!
Is there any other advice that you could give to students going to Leuven in the future?
Enjoy the best days of your lives!
---
Photo gallery
---
---
Content avaiable in other languages
Share your Erasmus Experience in Leuven!
If you know Leuven as native, traveler or as exchange student... share your opinion on Leuven! Rate different characteristics and share your experience.
Add experience →