Experience in Istanbul, Turkey by Hazal
Architecture and landscape

8 / 10 points

Entertainment

8 / 10 points

Culture and customs

10 / 10 points

Transport

6 / 10 points

Gastronomy

10 / 10 points

Prices

8 / 10 points

Party

8 / 10 points

Weather

8 / 10 points
---
İstanbul is a great city to discover a new culture. There are thousands way to enjoy your staying there. If you consider to go to Erasmus to İstanbul, here I give some advices to help you. If you are in a hurry, here is the content of your travel guide:
Places to visit
Maiden's Tower
Gülhane Park / Topkapı Palace
Taksim / İstiklal Street
Galata Tower
Karaköy - Eminönü
Grand Bazaar / Spice Bazaar
Hagia Sophia
Blue Mosque
Basilica Cistern
Miniatürk
Princess' Island
Ortaköy
Yıldız Park
Çırağan Palace
Dolmabahçe Palace
Üsküdar
Culture
Turkish Gastronomy
Breakfast
Main Courses
Desserts
Beverages
İstanbul is the lovely bridge between Asia and Europe. It is really a crowded city that never sleeps. I love the city for enjoying the bosphorus either walking on coast or taking a ferry to travel from one side to another in every season. While you are in the ferry, you will see seagulls surrounding you especially if you have a simit in your hand. Since they are used to be fed by us, you will see that they are quite talented to catch the food in the air.
Turkish people are always helpful to foreigners, I mean even they do not know your language. Even he/she will explain you in Turkish, you are going to understand where to go or what to do :)
Places to visit
There is The Maiden's tower in the middle of the bosphorus that you can see it passing through the bosphorus. You can also visit this castle, even spend time in the nice and luxury restaurant there by taking the private boats.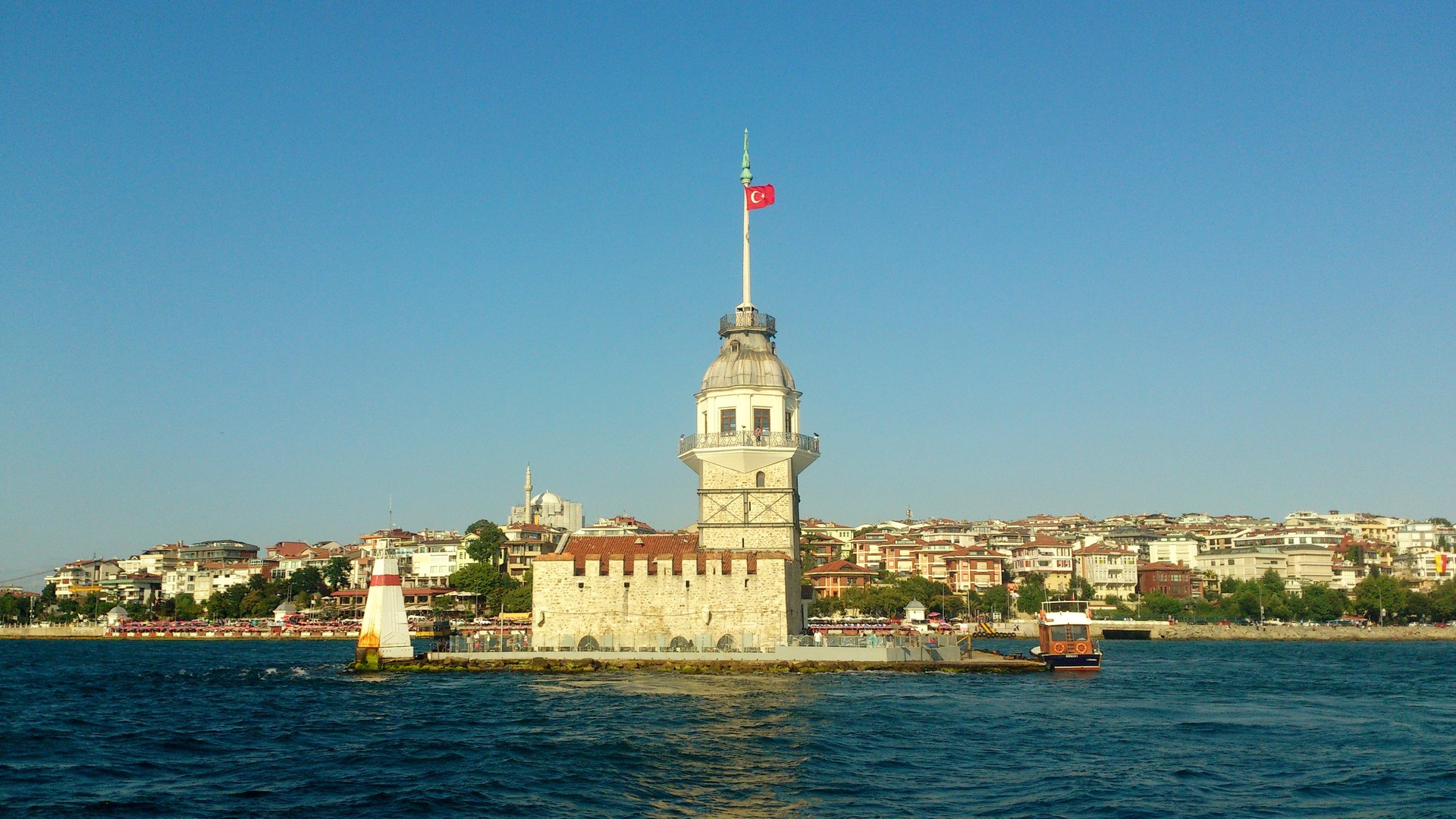 There are many legend about The Maiden's Tower. According to the most popular one, an emperor had a lovely daughter and one day soothsayer said that when she will be eighteen years old a snake will poison her and she will be dead on her birthday. The father who have heard this tried to hide her in order to keep her away from any snake. Then he builts a tower in the middle of the Bosphorus to protect her. The day of her 18th birthday comes, the father brings her a basket full of fruits as a gift. Unfortunatelly prophecy became true, an asp which was hidden among the fruits appears from the basket. The princess died in front of her father and the tower's name becomes "The Maiden's Tower".
However living in İstanbul is completely different than visiting as a tourist. I recommend everyone to see İstanbul. On the other hand when you live there, it becomes a nightmare. It's because the city is really crowded and big in the same time thus, there is traffic all the time and there are too much people everywhere. Sometimes it can take two or three hours to go to somewhere by car (that is why I am using public transportation all the time especially metro, it is the best). In İstanbul we have metrobus which is kind of a bus. Its separateness is having its own road except on the bridge, like a tram but on the land. It is fast because of not being stuck in traffic jam. Moreover it works twenty four hours a day, so if you are in a party in European part till late and you live in Asian part you will be able to use metrobus. Since buses are not working at night, it can save your life sometimes.
The best view of bosphorus can be seen from Gülhane Park which is next to the Topkapı Palace. If you continue till the end of the park, it will be your award to see this view. You can enjoy this amazing landscape while drinking your turkish tea in traditional teapot it is around 21 turkish liras, 7euros for two people. It is better than taking only glass because you can serve yourself and drink as much as you want. Since this cafeteria is built on the top of the hill, the breeze adds freshness in the summer warmth while you can enjoy sipping your tea with this breathtaking view.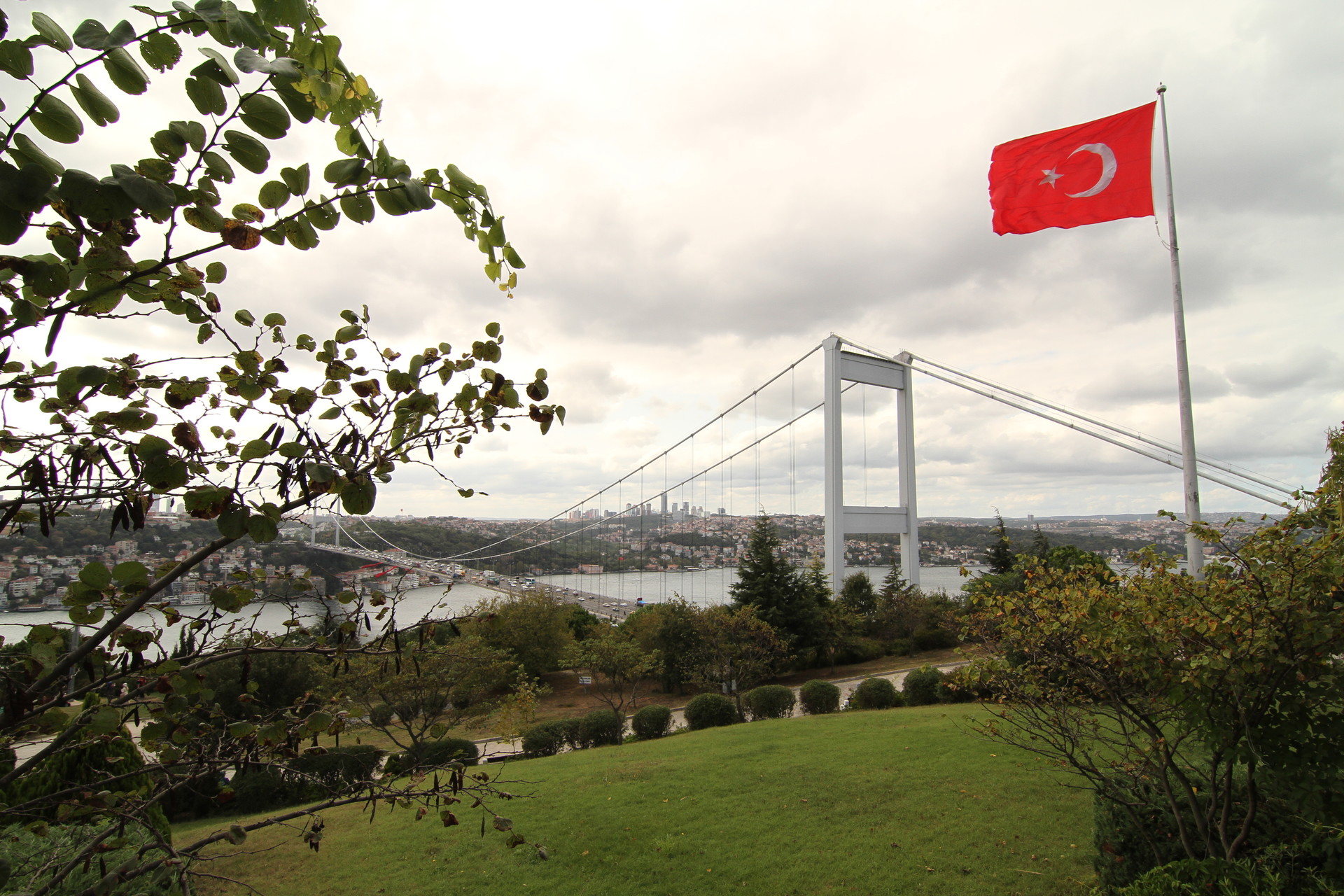 Topkapı Palace is completed 1478 after the conqueror of İstanbul (1453). There are some events and exhibitions organizing in the Palace, you can check it on the website if you are interested. In the Palace, there are different parts to visit and some of them are not included to your ticket's price (40 turkish lira, 13 euros and you can buy it online as well) such as "Harem Room", you will have to buy extra ticket (15 turkish lira, 5 euros) to see it. You have chance to buy museum pass which has reductions. You will be able to see a room about religious. The Palace is open everyday except Tuesday, so be careful about that.
In the museum part of the palace, you are going to see Imperial Treasures, war equipments, weapons, clothes of Sultans. You will like to see the expensive and shining trasures and jeweleries. There are also a room which has some objects from that rich time like golden clock, mirror. You will be able to visit the garden and see the view of Bosphorus in the palace. Just be careful about eating there, even juice is quite expensive.
Especially people from west part of the world should see this city to discover a different culture, visiting the mosques and trying delicious and traditional dishes. City is quite big, actually like a country, because of Asia and Europe parts. European part is the place where includes the most touristic places in all city like palaces, hagia-sofia and more. We can also call this part as "Old Istanbul".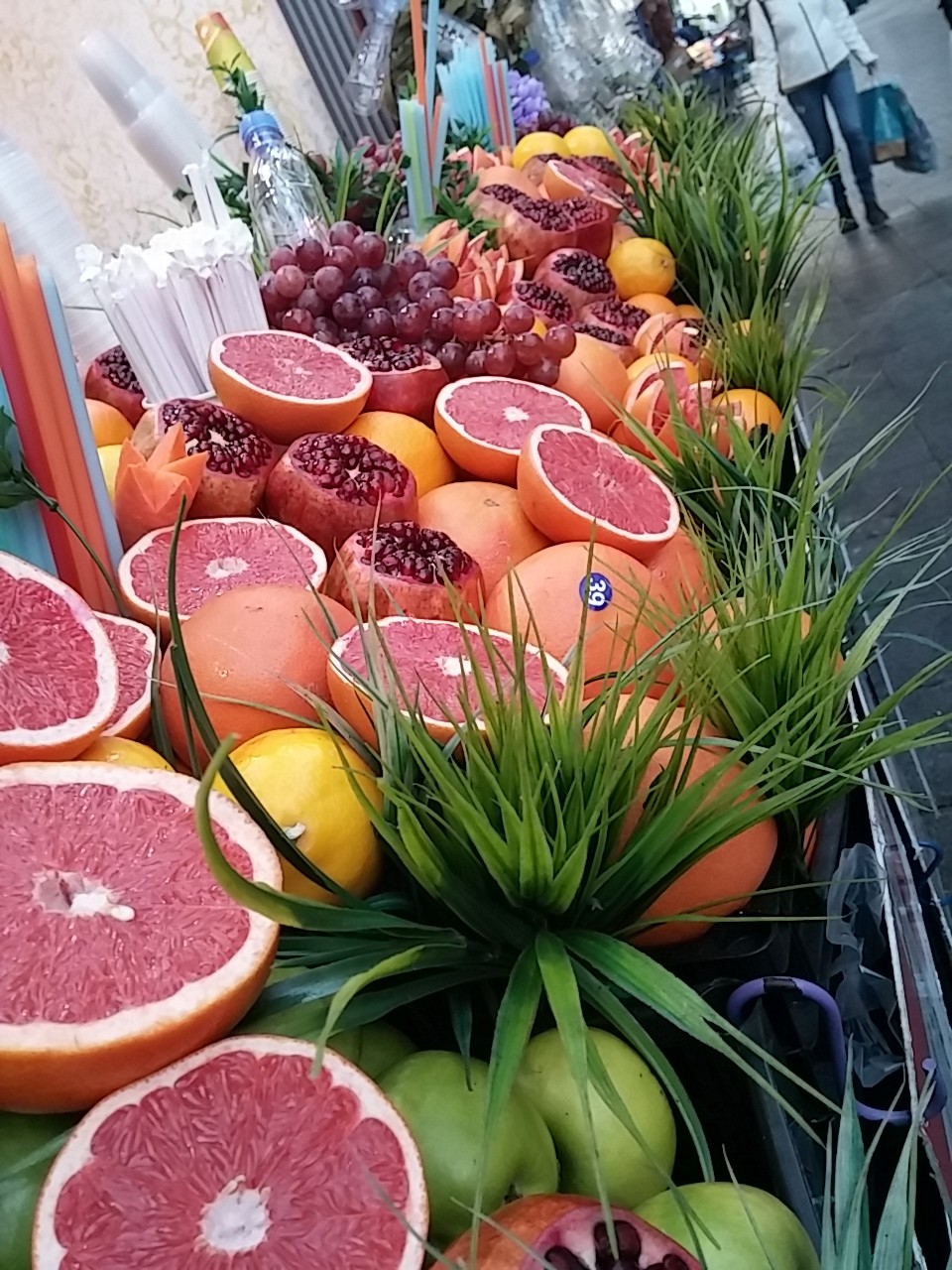 As I mentioned Old İstanbul, Taksim is the place where you can spend your time both in the morning at night. When you are in Taksim square, you will see a long and historical street calls İstiklal street. It involves lots of bars, restaurants, shops and historical buildings. If you are tired to walk along the street, you can take the tramway. It is not boring to travel by this tramway at all because you can watch this dynamic street while sitting. If you walked throughout the street, you have chance to take the second oldest underground line in the world which is "Tünel". It is completed in 1871 and connects Beyoğlu (district where the İstiklal street is) to Karaköy (where the ferry stations are).
To see the Galata Tower which is in UNESCO heritage, you should walk downward instead of taking Tünel. Especially at night, lights of tower is quite impressive, it is worth to see. There will be restaurant if you want to eat dinner there, but a bit expensive. You can go up to the tower as well. Each time I have been there, there was long line. You can see the view of İstanbul from top very well since you don't have many options to have this experience because of too much buildings.
There will be many lovely shops on the way of going to seaside. You can find lots of original things such as clothes, accessories, souvenirs, postcards and more. Even we love this street thanks to those shops, their products are really unusual and not expensive. You can have your unique memory from İstanbul.
Your next station will be Karaköy - Eminönü. When you are next to bosphorus, you are going to see the Galata bridge which is full of fish restaurants and it connects Eminönü to Karaköy. You will be able to walk through the bridge and chose which restaurant you want to eat. Just keep in mind that you can not find alcohol in every restaurant, sometimes it is written in the enterance to warn you.
On the bridge, there are always people fishing, it is a symbol of the Galata bridge. I recommend you to try a cafe which is near tünel. The name of the cafe is "eighth floor cafe" where is not expensive, prices are normal. The view is really beautiful from there because there is no buildings in front of you.
Since you are in Eminönü and you can walk to Spice Bazaar right away. This is the most touristic and amazing place ever. You will be able to buy the most traditionnal food from there, even beeing there is amazing. First I will talk about Eminönü. There is a mosque named "Yeni cami (New Mosque)". This Ottoman imperial mosque is quite big and impresses you by its architecture. Moreover, you can feed pigeons in front of the mosque. The pigeons are around the mosque all the time and are fed by citizens.
Eminönü is very crowded and complex place. There are too much food and souvenir shops. Before buying something, I recommend you to enter Spice Bazaar which will be just behind the New Mosque written on the historical wall as "Mısır Çarşısı". Mısır çarşısı means Egyptian Bazaar. It is a historical closed area with corridors inside. It is one of the oldest bazaar in the city which is made in 1660. You will see many kinds of spices, sweets, dried fruits and jewelery shops. An useful tip; you can negotiate with sellers all the time because it is touristic place and prices are high. But it is worth to pay because everything is quite unique there. For example, we bought a lamp made by glass which has different colours. You should try some dry fruits there, I like dry lemon, it has sugars on it, different taste. There will be baklava, lokum and many kind of Turkish sweets there. The Bazaar is open till 19. 00 p. m on weekdays even open on Sunday.
One of the best tourist place is Hagia Sofia in Istanbul which is the biggest church in Istanbul constracted by the East Roman Empire and became mosque, but now it is only museum. If you have a museum card you will be able to enter without waiting queue. Special thing for Hagia Sofia is, one of its minaret is red. Inside is quite impressive, it is combination of mosque and church. You are going to see some figure on the wall belongs to the church like Jesus and mother of Jesus. Moreover you are going to see some Arabic letters written on the big panels on the corners of ceiling.
Just in front of Hagia Sofia, there is Blue Mosque, it is quite big and built in 17th century. The name 'blue' is coming from its impressive blue symbols. As all mosques, enterance is free and you can see people praying sometimes.Normally they close the enterance during praying times.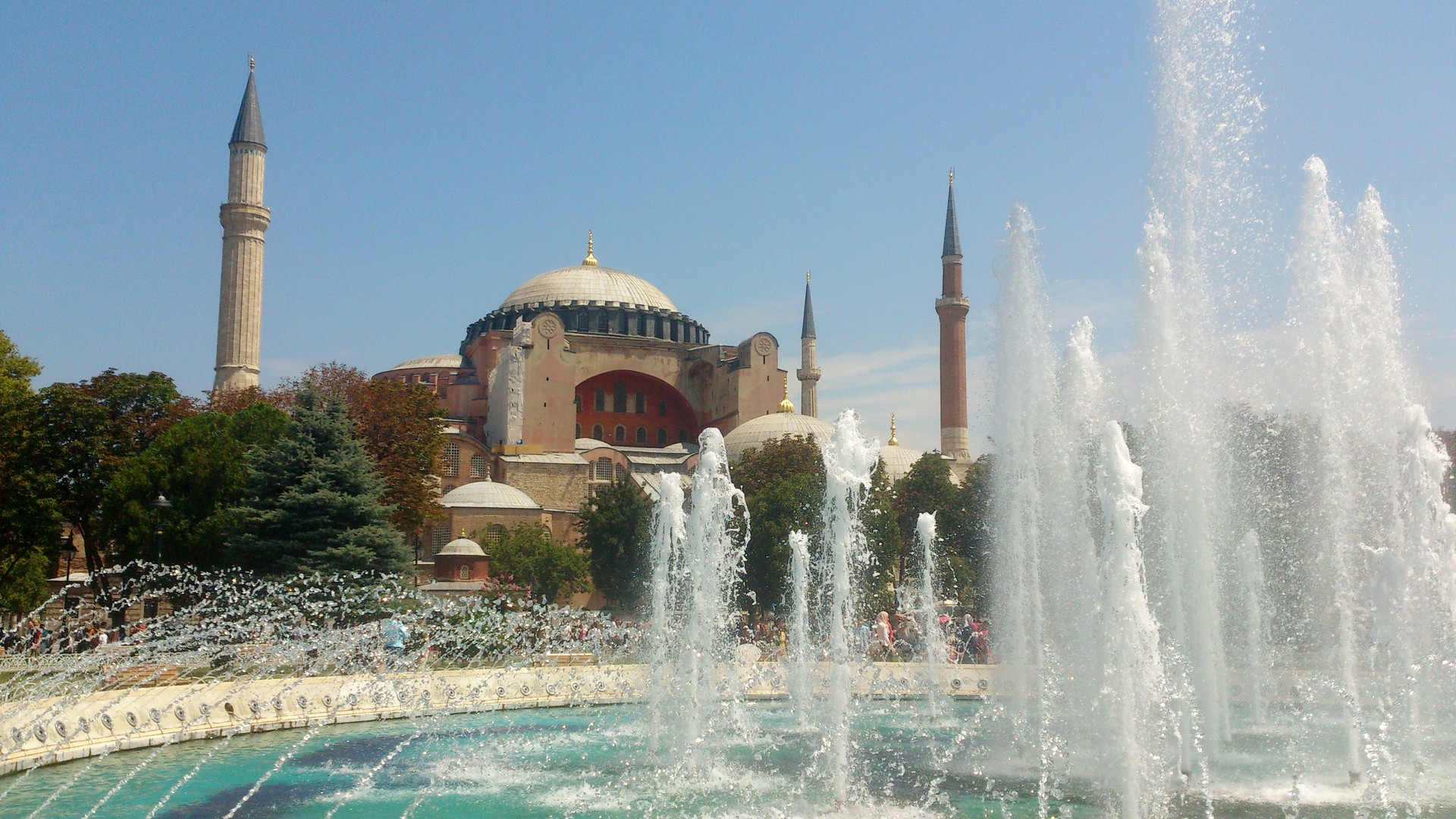 The Basilica Cistern can be the most interesting place in Istanbul. Because this subterranean structure was built in 532. In the beginnig the guide will be given to you in different languages so if you wonde some details you will be able to read it while visiting the cistern. Your visit will be walking through the wooden platforms in this dark place which is well-lighted to impress you. You will see some coins in the water, you can also wish and throw a coin to the water superstitiously.
In the end of the cistern, there is a Head of Medusa which is inverted in the bottom of a column. The monument of monster Medusa (according to Greek mythology) is staying there like washing her hairs which are made by snakes.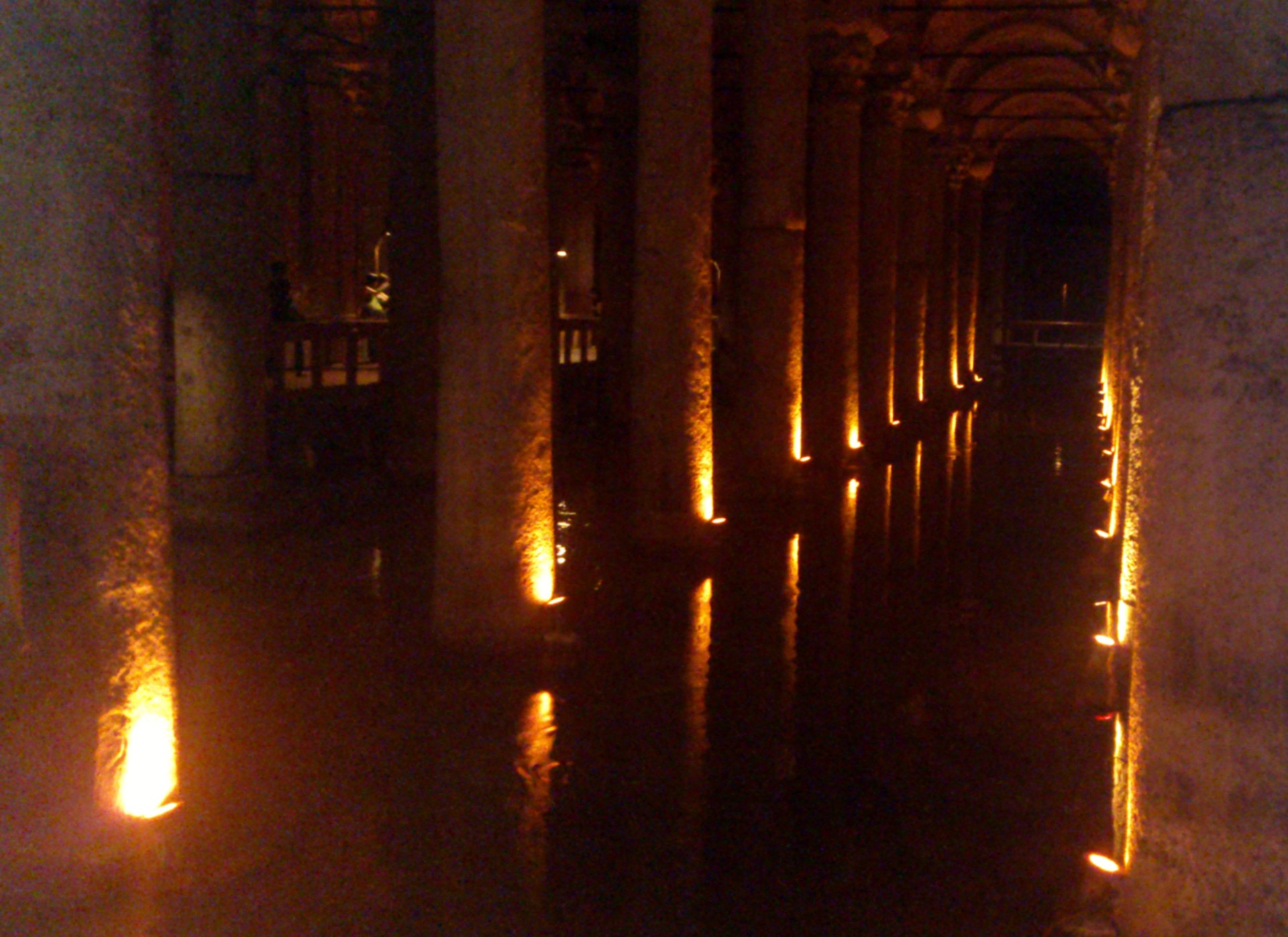 Miniatürk is place which has the models of structures et important buildings. So if you have chance to go there I guarantee that you will have fun and have lots of informations about Turkey. The advantage of this place is, you can see the model of a historical place if you are not able to visit in real. Every 122 model is made with details. Moreover, this place is one of the biggest miniature park in the world. There will be even the bridge of İstanbul that you will be able to walk and across to other side. You can go to Miniatürk by bus from Taksim, Eminönü and other districts (it is written how to arrive there on their website). Entrence is 10 turkish liras for adults but there is discount for students.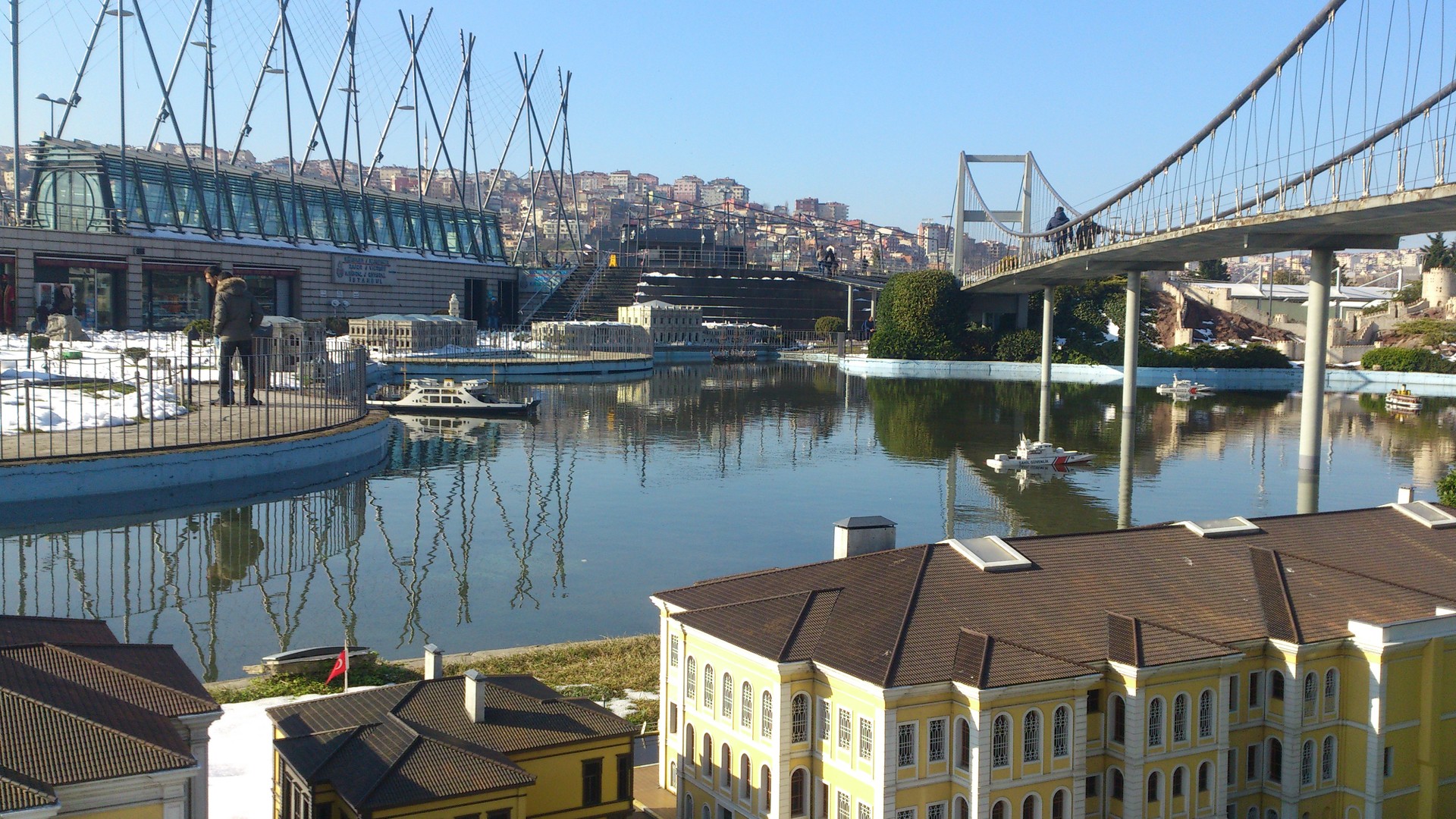 In spring it is time to see tulips everywhere. Every park and even the roads are decorated by beautiful and colorful flowers. In the history, Turkish people brought the root of the tulib to Asia when they were immigrating and after that it spreaded to Europe. In Park of Göztepe, flowers take place and amaze us every year.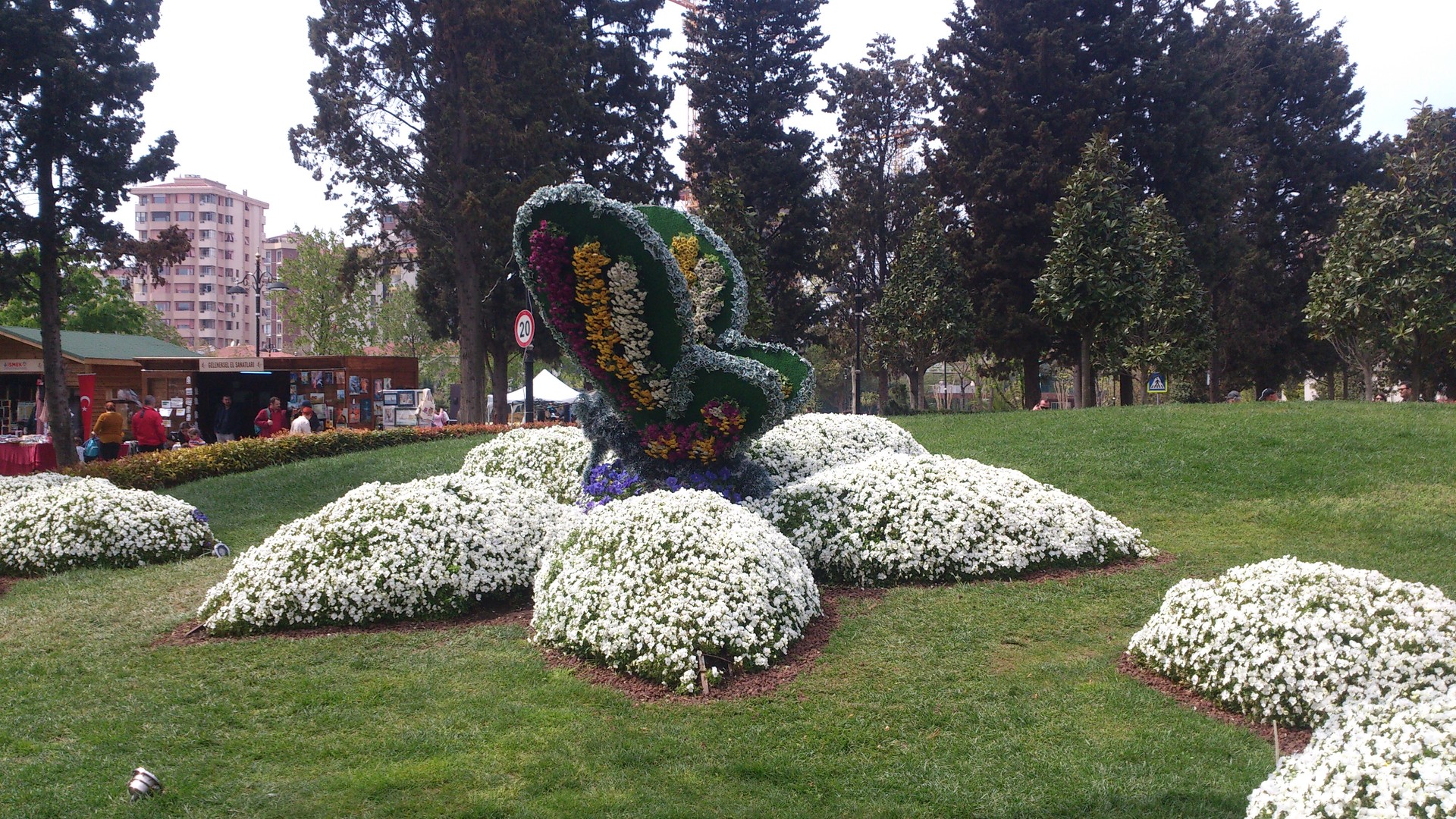 In summer or in spring, everyone visits the biggest island in the Sea of Marmara calls Princess' Island, what I love in this island is that, there is no car. There are only horse-drawn vehicles and bikes which you can visit all island in it and reach the top of the hill where there is a historical Ayia Yorgi Church. You can enjoy your ice cream and walk or bike in the island and even go to beach and swim.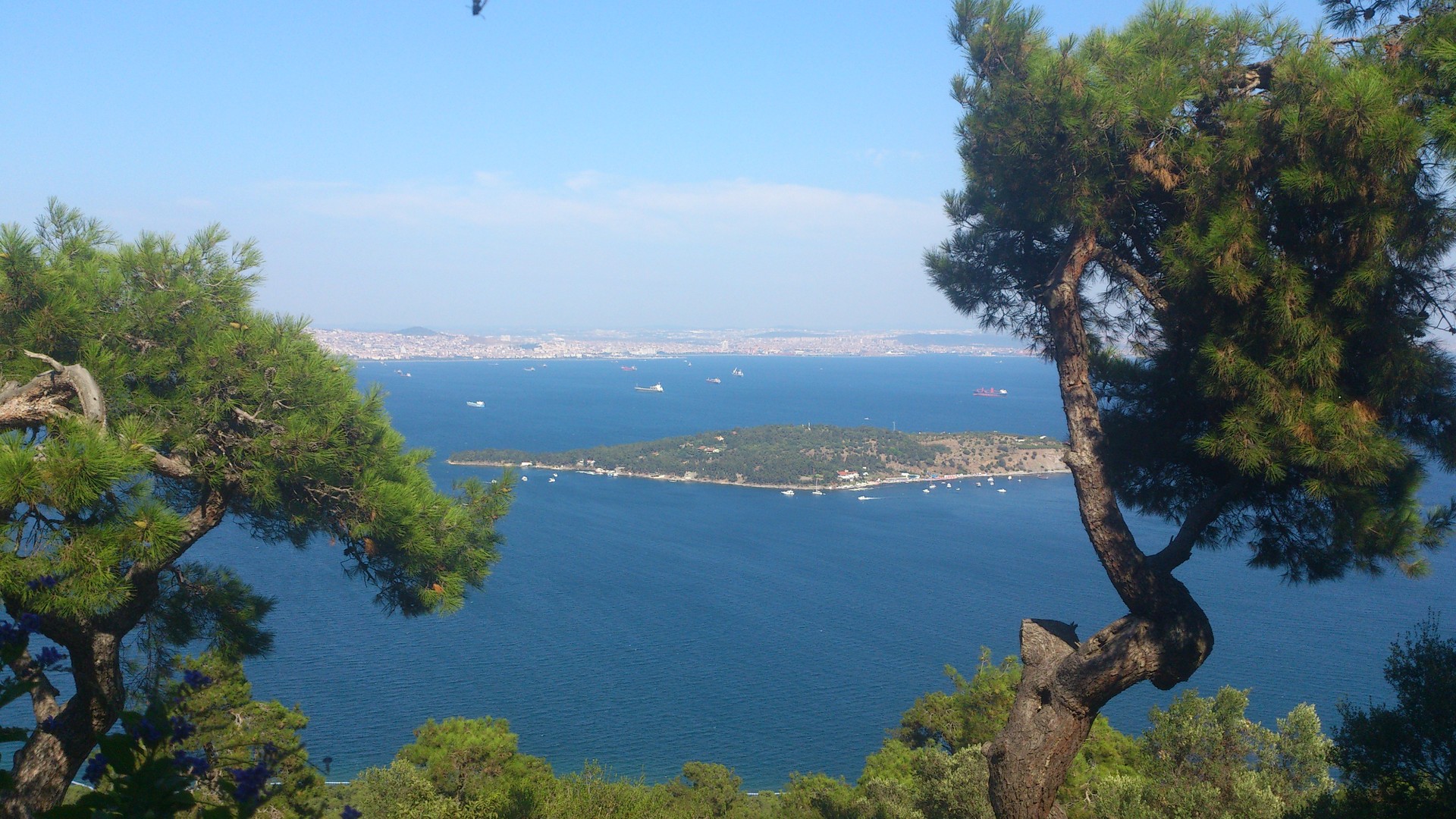 If you want to continue your visits next to bosphorus by watching the bridge, your next station is Ortaköy. It is very friendly place. There are many gift shops which have original jeweleries and souvenirs. Actually it is not only for touristic, we are also interested by them as citizens.
When you arrive on seaside, first thing you should do is, taking picture of the mosque. It is small one but very beautiful. It was in restoration for long time but fortunately it finished one year ago. You can visit inside of the mosque, really impressive. Famous thing to do in Ortaköy is eating kumpir, I will talk about its details in dishes category.
Yıldız Park is one of the largest park in Beşiktaş district which is near to Ortaköy (you can even walk from seaside). The park is close to the Palace of Yıldız. When you arrive to the park, you will see a steep. If you want to see the beautiful garden with lake, unfortunately you have to climb little bit. But do not worry because this steep includes the garden which is very colourful, surrounded by flowers and trees. On the top, there will be cafeterias and restaurants to chill out, you will enjoy the view in the same time.
Most probably, you are going to come across with a wedding here. There are always wedding ceremonies and after wedding bride and groom takes their picture in this historical garden. You should also take picture of this park which is placed before the Ottoman empire as a forest. You will also take advantage of watching the bosphorus from the top.
Çırağan Palace is a beautiful historical palace facing the bosphorus. The palace is close to Ortaköy, if you prefer to walk through Beşiktaş you will see it on your left. This Ottoman palace a modern hotel now which has garden next to it. This luxury hotel provides a restaurant inside to serves its guests with the best perspective.
There is an another palace close to Çırağan Palace which is located in Beşiktaş, coast of the Bosphorus. Dolmabahçe Palace is special palace for Turkish people because Mustafa Kemal Atatürk (founder of the Republic of Turkey) spent his last days in this palace. He died 10th of November 1938 and after that his bed was covered with the Turkish flag. The visitors of the Dolmabahçe Palace could also see his room. Even from outside it is really beautiful and impressive palace with its huge gate which has artistic Ottoman architecture.
Üsküdar is a district that you can see the Maiden's Tower clearly from Asian part. It is one of the oldest residential area. There are a lot of historical mosques here, there are several churches as well, even synagogues. You should walk next to seaside and have a lunch or dinner by eating fish. Because the restaurants are really nice, peaceful but unfortunately a bit expensive for students (but sea food is always expensive everywhere). You can choose the fish dish (with rakı if you want but as I told you alcohol is expensive generally) who want and enjoy it by watching the bosphorus and Maiden's Tower.
This is the fact that however the weather is, the bosphorus makes İstanbul peaceful and liveable. If you have time in İstanbul you might continue from Üsküdar in the sea side of Asian part to see Kanlıca. You are going to see beautiful wooden houses on the coast. They were built during Ottoman times which are waterfront mansions. There is a speacial thing belongs to Kanlıca is Kanlıca yoğurdu (yoğurt of Kanlıca with castor sugar). I will talk about its details in "dishes" category.
Culture
In Turkey, there are cats and dogs everywhere in the streets which is different according to other countries. We feed them and take care of them as much as we can. They are so cute, friendly and suprisingly they are quite clean as well. It is not only because they clean themselves, people in Turkey take care about them a lot. The cat is coming to you and rubs its fur against you. Cats are always been part of the Turkish culture as a tradition.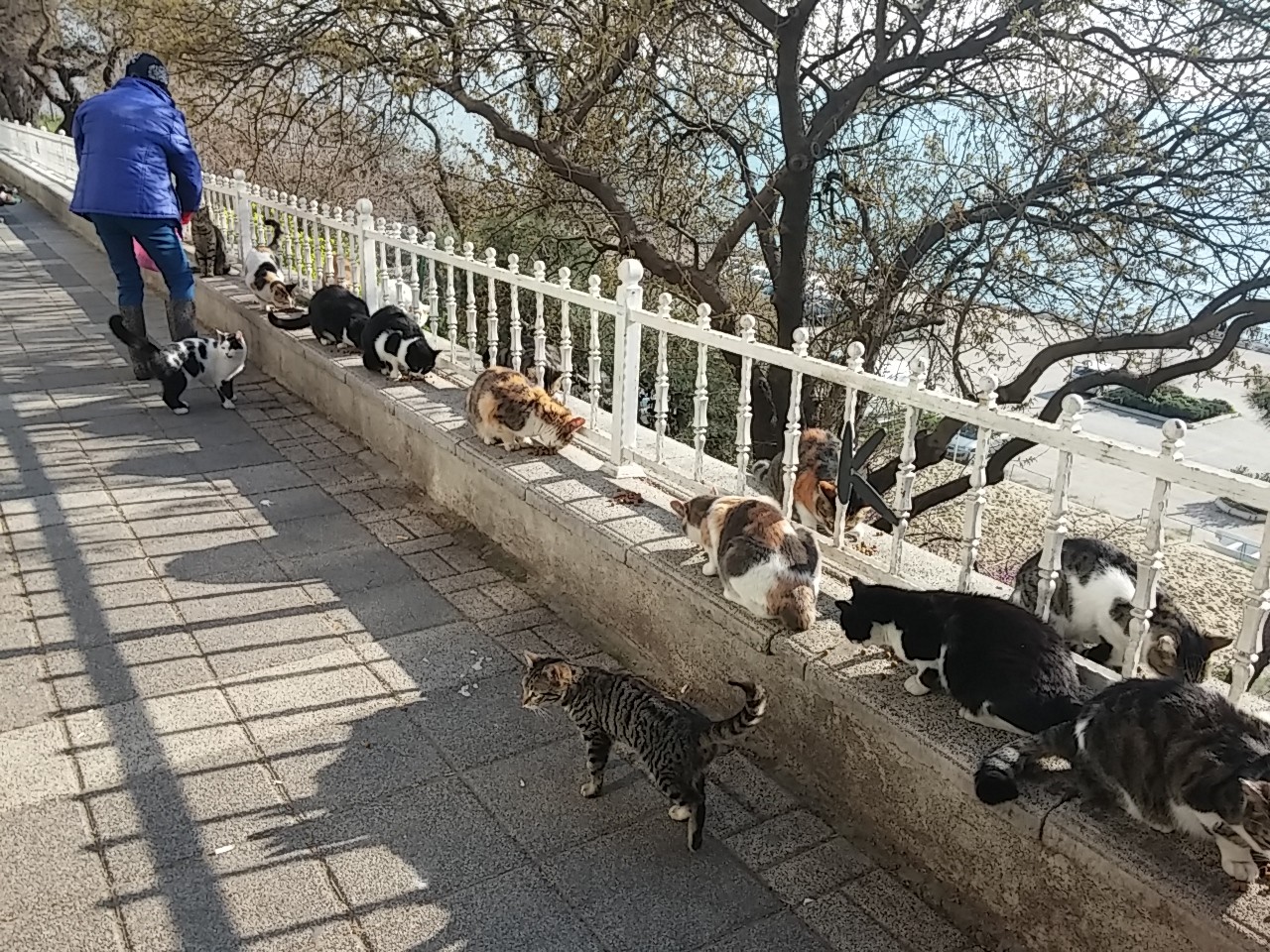 First day in a Muslim country will be different for you because you are going to hear ezan (call to prayer) five times a day. It is a part of our culture, when prayers hear the call, they can pray either in the mosque or in their home. Generally women do not go to mosque. You will see while you are visiting some mosques that there are some fountains around. It is for cleaning yourself before praying. Prayer should cover his/her head and also part of the body. Also visitors can not visit the mosque with summer clothes. That is why there are some clothes for visitors before entering that you can cover yourself temporarily and enter the mosque without shoes.
As a Muslim country, we have Ramadan which means a month of fasting. Every year during Ramadan, municipality of each district organises iftar (the breaking of the Ramadan fast) in the evening. They pitch a tent for people who is fasting, so in the end there is a enormous table which is full of people. It is really nice behaviour to help people because it not easy to be hungry and also thirsty especially in summer. The aim of fasting is actually to empathize with poor and hungry people.
If you are in İstanbul during Ramadan, you will see some writings are hanged on the mosques which illuminates at night. This view is very beautiful if there is full moon in the sky as weel.
Sport and Dance Culture
Probably you heard about belly dancers (dansöz). It is a dance belongs to Middle Eastern which you could watch in some places in the past. We used to watch them on television all the time especially for speacial occasions however you can barely see them now. They dance with similar oriental music and they have a special dress and finger cymbals (zils) for their dance show. You can not stop moving when you hear this lively music. The belly dancer makes their show and they can continue to dance while walking through the audience. This is to keep audiences energetic. The people can also join her dance and have fun. The tradition is to put money on her forehead while she is dancing with you.
Sport culture in Turkey unfortunatelly based on football. Most people in any age like, watch and play football, especially men. Of course there are all kind of sports such as volleyball, basketball, swimming, tennis ect.
There is a traditional sport calls Wrestling(Güreş). There are combats organizing in a city to play wrestling. It is a bit funny part of this sport maybe, they apply some oil on their bodies and fight like that. They do it with oil because it is harder to grab your partner like that.
Turkish Gastronomy
Breakfast
Kahvaltı! (breakfast), I think having breakfast will be the most interesting thing for you in İstanbul. Because we have too much things on the table; Goat or sheep' cheeses, jams, honey, tomatoes and cucumbers drillezed in olive oil and clotted cream(kaymak). There will be fresh bread and possibly simit. They are kind of basic things and optinally there will be eggs with sucuk (bologna sausage). Moreover every region has its own traditions. You are going to enjoy that awesome tastes with turkish tea for sure. Tea is irreplaceable for us, we can drink it all the time as you will see. If you can, try the menemen: runny scrambled eggs cooked with onions, green peppers, and tomatoes. For the price, it really depends of the place that you choose, it can be 12 turkish liras or 25 turkish liras even more for bigger tables.
You are going to see the simit everywhere. This is really true, everywhere. In the streets, in the cafeterias, bakeries. Since it is our culture to have bakery products, you have to try some of them which are quite cheap.
Main Courses
Turkey is equal delicious and cheap foods. I love our culture about that. I should say, kebap is not what european knows, it has totaly different taste than we have. My favorites are iskender, dolma, lahmacun, mantı. Having breakfast in Turkey is also nice experience because we have huge table with several kind of food.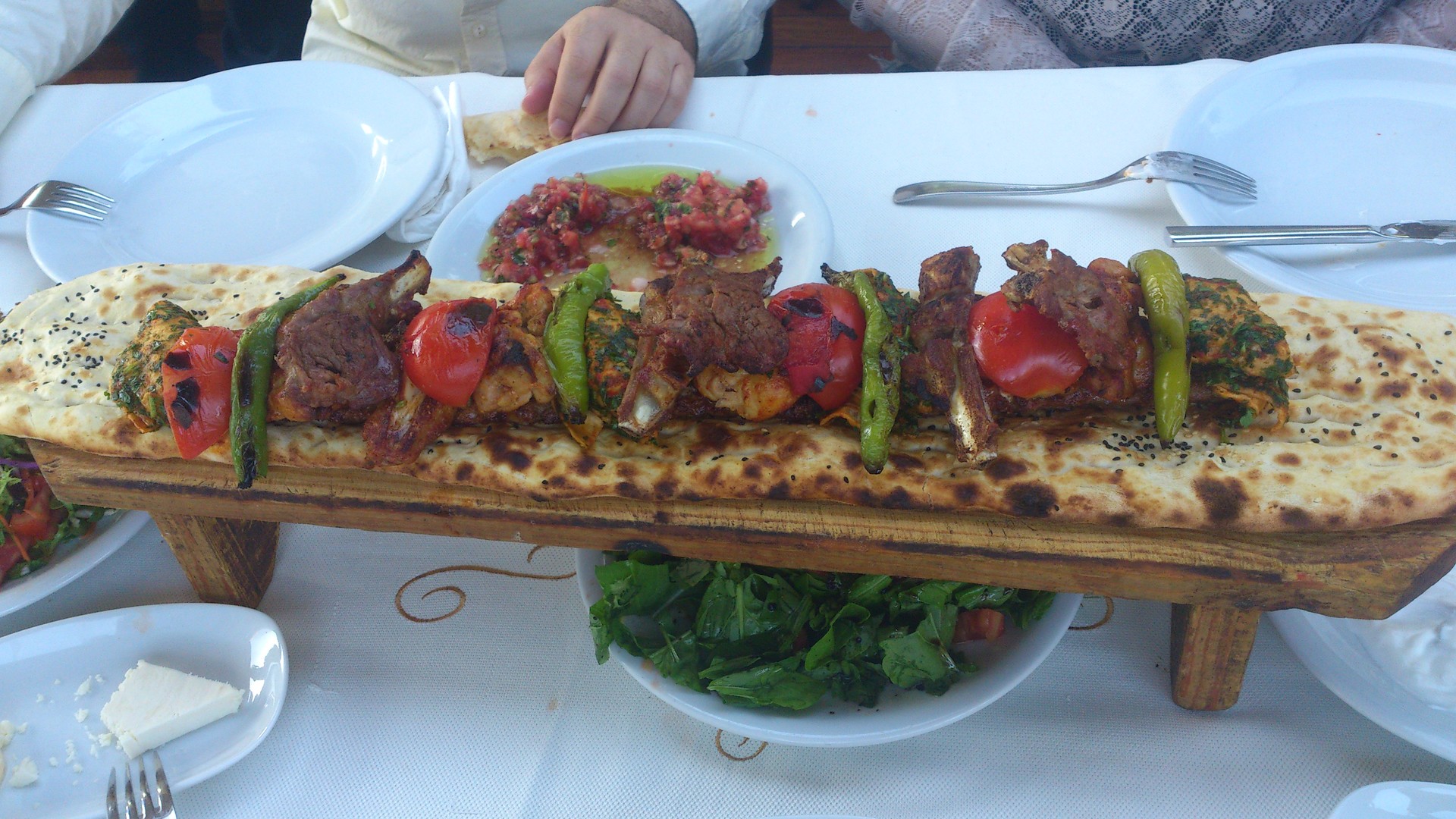 I have already talked about tasting kumpir in Ortaköy. Actually you can eat it everywhere in İstanbul but it is enjoyable and known to eat it in Ortaköy, everywhere is selling it. So what is kumpir? It is a dish made by potato. There are multiple options to choose for you kumpir.
They basically cook the huge potato in oven then cut it in the middle and add cheese, butter inside. After that you choose ingredients. Here are some options; corn, olives (green or black), sliced sausages, some different sauces (spicy sauce or yoğurt sauce ect. ), pickle, american salan or russian salad and kısır (meze made by bulgur, one of my favorite). You can add ketchup or mayonnaise in the end. You can either take away or eat it in restaurant which can be next to bosphorus. I recommend you this because there is bosphorus view, very nice in good weather. Kumpir is around 15 turkish lira (approximately 5 euros). To be honest, you can eat kumpir cheaper somewhere else but it won't give you the same joy.
Desserts
After meal, time to taste our desserts. Traditionally, our desserts includes sherbet which is made by sugar and water. The best example is baklava. If you leave İstanbul without tasting baklava, it will be a huge regret after. My favorite is with pistachio and the best place is known as Güllüoğlu store in Karaköy, it is first brunch in İstanbul and it also spread all the world.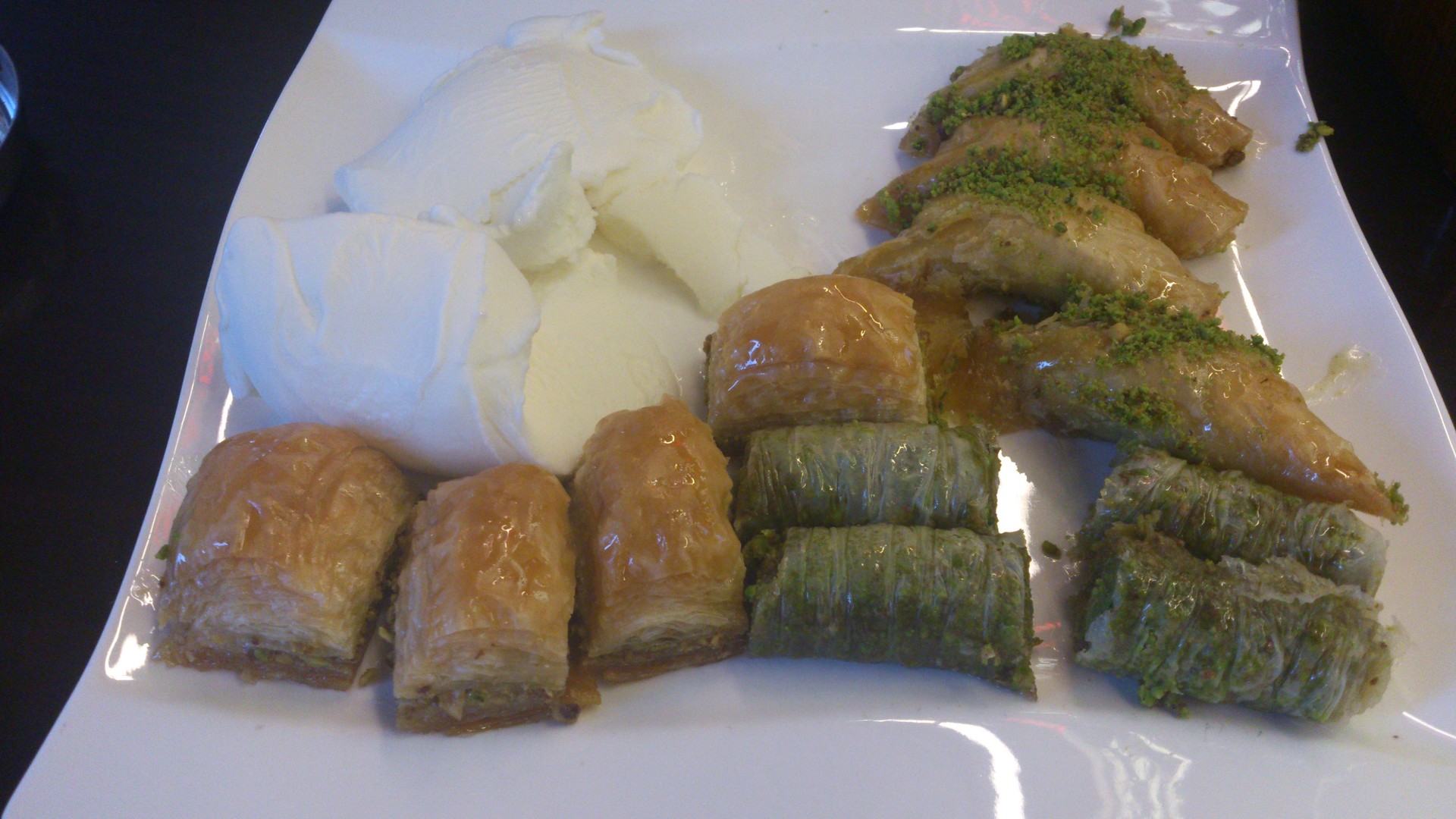 You will also see kinds of baklavas with walnut even chocolate. You should also try künefe which has sherbet but there is cheese inside and hot, it is so delicious. Of course we have other desserts which are light and made by milk like sütlaç.
In Ramazan (Ramadan), it is tradition to eat güllaç. It is a light and also healthy dessert made by milk, sugar and güllaç leaves which can be served with ice cream as well. Güllaç is a dessert that Sultans had always in stock in Ottoman times with some pomegranate grains on it. Güllaç leaves are made of corn starch and wheat flour. "Gül" means "rose" in Turkish so dessert contains rose water and walnuts between layers.
Beverages
I would like to mention about Kanlıca yoğurdu (yoğurt of Kanlıca with castor sugar). In Kanlıca every cafeteria will have this yoğurt which is served with castor sugar next to it. It is because the yoğurt has a bit sourish and you can choose you size of the yoğurt. When you add the castor sugar, its taste is very nice. It will be quite different experience for you to try it.
In Kadiköy and in multiple places you can enjoy the fresh and cheap fruits juice which are from 1 turkish lira (0, 3€, 0, 34$) till 4 lira for a glass. You can choose a size you want and also bottle to take away.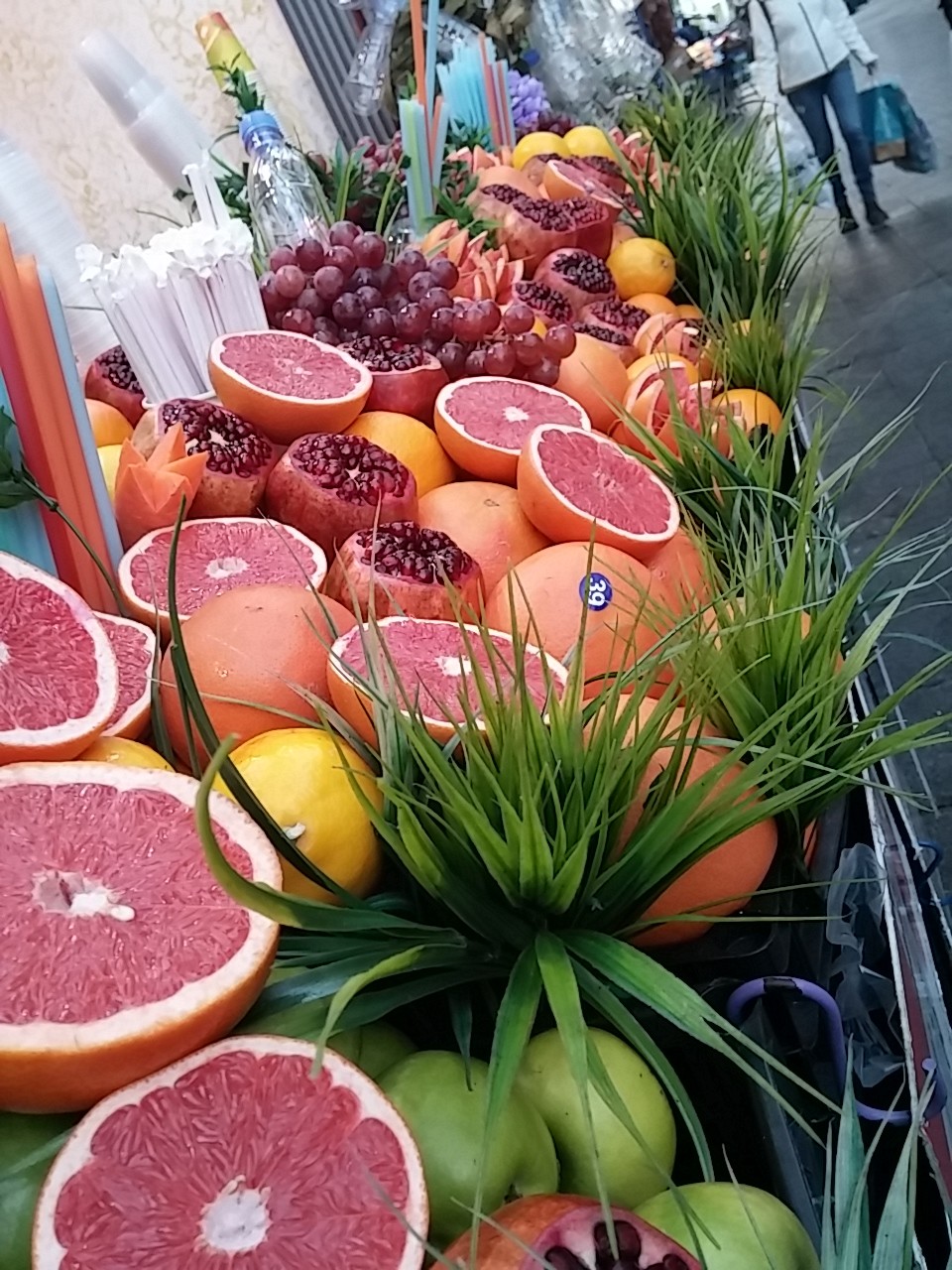 It will be also interesting for you to taste ayran which is our drink that is like liquid yogurt. I know sound is strange but when you are used to, it is really delicious. You are in İstanbul and you should try our traditional alcohol rakı. In turkey we have a cuisine that includes meze, which means appetizer. There are some combinations meze with rakı. Not only meze, as we call rakı-balık which means rakı and fish, it is kind of a pleasure to eat fish and drink rakı while watching bosphorus.
I advice future travellers that they should enjoy the bosphorus with eating simit and drinking turkish tea in ferry (this is the thing that is my favorite), trying diffirent foods and joining all activities to visit everywhere because it is really big city. You should drink your Turkish coffee and have a Turkish lokum with it to feel like living there. Enjoy!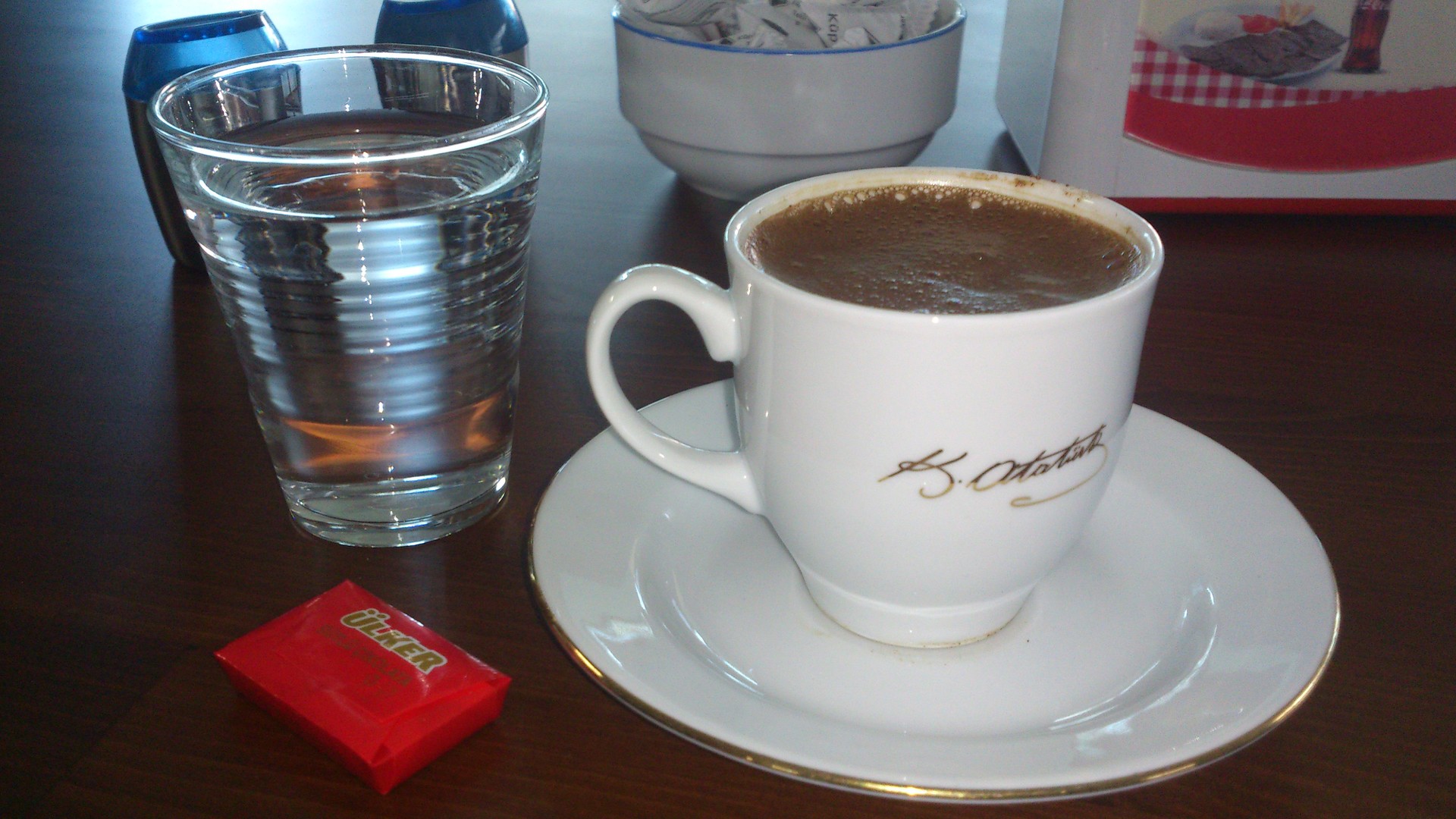 ---
Photo gallery
---
---
Content available in other languages
Share your Erasmus Experience in Istanbul!
If you know Istanbul as native, traveler or as exchange student... share your opinion on Istanbul! Rate different characteristics and share your experience.
Add experience →