Experience in Copenhagen, Denmark by Rachel
Architecture and landscape

10 / 10 points

Entertainment

10 / 10 points

Culture and customs

10 / 10 points

Transport

8 / 10 points

Gastronomy

6 / 10 points

Prices

2 / 10 points

Party

6 / 10 points

Weather

6 / 10 points
---
Hyggelig København! - coziness all around
Before you read about my experience in Copenhagen, I would like you to know that I am being honest in what I wrote. I won´t try to make my experience better or worse as it was. I have been living in Copenhagen for more than two years now and as everywhere else in this beautiful world I had my ups and downs. Denmark is the country of Hans Christian Andersens wonderful stories, delicious pastries, long beaches and moody weather- it can be beautiful and it can be sad. But if you give it a chance, it can always be hyggelig. (Why not learn the word "hygge"- you can use it for almost everything: hyggelig time (cozy lesson), hyggelig bar (cozy bar), hyggelig cykeltur (cozy biking-trip), hyggelig ven (cozy friend), etc. )
I will try to give you some good advice about thing that made my life easier and places and experiences that made me happy and that might make you happy too. Please leave a comment, if you have any question about or remarks on what I wrote.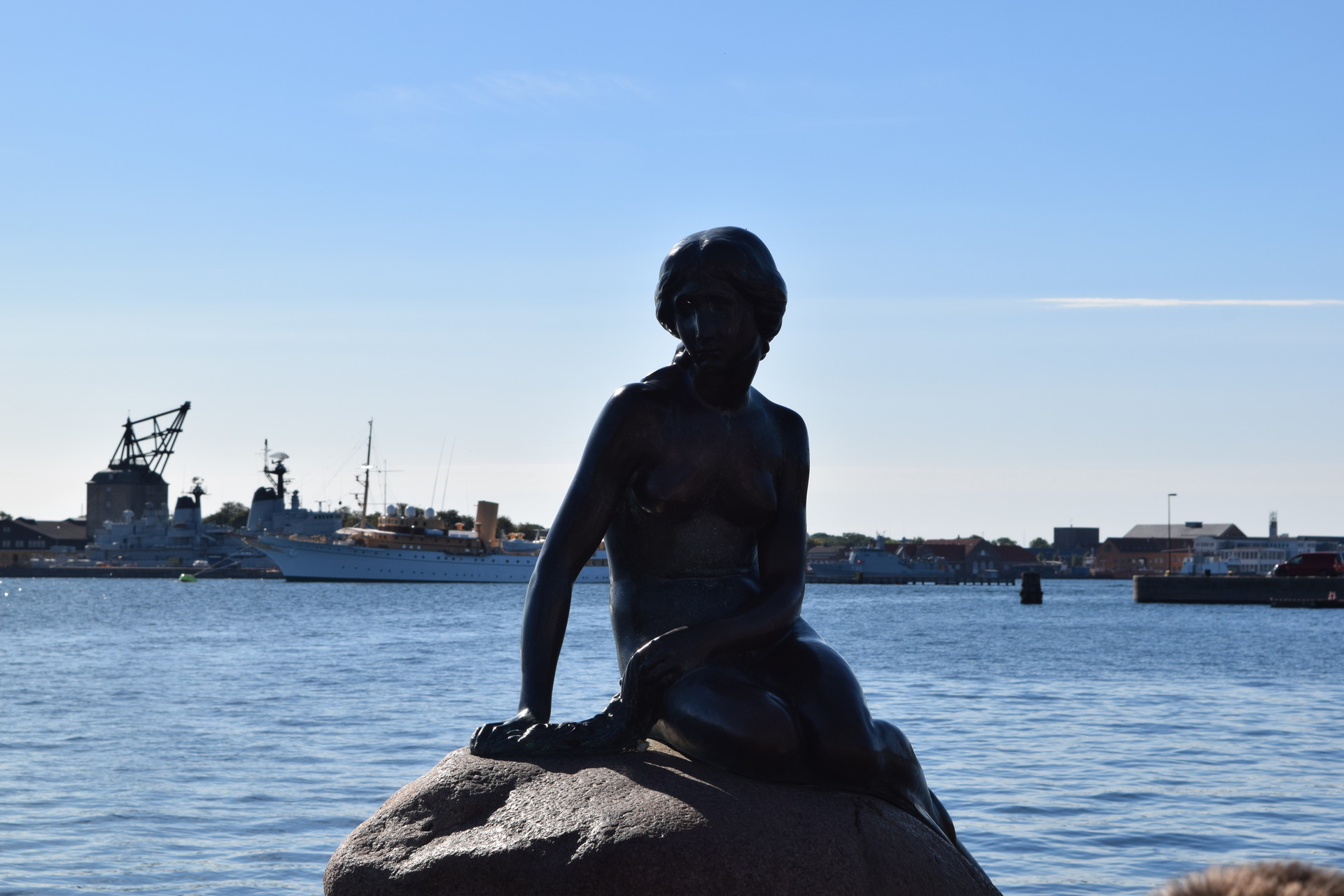 (The little mairmade; The statue is based on H. C. Anderens childrens-story and is now the landmark of Copenhagen. Don´t be disappointed, when visiting her- she is indeed very small. )
What is it like to live in Copenhagen? Would you recommend it? What is the city like?
To live in Copenhagen is a wonderful experience for everybody, who likes to discover the cities secret corners and is not afraid of enjoying their day no matter the weather. Even though it is the capital of Denmark, one can get around by bike easily. The Danish people are friendly and once one made a friend one can always count on them.
I can warmly recommend living in Copenhagen- I myself do it for two years now and I am still enjoying it. I love the mindset of the people I meet. Even though they show respect and keep their distance until they are absolutely sure that you are trustworthy, they are still very warm and honest on the inside and will try to help you as much, as they can. They are proud people- but even more kind and hearty, than proud.
Copenhagen is the most eastern city of Denmark, with the population of 1, 3 mi. people, located on the Island of Zealand (Sjælland). It is the capital of Denmark, but even though it is a busy city, there are many parks. The canals that run through the inner city like salty veins, might remind you a little bit of Amsterdam. One of the kings responsible for planning this city was a great traveler and fell in love with different cities. You can still see the different building styles during history in the inner city.
But even though Copenhagen is very old, the capital is very modern and green. There are bicycle-lanes everywhere and the public-transportation gets extended. On the roof-top of the incineration plant there will soon be opening a ski slope, which will use the energy created from the burning of trash and waste beneath. Denmark is the only Scandinavian country without any mountains, which might indeed be a little bit painful for the Danes, whose ancestors, the Vikings and many of their kings have been ruling over Sweden, Norway, Iceland and even Greenland. But the nature in Denmark is one of its kind; especially close to the shores.
If you are on Erasmus in this city, Copenhagen shows you probably only one of its two faces: The winter-face or the summer-face. During the winter-time it is cold and gray outside. People are of course still biking on the many biking-lanes, but they only go to work or university, to the shops and home again. During Christmas the city-center is decorated with beautiful lights and the smell of caramelized almonds is everywhere. The weather can be moody and windy, so the temperatures feel colder on your face, than they actually are. It is during winter-time that you will look forward to any kind of hygge. (I hope you still remember that this means cozy.; ) )
The summer-face looks much friendlier indeed. During summer-time, just after the students have passed their exams, the whole city is filled with liveliness. There is laughter in the streets, there are picnic in the parks, people celebrating their birthdays or passed exams on small, shaky boats in the canals, tourists wondering about the beautiful architecture, complaining about the high prices and being silenced again by the amazing ice-cream, sold at almost any corner. The sea-water is cool, clean and fresh- amazing for swimming and there are several music-festivals taking place in the city, so you can enjoy amazing music for free, just by walking down the street. People stay up until late at night and drink bear just outside the small bars with the view on the canals.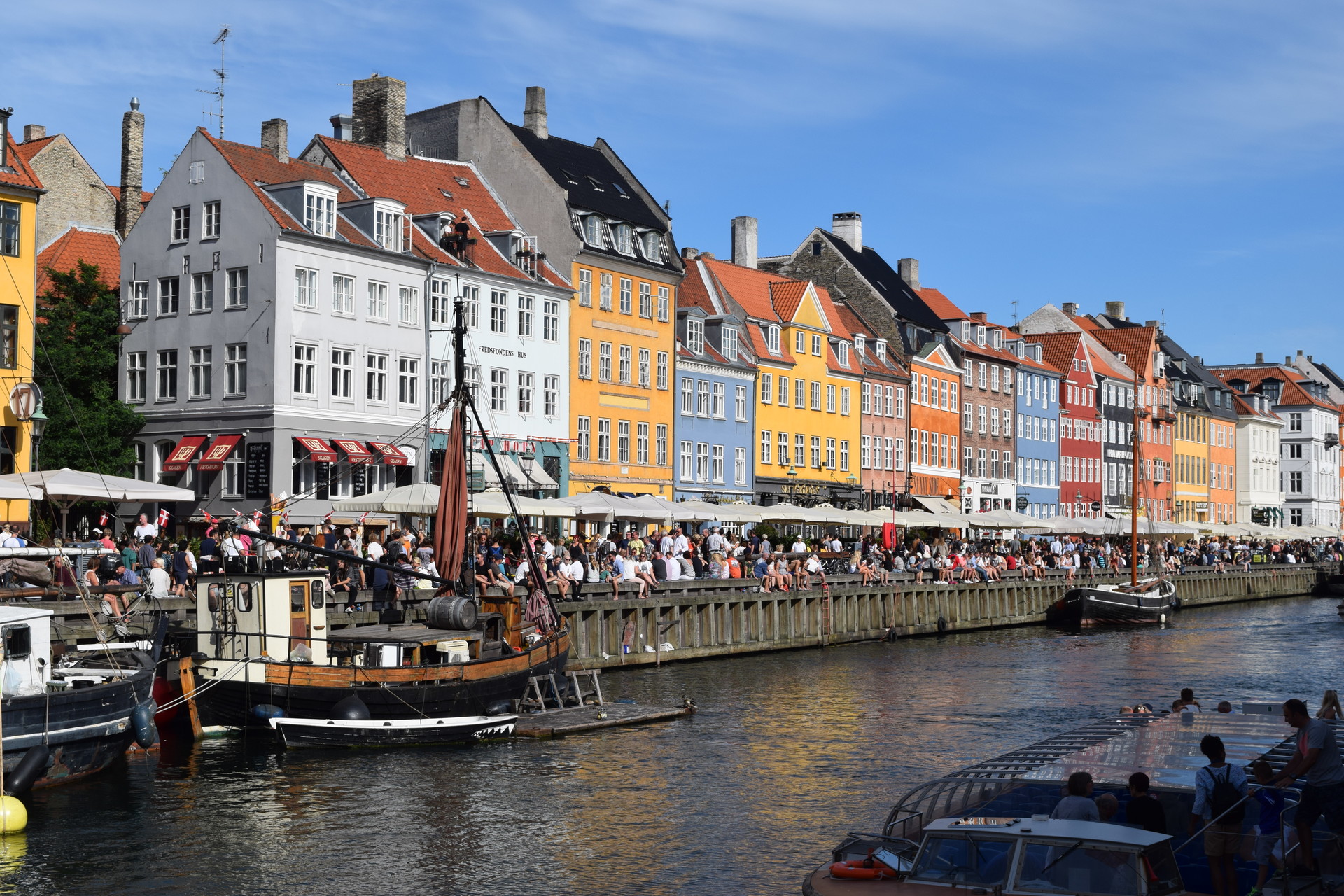 (Nyhavn- Copenhagen famous, old habour- the place to experience Danish "hygge")
What is the student lifestyle like in Copenhagen?
The teachers at University, as far as I experienced, are not shy to communicate with their students on an eye-to-eye-level and some even go partying with them. It is easy to ask questions, because of the informal style of teaching. (The professors are addressed by their first-names. ) For students, who understand their education as their own responsibility and love their fields of study, it is a great environment to be in. Nobody will force you to learn, since it is you, who has to live with the consequence of not knowing things. Free choice is a key-value in Danish society. I very much enjoy my small courses and recommend to choose the small, specific subjects, rather than the big ones. It is easier to connect to your fellow students there.
It depends on you, whether you make friends or not. Danes respect your privacy- but they also want you to respect theirs. Unless you clearly show them that you are interested in their friendship, they won't bother putting energy into you. Do not feel offended and sad, when you find it hard to get close to the Danish students. It might feel, as if you put a lot of energy into an only slowly-developing friendship- but trust me; it is a friendship worthwhile! If you give yourself and the other person the time and space you both need, you will end up with an spacious relationship, where everybody can be himself. It takes time to get to know each other and the typical Dane does not like brief friendships that only last for a few months. Unfortunately people on Erasmus won´t stay long enough, they think, to truly feel close to them. But if you tell them, where you are from, how you feel (how you really feel), what your dreams and goals in life are and listen to their stories, I promise you, that the first step of the friendship with a Dane is made.
Sometimes you might feel a little bit alien to the wealth around you. The city is clean and every student owns an Apple-computer, IPhone etc. It is normal for them and when they talk about their expensive clothes, their rents and their holidays, they do not want to mock you. Some Danes have not lived in another country for long enough to know the difference of the state where you come from (where their might be a corruptive government, a big gap between the rich and the poor, actual poverty, economic and social instability, homophobia, very high university-fees, people without health-insurance etc. ) and the privileged, beautiful Denmark they life in. (They might know it in theory though, because they are usually well informed about what is going on in the world- especially in Europe and the US. ) So when they complain about their salaries, they do not want to brag. They really think they should get paid more, because it is the living standards they are used to. And they do not think they are rich- most Danes I know wish that everybody had as much money, as they do.
There are some truly magnificent places in the city, where one can meet. There are several jazz-clubs, a games-cafe and of course many gyms, one can swim in the ocean all year round and enjoy the late, sunny summer-evenings outside the local bars.
And of course you can bike everywhere!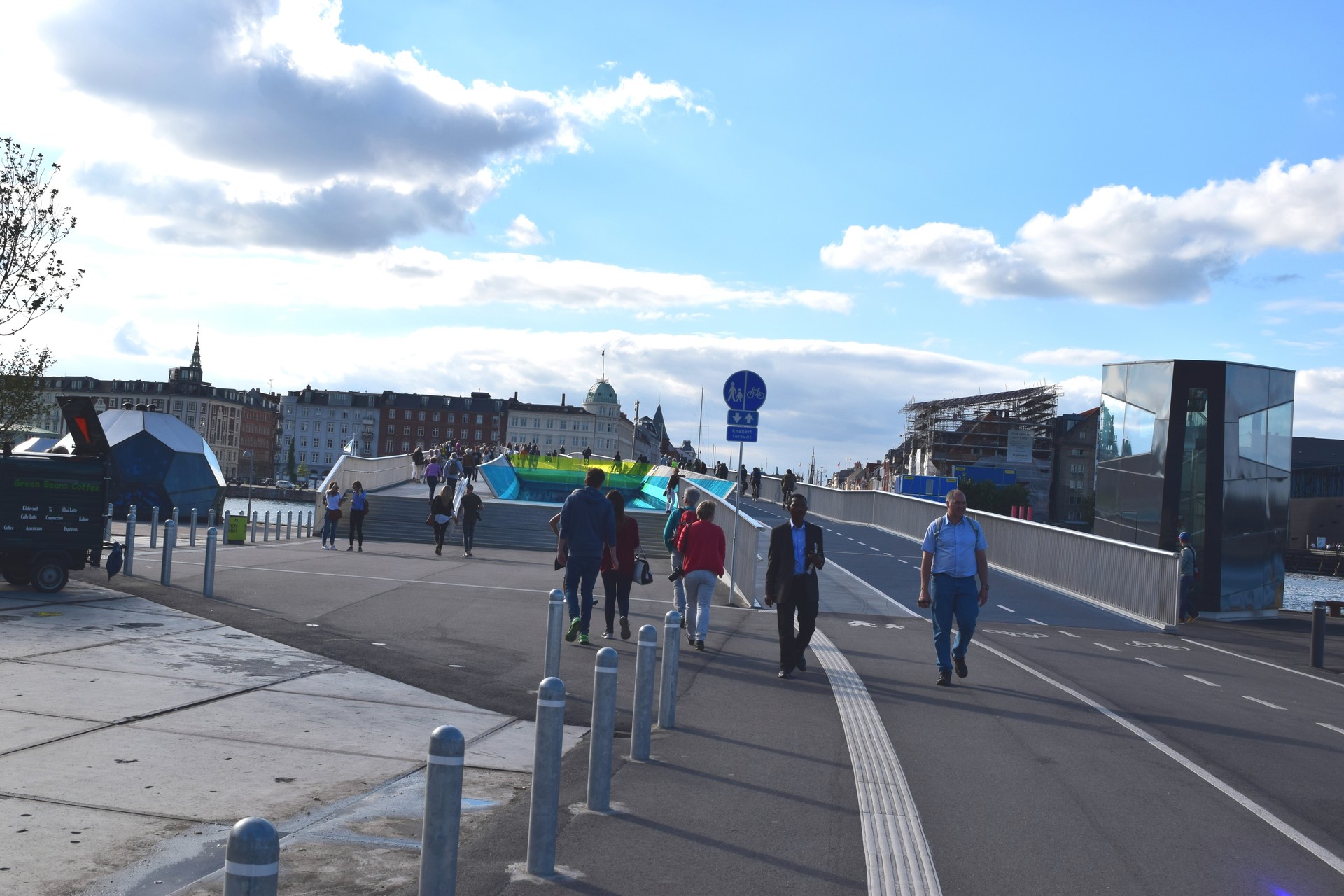 (One of the newer foot-and-bike-only-briges. It is called "the missing-kissing-brigde", due to it´s problems during construction, where the two parts did not meet in the middle)
How much does it cost to live in Copenhagen?
Even though you do not need to pay a fee to the University (if you are an European-citizen at least) Copenhagen is very expensive. The dorms can cost as much as a whole flat in f. ex. Berlin. Also the food is expensive and the beer, which Danes love very much, in particular. There are however already options available for students and other people, to get cheaper food at the super-market. In every super market I know there is a corner for food, that is close to the expiring date f. ex. - and the price will be reduced. If one is conscious about ones spending, one can save a lot of money. I would recommend to use this web-site before going grocery-shopping: https://etilbudsavis.dk/ (Just type in the kind of groceries you want to buy and the super-markets that have a sale on it will pop up. ) Danes always prefer to pay by card or even mobile pay, but you can still pay cash if you want. The Danish currency is called "Danske krone" (Danish crown) and the 1, 2 and 5 kroner have a little hole in the middle. Queen Margarethe II. portrait is visible on the 10 and 20 kroner, she is the beloved Danish Monarch.
Is it difficult to find accommodation in Copenhagen? Is there any advice you can give?
It is very hard to find a place to stay in Copenhagen, especially when one is not able to spend a fortune. I advise every young person to first visit the place that they want to live in, before signing anything or even thinking of transferring money, because scams are very common. The waiting-lists for a room in a dormitory are very long and one has to wait up to 3 years sometimes to get a room, which costs as much as a flat in another European city (the average for a room is 4000 kr/month - ca. 535 €/month). The whole experience of finding a room to stay can be very tiring. I therefore advice you to ask friendly locals for help. If something looks too good to be true- it probably is. For some students the solution is to live in Malmö, which is the closest city in Sweden, just across the sea.
Those two web-sites might help you find a room in a dormitory in Denmark (they are free):
https://www.kollegierneskontor.dk/default.aspx?lang=GB
http://www.findbolig.nu/
What is the food like? What are your favourite dishes?
Danes love meat- especially pork. Many of them enjoy hot-dogs, which can be bought at nearly every corner in the city-center. Fish is also very common. (Of course- Denmark has a longer coastline than Australia and is between two seas! ) Danes also love licorice (they even have licorice-tea and licorice-ice-cream) and drink a lot of beer.
Another famous dish is Smørrebrød, which is the name for a variety of healthy sandwiches. You could for example get one with eggs and shrimps, one with pork and onion-rings or one with fish, lemon and salad. I love the soft-ice that they sell during summer: it is big and only made of the best ingredients. They dip the top into brittle, nuts or melted, dark chocolate and the waffles are crunchy and delicious! The dark bread is amazing and one can try many different flavors (if one goes to a proper baker of course. ) During Christmas-time the cookies are amazing and in most of the open-air museums across the country you can get some freshly baked samples just out of the oven, baked from the old recipes of a hyggelig Danish granny.
Demarks super-markets become more and more ecological and both the sellers and consumers are more and more conscious about the waste they produce. The trash is separated into plastic, glass, metal, paper/cardboard and organic waste. When you had a beer or soda in the park you can put the empty can in one of the holders at the new trash-cans, so somebody can use your can deposit for shopping. The food at university is healthy and varies a lot.
What places would you recommend visiting in Copenhagen?
I would recommend everybody to get himself a bike and just drive around the city, until he almost feels lost. There are many secret, special little places that no tourist-guide writes about. Of course the parks in Copenhagen are magnificent (here I recommend Valbyparken, Kongens Have, Botanisk Have and Fredriksbergs Have), also every spot near the coastline is breathtakingly beautiful (Amager Strand), one can enjoy Tivoli (http://www.tivoligardens.com/en) until late at night and the small cafés are always welcoming and hyggelig.
If you are a student at KU (Københavns Universitet) you should definitely enjoy the view from the roof of the main-building in Amager. I also recommend a stroll in the alternative Freetown Christiana (https://en.wikipedia.org/wiki/Freetown_Christiania), where a hippie-movement occupied the ground with mainly empty military-barracks, because they were so frustrated by the rising, unafordable housing-costs in Copenhagen. The houses there are truly artistic, because every owner built himself his dream-house without restrictions. If you like graffiti you will definitely love the ones in and around Christiana and especially during summer-time you can enjoy very good music in the performance-area.
(One of the many colourful walls inside Christiana)
Denmark is a small country, but it during its history it has been home to many magnificent people, to writers (Hans Christian Andersen, Karen Blixen etc. ), philosophers (Søren Kirkegård), scientists (Tycho Brahe), kings, architects and designers. There is a lot to discover in Copenhagen and around. You can visit the Karen Blixen Museum. In the Tycho Brahe planetarium, not far from the city-center of Copenhagen, you get the chance to observe stars from our galaxy and there is a church designed by the same man (Jørn Ober Utzon), who is responsible for the most famous landmark of Australia- the Sidney Opera-house!
But it would be a shame to only discover Copenhagen and miss out on all the other beautiful places! The city of Helsingør, where the castle Shakespeare chose for his play "Hamlet", is located is definitely worth visiting. In the summer-time you can even see the play performed live with the magnificent castle as it´s background!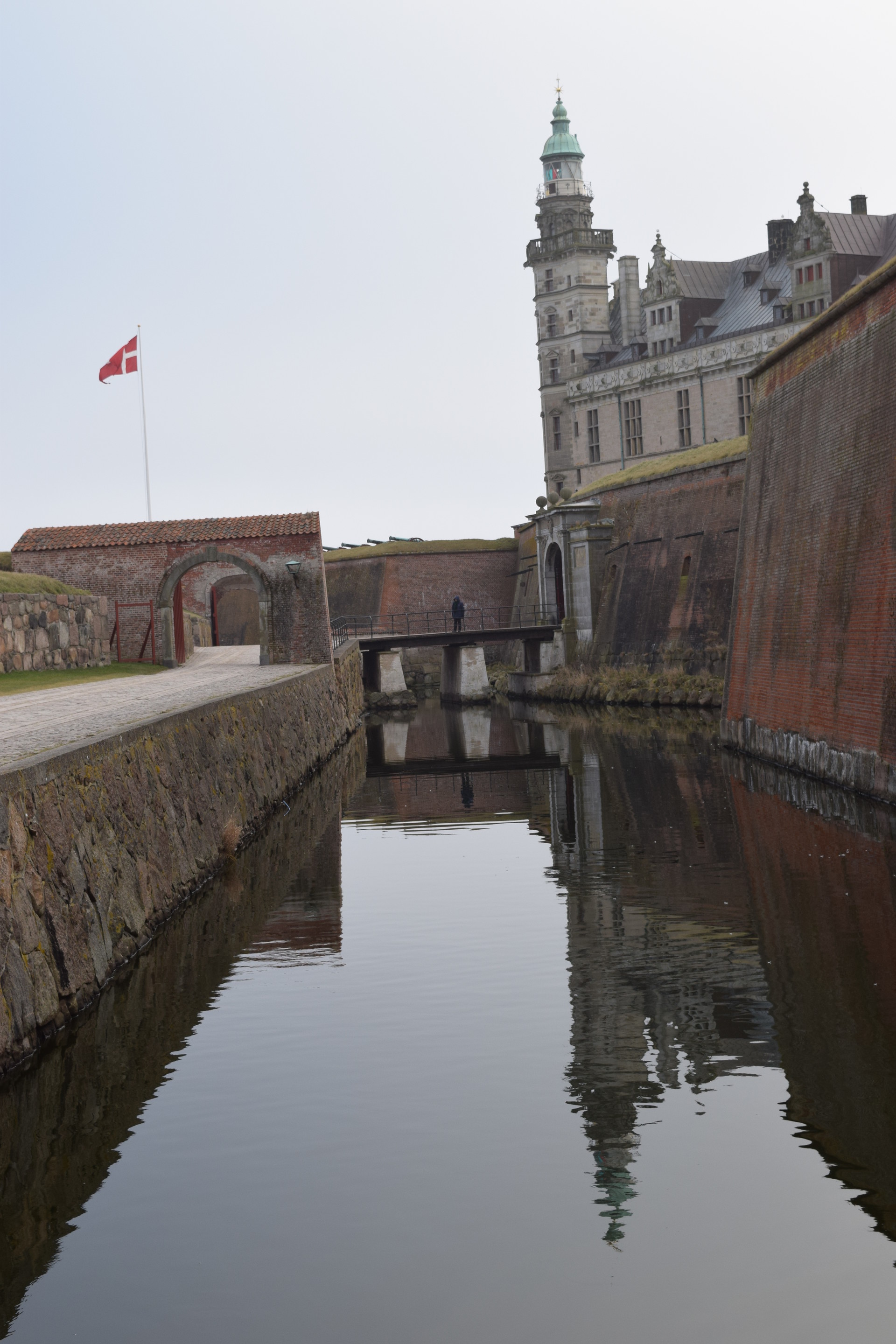 (Kronborg slot- the castle Shakespeare chose for his play "Hamlet")
Something you must see is the art-museum Louisiana (https://en.louisiana.dk/), only some kilometers away from Copenhagen. Even though you might not be interested in modern art, the architecture and views on the seaside from the museum-gardens are just too gorgeous to miss. Most museums in the city have one day per week, where there is free admission. I recommend to visit the Glyptotek at least once (it is close to Tivoli).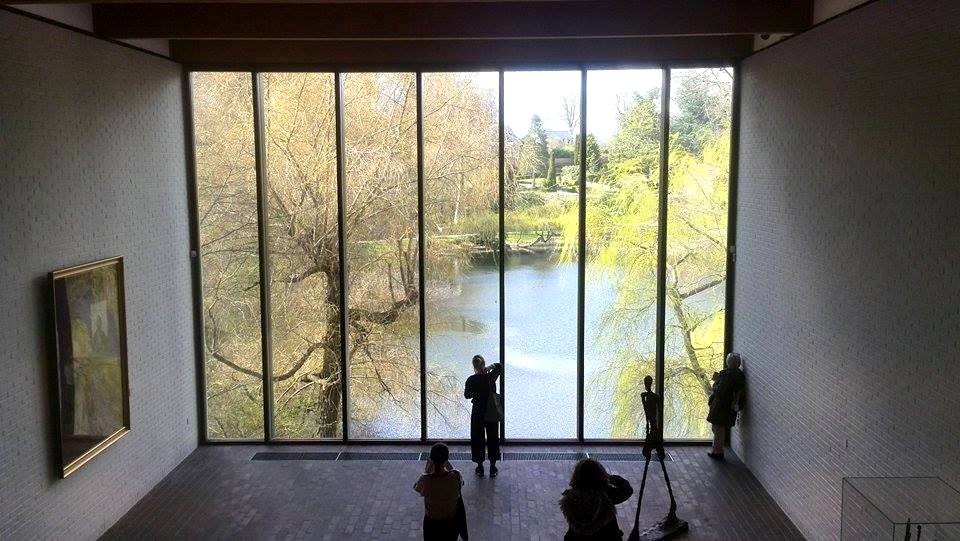 (Breathtaking view from one window at the Louisiana-art-museum)
When there is a clear day in Copenhagen you might see (just across the sea) the Swedish city Malmö, which is also worth visiting. Other remarkable cities in Denmark are: Skagen (where the Baltic- and the North Sea meet. Many famous artists have lived and painted there and you can visit their hyggelig houses, which are turned into museums now. If you are lucky, you can spot some seals. The sunsets are amazing! ), Ribe (the oldest town in Denmark with an amazing Wiking-museum), Aarhus (or Århus- the 2nd largest city in Denmark. They have an historic city-center "Gamle by" with an truly hyggelig Christmas-market and also an internationally known Art-gallery, called "Aros", with its famous rain-bow-panorama-roof) and Odense (the birth-city of H. C. Andersen, writer of probably at least half a dozen children-stories you know).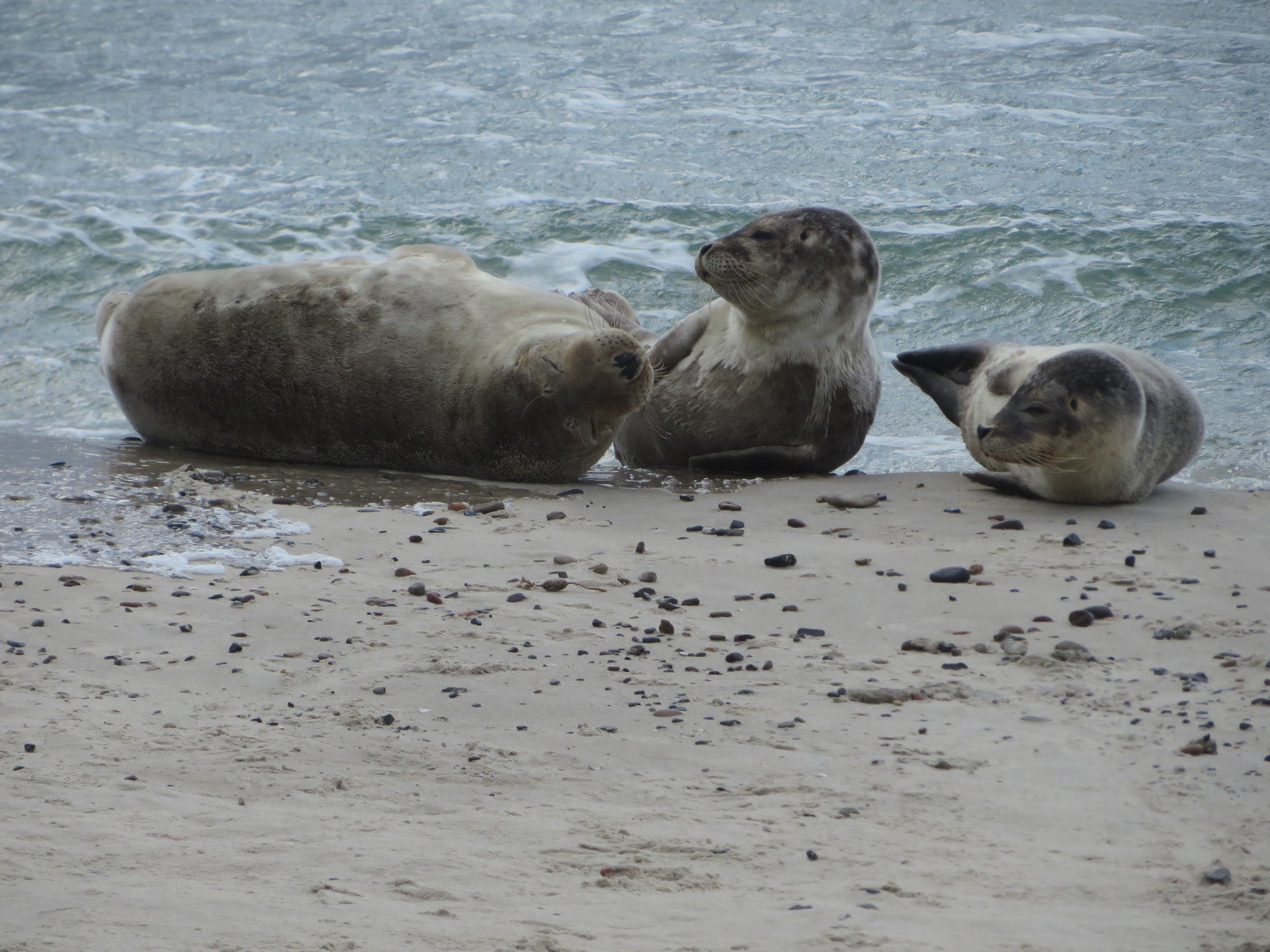 (A little seal-family realxing a little at the beach, while I was in Skagen)
Here some more links:
Aarhus/Århus: https://en.wikipedia.org/wiki/Aarhus
Aros(the Art-museum in Århus): http://en.aros.dk/ "Gamle by" (open-air-museum in the heart of Århus): http://www.dengamleby.dk/
Malmö: https://visitsweden.com/malmo/ Neptunbus (until now the cheapest connection between Malmö and København): https://www.neptunbus.dk/
Odense: http://www.visitodense.com/ln-int/odense/visitodense-0
Ribe: http://www.visitribe.com/ln-int/south-jutland/ribe-oldest-town-denmark
Skagen: http://www.toppenafdanmark.com/ln-int/toppenafdanmark/tourist
Is it good to eat out in Copenhagen? Can you tell us your favourite spots?
The food in Copenhagen is very good- and very expensive. I usually make myself a sandwich at home or prepare a salad and then I meet with my friend in a park and we make a picnic. I love "Frederiksberg Have", which is a park in the district Frederiksberg. The most amazing thing about this park is, that you can look inside the zoo, without paying a single crown. There was just born a little baby-elephant! It is the most hyggelig thing to sit on one of the benches with your friends, eat picnic and watch that little fellow jump around, while his mum is standing there, half-proud and half annoyed.
Not far from the Amager-campus of KU and close to Nyhavn, the picturesque harbor with its cute, colorful houses, you can find Papir-øen (paper-island), where you can buy exotic food from all over the world and sit outside at the water, watch boats float by and enjoy your meal. It is a very nice place that you might fall in love with.
(http://copenhagenstreetfood.dk/)
Is the nightlife good in Copenhagen? Where is good to go?
I strongly recommend checking out the Operas, Ballets and Theaters website- one can find cheap tickets for all performances (Sometimes you have to stand for a while, but it will always be worth it). And during the summer-time you can hear a lot of classical music due to the opera-festival. During summer you can enjoy an amazing Jazz-festival in the city! There is also one in the winter-time, but it is much smaller. I do recomend to go to some of those free live concerts in a bar or café in winter, when the snow is slowly dancing outside the windows, as if following the music inside and your can nip on your wamr beverage. For some minutes you might forget how cold it can get outside.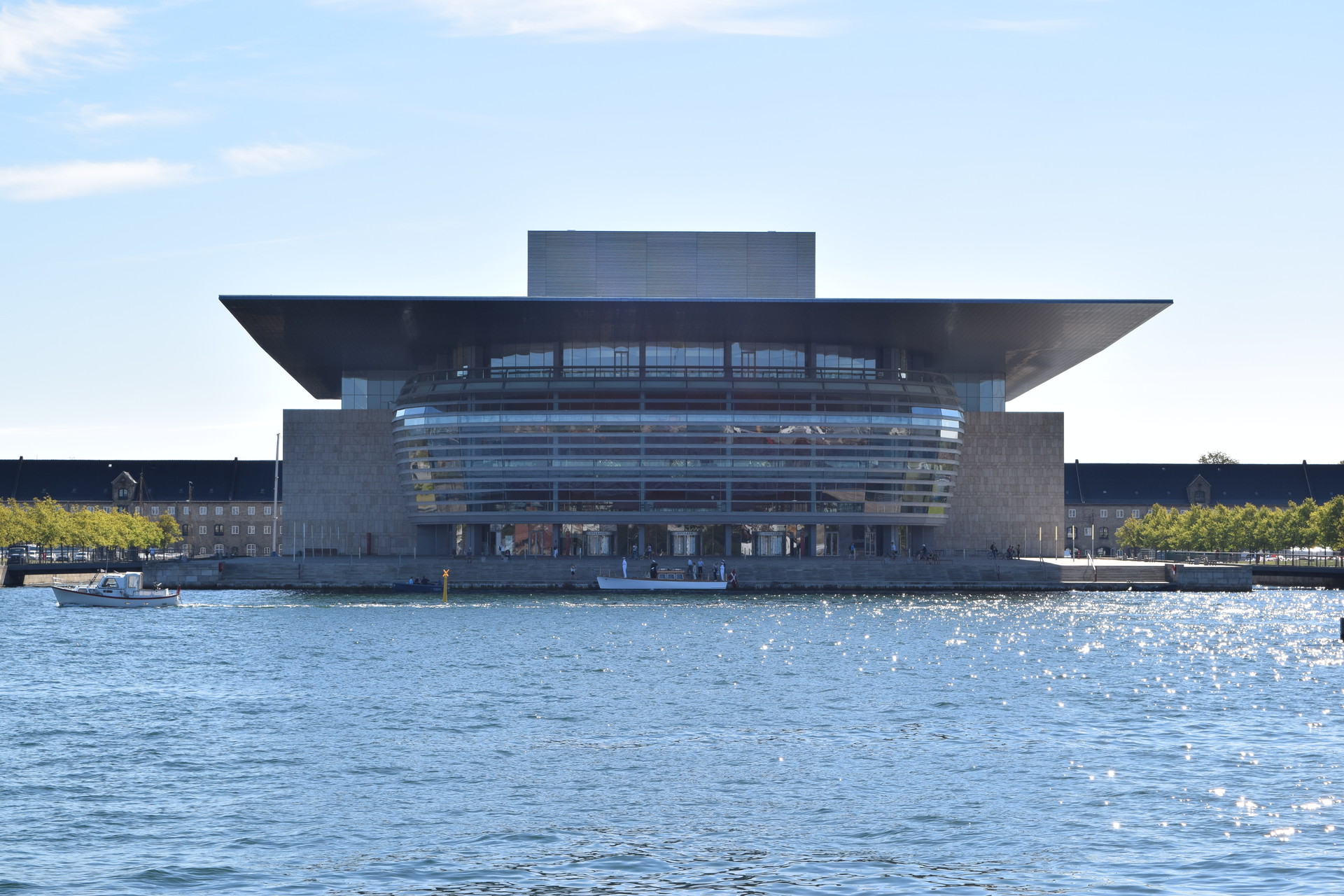 (The opera)
I am not so much a party-person, which is not typical for Danes. One can easily bond with the young people here, over a couple of beers and the bars are all very hyggelig. If you want to meet other students, I recommend you Studenterhuset, which is located in the city-center (http://studenterhuset.com/).
What advice would you give future students heading to Copenhagen?
Learn the language! Even though every Dane speaks English fluently and they sometimes switch to it, in order for you to feel more comfortable, insist on them speaking Danish to you. You will have learned another skill and speaking Danish will also make it easier for you to f. ex. learn Norwegian, Swedish and even a little Dutch. Just put some posters in the cafeteria and look for a tandem-partner that wants to learn your mother-tongue and is willing to teach you Danish.
Look for a place to stay at least 6 month before you get here- even though you might not be accepted by the University yet. Use the internet and try to find locals to help you. Buy yourself some decent rain-clothes and a good, reliable bike that you can ride comfortably around the city with.
Begin as early as possible to apply for the CPR-nr (it is your identity-nr., health insurance, library-card, etc. ) - it is essential for every office you go to (university, hospital etc. ).
Yes, life it is very, very expensive here- but it is affordable, if you get a Danish salary. Also as a student you can get a job, where you will earn more money than in most of the countries of the world for the same task. And you get some work-experience, which is always a plus! If you speak French, Spanish, Swedish, Italian, German, Russian, Chinese, Portuguese etc. - use your language-skills to get yourself a well-paid job! You could work as a tourist guide (which will also make you know the city much better), translator or you could even teach your own language to young students (you will learn surprisingly much from teaching, I promise! ).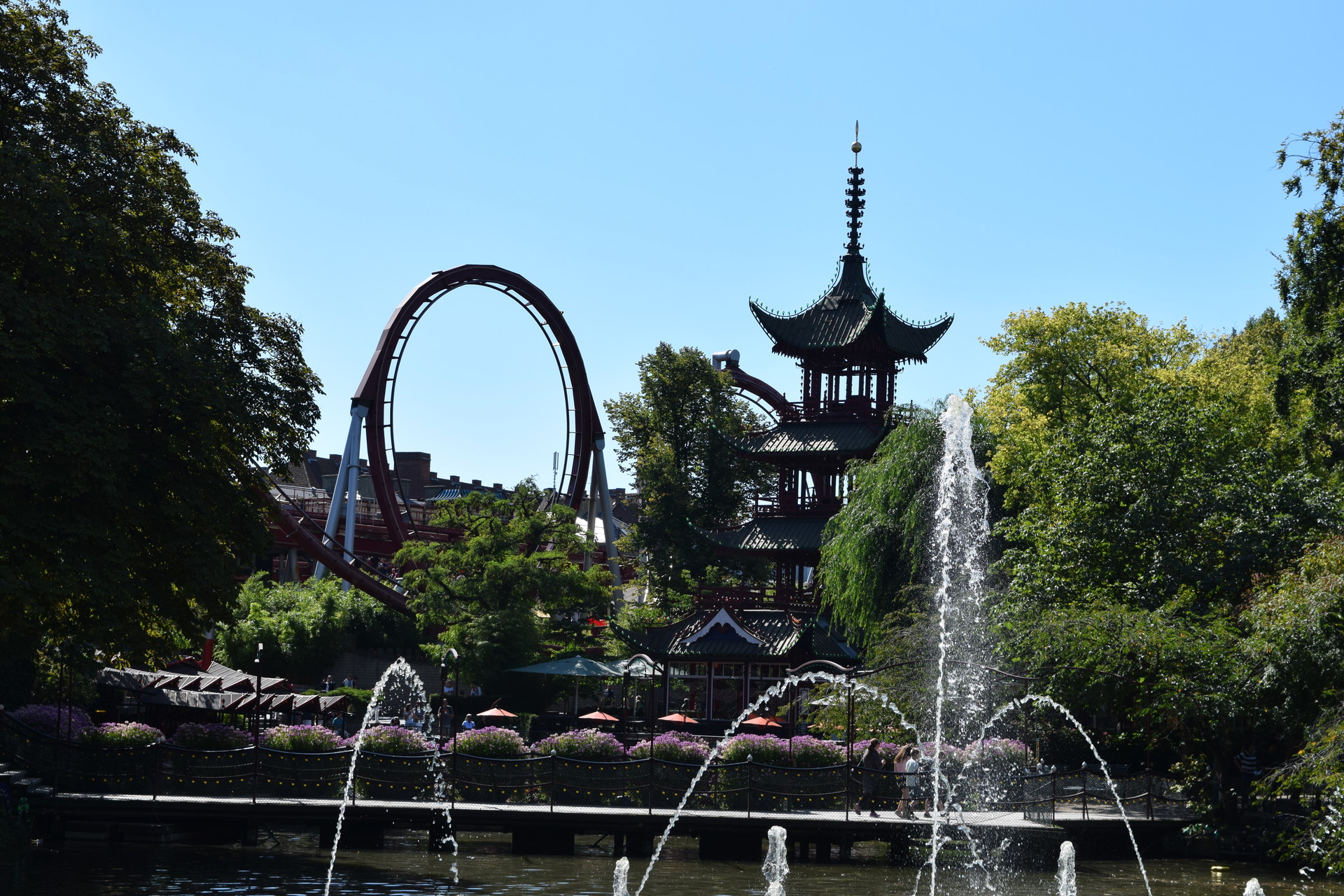 (I could get inside Tivoli for free, whenever I had to guide a tour there)
If you are from the EU and work in Denmark you could maybe even apply for SU, which is the "salary" every Danish student gets from the state in order to be able to only focus on their studies. I know- great, isn´t it? (This is one of the many reasons, why the costs and taxes here are so high- because students, young families, elderly, unemployed or sick people are taken care of by the state. )
Most importantly: Enjoy every day! When it is raining outside, just put on your rain boots, close your rain-jacket to the chin and bike a little faster. A little rain won´t kill you.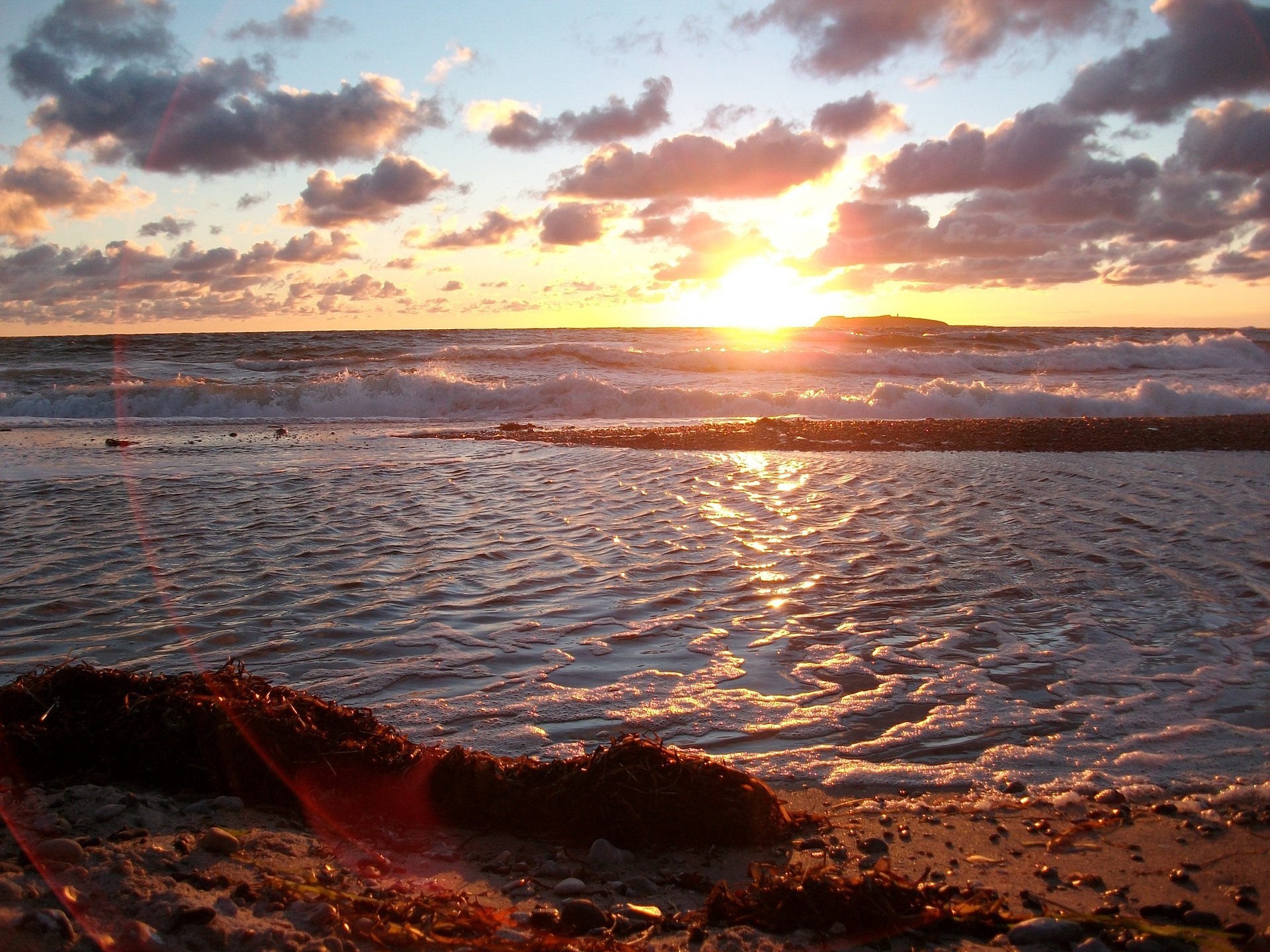 (A beautiful sunset at the beach- just a couple of minutes after heavy rain)
---
Photo gallery
---
---
Content avaiable in other languages
Share your Erasmus Experience in Copenhagen!
If you know Copenhagen as native, traveler or as exchange student... share your opinion on Copenhagen! Rate different characteristics and share your experience.
Add experience →