A semester in Cluj-Napoca
Architecture and landscape

10 / 10 points

Entertainment

10 / 10 points

Culture and customs

10 / 10 points

Transport

10 / 10 points

Gastronomy

10 / 10 points

Prices

10 / 10 points

Party

10 / 10 points

Weather

6 / 10 points
---
Why did I choose to go to Cluj-Napoca for one semester?
For my first Erasmus semester, I wanted to discover something new. Not that I haven't already travelled a lot - at only 18 years old - but I wanted to not only explore a country I have never been to, but also one I knew nothing, or little, about.
I really wanted to explore Eastern Europe, and my choice quickly steered me towards Romania, especially because of the clichés associated with this country (particularly in terms of the Roma population). One of the reasons which led me to choose Romania was also because of the financial side to it, the standard of living is really cheap, at least in comparison with France. I thereafter chose Cluj-Napoca, because I didn't want to study in the capital (it's too big for my liking) and because the city is nonetheless quite big, so I wouldn't get bored. And that's how my Romanian adventure started.
The city
In my opinion, Cluj-Napoca is a really lovely city and moreover, not too big. It's not huge, and you can get to almost all the place of interest on foot. The only real reason I had to take the bus was to go to the two shopping centres - Iulius Mall and Polus Center - situated in the outskirts of the city.
It's rather easy to get your bearings in the centre of Cluj-Napoca, even for me who doesn't have a great sense of direction. In fact, in general the streets are in rather straight lines, which makes it easier to direct myself. In addition, the city has a number of markers which also help, like the statue of the cavalryman Matei Corvin behind the St Mihail church in the "Piata Unirii" square (it's often chosen as a meeting point).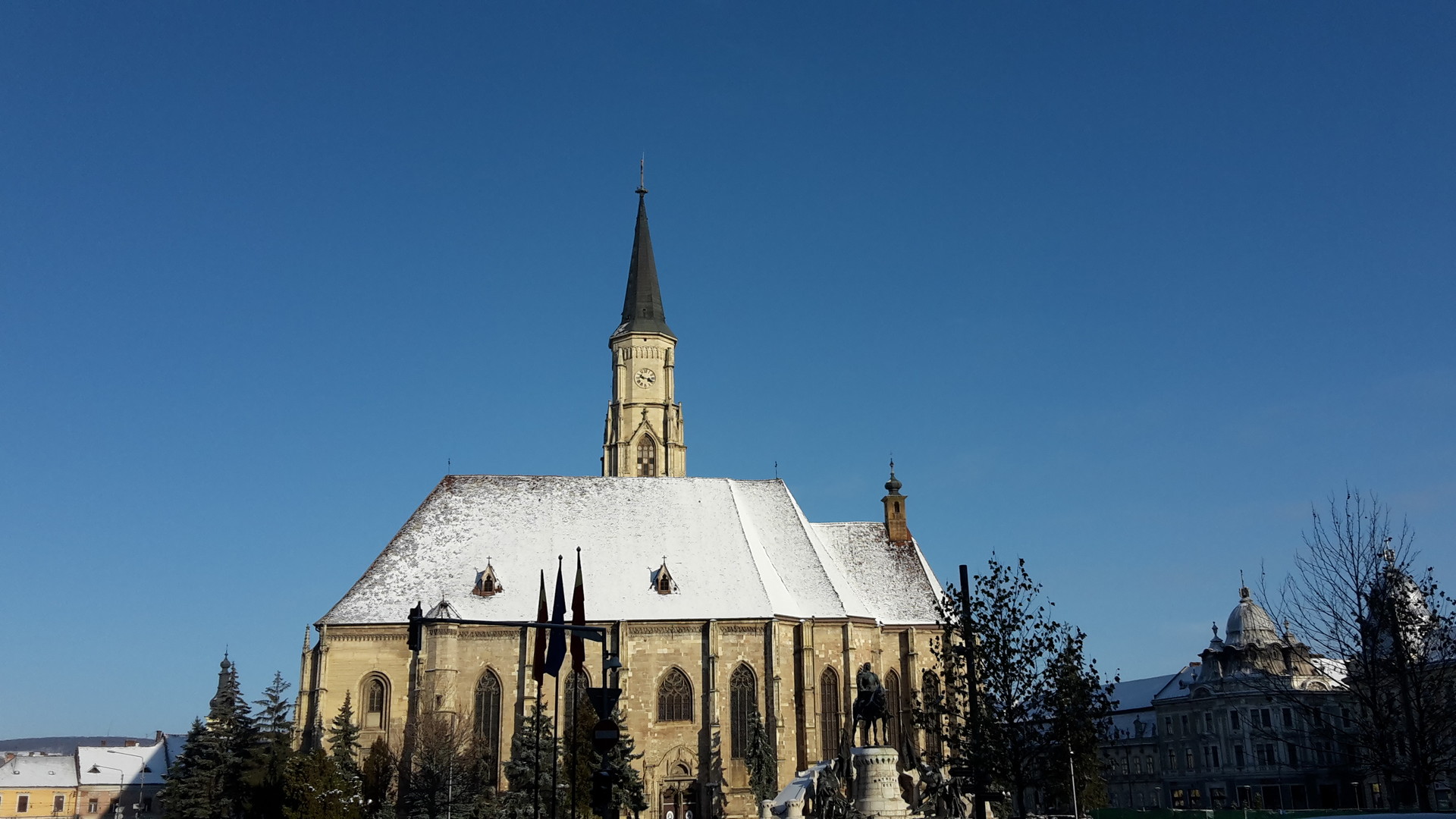 The city of Cluj-Napoca also has many green spaces, especially the popular sports park called "Babes Park", which blossoms into thousands of colours in autumn and where the little lake freezes in winter. To admire the city from high up, it's also possible to go up a hill (the place is called Cetatuia in Romanian), at any time of the day or at night. This little walk gives you a breath-taking view at sunrise and at sunset, if the weather is good.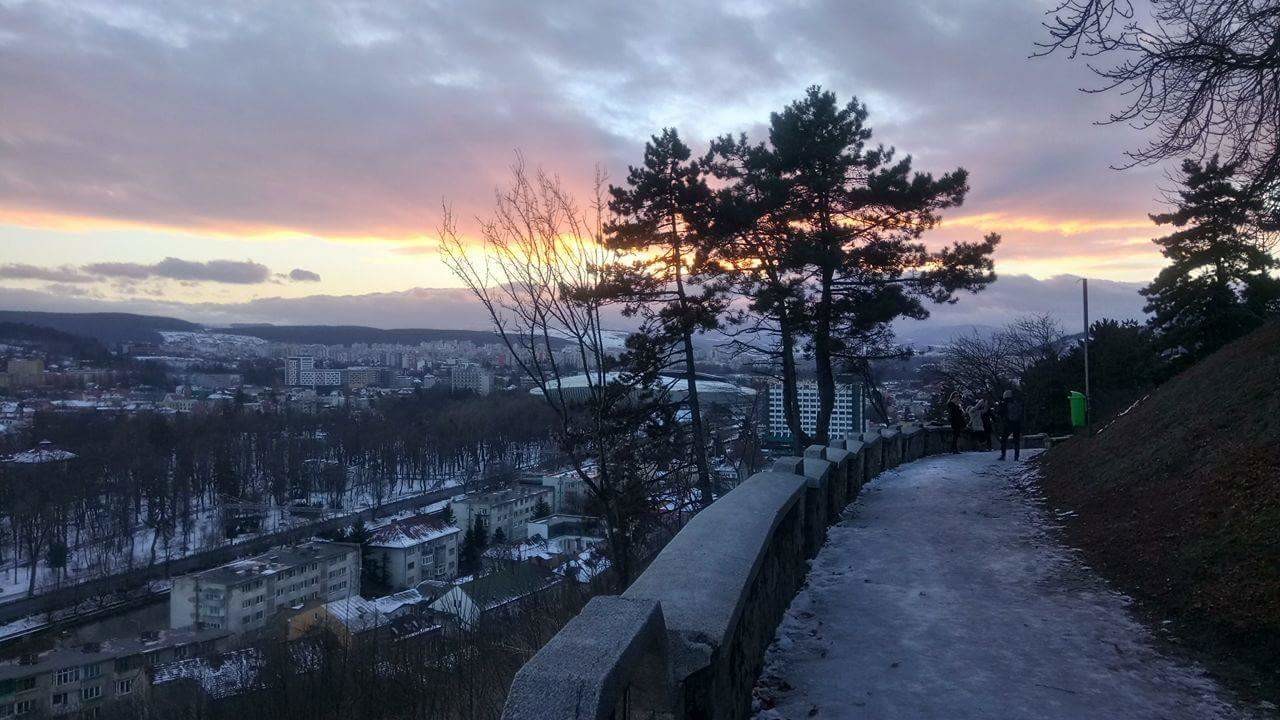 Transport
The city of Cluj-Napoca is rather well connected. Firstly, with regard to arrivals and departures to and from the city, it has its own airport (situated around 30 minutes away from the city), which is a big advantage, you can't deny. In the city itself, it's also easy to get around by bus or by tram (even if you can get to most places daily on foot). In addition, the price of taxis is very reasonable, and I admit having caved and used a taxi to go to the university when it was raining.
The climate
I was in Cluj-Napoca during the winter semester, and even though the temperatures stay rather mild until the beginning of November, they quickly went up after that. In fact, Cluj-Napoca is situated in an area which has a type of continental climate, so when I arrived in September, it was still lovely weather, as the summers are normally hot. The winter however, is particularly cold. From 13th November, to be exact, the snow is already settling in Cluj, and winter has barely even begun. As a matter of fact, the temperatures are very low, the snow doesn't melt, and it turns into a very dangerous big ice rink. If you stay in Cluj in winter, make sure you have good shoes so that you don't slip over (for us that was a miracle). With regard to the temperatures themselves, they dropped to as low as -20 °C the year I was in Cluj-Napoca. I must highlight that I was not ready at all for such low temperatures, but adopting the famous onion technique (by putting on lots and lots of layers of T-shirts, jumpers, tights and trousers), combined with a good pair of gloves, a scarf and a hat: it's possible to survive the cold.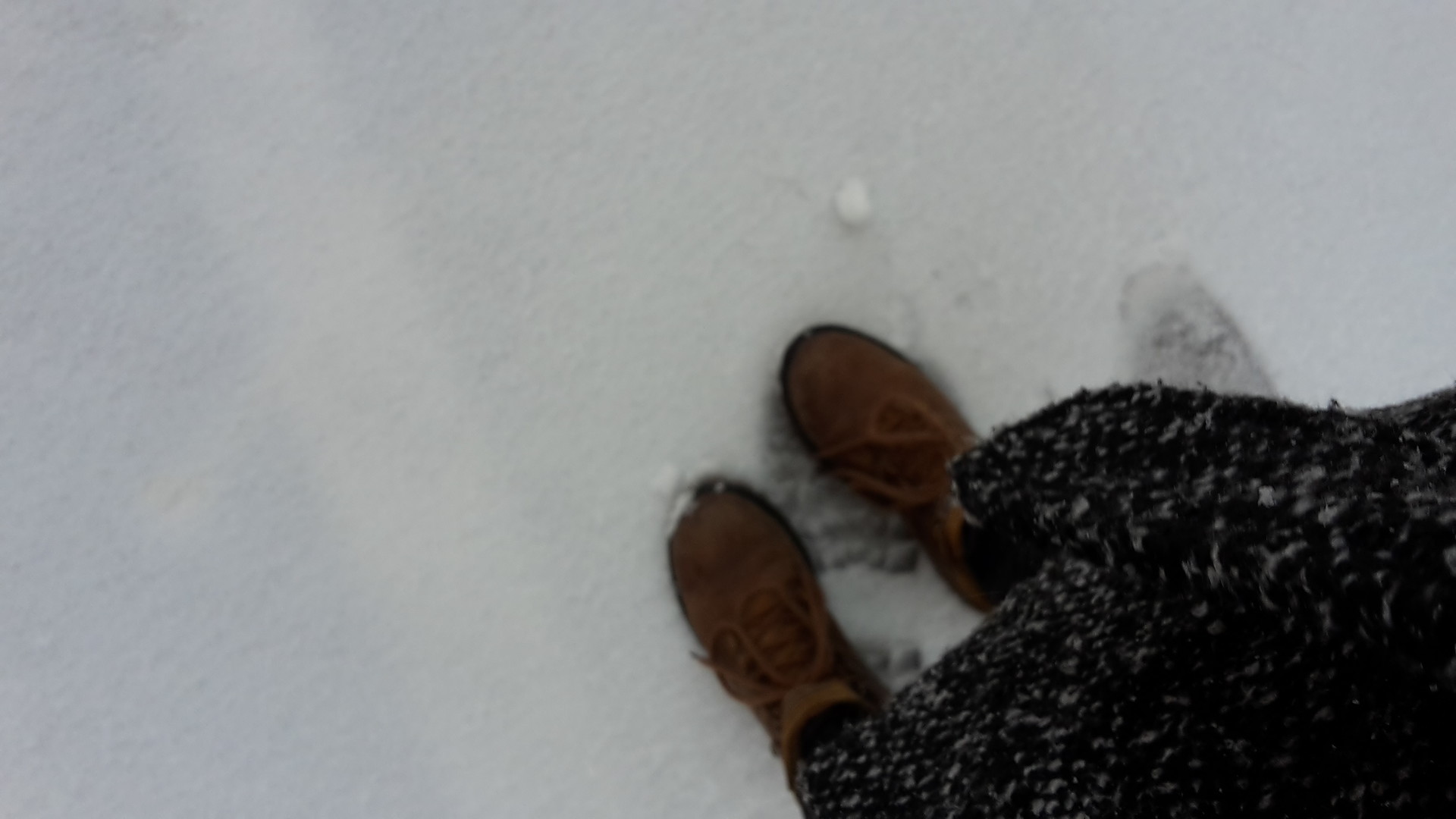 My accommodation
For my semester in Cluj-Napoca, I had the option of asking to stay at one of the residences at the university campus. One of the residences on campus is actually reserved for Erasmus students. The main advantage of this type of accommodation was without a doubt the price: for a shared room, and a bathroom, I paid 170 leu a month (that's around 40 euros, how cheap).
Of course, the room wasn't that big and I had to share it with another student, but we had our own bathroom (with a bathtub and a toilet), and almost everything a student could want to be included in the price, especially a place to put your things, and sheets (which you could take to the laundry once a week), heating, internet, etc. I was also lucky with my roommate, because she had already been living in the apartment for a year, so I didn't need to go out and buy kitchen utensils. Our apartment, situated on the third floor, also had a balcony.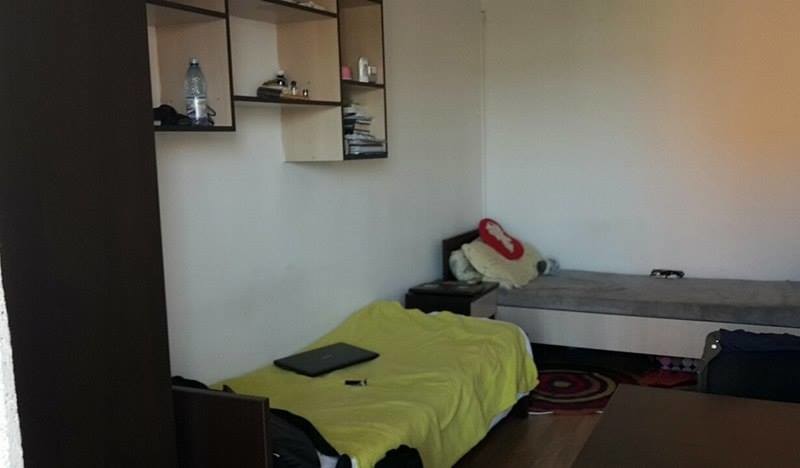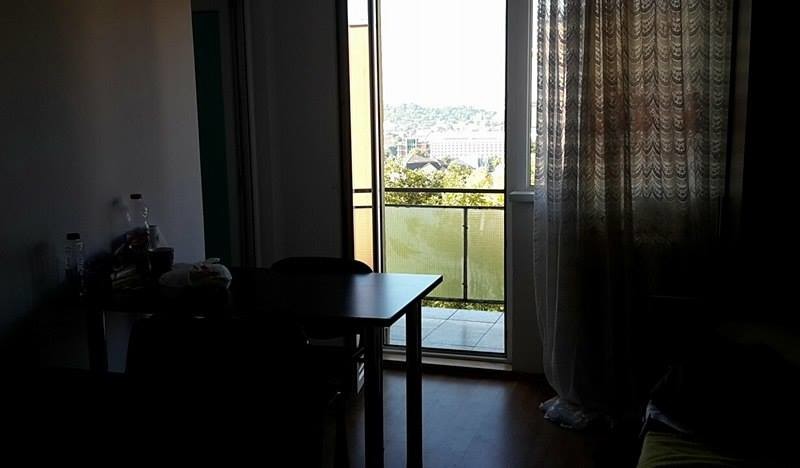 In terms of the kitchen there was a communal kitchen on every floor of the building, and it was the ideal place to hang out and share. But you have to make sure you always carry a lighter on you (even if someone will have probably left one around for you to help yourselves to).
I would recommend choosing the Erasmus residence as the choice of accommodation for a semester to anyone, if lack of privacy with another person doesn't put you off too much (the rooms are never mixed). Not only will you be saving so much money which you can spend on other things, but you'll also have your friends at only a few doors away, who you can meet at any time of day or night.
The Romanian cuisine
The Romanian cuisine can almost be summed up in one word: meat. In fact, meat is used in almost every dish in the traditional Romanian gastronomy. Romania would therefore be a difficult place for vegetarians and vegans, even though there are of course other options. With regard to vegetables, in my experience, the most common vegetables here are cabbages and potatoes. I really love the Romanian world of food, with their comforting dishes which are perfect to eat in winter.
My favourite Romanian dish was something called "sarmale", which is a few bits of meat rolled up in a cabbage leaf (similar to dolma which you can find in Turkish-speaking countries for example).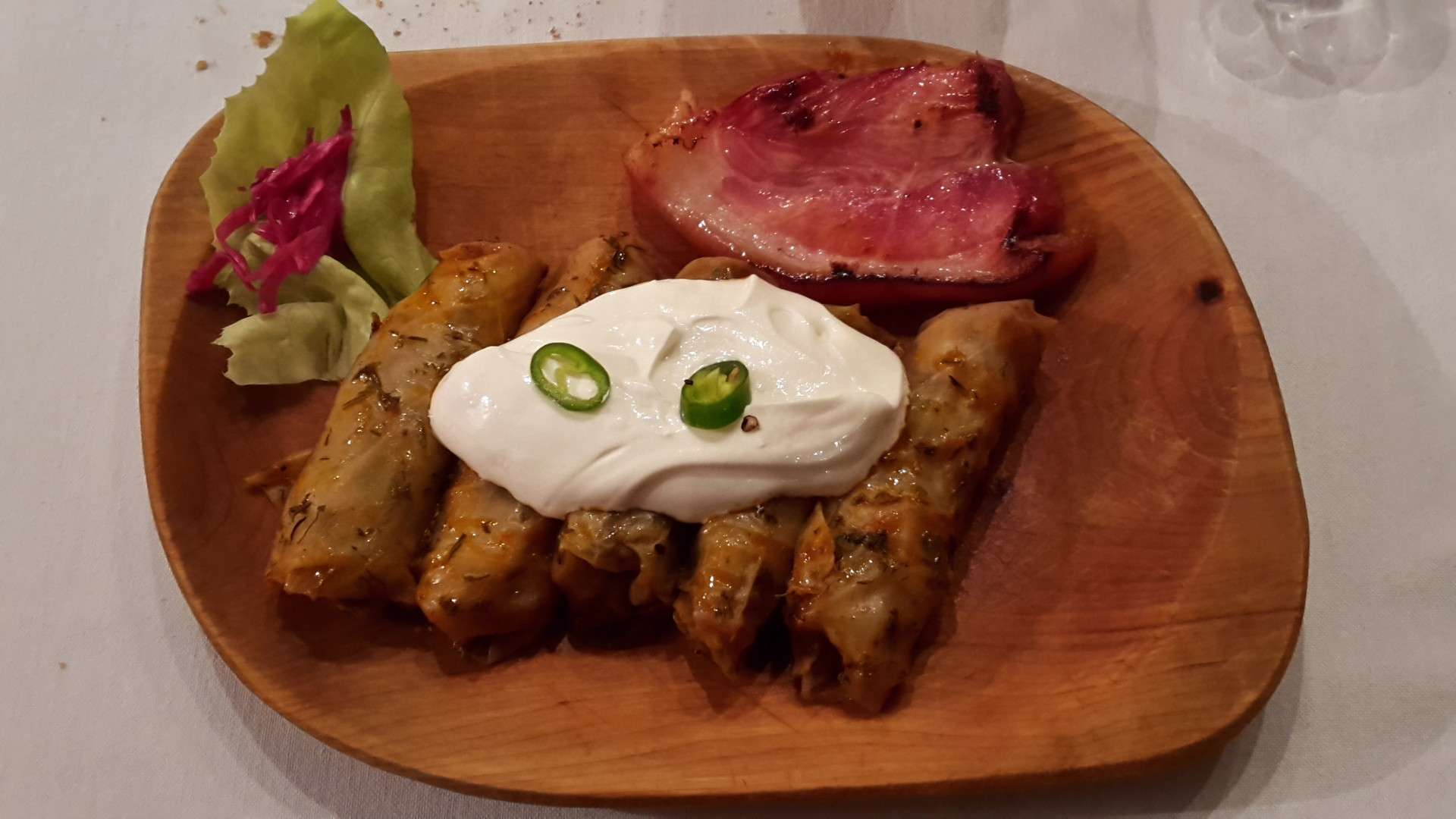 Unfortunately, for me, this dish is almost always served with mămăligă (a cornflour porridge, similar to polenta), but I couldn't swallow more than a spoonful of it.
For those who don't get on with the traditional Romanian cuisine, there are also many other options in Cluj to treat yourself (Italian restaurants, French restaurants, Turkish restaurants, Indian restaurants, etc. ). There are also big western fast-food chains, for those who are interested in that. I think that everyone will find something they like amongst the diverse cuisine Cluj has to offer.
The social life
Cluj-Napoca is a very dynamic city, and it's a student city. Therefore, it has a wide range of events to choose from for those who want to go out and have fun. The Erasmus community is also very important, which makes it easier to integrate. In addition, the ESN (Erasmus Student Network) in Cluj-Napoca puts on many activities and events every week for the Erasmus students. When I arrived in October (like the majority of international students), the ESN organised various Intro Days", so that the students could get to know each other and also get to know the city. There are great evenings organised, as well as tours of the city, an international dinner and even an excursion to Salina Turda, a salt mine situated not far from Cluj-Napoca.
The heart of the city's social life is all along the street which goes to the campus: the Strada Piezișă. This little street is full of restaurants and bars - amongst other things, so it's very lively most of the time. It's in this street where you can go out in the evening and try something called a "Piadina" (a sort of wrap/sandwich which originates from Italy) in one of the small restaurants which are always open. In this street, the bar Booha was my favourite because of the cosy atmosphere and its delicious cocktails.
In the city centre, my favourite bars were the Old Shepherd (rather Irish) for their beers, and the Che Guevara (Latin) for their bright cocktails. In terms of the clubs, I really liked Euphoria, situated at the bottom end of campus, and Caro Club, in the centre. I was also late to discover Janis Club, which is also cool. One of the biggest advantages of the nightlife in Cluj when you're a student, is probably the price of alcohol, which is cheaper than in France, and it surely contributes to making unforgettable memories.
The language
Romanian is a Latin language, just like French and Italian, Spanish and Portuguese. Even though it has some influence from Slavonic and Turkish languages, it's perfectly possible to learn a few basic sentences in Romanian to get by. In the same way, even though Romanian has a few different letters to French, the alphabet is the same, which helps a great deal in day-to-day life. If you're rather motivated, the university even offers Romanian courses to Erasmus students, which actually counts for 5 ECTS credits.
My advice to those who wish to study in Cluj-Napoca
Don't hesitate, just go for it! There's so much to discover in Romania. It's such a culturally rich country. Don't let the clichés going around about this country put you off, and come to find out the truth yourself, you'll see it's not like that at all. As a bonus, thanks to the relatively cheap cost of living, you can really make the most of your Erasmus stay, without having to worry too much about money.
Personally, I can't wait to go back to Romania, and to find out a little more about it.
---
Photo gallery
---
---
Content available in other languages
Share your Erasmus Experience in Cluj-Napoca!
If you know Cluj-Napoca as native, traveler or as exchange student... share your opinion on Cluj-Napoca! Rate different characteristics and share your experience.
Add experience →