6 questions about Cluj
Architecture and landscape

10 / 10 points

Entertainment

10 / 10 points

Culture and customs

8 / 10 points

Transport

8 / 10 points

Gastronomy

8 / 10 points

Prices

10 / 10 points

Party

10 / 10 points

Weather

10 / 10 points
---
Hello all! Today I'm trying to answer 6 basic questions about living in Cluj.
1) What is like to live in Cluj? Would You recommend it? What is the city like?
Living in Cluj has changed among the years which passed. Still, Cluj needs to develop and mostly the mentality needs to catch up with the changes done on the outside. I can honestly admit, that the city has progressed very much lately. The image of the city is totally different than before, and Cluj is more respected by the country and by the whole Europe than it ever was. The city-image, infrastructure, logistics, politics, work-market and education fields underwent several changes in a positive way. Cluj evolved, and life-quality definitely became higher. Cluj has opened up, and it's more multicultural than ever. Influences from West and East had a huge impact in the evolution of the city, and the happiest thing about it, it's that is still 'under construction', Cluj wants to reach more, and become more, day by day. A great amount of money from the EU helped Cluj flourishing mostly in the field of education, youth and work-market.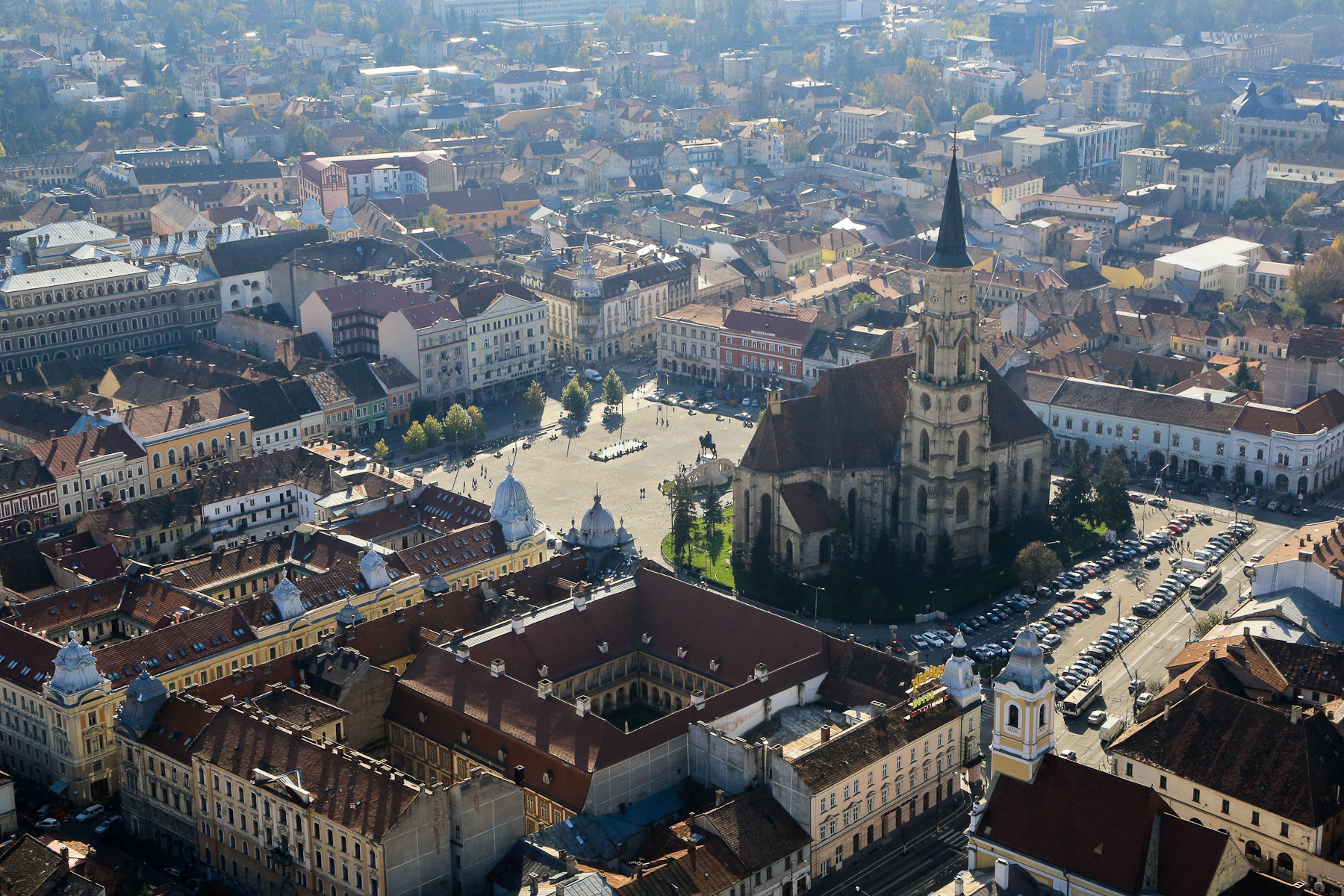 If I were asked whether I recommend living in Cluj a few years ago, I would say, No!, but right now I think it can be given a chance.
Cluj is a quite small city, and population is not proportional with the size of the city. Thus, Cluj is a bit crowded, and it's not prepared to handle this problem. Cluj was suddenly 'filled' with students, people from the close villages and cities, in the hope of better workplaces and better study opportunities. The city could not catch up with the massive flow of new inhabitants, but it's under progression. When I say it, that Cluj is not prepared for handling too much people, I refer to the fact, that there are not enough parks, swimming pools, car parking zones, or that there are few bands on the street for cars, and traffic is horrible. However, the presence of people can induces thinking about how solutions can be found, and how to make things work better, how to manage to make everyone satisfied with Cluj. So, in fact the population raising process was a positive intrigue for Cluj, by triggering the city to progress.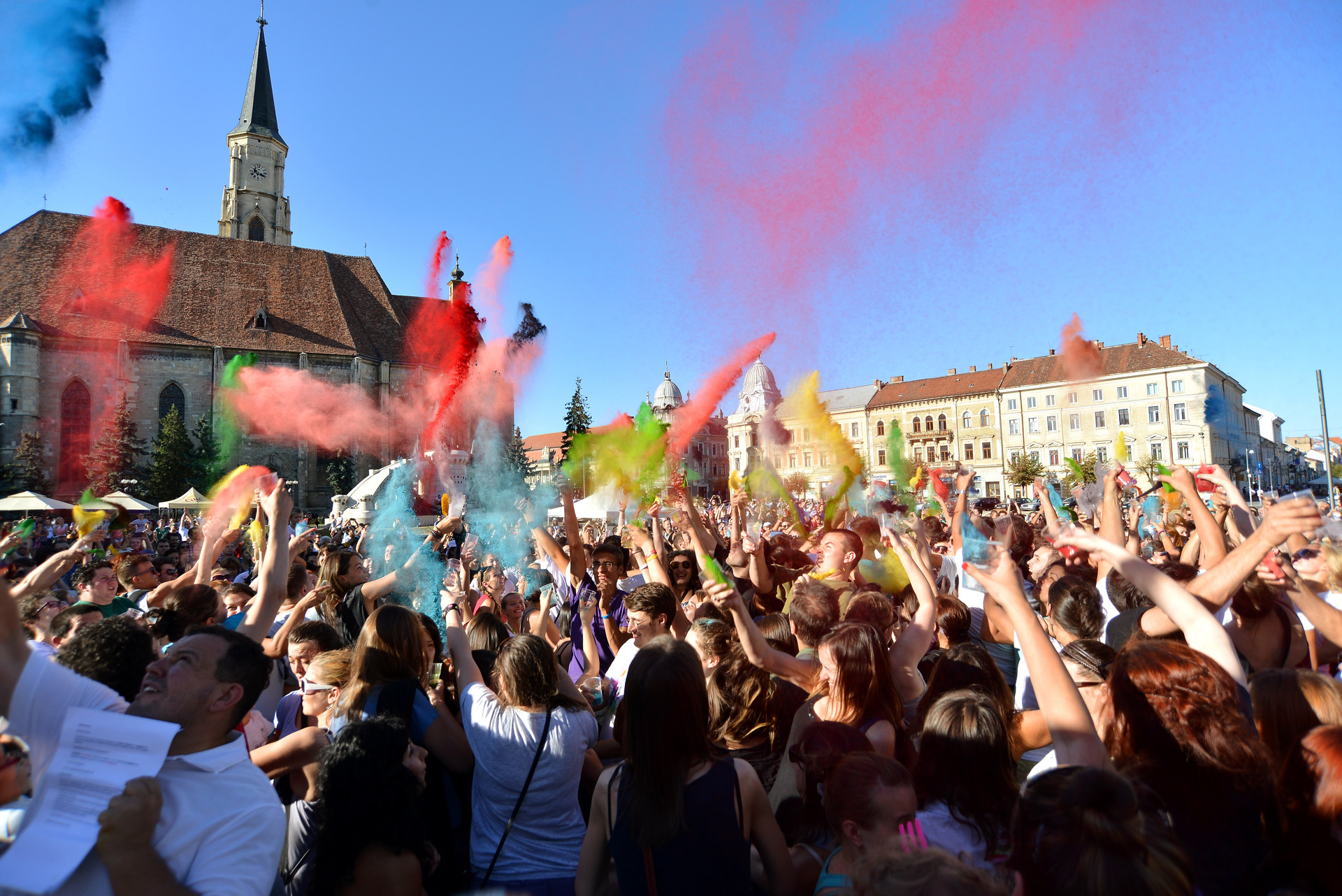 Cluj is not a metropolitan city. It fortunately remained beautiful, old, and traditional, unchanged. Old buildings were not demolished, and it were not transformed into a steel-glass 'paradise'.
Cluj's construction is simple. There is a beautiful, classical, monumental main square and old town part, located right in the middle of the city. This is the 'hot-spot' for locals, due to the fact that the most important things happen in the city-centre. Here can be found the universities, pubs, shops, restaurants, the market square, etc. But here You can also take a historical tour around old churches, bastions walking on cobble-stones. Consequently than, we can admit that Cluj's city centre is the place where the essential things happen. The other parts of the city consist of houses and flats, parks and hills, plazas and supermarkets. And let's not forget about 'Someş' river, which beautifully flows through the city.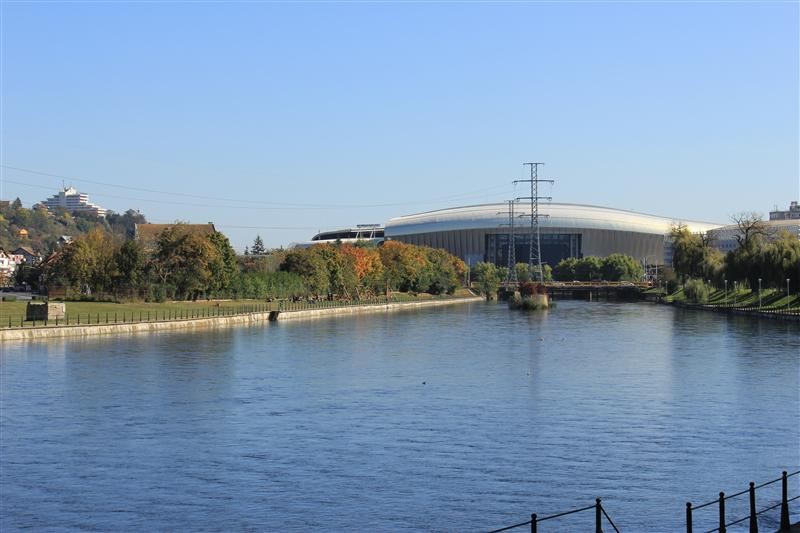 2) What is the student lifestyle like in Cluj?
Grrrrrrrrreeeeeeeat! Last year Cluj won European Union's 'Capital of Youth' title. So Cluj is not a piece of cake, but a Canaan considering student life. Studying at Cluj is not my cup of tea, because I have never studied there, but students are always in focus if we think about leisure-time activities, and student life generally. Students get discounts on means of public transportation passes, train tickets, at sport centres, at cafés, at the cinema, theatres, and festivals. Cluj supports its students as much as it can. General activities done by students are discovering the city-centre, hiking, doing sport: swimming, attending dance courses, yoga, fitness, ballgames, attending pub-quiz nights, going out partying, etc. But there are some events for students held in Cluj, which are unique Worldwide: UNTOLD Festival, Electric Castle Festival, Jazz in the Park, Transylvanian International Film Festival, Street-Food Festival, Rooftop parties, Transylvanian International Music and Art Festival. These events were held in 2015 while Cluj was benefiting of funds from the EU, but several events are going to be organized in the future! Student lifestyle is noisy and busy in Cluj. No one can complain of boredom.
3) How much does it cost to live in Cluj?
It depends on where do you live (which district), how much do You have to travel to Your uni or workplace, if You're renting an appartment, or living in a dorm, if You are living alone or sharing a room with flatmates or roommates, if You're eating any kind of food, or You have food allergies or intollerance, what Your hobbies are, how much do You afford to spend on culture, entertainment, parties etc. But I will do a short calculation below.
Renting an appartment has the advantage of being 100% free, on Your own, peaceful life, and You can do whatever You want. The disadvantage is that You're isolated from other people, and there's a tendency of interiorization. And of course it costs ten times more than a dorm.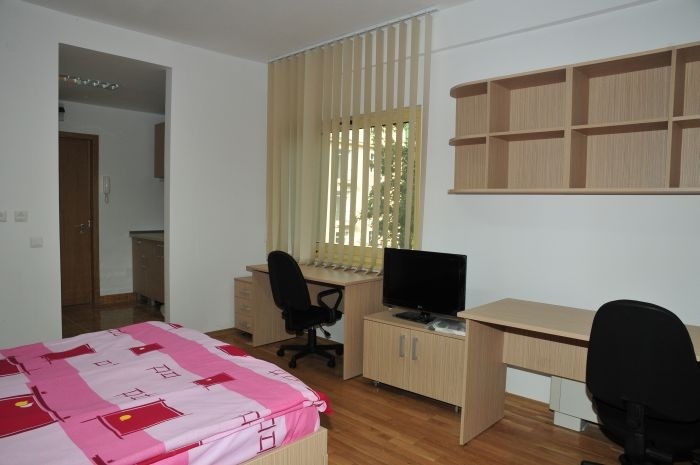 Living in a dorm has the advantage of being in centre of attention, getting to know other people, new cultures, You can receive help, if You have a problem. The price for a month in a dorm is much more less than a flat. There are 3, 4 bedded, 2 bedded and also single rooms as well, so if You have lucky and Your roomate(s) are good guys, You won't have many difficulties. Many dorms have fitness rooms, sport fields, gardens, so this is another advantage. But living in a dorm gives negative points as well: You always have to adapt to others, maybe wait some minutes till the oven it's free and the previous resident finished baking his food and so on. But there's higher community fever.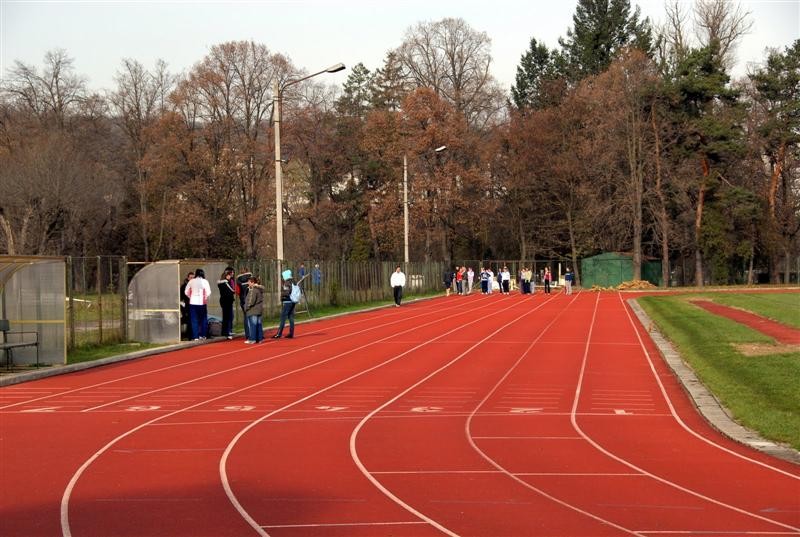 One room in an apartment costs between 150-250 EUR/month when a dorm-room costs less than 100 EUR/month (25-70). The most popular dorms in Cluj are listed aqui. A month pass for public transportation costs 6 EUR, and food approximately 10 EUR/day. Fun and leisure time activities are around 50-60 EUR/month.
Sorry if I didn't write correct amounts and proportions, but I've tried my best.
4) What places would you recommend visiting in Cluj?
Parc Cetatuia
Parcul Mare (Central Parc)
Botanical Garden
Old town
St. Michael church
Banffy palace
Tailor's Bastion
Str. Mihail Kogalniceanu church
Hungarian National Theatre and State Opera
Romanian State Theatre
Cluj Arena
Babes Parc
Orthodox Cathedral
Casino in Central Parc
Zoology Museum
New York Hotel
Museum of Pharmacy
Museum of History
Museum of Arts
Potaissa Street
Mathias Corvinus's birth-house and statue
Eroilor Street
Iulius Parc
Polus Center and Iulius Mall
Hoia forest for mountain biking and hiking
Aquina and Sun Garden Resort for wellness and relaxation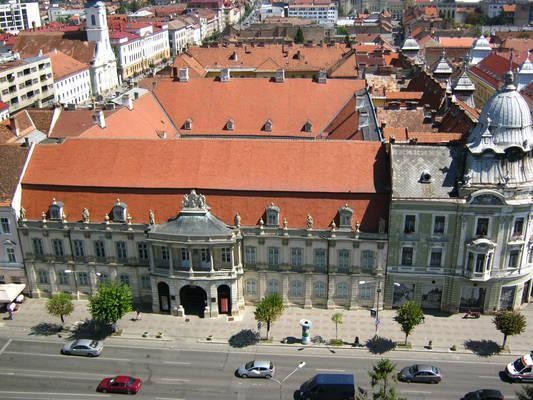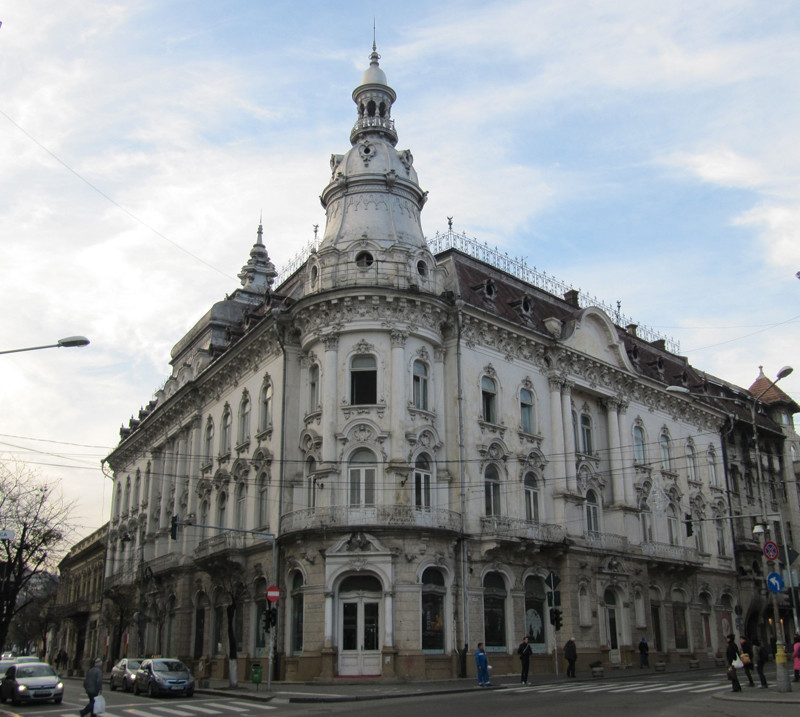 Must sees! Nearby Cluj:
Tarnita (water catchment)
Cojocna (salt lakes)
Turda (salt mine)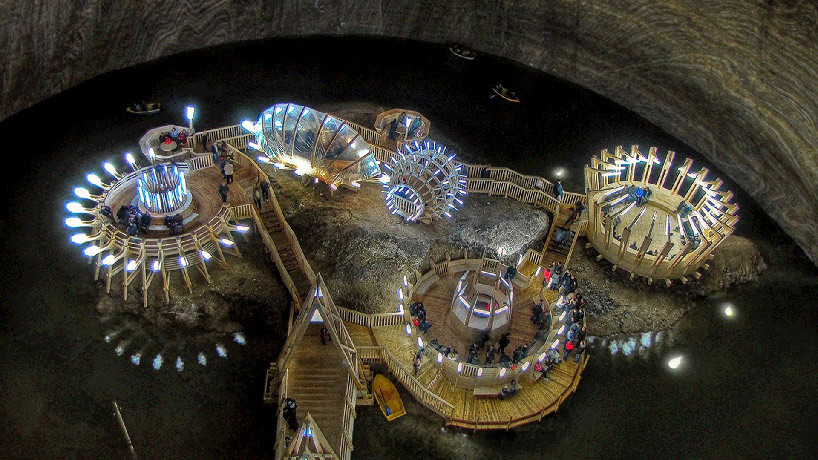 5) What is food like in Cluj? What are Your favourit dishes?
University canteens are perfect suitable for having a balanced diet, eating warm-food, veggies and fruits. Cluj is also full of bakeries and sandwich bars like: Tramvay, People pub, Petru, Gigi and many more, but here are some tips for those who want to experience some more:
Vegan: Samsara Foodhouse
Soup: Souper
Restaurants: Grappa, Marty
Indian food: Indigo restaurant
Japanese: Nobori, Tokyo restaurant
Chinese: Shanghai restaurant, Yummy Yang
Traditional Romanian dishes: Roata, Agape (more like a canteen), Casa Vikingilor, Hanul Dacilor, Casa Ardeleana, Casa Piratilor, Culina Nostra, Sinaia restaurant
Italian food: Il Milanese, La Piazzetta, Pizzeria New Croco
Junk-food: Mc Donald's, KFC, gyros and kebab places
Desserts: Donuterie (donuts), Olympos, Nicola, Dana, Pralina, Mozart (pastry-shops)
6) Is the nightlife good in Cluj? Where is good to go?
Nightlife is perfect in Cluj.
My favourit bars, pubs and cafés are:
SHTO
High-life
Shadow
Irish Music Pub
Klausen
The Soviet
Brick
L'atelier
Tauffer House
Touluse
Insomnia
People Pub
Atmosphera
Submarine
Sahara
Samsara Teahouse
Caro Vintage Club
Old Shepherd
Clubs for partying are the following:
After Eight Cocktail Club, Diesel Club, NOA, Bamboo, Obsession, Kharma, The One, Caro Vintage Club (dress code- elegant/fancy places)
Club Midi, Boiler (drum n bass lovers)
Euphoria Music Hall, PHI 18, Janis, Irish Music Pub, Flying circus, My Way, Bulgakov (simple parties for students with good music /a bit ruin-pub like/)
I hope You will find further informations on Google, for Your further questions. If not, You can ask me anything. I hope You received a general knowledge about Cluj, and thanks for reading, Dora
(If You're interested about more writings of mine, click here )
---
Photo gallery
---
---
Content available in other languages
Share your Erasmus Experience in Cluj-Napoca!
If you know Cluj-Napoca as native, traveler or as exchange student... share your opinion on Cluj-Napoca! Rate different characteristics and share your experience.
Add experience →