Gazpacho: traditional, easy and quick dish
Hello again, everyone! Today's post is going to be something different. Short and sweet, but also made with lots of effort. It is about gazpacho, a typical and traditional Spanish meal, a dish that everyone should know how to make.
Introduction
Now that I live in Bratislava, a city that is scorchingly hot in the summer, I need to hydrate and refresh myself constantly. In Spain, I always had gazpacho and here, it is something that I miss. Sometimes, the supermarket Lidl (which, in my opinion, is one of the best ones in Bratislava in terms of quality, but not in variety) has products from Spain for a whole week, which is known as "the Spanish week". During these weeks, there are products available such as gazpacho, Serrano ham, tomato frito sauce and we stock up with everything that we can. We do our food shops in almost industrial sizes (last time we bought 12 cartons of gazpacho). The problem is that we don't have enough self control and we always eat it all really quickly. All good things must come to an end.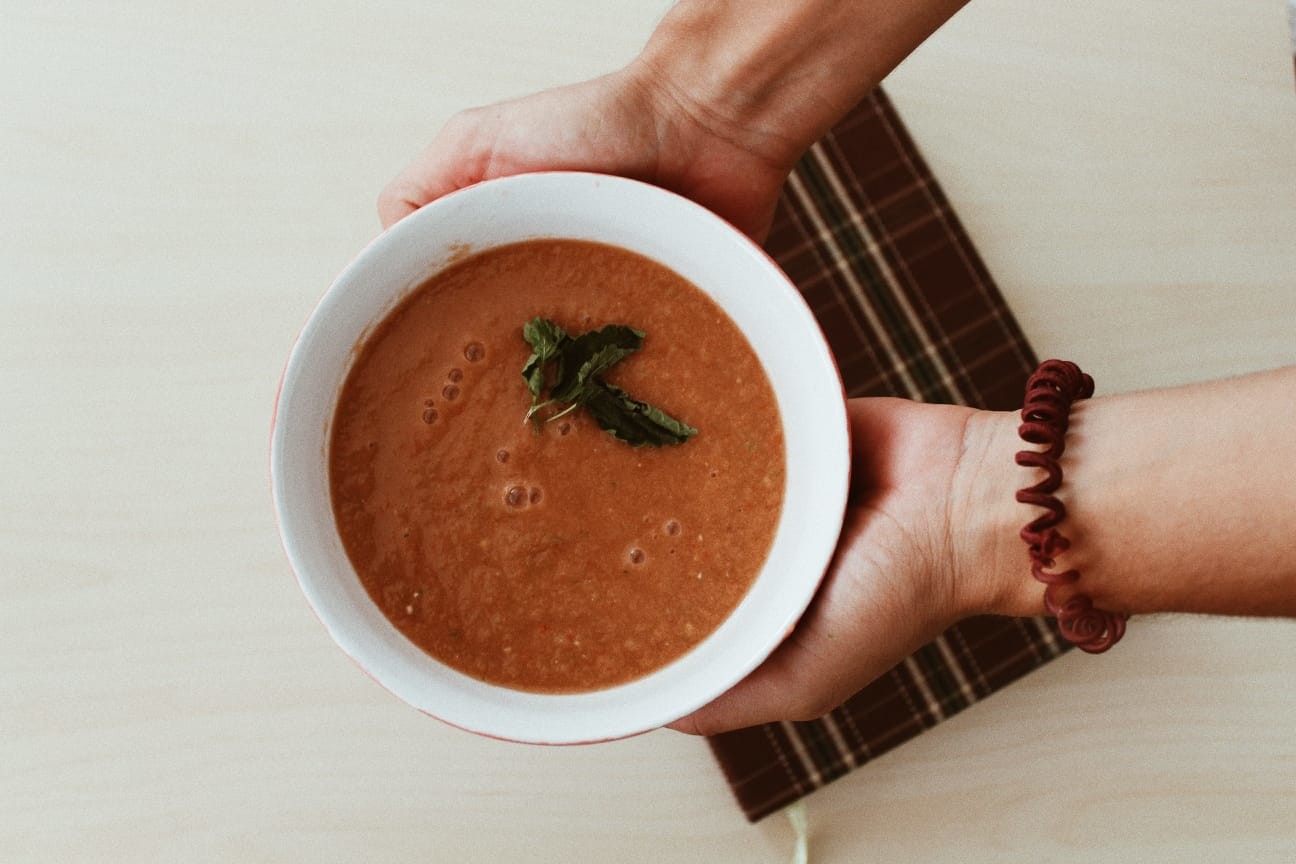 Thus, it has almost been an obligation to make homemade gazpacho. It isn't as tasty as the one from the carton (and it doesn't have such an intense red colour either), I have to admit, but with lots of practice, it turns out better each time. Every time I make it, I improve the recipe and thus it ends up being a lot tastier. So here, I will give you this super easy recipe to make gazpacho and to serve it well chilled, as we Spaniards like it.
If you are on Erasmus, it is a great dish to show your flatmates from the rest of Europe a typical Spanish, or more specifically Andalusian, dish. Also, it is super easy to make.
Ingredients
Before anything, I should say that this recipe is for two people and as a starter, not as a main course, of course. So, the ingredients are:
3 tomatoes
A red pepper
A green pepper
1 small garlic clove
A quarter of a small onion
A quarter of a cucumber
Extra virgin olive oil
A pinch of salt
I will warn you that this recipe will give you quite a spicy gazpacho, leaving you with a scratchy throat. I like it like this, but if you are really sensitive, you can add half of the garlic that it says in the recipe, as well as the onion and the olive oil. Oh, and don't add the green pepper! It is a question of trying, playing with the ingredients and finding for yourself what your ideal gazpacho is - with the flavour and texture that you like the most.
Steps:
The best part: consists of putting all the ingredients in the blender (mine is not the most sophisticated or professional one but hey, you have to save money) and press the button. So students are now not going to have the excuse of "it's that I don't have time to cook. "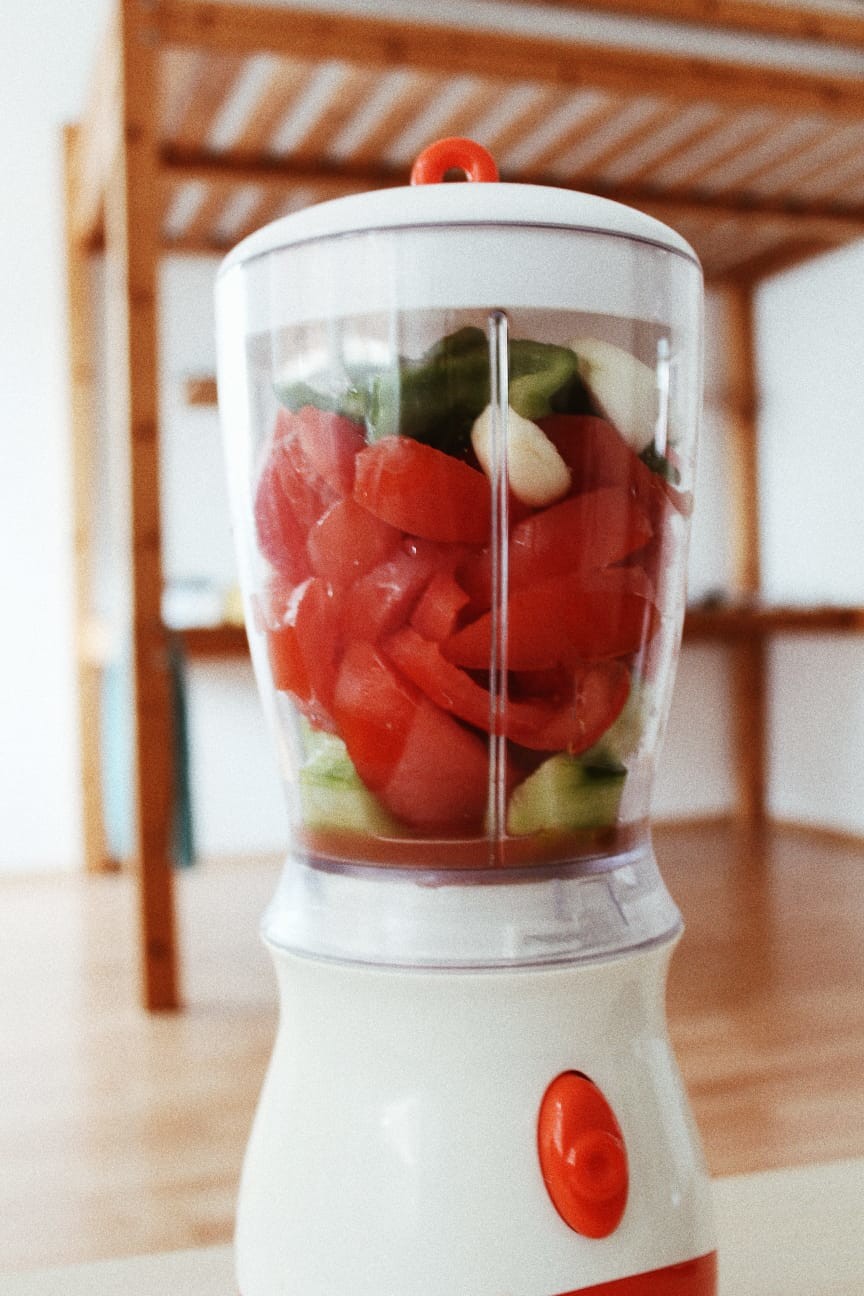 I leave it to blend for a minute, approximately, because I don't like it with chunks and... there you have it! Ready to eat. I like it well chilled, so remember that the ingredients should have been in the fridge beforehand. If not, you can leave the gazpacho in the fridge for approximately half an hour. The gazpacho lasts well so you can have it in the fridge for several days and have it as a starter with every meal. I personally love it, I also have it in winter because it is super healthy and it is delicious.
And here you have the result! (Thanks to my friend Paloma who was the hand model in the photographs).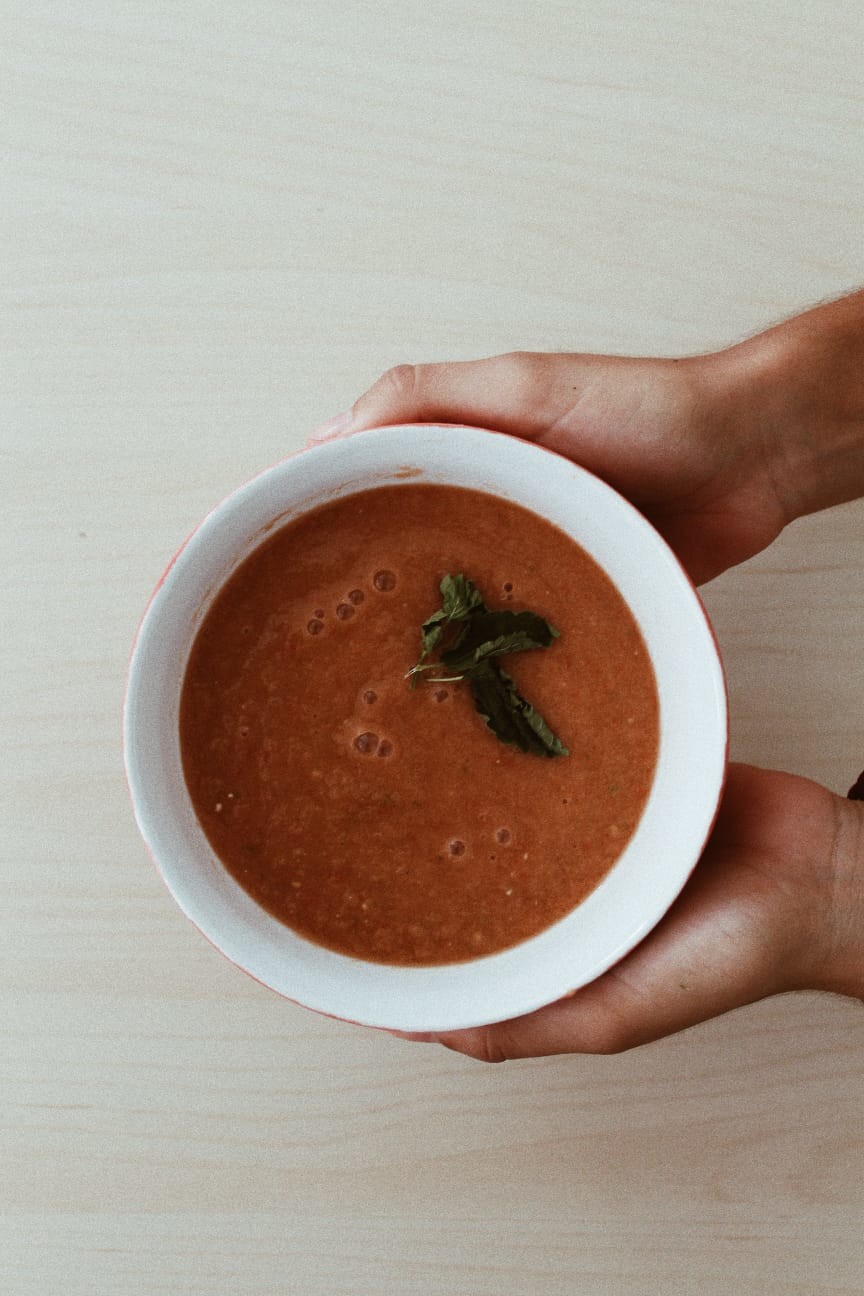 And here is the post for today, I hope that you liked it and I hope to bring more food recipes to this blog in the future. I have just discovered that I love coming up new ideas for food combinations, which I didn't realise before. Well, tell me in the comments how you make gazpacho or if you add any secret ingredients. See you soon and thank you for reading my blog again! Cheers.
---
Photo gallery
---
---
Content available in other languages
Want to have your own Erasmus blog?
If you are experiencing living abroad, you're an avid traveller or want to promote the city where you live... create your own blog and share your adventures!
I want to create my Erasmus blog! →