Caramelized apple cake
As the wintery days go by and slowly but surely spring starts to knock on the door, why not try to take a walk down at the local market to pick up some nice green apples? Well, me and my friend went to a local supermarket to get some green apples (with a very reasonable price, 0. 99 € a kilo) and all the other necessary items to make the cake that will outshine above all cakes: caramelized apple cake. Nice and easy but with a deep and wonderful taste, this delight will just drive you nuts to the point that you will decide to make it again even before you have finished the one you have already prepared. The special occasion why me and my friend decided to make this cake was because of my birthday, which seemed to us like the perfect excuse to spoil ourselves a bit more than the usual. Though I must say that the spoiling ourselves took a second turn when my friend proposed to put whipped cream on top of this exquisite cake. Little did I know that I was in for a real treat... So here it goes with the recipe that I used to make my version of caramelized apple cake.
Ingredients
5 green apples;
250gr butter;
250gr white sugar;
5 eggs;
250gr flour;
1 tea spoon cinnamon;
1 tea spoon baking powder.
Procedure
I suggest you follow these steps one by one at least if you are a beginner baker:
Peel all five apples and clean them up by getting rid of the seeds and then dice the apples without worrying too much about their size.
On a dry pan put 50gr of the white sugar and let it caramelize. Keep an eye on it as it can quickly turn dark and burnt. You don't want that to happen!
When the sugar dissolves completely, add the diced apples and stir them well making sure that the apples are well coated with the caramelized sugar and turn golden brown, but careful not to cook them completely (they will finish to cook in the oven).
Finish off with some butter and cinnamon on top of the caramelized apples for an extra depth in flavor. The result should look like this: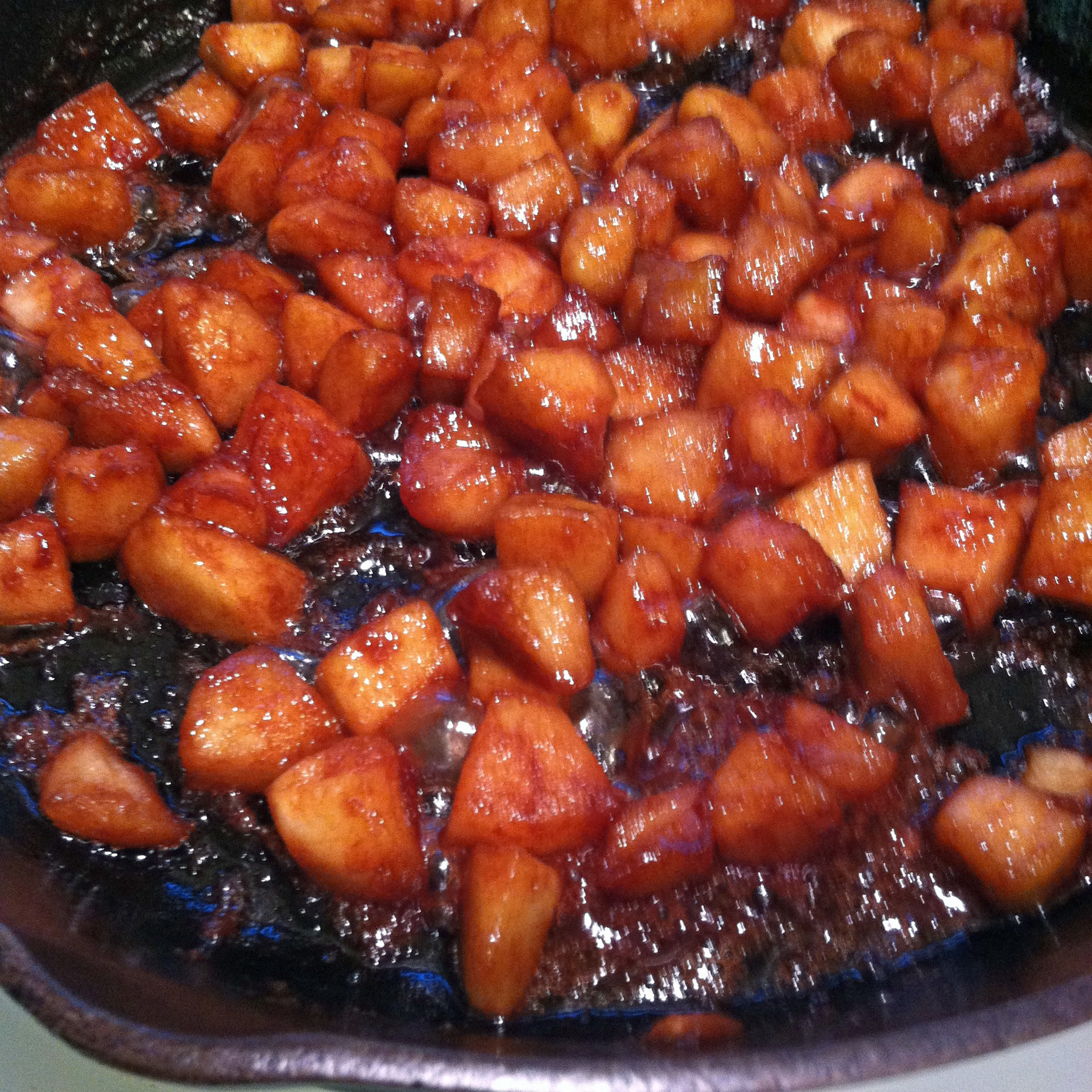 Carmelized but still crunchy apples!
For the cake mix follow these steps:
Soften the butter in the microwave for a couple of minutes.
Add in the 200gr of white sugar and mix it up so it turns homogeneous and creamy.
Add in five whole eggs (both yolk and white) and mix for a good while, until you have a nice mixture well combined together - make sure your eggs are at room temperature and not straight from the fridge because the cold eggs will make lumps solidifying the butter.
At this point add in the 250gr of flour, the cinnamon and the baking powder and mix well until you see that everything in the cake mix has become one.
At last add the caramelized apples to the cake mix making sure that the apples have cooled down and give it a good final mix.
Take a 18/20cm baking tin and cover it with generous amount of butter so your cake won't stick to the bottom nor to the sides of the tin.
Bake in a preheated oven at 170 until surface becomes golden brown and making sure a knife comes out clean as you poke your cake from the surface. Depending on the type of oven you have the cooking time shouldn't take more than 45 minutes.
The cake should be well cooked with a golden brown surface just like this two cakes: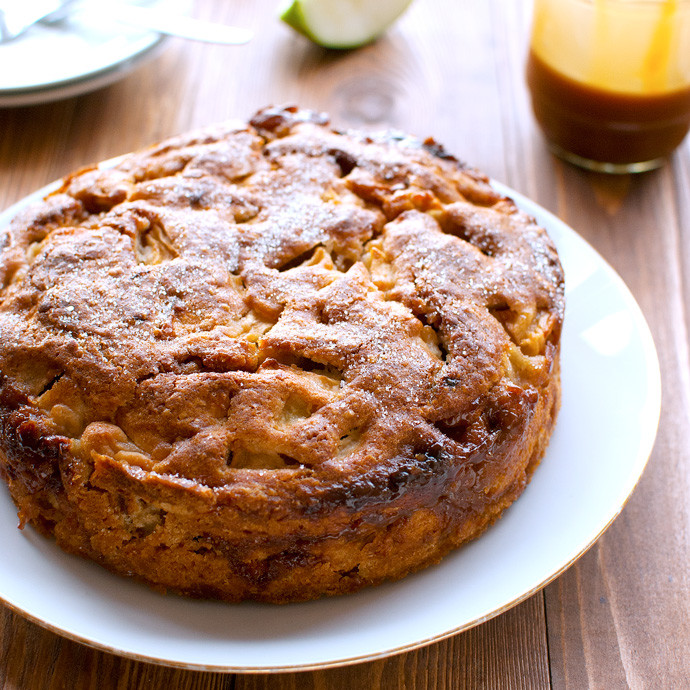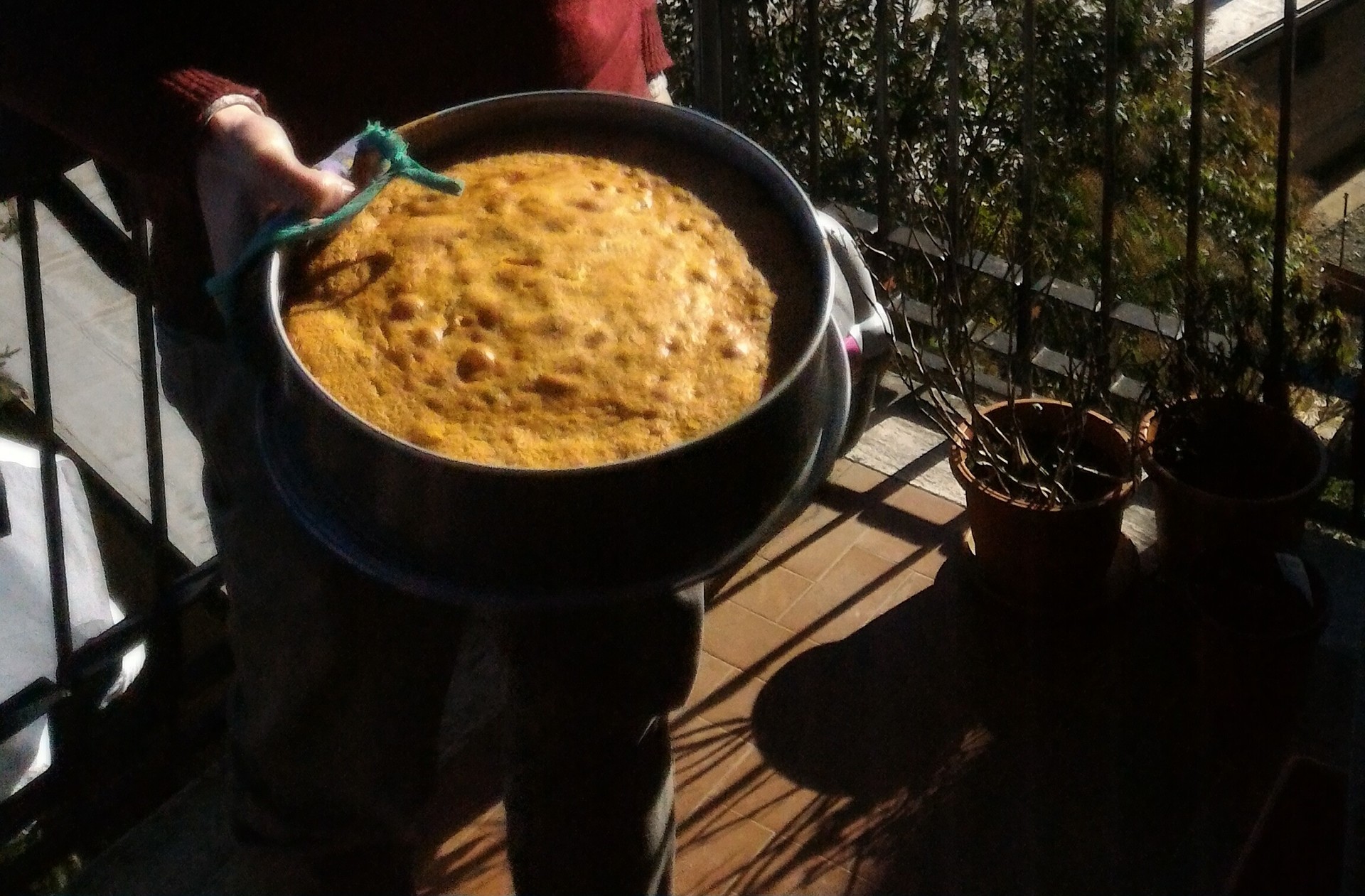 This cake is perfect in the winter or whenever it is really cold outside because once your cake is ready you can take it out from the oven and put it outside to rest, just like in the picture were you can see my friend proudly holding the cake (do not be fooled by the sun rays in this picture because even if it doesn't look like it, there was a cold cutting age wind on the balcony).
One thing I would like to point out is the fact that (unlike my friend whom was skeptical) you shouldn't be scared of the amount of butter you need to make this four ingredient cake. I can assure you it's worth the taste and why not every now and then it is okay to have some of that goodness and share it with loved ones.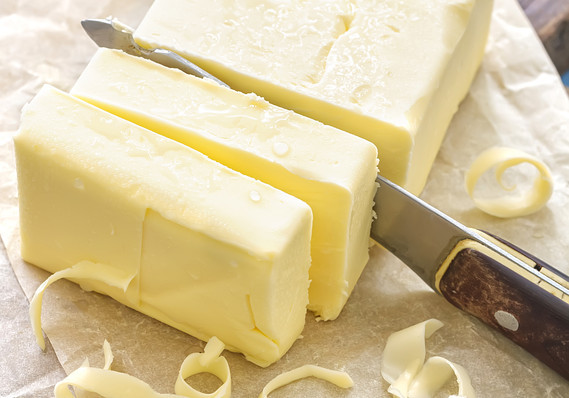 With this amazing cake I suggest you make a make a warm cup of tea that compliments the flavours of this dessert: black tea infused with cardamoms and cloves is a good choice. If the idea of having a piece of cake and a warm cup of tea makes you feel like a granny, you can try accompanying this cake with a liquor made of orange zest or my favorite mint liquor, which is perfect because it gives you that freshness, leaving you with the desire to take one more bite and one more sip... An ongoing of feel good moments filled with comfort and relaxation.
About the pictures...
I would love to put my own pictures of this caramelized apple cake I made (yesterday to be precise) but unfortunately I took only a couple of pictures and as you can imagine there wasn't even time to think about pictures... The pieces were eaten one after another, with no mercy by me and my friends who were there to share this delight with me.
P. S. If anybody has any idea on how to improve this recipe feel free to comment down below. It would be nice to have a feed back.
Until next time, cheers to you all!
---
Photo gallery
---
---
Content available in other languages
Want to have your own Erasmus blog?
If you are experiencing living abroad, you're an avid traveller or want to promote the city where you live... create your own blog and share your adventures!
I want to create my Erasmus blog! →