A Weekend in Berlin
Architecture and landscape

8 / 10 points

Entertainment

8 / 10 points

Culture and customs

8 / 10 points

Transport

10 / 10 points

Gastronomy

4 / 10 points

Prices

6 / 10 points

Party

10 / 10 points

Weather

6 / 10 points
---
Berlin. The German capital. This experience is going to be different to the others, since I'm going to write it in a more personal way and tell you about the weekend I spent there. I'll also mention other places to visit, since I only spent two to three days there, and of course didn't have time to see everything.
I got the train from Duisburg to Dortmund, since with my semester ticket from the university I can travel for free throughout the whole region, and then got a direct bus to Berlin from there. The tickets were much cheaper than what I was used to paying in Spain to travel similar distances. A return journey (six and a half hours) only cost me 20 euros.
I went on the trip to visit a friend of mine who I'd met on my Erasmus exchange in Sweden. Another Erasmus friend was also coming for the same days I'd be there for. It was a reunion weekend!
As soon as we got to their house, we had dinner with their family and went out to the city centre, to Alexanderplatz. We walked around the area, which is a square next to the huge TV tower, and through the park next to the St Marienkirche.
We started off the night in club Carambar, which is where my friend works as a DJ. We went early so that he'd have time to prepare his equipment. It's a good place to go to, as it's a bar cum restaurant on the first floor, and from nine onwards, the second floor opens as a club. It's not very big, but there always seems to be enough space for everyone. Every now and then, they put on a sort of 'show' involving setting fire to the tables, which is really odd.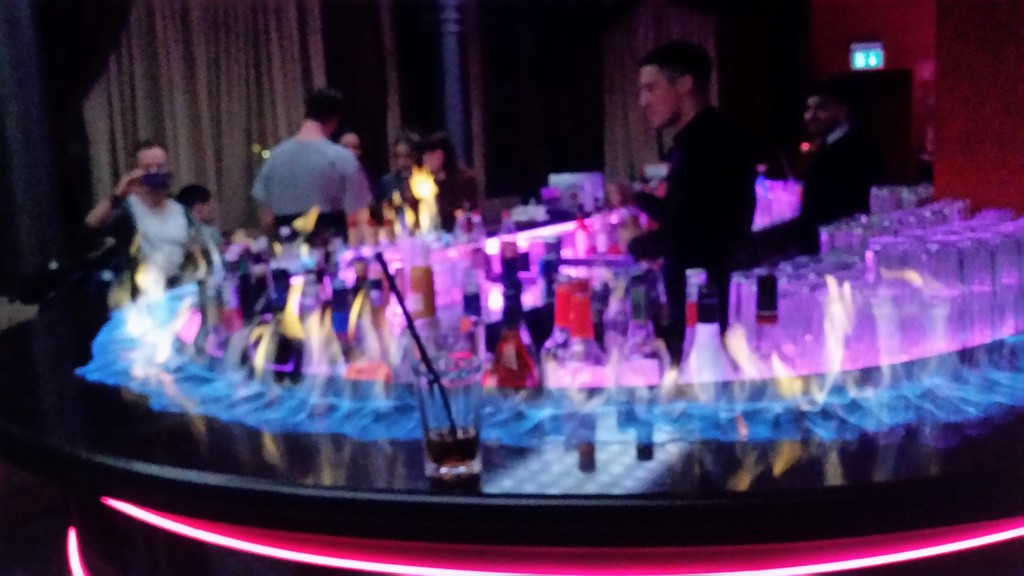 I know this photo isn't great quality, but it gives you an idea of what I just described!
When he'd finished working there, we carried on our night at club Havana, quite a normal place with free entry. The drinks however were just as expensive as they had been in the other place.
On the Saturday, we visited some untypical tourist areas in Berlin which weren't central. We went to the Citadel (Spandauer Zitadelle), a castle built in the 16th century with a large interior patio surrounded by a high wall and a moat. We stopped at the East Side Gallery later on (a walkway beside the walkway near where the wall stood, but which eventually lead to a 'creepy' area), an abandoned industrial zone next to the Berlin Wall which really shows you the other side of Berlin.
This place really caught my attention, since the whole are is full of semi-abandoned factories near to residential areas. The next street lit up with red lightbulbs just shows this.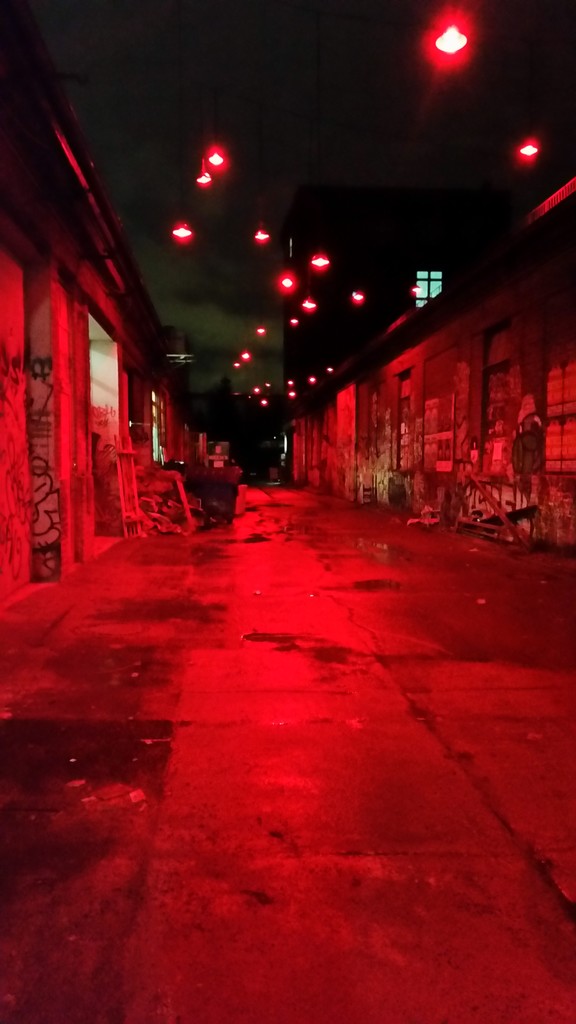 Another one here, inside of the abandoned industrial area, which has become a 'leisure' area for young people living in the city.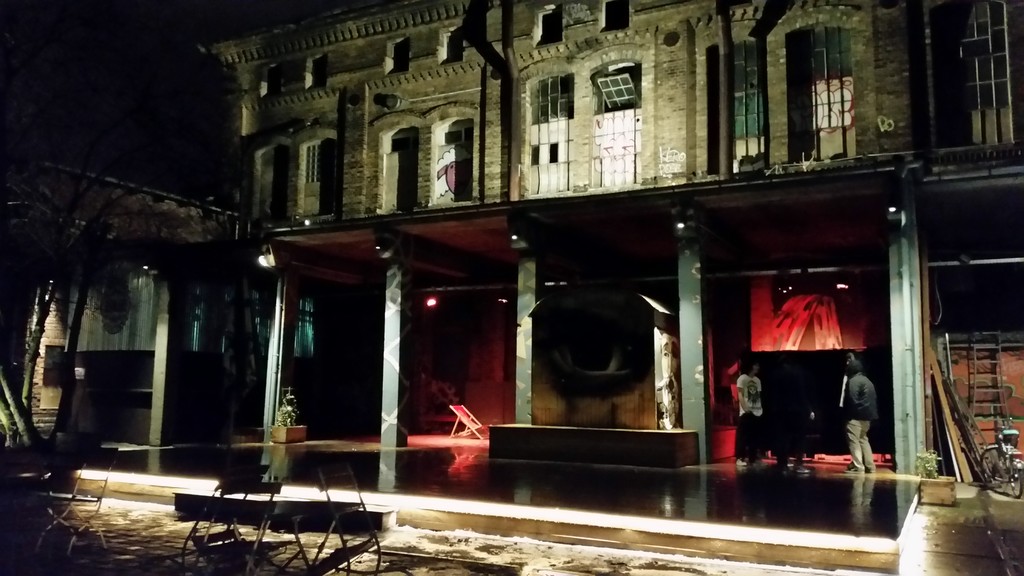 Sunday was the day for visiting the city's best-known buildings and places.
We started our day at the 'Bundestag':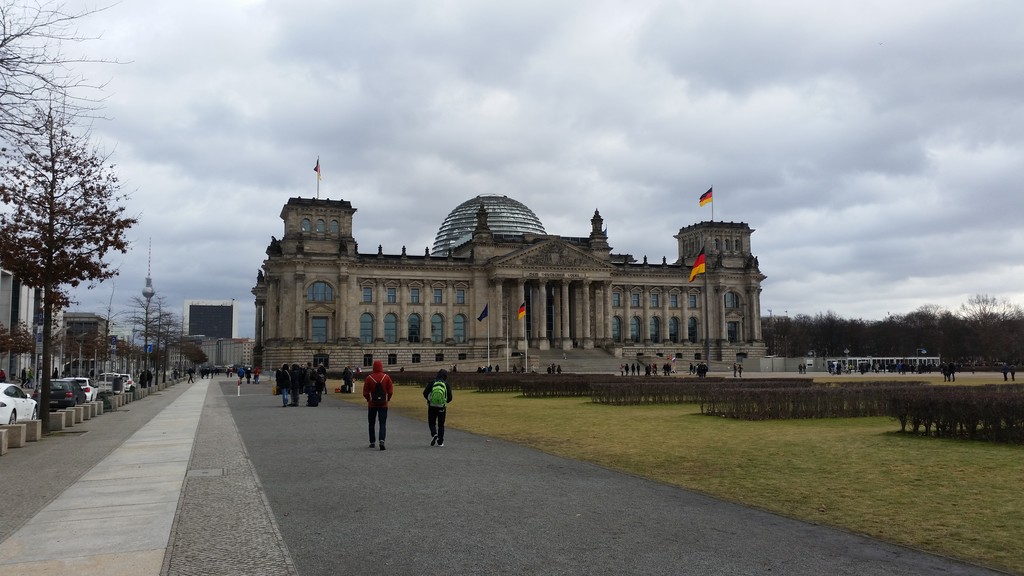 We walked around it, going down to the canal next to one of its newer buildings: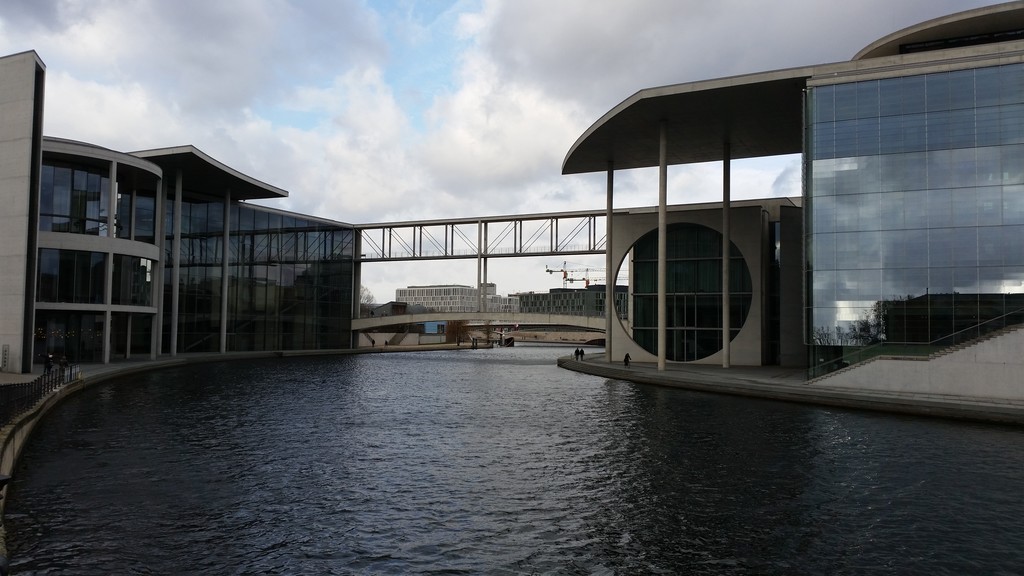 After this enjoyable walk, we moved on to the Brandenburg Gate, which is just five minutes' walk away from the Bundestag. We immortalised one of our moments from this weekend in a photo of us jumping: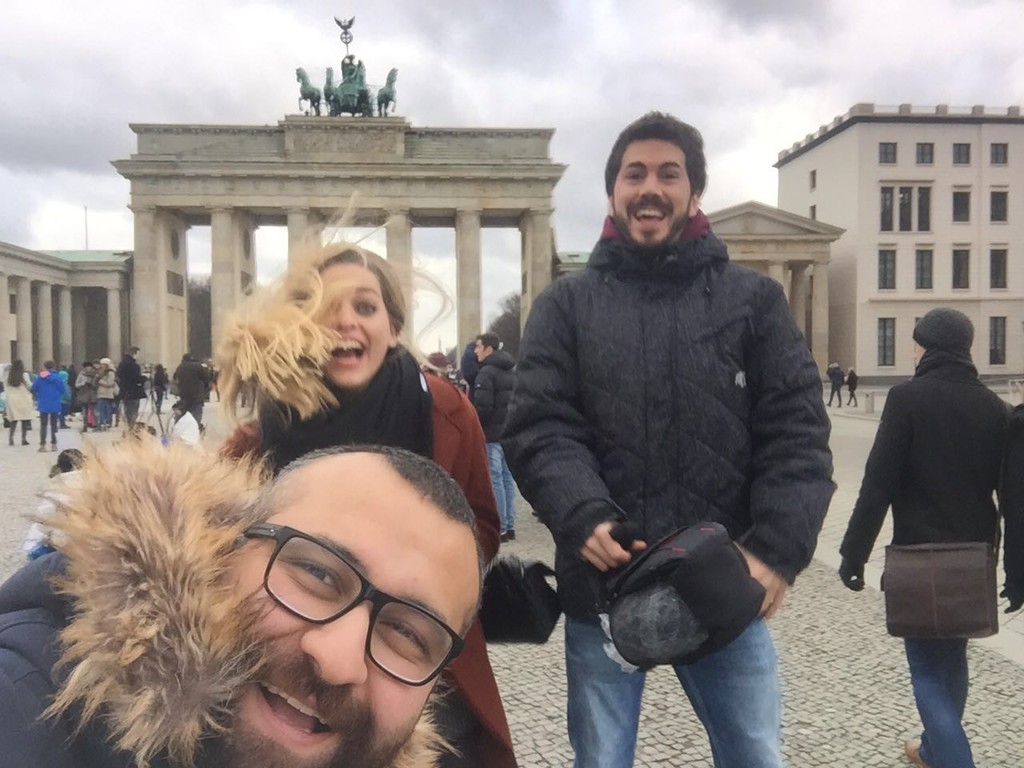 Another five minutes' walk away from here was the Monument to the Murdered Jews of Europe.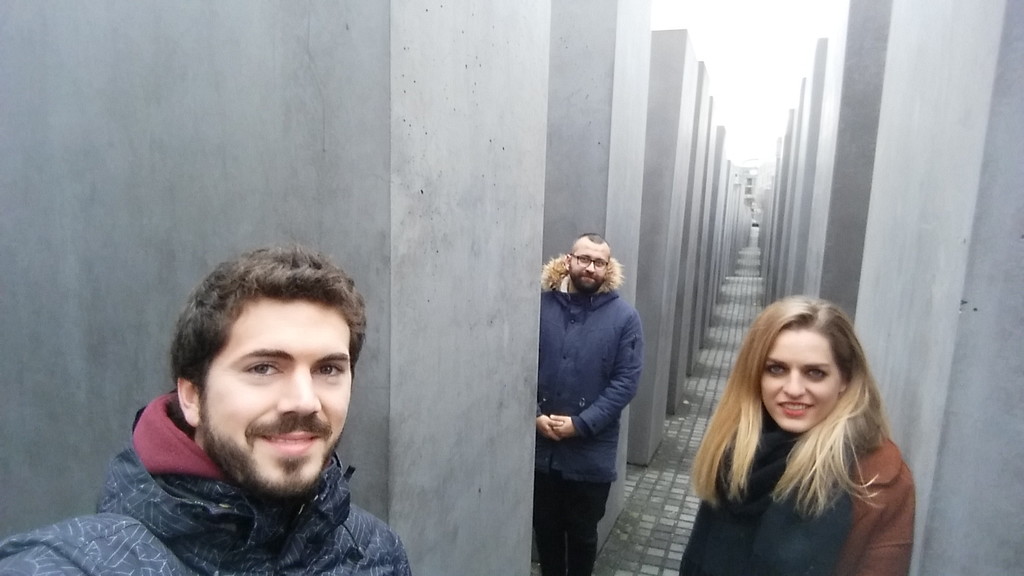 We were lucky, since we got around by car. This was much faster. I was surprised by how easy it was to find somewhere to park (without having to pay! ) in the city centre. However, you can get around the whole city using the public transport system, since the metro, bus and tram lines stretch far and wide.
We moved on to Museum Island and to Berlin cathedral in the car, since our time was limited. The following photo is of the cathedral.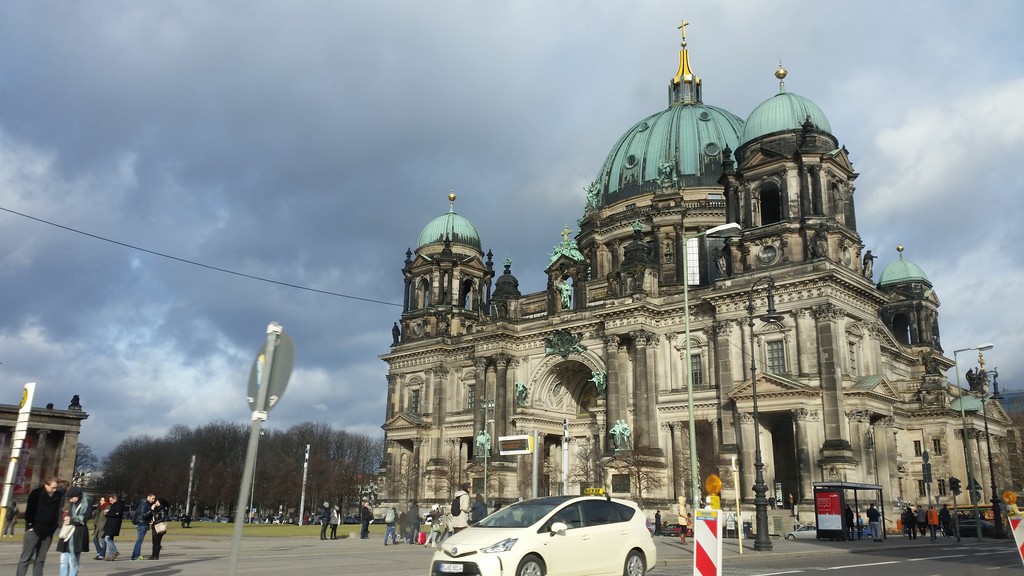 We followed the river until we reached the red bridge, near the wall area. We then returned to the area we'd visited the night before (the creepy area). I definitely have to confirm that Berlin by day and Berlin by night are totally different places. The atmosphere in a lot of places is really different. The graffiti everywhere gives places a special charm, and some of them are really quite cool: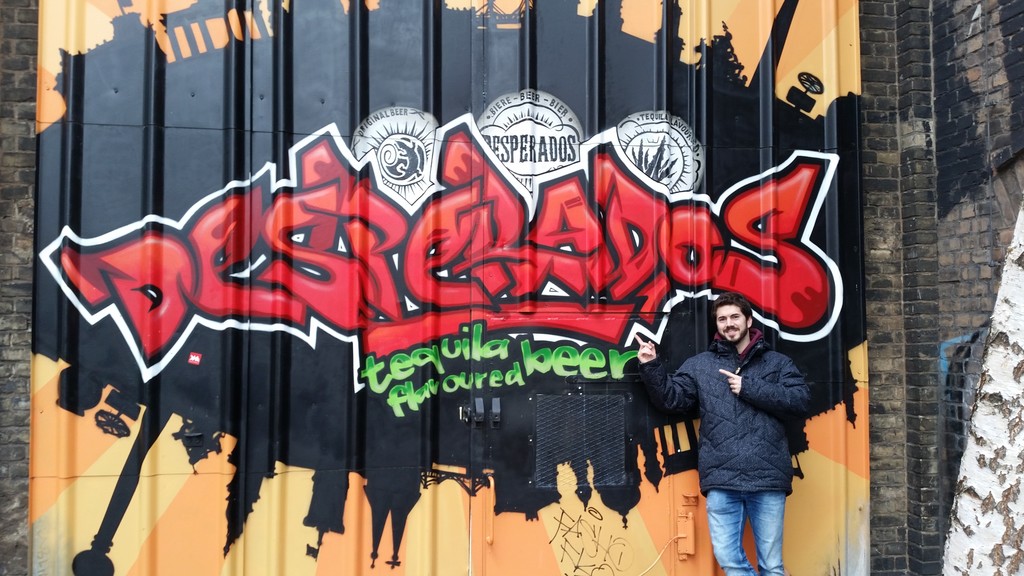 We then drove to a swimming pool. If there's one thing I can say about this city, it's that it sure did have a lot of swimming pools at one point. Lots of them are abandoned now, however. We visited one which was totally abandoned, but from the structures and site we saw, it looked like it had been a huge one.
The place itself didn't make that much of an impression on me at first, since we didn't stay in any place for too long. With all the graffiti and paintings around though, it was really a place worth seeing (though perhaps not for everyone) since while we were there we did bump into lots of tourists like ourselves.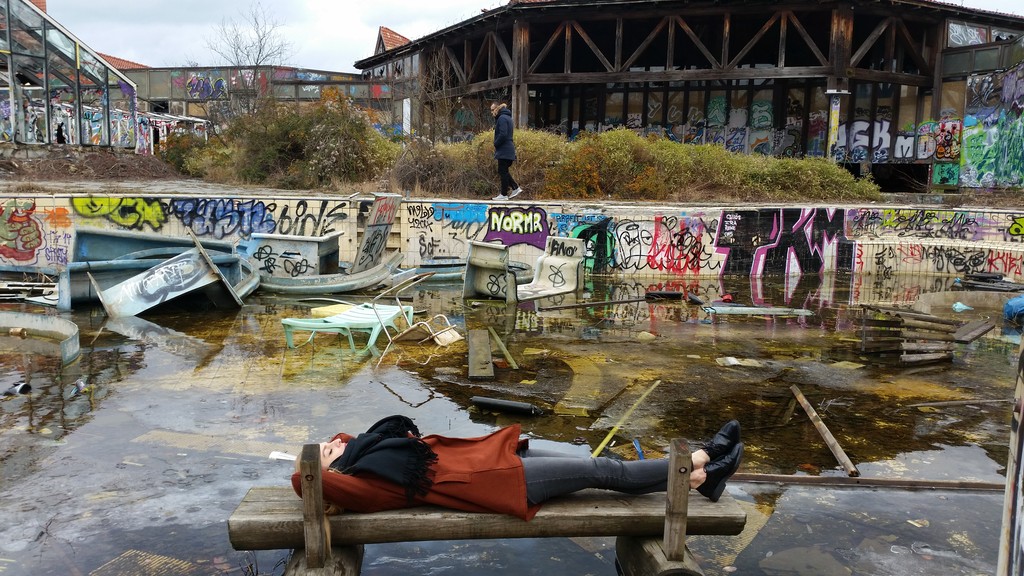 Mind you, if you'd used your imagination, you could have lain back, forgotten about reality and enjoyed the wonderful sunshine, a rarity in a German winter. Like I said, if you'd used your imagination...
Our next stop was the city's former airport, on Tempelhofer Feld. I say former, since though the space remains, the airport is no longer in use. It's now an immense open space in the city where people come to walk around, play sports or fly kites on windy days. For me at least, it was really cool to walk down the runways and see the whole place stretching out in front of you.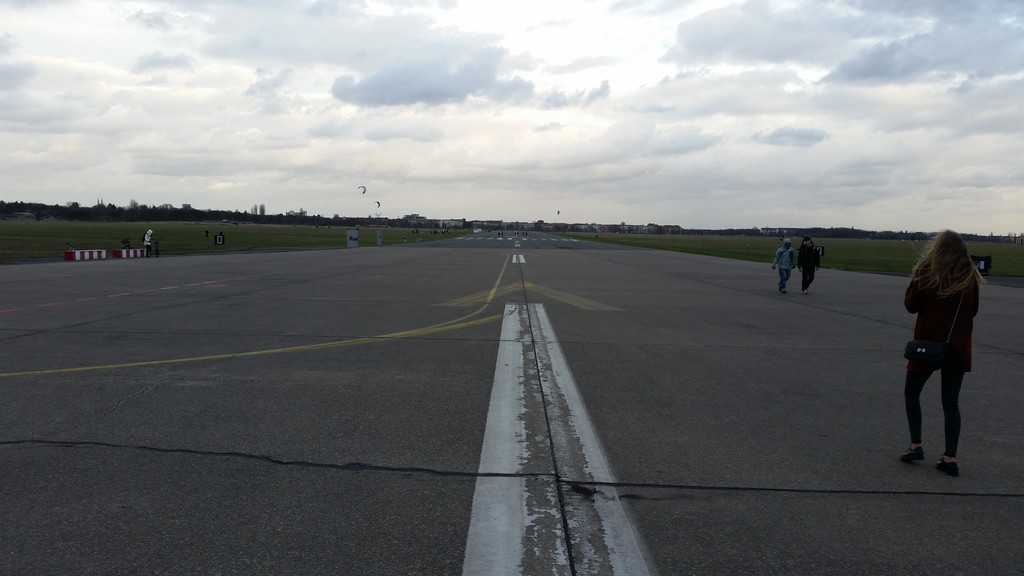 To finish our visits for that day, we headed in the direction of a queue in the east of the city. On our way, we stopped for a moment beside the olympic stadium, where the Hertha Berlin football team plays.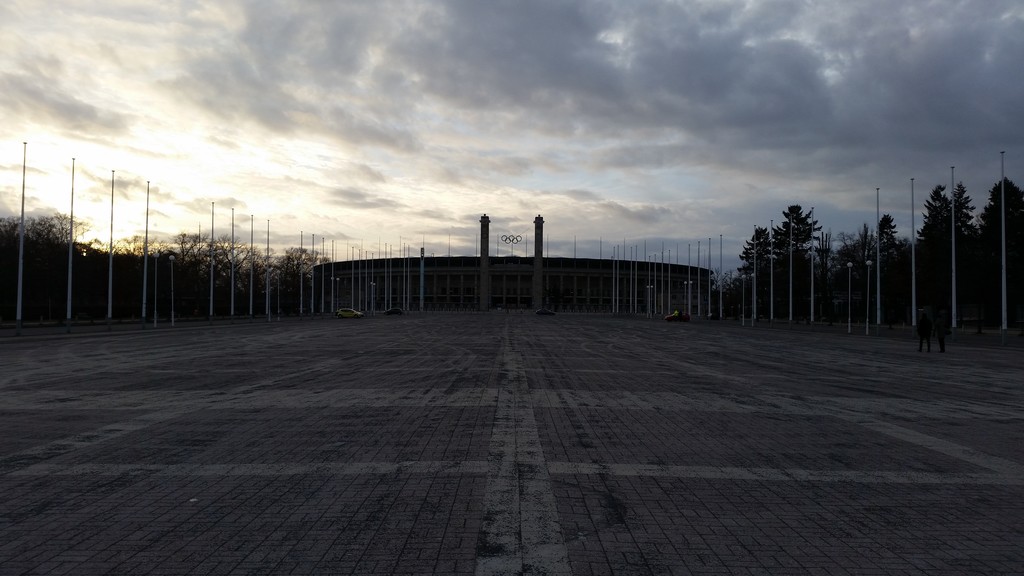 We continued onwards until we reached our destination: a small hill with views of the eastern side of the city. However, the centre wasn't visible from here. We could see the TV tower in the distance on Alexanderplatz.
The following image is a panoramic one taken from this spot.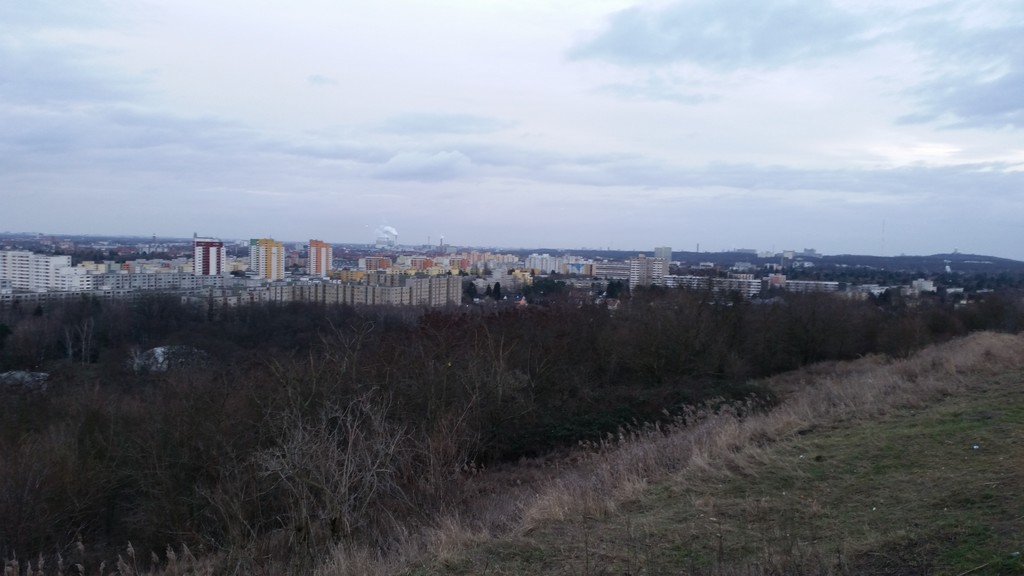 This hill was artificial - after the Second World War, the city was left devastated and when reconstruction began, many ruins were all piled in the same place. This was usually on the outskirts of the city, where this hill now stands, or at least, that's what my friend told me... I'll leave it to you to find out whether this is true!
---
Photo gallery
---
---
Content available in other languages
Share your Erasmus Experience in Berlin!
If you know Berlin as native, traveler or as exchange student... share your opinion on Berlin! Rate different characteristics and share your experience.
Add experience →