10 best Austrian sweet meals
Here comes as promised the sequel of the 10 best Austrian dishes but this time, each sweet-toothed among you is going to find their happiness.
It is in fact about desserts, pastries, tarts and well more. We are better in this area than hearty.
Also this time, we start our ranking from backwards so that the list will also remain in memory. And no, it will not be the Sacher tart because even if strangers think that this is the best thing to eat in Austria, we don't think so.
But you will see that for yourself!
10. Powidltascherl : dumplings
Great, here we go again with these weird names! Don't worry, Powidl is an Austrian (originally Bohemian) term for plum jelly and the full name in fact refers to a simple dumpling in which the jelly is. The dumplings will be cooked, thereafter rolled in roasted breadcrumb and sprinkled with sugar. A dream!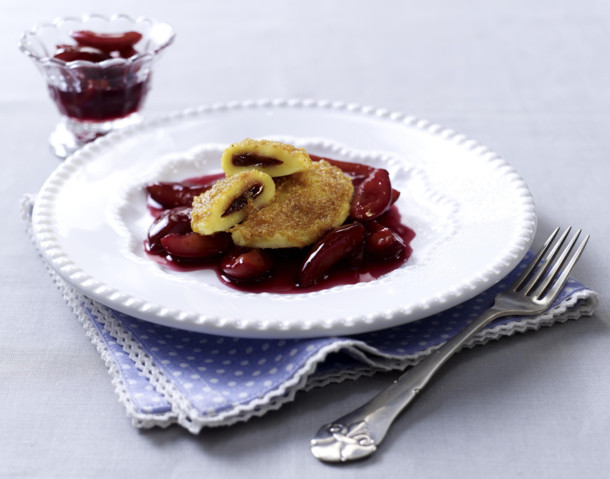 Dumplings filled with plum jam with plum compote
9. Kipferl: Kifli
How can we describe this dessert? Maybe pretty close to a croissant? Well, it is anyhow a curvy bakery product. There are two different types of them: crumbly and brioche-like. The first will be build out of a sweet dough and the second from brioche-like dough. Kiflis are perfect for breakfast or for a little snack and taste as good plain as with butter, jelly, honey or Nutella.
For sure an Austrian child brings a Kifli at school at least once a week as a snack.
There are myths in which it is explained that the shape of the Kifli is an imitation of the Turkish halfmoon and a mockery of the successful second Turkish siege of Vienna. However, its accuracy has not been proved.
In all likelihood arrived the Kifli in France in the 18th century through Marie-Antoinette, Queen Maria Theresa's daughter, and thus were born the shape-liked croissants. Then again, it has not been verified.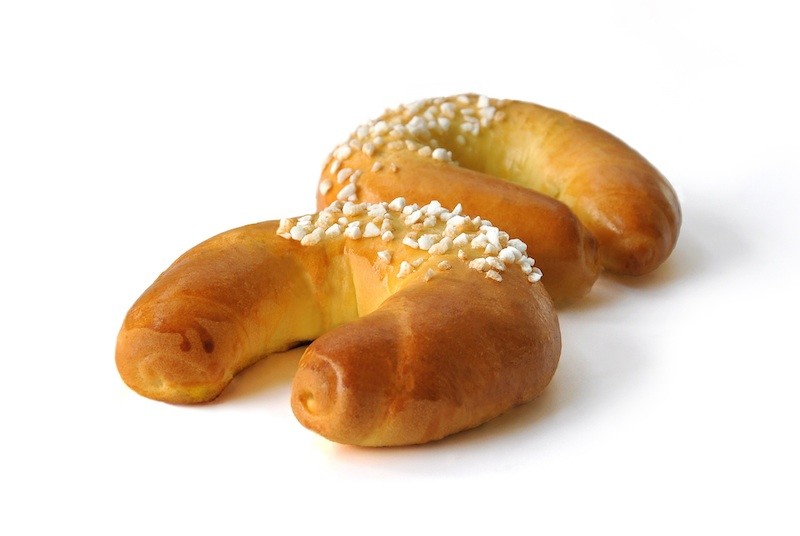 Brioche kifli
8. Mozartkugeln: Mozart balls
They taste really good, but come now in this list more for their popularity. Everyone bring its favorite back as souvenir from Austria and I myself tend sometimes to find a way to gift some to foreign friends when I go visit them. Well, they are just easier to transport than Sacher tart.
These delicious chocolate pralines called Mozart balls are stuffed with marzipan, nougat and pistachios. There are different brands and they all taste different. Some contain more nougat, others marzipan. My personal favorites are the plum ones but if you want to try the original ones, go to the Fürst Konditorei in Salzburg where the "original Salzburger Mozartkugeln" are produced since 1890. They were originally due to be named "Mozart-Bonbon"... poor Wolfgang!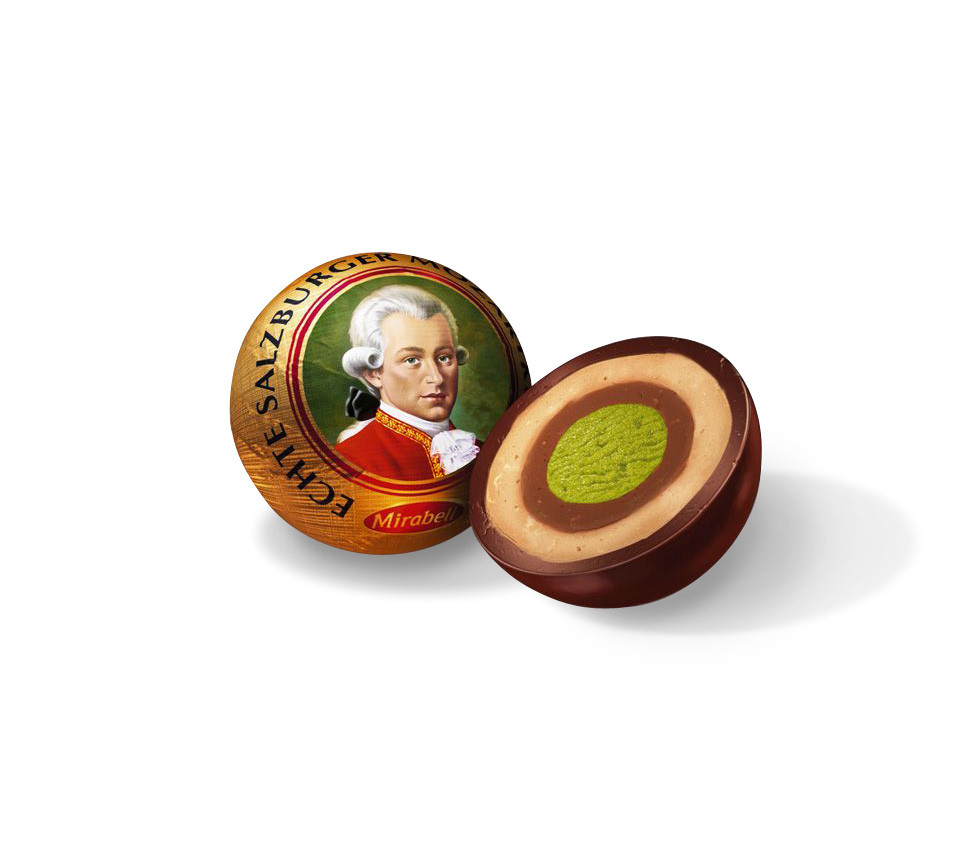 Mirabell's Mozart balls
7. Sacher tart
Now already comes the next crowd pleaser. I nearly never eat Sacher cake but I cannot make a list of Austrian desserts without mentionning it.
I would probably receive the first complaint within a few hours, because us Austrian do not really celebrate this cake but we are however proud of it and to be able to qualify it as ours.
This exquisite chocolate tart with apricot jam and chocolate icing is a Viennese classic, if not even the absolutely most famous cake. The original is from Sacher Hotel, just behind the Vienna State Opera in the city center (Karlsplatz train station). However, I sincerely advise you not to go to this hotel. There the tart is way more expensive than in other places. Look in small Konditorei (similar to tea saloons), but maybe absolutely not in the city center as it is generally more expensive than in others districts.
Café Landtmann and the Viennese franchise chain Aida are other famous and good "Konditoreien" but are also not part of the best ones out there. Trust the Viennese bakery skills, small Konditoren also bake good Sacher tarts.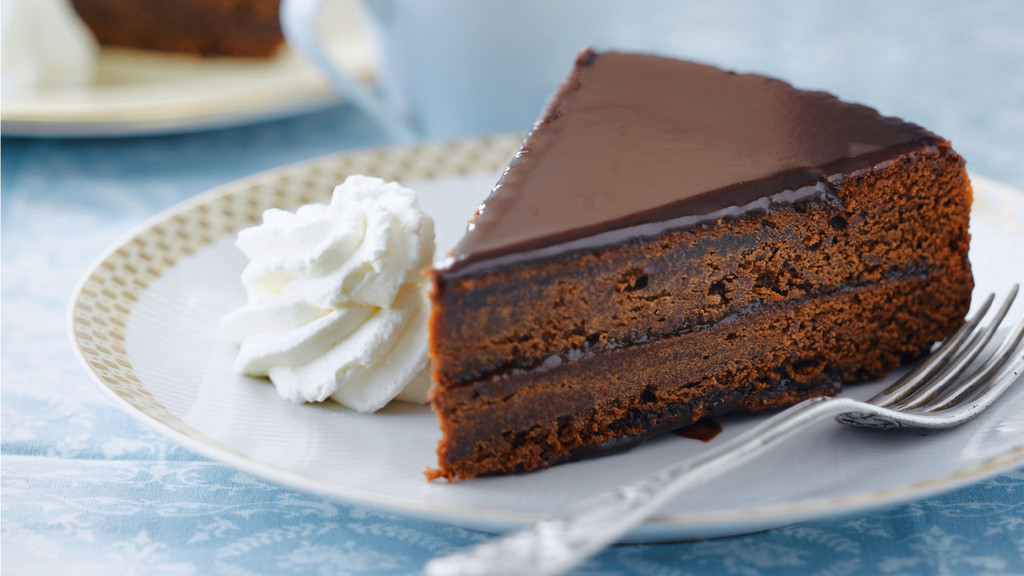 Sacher tart with whipped cream
6. Apple strudel and quark strudel
The apple strudel might be the most famous one outside from Austria, however the quark cheese strudel is also delighting. Both were founded with phylo, but also puff pastry, quark- or yeast dough. The difference stands in the stuffing: while the first is stuffed with apples cut in pieces, raisins and breadcrumbs then powdered with cinnamon and icing sugar; the second is –have a guess- stuffed with quark cheese and doused with vanilla sauce.
The apple Strudel originally comes from Arabia, then reached Hungary through the Balkans and finally Vienna. Due to its long-lasting durability, it was once a popular catering resource for soldiers and only through the Habsburg Monarchy became an estimated pastry.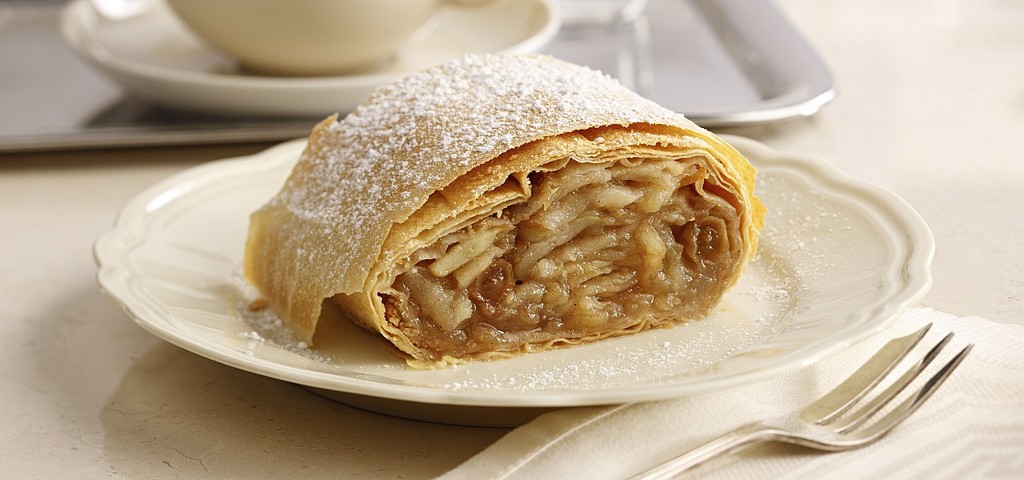 Viennese apple strudel
5. Krapfen: Doughnuts
You can especially look forward to these doughnuts during Carnival, which smile at you from coffeehouses, cake shops or supermarkets. Funnily enough, Germans have another name for these pastries while Italians have adopted the Austrian term. In Germany they call "Berliner' these round "yeasty pastries", however I think there are not so many different variants of Austrian doughnuts as in Germany. They are from time to time glazed with chocolate but the classic doughnuts are just powdered with icing sugar and stuffed with apricot jam or vanilla cream.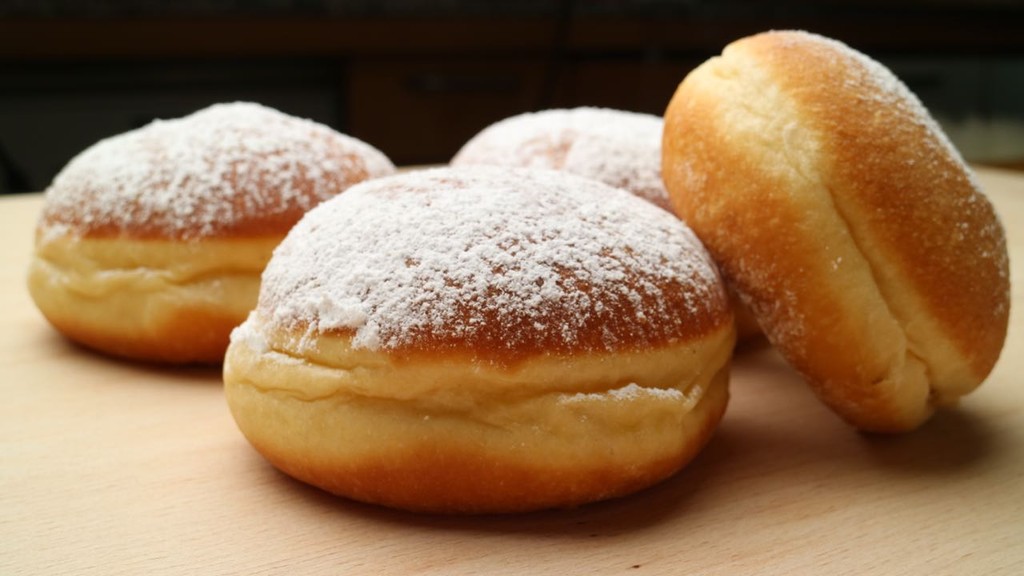 What are these doughnuts probably filled with?
4. Knödel: boiled dumpling
Did you think that dumplings only exist as a side dish to meat? You have tremendously fooled yourself here because the best dumplings are the sweet ones! They exist in many variants, the most popular are those stuffed with apricots, curd, plums, strawberries, or yeast.
The abricot ones are first of all a classic! The most popular of all Vienna can you find in Eissalon Tichy on the Reumannplatz (Reumannplatz station) in the 10th district, however they taste delicious everywhere else too.
There are in Austria some sweet meals which are not only consumed as desserts but also as main courses. This is the case for the dumplings and two others which will follow in this list.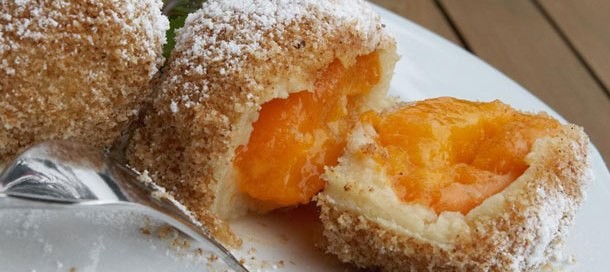 Apricot dumpling
3. Kaiserschmarrn: Emperor's mess
Kaiserschmarrn or Emperor's mess, how often have I got ir for dinner? A real Austrian classic, probably because the Emperor absolutely loved it. There are many legends regarding the origin of this dish's name, but we know for sure that King Franz Josef I loved it.
It is made from pancakes dough, raisin can be added as a side and it will be dusted with icing sugar before consumption.
This dessert was traditionally served with roasted damson (a sort of plum compote) but this is no longer necessary nowadays.
Try it! But as I said, even the sweet one is consumed as main course. You can fittingly order a soup with strips of pancakes as starter.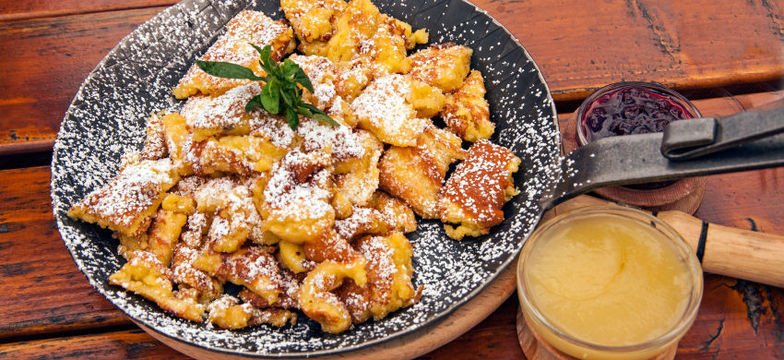 2. Punschkrapferl: Punch cake
Just for its color only should we love the punch cake! They are small pink-colored and mostly cube-shaped petit-fours. It is a sponge mixture stuffed with jam, chocolate and rhum oder punch and covered with a pink punch icing. They are often not filled with any alcohol, especially in supermarkets, but only with artistic flavours. You can find the "real" ones in a great cake shop.
As author Thomas Bernhard greatly says: The mentality of the Austrian is like a punch cake: red on the outside, brown on the inside and always a little soaked. " Cheers!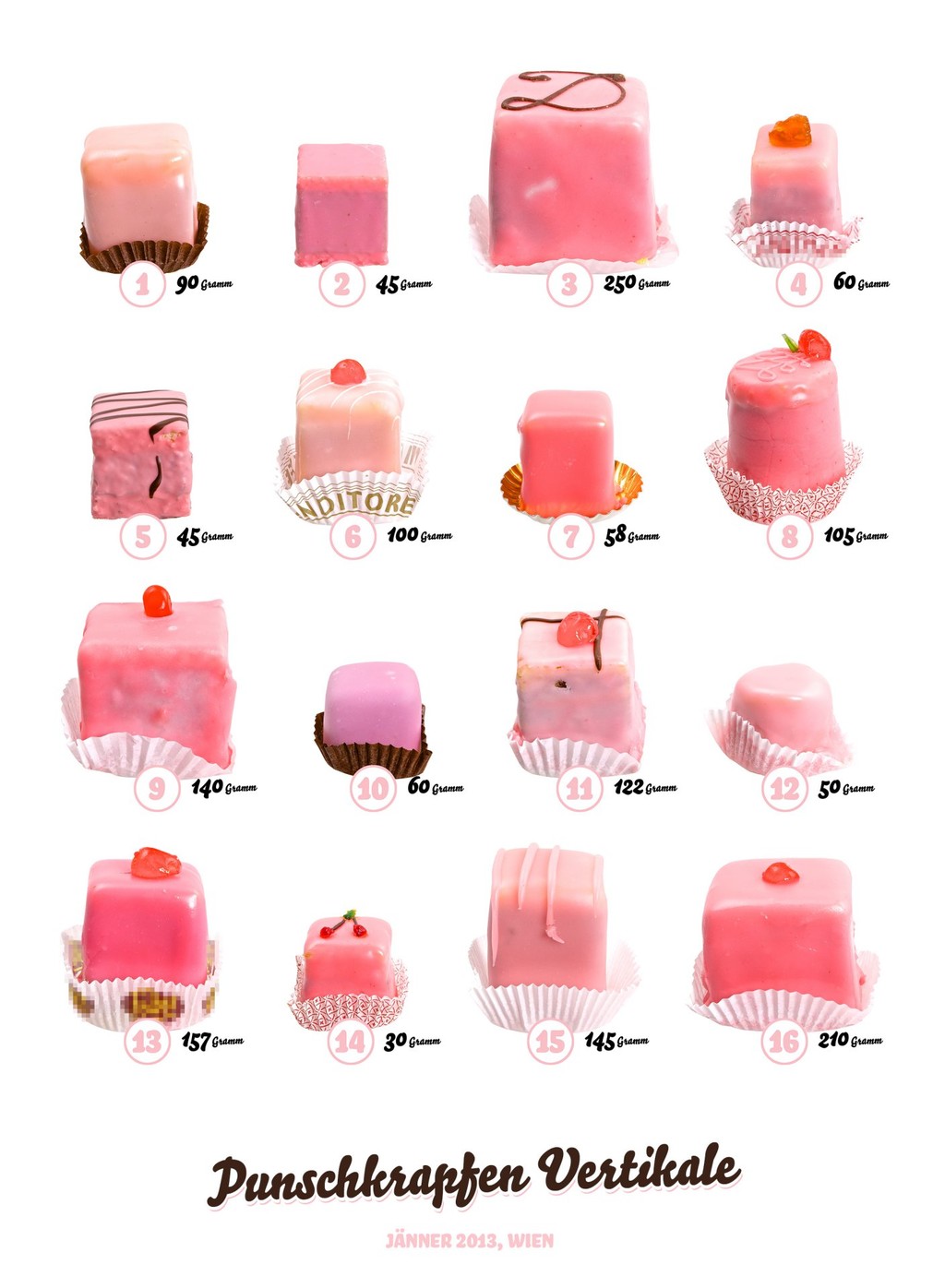 Differents punch cakes
1. Palatschinken: "pancakes"
My ultimate favorite (not for nothing they are in first position)! Palatschinke are very similar to pancakes but are thinner. We can also have them savoury but I really do have a sweet tooth so I rarely consider this possibility.
There are some "Palatschinken kitchen" in Vienna, a restaurant where there are Palatschinken under all variants possible. . Here is the link, have a look!
The classic sweet ones are usually enjoyed with apricot jam, curd cheese or chocolate sauce with grated nuts. I always eat them (when I bake them) with Nutella, nothing better! But a lot of locals are actually very creative, we can often order them with eggs or different sorts of jam. Try them all :)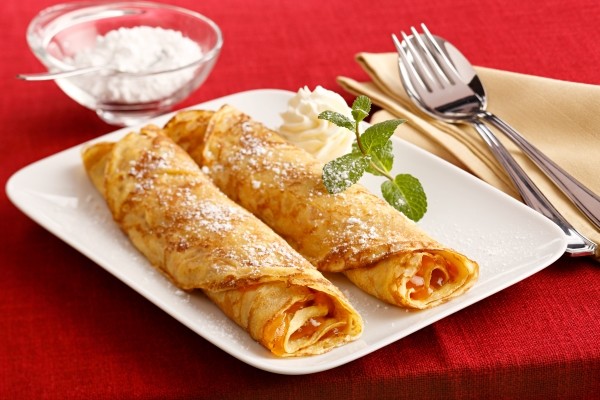 Palatschinken filled with apricot jam
It was really difficult to build this list or to say better, to get restricted at 10 desserts because there are so many! Even if they are not on the list, promise me you will, at least once in your life, eat a Kugelhupf and try a Esterházy tart.
Oh God I could make a top 10 list only about tarts when I get started with them. Oder Christmas biscuits! Vanilla croissants, coconut macroons, Londoner Schnitten, Linzer eyes, Linzer croissant. .. Ok I stop!
I hope you liked this theme as much as I did. If not, you will later when you will come to Austria and will be able to lay in this soft sky.
Also, I really want something sweet now, don't you?
---
Photo gallery
---
---
Content available in other languages
Want to have your own Erasmus blog?
If you are experiencing living abroad, you're an avid traveller or want to promote the city where you live... create your own blog and share your adventures!
I want to create my Erasmus blog! →