Discovering Lithuania: Traditional Foods (2/4)
Of the three Baltic capitals, Vilnius is the one that offers the most elaborate menus of traditional dishes that you should try, because the rest of the capitals acquired their typical gastronomic traditions from other countries, forgetting a little bit more of their own. There if you don't like potatoes, you're completely doomed, and if you don't eat meat, it will be very complicated to choose between their most important traditional dishes, because those are the principal ingredients in the majority of their food. Even so, during my travels I found certain dishes that were pretty out of the ordinary, and that are worth it to try if you decide to visit this place.
The first that I would like to show you is a dish that I really doubt is typical of any place, but it came to my attention, and it's the breakfast that they offered us at seven in the morning on the Lufthansa flight from Madrid to Kauna. Similarly, you will read this and it will seem ridiculous to you, and I suppose this food surprised me because it had been a long time since I had travelled with an airline that serves food on its flights, but even so I wanted to add it here because it was a part of this trip.
It consisted of an omelette with a slice of cheese on top (I had never seen anybody adding the cheese on top of an omelette instead of shredded up inside) accompanied by potatoes (without knowing it, here began the obsession with potatoes) and a tomato sauce that to my taste was completely unnecessary. I don't know if the dish was really so strange, or if it was because I didn't want to eat it at seven in the morning, but that's another subject.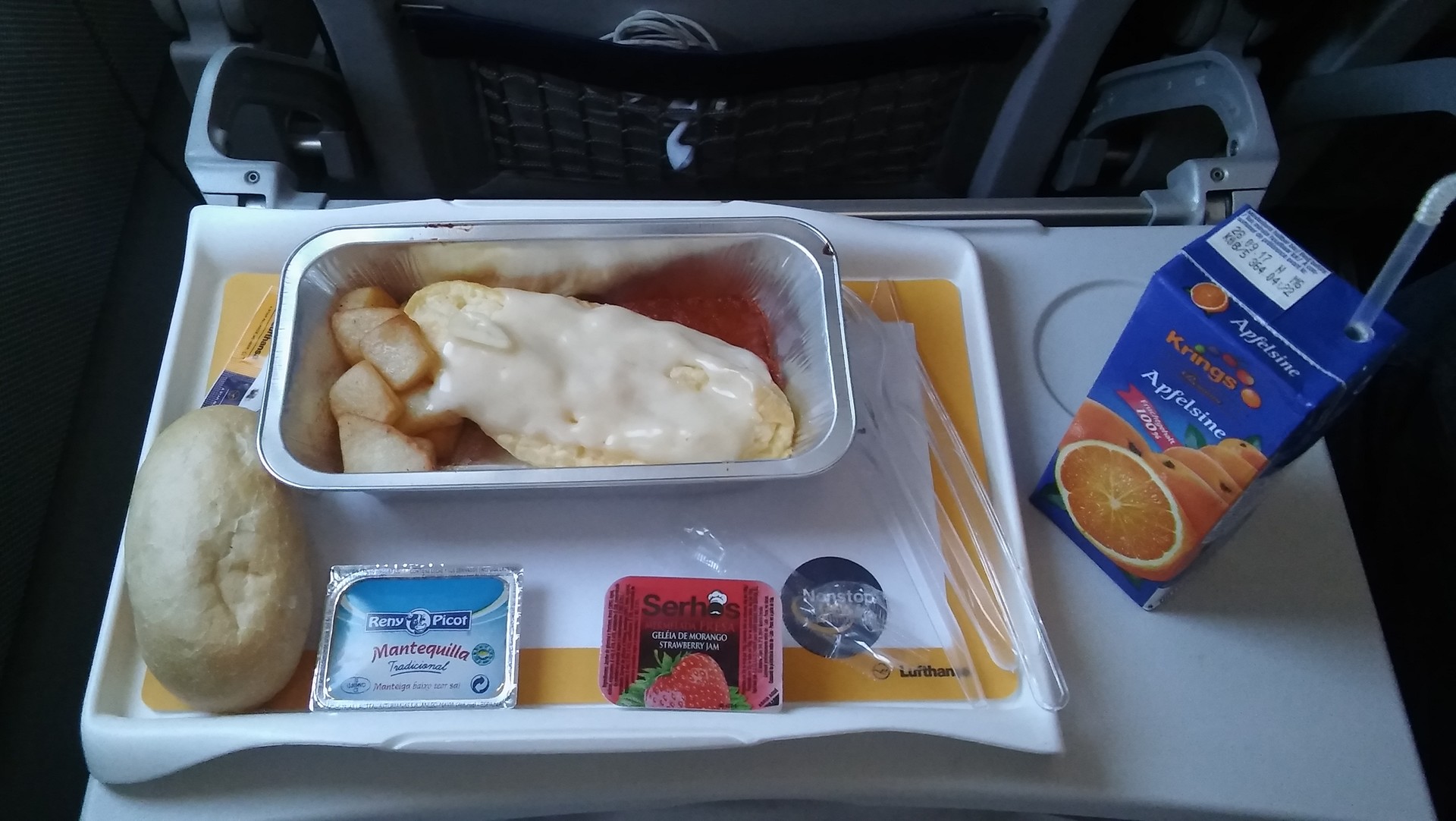 Now we come to the crux of the matter. In Vilnius, I was in a restaurant called Forto Dvaras. It's in the main street of the Old Town, Pilies Street, in a zone that's very travelled and visible for tourists, so that before you enter you can always get a look at what people have ordered and what they're eating on the terrace to get an idea of whether you will enjoy the place or not, according to the appearance of the restaurant and its food.
You may think that a site like that, of traditional food and moreover decorated inside as if it were a period venue, including waiters in costume, in the middle of the Old Town, would have to be charming. But the truth is that I decided to go in because the reviews that I'd read on the internet were very good with regards to quality and price. And so it was. The prices were very varied, but in general they were around €4 snf €8 per dish, depending on what you're going to eat (in general, the most expensive is red meat, and the rest is very affordable, and that's from someone who always looks at the prices of venues before I go in to eat). Anyway, when I speak of some of the dishes that I tried there, I will let you know the price so that you can have a better idea.
The truth is that it's not very difficult to end up in this site if you have no idea of where to eat or dine, because of its situation is the very centre of the city, because it shows up in all of the tour guides and maps or, as it was in my case, because everybody on the internet recommends it with very good reviews for a tourist site.
Like I said, I found it searching for restaurants to have dinner at on the internet. When I travel, I always like to reed reviews of sites to determine where I should go and not go, and the truth is that this experience confirmed that there's nothing better than the general reviews of travellers.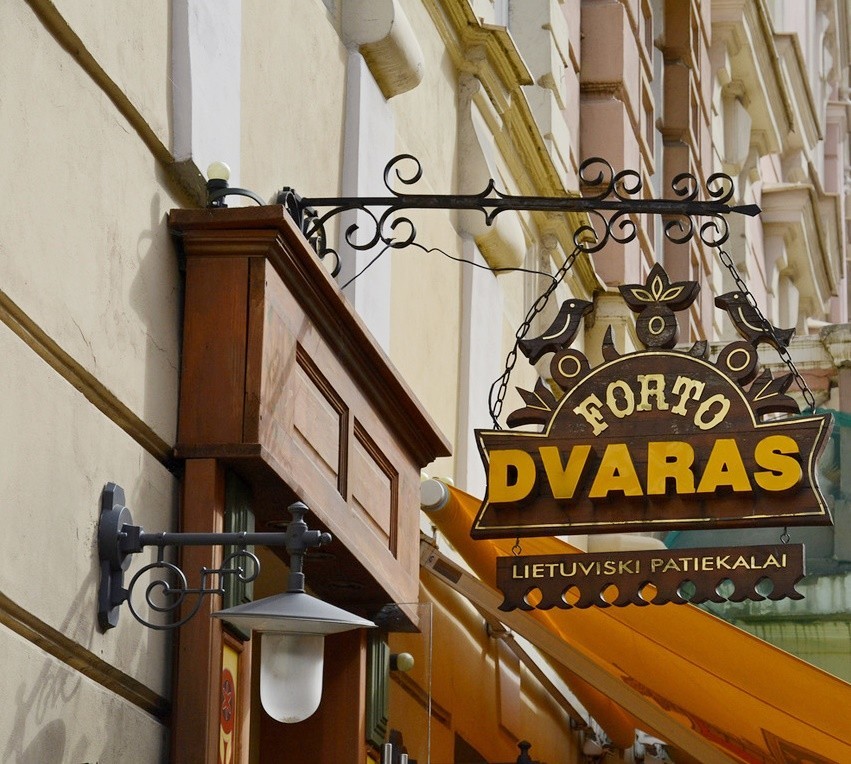 One of the most typical dishes is the Saltibarsciai, a cold soup with beetroot and sour cream or kefir, mixed with diced herbs such as dill and parsley and other spices. Personally, this dish was a pleasant surprise. I wasn't expecting anything great, I only ordered it to taste this dish which everyone is talking about in Vilnius. I had no expectations, because the thought of eating cold soup didn't have me convinced, but in truth the taste was very delicious and it was worth trying. The price was €2. 75 and the size, as you can see in the photo, was large enough.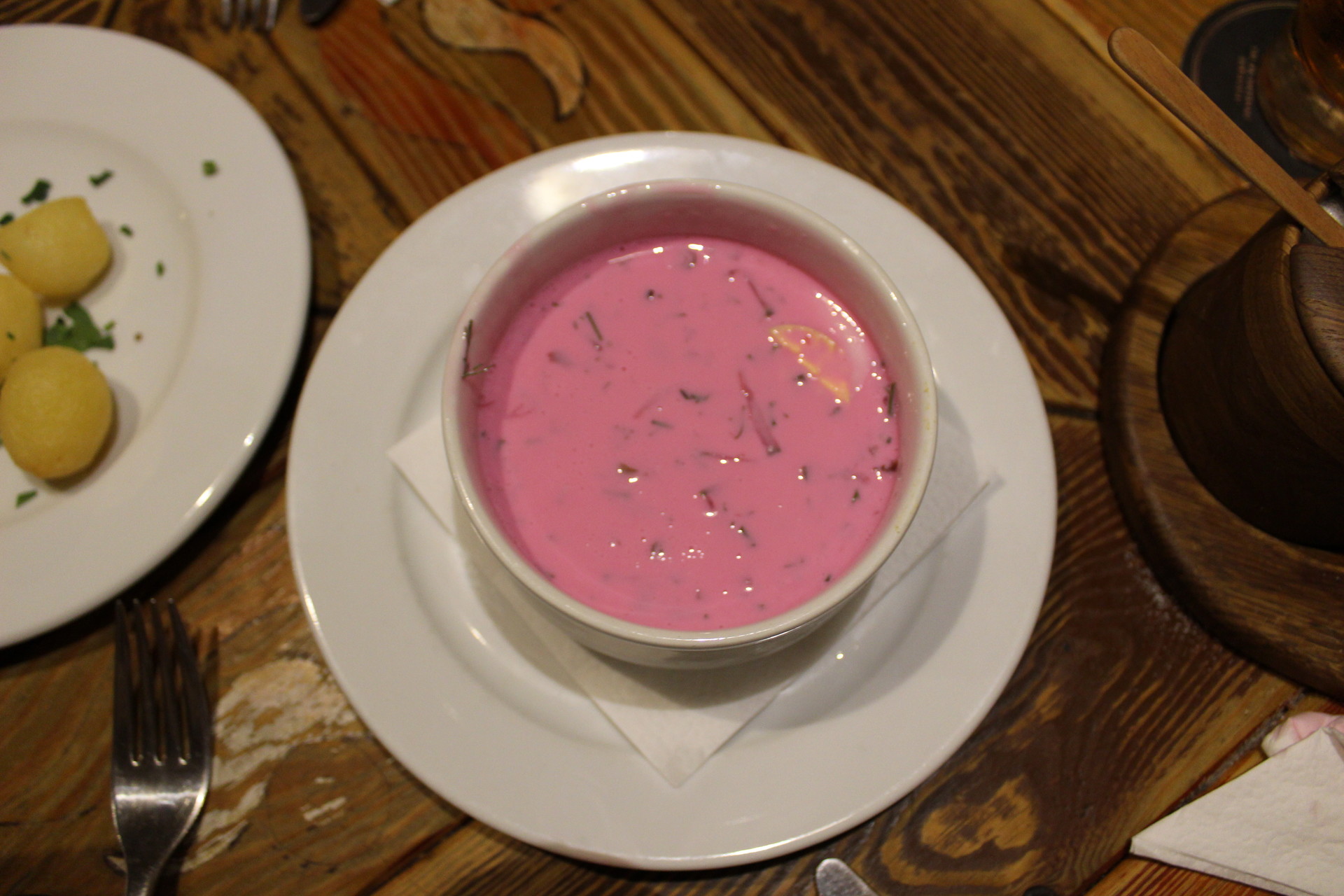 Another of the most widely known dishes in Lithuania are the Cepelinai or Didzkukuliai, a type of enormous pastry shaped like a blimp made of potato or yam flour, depending on where it's made (in my opinion, those made of yam flour are better). There are a thousand different versions, most of them filled with meat, cheese, or mushrooms and accompanied with sour cream, which they like so much. Even in the menu of this restaurant you can find a page completely dedicated to the the many versions of this dish. They are very tasty, but very heavy, and keeping in mind that each plate comes with two pieces, you will end up even more full. The plate with two pieces costs €4. 55.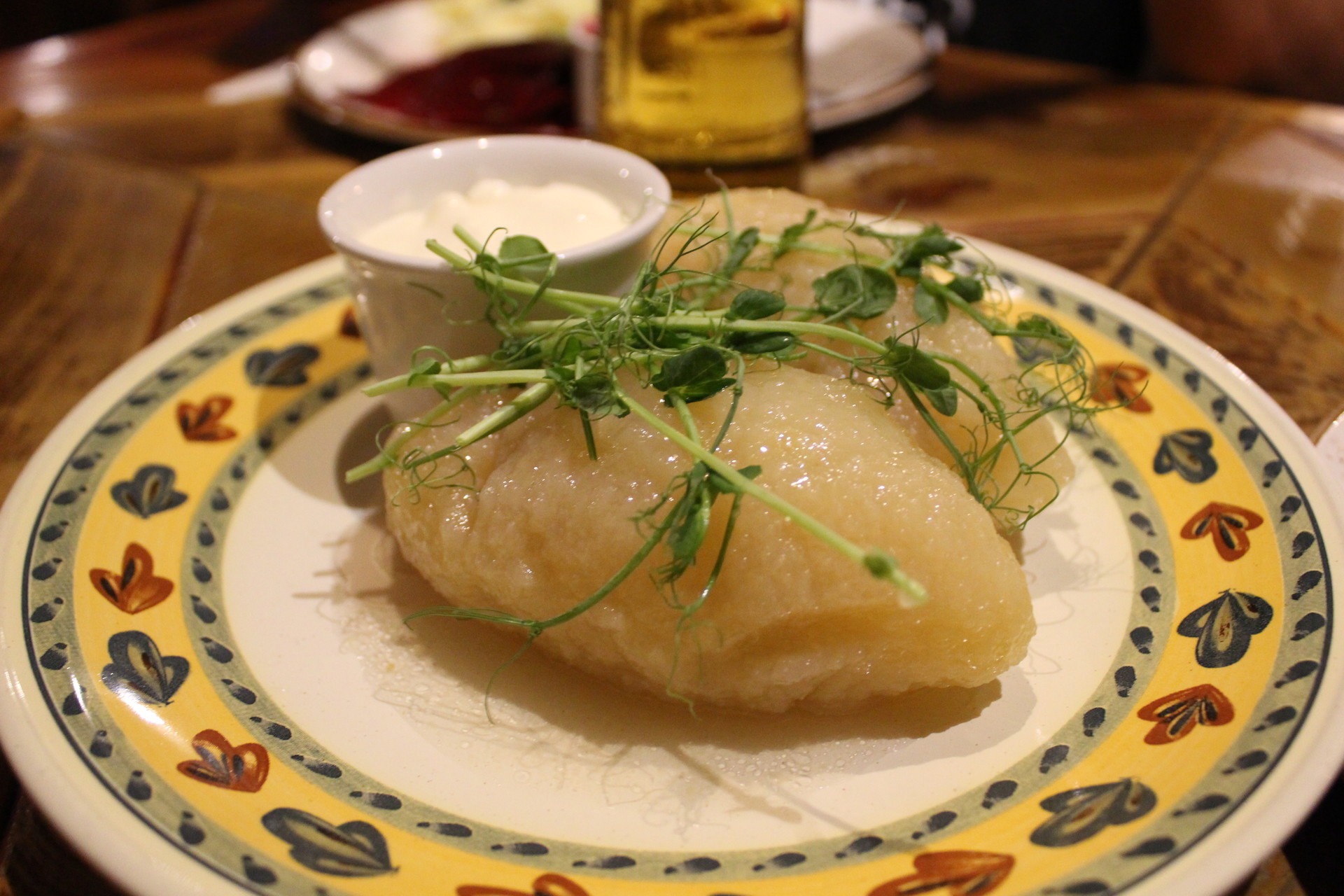 You can also eat Koldünai, which are a type of ravioli stuffed with different kinds of meat or mushroom. In truth, I didn't try this dish, so I can't tell you much about it except that every different place makes them with different shapes and fillings. Neither can I tell you much about the Lietuviskus although I tasted them, because it's a simple Russian salad, no mystery there. It tastes practically the same, with different spices or vegetables, but also it's nothing from another world and you can give it a miss.
Something that also didn't grab my attention enough to try was the Kaimiska kept menke, or rustic baked cod. This dish was what the waiter recommended to me, and in truth the side dish was very, very good. But the cod was breaded, and perhaps it's a very personal opinion, but I believe that this makes fish dry out and lose its flavor, although of course since it was accompanied (how could it not be? ) with sour cream, I didn't notice it much. Moreover, the plate came accompanied with a large quantity of lentils and a salad with lettuce, tomato, and beetroot. This dish cost €6. 35.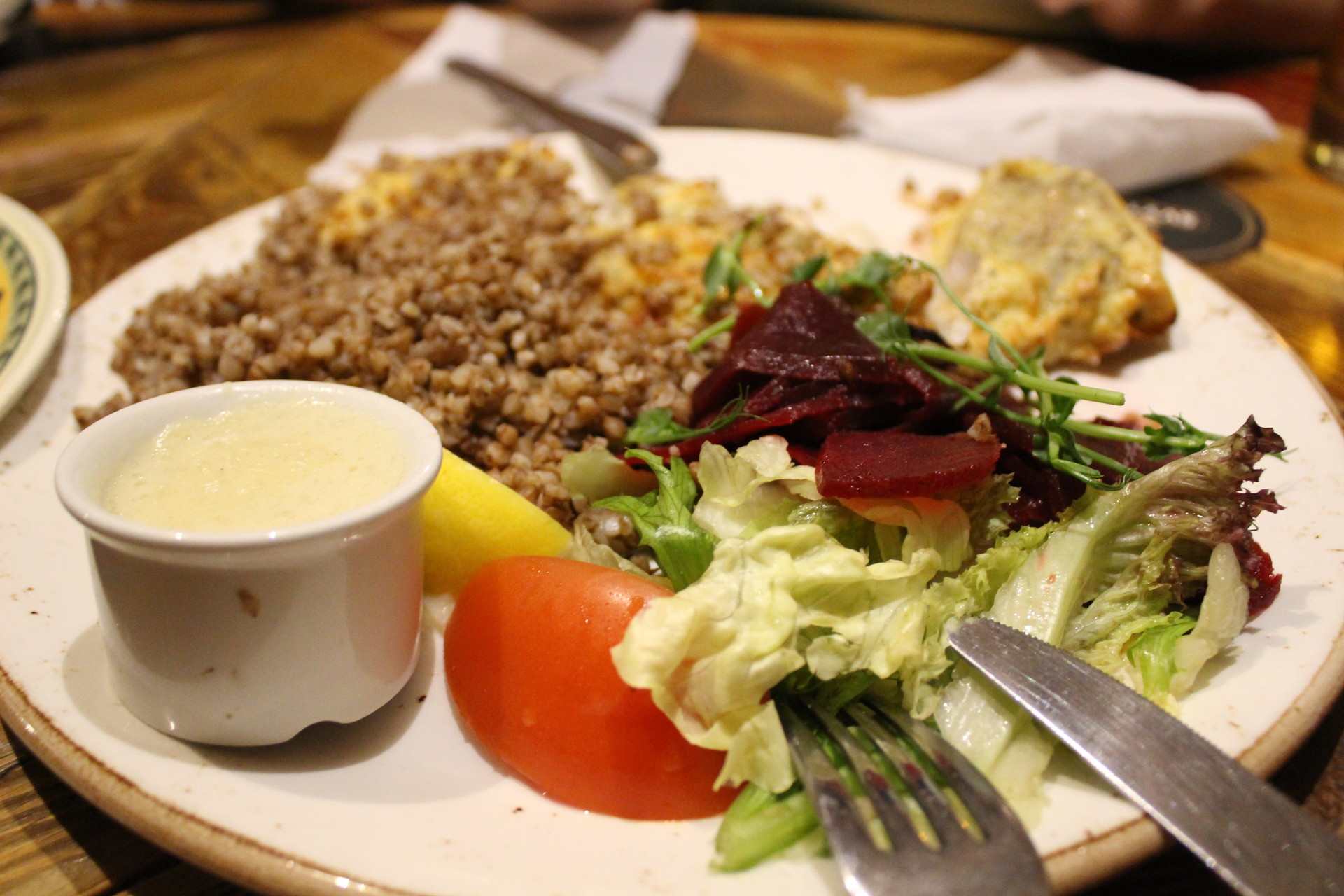 Another one of the nights I was craving a salmon burger with gnocchi accompanied by yams (I have recognised that I love their way of using so many yams), although really I can't say that that's a typical Lithuanian dish as such (as far as I know), except that it was very, very tasty and also you rarely see it around there. I can't tell you the exact name of the place, because the contents of the ticket were rubbed away one day it rained (what luck), but it was a regular hamburger-pizza place along one of the main streets, a comfy spot for the first night of our trip when we didn't want to search for other venues, after getting up at three in the morning to catch an air-plane.
---
Photo gallery
---
---
Content available in other languages
Want to have your own Erasmus blog?
If you are experiencing living abroad, you're an avid traveller or want to promote the city where you live... create your own blog and share your adventures!
I want to create my Erasmus blog! →