Trip to Slovenia
This was an unexpected and very last-minute trip. I booked everything last Tuesday, and I left for Slovenia last Friday, 3 days after! Even if it was a last-minute trip, this doesn't change anything to the fact that it was a well-planned and a very good one! I was very excited before leaving because it was my first time going to Slovenia, as you can guess. We do not hear a lot about Slovenia, even in Europe, but I really loved this country and would totally recommend it to anybody who is looking for a new place to travel to. Let me tell you more about this amazing trip!
We took a night bus to get to Ljubljana from Milan. We left Milan at 21. 30 and arrived at 5. 30 in the morning in Ljubljana, the capital city of Slovenia. Going from Milan to Ljubljana by bus takes about 8 hours and cost us around €40. There are several stops along the way so it's not so easy to sleep during the trip, at least it wasn't for me. Anyway, when we arrived in Ljubljana, we waited for a coffee to open so we could have breakfast, before taking another bus (with a much shorter travelling time this time) so we could go and visit a Slovenian city that has been quite popular lately, especially because of its beautiful lake: Bled.
Day 1: Visit of Bled
The bus ride from Ljubljana to Bled took a little more than one hour and cost us €7 each for just one way. When we arrived there, the sun was shining and it was quite warm and that felt really good. We started walking around and headed towards the lake. On our way there, we noticed that some shops offered many activities around and in the lake, like hikes, horse riding, kayaking… Even though we didn't do any of these, I would have loved to ride a horse in such a beautiful and relaxing place!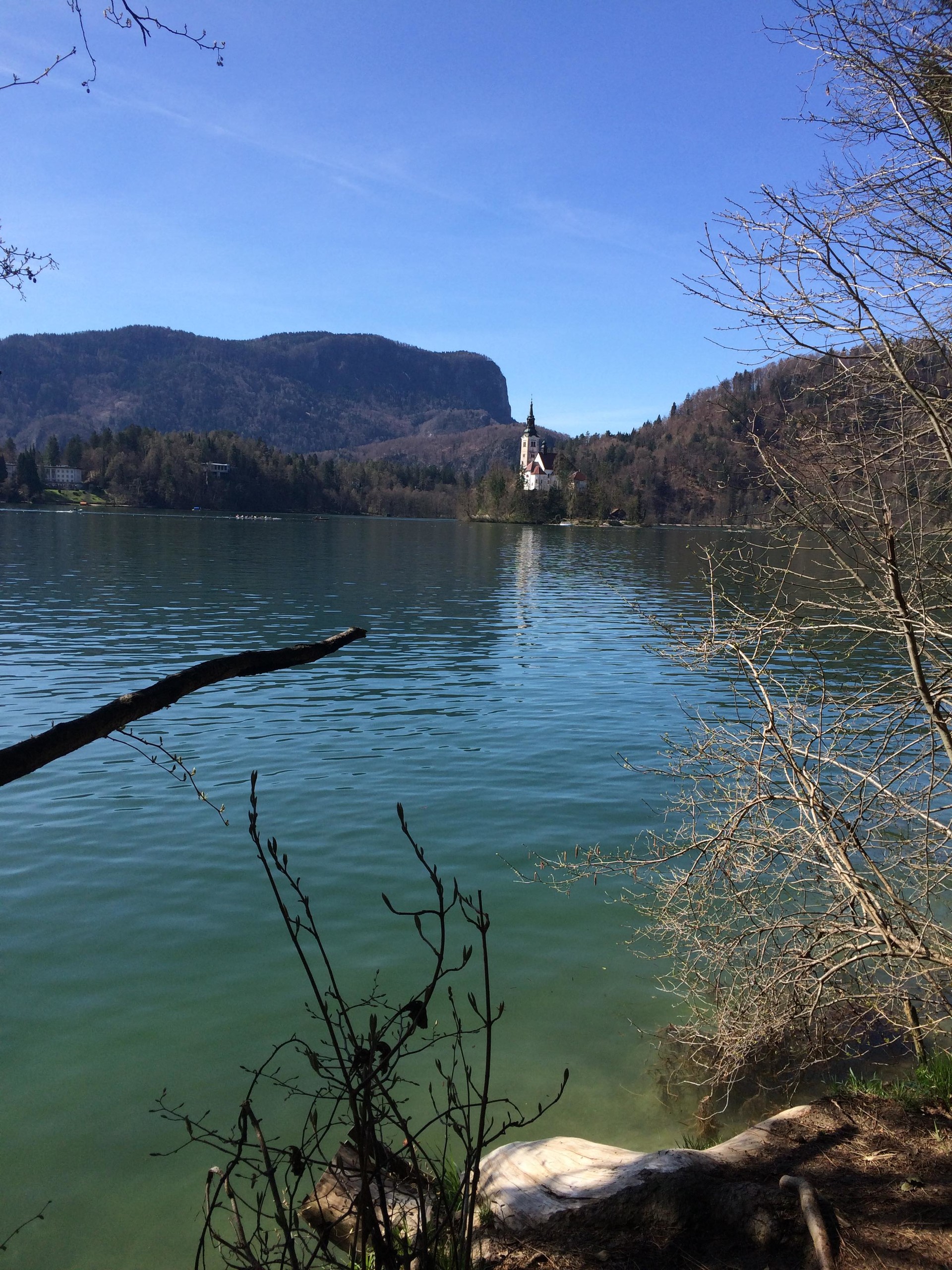 At first, we wanted to walk all around the lake because it didn't look so big, and we wanted to have different views of it. But in the end, as we were planning to stay only for a few hours, we decided to take our time on the part of the lake on which we were and just enjoy it. There are some paths all around the lake that have been made for people to walk, run, do bike rides and other things. There are also some restaurants and ice cream shops, as well as playing area for kids during the summer. This was truly a nice place.
There is also a little island in the middle of the lake, that is reachable only by going through the water. We decided to go there, and for that we rented a small boat. It cost only €15 for one hour, which I think is really not so much. It took us about 25 minutes to manage the boat and get to the island, and we visited it a little bit. It's very quick because the island is quite small. There is only a church on it, as well as one restaurant and an ice cream shop. I think renting a boat and getting to the island something to do and see if you go to Bled! If you don't feel like rowing, there are also organized boat trips that go there.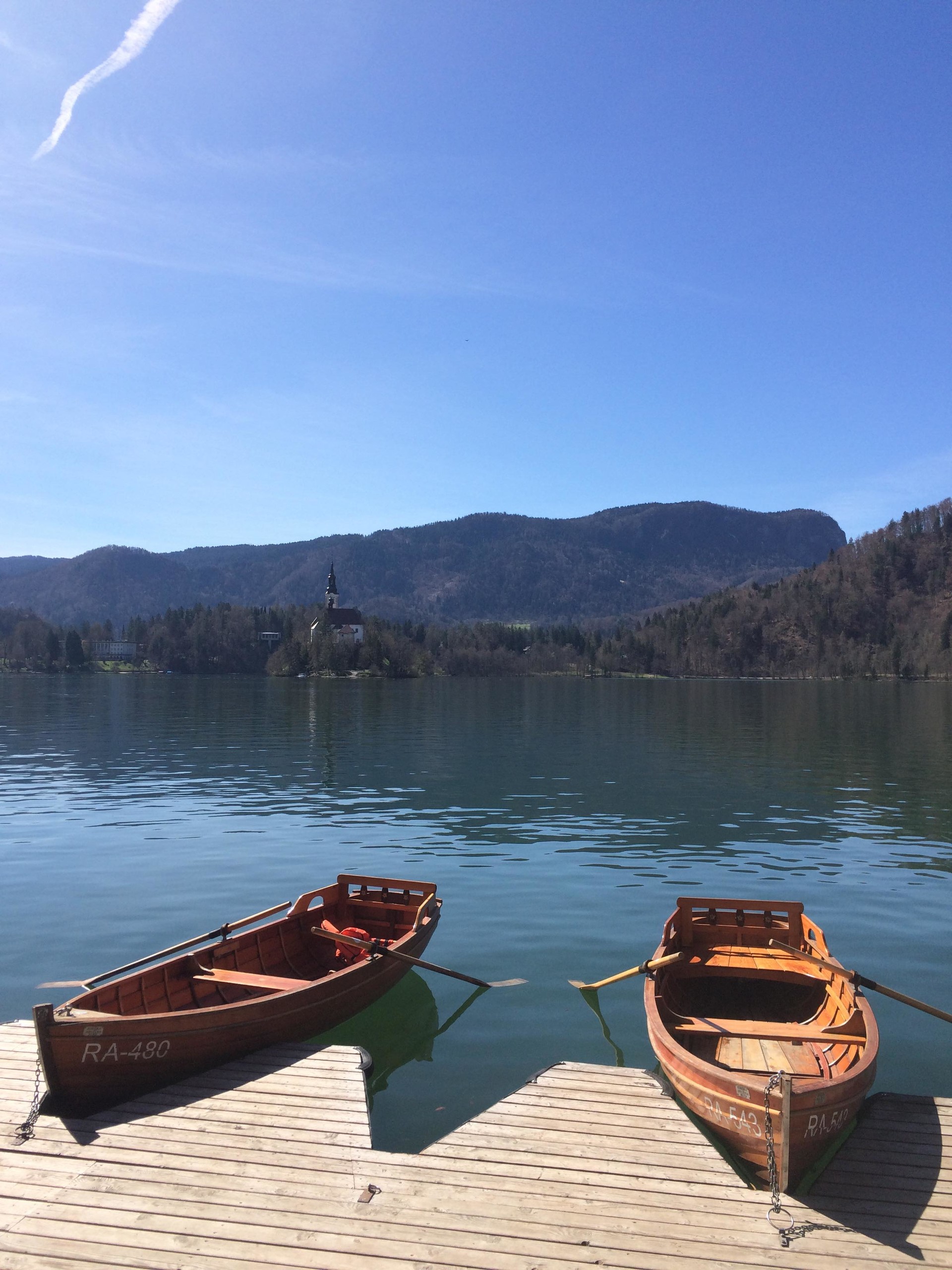 After we spent about 5 hours in Bled, we decided to go back to Ljubljana. For that we took the train, and on our way to get to the train station in Bled (which is kind of up on a little hill), we got a view all over the lake, and it was truly beautiful.
Bled is really a place to see in Slovenia. I was so happy to go there after I had seen so many pictures of it on the Internet over the last winter, and to finally be able to see it with my own eyes! Plus, it was really beautiful, so whether you have already heard about this place before or not, you should definitely go there if you visit Slovenia!
Day 2: Visit of Ljubljana
For the second day of our trip, we decided to stay in the capital city. And we chose well, because the weather for our day at the lake was really good but it got a little worse after. For Ljubljana, I didn't really know what to expect because I had never heard anybody who had been here telling me about it, so I was really excited to discover it myself with no prejudice and no idea of what I'm going to see!
The city center of Ljubljana is not too big, so it is very easy to go around just by walking. The cars are forbidden there anyway, which I think is really great! The main street is located on the sides of a river, called the Ljubljanica. The streets all have cobblestones and are grey, and there are several bridges of different styles to cross the river at different places. They include the most popular one, the dragon's bridge (the dragon is kind of the symbol of the city) and the so-called "triple bridge", which is one large bridge with two tiny bridges on its side (this one was my favorite). They are made of concrete and stones, and so they look exactly the same color as the streets!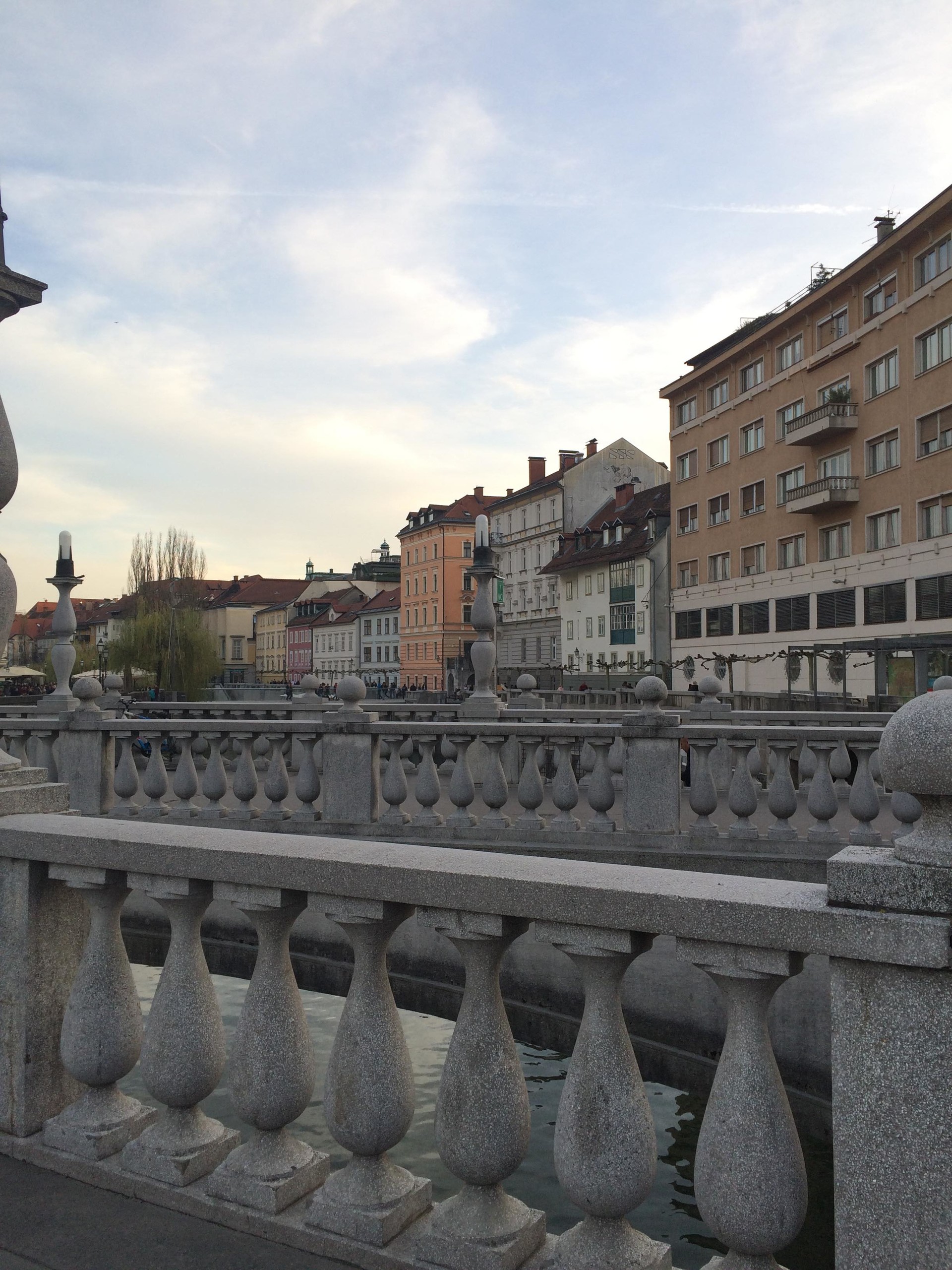 I found Ljubljana to be a very quiet and peaceful city. Maybe it's because there is no noise since there is no cars. It's very pleasant to walk around there, with many pretty façades to look at in every street. It reminded me a little bit of Amsterdam with the canals and the tiny houses on the sides. There was a part that also had several restaurants and bars with terraces along the canal which was really nice with the sun in the evening.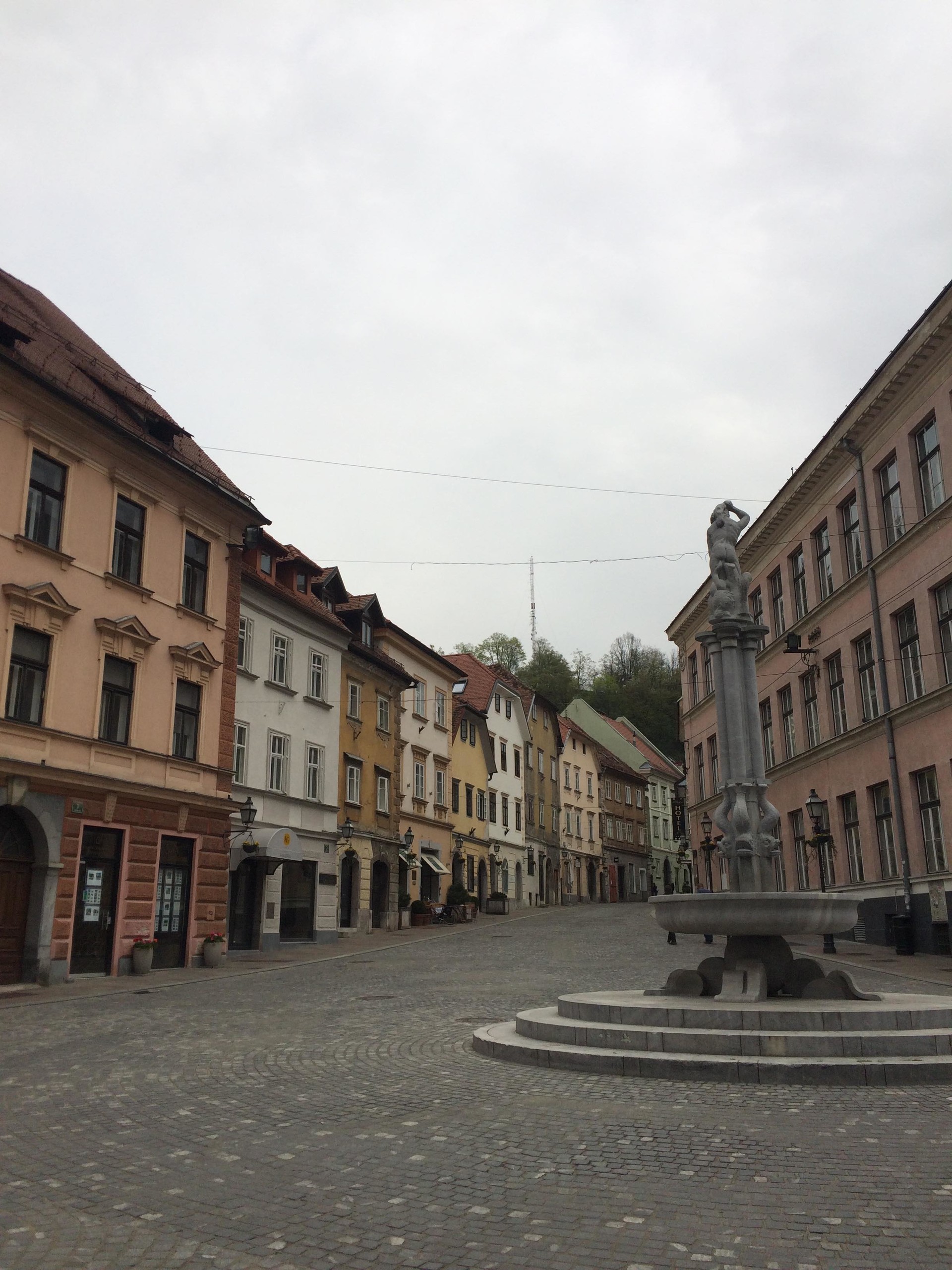 There is also a castle that overlooks the city. You can literally see it from every street, it's like a point of reference when walking around town. We climbed up there to visit the castle: we used the stairs, but there is always a funicular railway that brings you all the way up, and it's also possible to access it by car. When we arrived there, we found out that the courtyard of the castle had been rearranged and that there was a restaurant, which must be a really nice place to have dinner! We also walked around the castle, which gives a very nice view over the whole city of Ljubljana from above, which is something that I always love to see in a city. It's also possible to visit some parts of the castle for free, but you need to pay to get inside some other. Also don't forget! When you visit something in Slovenia, there are many places that offer reduced prices for students! Do not forget to ask for it!
Slovenian people were also all very nice to us! They could all speak English (like really all of them, I was actually surprised that so many people had such a good English). They were very welcoming and nice to us, which always feels great when you visit a new place and don't speak the local language.
As we were walking around the city on the Friday evening, we found a square, not far from the main one, where a beer and burger festival was taking place. There were dozens of stalls representing different food shops and restaurants of the city, selling exclusively burgers and beer! They even had their own barbecues and machines to cook the burger right in front of you and keep the beer cold until they would serve it. We later found out that these sort of events often happen in Ljubljana, and there is actually a sort of "food celebration" taking place every Friday evening (when it's not raining) in the same place, to have people gather around food and share a good moment together. The person who told us about this was a Slovene himself, and he said that this festival was really worth seeing! He also said that Slovenian people really liked food and beer in general, and that's probably why you can find some in the whole city.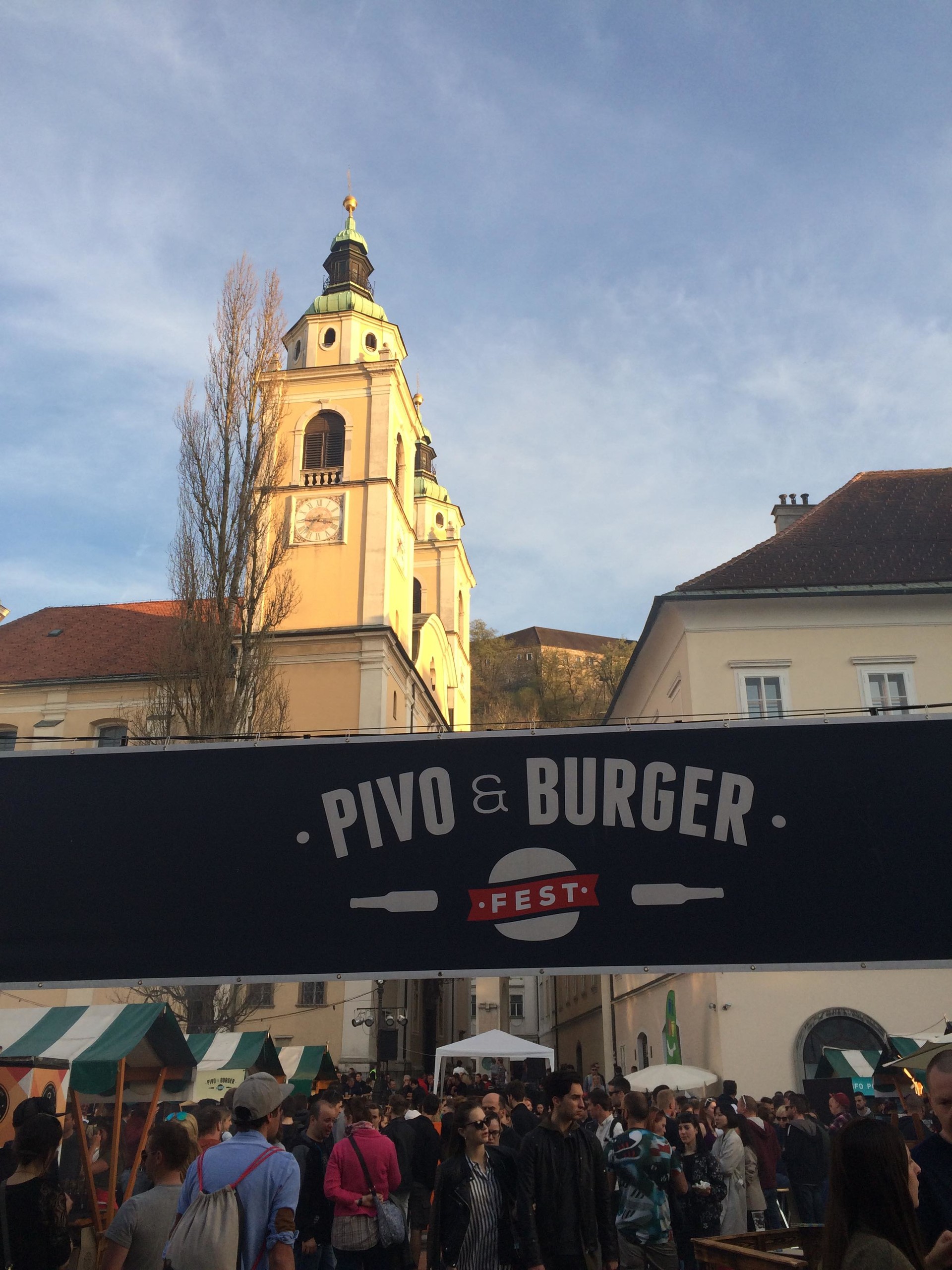 (This is a banner that was at the entrance of the festival, "Pivo" means beer in Slovenian, and burger is a quite transparent word... )
We spent the whole day visiting Ljubljana! I really loved this city and I think you can spend at least 3 days there with no problem to visit everything! It was a very nice and relaxing city, and even though it is not very popular in the travel destinations right now, I think it will be in the next few years! So go now if you want to see it before anybody else!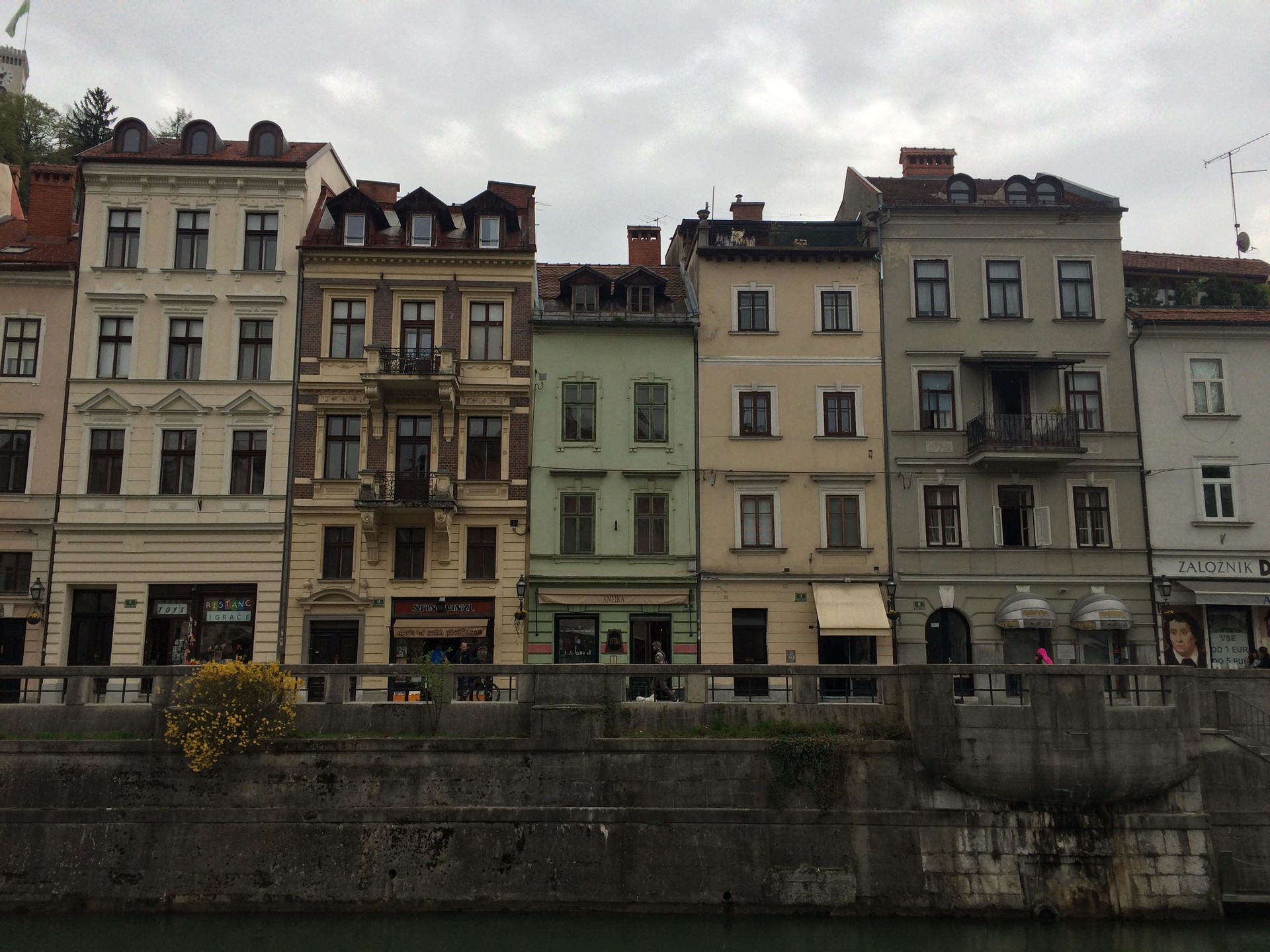 Day 3: Visit to Piran
For our third and last day in Slovenia, we decided to visit Piran, which is considered to be the prettiest seaside town in Slovenia. We had to take a bus from Ljubljana to Koper (which costed us €10 only for one way), and then a local city bus from Koper to Piran. We arrived there around 11 in the morning, and unfortunately for us the weather was not so clear, but we still had a pretty good time in this city.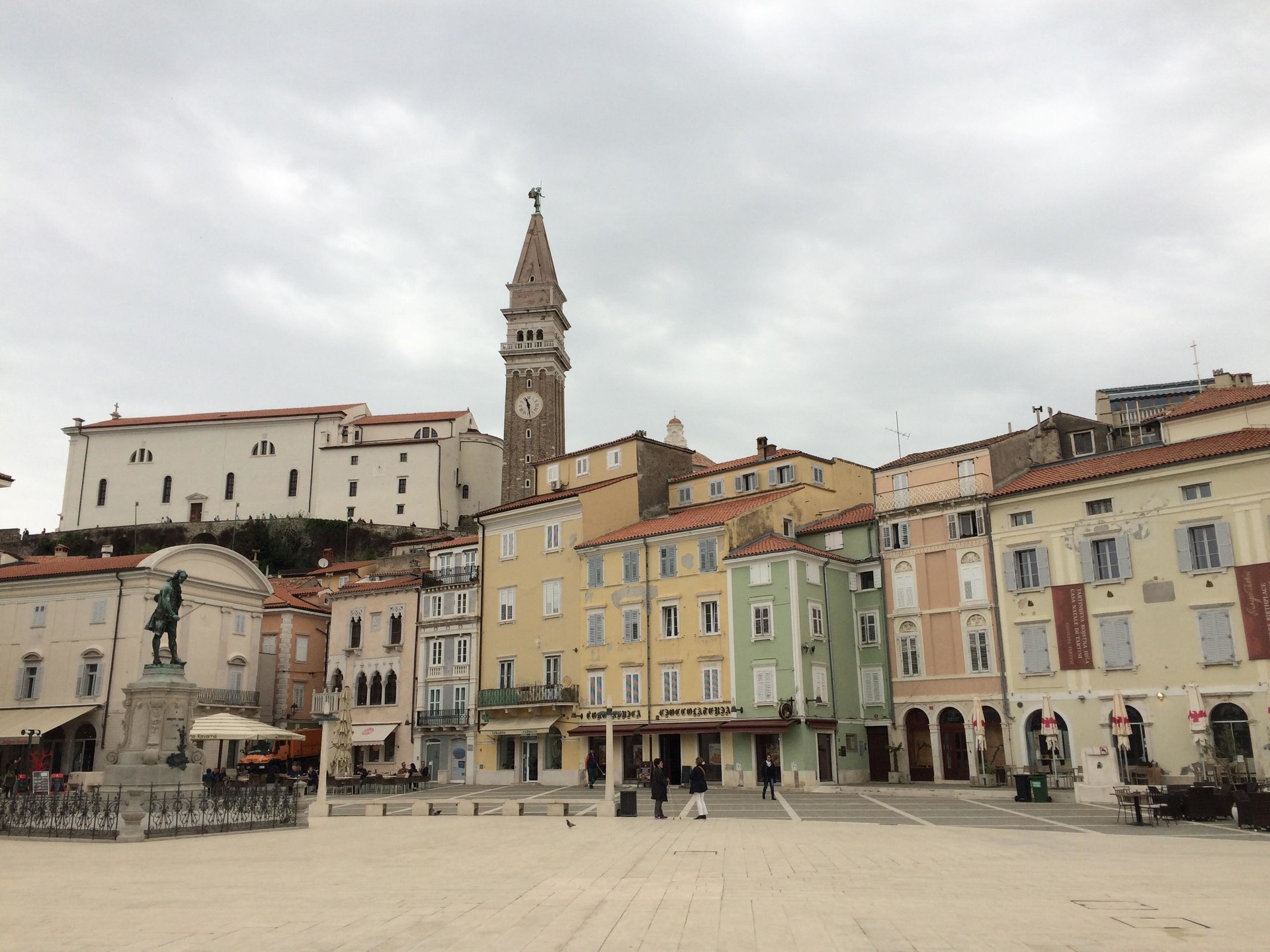 The first thing we saw when we arrived was the small harbor. It had all those small boats and cute, tiny houses around, which I really loved. We then arrived in the main square of the city, dedicated to a musician that had an important role there. All around it there were some colorful houses and we could see another castle, overviewing the city from a little hill.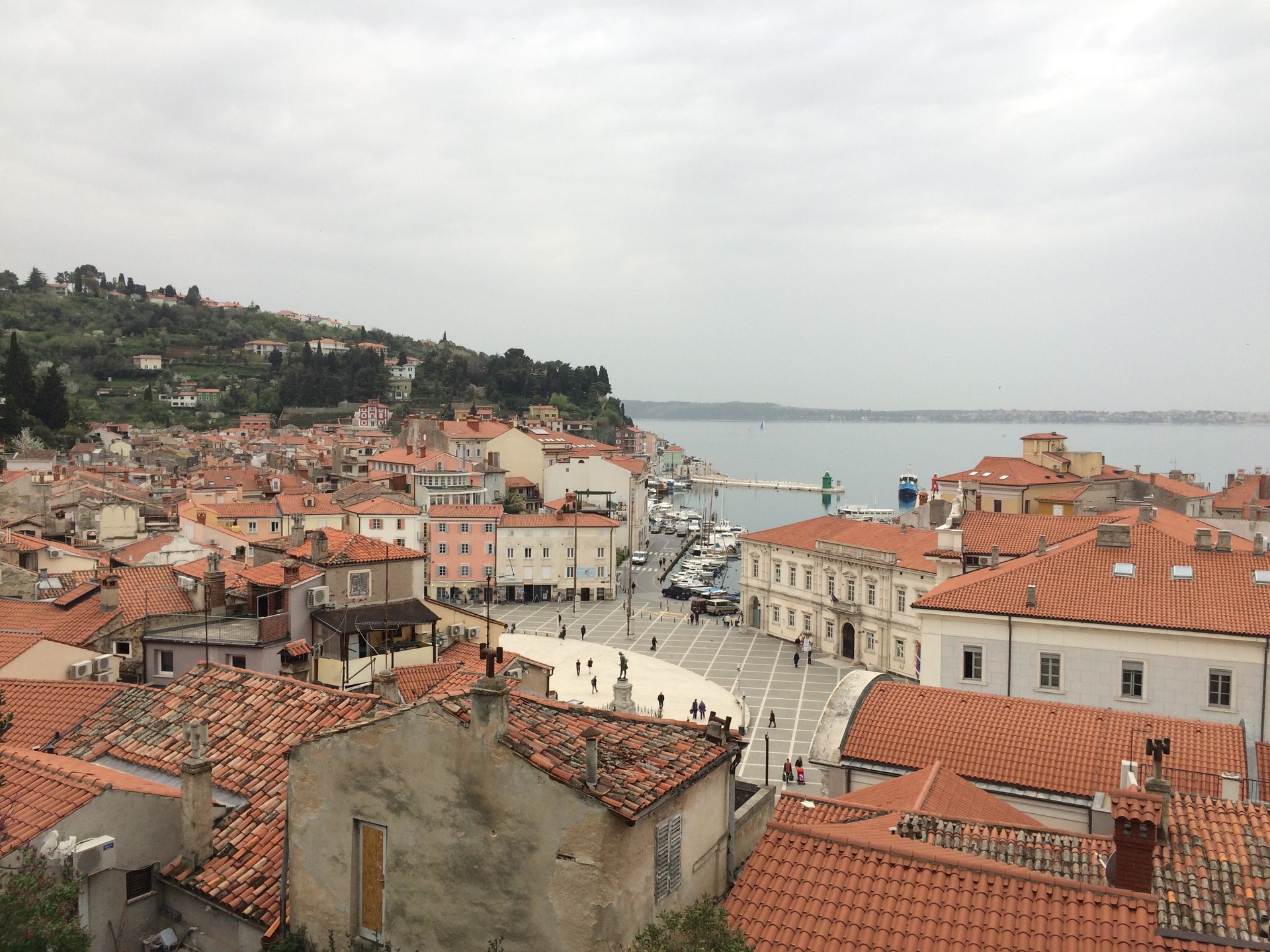 We started climbing up to get to the castle, but before that we noticed that we could make another stop, where the church is located. This place offers a wonderful view over both the city on one side, and the sea on the other side. This was my favorite view of the day, I found the city very pretty with all the orange/reddish roofs. After stopping for a little while and taking a lot of pictures, we headed back to the castle. After a climb that was a little hard, we finally made it, to find out that we actually needed to pay to visit the castle. It only cost €1, 50 for students to get in so we did it, but I think this should be put on a sign before making people climb all the way up… Anyway, the view from there was also very beautiful, but it was a little further from the city than the one that we had had at the church before. The rest of the castle was empty, so the only thing to see there was the view.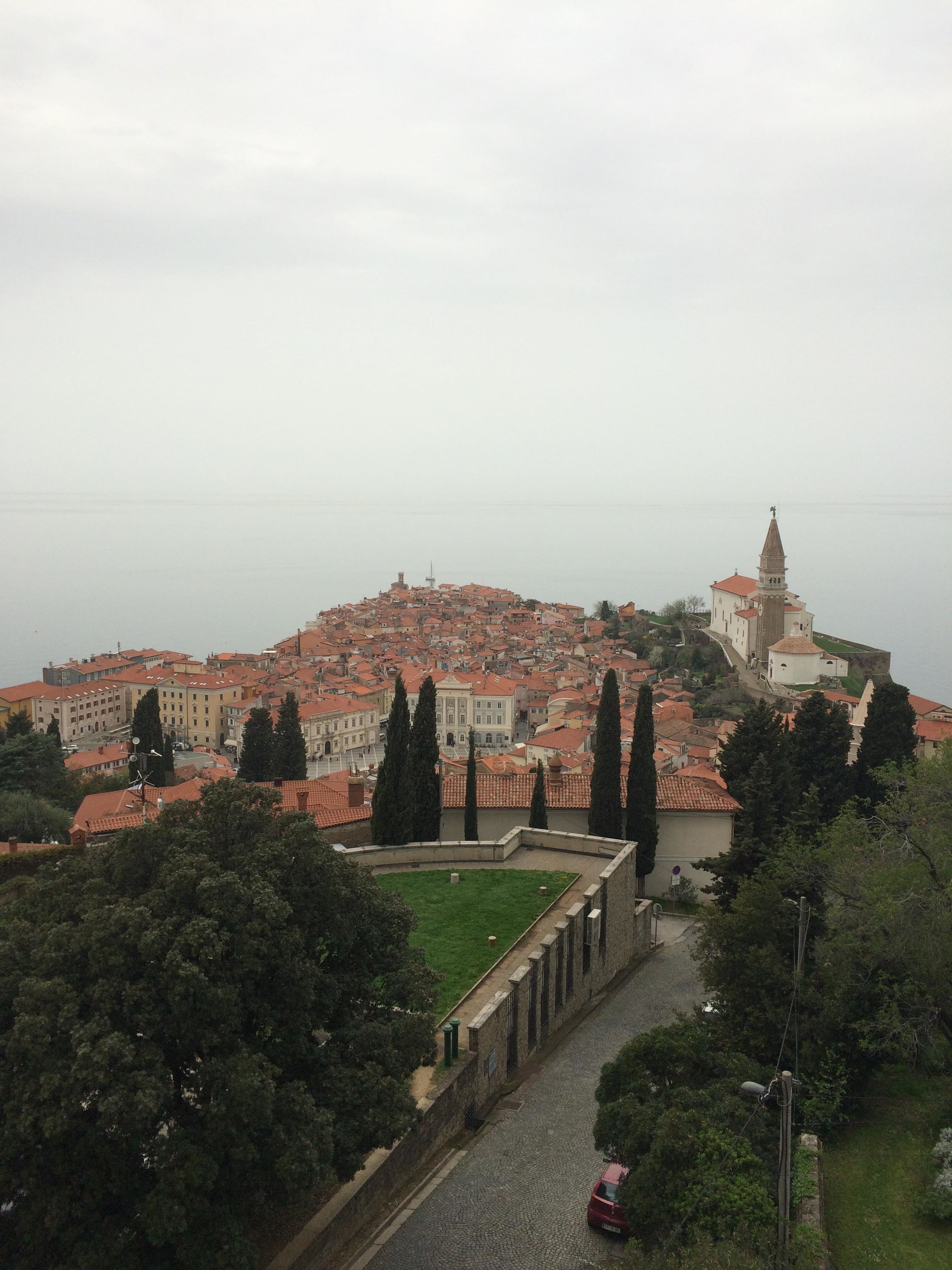 After coming back down, we walked a little more around in the small and lovely streets of Piran.
This was also a very relaxing and peaceful place, and having the sea just right there really adds up to it. After a couple more hours, we had to go back to Koper to take our bus and come back to Milan.
That's it for my three-day trip to Slovenia! To sum it up, I really loved this country and would definitely recommend it to anyone asking! Slovenia is not so far from Italy (if you're willing to take the night bus) and is a great weekend getaway! I'm really happy that I could do this trip during my Erasmus year!
---
Photo gallery
---
---
Content available in other languages
Want to have your own Erasmus blog?
If you are experiencing living abroad, you're an avid traveller or want to promote the city where you live... create your own blog and share your adventures!
I want to create my Erasmus blog! →