My unforgettable trip through the magical Peru
My trip through Peru
In the summer of 2015 I made a trip to Peru together with my twinsister. It was a trip to never forget about. Next I will describe my very intensive 12-day trip through Peru.
17th of July:
We arrived at 6 a. m. in Lima, we flew from Rome (because we had a small holiday there to visit our family) to Madrid and from Madrid to Lima. We got hosted by a woman who was living in Lima, with 5 children. She was a friend of our friend from Mexico, who we were going to meet during our trip through Peru. The house of this woman was really cold and small. We were invited to sleep in the beds of the two girls, and these two girls had to sleep together with their brothers. They didn't have much money, but they were really happy to receive us. The host told us that she took one day free from work to show us the city of Lima (she was the only one who was having a job in the family, her partner didn't have a job). We felt sorry for her that she did that, but she was very glad to take this day free to spend with us. Even though we were very tired, we visited the city centre of Lima with this woman and her family. It was a good day. We stayed only one night with this host-family, because the next day early in the morning we started our trip to Cuzco.
We knew that from Rome to Lima was no problem by plane in terms of height (to prevent getting the altitude sickness), but to go in one time from Lima (1550 meters) to Cuzco (3300 meters) could cause some problems. Altitude sickness happens when you are not able to get sufficient oxygen from the air at high altitudes. We heard that it doesn't matter your age our physical condition, some people get the sickness, other people don't. To prevent getting the altitude sickness: drink tea with coca leafs! Most hostels have that tea for free to take every day.
18th of July:
To make the chance to get sick as small as possible, we made a stop in Arequipa (2380 meters high). From Lima to there we took a very comfortable bus from Cruz del Sur: we had our own TV to watch movies on or play games, our seats were very comfortable and we got several meals. The first night we spend in the bus (the trip was around 15 hours) and the next day we arrived late in Arequipa, so we went to sleep immediately. We booked a very cheap and cute hostel, with the name 'Arequipay'. When we woke up, we went to the city centre of Arequipa. The first thing we noticed when we went outside was a little difference in the way we were breathing, we had the feeling that we were breathing faster than normal. So if we walked a little faster or if we wanted to run, it was almost impossible because we were out of breath very soon. This is a normal consequence of changing from heights. As long as you don't feel dizzy or nausea, it's fine. We didn't have that much time to discover Arequipa. We went to the city centre, took some rest on a lovely terrace and drank a delicious fresh juice.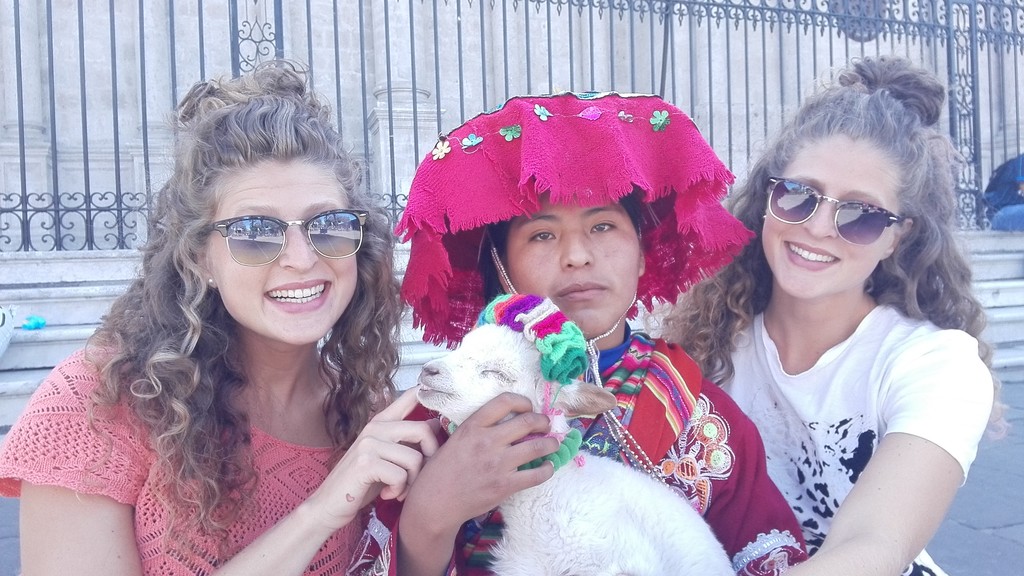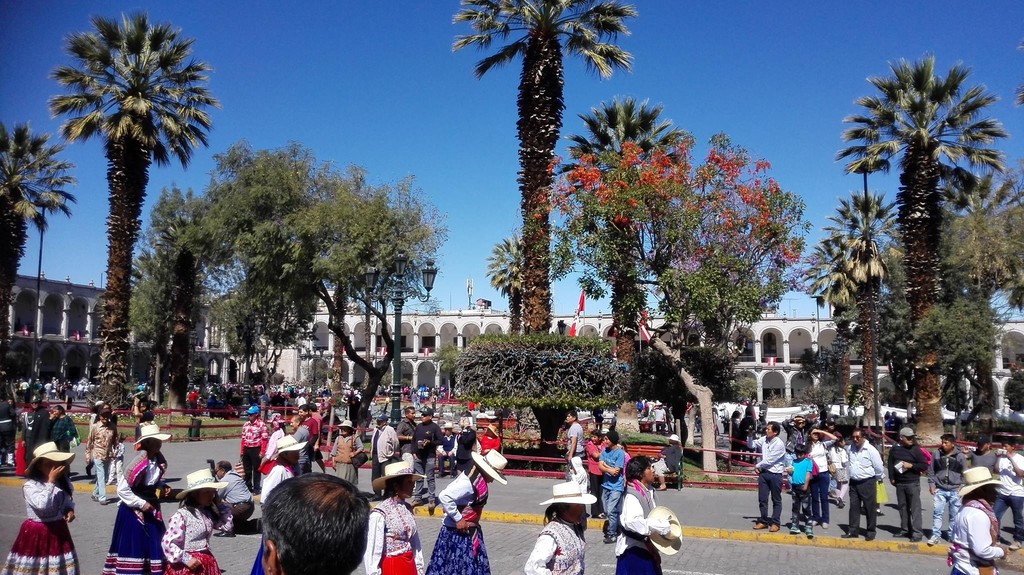 Above you can see the mainsquare of Arequipa.
21st of July:
We proceeded our trip to Cuzco, which took 10 hours by bus from Arequipa. We met there with our friend from Mexico and some other friends of his. We stayed there for 2 nights in the Hostel "Kokopelli", a very nice hostel with friendly backpackers and staff. We did a tour around the city and we saw alpacas and lamas, and ruins from the Incas.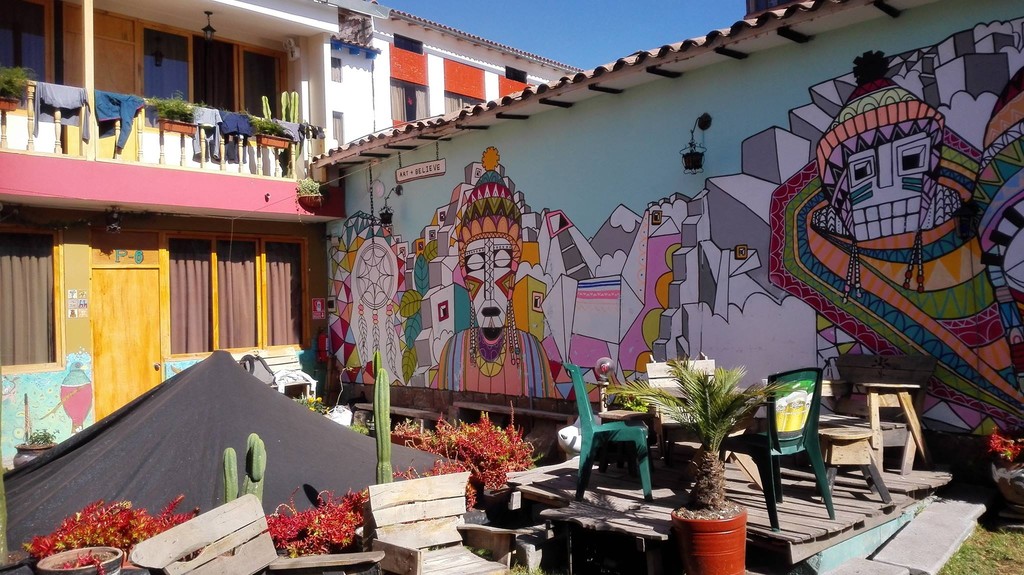 Kokopelli hostel.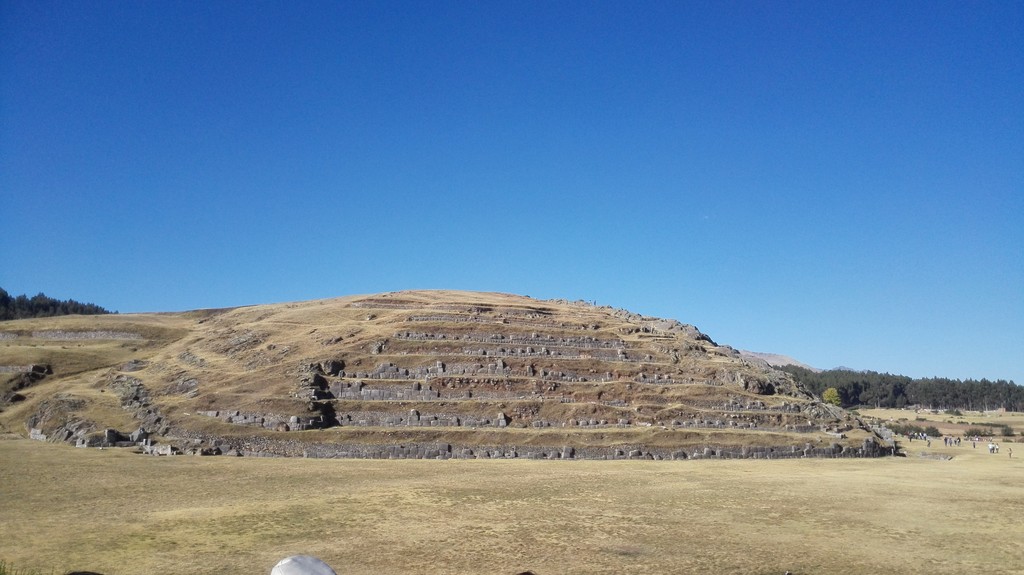 Inca ruins.
22nd of July:
The next day we went from Cuzco to Aguas Calientes. The day before we booked our bustrip, being totally unconscious of what we were about to experience the next day. That bustrip was the most scary thing I ever did in my life. The roads were high in the mountains and they were the smallest roads on earth probably. Trust me, it couldn't be worse. It must have been the Peruvian deadmans road. And the worst thing was that this was only the way up, imagine that we also had to get back to Cuzco with this horrible bus. We already paid our bus ticket back, but there was no way that I was going to take that same trip back again. I was feeling very sick because this bus-driver was driving very fast, it was a bumpy ride of 7 hours (! ). Besides, we were almost all the time looking into a ravine. I was praying, only praying. During the break I asked the bus-driver personally to slow down a bit while driving, but he started to laugh out loud and he said: "Oh girl, I am doing this every day! Back and forth, back and forth". This basically means that this man is risking his life every day...
After 7 hours of sweating, we finally arrived in Aguas Calientes. We made it, I couldn't believe it! From Aguas Calientes we were supposed to go to Machu Picchu. But Aguas Calientes was practically in the middle-of-nowhere, and there was no bus around that could bring us to Machu Picchu. We had to walk the Inca Trail, it took us 4 hours to reach Machu Picchu. It was very exhausting and it seemed endless. When we finally arrived, we were brought to our hotel and went to sleep early, because the next day we were going to visit the Machu Picchu city and mountains. We were so excited!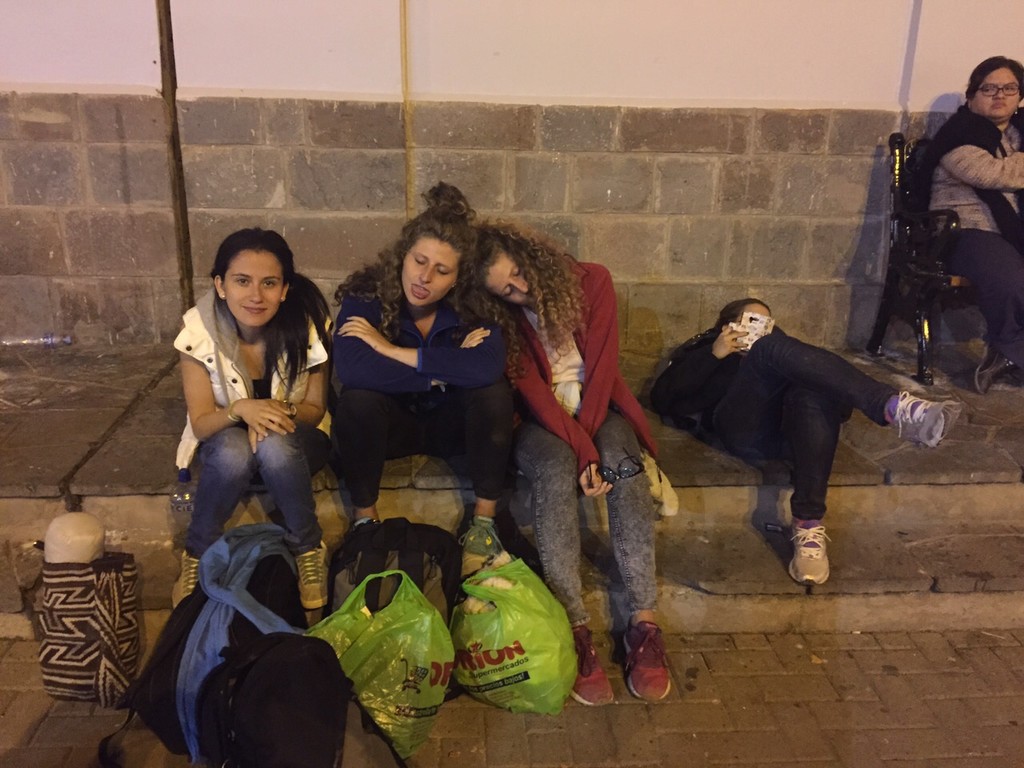 Us after walking for 4 hours.
23rd of July:
It was very early in the morning (6 a. m. ) and there was a huge line on the street to take the bus to Machu Picchu (2400 meters high). In Machu Picchu we climbed the Machu Picchu mountain which was 3061. 28 meters high and we also climbed the Intipunku (2720 meters high). The biggest and most dangerous walk I ever did. When we were walking down from our last mountain, my legs were about to give up. They were shaking very intensively, I had to be very careful not to fall. It felt like a big victory after climbing so many thousands of meters. It was an incredible feeling! We also saw Machu Picchu pueblo (the city of the Incas). Breathtaking is all I can say about it.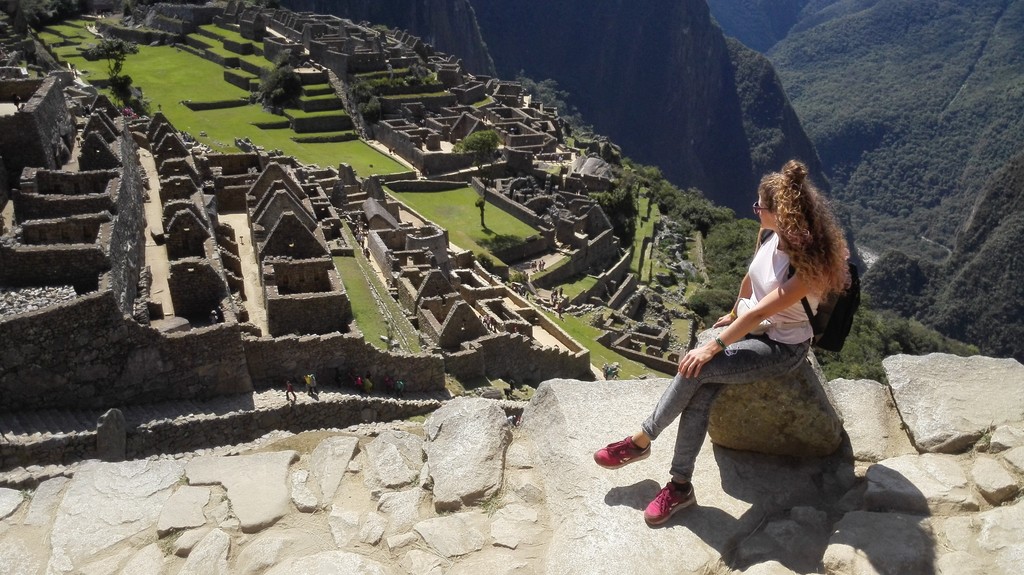 My view on Machu Picchu pueblo.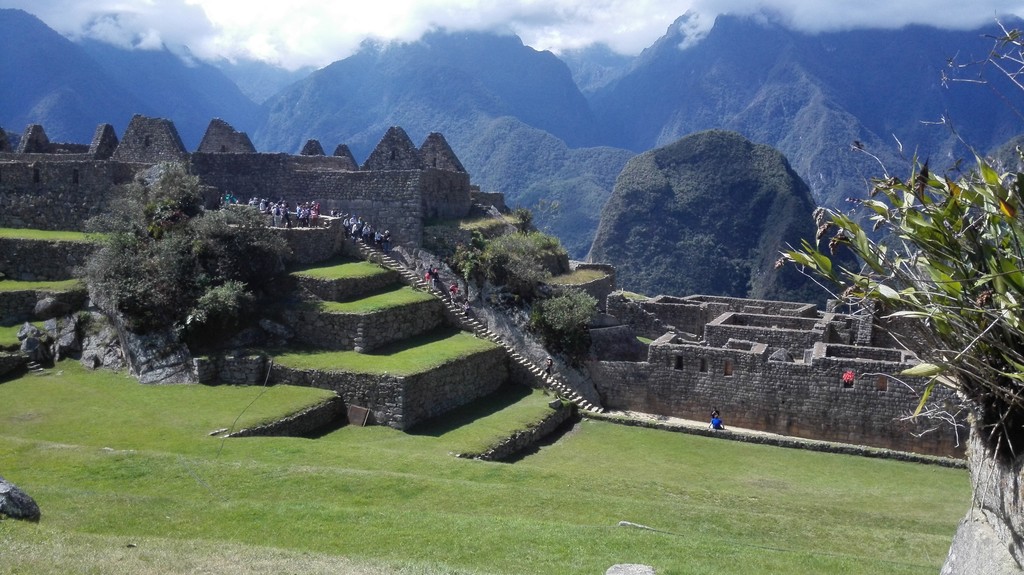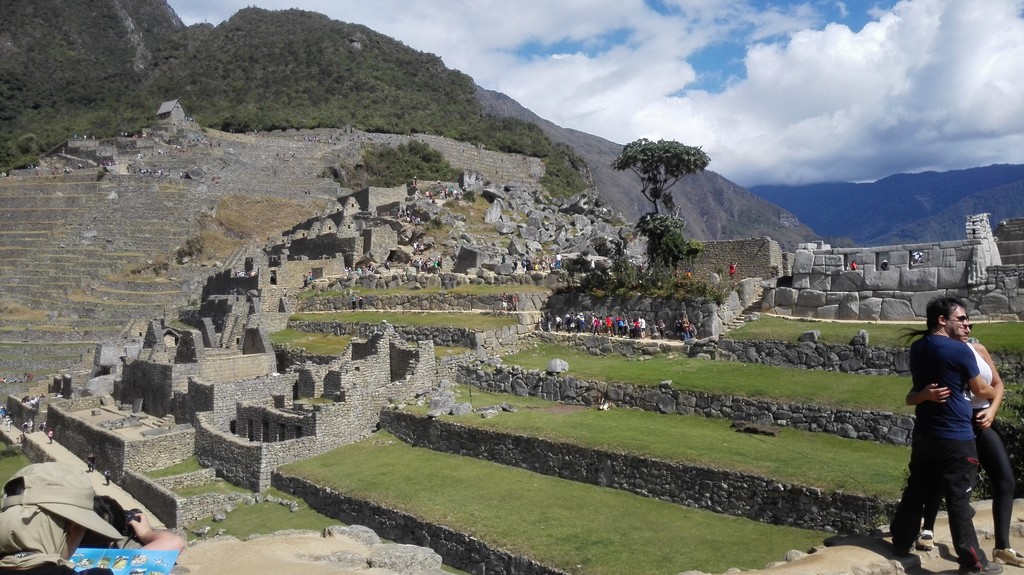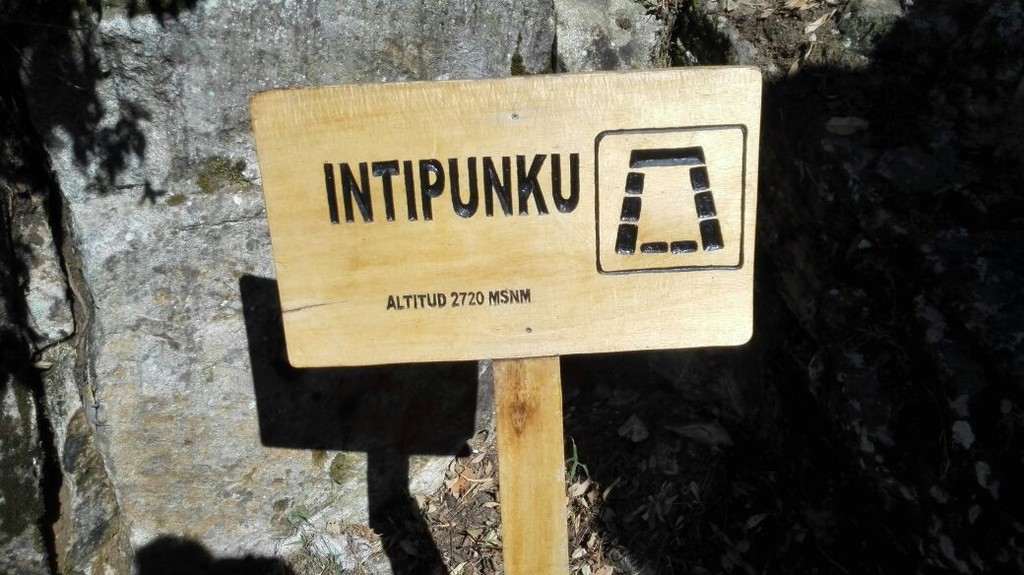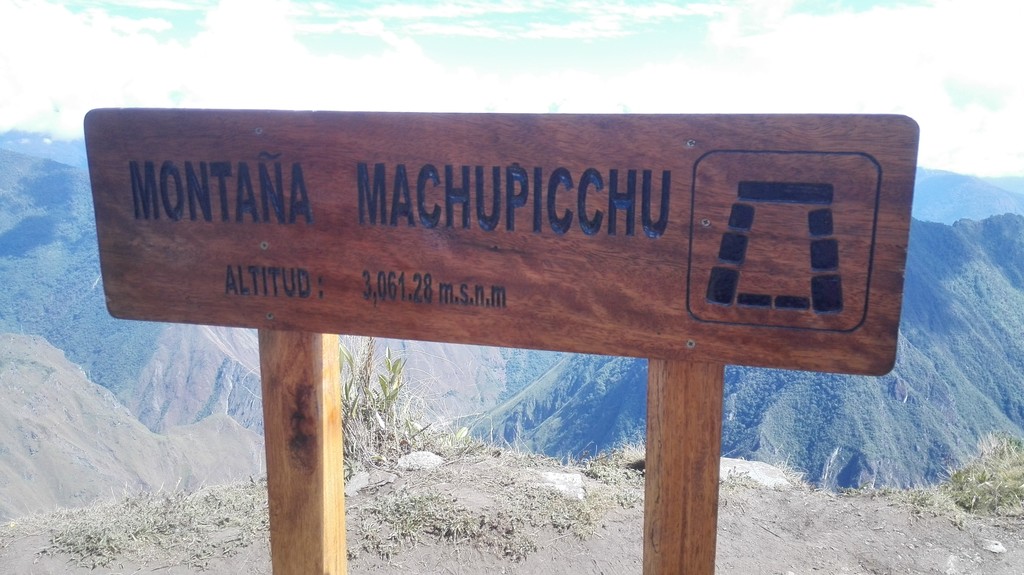 24th of July:
Because we were so afraid to take that bustrip back to Cuzco we decided to take the train (safest way, but really expensive). Our friends didn't want to spend money so they took the bus back (I was praying for them, literally). In the train trip there was included: a traditional 'danceshow' and a fashion show. We were very excited. The dance show turned out to be an act of one of the train-workers who wore a funny suit and a mask, and was hopping through the train (while it was moving, it was so silly). He would ask some passengers to dance with him. Of course, even though I was trying to not make any eye contact, he picked me. So I stood up and started to hop around with this guy, people started filming us and I couldn't stop laughing.
After getting so ashamed, they started the fashion show. Again, co-workers from the train did this show, they were wearing beautiful clothes made from Alpaca fabric, you could buy pieces at the same moment in the train. It was a silly but a nice experience. Our friends arrived a day later than us. Thank god they arrived safely. They told us that the same day, one of those tourist buses actually fell from the mountain and everyone inside of it died... An incredibly sad story. It could have been our friends, or even us.
25th of July:
In Cuzco we stayed another 2 nights. We booked a hostel for 10 soles (3 euros) per night. But it was a really disgusting hostel, runned by 2 brothers and everybody (including them) were constantly stoned. The two brothers were really happy with our arrival and we were supposed to stay one night. I couldn't believe my eyes when I entered our bedroom. The room had 4 bunk beds and 2 of them were occupied (it was 14. 00 p. m. ) by two guys who were looking at us with no facial expression. Then they continued sleeping. The room had a very bad smell and 'our' beds were not clean, they were full of other people's hair. The shower was somewhere located outside with some cracky walls, full of garbage. One thing was for sure: we would do anything to not sleep here. But since we already made the reservation, it was too late to cancel.
We arrived in the afternoon, so we decided to go outside and look for another hostel for the same night. We found a good one, "Wild Rovers" hostel and stayed there instead of the gross one. The next day very early we came back to the gross hostel (we pretended to have slept there) and we asked to do the check-out. We payed each 10 soles and went away as soon as we could, after the two brothers made a picture with us because we were the first twins to visit their "awesome" hostel.
26th of July:
Back to Lima. We made a stop in Ica to see the beautiful Laguna Huacachina: an oasis in the middle of the desert. We also made a buggy tour and we did sand boarding. During the buggy tour our friend was sitting next to the driver and me, my sister and Angela (another friend) were sitting in the back. Xhavier (our friend, who was sitting in the front) was filming the bumpy ride with his iPhone and selfie-stick. We were laughing the whole trip and we had to hold ourselves very tight to not fall out (we were wearing seatbelts of course). At a certain moment we looked at the selfie-stick and the Iphone was gone. Xhavi was still thinking he was filming so through the noise of the buggy and the wind we wanted to warn him that his iPhone fell out of his selfie-stick, but he didn't understand us and he thought we were just screaming out of fear. Then, after some time he noticed what we told him and we warned the driver. He stopped and Xhavi had to walk through the desert to find his brand new iPhone. He followed the tracks of the buggy, and he actually found it! Poor guy, he was completely destroyed after running through the desert for some time!
After that we decided to do a Pisco tour to calm down a bit after the buggy tour. Pisco is a brandy that is made of grape wine. The tour guide brought us to a place where this Pisco is made. Afterwards we could taste three kinds of Pisco, all with a different meaning. One was for a lovers' night for example. So depending on your mood, you can choose from different tastes of Pisco. After we heard the history of Pisco and how it's made, we went to the city of the witches (ciudade das brujas), all a little bit dizzy and tipsy from drinking various Piscos.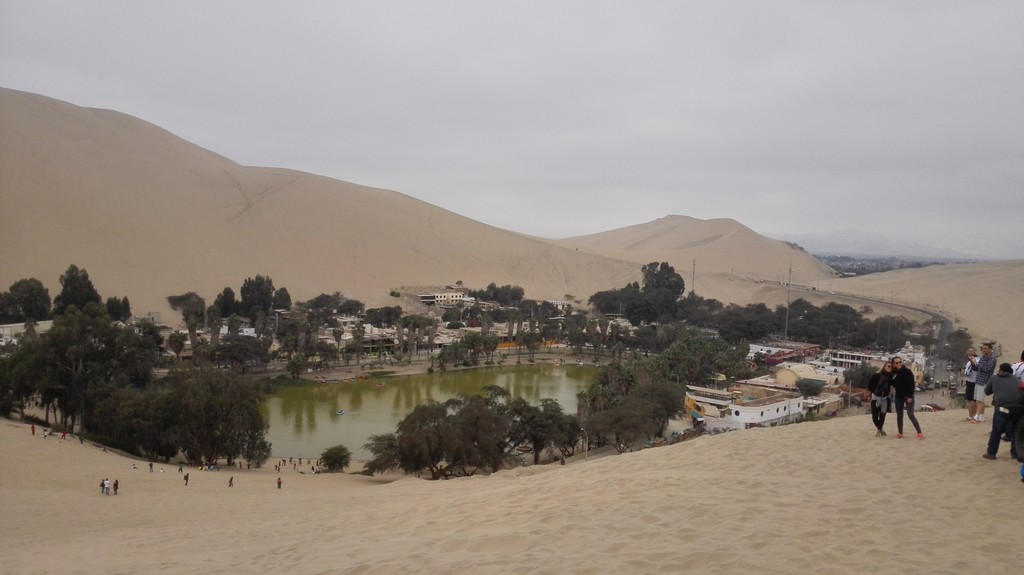 Huacachina.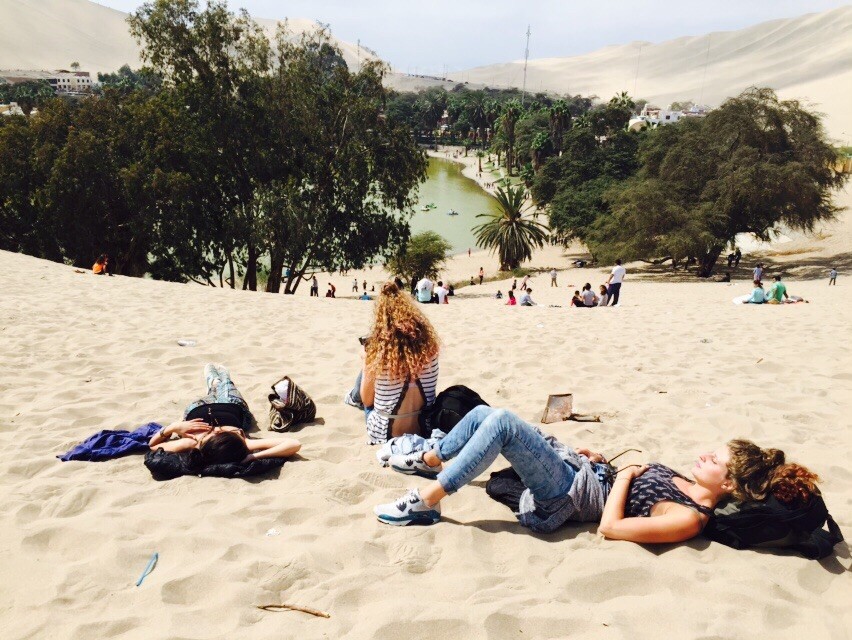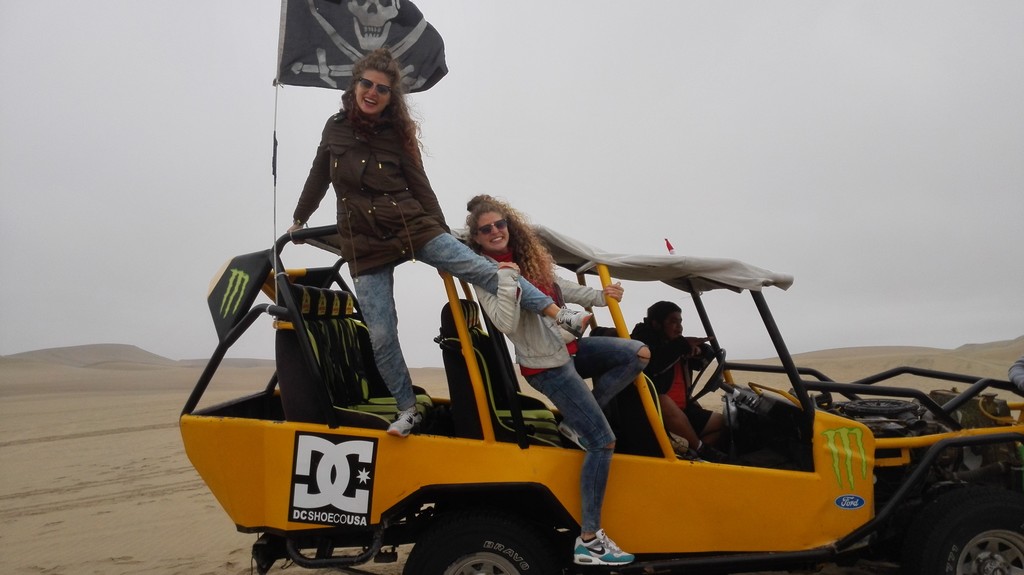 Buggy tour.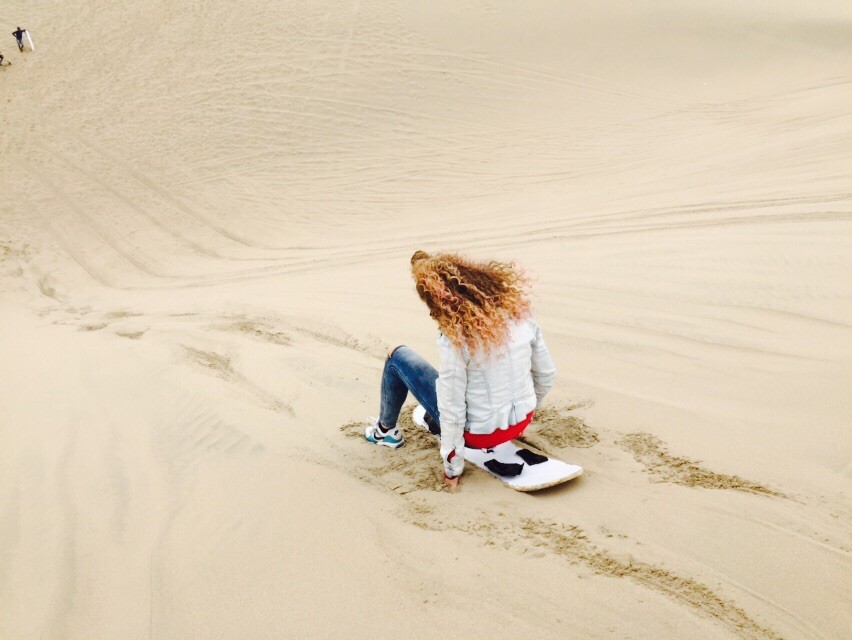 Sandboarding.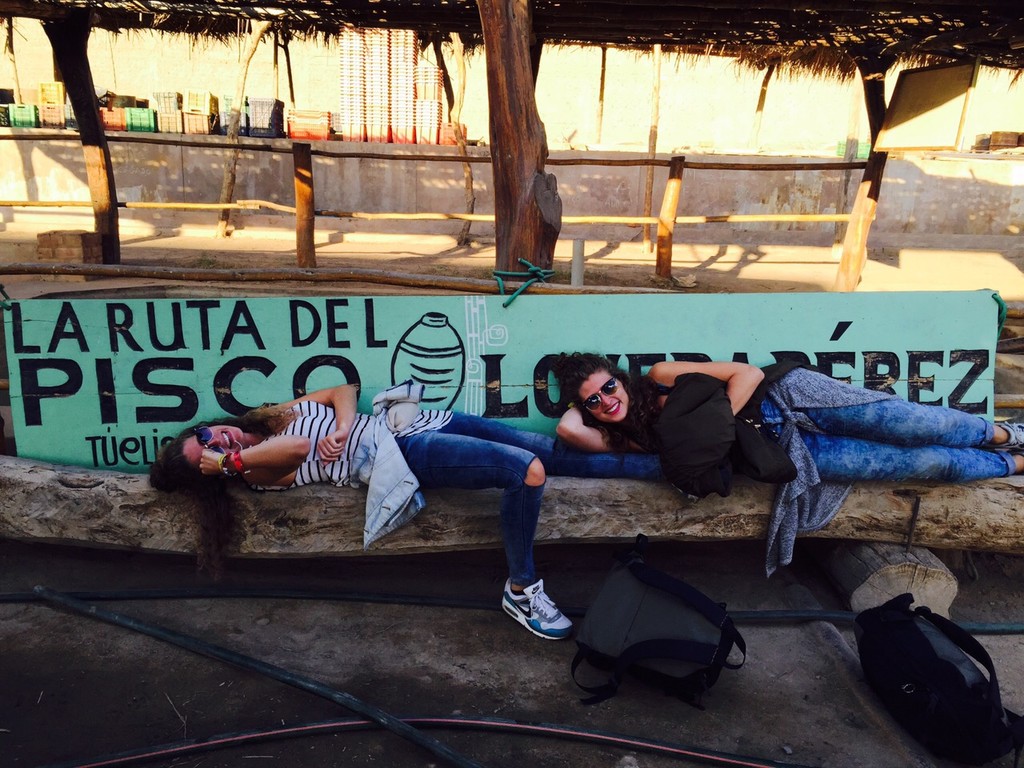 My sister and me after the Pisco tour.
27th of July:
Back in Lima. We stayed until the 29th of July and we stayed in the house of a friend of my sister whom she did voluntary work with in Brazil. The next day (the 28th of July) we did a bus tour whereby we went all the way up to see Lima. It was beautiful, at night we went out in Lima, it was very fun!
And that was it, our magical trip came to an end. The 29th of July we went back home with great memories to never forget about.
---
Photo gallery
---
---
Content available in other languages
Want to have your own Erasmus blog?
If you are experiencing living abroad, you're an avid traveller or want to promote the city where you live... create your own blog and share your adventures!
I want to create my Erasmus blog! →