Christmas in Naples
Hi everyone. Today is 25th December and I really want to tell you about some of the festive traditions in my country. So I'll be telling you how Italians, specifically Neapolitans, celebrate Christmas.
In Italy, especially in Naples people respect ancient traditions, culinary and non culinary ones alike; an extremely old tradition which is still maintained and respected by every generation is the nativity scene. In the Historic Centre of Naples we have a street, Via San Gregorio Armeno, also know as "strada nei presepi" (Nativity Scene Street), dedicated entirely to the nativity scene tradition.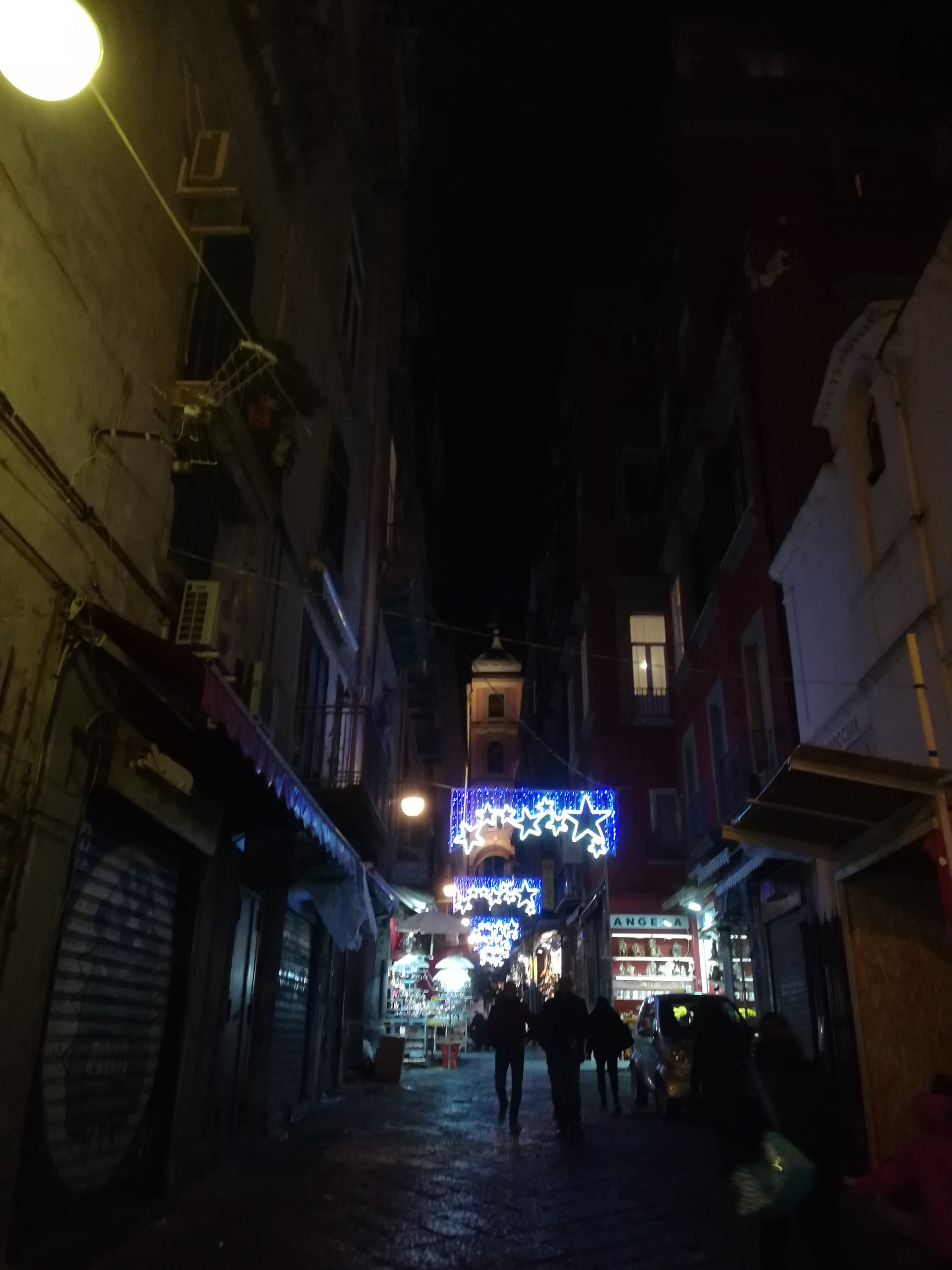 On this street, the most talented craftspeople display their creations in their workshops. It's an extremely fascinating place where it almost feels like jumping back in time, far away from the 21st century. I highly recommend visiting there since it's one of the most famous places in Naples that attracts thousands of tourists, both Italian and foreign every year, especially at Christmas time. I'm not sure of the exact date that the nativity scenes are prepared; I presume it's the 18th December, the same day where it's the tradition to decorate the Christmas tree with the whole family throughout the rest of Italy. However, for those people who love to create large and finely detailed nativity scenes, you'll need more than a day to put it up. My mum prepares one every year and it takes her at least two days to do so, but, for a really passionate and faithful Neapolitan, it's never a great labour: you're literally enraptured by the charm of the crib and making it is always a great joy. This is the one my mum made this year.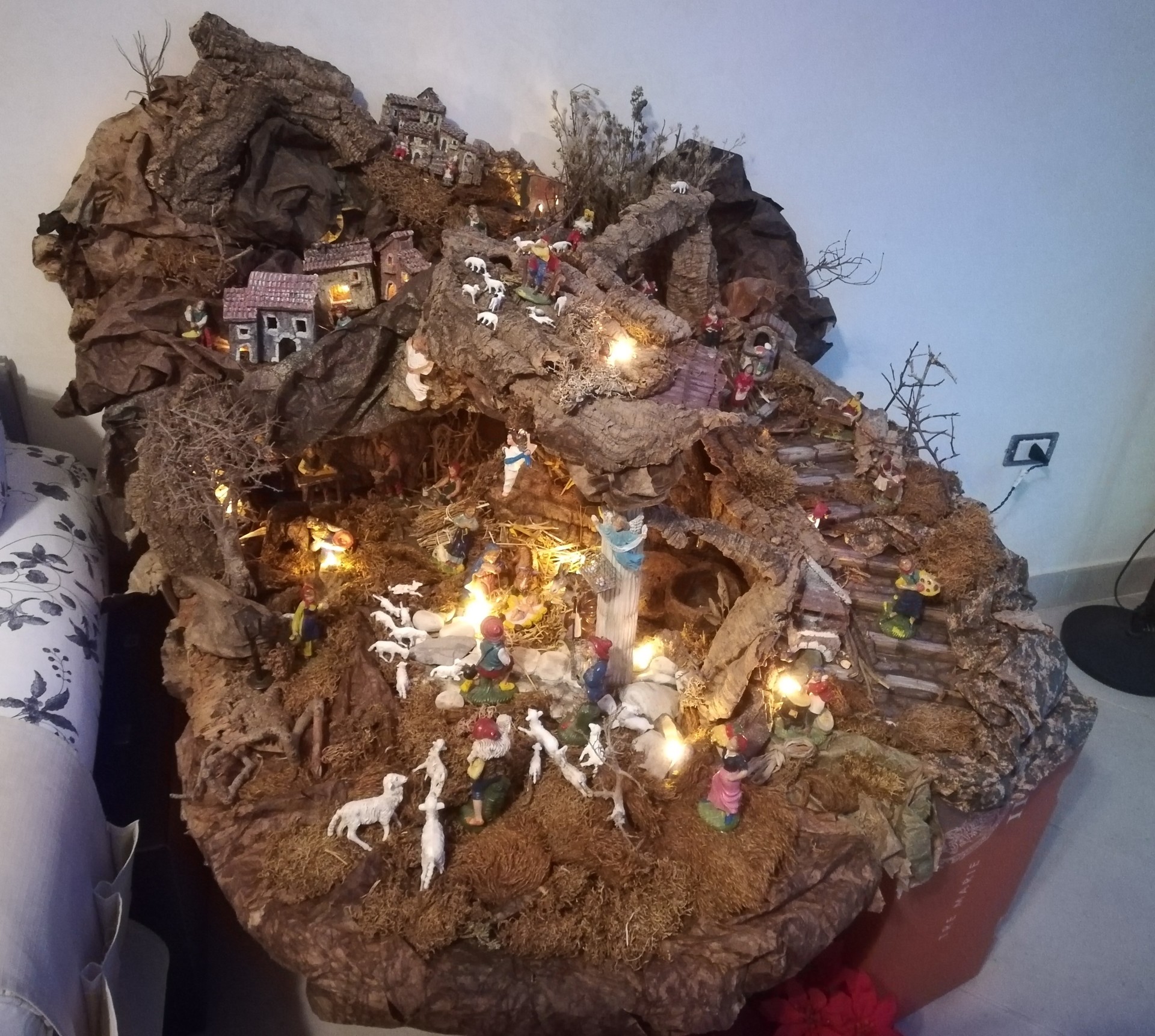 Once the two main symbols of Christmas, the nativity scene and the tree have been taken care of, at this point in Naples, all that remains is for grandmas, aunties and mums to dedicate themselves in body and soul to the Christmas menu. In Naples, culinary traditions are almost sacred, therefore, every year they are rigorously respected. We have loads of festive dishes, but in particular, we have savoury pies and desserts which are only prepared in the days leading up to Christmas. For example, it's tradition in Naples to prepare some savoury pies called "tortano" and "casatiello"; containing cheese, egg, black pepper and local cured meat. As for the desserts, we have struffoli (honey balls), roccocò (almond spiced biscuits), pastiera (cheese tart) and cassata (candied fruit cake). Struffoli is definitely my favourite dessert, because of its flavour, but also because, as you can see in the photos, it's really colourful!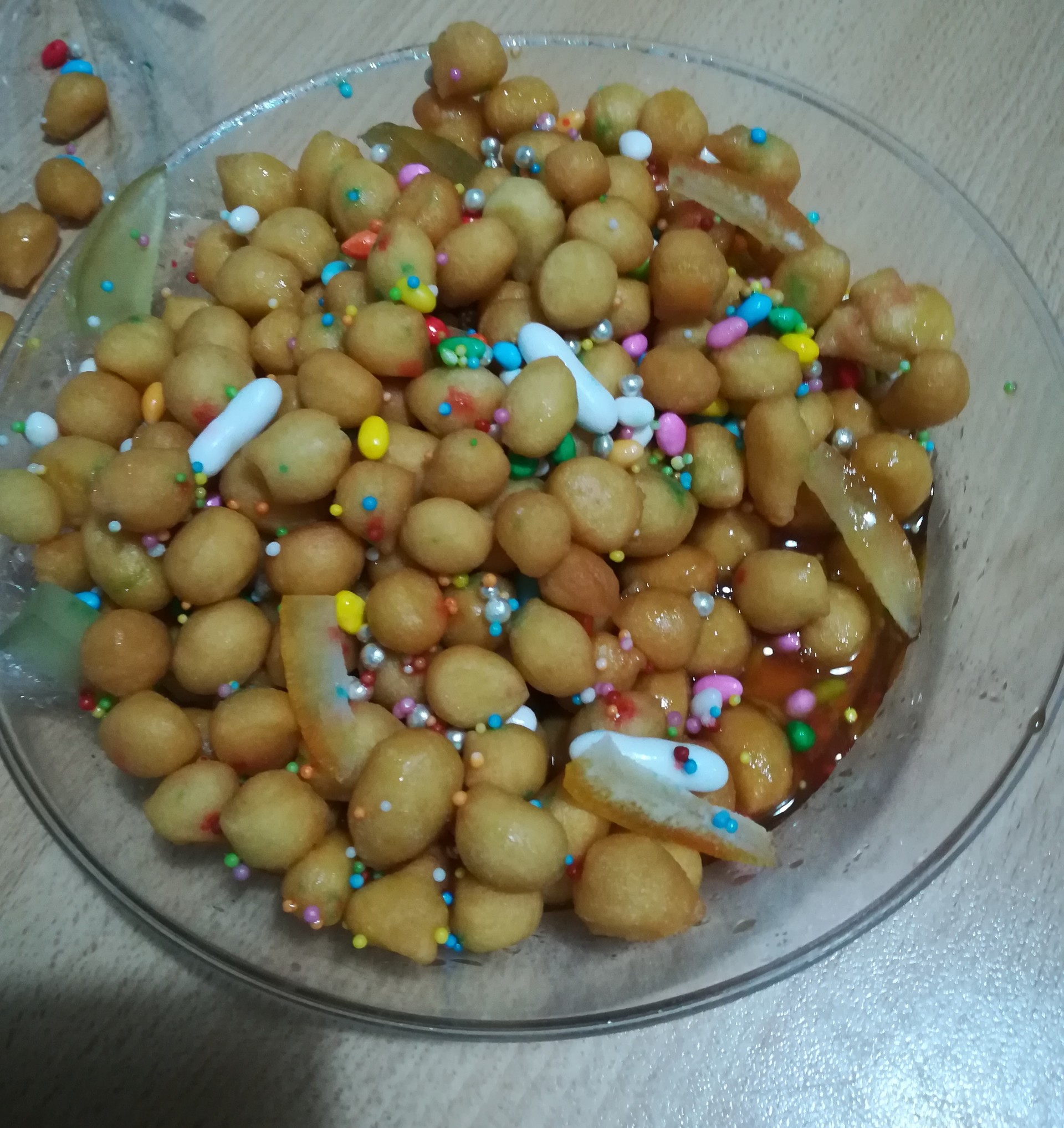 These are the struffoli, fried dough, covered in honey and coloured sugar, but you need strong teeth to eat them, because they're really hard! We also have different types of biscuits like mustaccioli and roccocò. The first is a diamond shaped biscuit, covered in chocolate and filled with cinnamon, nutmeg, almonds and cocoa whereas roccocò are biscuits with a hole in the middle, made of almond dough and covered in chocolate. Just before Christmas, every Neapolitan home is filled with delicious smells and the food is definitely really hard to resist!
And so we arrive to Christmas Eve. In Naples, the celebrations begin in the morning of 24th December...us Neapolitans begin celebrations on this day as soon as we wake up. We usually go for a stroll in the Historic Centre or along the sea coast and then we have a nice breakfast. Our typical Christmas Eve breakfast is eaten at a coffee bar with a good coffee and something sweet, like a croissant, doughnut or a slice of Caprese cake. So a sweet breakfast and not at all light.
In Naples, it's tradition to go out for lunch on Christmas Eve; it's a way to be with your friends or better half. Many would say that they're practically forced to do so by their mums or grandmas so that they don't become a hindrance whilst they're preparing the grand feast... but that's another story. Usually, people go to a pizzeria to eat a margherita or a fried pizza, but the younger generations enjoy fast food or a quick sandwich at the famous paninoteca in the Historic Centre of Naples.
An extremely important moment is the afternoon cocktail. Here in Naples, though I think it happens everywhere in Italy now, at 5:00 in the afternoon we go out for a drink with our friends to the Central Historic streets. Our favourite destination is Piazza Bellini; here we have a beer or the very famous Aperol Spritz and we begin to sing, dance and joke with our friends, and then we wish each other a merry Christmas.
This is when we bid farewell to our friends, good sense would suggest to stop eating. But no, the awaited moment arrives: the Christmas Eve feast. Today, a different menu is prepared in each household, depending on personal taste, but here in Naples, the rule is that on Christmas Eve we eat a fish-based meal, whereas meat is eaten for Christmas Lunch. The fish-based meal is full of seafood appetizers, a first course and a second course with meat. Amongst all the courses there is octopus with potatoes, Russian salad, seafood spaghetti, fried fish, fried seaweed, oven-baked fish, peppered mussel... so everything and more. However, the favourite dish among Neapolitans is either fried codfish or fried eel. Usually, the night between 23rd December and 24th it's tradition to go to the fish market to buy these delicacies, which is always open for the occasion. In the photo you can see eel, sole, sea lupines, clams and of course, capitone (large eel).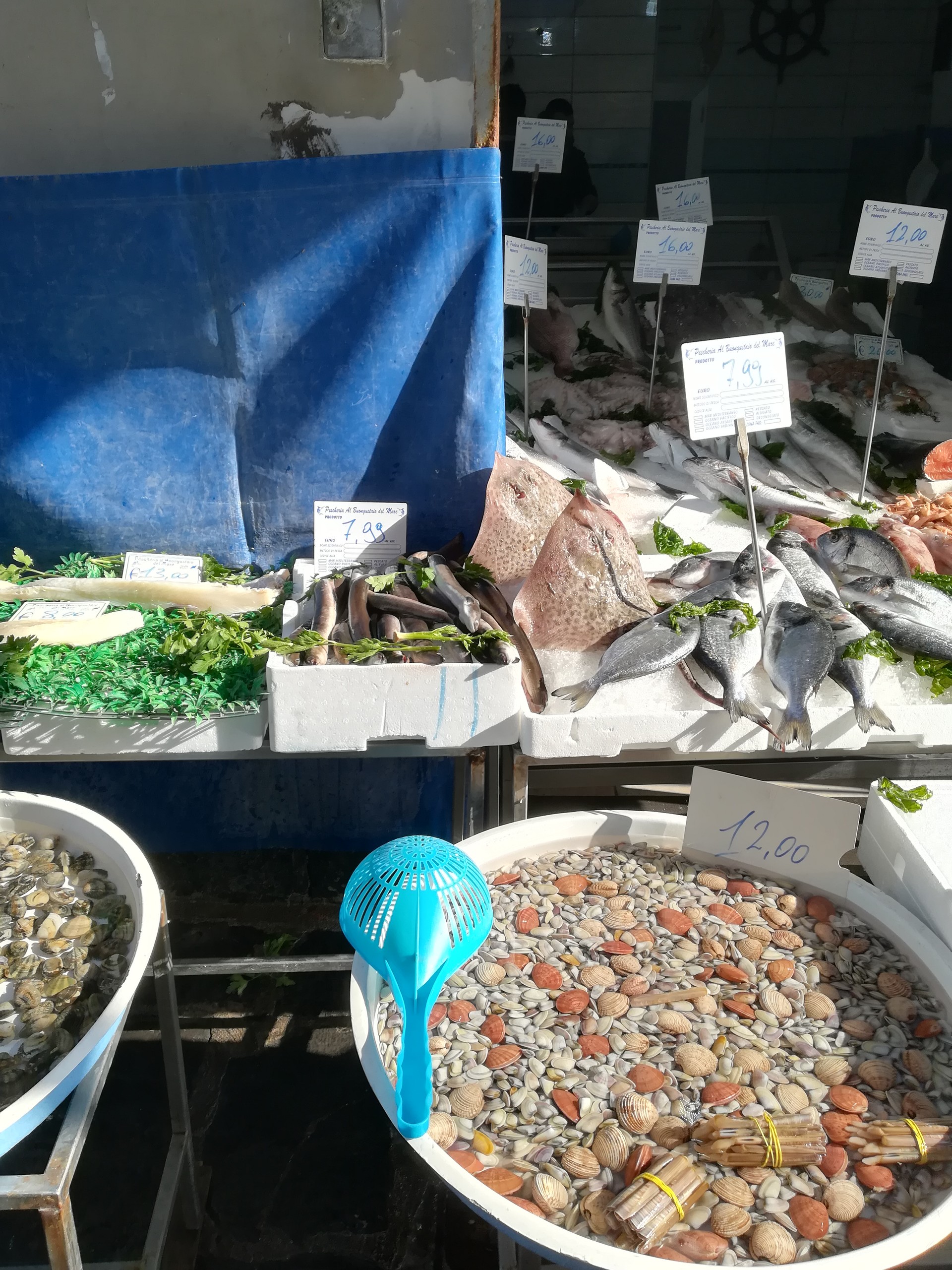 Furthermore, eating capitone has an extremely symbolic meaning since it represents the serpent which according to the Bible represents Satan; therefore eating capitone symbolises removing and destroying the bad. Moreover, if you're in Naples during the Christmas holidays, I recommend taking a trip to the fish markets where you'll find buckets full of eels and capitoni, many of which, wishing to escape, glide through the tanks scaring every passer-by and offering you such a fun experience of real Neapolitan life.
When midnight arrives it's tradition to uncork a bottle of sparkling wine and serve desserts. The table is then filled with Christmas desserts and, what we can never go without here in Naples, dried fruit. In the spread, there are peanuts, chestnuts, hazelnuts and then dates, dried fruit and almond biscuits. Dried fruit, according to Neapolitan tradition, is the only food that the dead can eat; as a result, putting them on the table would be an invite to celebrate Christmas with our loved ones who have passed away.
The Christmas lunch on 25th December is a lunch menu based especially on meat. At my house it's customary to make homemade pasta, seasoned with sauce, whereas the second course is meatloaf with potatoes and a side salad. Lunch is also concluded with an array of rich festive deserts and dried fruit.
After having eaten, both on Christmas Eve and Christmas Day, it's tradition to play an old Neapolitan game: tombola. This is very similar to bingo, but much older and, in my opinion, it's also more fun. There's a small container called
---
Photo gallery
---
---
Content available in other languages
Want to have your own Erasmus blog?
If you are experiencing living abroad, you're an avid traveller or want to promote the city where you live... create your own blog and share your adventures!
I want to create my Erasmus blog! →