Santiago de Cali
In a corner of Colombia, you'll find a city which is emblematic for its historical, cultural, sport and recreational history. The name of this city is Santiago de Cali, best know as the Sucursal del Cielo (a slice of heaven) or the Worldwide Capital of Salsa. My name is Nicolas Ortega T and I will being telling you everything you need to know about this wonderful city.
Cali is one of the most populated cities in Colombia, and its main attractions are its gastronomy, the people and the social life.
Gastronomy
When it comes to food, you'll find indescribable recipes and flavours, as well as exotic fruit that can't be seen in many other parts of the world. This is due to the fact that Colombia is a tropical country, which makes it rich in flora and fauna. It's true that you'll find exquisite food in the restaurants here, however, the most delicious recipes are in the hands on our grandmothers who possess the gastronomic inheritance and many years of experience. Some examples of traditional dishes are: sancocho de gallina (chicken soup), arroz atollado (a rice dish with meat, potatoes and vegetables), empanadas, champús (a fruity drink made with various fruits), cholados (an icy beverage made with fresh fruit and sweet condensed milk), and many others. In my next blog I will post some recipes and teach you how to make some of these spectacular dishes.
For those interested in tasting some of these flavours, finding somewhere isn't a problem as there are restaurants in abundance. They are found in small squares just for food in shopping centres, restaurants in the street, to restaurants in residential areas of the city. In terms of the prices, I believe that they're appropriate as there is an adequate combination of quality and quantity.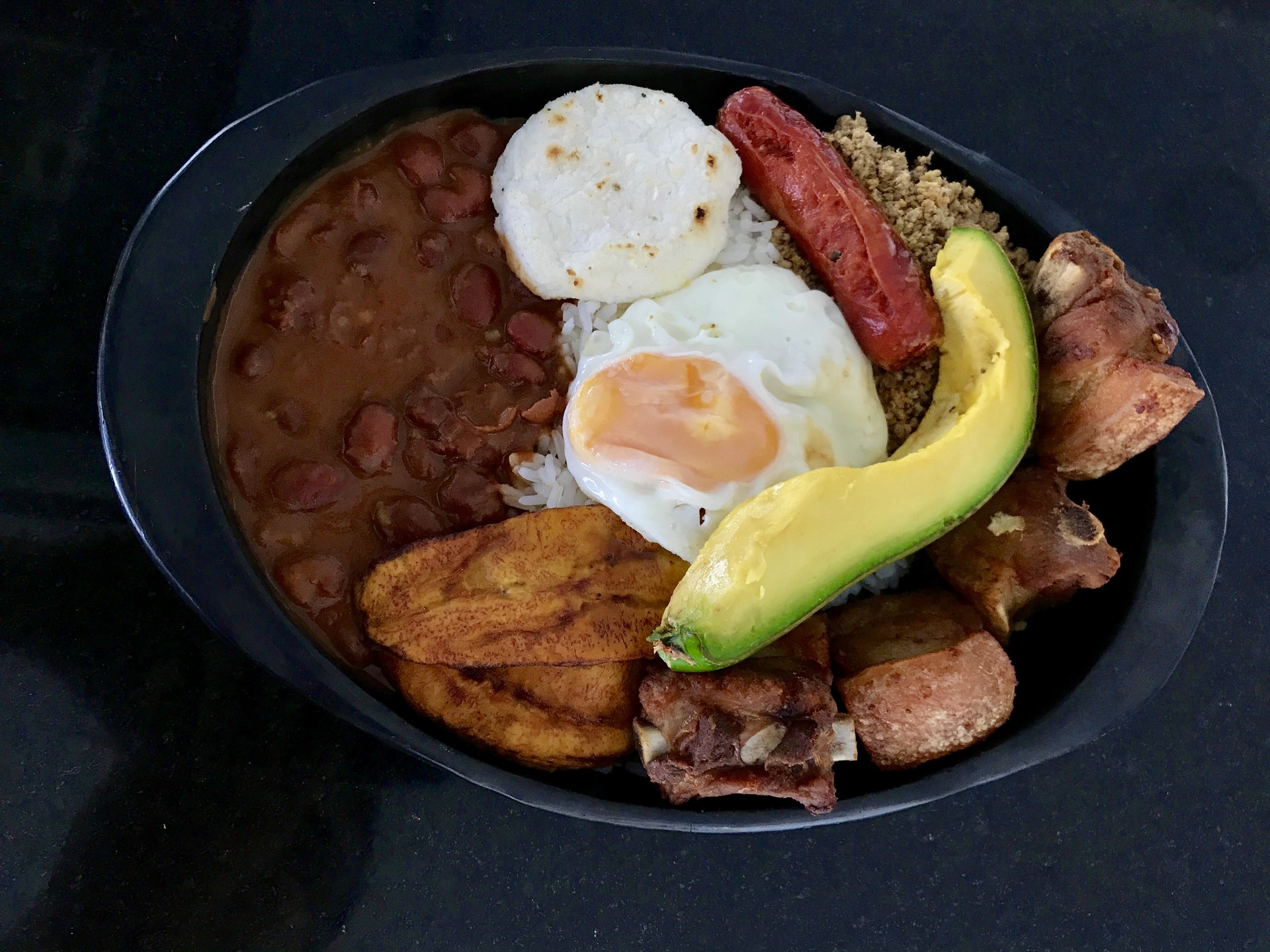 The people
The Caleño home is very welcoming, the people are warm-hearted, friendly, smiley and hardworking. Without going too far, Cali is considered to be one of the happiest cities on earth, where you will always find people smiling, dancing and laughing. Furthermore they appreciate every moment, situation, experience and every last detail to be happy. Always whenever you see a Caleño or Colombian in the street, it's easy to recognise them, as we Caleños have something that characterises us. It's our charisma, we don't know how to say the word 'no', we are always ready for anything and we see the world through a child's eyes, despite whatever adverse situation life throws at us. It has to be said that the majority of people from Cali have a dark complexion. They are also characterised by their dancing, and persistence in work. Something that exists here is the Carnaval de Negros y Blancos (Carnival for Blacks and Whites) which is celebrated from the 2nd to the 7th of January in Cali, they dance and everyone paints themselves black and white alluding to the message that we are all the same no matter what our differences are.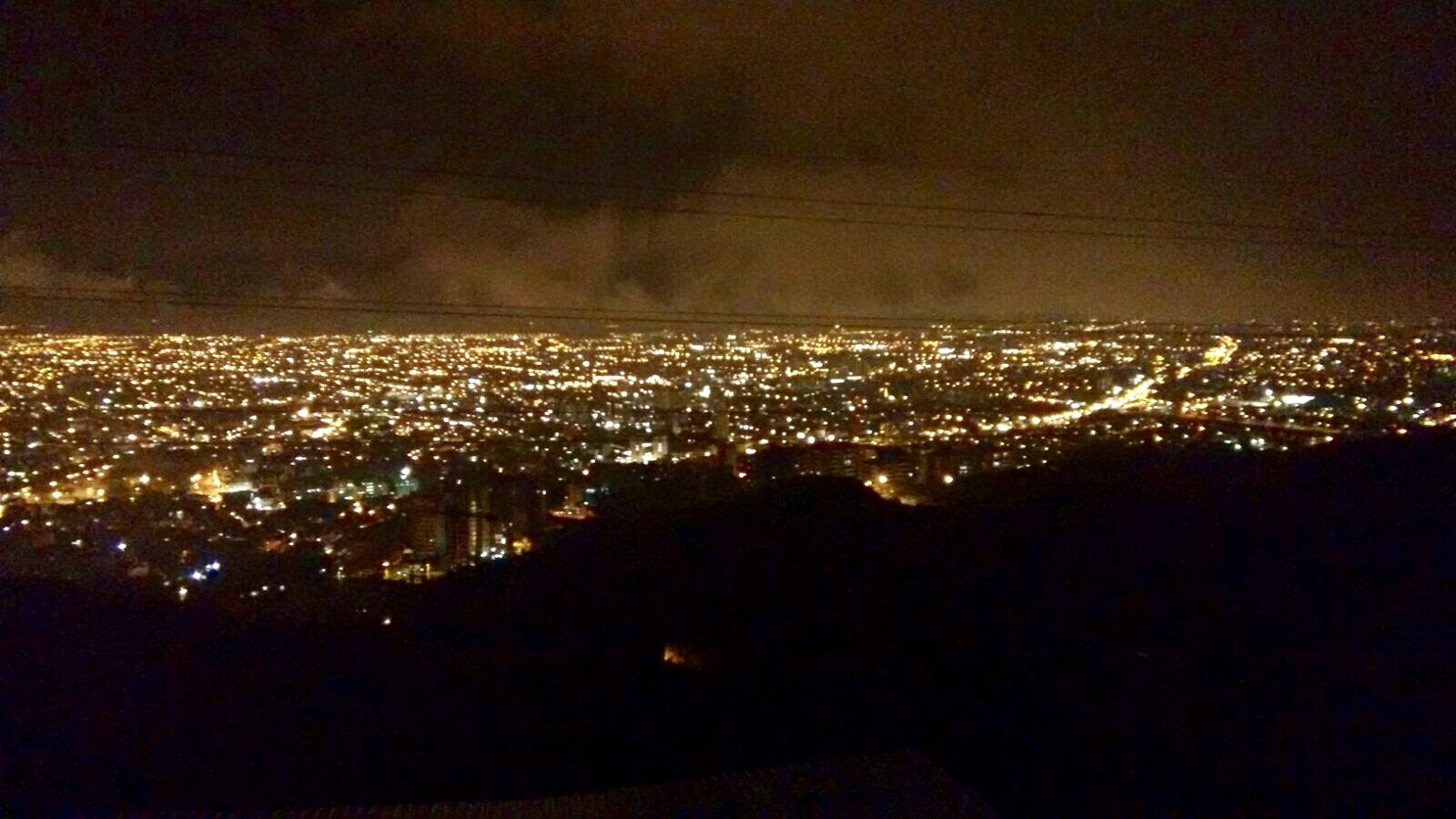 The social life
The nightlife in Cali is very diverse, there are so many places for dancing and drinking for any kind of taste. You'll hear very varied musical rhythms such as Salsa, Merengue, Bachata, Reggaetón, Vallenato, tropical rhythms, music from the Pacific and an infinite amount of beats and styles. Without a shadow of a doubt, despite having so many types of rhythms and types of music, Salsa is the characteristic musical genre of anything Caleño. Among the most recognised songs of this musical genre, you can find Cali Pachanguero, Periódico de Ayer, Pedro Navaja, Gitana, El Cantante, etc.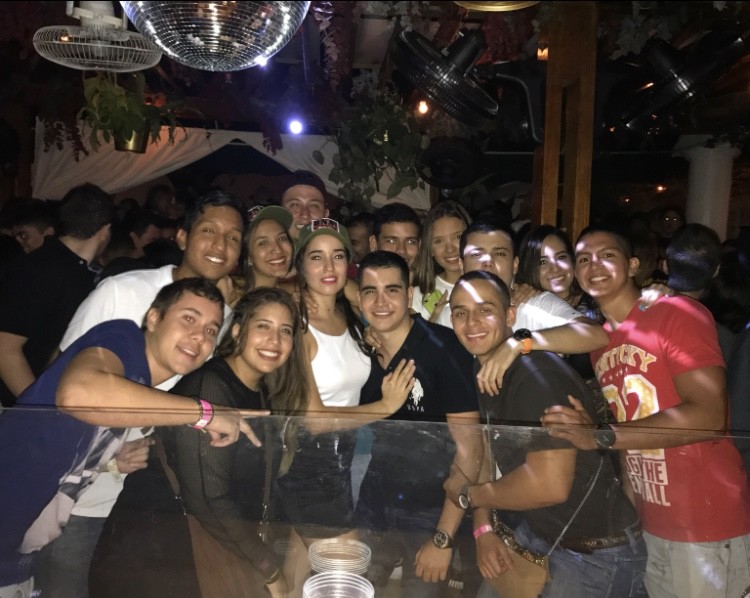 Sport
The love of sport is something that distinguishes everything Caleño, from an early age in school they made sure to teach us different types of sport, which guaranteed that we found the one that we were good at and we liked, and this sport then became a daily activity in our lives. Also, the possibility of going to schools for sport or extracurricular activities with people who volunteer to run the training in their spare time exists in Cali as well. So we will always have a taste for doing physical activity, which reduces the laziness in our lives. It's because of this that Cali is a city where professional sports people come from, those who play in world class games representing Colombia. An advantage of encouraging sport in the city is that the health of those people who practise sport is reflected in the fruits of their effort.
In my case in particular, when I was little I really liked swimming and basketball; I did extracurricular activities at school to practise these sports. After I went to university, I joined the gym and I went every now and then. Something very curious is that in Cali you'll see a gym nearly every four blocks. I think it's something that partly goes hand in hand with vanity as you'll always hear about how attractive Caleño women are and not only in this city, but all over Colombia the women are known worldwide for their beauty. The most famous gym is Bodytech, and the price depends on the installations and the machines that the facility has. The monthly fee usually costs one hundred and twenty thousand Colombian pesos.
However, for the people that do not like the gym at all, there are a lot of public places where you can do sport as well such as: parks for walking, jogging, running or doing yoga. Natural reserves to go for walks through or go cycling and paths to go rollerskating, walking or cycling on. Of the parks that I know of, I recommend you find the park Ingenio Park and Salud Park. The most visited natural reserves are Pico de Loro and the paths to go cycling on are the Cali-Jamundí roads.
Ingenio Park
This park is one of the best known parks in Cali. It's in the south of the city and it's one of the best parks for doing physical activities. The whole border of the park has pavement, which allows people on bikes and rollerskates to go down this path, as well as the people who want to walk or jog. Many years ago, the residents of the El Ingenio neighbourhood made an open air gym in this park, and little by little they were bringing in machines, materials and the rest until there was even a weights zone where there were dumbbells, bars, and machines to work muscles in the legs, arms, back and the rest. Also, the Caleños had an idea a few years ago to only exercise with your body, and because of this if you go you will find people dodging obstacles, with ropes, mats and other apparatus that don't involve lifting weights.
Many Caleños have the routine of starting the day with sport, meaning it's possible to see people in the parks and gyms from 5 in the morning. Due to this, around this park there are kiosks and shops that sell fruit juices, fruit, salads, cholados and lemonades. There are always people in this park, because we don't all have the same schedule for exercise. More and more kiosks start opening and selling many other varieties of food, such as crepes, hot dogs, ice creams, and an infinite number of different types of fast food. In my case, I always go to the park and have an orange juice or a mandarin and carrot juice, which both cost two thousand pesos.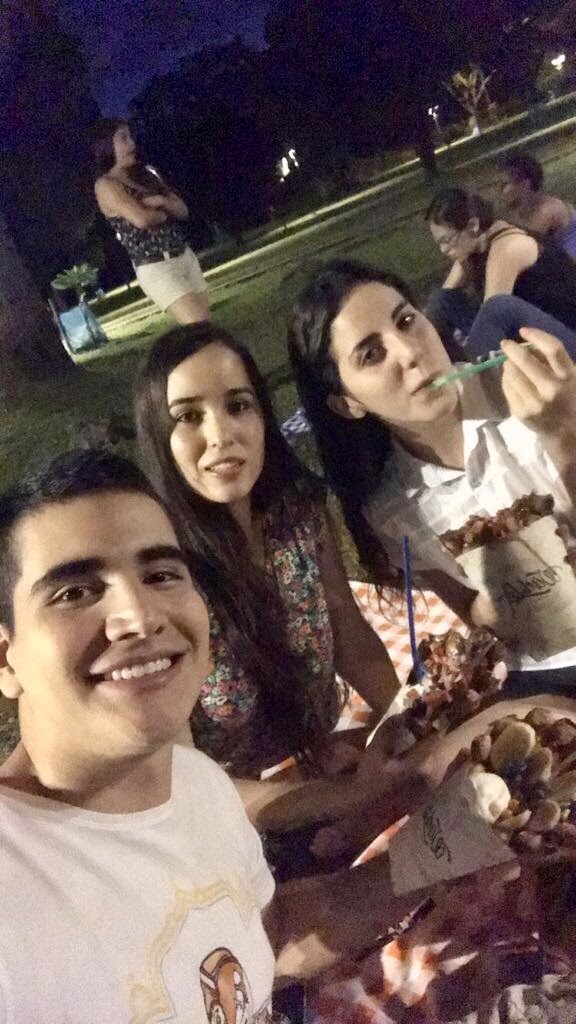 A very special characteristic of this park is that at six in the morning, a platform is assembled and two people run a rumba aerobic class. This consists of loads of people joining in and copying the movements that these two people on the platform do. In my opinion, it's something very positive, as you can't always stick to your routine, you can't always go for a run or ride your bike, so sometimes you can do rumba aerobics to de-stress and allow yourself to meet other people.
El Peñón
If your idea is to try different flavours and culinary styles, I recommend that you visit El Peñón, like a proper Caleño. I know the majority of restaurants in this area. It's a residential area but it has been transformed into a restaurant and bar zone. The first thing I'm going to recommend is that you go to a hamburger place called El Gringo, and their hamburgers are made with certified Angus beef. I suggest trying La Gringa which is the classic with cheese, onion, sauces or the Blue Mushroom Burger which has blue cheese. These are my favourites and they always come with french-fries with a pink sauce. Seriously, you will not regret it, they are the best hamburgers I have ever eaten in my life and they cost around twenty thousand pesos. Another very recommended hamburger place is Chef Burger, and the best hamburger they sell is the Sailor Jerry, which has caramelised onion, a delicious creamy cheese and a flavour that I'm never going to forget. It comes with rustic chips or french-fries and a very tasty pink sauce, which also costs are twenty thousand pesos.
Another fast food place is Phillip Flamingo, which is very pretty, as it has alternative decoration which is like the inside of a car and the dominant colour is pink. When I went, I ordered a dish that they recommended which consisted of mini hamburgers, sausages and curly fries, and I also ordered a watermelon lemonade, and it was the first time I had tried one and I loved it. I really recommend this place for the flavour and quality. The price was around thirty five thousand pesos.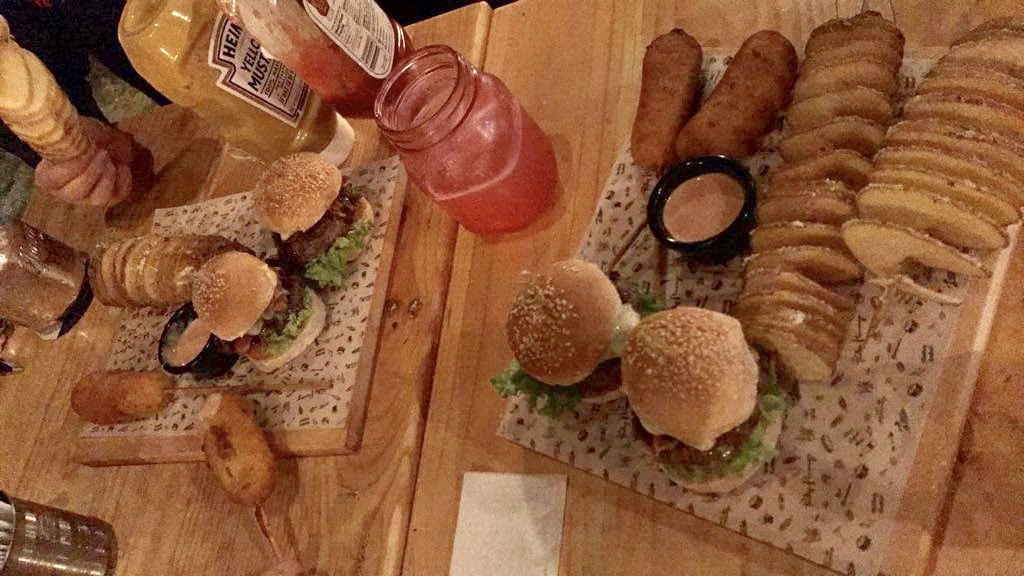 If you like Italian food I really recommend going to La Diva. This is a quite decorated restaurant with a different atmosphere inside, and this is due to what I mentioned before that the El Peñón neighbourhood used to be a residential area, but now it's been converted into an area for food and drink. Because of this, as this restaurant was previously a house, they took advantage of the space and made different environments and rooms where you sit to eat. I really recommend the pizzas, with whatever you like as a topping. I've tried a lot of pizzas there but I don't remember the names. What you must do is go in a group, as if you do, you can order a few different pizzas with different flavours and you can taste them all! The price of dinner in this restaurant is thirty two thousands pesos, including a drink.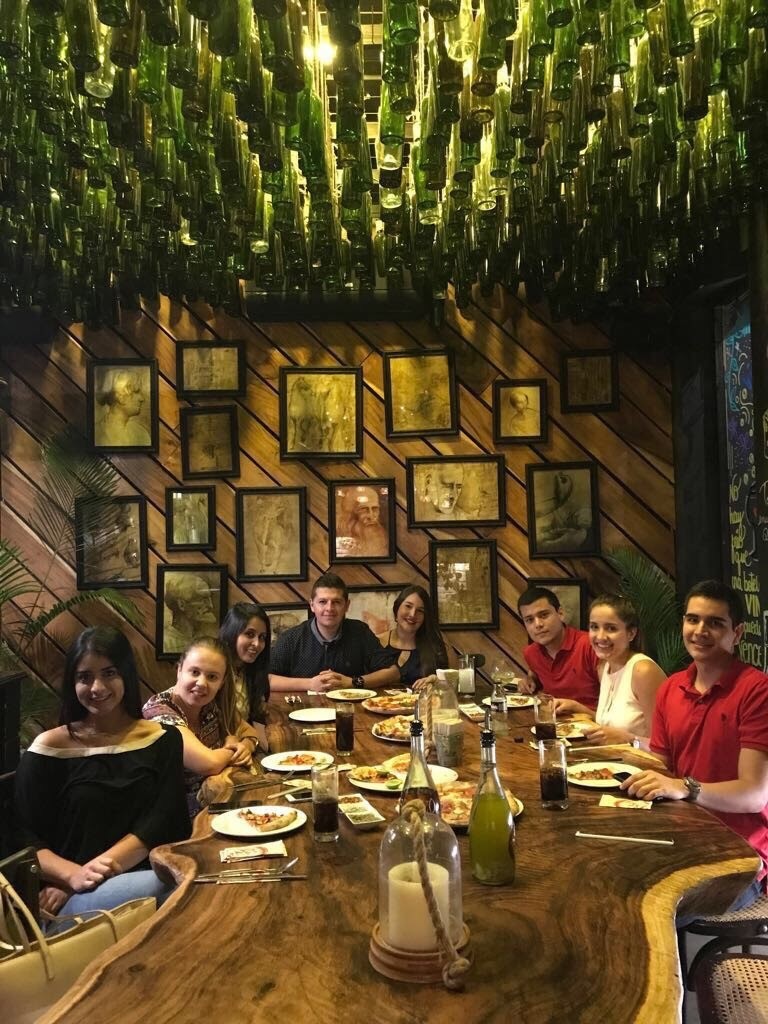 A little more familiar place is Turk House, and in this restaurant you'll find the best quality Arabic food. I really suggest you go to this restaurant, and make sure you have starters. I always order a starter or tray that has a lot of variety, so I can try a few different things. As part of this starter you can find Falafel, Kibbeh, Hummus and many other things. And to drink I order a Sangría which is either white, red or rosé with fruit inside. The price is more or less twenty eight thousand pesos. This restaurant is situated underneath a hotel, and it also connects with the restaurant Chef Burger that I told you about before.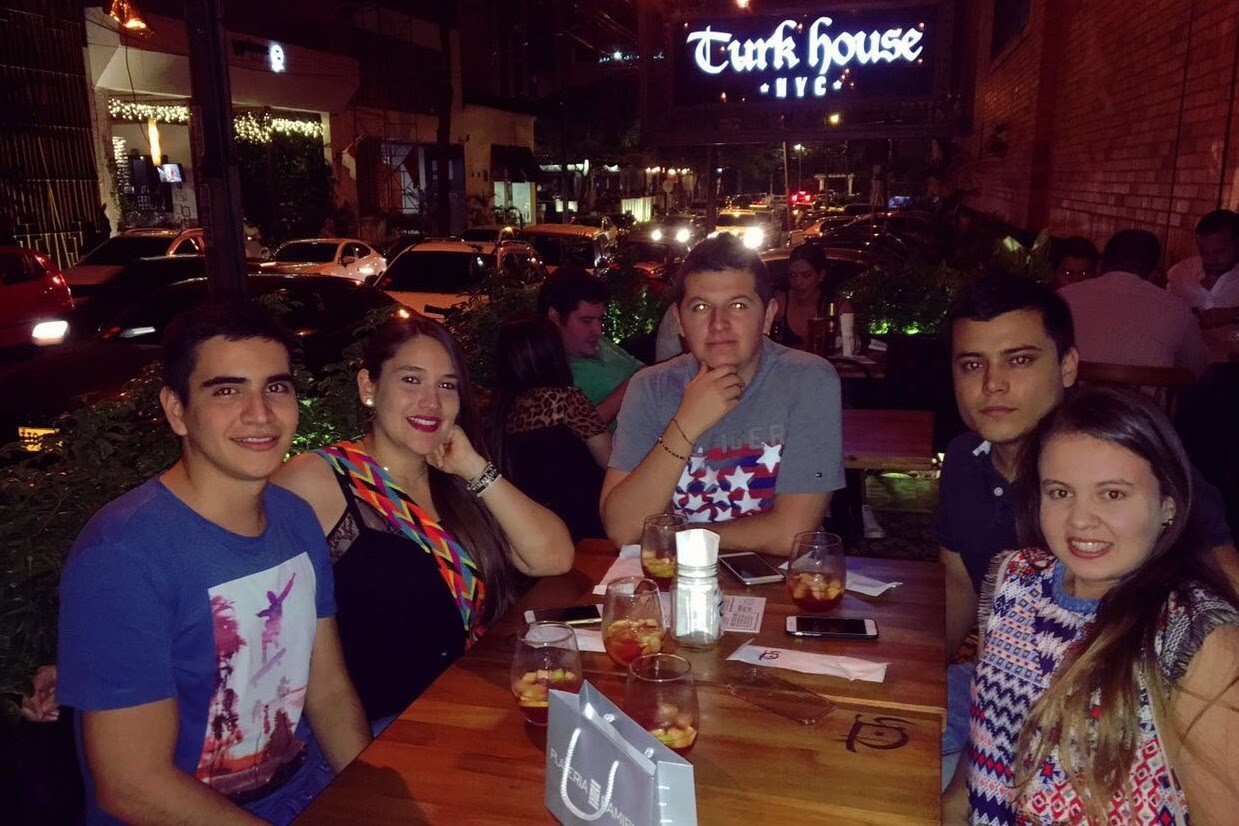 Clubs
Previously, there were very famous dancers on the outskirts of Cali which were known for their tradition and type of music crossover that you could listen and dance to, and these are found in Juanchito. However, recently the area with the best collection of clubs is found in Menga, the only problem is that they're found in quite an isolated area where the people from the south of the city live. Because of this, they have opened new clubs in El Peñón (a central part of the city) which has become known worldwide because of the majority of young university students that go to these places, because of how close they are to everything. The places I would recommend going to are Sagsa, Roset, and the Lobby. Entry to get into some of these places costs 15 thousand Colombian pesos. In the first club they usually play reggaetón and English music, and the second is quite small because one part is for people that want to order something from the menu for dinner and the other part is exclusively for dancing. Finally, the third club is for people who are slightly older than university age, around aged 30 and above, however, the music is similar to that of the last two I mentioned. The drinks inside vary a lot, sometimes you can find Margaritas for 10 thousand pesos if you'd like some, but if you want something a little stronger, the best known liquor in Cali is the Aguardiente del Valle which is an aniseed based drink that is 30% alcohol. You could say that it's very easy to get drunk on this drink. The price depends on where you buy it. If you by a bottle of Aguardiente in a liquor shop it can cost you 45 thousand pesos, but if you buy it inside the club it could cost you 80 thousand pesos. So it's a good idea if you drink it before going out to dance, so you can save a bit of money.
I hope that I have captured you and convinced you enough to visit this amazing city. In the next blog I will tell you even more about it. Please visit my other blogs about Cartagena, Milan and Turin.
https://erasmusu.com/es/erasmus-cartagena-amazonas/blog-erasmus/cartagena-mar-y-brisa-556278
https://erasmusu.com/es/erasmus-milan/experiencias-erasmus/milan-el-centro-de-la-moda-italiana-556337
https://erasmusu.com/es/erasmus-turin/blog-erasmus/turin-la-ciudad-que-me-acogio-556709
---
Photo gallery
---
---
Content available in other languages
Want to have your own Erasmus blog?
If you are experiencing living abroad, you're an avid traveller or want to promote the city where you live... create your own blog and share your adventures!
I want to create my Erasmus blog! →