The best places to eat and drink in Bordeaux: my top 15 recommendations!
Last summer, I spent a month working in a hostel in Bordeaux, and let me tell you, then and the times I've been back since, I went to as many bars, cafés and restaurants as my pitiful student bank balance would allow! Today, I'm going to tell you about just some of my favourite wining and dining spots in the city, and offer recommendations on what to order at each. I've done my best to come up with a list that has something for everyone, so whether you're searching for Bordeaux's best vegan chocolate mousse or for somewhere to sample the region's world-renowned wine, keep reading!
Cheap meals
FuFu Ramen
I first became aware of FuFu Ramen – a Japanese restaurant located in a side street off the central Rue Sainte-Catherine – after one of the guests staying in our hostel was offered a job there. A week or so in, he came back bearing delicious leftovers from his shift, and this was more than enough to persuade me and my fellow Workawayers to make a trip there a few days later. Since we were a fairly large group, we had the honour of sitting at a table with a view onto the kitchen, and had a great time watching our food being prepared in flaming woks! I had three gyozas, followed by a pork Yakisoba dish, which came to a grand total of 15 €: pretty good for a starter and a main! My food was very tasty – particularly the first course – and kept me full for the rest of the afternoon.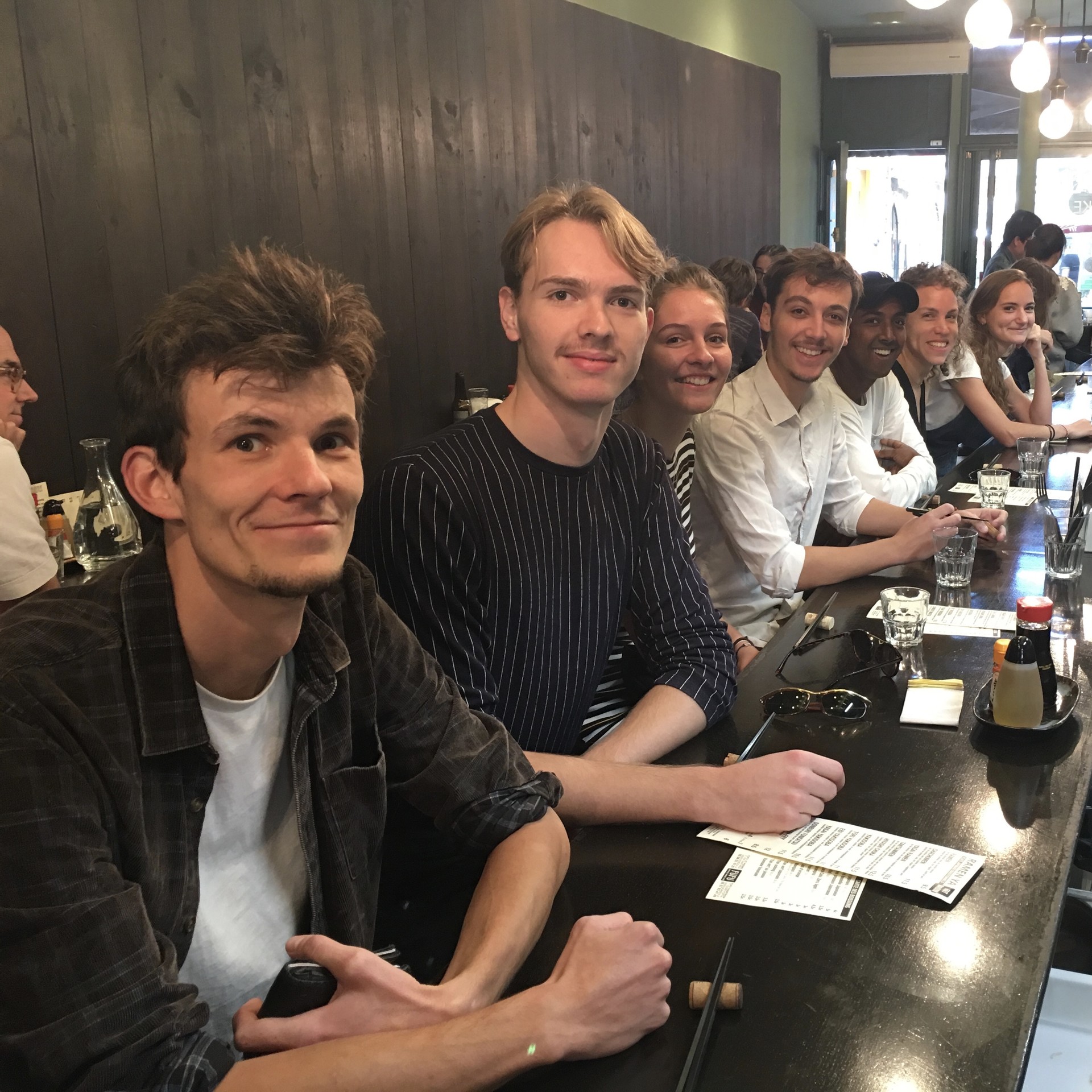 Word of warning: the restaurant fills up pretty fast around lunchtime, so make sure to head down on the early side, or, if you've got a lot on your plate (excuse the pun), make use of their takeaway service.
Le Falafel
All credits go to my boyfriend for the discovery of this falafel shop, which I probably would not have set foot in, had he not raved about it. The façade and location are not great selling points – it's a rather dingy-looking place at the 'dodgy' end of Rue Sainte-Catherine – but my goodness is the food delicious! Order a falafel sandwich with humous (plus pickled green chilli, if you dare! ), and enjoy an unforgettable meal.
Remember: don't judge a book – or food vendor – by its cover!
Kitchen Garden
I have to admit that I've never tried any of the main meals in this place, but I had to include it in my list because of their exquisite homemade vegan (and gluten-free) mousse au chocolat. I'm quite a fanatic when it comes to this sweet treat – I don't even want to think about the number of Bonne Maman chocolate mousse six-packs I got through while living in France – but this was definitely one of the best I've ever tried. What is more, it came topped with red fruit, so I could convince myself that I was indulging in something vaguely healthy… Kitchen Garden, itself, is a lovely little café, filled with plants, and offering a mostly vegan menu. If you're there in the summer, try to bag a table outside, and enjoy watching the world go by as you tuck into some delicious food.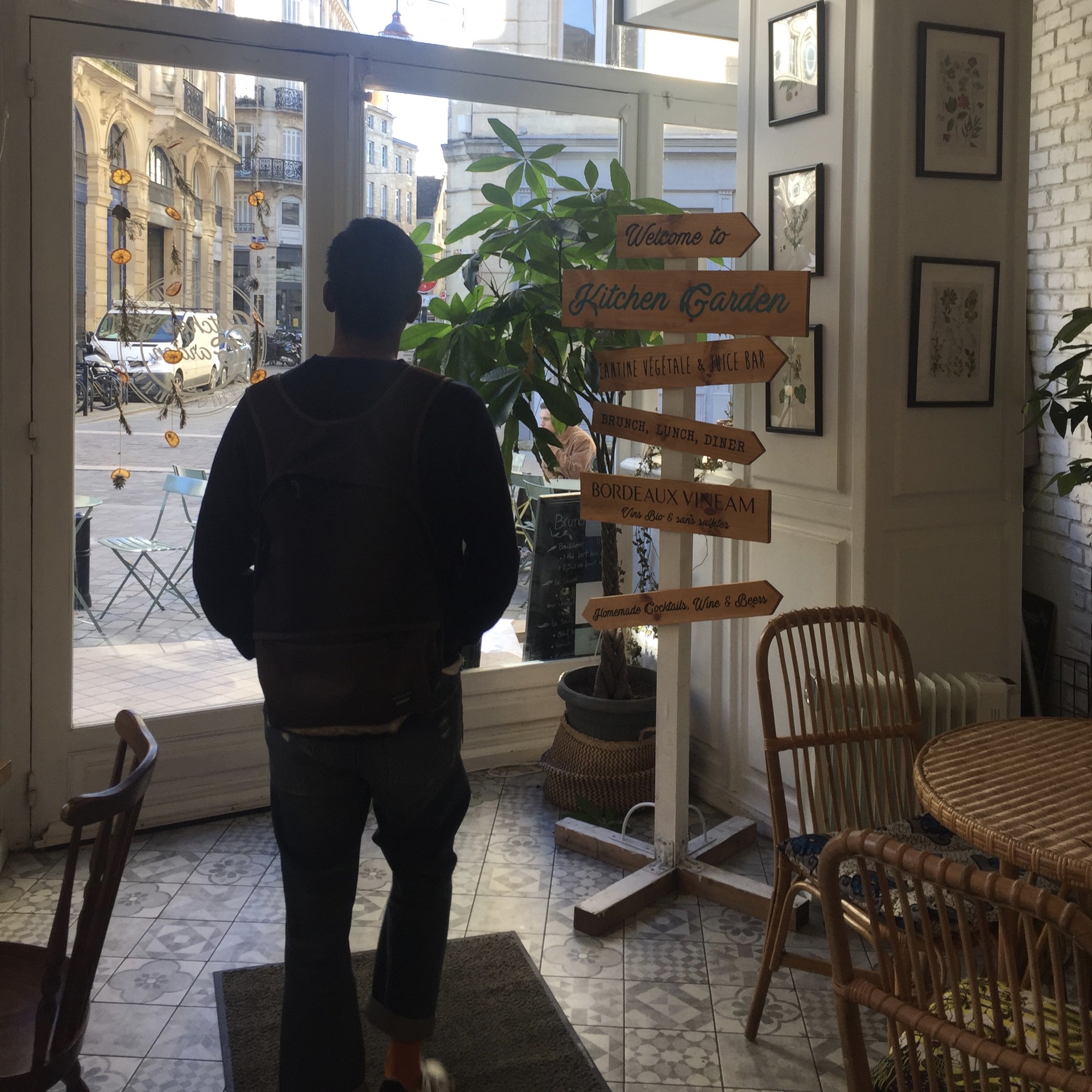 Top tip: if you're looking for somewhere to have lunch after normal hours (I can tell you firsthand that this is not very easy), this café offers avocado or humous toast until 18:30.
La Crêpe d'Angèle
It would be a sin to go to France without sampling an authentic crêpe, and there's no better place to do so in Bordeaux than at La Crêpe d'Angèle! Many sweet and savoury fillings are available here, all freshly-made and inexpensive. Or, if you're in the mood for something a bit less substantial, there is also a huge range of ice cream dishes to choose from. The service is great, and I'll be sure to make another trip soon!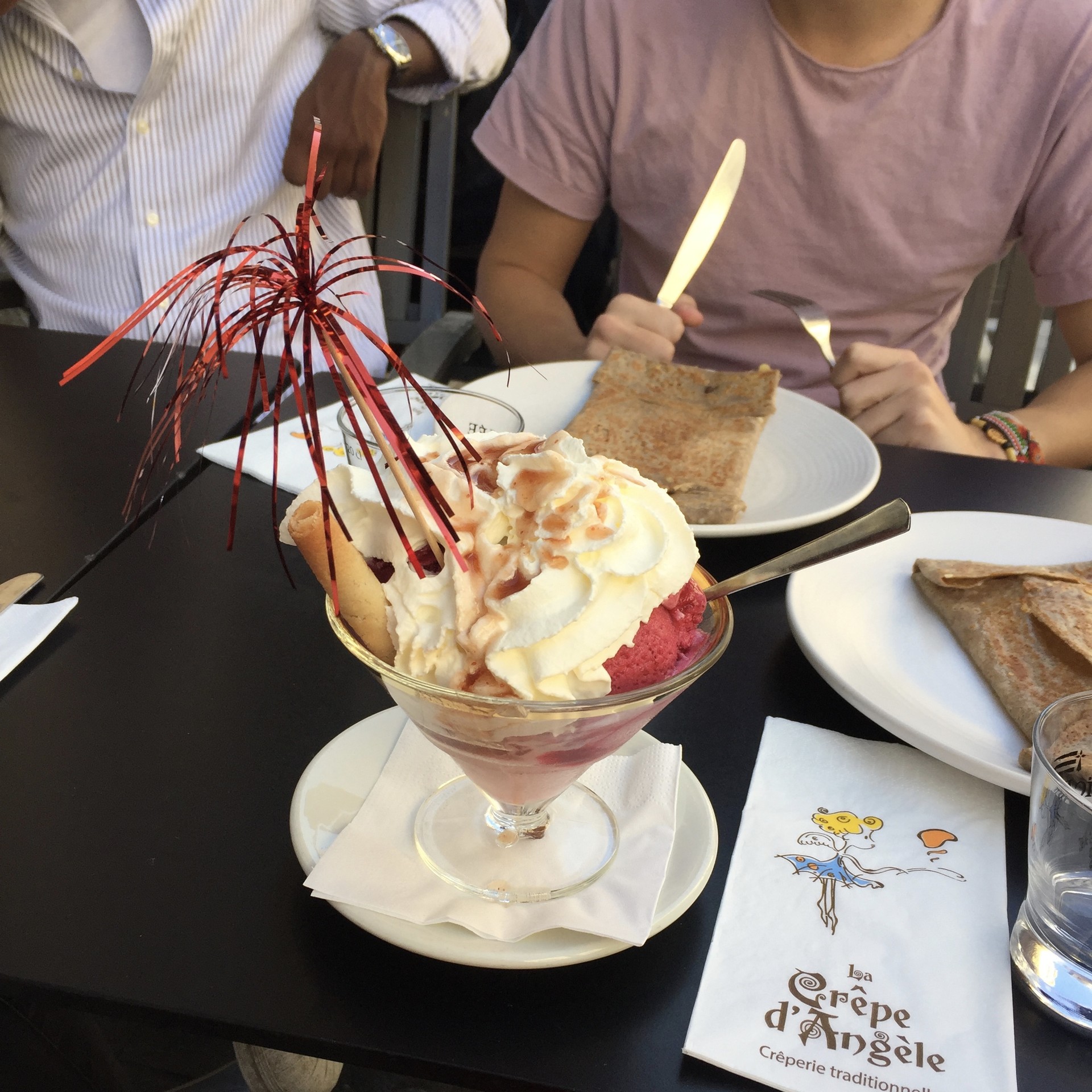 Fine dining
Horace
Horace, a little café-restaurant hidden down a side street near the cathedral, is easily my favourite place for food in Bordeaux! I have been there a number of times, and never once been disappointed. The quality of food is excellent and has a very healthy feel to it. Even my favourite meal – bacon and Camembert – comes with a generous helping of lettuce to offset the fat intake. And just look at the presentation of it! Dessert-wise, I'd recommend the tiramisù, if it's available (the menu changes each day, but they tend to circulate roughly the same dishes). It's definitely more on the creamy side, but as someone who's not a huge fan of coffee, that's just the way I like it! What's more, it's topped with glitter, so very Instagrammable!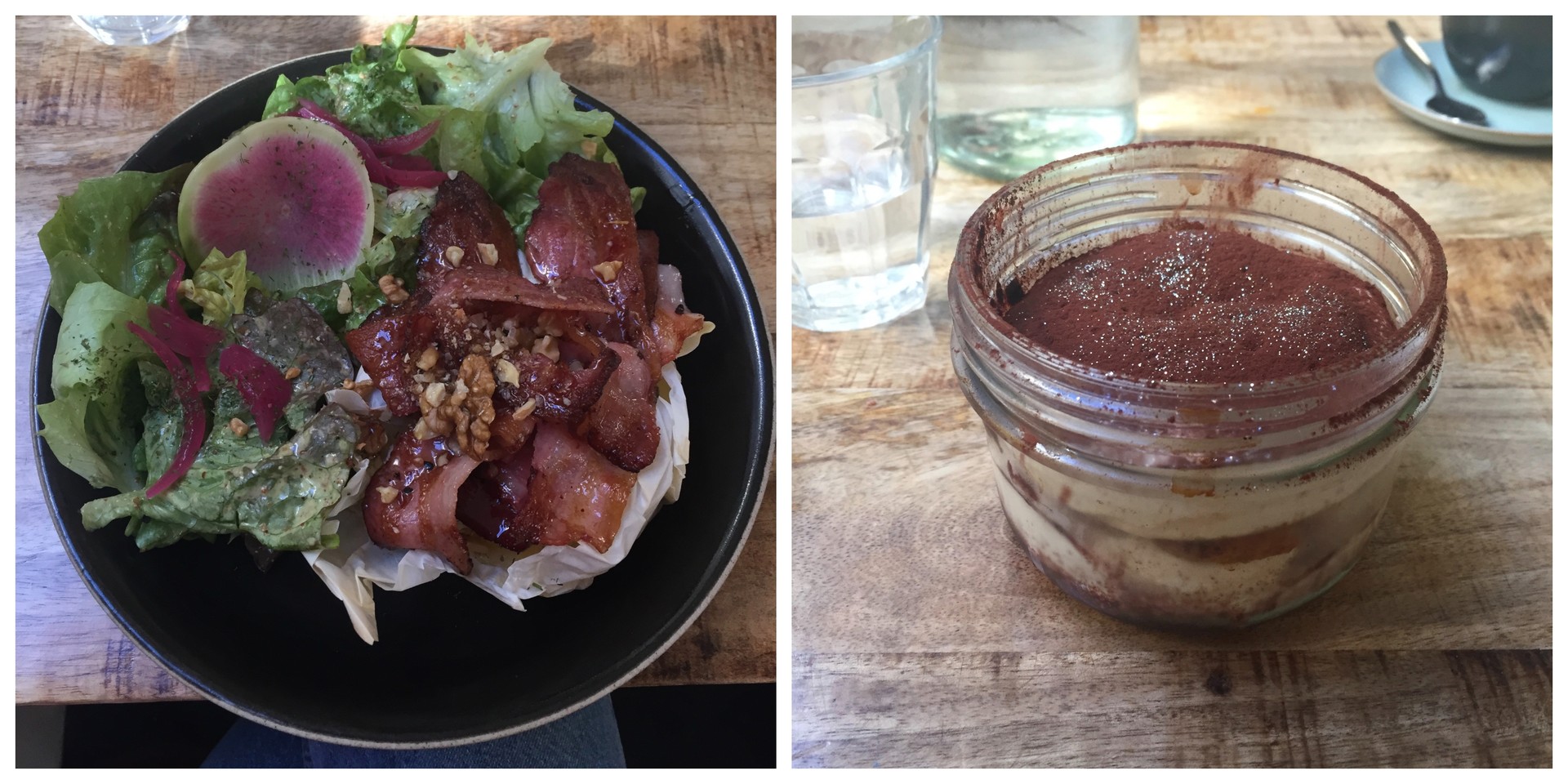 Lunch stops being served at 14:30, but until 18:30, you can still enjoy a coffee or afternoon tea. Horace's selection of fresh, homemade gateaux is quite extraordinary! There are new options each day, and it usually takes the waiters about a minute to rattle them all off. And if you're looking a drink to accompany your cake, I would highly recommend their caramel hot chocolate!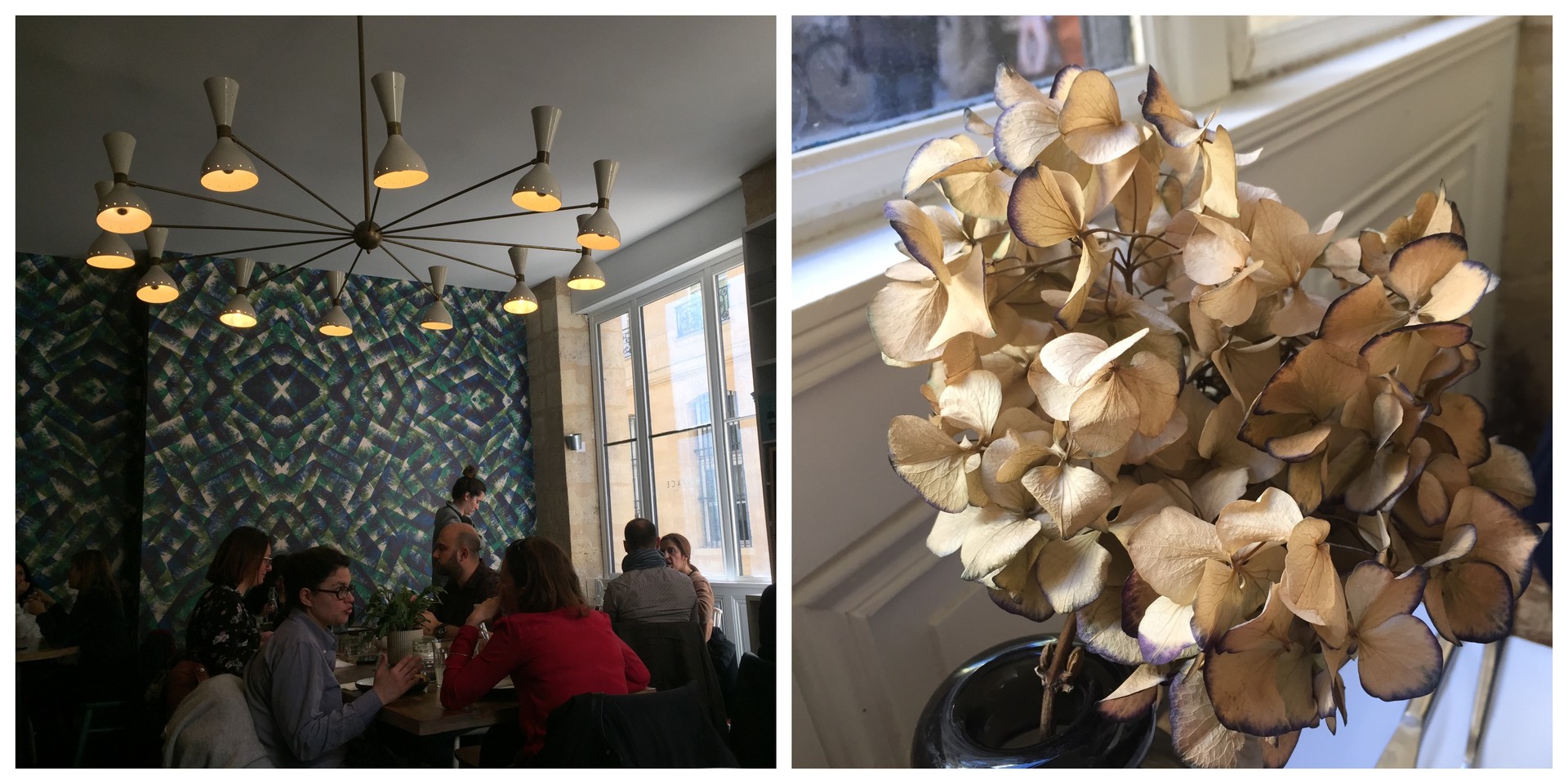 This is all round a great little place. Everything about it is truly delightful, from the staff – they recognised me and my boyfriend after just one visit – to the leafy interior design. It is a little bit on the expensive side, but worth every centime!
Chez Dupont
Located in Bordeaux's up-and-coming Chartrons district, Chez Dupont is a fantastic restaurant, open for lunch and dinner. It's pretty fancy, and not somewhere I'd normally be able to afford, but my godmother and her husband came to the city one weekend, and very kindly treated me to a meal there. They brought their dog along too, who sat under our table, lapping up a dish of water that the waiters kindly brought out.
I seem to remember having carrot soup as a starter. It was one of the 'suggestions du moment' (daily specials), and was wonderfully creamy. I then tucked into an entrecôte of beef, served with fries, which was delicious but so filling that I had to take most of my profiterole dessert home in a doggy bag! The latter was excellent, even when the ice cream had all melted away in the hostel fridge. It goes without saying that I enjoyed my meal, but perhaps more significantly, it was given a nod of approval by my godmother's husband, who has his own restaurant in Lauzerte.
Top tip: Since this place is a little more high-end (and often very full), make sure to book a table in advance!
Saveurs d'Aquitaine
If you're looking for somewhere to sample traditional food of the region, this is the best place to go! Again, it's somewhere I only got to try thanks to my relatives (who came to visit), but if you can afford it, I'd thoroughly recommend a trip! Saveurs d'Aquitaine looks onto the central Place des Quinconces, but is nonetheless pretty inconspicuous. In fact, it wasn't until my mother asked me to go and inspect the place that I realised it even existed, despite having walked past it almost every day for the previous month! Here's a picture of the outside, for reference.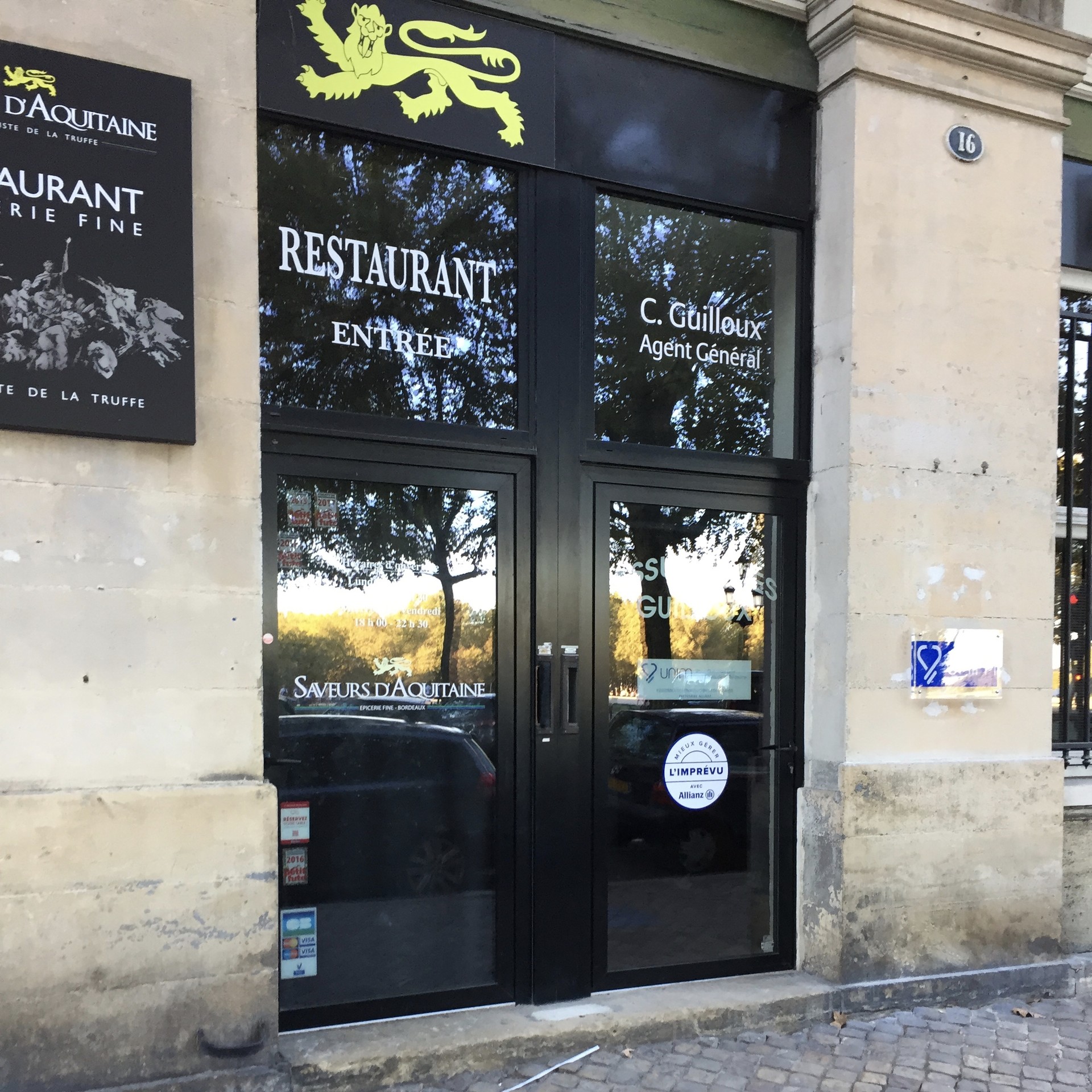 Inside, we were treated to a six-course tasting menu, with everything from truffle-infused scrambled egg to mini charcuterie boards. I was worried beforehand that the meal might be a little overwhelming, but portion sizes were small and each dish complemented the one that had come before, so it was perfectly manageable. We enjoyed a cheesecake for dessert, and the waiters sweetly put a birthday candle on my mother's!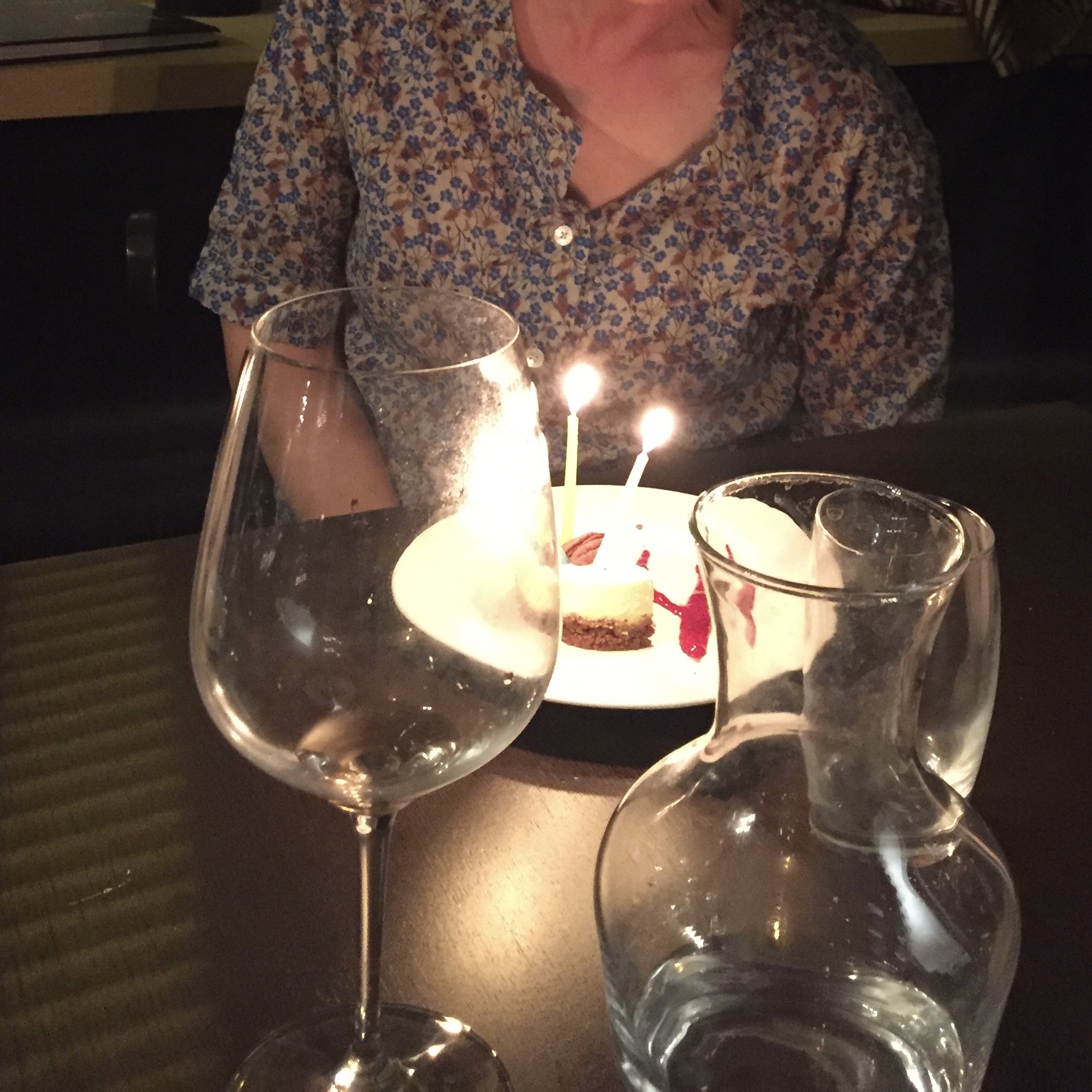 Lume
This is the other restaurant my grandparents very kindly took us to that weekend. My mother thinks this was better than the last. I enjoyed both for different reasons, so can't say I have a preference, although I do think the setting of Lume is a little nicer – it's tucked away in a side street near Place de la Bourse, full of restaurants and wonderfully lively in the evenings. I started with an Italian salami platter, before moving on to some seafood pasta. The others went for a delicious saffron ravioli dish, topped with tomatoes and courgettes. The food was exquisite, as was the presentation of it on the plate. We were most impressed!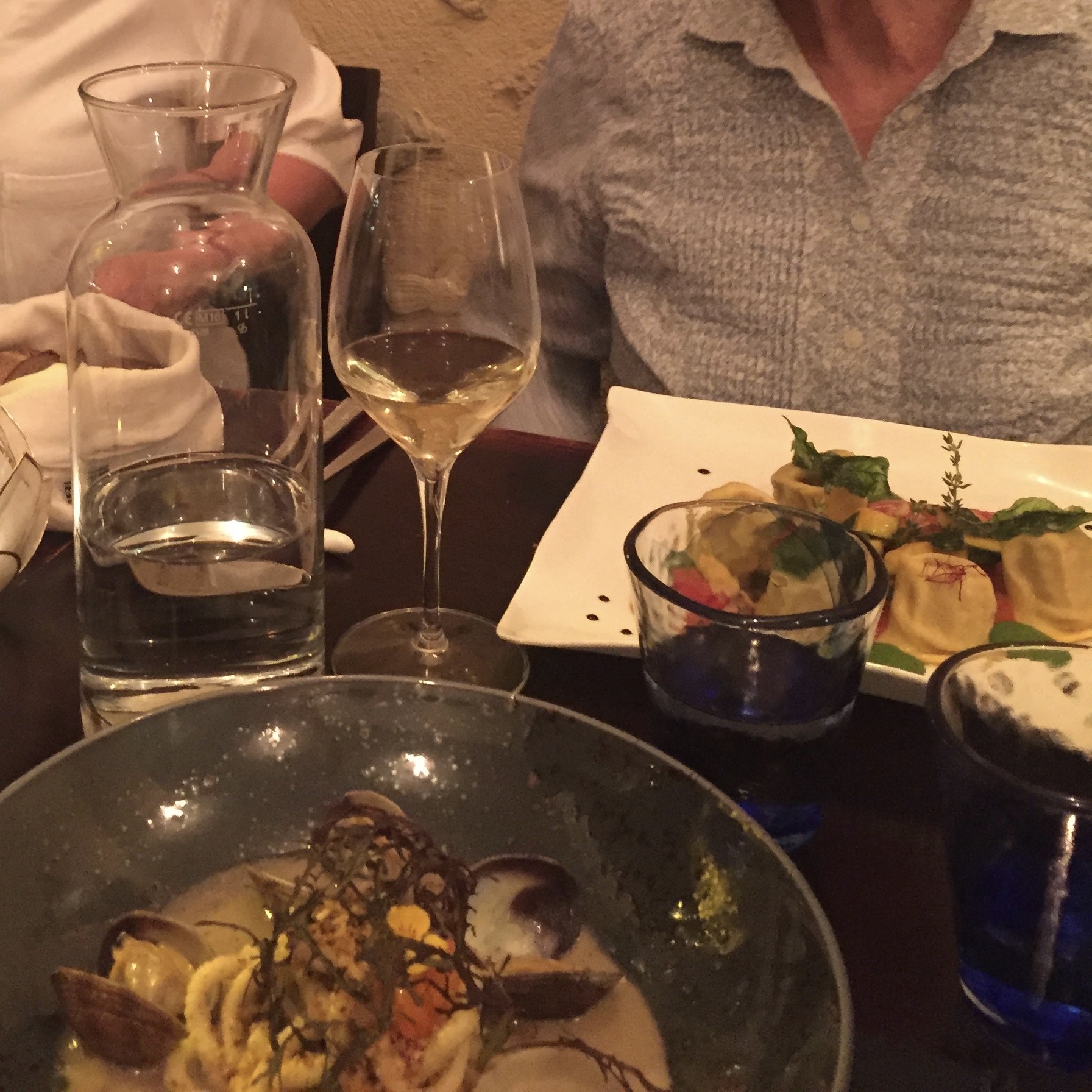 Cafés
Juliena
I'm actually neither a coffee nor a tea drinker, so can't give advice on where to find the best brews, but I will briefly mention two places where I've enjoyed the odd cake and hot chocolate. The first is Juliena, a salon de thé located on the bougie Rue Notre Dame, where I spent many afternoons with my friends from the hostel. My go-to order was chocolat viennois (hot chocolate topped with Chantilly cream) and a chocolate chip and caramel cookie.
The place is wonderfully calm: a perfect spot to do work or bury your nose in a book. If you're sitting indoors, look up at the glass window in the ceiling, and see if you can spot any of the neighbourhood cats napping there! If the weather is good, get a table on the sunny terrace. Thank you to my boyfriend for this photo: his go-to order is a café frappé and a moelleux au chocolat (chocolate cake).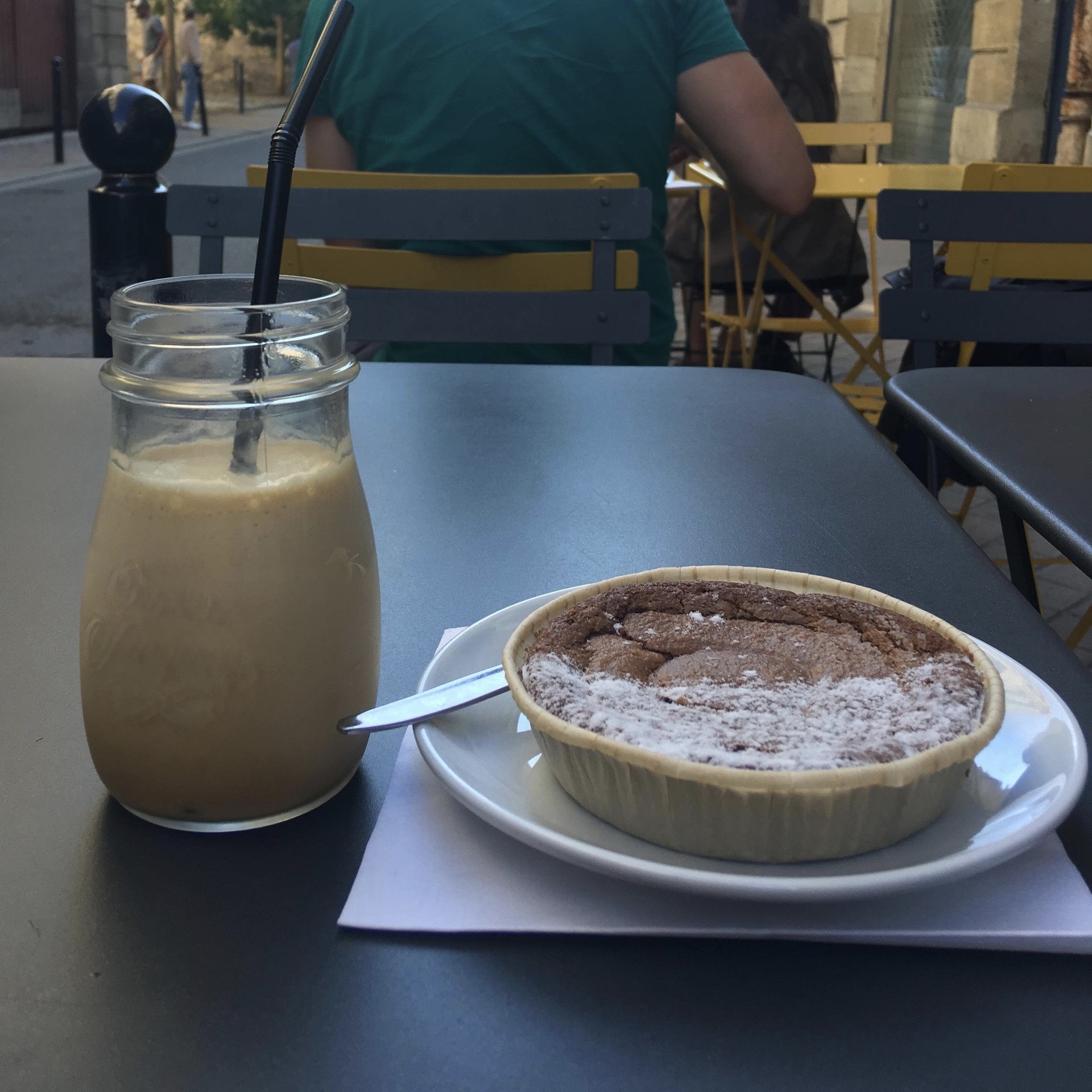 Bradley's Bookshop
Bradley's Bookshop is just whats its name suggests: a lovely, calm bookshop with a built-in café. All the publications are in English, so it's a great place to go if you want to relax your brain a little after speaking French all day. Order a chocolate chip cookie, and get reading!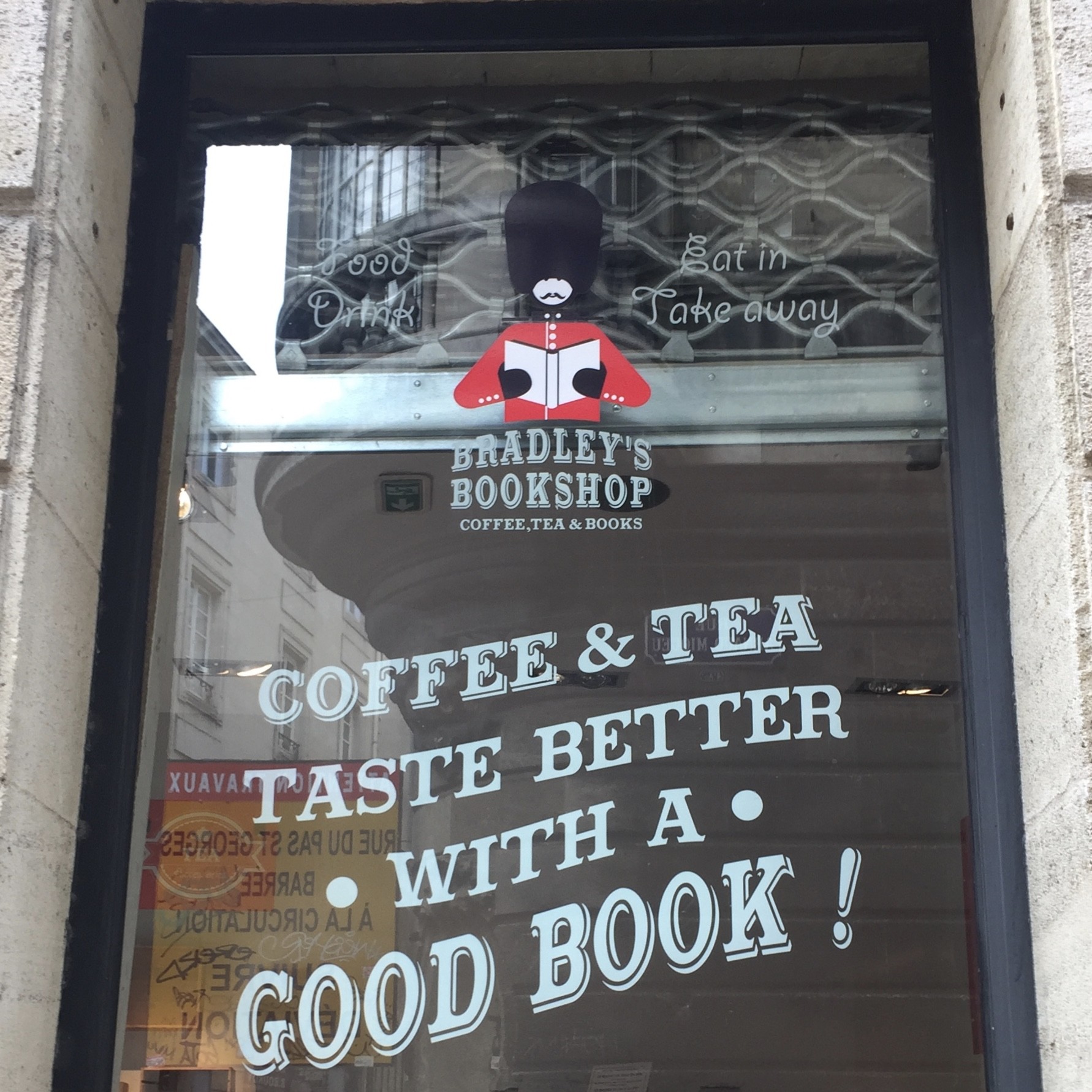 Top tip: If you're an anglophone looking for jobs around the city, this little shop has free pamphlets which list all the Bordelais companies that might need your language expertise.
Drinks/nights out
Le Bar à Vin
If you're looking for somewhere to sample some of Bordeaux's fine wines on a budget, make sure to head to Le Bar à Vin! With drinks starting from just 2 € a glass, it's the perfect bar for an inexpensive evening apéritif, and if you're feeling particularly indulgent, why not treat yourself to a cheese or chocolate platter? For those who don't drink, but still want to see the magnificent interior of the place, the Bordeaux grape juice is also delicious.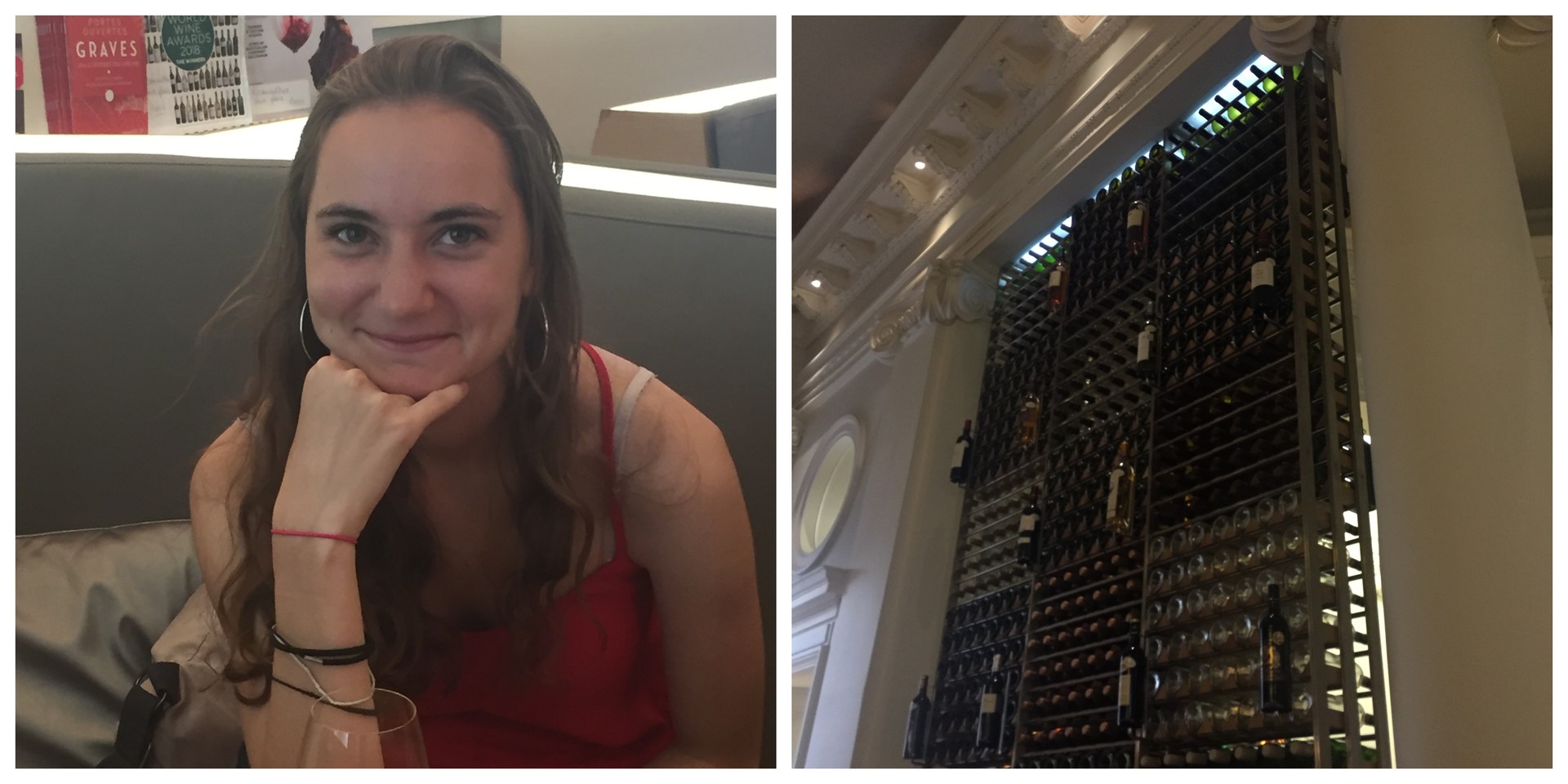 A word of advice: Queues may get rather long, especially during the summer month, but it's definitely worth sticking around: I've never had to wait more than five minutes for a table. Just be warned that if you're put in a booth, you may have to share it with another party, so that everyone can be seated as fast as possible.
El Sitio
You may be holidaying in France, but there's nothing wrong with enjoying a bit of Spanish culture while you're there. El Sitio is easily my favourite tapas bar in the city – cosy, vibrant, and great value: what more could you want? I shared the tapas board below with two other people, and it filled us right up. The green peppers were a particular hit – I'm not normally a huge fan, but these were coated in salt, and very moreish! We also all enjoyed a glass of red wine, expertly recommended by our hilarious waiter.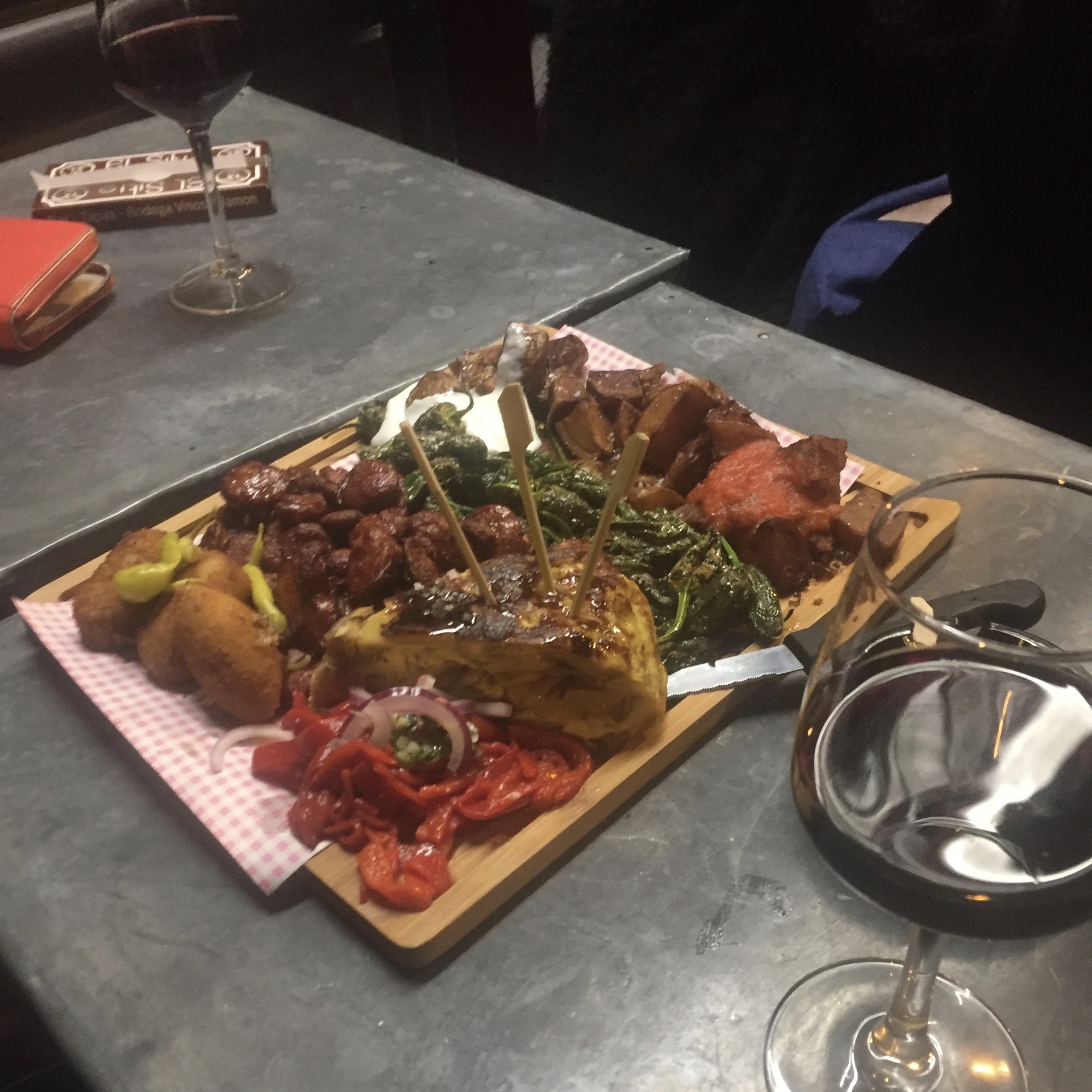 One further bonus: there are blankets on the seats outside, so you'll be able to sit on the terrace until late, even if, like us, you're there in January!
Café Brun
Café Brun is the perfect place to go if you want a pub with a buzzing atmosphere. Try to get there early on in the night to bag a table, or alternatively stand and mingle near the bar – that way, it'll be easier to push through the crowds of people to get your drinks! My drink of choice there is a mojito: one of the best I've ever tried (and believe me, that's quite a claim to make)!
Just so you know: Café Brun has a minimum card spend (either ten or fifteen euros – I can't quite remember), so make sure either to bring some cash with you, or to buy your drinks in rounds.
Le Zytho
Le Zytho is a quiet little craft beer bar, located just off Rue Notre Dame. There's a huge selection to choose from, and if you're ordering something on tap, you'll be allowed to taste as many brews as you want before making your final decision. I'm not overly keen on ale (don't be deceived by the photo – the drink in my hand wasn't mine! ), but can definitely recommend their gin and tonic.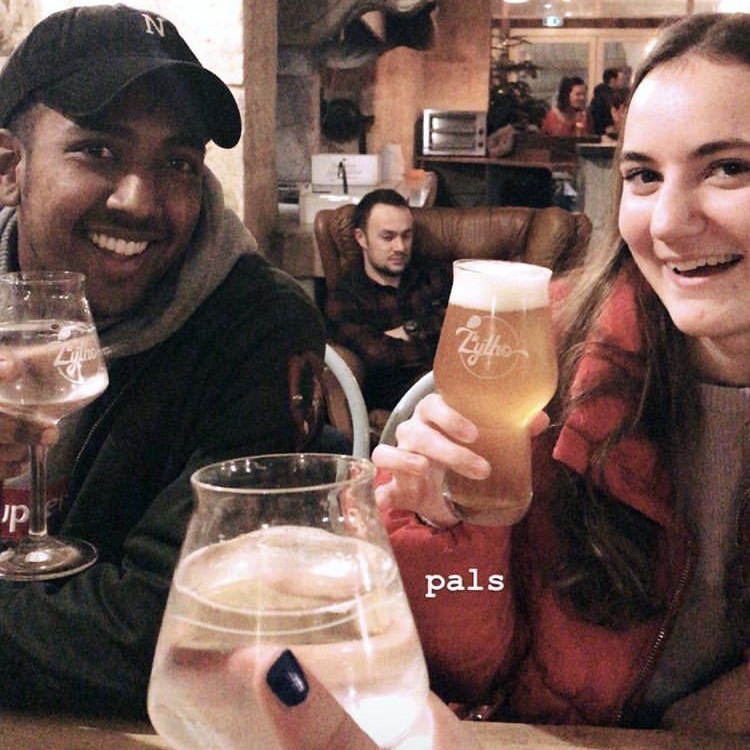 Warning: Le Zytho is closed on Sundays and Mondays, so if you want to try some craft beer that is great value for money, be sure to work around this.
Mangez-Moi
My final recommendation is a bit of jokey one, but if you're looking for a great kebab shop after a night on the town, Mangez-Moi is just the place! The food is not the best you'll ever try, but it certainly does the job, and won't break the bank, with meals (burger/kebab, plus fries and a drink) averaging at 6 €. Be sure to try a French taco – it would be a sin to visit Bordeaux without doing so!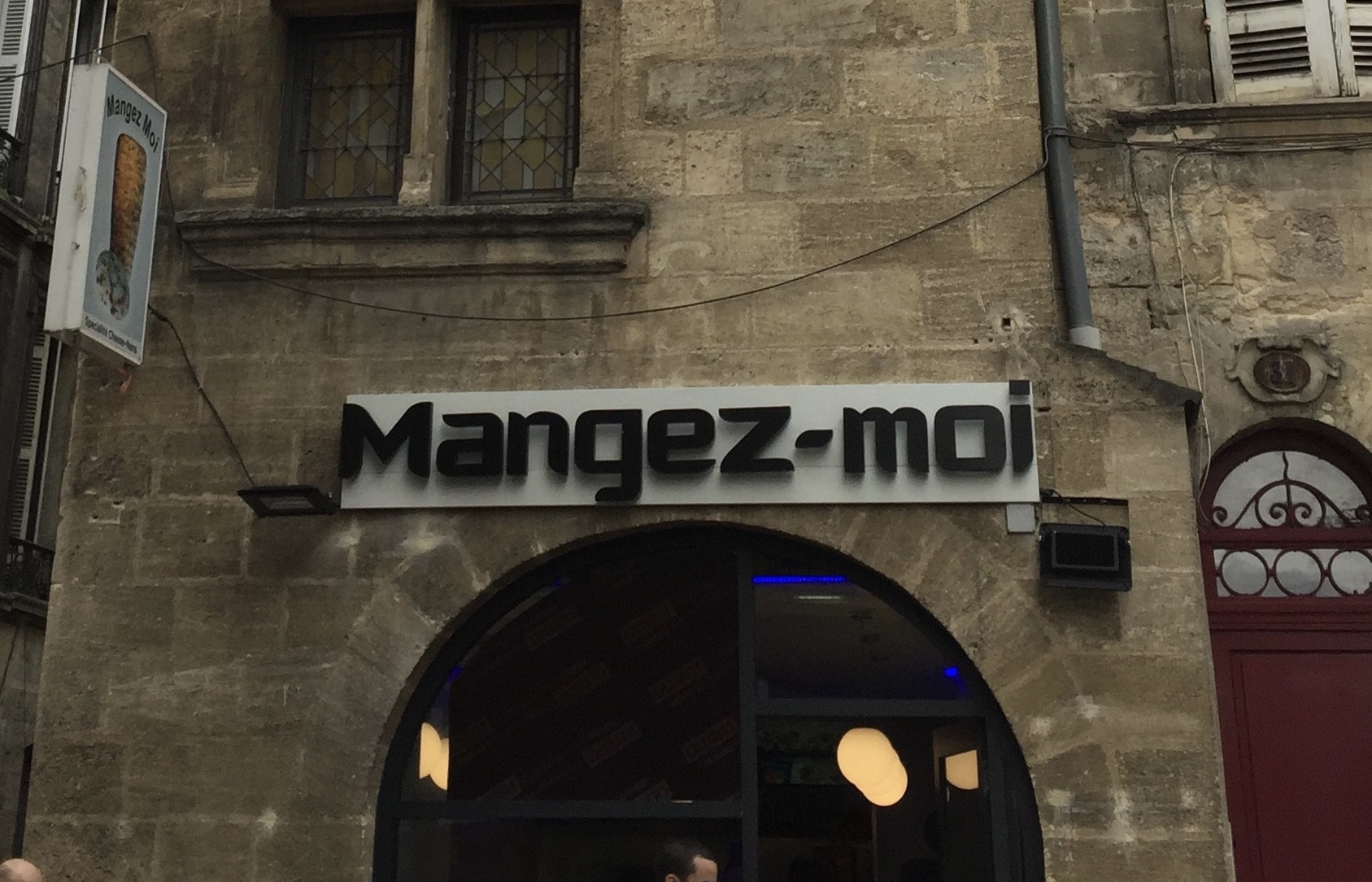 Since the city is pretty lacking in late-night food venues, I will also mention Cours de la Marne. Located in the seediest part of town, this street is lined with KFC knock-offs (MFC and CFC, among others), and is also home to a couple of 24-hour boulangeries! Not the safest area to be in at 4am, but if you're in a big group, it's the best place to go to find cheap post-night-out refreshments.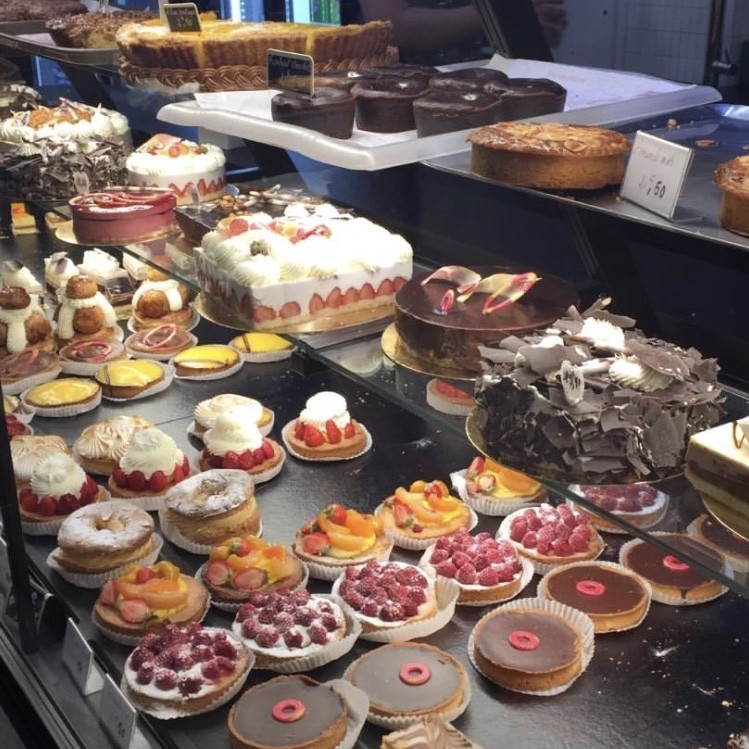 That's it, folks!
So there we have it: my top fifteen recommendations for places to eat and drink in Bordeaux! If you're heading to the city soon, I hope you're feeling inspired and ready to enjoy some of the great wining and dining options available. Otherwise, I hope you've enjoyed your virtual trip, and may you one day be able to experience this wonderful place (along with its fantastic food and drink venues) for yourself!
---
Photo gallery
---
---
Content available in other languages
Want to have your own Erasmus blog?
If you are experiencing living abroad, you're an avid traveller or want to promote the city where you live... create your own blog and share your adventures!
I want to create my Erasmus blog! →