Madrid Metro
Madrid Metro
The Madrid Metro es probably the simplest, quickest, cheapest and most comfortable way to travel around the city. Although it's a good way of travelling, its level of comfort very much depends on the time you chose to travel, because sometimes during rush hour you almost think it would have been better to get a taxi... but this is something that happens in all metros in all big cities in the world.
Of all the metros that I've been on in Europe, I have to say that Madrid's is the best. At least in terms of quality-price-cleanliness ratio, because I've been on some very fast and efficient metros in the past such as the one in London. However it has to transport thousands and thousands of people every day, so it was an old and dirty metro...not pleasant at all.
The Madrid Metro, although it has its downfalls, like all things, it has a great all-round ratio. A service that, unless it has problems (which it does) is very fast and punctual, a simple ticket (billete sencillo in Spanish) is generally quite cheap at 1.50 euros. There are some very modern and clean installations and carriages which are generally quite well-renovated. Although there are still some that are noticeably old.
What I'm going to do in this post is explain a bit more about the Madrid Metro, on top of describing its features. It's more like a little things that I'd like to have known before getting on this (at first) complicated, subterranean world.
This is something that usually happens when you travel on the metro, even when you go to a foreign tourist city: at the beginning everything seems like a complicated mess... but after you use it a couple of times you start to notice that it's not so difficult and that, in the end, everything is designed for you to use easily.
Main Features
The Madrid Metro, as I've already said, has a simple ticket (to travel within Zone A, which means all of the centre of Madrid and surrounding areas) for which the price is currently 1.50 euros. If you want to travel to Zone B1 or Zone B2, then the ticket price will be a bit more expensive.
In order to travel to the airport you'll need to buy a different type of ticket which costs a bit more and truthfully, I can tell you from my own experience that it's definitely worth travelling to the airport on the metro. It's very fast and comfortable; better than a taxi in my opinion.
There are also tickets for 10 trips or combined journeys between zones, but before buying any of these, I would buy the 30 day season ticket (abono transporte de 30 días in Spanish), where for only 20 euros you can travel wherever you want in Madrid and on any type of transport. If you're going to travel on a lot of public transport, then it definitely ends up being much more cost-effective in the long-run.
In total, the Madrid Metro system has 12 metro lines. It's not one of the biggest in Europe, but I do think it's one of the most complete because in the end, you can travel to any place in the city on the metro very efficiently.
It's an old metro (it's been running for years) but it's been renovated very well, except for the very old lines, which have remained in their old aesthetics (partly to maintain their 'vintage' charm). The most modern lines are very current, clean and above all, light and pleasant. It might seem like I'm not talking about a metro system but believe me, one of the things that us Madrilenians can be proud of is the metro.
In terms of information signs to guide and inform people, I also think it's a metro that's quite easy to follow. The signs are well placed, at the beginning it can seem a bit difficult, but after using the metro a couple of times you won't even need to look at the signs for help, because it's really self-explanatory to travel around underground.
Regarding leisure, drinking on the metro, in principle, isn't allowed, but its practice is something that practically everyone does. As there is not usually any police on the metro, fines are not usually put in place. Like many things, if you are mishandling yourself or leaving cups on the ground, then the security guards will be informed. But come on, it's something everyone does and it's not a big deal.
The most negative thing is the presence of pickpockets on the metro. This is a nasty thing that occurs on many European metro systems, but unfortunately here in Madrid it's something quite common that happens during rush hour. You just have to be aware and take care so that no one robs you and ruins your afternoon in Madrid.
Line 1
This is the main artery of the metro in Madrid. If main street to get around Madrid is Gran Vía, to travel around the centre of Madrid, the main metro line is Line 1.
A turquoise blue, Line 1 serves to travel from the Vallecas area to Chamartin. But the most important thing is that it passes through all the essential stops of central Madrid, such as Sol, Gran Vía or Tribunal. It's one of the busiest lines in the mornings, afternoons and on weekends. I don't recommend using this line at all during the festive season, since it's usually really crowded and it can be a real hell. The trains on this line aren't the most modern, but the majority of metro lines are usually well renovated (except for Gran Vía, which continues to maintain that antique aesthetic).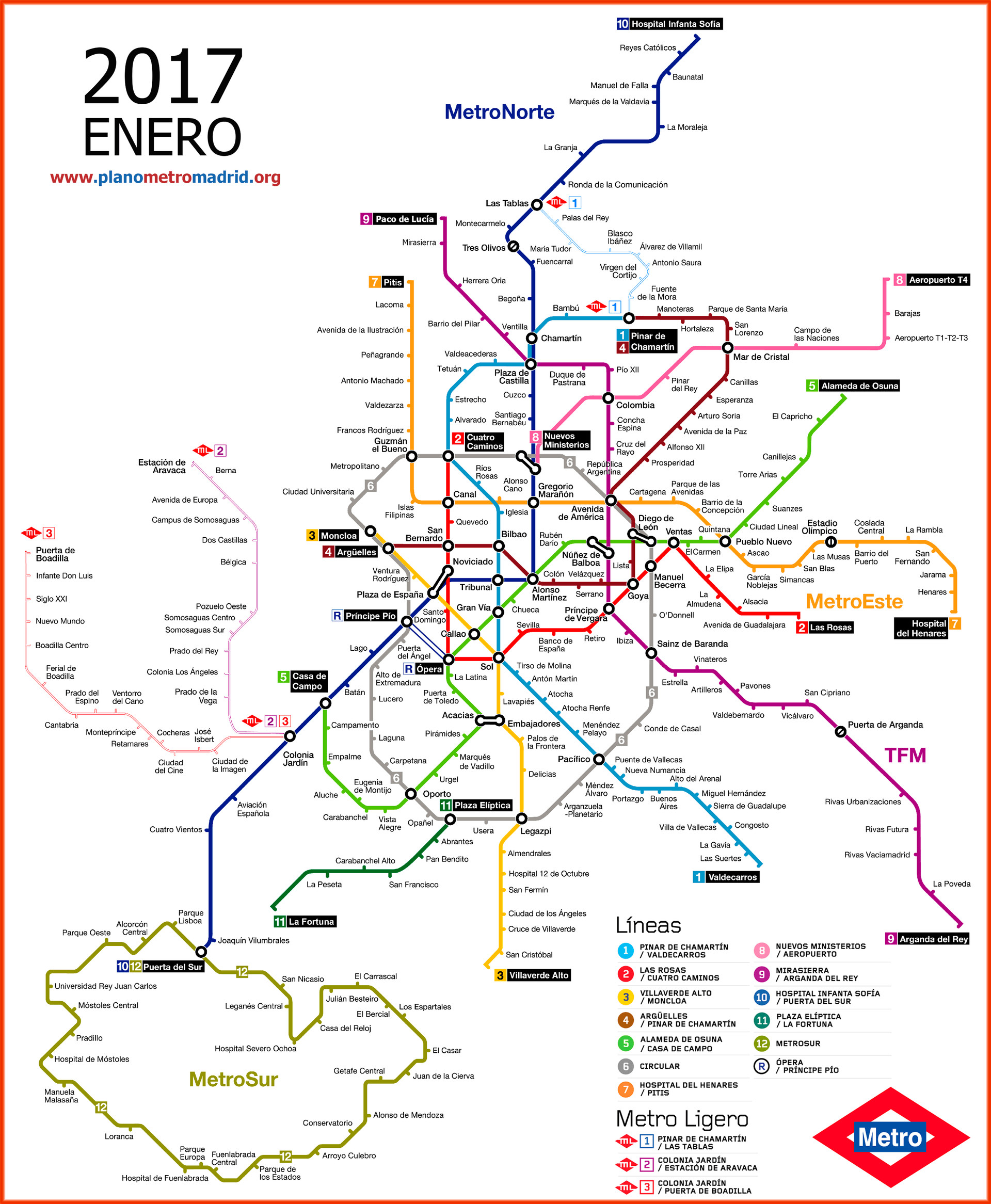 Line 2
Like its number indicates, it's quite an important line, but less so than Line 1. It's quite a short line and it passes through similar zones to Line 1 but a bit more separated. It travels from Las Rosas to Cuatro Caminos, but it's not convenient to go to Cuatro Caminos from this line, even though it's clearly shorter, because it's generally quicker to make a transfer to Line 6. This line is more modern in terms of train carriages and stations.
Line 3
Another one of the main lines. Yellow in colour, it's one of the most renovated lines and most accessible for disabled people.
It arrives at Mocloa, it passes by the University Hospital 12 de Octubre and connects with Sol, like the two previous lines. This is what the three first lines have in common, they connect at the Sol station.
Line 4
This is the first line that connects with another of the most important stations in the entire city: Avenida de América. This is the station that most metro lines in the city stop at. It starts at Argüelles and continues a similar route to Line 3 and ends in Chamartín, passing through the neighbourhood of HortaLeza.
Line 5
This is one of the oldest lines in terms of stations, passing through Callao, Gran Vía and chueca. It travels from places like Casa de Campo towards the Canillejas district, passing through the shopping areas there and through Carabanchel.
It's one of the longest lines and one of the longest running ones.
Line 6
This is one of the most important lines in the city. The main feature it has that makes it different from all the rest is that it travels in a circular motion, without stopping at any station at any time.
This is the main line that students from the Complutense University of Madrid use, given that it only stops at the station Ciudad Universitaria. However, it also stops in other very important zones like Nuevos Ministerios or Avenida de America.
It's without a doubt it's one of the busiest lines as its varied route. It has links with almost all other lines on the metro.
Line 7
This is one of the lines that has been most extended, some of the most modern expansions on the metro were born from these stations.
It goes from Pitis to the city of Coslada, in the outskirts of Madrid and Zone B2. It stops at the station Avenida de América and in the future it will be extremely important as it will be the only line that can be used to get to the new Atlético de Madrid stadium: the Wanda Metropolitano.
Line 8
The line that connects the city of Madrid to the Adolfo Suárez-Madrid-Barajas airport terminals. It has interval stations, but the main purpose of this line is to connect the Nuevos Ministerios station with the airport terminals.
As I said before, it's a very modern and comfortable line and it has large carriages, which means you can transport your luggage without any problem.
Line 9
One of the oldest and most traditional lines, so much so that there is no wifi connection on the majority of them.
It passes through Avenida de América and, thanks to the extensions, it arrives at the city of Arganda del Rey, in Zone B2.
The last stations of the extension are very modern with disabled access in all of them, but the rest of the stations that pass through the centre are much older.
Line 10
Let's return to another of the most important lines in the city. At the same level of importance as Line 1, but this is quite a bit more modern.
It connects the north of the city (arriving at Alcobendas and San Sebastián de los Reyes) with the Casa de Campo zone. It's so important because it has is because it passes through the entire city centre, especially through the financial district.
It stops in Nuevos Ministerios and it harbours at the stadium station Santiago Bernabéu, so you can imagine that it is a line designed to carry a huge number of people.
Line 11
Known as Metro South, it's another circular line that travels through the Madrilenian municipals of Móstoles, Alcorcón, Leganes and Getafe.
Strangely, it's the only circular line where you have to scan your ticket both when entering and leaving, as normally when you leave there's no need for the ticket anymore.
Metro Ligero (ML 1, 2 and 3)
The Metro Ligero is the newest part of the metro in Madrid. It's quite an old-fashioned train that moves through outlying areas at very low speed.
These train carriages are found in the municipals of Boadilla, Aravaca and Alcobendas-San Sebastián de los Reyes.
It's not a very important line to be honest. It was just created as an easy way to connect these municipals with the normal metro network.
I got on it once and the experience was insignificant. It gives you the feeling that you could get here quicker by walking.
---
Photo gallery

---
---
Content available in other languages
Want to have your own Erasmus blog?
If you are experiencing living abroad, you're an avid traveller or want to promote the city where you live... create your own blog and share your adventures!
I want to create my Erasmus blog! →