Sweet crêpes
A very good evening to you all!
Today has been a stupendous day in Madrid, not too hot nor too cold, the perfect temperature to be able to go for a walk along the street with a little jacket without dying from either the heat or the cold.
Today I once again got a craving to taste the foods of France, so I decided to make some French-style crêpes.
Therefore, I am going to share with you my recipe for sweet crêpes because, as always, they end up being really stupendous for me.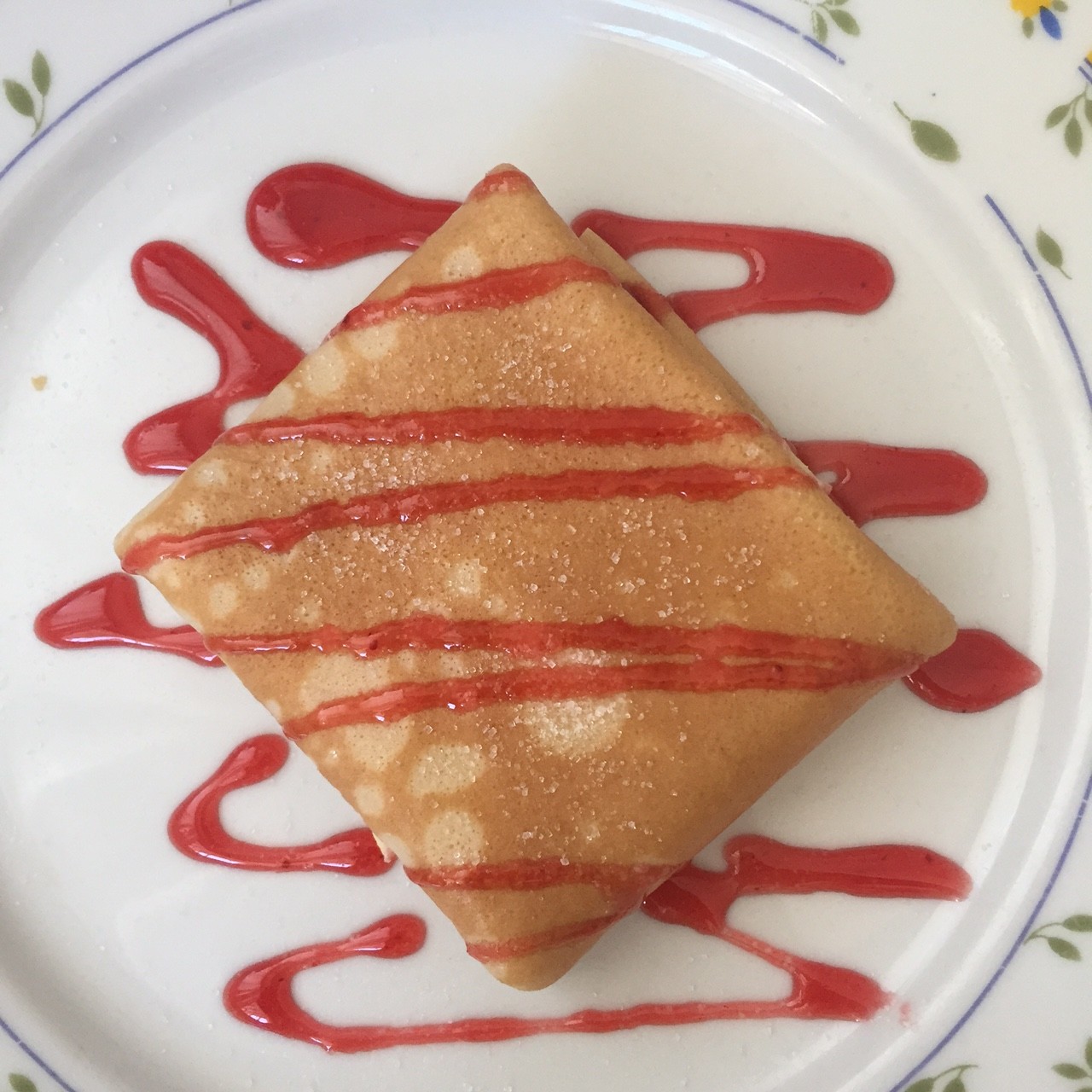 The crêpes (pronounced "creps" for those that aren't as strong with languages) are thin pancakes that you can put with anything, both sweet and savoury.
People normally eat crêpes as a dessert with Nutella or whipped cream or yoghurt.
Surprisingly, you could also eat them hot with savoury things such as four cheeses, smoked salmon, eggs, garlic peppers etc.
Crêpes are basically an all-rounder food, they go with anything.
And the most important thing is that they are super easy to make, and you need very few ingredients to make them, and very little of each one, and they'll be ready in a jiffy.
In this recipe, I am going to teach you how to make sweet crêpes, although savoury crêpes use the same ingredients just with different quantities.
Anyway, let's begin.
Ingredients:
150g of wheat or pastry flour.
250ml of milk (you could also use soy, oat, almond or rice milk).
15ml of sunflower oil or extra virgin olive oil.
10g of sugar.
Vanilla extract (optional but highly recommended).
3 large eggs.
A pinch of salt.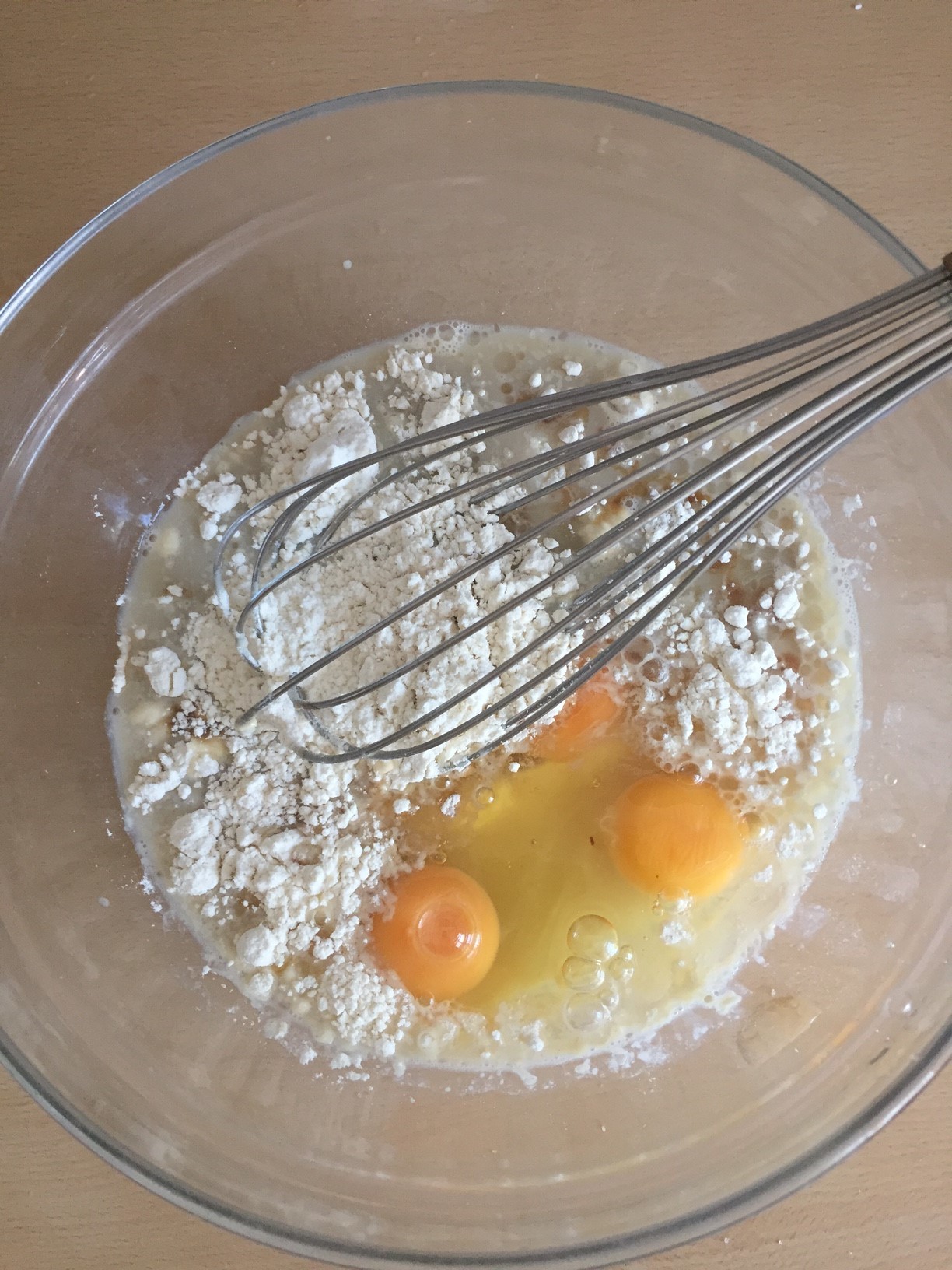 Method:
First, into a big mixing bowl put the dry ingredients: the flour, the sugar and the pinch of salt.
Something I didn't put into the ingredients list is the type of sugar.
If you like, you could use brown sugar, but the crêpes will end up darker and with a peculiar taste. And another option is to use vanilla sugar, to increase the potency of the vanilla extract, or you could use it as a substitute if you don't have the vanilla extract.
If you also don't have vanilla extract, I recommend you use white sugar to make the crêpes sweeter. Normally, you would only put in one tablespoon of sugar, but I once used four tablespoons of sugar as well as the vanilla extract, and I didn't think there was too much sugar, nor that the crêpes became overly sweet.
Another thing. If you like, as a little piece of advice to avoid any lumps in the mixture when you mix the flour with the milk, when you put the flour into the bowl, sieve it first, so that the little clumps separate and it will, therefore, not be difficult when you mix all the ingredients together.
Once the dry ingredients are mixed together, add the sunflower oil and then, whilst stirring, slowly add the milk bit by bit.
As I mentioned earlier in the ingredients list, you could use sunflower oil or extra virgin olive oil, it doesn't matter.
From my experience, and in my opinion after many years of making crêpes with different ingredients, I recommend you use sunflower oil.
Pretty much only because the flavour is gentler, so when you then eat the crêpes you won't be able to taste the oil. Meanwhile if you add extra virgin olive oil, you will be able to taste a little of the olive oil while you eat the crêpes. But it depends on what you prefer. Some people like that little taste; and it is not that it has a very strong flavour, so do not worry if you do not have sunflower oil, you can use the other one without any problems.
There are other people who instead of using oil use melted butter. I think that this also works, and I risk saying that crêpes are better with butter, but I haven't cooked them with butter for a long time, so I couldn't be 100% sure. The next time that I want to make crêpes, I will do so whilst using butter and then I will be able to tell you how they came out.
But anyway, at this moment in time we are going to use oil because even if crêpes are better with butter, I don't know the exact quantity that you would have to add to the mix.
Another thing that I mentioned in the ingredients list is the milk. There will surely be people that don't like cows milk or that don't drink it for other reasons... so, as a substitute for cows milk you could use a soy, oat, almond or rice drink.
I say 'drink' and not 'milk' because if you go to the supermarket and you want to buy this kind of milk, you will often not find it with the name 'almond milk' but with the name 'almond drink' (although in England it is increasingly popular to see it with milk in its name). More than anything this will be because the law does not allow the word 'milk' to be written on the packages if the product has not been processed with animal milk, be it from a cow, sheep or goat.
But don't worry, even if it does say 'drink' it will still be milk, and the liquid will be a shade of white, although not as pure a white as animal milk, but more of a browner white.
Once again, from my point of view and in my opinion, I would advise using oat milk/ drink.
Personally, I hate soy milk with all my heart and soul. I find it really repulsive and I cannot even smell it, let alone drink it. I have tried many times to drink it in many different ways, using different recipes to make use of the bottle (because I wasn't going to drink it) but no, it is impossible.
I have also tried chocolate-flavoured soy milk, and also vanilla-flavoured soy-milk. But once again I couldn't drink it, finding it as repugnant as the natural soy milk.
It's quite amusing that I hate soy milk so much because I love tofu and, for those that don't know, tofu is made from soya, water and a coagulant. Who would've guessed.
I'm also not a big fan of the rice drink because it tastes a bit like sand and I feel as though it's scratching my throat, even if it is completely liquid. I don't know, it's difficult to explain, but it is also a little bitter, so after I bought the first bottle I never bought another one because I knew I would never finish it.
For me, the best drinks to use would be oat and almond, in that order.
Almond milk is a little sweet to what I am used to, so I like to put it in when I make coffee or smoothie or milkshake.
Oat milk, on the other hand, I often drink on its own, with cereal, with honey etc.
So for this crêpe recipe I will use oat milk. I will advise you now that, given the colour of this drink, the final colour of the crêpes will be a little bit darker, but I think they're delicious like this.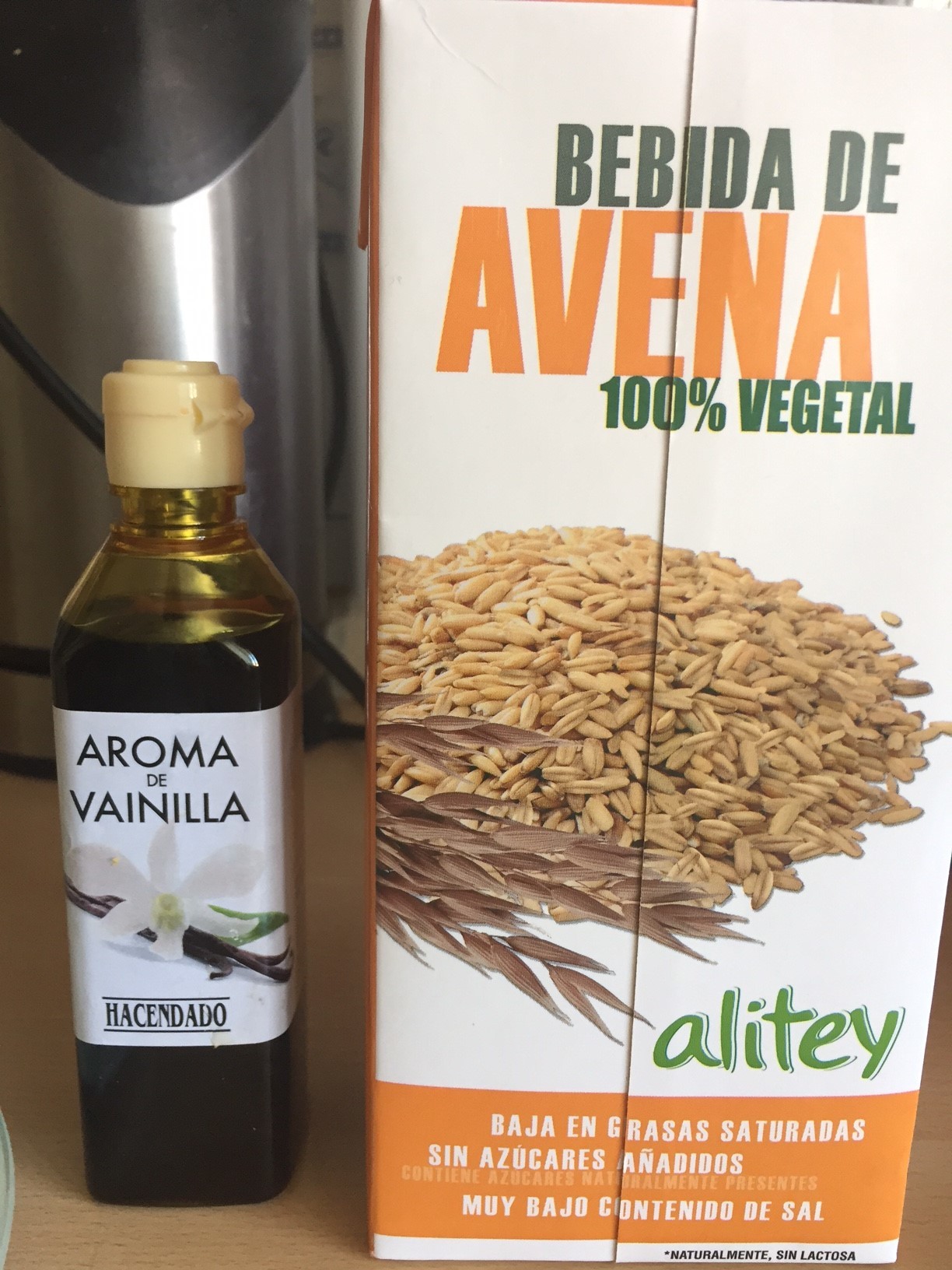 Let's return to the recipe.
Stir the mixture together and, when it is ready, add the eggs before again stirring the mixture well. To finish, add as much vanilla extract as you like. I put a teaspoon in to bring out the flavours and then also add a little pinch of salt. Stir again.
Do not despair if the mixture is a little lumpy I once had a lumpier mixture, but you can't tell once the crêpes are cooked and finished.
You can stir the mixture by hand as the mix is not thick or hard enough for you to need an electric blender or whisk and all the ingredients are easily mixed with little effort used.
But, if you want to use an electric blender you can do so with no problems, although I warn you that it could end up a little lumpy.
To avoid lumps, the key is in the flour and in the way you mix it with the milk.
As I said before, the best thing to do is to sieve the flour first to get rid of clumps, but in the case that you do not have a sieve, it is enough to just, when adding the milk, add the milk slowly and without stopping stirring.
But I repeat that lumps aren't really a big problem, they are only thing to do with the aesthetic and the presentation of the crêpes.
After mixing the ingredients together well, leave the mixture to stand and put a frying pan over a maximum-temperature flame so that it heats up well.
Once the pan is warmed up nicely, reduce the flame and heat a little so that you don't burn the crêpes. Then pour a ladle's worth of the mixture into the pan.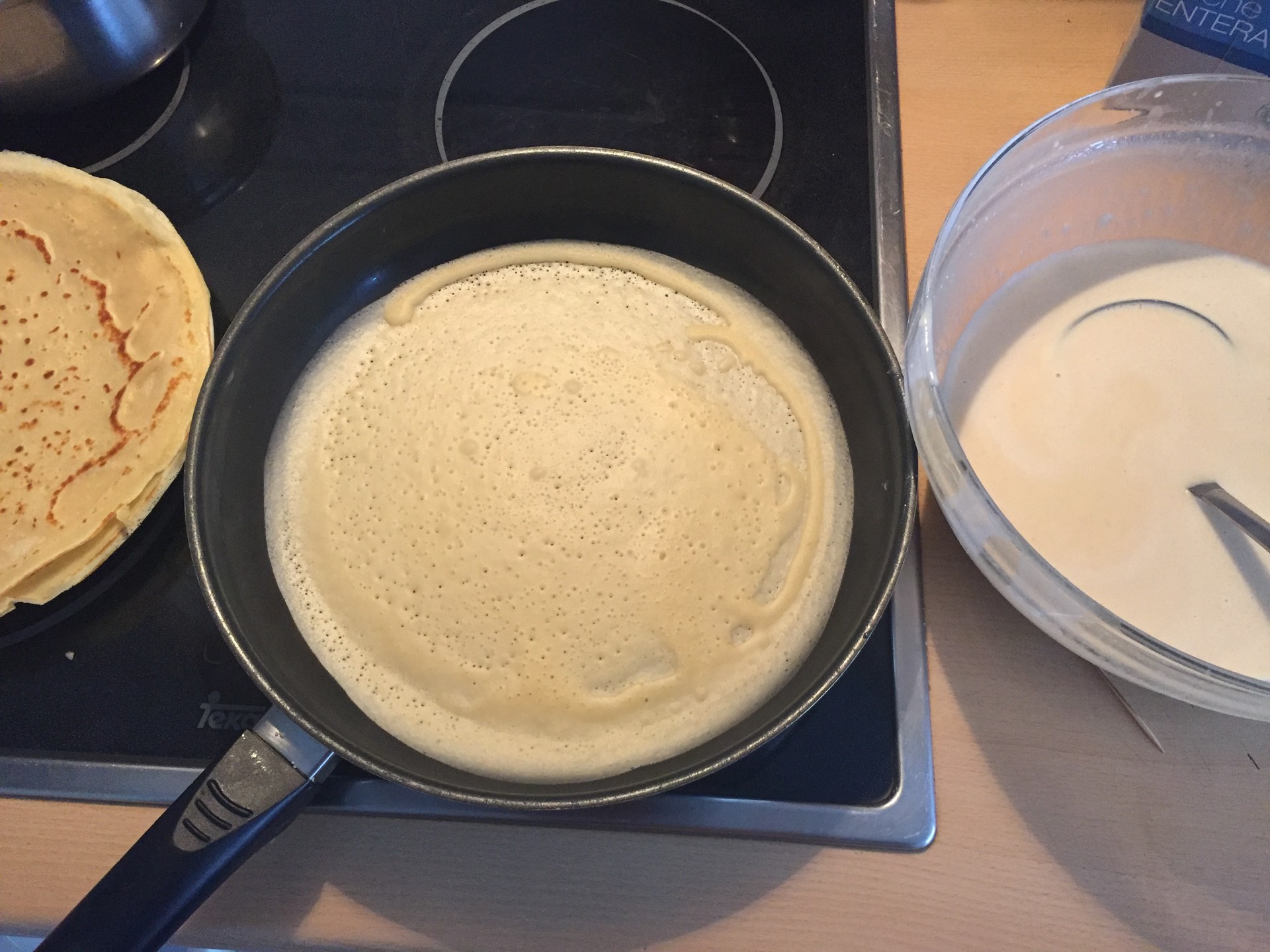 The trick to making sure that the mixture covers the pan evenly and in a circular shape is to take the frying pan in the other hand and, whilst pouring in the mixture, very slowly move the pan in circular movements so that the mix covers the whole pan.
When more or less thirty seconds have passed, raise one end and then pull upwards to flip the crêpe.
I, unfortunately, am not good enough at using the frying pan to flip food in the air whilst I cook. I have tried many times, but for all the times I have tried I have only managed to flip a little pancake and that's it.
So, for those like me, when you lift one side of the pan, put a spatula under the crêpe and then turn it. Or, if not, you could use your fingers to lift the crêpe, carefully so as to not break it, and turn it.
I recommend that you make the first crêpe quite small as a test so that you can taste it and see if you need more sugar or if you haven't added enough.
In the case of having added to much sugar to the mix, you can add a little cup of milk and half a cup (you could use half a cup of the same cup used for the milk) of flour and then stir until everything is mixed together.
If the mixture is then too thick, add a little more milk until it is thinner, but don't add too much!
If you see that the mix is excessively thin, add a little more flour and stir. And, just as before, don't add too much or else it will end up thick and you will have to once again add milk.
The crêpe mix doesn't usually stick to the frying pan when you cook it, but if it so happens to you that, when you go to flip it the crêpe breaks because it catches, butter the pan a little each time you want to pour in the mixture to make a crêpe.
Do not add oil into the pan as though you were cooking an omelette because the crêpes will end up very oily, and you don't want that.
After having tried the first crêpe and confirming that everything is well and good, continue to cook the rest of the batter until you run out.
And voilâ! You have your sweet crêpes.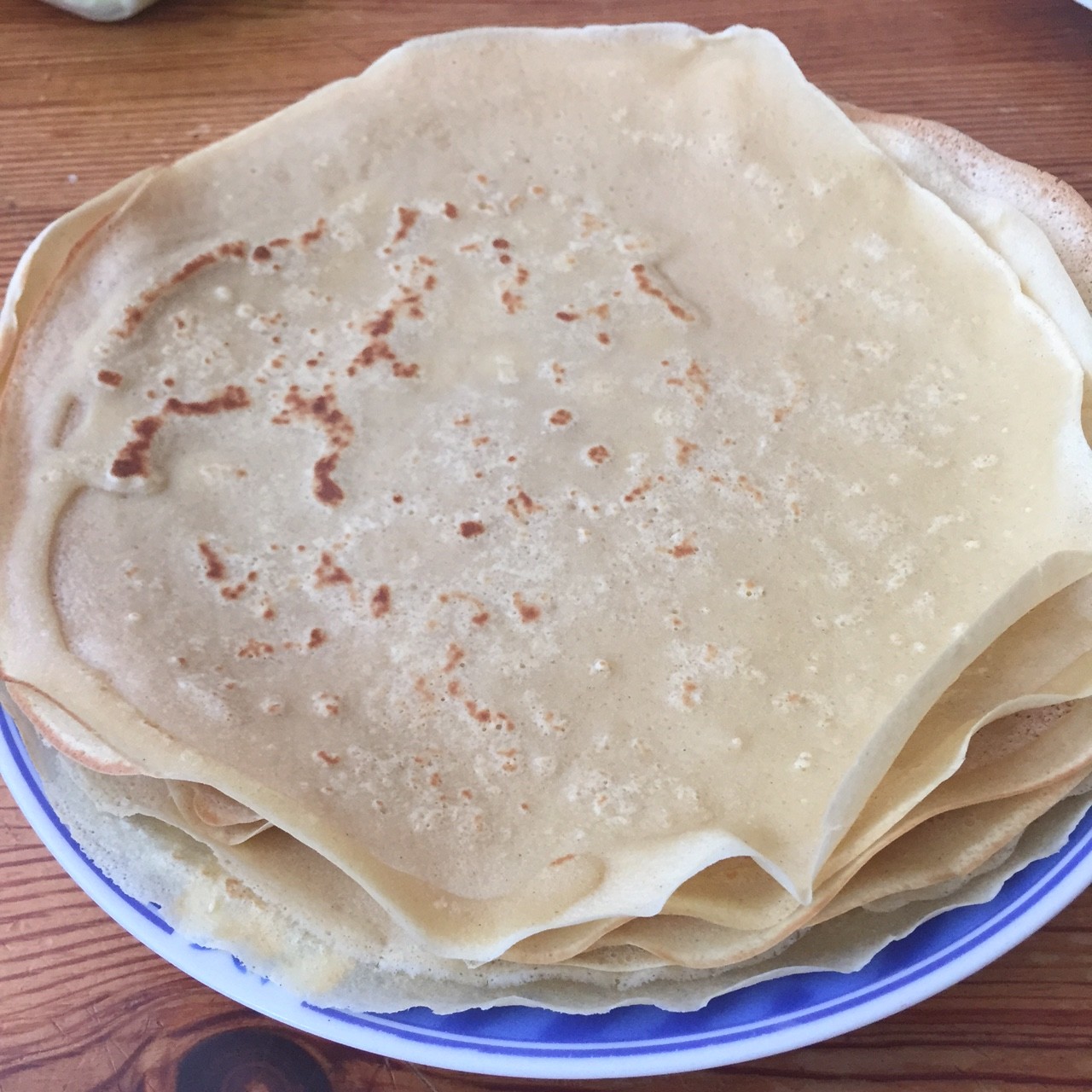 To cook savoury crêpes, the only thing that you need to do is to reduce the quantity of sugar and increase, but only a little, the quantity of salt.
This means that instead of adding four tablespoons of sugar and a pinch of salt, you would add only two tablespoons of sugar and a teaspoon of salt. And do not add the vanilla extract. And voilâ.
The most common way of eating sweet crêpes is by spreading Nutella on top and then rolling them up, or with lemon and sugar.
I like to be a little more creative and I often add kiwi or other fruit-flavoured yoghurt such as strawberry, banana or peach, with chocolate chips or little pieces of nuts and then rolling it up and adding lots of strawberry or caramel syrup and sugar to make it crunchy.
You can add any kind of fruit or yoghurt, they will always taste nice.
You could also cut some slices of Brie or Camembert cheese with a little honey, some nuts and some spice.
Another piece of interesting advice, and I am sure you will like this, would be to add some cocoa or chocolate powder to the mixture to make chocolate crêpes, or to add a syrup of any flavour of your liking. And you will see how good they taste!
Honestly, I was quite surprised at the flavour.
If you add syrup to the mix the only two tablespoons will be more than sufficient to bring out the flavour enough for you to notice it when you eat the crêpes.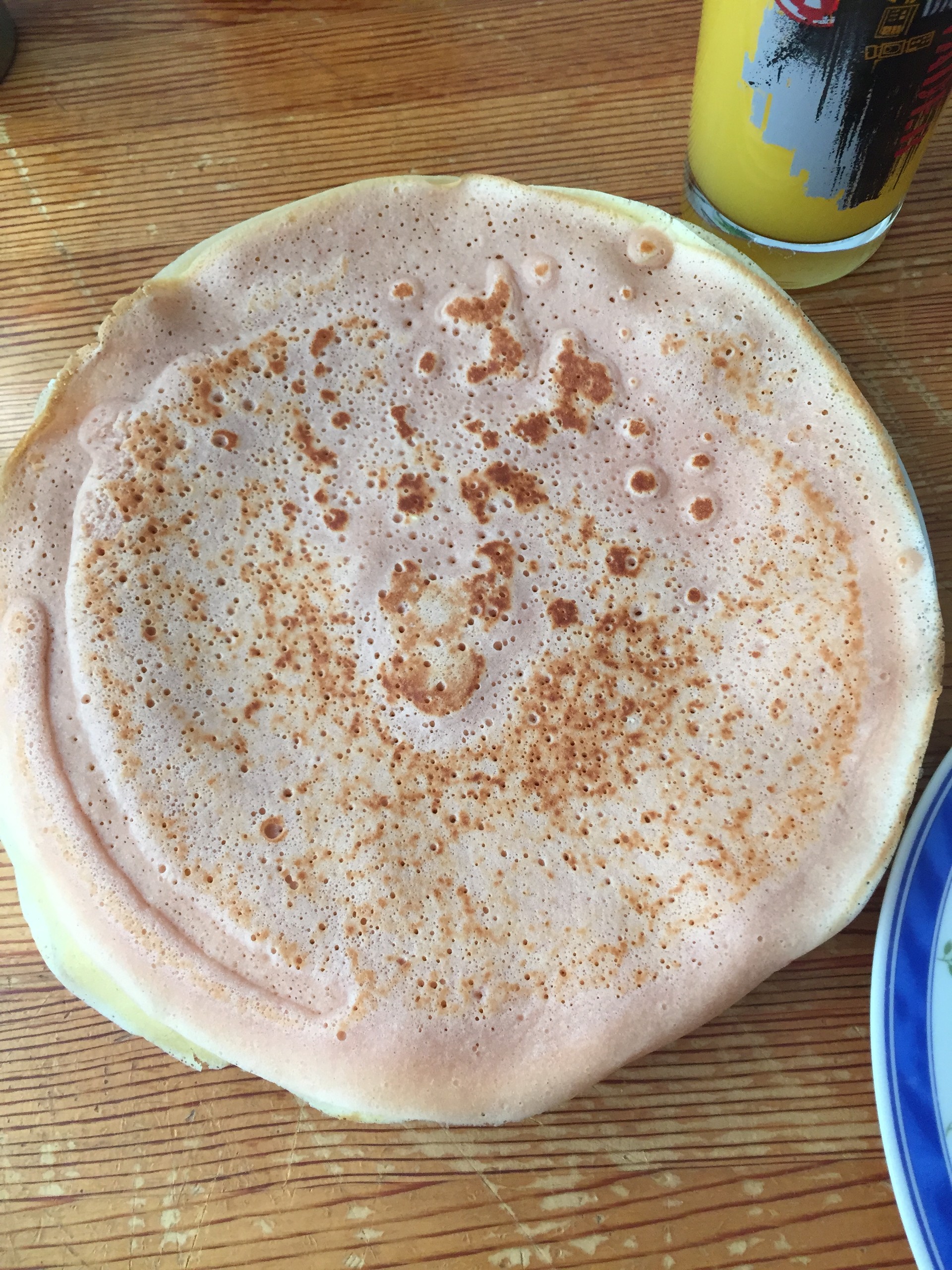 On the other hand, if you add the powder, it would be better to add three or maybe even four tablespoons because if not the crêpes will only retain the chocolate colouring but will not taste like chocolate.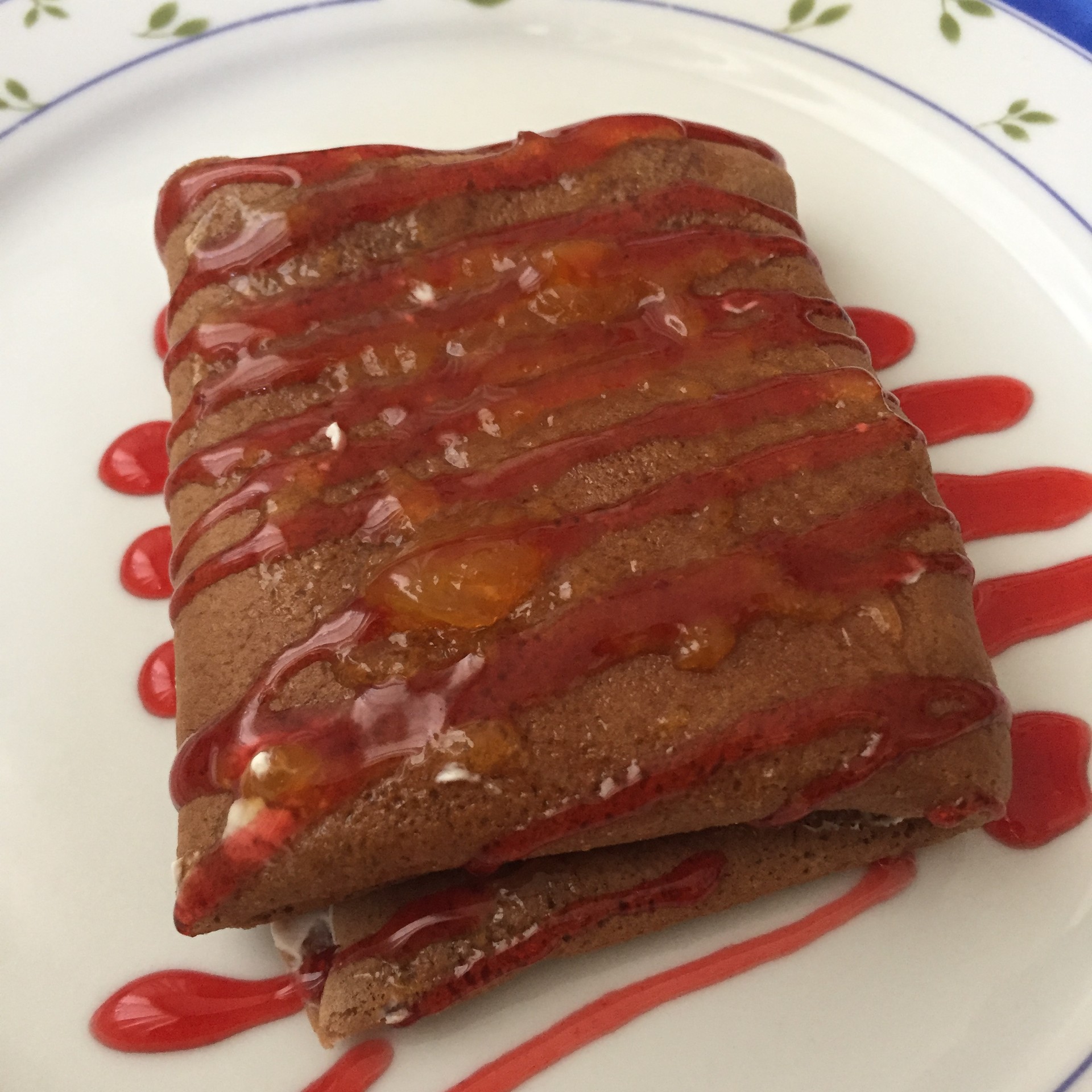 And that is everything for today.
I hope that this works as well for you as it has done for me, and the next time that I make crêpes, I will upload photos with different condiments so that you get an idea of what foods you could combine the crêpes with. :)
---
Photo gallery
---
---
Content available in other languages
Want to have your own Erasmus blog?
If you are experiencing living abroad, you're an avid traveller or want to promote the city where you live... create your own blog and share your adventures!
I want to create my Erasmus blog! →