Noodles and Vegetables
Getting the ingredients together
Here's another option that is quite cheap and healthy to make. When you're travelling on a semester exchange it's a bit difficult to stay healthy and in shape. Since you are outside your usual routine often you will have people not working out or exercising and would rather just take it easy as they are on exchange which to many means they are on holidays while outside of university. That is fair, if you find yourself in the same situation then you have another alternative. Rather than working out to keep from gaining weight you could simply eat well. However, some complain that eating healthy is not only expensive but not as tasty as they would like it to be. Today, I will show you one of my favourite and easiest meals to make, vegetable stir fry. This one is a much cheaper and easier version of a similar recipe I had posted earlier. Since I will be mainly focusing on cheap and easy foods I could not leave this one out.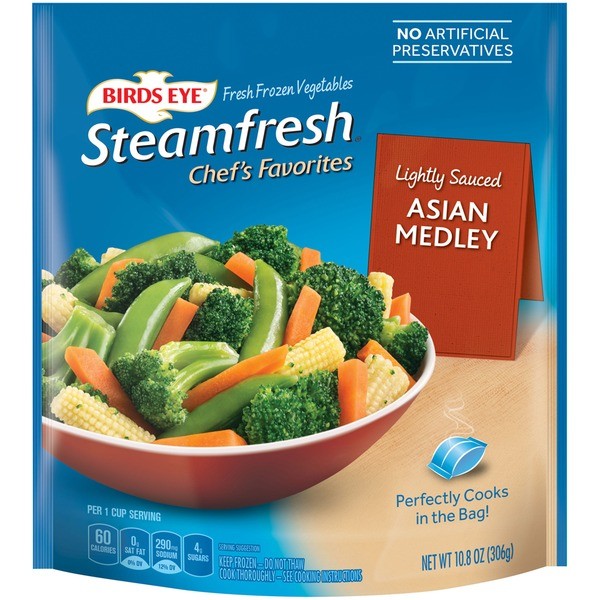 (Source:https://www.instacart.com/king-soopers/products/16848212-steamfresh-chef-s-favorites-asian-medley-frozen-vegetables-10-8-oz)
I learned how to make this on the go when I was keen to make a meal for three of my mates and me. As one of them was vegetarian I had to be more selective of what I could cook with. As my mate was vegetarian and the other Italian I decided to combine the two cuisines. It's very cheap to make. Here are the ingredients you will need:
Noodles (this could also be spaghetti or Udon noodles)
Salt
Pepper
Cumin
Ginger
Soy sauce
1kg bag of frozen veggies
A medium onion
Three Garlic cloves
Vegetable oil
Cooking it up
I used a large wok to cook this meal. In the student residence I was staying they did not have regular stoves but electric ones. Those ended up working out quite fine overall. The main issue was finding one that was free during dinner time as they are quite busy and too few in between. Regardless, we ended up having to cook on the very top floor with a spectacular view of the surrounding area.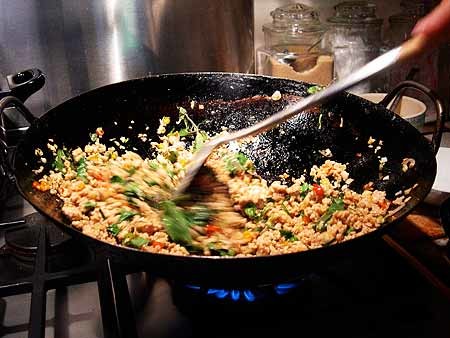 (Source: http://www.thaifoodandtravel.com/features/wokcare01.html)
The first thing you want to do is put the wok on the heat as you start chopping up the onions and garlic. Once the wok is hot, pour in the vegetable oil. The way stir fries are designed is to cook up all the vegetables using as little oil as possible. For that reason, there is only a tiny area for the oil to sit on. Once the oil heats up throw in the onions and garlic. Once they have been turned into a golden hue toss in the veggies. The veggies could be anything at all. The one I used to consist of zucchini, broccoli, cauliflower, green beans and diced potatoes. They ended up being a great choice as they went well with what we were cooking.
In the meantime, put the noodles into some boiling water. Make sure to add salt to the water. As the veggies are cooking you could start spicing it up with salt, pepper, cumin and ginger. The amount you put in depends on the taste you want to come out. I would recommend you do not go too crazy with the ginger as it has such a strong taste. Although, in the end of the day it's up to you and your guests as to how much you want to add in. Then, add a generous amount of soy sauce into the mix. Not too much as it is quite salty. Mix it in thoroughly. Once the veggies start to soften reach in with a fork and try out the veggies. Do they taste bland or spiced up? Add more accordingly. From here you could also add some sit-fry sauce from the supermarket. Although, it's healthier to do it as so.
Stir the mix and make sure the soy sauce and onions reach every bit of vegetable. Keep spreading it around. Once it softens well that it melts in your mouth you have two choices. You could either finish it from here and take it out to mix with the noodles or if your wok is big enough then you could toss it in with the veggies and mix it properly. Do this after the veggies are soft and ready. From here, you would need to mix the noodles in properly. If they need salt or soy sauce, then add accordingly. This also goes with any of the spices provided. Once you find the flavour you're looking for let it fry for a little bit at medium heat before removing it. Remember, that there isn't too much oil at the bottom so it's easy for you to burn your stir fry.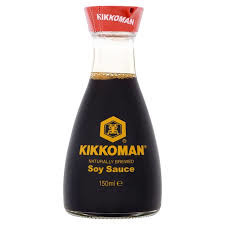 (Source: https://www.ocado.com/webshop/product/Kikkoman-Soy-Sauce/14006011)
Flexibility
Once it's done, put the stir fry in the middle of the table with either large tongs or a large fork and spoon. From there you could pour it out to your mates and yourself to enjoy. Not only is this a nutritious meal that tackles carbohydrates, proteins, fibre and many other nutrients but also low in calories compared to many of the dishes served up. The only thing you have to watch out for is how much soy sauce you use due to the salt content. However, you won't be adding too much as soy sauce has a strong flavour. Another alternative is simply adding a bit of soy sauce then leave it on the table for yourself and diners to add accordingly if it's in need. Cleaning after this meal is quite easy if you do not burn the wok. So, its enjoyable plus not too much of a hassle to make. Hopefully you find this recipe helpful and very delicious. If you're looking for a more gluten free meal, then drop down all the noodles. Either get a gluten free alternative or simply go for extra veggies.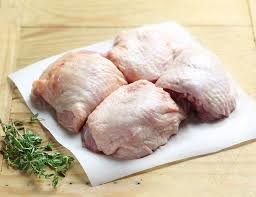 (Source: https://www.abelandcole.co.uk/organic-chicken-thighs-boneless-600g-pack-of-4)
This recipe is pretty flexible with the type of foods you could throw in here. You could easily make it a chicken stir-fry. All you'll need to do is fry some chicken on the side with onions and garlic. Add a pinch of cumin, ginger and paprika with some salt. Once you properly cook it you could toss it into the stir fry when it's done or toss it in while the veggies are cooking to get a bit of the soy sauce taste into the mix. Be flexible and try out new things. Happy cooking and good luck!
---
Photo gallery
---
Want to have your own Erasmus blog?
If you are experiencing living abroad, you're an avid traveller or want to promote the city where you live... create your own blog and share your adventures!
I want to create my Erasmus blog! →