Discovering a small town in Italy: Giovinazzo
Architecture and landscape

8 / 10 points

Entertainment

8 / 10 points

Culture and customs

10 / 10 points

Transport

6 / 10 points

Gastronomy

10 / 10 points

Prices

8 / 10 points

Party

6 / 10 points

Weather

8 / 10 points
---
In my last post I wrote about the port city of Bari on the south east coast of Italy.
Today I'll start with showing you around Giovinazzo, Italy, which is a town within the province of Bari. If you're looking for a small, traditional Italian coastal town, look no further. As I mentioned in the last post, Giovinazzo is a town just 15-20 minutes away from Bari, and can be accessed from there by car or train.
How to get there
Coming from an international destination or from a far away Italian city, it's best to come here by airplane. Usually you can find Ryan Air flights that are faster and cheaper than taking the train. For example, when I flew from Rome to Bari, I found a flight that was €12 and the flight was under one hour. Meanwhile if you take a train, it will take four hours and you will never find a ticket at that price (if you do, let me know). You can fly into the Bari-Palese airport, and then you can take a train to Giovinazzo. However, keep in mind that the public transportation around the small town is not as efficient as in the big cities, so if you don't have a friend that lives in the area who can drive you around, I strongly recommend renting a car.
A historical city
Despite its small size, Giovinazzo's history dates back to nearly two thousand years when the Romans ruled. This town was an important trade site, and it still is a prominent fishing port. Walking along the port of the old city of Giovinazzo, you'll find relaxation in the sound of the slapping of the waves on the rocks and medieval walls, mixed with the light bumping of the local wooden fishing boats tied up to the docks.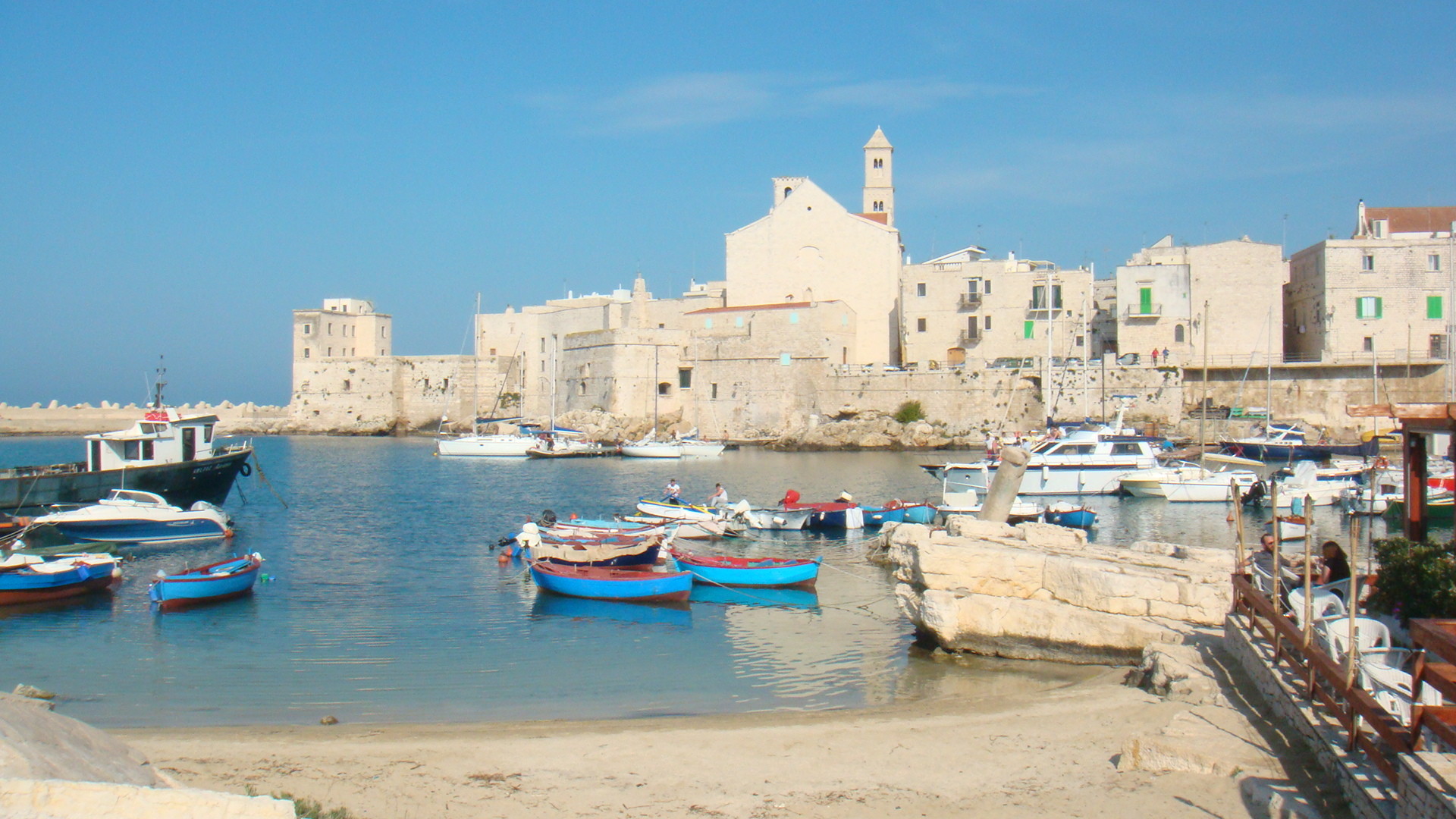 On the roofs of the low buildings by the water you'll find countless cats lounging and sleeping in the sun. They were probably keeping warm on that chilly December day by staying on the the dark-colored roof tiles that had absorbed the heat of the sun throughout the whole day. There are "The Cats of Rome", but there are also "The Cats of Giovinazzo".
Although I stayed in Giovinazzo for only a few hours, I would have liked to spend more time there roaming the streets in the old city. There is something special in the narrow, winding stone streets, especially when you get glimpses and views of the vast blue sea in between the alleyways and over the rooftops.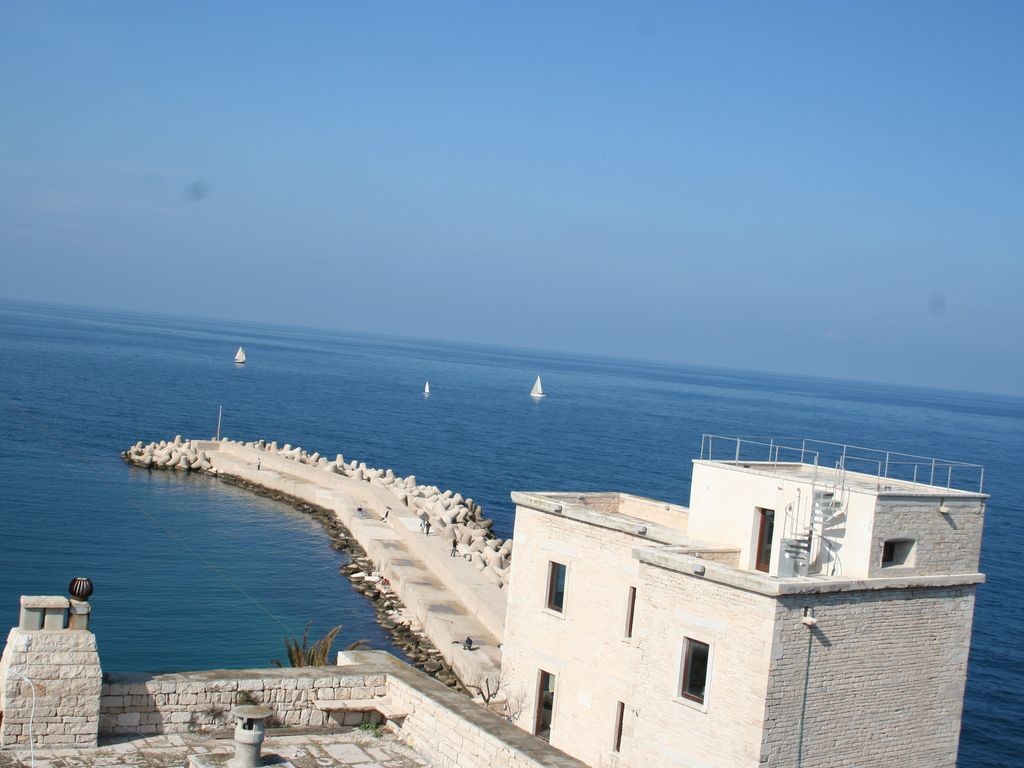 Giovinazzo definitely has the beautiful feel of a romantic seaside town without the ridiculous over-the-top prices.
What to do in this small town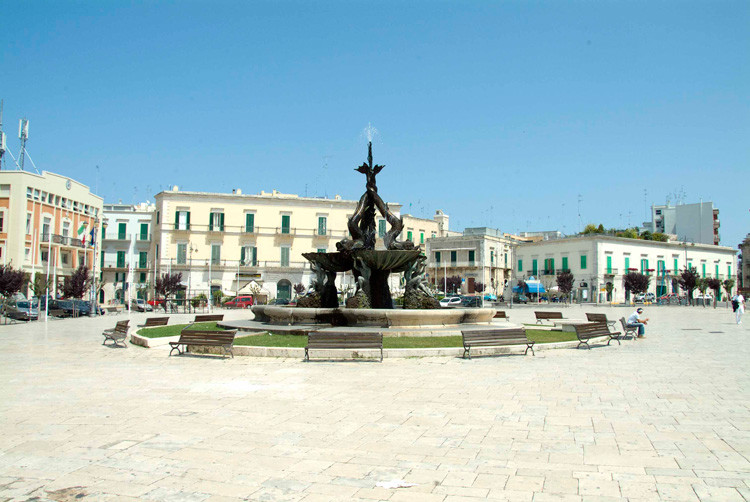 The town center, known as the Piazza Vittorio Emanuele II is a comfortable size to be able to walk, see the building architecture and sit at the benches around the fountain. Many people come here to socialize and soak up the sun.
Here is a close-up photo of the fountain and buildings to see the details better:

In December, the square is lit up at night with some cute decorations.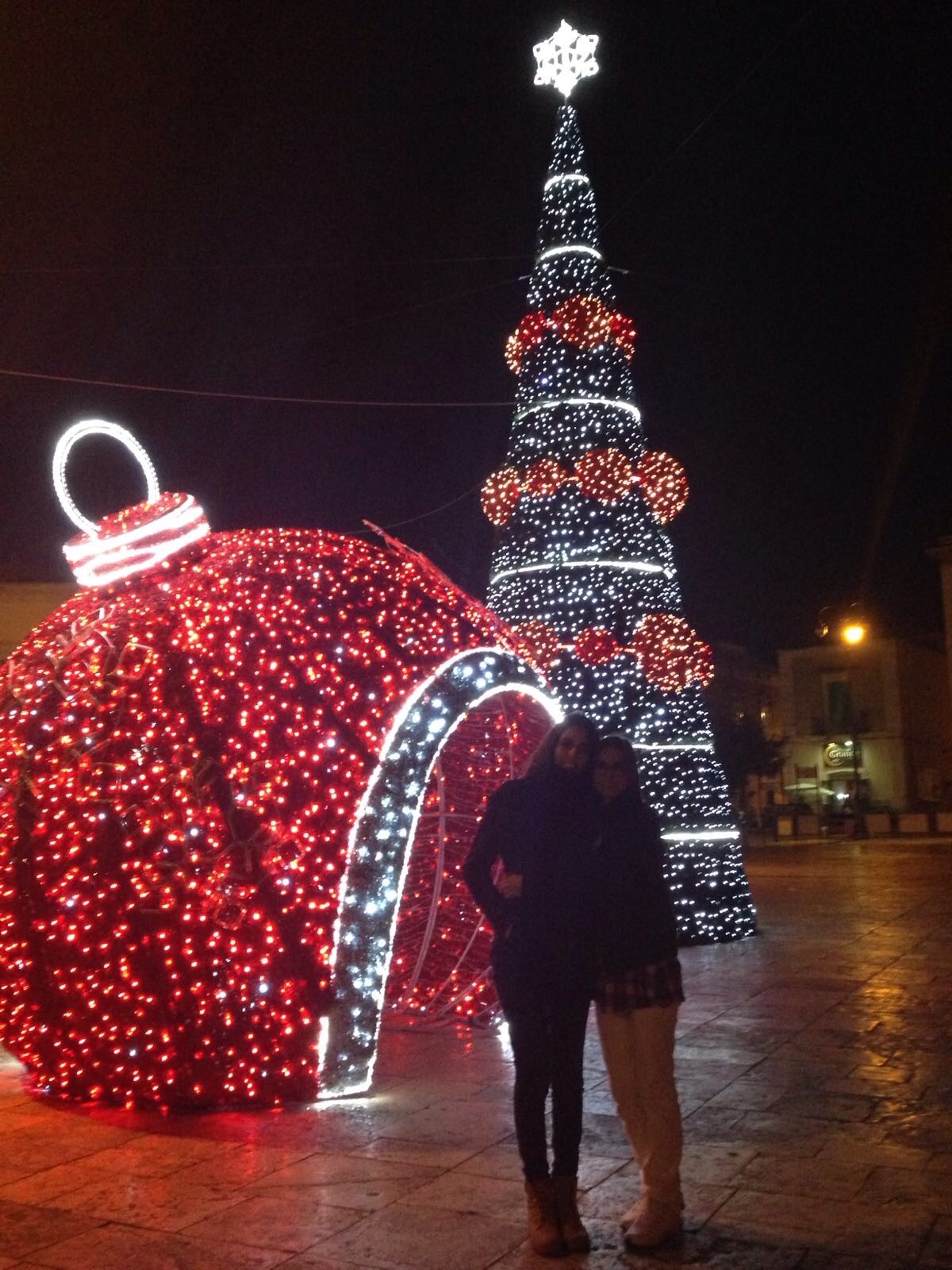 This picture is of my friend and myself in the Piazza Vittorio Emanuele II by night during the Christmas season.
When I spent the day here with my friends, the first thing we did was get a cafe or cappuccino and croissants from a local café. The croissant was perfect; crispy on the outside and soft and chewy on the inside. The cappuccino, of course, was perfect as well (made by Italians). The café inside is a small but cozy. After enjoying our breakfast, we went to the center square (the pictures above) to sit on the benches and bask in the sun, especially because it was a little bit chilly in the morning. Even though the time of year was in December, it got warm enough midday so that we could take off our jackets.
We continued on our walk throughout the old city, which is made up of very old stone buildings. There are small winding streets, but there are also wider, more spacious streets. I like that Giovinazzo has this nice, diverse feel. I think it is much more refreshing to have wide streets as well as narrow streets because it does not make me feel claustrophobic, like how I felt when I was in Venice. I didn't like Venice at all for the extremely narrow streets with tall walls and buildings. Especially since the city was totally surrounded by water, I felt like I was trapped there. Don't get me started about the pigeons and tourists. Giovinazzo, thank goodness, is nothing like Venice.
As I mentioned earlier, walking through Giovinazzo's old city is lovely as you will get glimpses of the sea through the passage ways. We walked to one side of the city where you can stroll along the border while viewing the vast blue sea stretching beyond. I remember feeling so relaxed and happy in that moment, and I also remember wishing that I had money so that I could spend a night or two in one of the Bed and Breakfasts, hotels, or AirBnBs lining this walking path, facing the sea. Maybe one day I'll return to Giovinazzo and do that!
On the other side of the old city is the port with the fishing boats and the medieval structures. Walking along the lungomare (seafront) in the morning is the perfect thing to do when you're in the mood for observing others: The fishermen making their daily catch and slapping octopuses on the rocks, the old people strolling by and gossiping, the cats lounging about. I like low-key living and this is exactly how life is in Giovinazzo.
Making our way back to the town center, we walked through the green park there. It is not huge, but it is big enough for the dimensions of the small town. It's also nothing extraordinary, but I really enjoy seeing green areas and sitting at benches there. As we were walking through the park, my Italian friends bumped into some people they knew, and they started talking. They introduced me to them, which was followed by an awkward exchange of kisses and a culture shock.
After living in Spain for two years (and France for five months), I have been used to giving the double kisses going from the left to the right. Little did I know that in Italy, it's just the opposite, giving a kiss to the right and then to the left. When you put people together who give kisses on the opposite side, you can guess what happens. You nearly kiss each other on the mouth (and sometimes it happens).
And that's what almost happened to me when I first met some random people for the first time. It was so awkward but luckily they didn't really care and they understood, so it's probably not the first time it's happened to them with other foreigners. It's probably a good way for Italian boys to sneak in kisses on the lips; they can just give the excuse that it was a "cultural difference misunderstanding".
Night life
If you are curious about how the night life is in Giovinazzo, I wouldn't say that it's exploding, but it certainly is not dead either. On a night after clubbing, we went to the town to get some food and I was surprised to see many bars and cafés still open late at night and very lively.
When we went to go dancing, it was not in Giovinazzo, but in Bisceglie, which is a town very close by. We went by car. The name of the place is called Glam'House. It was not that impressive, but I still had some fun there because I was with fun people. I didn't want to buy a drink because the cheapest thing was a beer for €4 and I wasn't feeling it, especially since I was starting to feel sick. I had a sore throat, and my eye was red and mucus-y, which ended up being a conjunctivitis. These factors lessened my enjoyment of the night, but I still did my best to dance when the songs pumped me up.
The DJ's song selection was not my favourite; he put on a lot of Latin songs which I do like, but he also put a bunch of other songs that are not very danceable to. The ambiance of the place is ok; it has a soft blue, pink and purple lighting (typical of nightclubs and bars) with comfortable leather couches and a round bar in the middle.
Anyway, I'm sure this is not the only nightclub around, but it's the only one I have been to in that area. The bars are also fun to go to.
Crepe restaurant
At night, we decided to go to a crepe restaurant which my friends recommended to me. I was a bit surprised that we were going to eat French crepes in Italy, but I wasn't complaining because I love crepes, and they turned out to be very good. So, if you want a change from eating pizza and pasta (personally, I could eat it every day), you can try the one in Giovinazzo.
The crepes at this restaurant are well-made and taste great, and it is not the only thing that they serve. They also do have Italian food, so you don't have to feel too guilty for going to a crepe place. The restaurant is kind of fancy (but not too fancy), so it's acceptable for a date, and the price is median-range: not cheap but not crazy expensive either. You can eat well for €15 to €20. The place is not exactly easy to find, as you have to walk through some winding streets to get there, and I know I would have gotten a little bit confused if I didn't have my Italian friends as guides.
In any case, I really enjoyed the promenade going there because the old, traditional stone streets and buildings in Giovinazzo are so pretty to walk through, even at night. Another important point to make here is that I always felt very safe in Giovinazzo. Even if I were walking alone in this city during the day or at night, I would not feel uncomfortable or nervous (although it's always better to not walk alone at night anywhere you may be, just in case).
What is nearby
If you end up renting the car for convenience purposes, I recommend taking advantage of it and driving to a nearby city called Matera, although it is also accessible by train or bus from Bari. This ancient Italian city is the "Bethlehem" where the Passion of the Christ was filmed. Read more about it in the next article.
---
Photo gallery
---
---
Content available in other languages
Share your Erasmus Experience in Bari!
If you know Bari as native, traveler or as exchange student... share your opinion on Bari! Rate different characteristics and share your experience.
Add experience →