Austria - My experience with public transportation. ( Part 1)
Architecture and landscape

8 / 10 points

Entertainment

10 / 10 points

Culture and customs

8 / 10 points

Transport

10 / 10 points

Gastronomy

10 / 10 points

Prices

6 / 10 points

Party

10 / 10 points

Weather

6 / 10 points
---
Austria is one of the places I would like to recommend any Asian Erasmus Students to visit during their Erasmus exchange in Europe.
As I have written a story of my adventure in Austria, my four-train journey in the cold weather of minus degree, I would like to share with your guys, my comprehensive experience and information of the public system for traveling in Austria.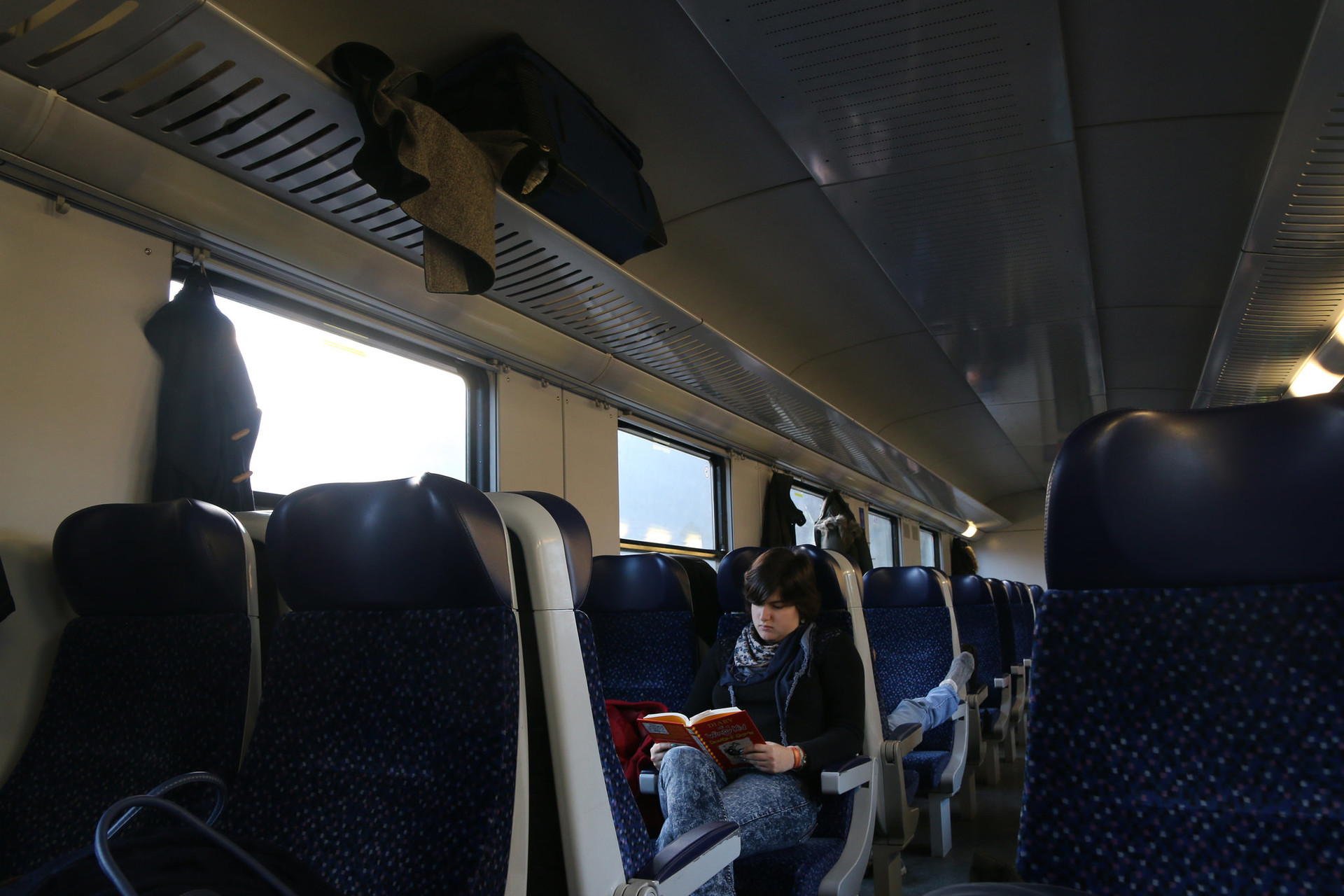 By the way, among many beautiful countries in Europe which I have been too, I would like to say that Austria is the most beautiful one in terms of natural beauty. Moreover, Austria is also regarded as the capital of music in Europe, the place which has produced and grown such genius musicians as Mozart, Beethoven or Bach.
During my 2016 Christmas, I have visited 3 main cities which are famous in Austria: Salzburg, Hallstatt and Vienna. I have traveled by train – all run by OEBB
Right now, I will share with you guys useful tips about traveling by public transportation through 3 cities in Austria in cheap ways.
Types of train in Austria
As with trains in other European countries, trains in Austria have slow trains, fast trains, intercity trains and between different countries.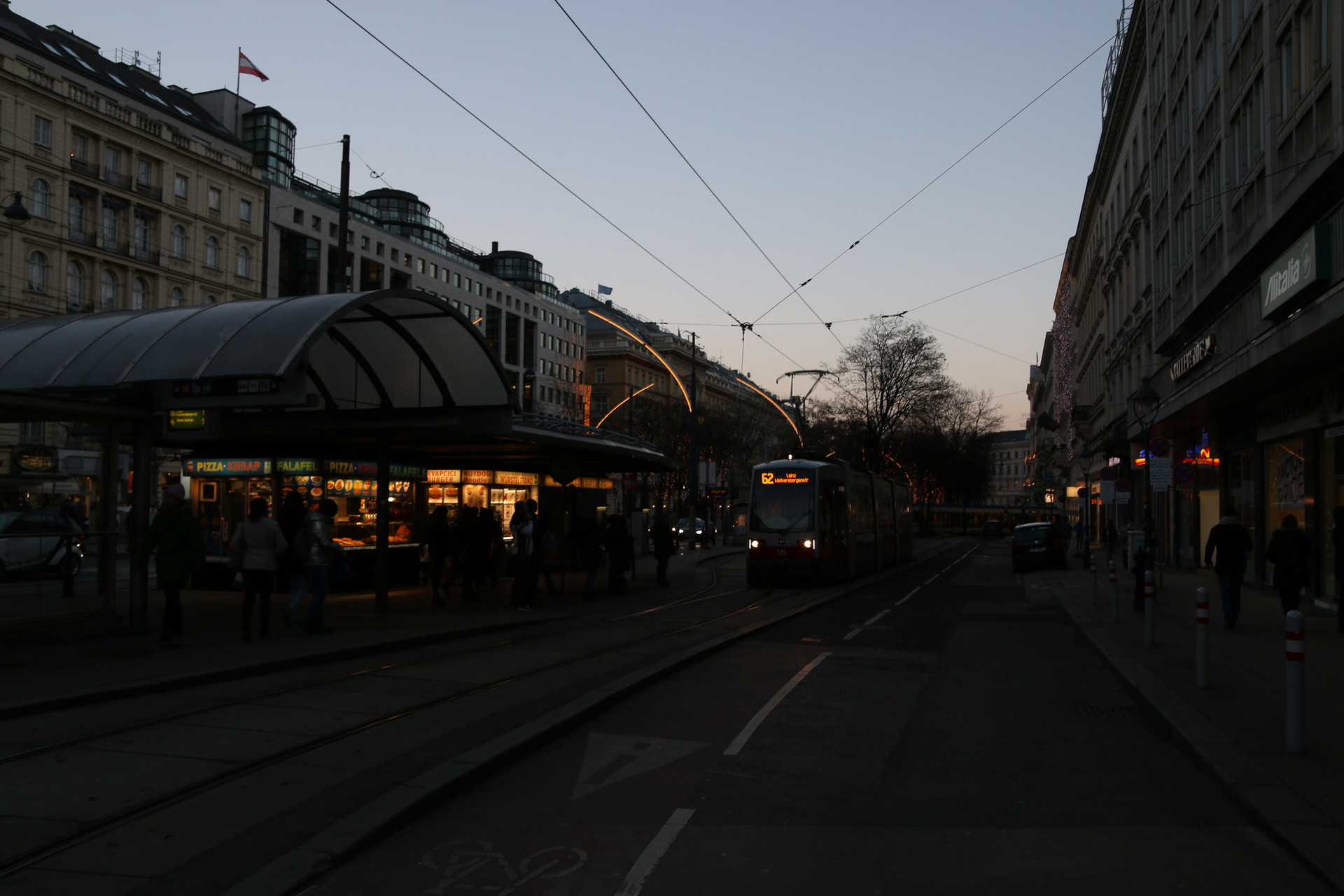 If you were in Spain, you would know that there are several types of public trains in Spain: cruise trains, high-speed trains, inter-regional trains and local trains.
For train- traveling in Austria, as far as I know, fares are much more expensive than those in Spain, and booking your tickets online is important. So I recommend booking early.
To book tickets online, you use the Austrian national train website OEBB (the most popular) or private train web site that runs less than Westbahn. The OEBB runs both domestically and internationally, while the Westbahn runs only inland and mostly crosses between Vienna and Salzburg.
Types of train in Austria:
Regional trains and trains run between cities in the country
REX: This train runs between Vienna and its neighboring cities.
S-Bahn train: S-Bahn train system running between major Austrian cities, if you use Eurail Pass, can also take S-Bahn train.
InterCity (IC) train: Trams run between major Austrian cities like Innsbruck, Salzburg, Graz and Vienna.
Fast train - High-speed train
International fast trains:
Railjet: Runs between major Austrian cities with Budapest, Prague, Munich and Zurich.
Intercity Express (ICE): Runs between Austria and some German cities.
EuroCity: Runs between Austria and countries like Germany, Hungary, Slovenia, Croatia and Poland.
Express train runs inland Austria:
EuroCity: Running between Kufstein, Innsbruck, Salzburg and Graz.
Railjet: The ship connects Vienna with other major Austrian cities such as Salzburg, Innsbruck and Graz.
When booking on the OEBB web site, you will see the Railjet named RJ, InterCity Express, ICE and EuroCity, denoted EC.
Anyway, I say that booking tickets is not compulsory but you should book in advance to avoid late tickets leading to high prices that can sometimes run out of tickets during the peak tourist season.
My trip was quite lucky because I booked train tickets quite early, 1 month before the holiday of Christmas because in that time traveling in Austria, almost all cheap tickets were put off.
1. How to reach Austria
There are so many different ways to visit in Austria, I discovered two things myself. One way is to save the most cost, leave Austria by going to another country.
During my trip to Austria, I chose to take a bus from Salzburg to Munich, Germany and fly to Barcelona to save money.
The second thing to keep in mind is that there are 3 points to visit in Austria: Hallstatt, Salzburg and Vienna, trying to visit three places in a straight line, in that way I have chosen to save money.
That time I went from Vienna to Halstatt village from Halstatt to Salzburg, leaving Salzburg to Munich in Germany.
Anyway below, I will point out two popular ways that travelers like myself go.
Go by plane
Try to find flights from major airports to Vienna International Airport, which will help you find cheaper tickets. Because the major airports have many flights, and to tell the truth that Austria is a small population so Vienna airport is the largest airport in this country.
I fly to Austria quite late at 10 pm but luckily there is public transport going into the city. There are 3 main ways to get into the city and I obviously choose the cheapest way.
3 ways to go to the city are:
Take Urban Train: The airport is about 16km from the city center and the simplest and most economical way to get from the airport to the city is to take the Vienna S-Bahn line S7, which stops at Floridsdorf, Traisengasse, Praterstern, Wien Mitte and Rennweg.
The train runs every 30 minutes and runs from 5. 18 am to 0. 18 pm, the other way from the airport to the airport from 4. 36 am to 11. 36 pm.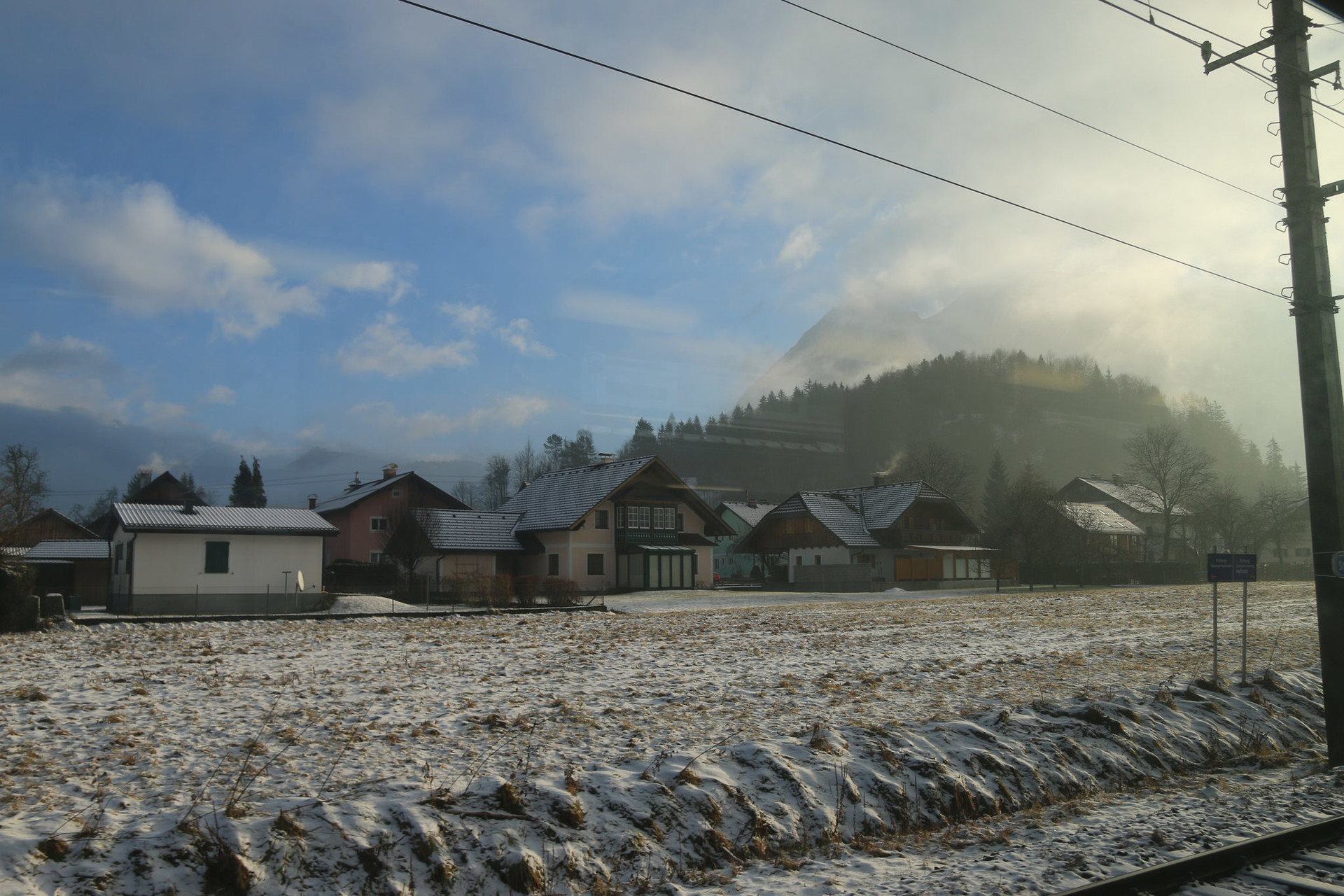 Ticket price € 4. 40 per pass, if you have a pass in Vienna, will be eligible for the purchase of an Urban train ticket for € 2. 2 instead of € 4. 40.
At that time I bought tickets on the 48h so I use the tickets go pretty much.
CAT (City Airport Train): The fast train takes only 16 minutes into the city and does not stop there, but the fare is quite high at € 12 / trip, € 19 / roundtrip.
The train runs from 6am until about 11pm, you can buy tickets at info counters or vending machines. In general this way is a bit expensive, but faster.
I find it suitable for you with abundant funds.
Bus: The bus will take you to Wien Meidling and Wien Westbahnhof for € 8 per visit.
In short, the train, the way I go is still the cheapest.
Take a train or bus to Vienna
At that time, my friend, he is from Budapest, traveled by train to Austria, usually, Vietnamese students in Europe, will not go to a single country, but a trip to many countries to save the cost.
Often people will go side by side, for example Austria, Hungary, Czech Republic will be a joint tour.
At that time my friend traveled from Budapest to the Wien Hauptbahnhof.
If you travel from other cities or countries in the Schengen area to Vienna, you will usually arrive at the Wien Hauptbahnhof - the central station of Vienna, from which you can take the Metro Hauptbahnhof to the hotel.
If you take Eurolines bus, you will go to Wien VIB Bus Station and connect to Erdberg U3 underground station.
In general, you can use the public map system in Austria to find out the schedule here. Basically, the public transport system of Austria is very modern, more than Barcelona.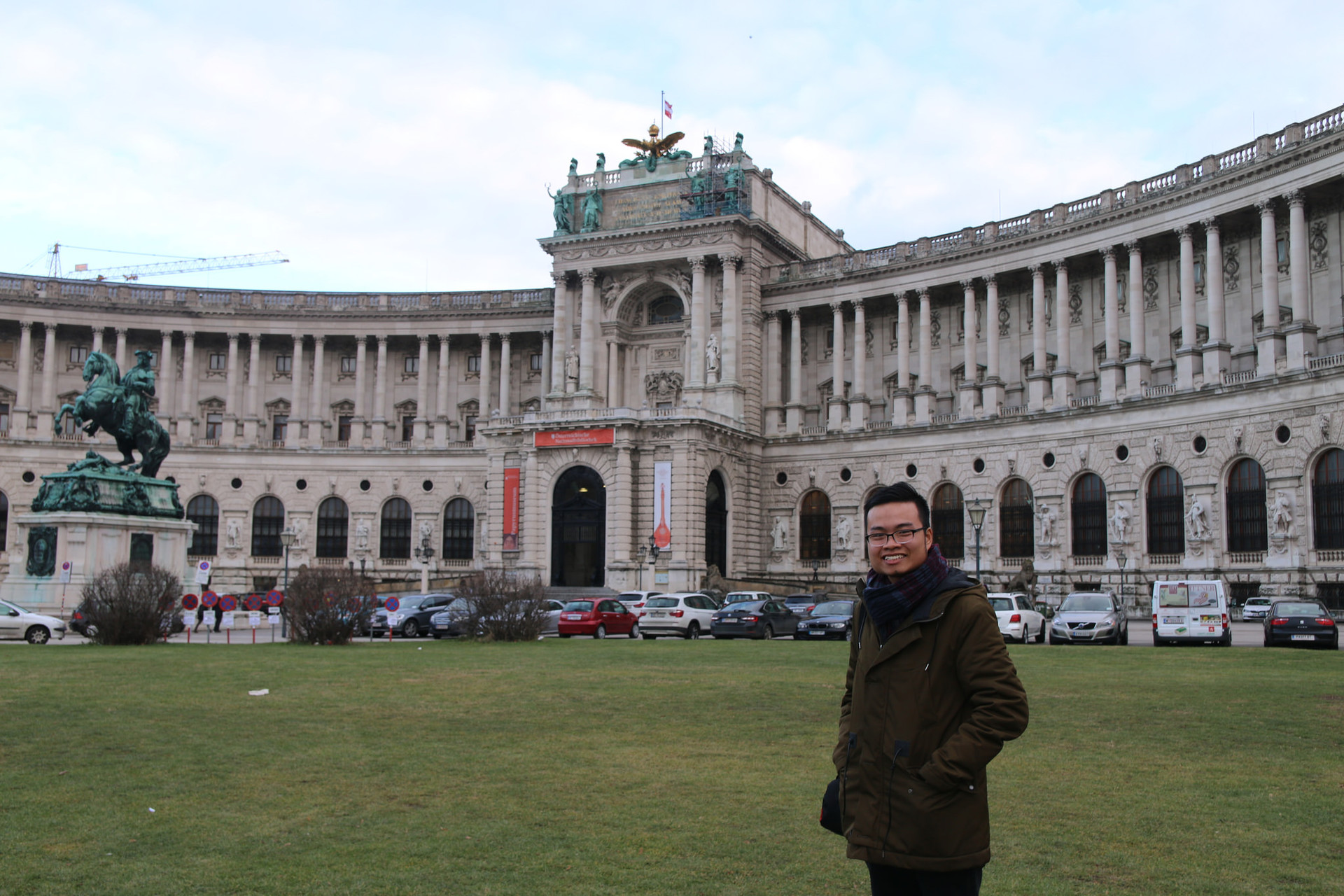 In Vienna there are two major stations: the Vienna Hauptbahnhof (Vienna Hbf) and the Vienna Westbahnhof. The Vienna Hbf seems to be the main station as it serves long routes and international travel through other European cities, while the current Vienna Westbahnhof is only used internally in Austria, not for long distances.
Except for Westbahn's Salzburg trip, Traveling by train in Austria or from Vienna runs through other European cities you visit the OEBB national train website to book tickets, they will email the code to you and you bring the code to the automated ticket counter to Get print tickets to take on board.
When arriving in Vienna early in the morning or late at night, you should also note that the central station on one side will be closed off, while many homeless people will be lying there.
At that time I was quite late at 10:30 am and very scared because I was alone. In general, it is not safe for anyone who plans to spend the night at the train station.
I recommend to rent a hostel to sleep, there are quite a lot of hostels in Vienna, but slightly more expensive but much safer sleeping in the train station.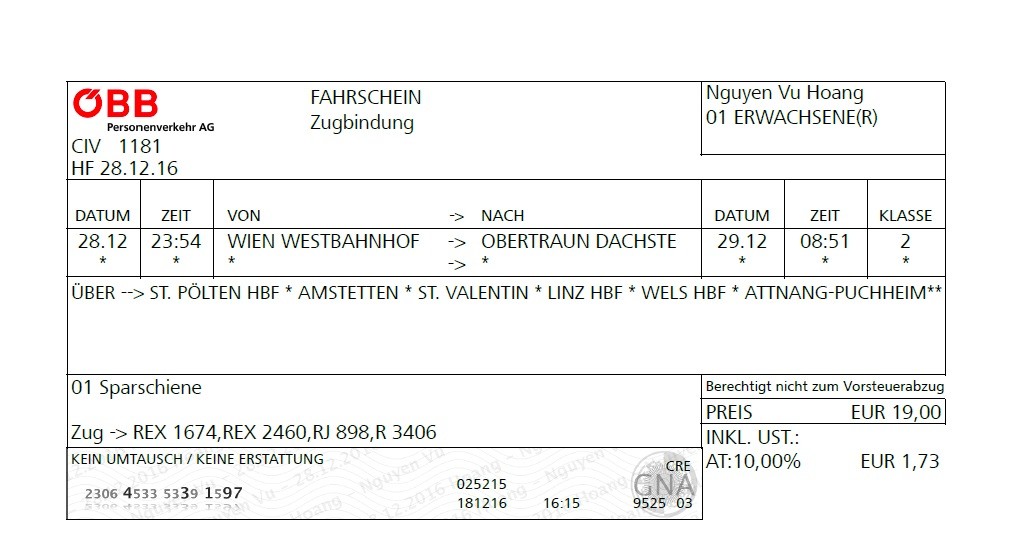 Train tickets from Vienna to other European cities with starting fares such as Vienna to Paris from € 54; To Brussels, Bruges, Amsterdam from € 58; Go to Zurich, Basel, Geneva & Switzerland fares from € 29; Go to Venice, Florence, Rome & Italy from € 29
Traveling in the city of Vienna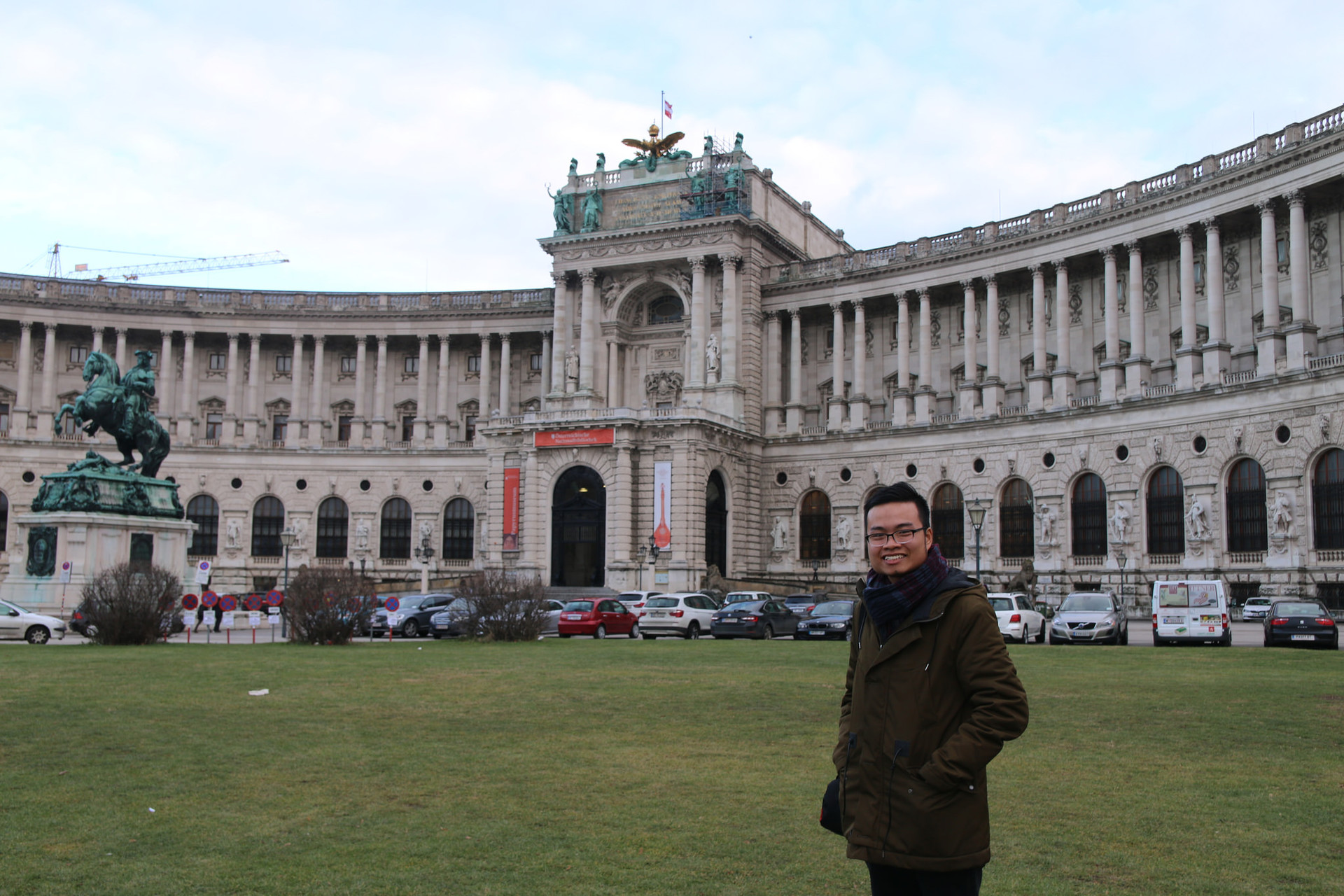 ---
Photo gallery
---
---
Content available in other languages
Share your Erasmus Experience in Vienna!
If you know Vienna as native, traveler or as exchange student... share your opinion on Vienna! Rate different characteristics and share your experience.
Add experience →