Meeting Stefan Sagmeister in Vienna
Architecture and landscape

10 / 10 points

Entertainment

10 / 10 points

Culture and customs

10 / 10 points

Transport

10 / 10 points

Gastronomy

10 / 10 points

Prices

10 / 10 points

Party

10 / 10 points

Weather

10 / 10 points
---
I'd share one experience with you that will probably stay forever on my mind as a nice memory and a good motivating experience.
As some of you know I've been doing an internship as a graphic design student here in Vienna for now around 2 and half months. This whole thing would probably mean nothing to me and wouldn't even experience it if I had not enrolled in my School of Design in Zagreb.
So what is it all about?
Stefan Sagmeister Talk&The Happy Show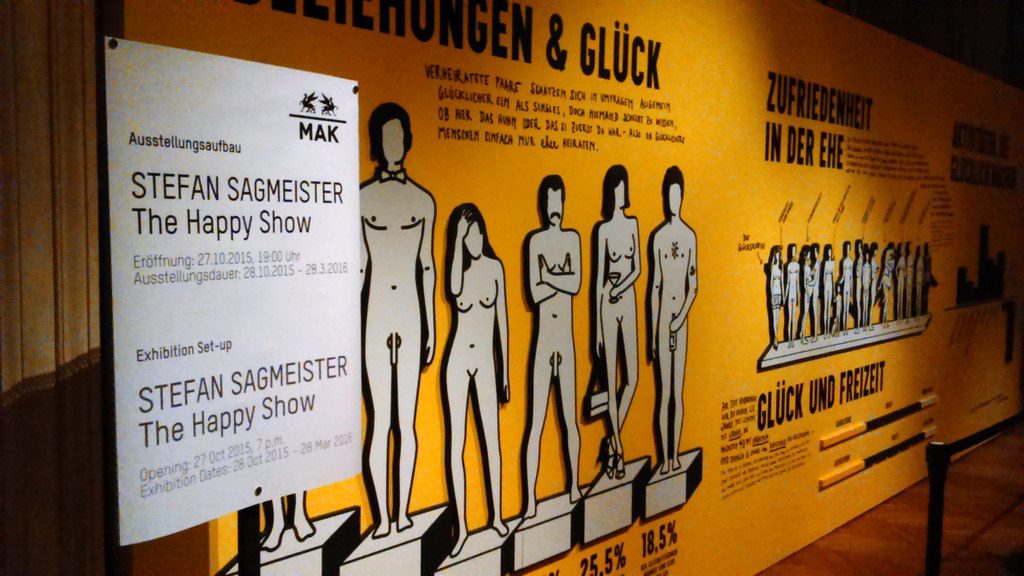 After arriving to Vienna in the mid-October I've found out on Facebook accidently and luckily later confirmed by my design colleagues that there will be a talk (Vortrag) and an exhibition 'The Happy Show' of one of the world's famous designers, born in Austria, Stefan Sagmeister. Now I didn't want to miss the opportunity. His live talk was to be he held on 26th October which was also Austrian National Day and holiday (and lucky me, no work on that day).
The topic of the talk and the exhibition that follows it was of course happiness. And he was going to talk about happiness from his perspective, what makes him and people people, how to achieve it and maybe share it.
This was also my first time visiting any museum in Vienna. I arrived an hour earlier at MAK - Austrian museum of applied arts & contemporary art just to make sure I don't miss the seats as there were around 3 000 people 'going' to the event on Facebook. I spent a bit time checking the products at the Designer's shop within the Museum and found some thing I was going to buy later (more about my review of MAK in a specific post). Then I waited along with other (mostly) students and fans of design and Sagmeister at the entrance of the hall. Since I am not kind of a person who likes to be alone in the group I just approached two people and joined them.
Now they opened the doors and let us enter the hall.
Happiness auf Deutsch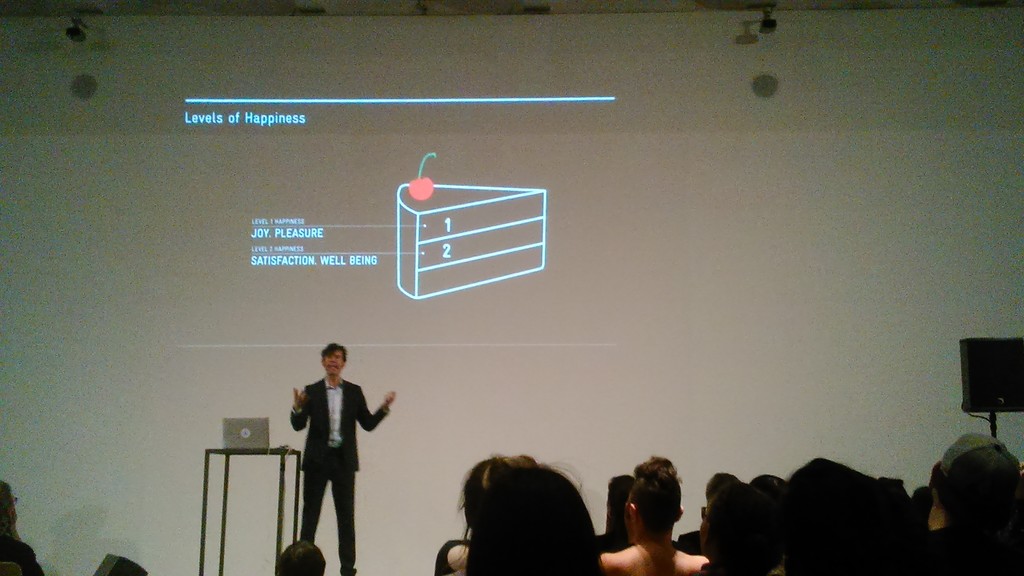 We found the seats somewhere in the middle of the middle of this huge hall and I can tell you that within minutes it was full of people sitting on the chairs or on the floor, standing in the back. And then we saw him - the tall guy with funny hair.
After short introduction he said that his talk was going to be in German since he's spent years of his life living abroad in New York and now came back home. I was at first scared as if he starts speaking in local / Austrian German, also I am still not that good in German to get the jokes which makes it not cool when you're standing there serious and not knowing what's happening and all the others are laughing.
But it didn't happen in the end. I was able to follow more or less everything and get the things from the context (and paralelly sometimes thanks to the slides in English). Except for some jokes where I was just standing with my eyes going left and right or 'coughing'.
We enjoyed lots of pictures, infographics and videos. And it involved different parts of life, families, friends, differences between men and women, job and incomes and of course simple things that make our lifes more interesting (related to love and intimacy).
What makes us happy?
Here are some lines that I remembered during the presentation and want to share it with you.
Many friends
Good friends
Sense of accomplishment
Non-repetitive activities
Religion
Singing in groups
I guess probably all of you agree with the most of the enlisted things.
Singing in Groups
We actually sang at the end of the presentation and it was very interesting and funny. You can listen to the song here (this is not my video, in the video I recorded I was also singing which just ruined everything).
Can you sign this please?... And a photo?
After an hour or so the talk was done (and my brain could relax a bit) some of the people went to him to take autographs or photos (or both).... I was fifty-fifty whether I should go there or not, just like I always do it in such situation, and my new friends were about to leave as they had other business. Then I just remembered I'd regret the moment until the rest of my life if I didn't go there and wait. And that helped me a lot. There I met two more friends waiting in the line and then our turn came. Before my turn I helped the other fans to take a photo of him which made it even more fun and of course made me feel much better on inside.
Then my turn came and I was really excited. I actually forgot about the possibility to take a picture with him and get the signature and I left my small notebook at the garderobe so all I had was my wallet. And the others didn't have a paper. Luckily, I just bought new weekly public transport ticket and thought it would be funny to use it. So I did. I asked him if we could do a photo together and then he signed on my Wiener Linien Ticket. I was one of the last in the line. But all the waiting and determination payed off which also made me happy.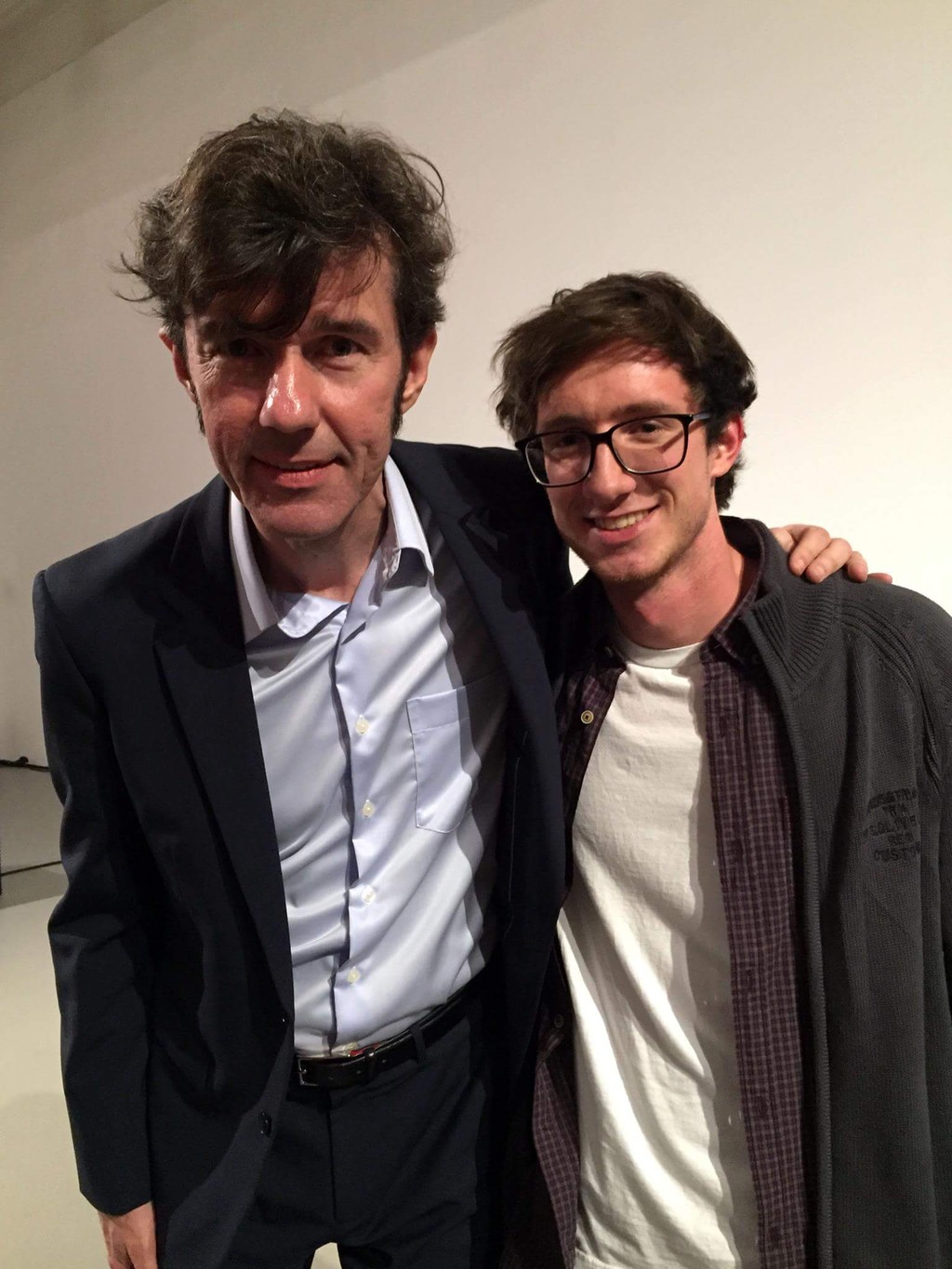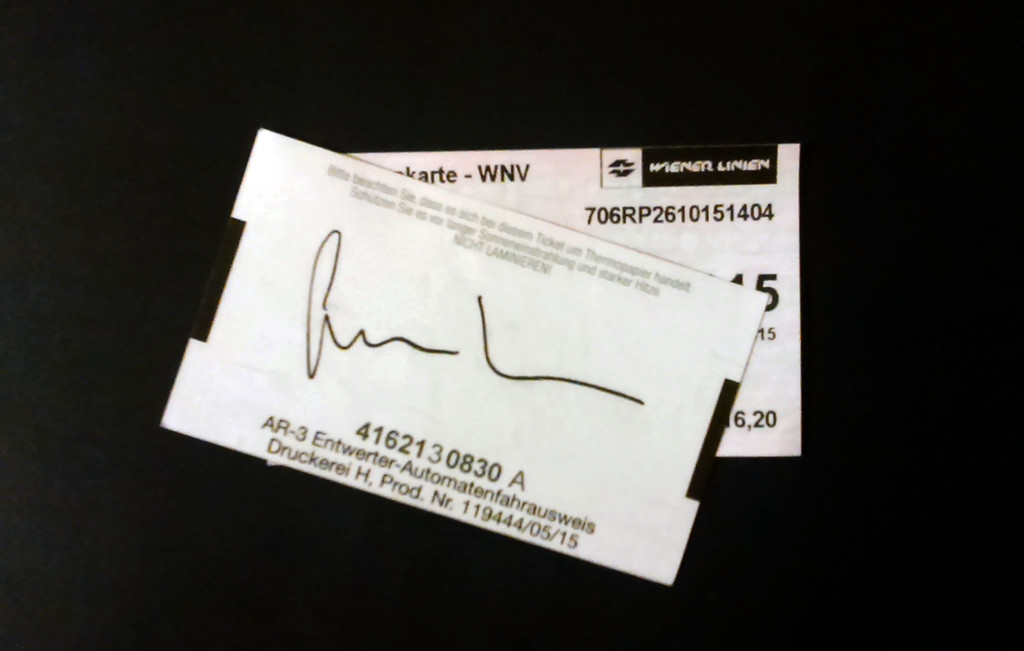 It was a very motivating day for me as I got more confidence and will to do 'creative stuff'. After the talk show I was recommended to check the exhibition on the 1st floor, some illustration, as it was the last day. But more about exhibitions and my opinion of MAK in another post. In the end, MAK became my museum.
Thanks for reading and bis bald.
---
Photo gallery
---
---
Content available in other languages
Share your Erasmus Experience in Vienna!
If you know Vienna as native, traveler or as exchange student... share your opinion on Vienna! Rate different characteristics and share your experience.
Add experience →