Erasmus Experience in Vienna, Austria by Grgo
Architecture and landscape

10 / 10 points

Entertainment

10 / 10 points

Culture and customs

10 / 10 points

Transport

10 / 10 points

Gastronomy

10 / 10 points

Prices

8 / 10 points

Party

8 / 10 points

Weather

10 / 10 points
---
Why did you choose to go to Vienna, Austria?
Vienna is considered to be one of the best places to live in Europe and also interesting of it's position and importance in this region and history. Since it's also relatively close to me and I speak German I thought I could try to have my internship there and found a studio. So there we are.
How long is the scholarship? How much money do you receive to help you with living costs?
My scholarship is 4 months long, could've been longer but I won't complain. I receive 560 Euros from EU&University to cover the expenses, with smart planing, strategies and rational use one can find a good place to live, buy food and enjoy the life here. Sometimes it's tight but you survive.
What is the student lifestyle like in Vienna?
Unfortunately cannot comment the life at the Uni since I'm not a student there but there are lots of events in Vienna that should be interesting and affordable to the students, you can find them every week. And meeting other people which is I think essential if you want to have a nice stay here.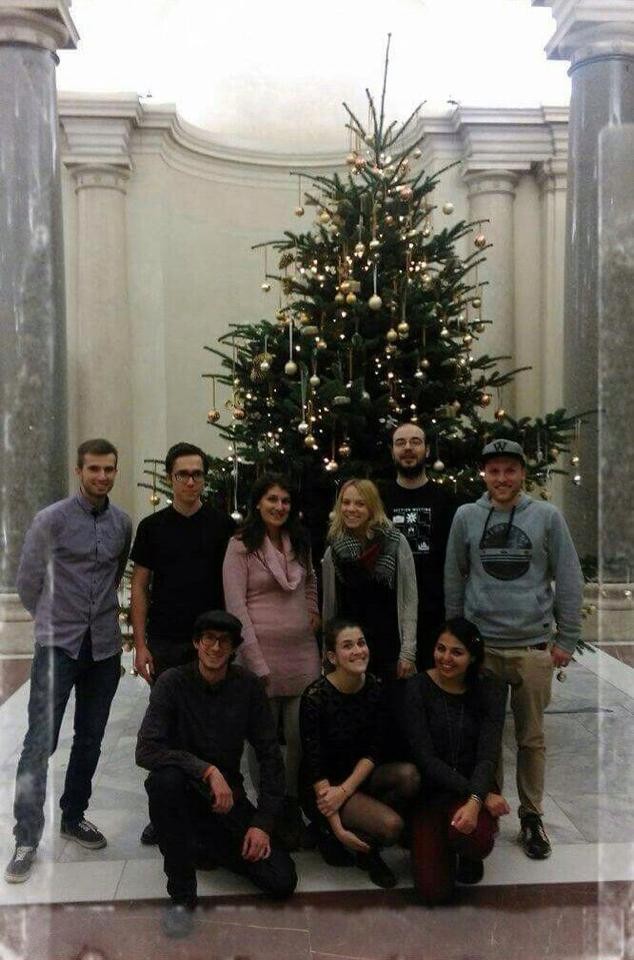 Erasmus Christmas meeting at Uni Wien.
What I got feeling here is that you need to know where something is if you want to go out at the night, for me in contrast to Zagreb it looked a bit too "quiet", not "wild"... as well as everything important is mostly far away from the river (unlike Budapest).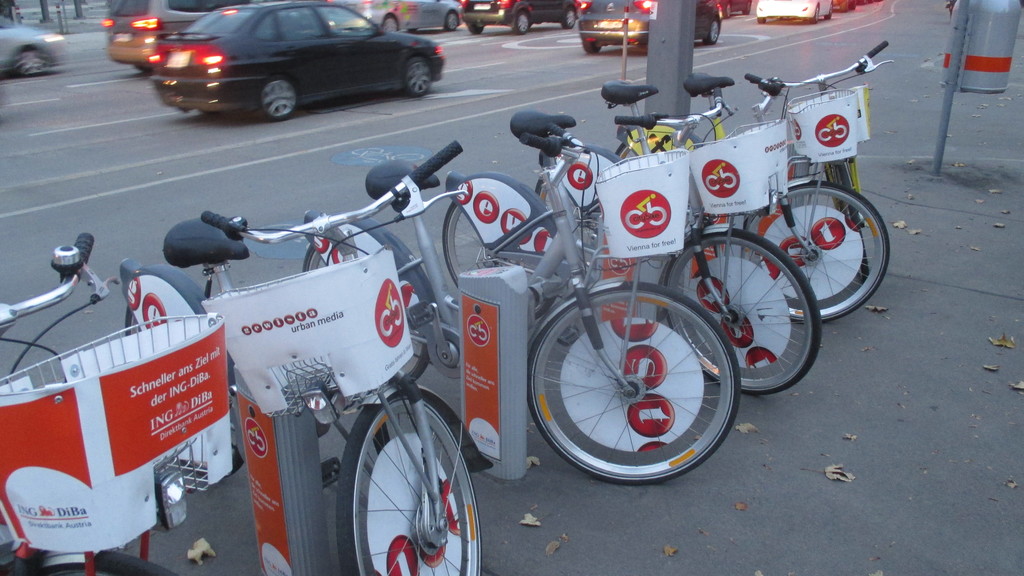 You can use the very good system of free city bikes. There are numerous bike stations situated around the city and it takes around 5-15 minutes walking by foot from one to another. And every first hour is always free.
But in the end everything is out there, just need to find it. I'm also very fond of the CityBike which is quiet handy if you want to go somewhere by bike. And there are bike routes everywhere. For those enjoy sports Vienna offers a lot. You have Schönbrunn castle and the garden along with many other big parks and green surfaces in Vienna. Some enjoy running along the Danube or on the pedestrian (Fussgeher) road.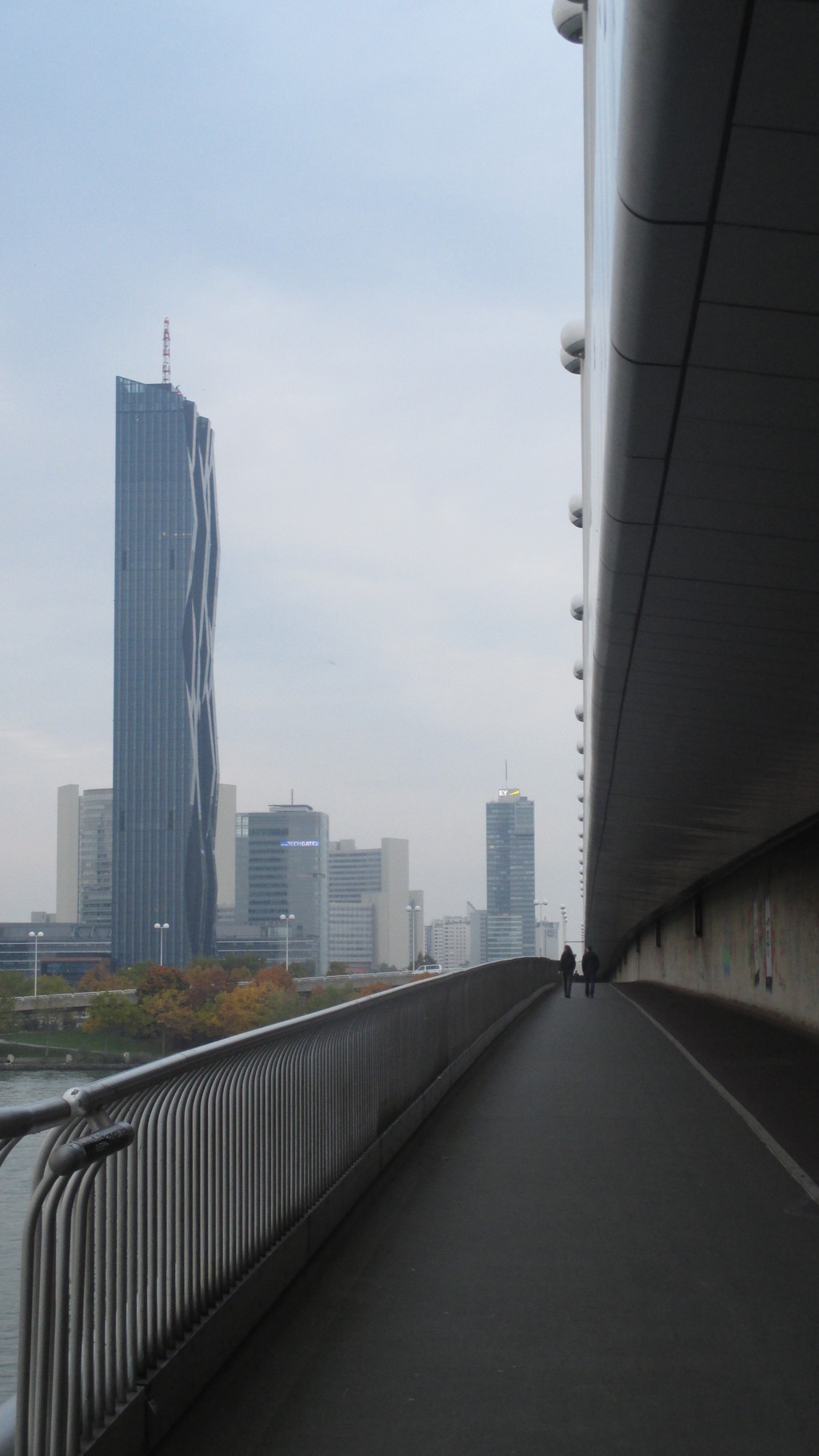 Taken from the Kaiserbfrücke. Roads for pedestrians and cyclists are everywhere.
Would you recommend the city and the University of Vienna to other students?
I certainly would. There are many people I met that told me they decided to stay and live here. As for other exchange students many find the city to be a very lovely place to spend your student days.
What is the food like?
What I love about food here is that there are lots of international restaurants but (for me much more important) a wide range of international vendors at the marketplaces such as Brunnenmarkt or Naschmarkt, where you can find good food and supplements for a very affordable price. In Vienna you can simply try everything.
Did it cost you to find your accommodation in Vienna?
The biggest problem for me in finding a good place to stay was the high deposit which is unnaturally high for the environment I come from. Other than that I found it myself and I'm very satisfied. I used different Facebook groups to find my accommodation such as WG Zimmer Wien Erasmus Wien 2015/. 16, some online websites in generasl as WG-gesucht.de and also got in contact with the local Croatian community if they could help me (which is another suggestion, if you have friends or communities there you can ask them first if they know of someone or something).
How much does it cost to live in Vienna?
It depends on many circumstances but here's my calculation what one can do with 560 euros (and you have extra money I guess as well): around 280-330 € will be spent monthly on accommodation, 5-10 € for the mobile network, 30-50 € for the public transport each month and the rest is saved for food and fun.
Speaking of food, going to the market places will save you a lot more money than going to the shops (whereas I recommend Lidl and Hofer as the most affordable). Again it depends on your income from home, for me living without the stipend from Erasmus would be impossible here and I cannot afford myself going to restaurants or eating lunch for 5-7 € every day (but you practice more cooking at home).
Clubs are in contrast to my home country a lot more expensive where the normal entrance prices are at least 5 € but also 10 €. Then it's better to follow events on Facebook when there are discounts. As after entrance you have to pay 2-3 € the Garderobe and drinks. Too much for me for one night out.
Is the language easy to get to grips with? Are there language courses available at the University?
I'm learning alone and attending different Language cafes around Vienna, but there are courses available for the local language for everyone. I suggest Meetup and Couchsurfing to find more of the events regarding languages in your local communicty.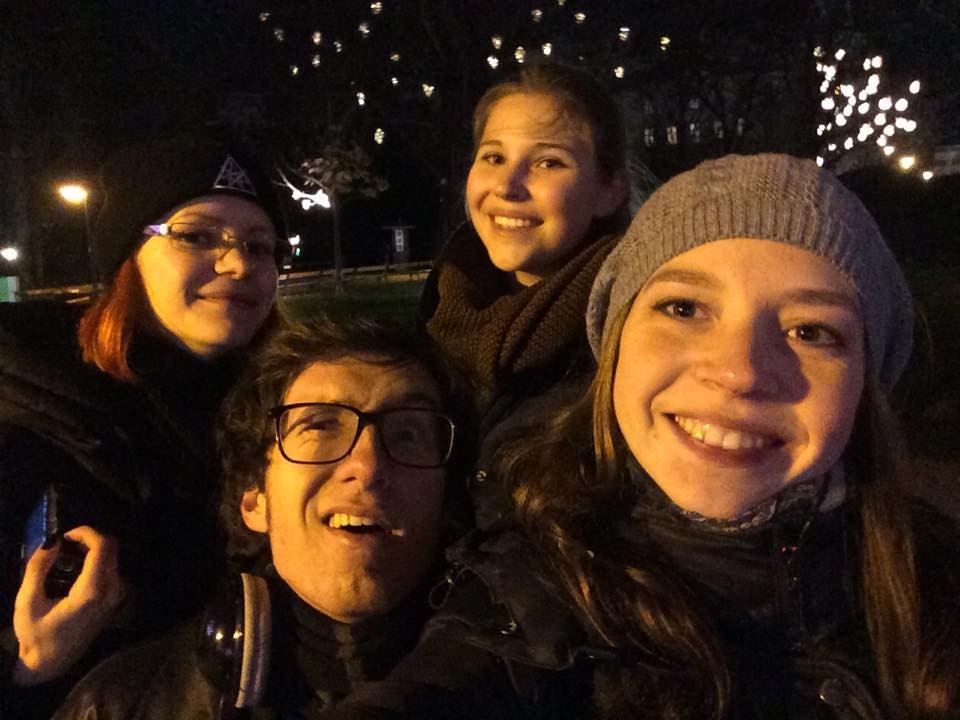 Having a fun time with new friends thanks to Couchsurfing website.
What's the easiest or most economical way to travel to Vienna from your city?
To get home (Zagreb) the most affordable and maybe fastest option is by bus. But that's just in my case. Vienna's and Austrian transport system is so well organized so you have very affordable prices to travel to nearby countries by bus, train, airplane or you can use some of the applications such as BlaBlaCar to connect with other travelers who could help you get to your desired place.
Where would you recommend to go on a night out in Vienna?
I haven't been to many places such as clubs but there are lots of good bars in every district where you can hang out with your friends or meet new people. Personally I visited U4 club when there was an Erasmus event going on. I can recommend it if you want to have fun (and always the best with more people). Popular places (told by my roommate) are around Schweden Platz.
And for eating? Can you recommend some good restaurants in Vienna?
Der Wiener Deewan (you might have expected it). Google it why it's very popular.
There are plenty of others too. Since I'm working 9 hours a day at the studio we order sometimes food from Indian, Vietnamese or Japanese restaurants.
What good cultural sites are there to visit?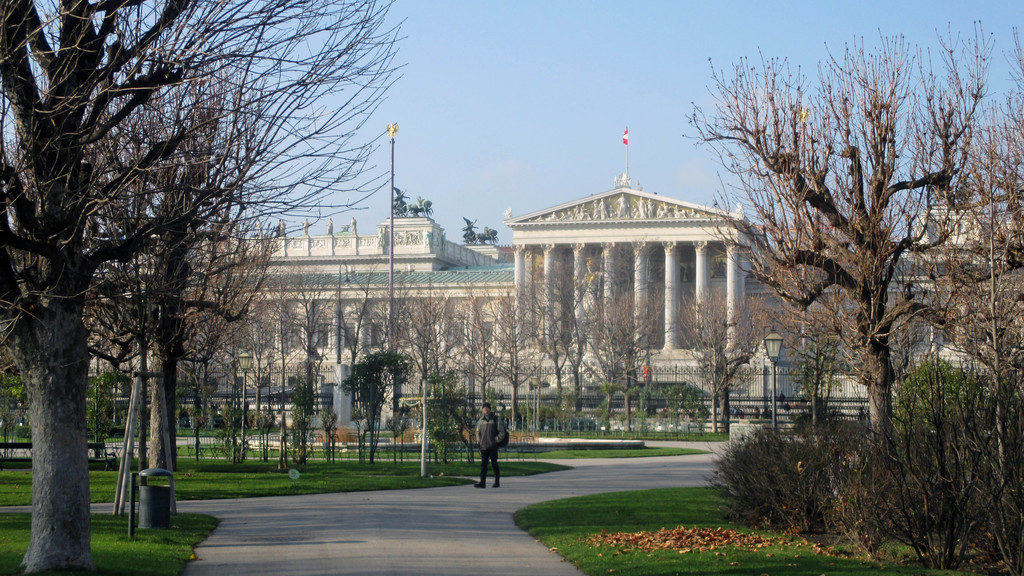 Beautiful sunny Saturday morning while walking through the Volksgarten Park with the view on the Parliament house.
Everything around Museums Quartier with lots of Museums, there are the Parliament and the City Hall close by followed by the University of Vienna, lots of parks, libraries, Stephan's Square, Opera house and the streets around. Naschmarkt (flohmarkt) on Saturday morning, Brunnenmarkt, lots of theaters... walking along Danube canal between the 1st Bezirk and Leopoldstadt, as well as the main Danube canal behind Prater. At Prater you have small adventure park and Riesenrad. And everything can be reached very fast since there is the underground. Many museums are also open on Tuesday nights for free. I recommend MAK museum few minutes away by foot from Landstraße U4.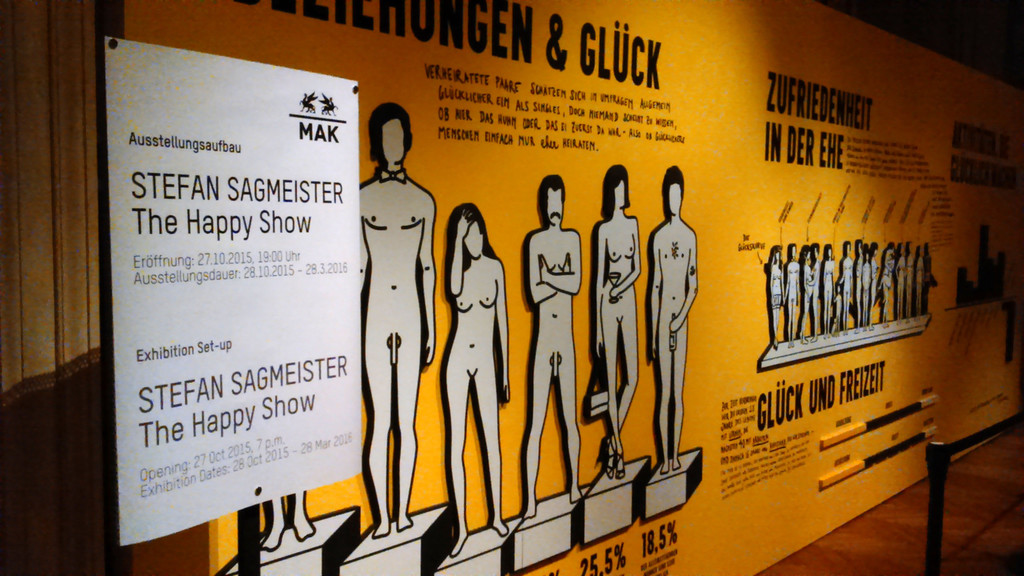 Visit the interesting exhibition "The happy show" of famous Austrian designer Stefan Sagmeister and other exhibitions that are being exhibit there until February. This has been my favorite museum in Vienna so far.
Is there any other advice that you could give to students going to Vienna in the future?
If you are easy-going, open person you won't have problems here, morover it is a big plus. What I also like is that Vienna is very international and thus pretty open city towards the foreigners. And I don't feel foreign here.
Sometimes it's difficult to attend many events since they are happening at the same time or the problem is if you're doing internship (khm, like me) you will miss many events if you cannot leave the workplace earlier.
Vienna is also connected very good to other nearby countries and cities and traveling for students is pretty cheap and I recommend visiting nearby capitals. With careful planing and scheduling you can experience a lot.
---
Photo gallery
---
---
Content available in other languages
Share your Erasmus Experience in Vienna!
If you know Vienna as native, traveler or as exchange student... share your opinion on Vienna! Rate different characteristics and share your experience.
Add experience →