Touring Turkey (Part 8): Biking around Büyükada
Hi everyone – I hope you're all doing well! Sorry to have been a bit AWOL over the past week or so: university deadlines have been keeping me on my toes, and I've unfortunately had to prioritise that work over my blog. However, now that I've more or less finished my biggest assignment, you'll be hearing a lot more from me. I've got a trip to Amsterdam coming up – look forward to a few posts about that! – and will soon be returning to university in Oxford, so there'll be plenty of new and exciting content coming your way soon. Today, however, I'm going to be bringing you the very last installation (sob!) in my 'Touring Turkey' series.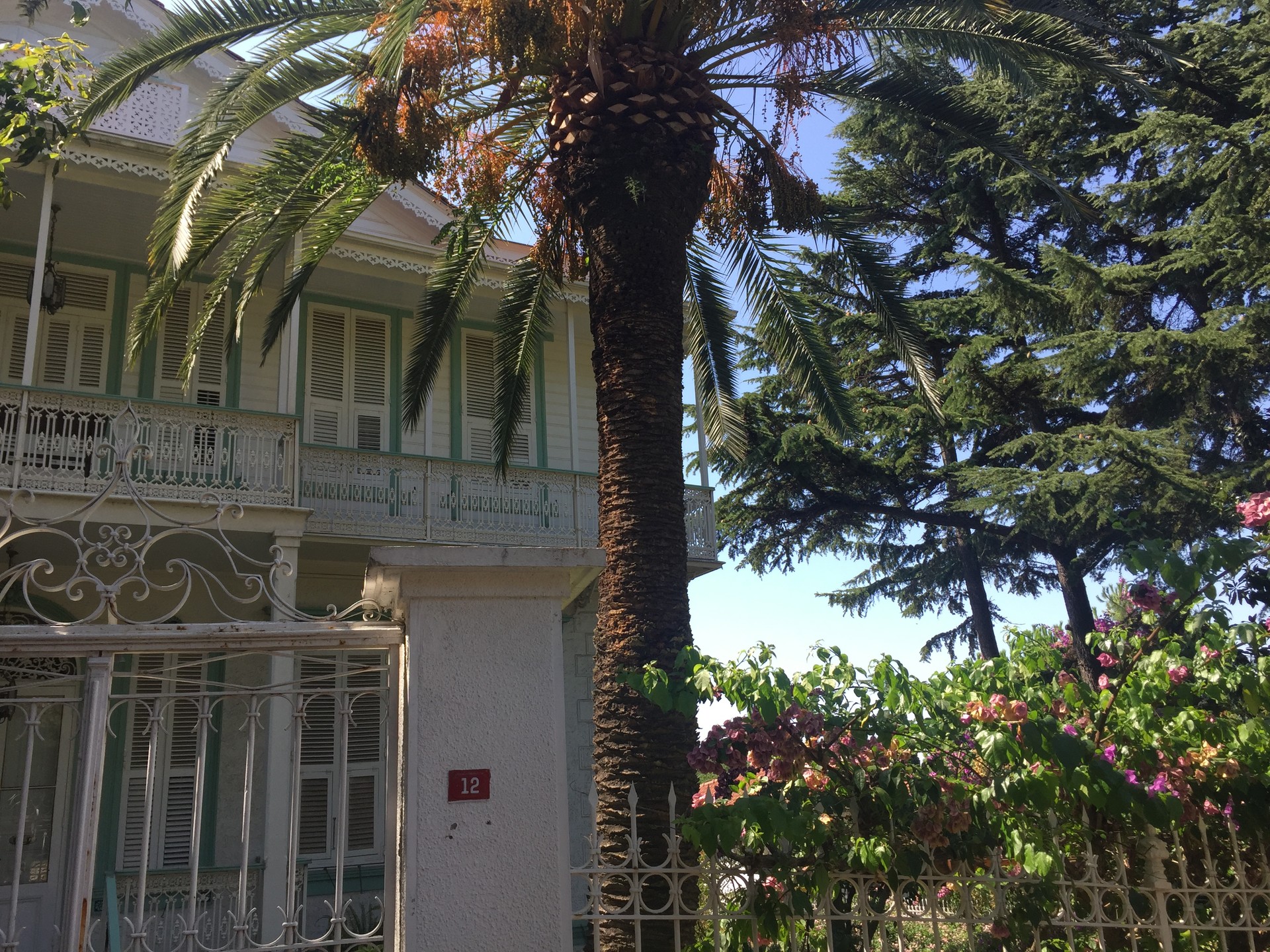 If you've read some of the other articles I've written about my solo trip, you'll know that by 11th September, I'd already spent a good seventy-two hours exploring Istanbul. Because of this, I decided on my final full day to I'd venture slightly further afield, and pay a visit to the famous Princes' Islands. This archipelago, located just off the coast, was a place of exile first for a number of Byzantine princes, and later for relatives of Ottoman sultans. After this, it became a holiday spot for wealthy families, and today it is one of the city's most popular day trip destinations.
I only ended up having time to see one of the nine islands – Büyükada, the biggest of the lot – but this one certainly wasn't lacking in the Ottoman era houses and idyllic, car-free streets that make this archipelago so appealing. As serene as this place was, however, I'm not sure it was totally worth the two-hour ferry trip or, indeed, the sacrifice of an extra day in Istanbul. You'll have to wait until the end of this article to hear my overall review, though, because I've already digressed quite enough. Without further ado, then, let's get back to the point, and let me transport you to Istanbul!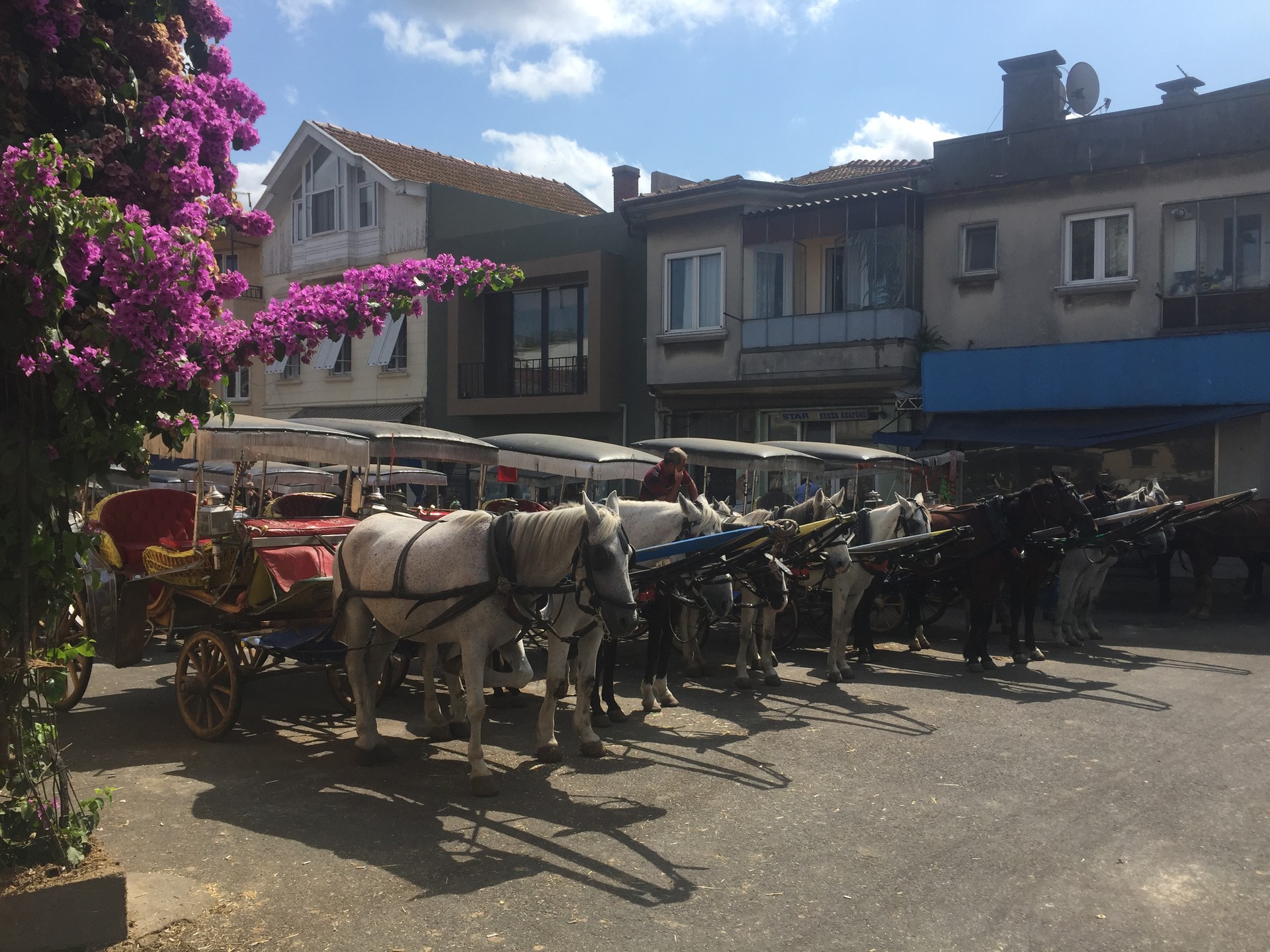 Day 15 (11th September)
All aboard!
On my last full day in Turkey, I was up bright and early. The last morning ferry travelling to the Princes' Islands was due to depart from Kabataş at 9:30, so unfortunately I had no choice but to abandon the prospect of a lie-in. I later realised that I could have got in an extra twenty minutes of sleep by boarding instead at the closer Eminönü terminal, but actually my lack of research ended up working in my favour. Indeed, not only did leaving from Kabataş mean that I had the chance to see a new part of Istanbul –  I stopped off at the Kilic Ali Paşa Hamam to buy some authentic bath goodies, then had a quick look at the splendid Tophane Fountain – but also, since it was the first stop, I managed to bag myself a front-facing seat on the top deck of the boat.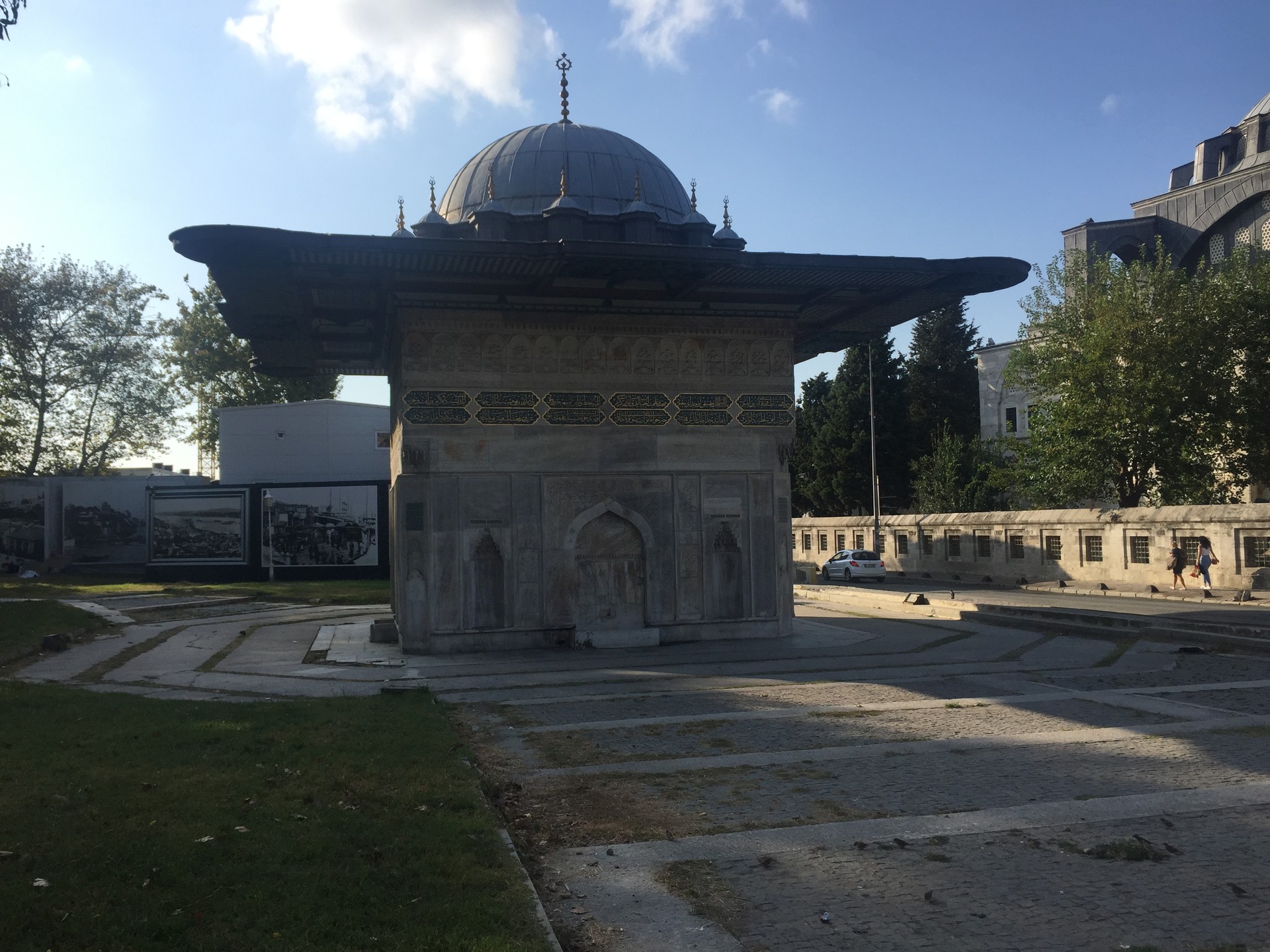 My journey was, then, pretty pleasant: I had brilliant views first of Istanbul, and later of some of the islands, and not once did I feel even slightly nauseous!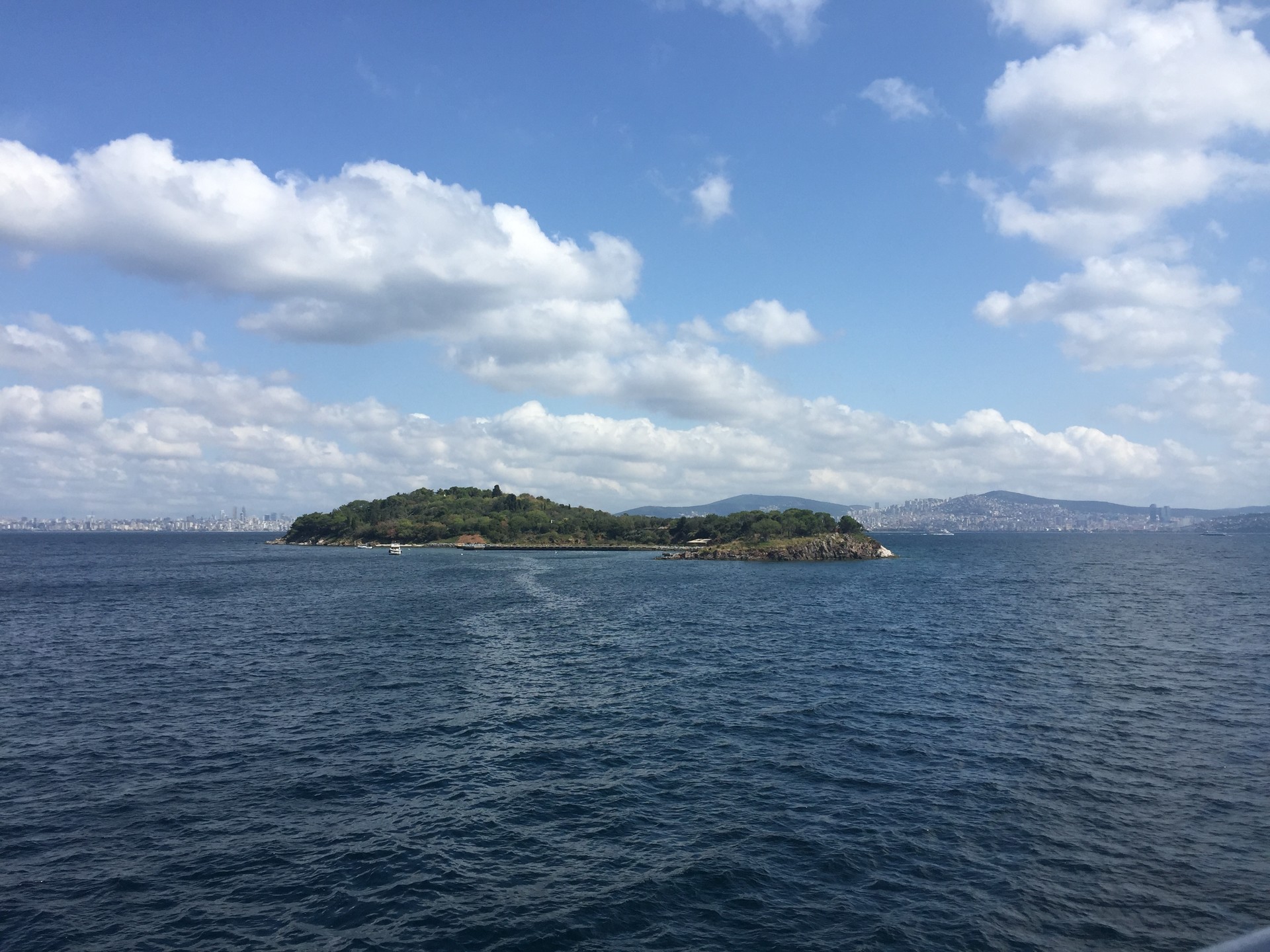 A quick spot of sightseeing
After two hours and six stops, we pulled, at long last, into lovely Büyükada! From here, there commenced a great deal of pushing and shoving, as a hundred or so passengers tried simultaneously to squeeze onto the narrow ramp which connected boat and land. I escaped the chaos bruise-free (rather a miracle, I must say!), and as everyone else hurtled onwards, I stopped briefly to gaze up at the early twentieth century ferry terminal building, with its bright blue and white tiles.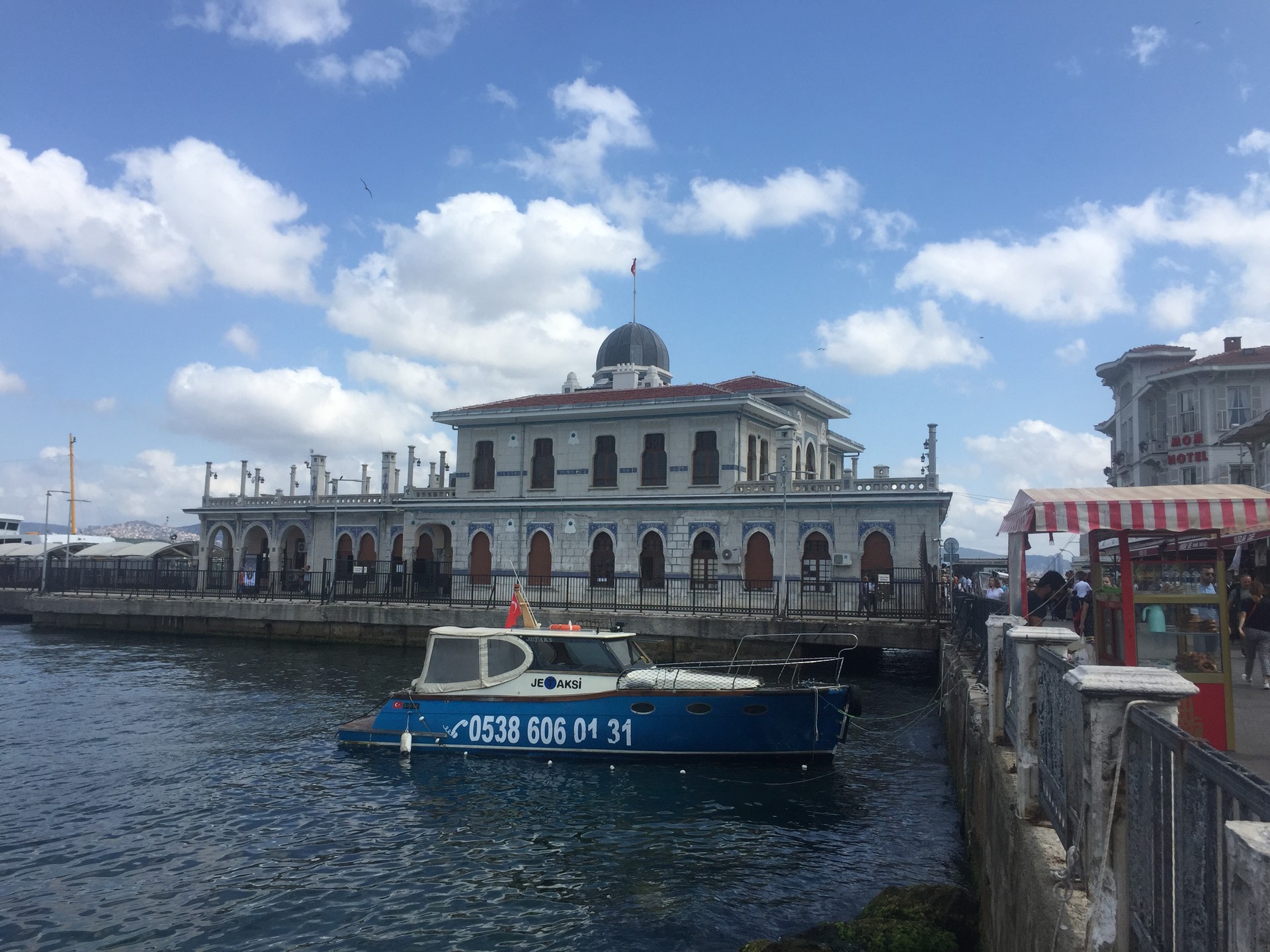 After a quick browse of the shops inside (most of which seemed pretty tourist-oriented), I decided to head uphill to visit the iconic Splendid Palace Hotel. I'd read all about the Wes Anderson vibes it gave off, and certainly when I got there, I could see what everyone had been talking about. With its charming red shutters and grand bluish domes, it was a sight to see: I only wish I'd got to visit the inside as well!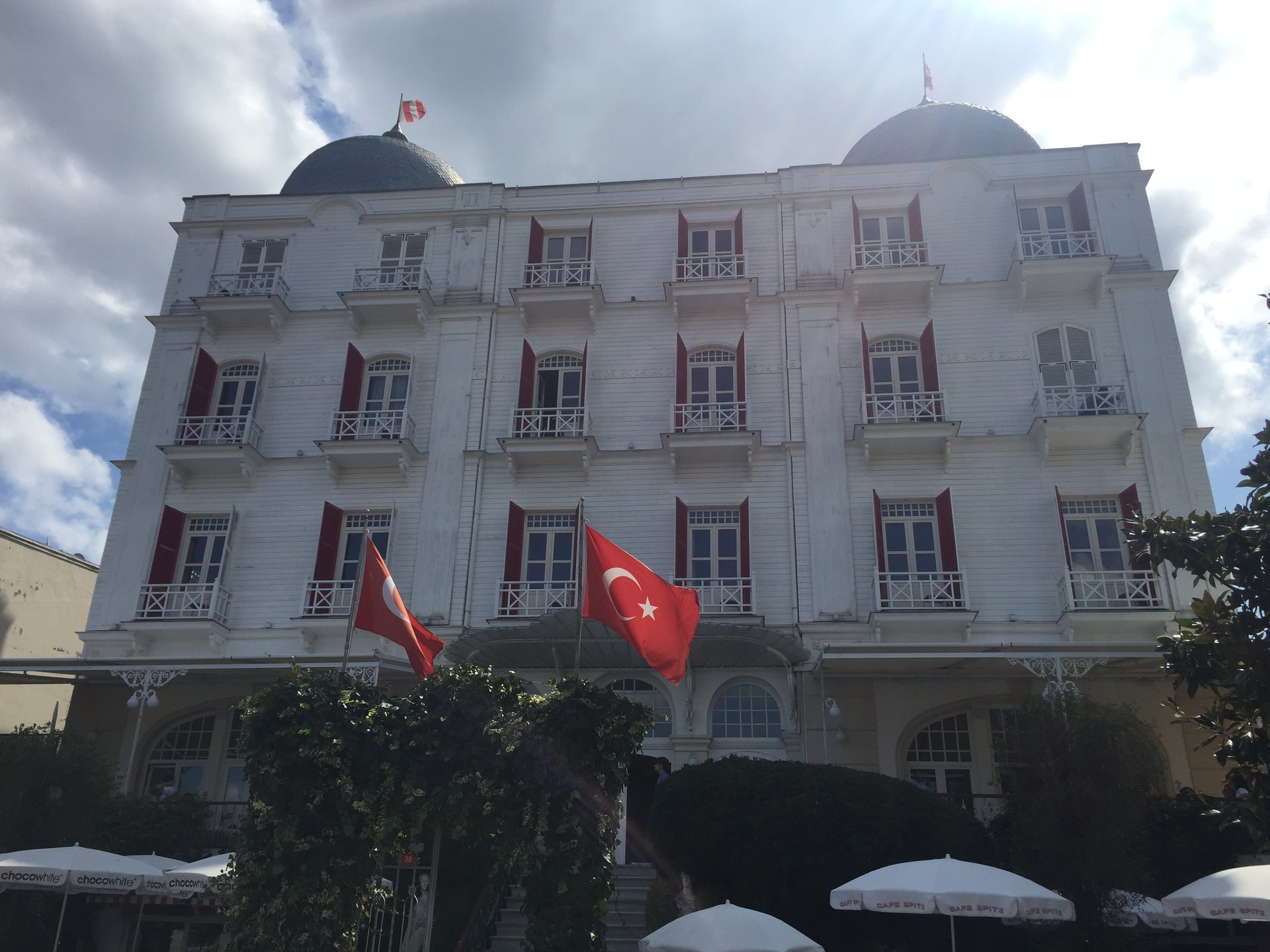 A questionable lunch
By this time, it was getting on for noon, so I decided to make my way back downhill and find something to eat. For some reason, I was only in the mood for sweet food, so naturally – rather than ignoring my cravings and getting something vaguely healthy into my stomach – I allowed myself to have just ice cream and chocolate milkshake for lunch. Do I currently regret this decision? No. Will I when I next visit the dentist? Probably. With the bill paid, it was time for me to get a bit more sightseeing in.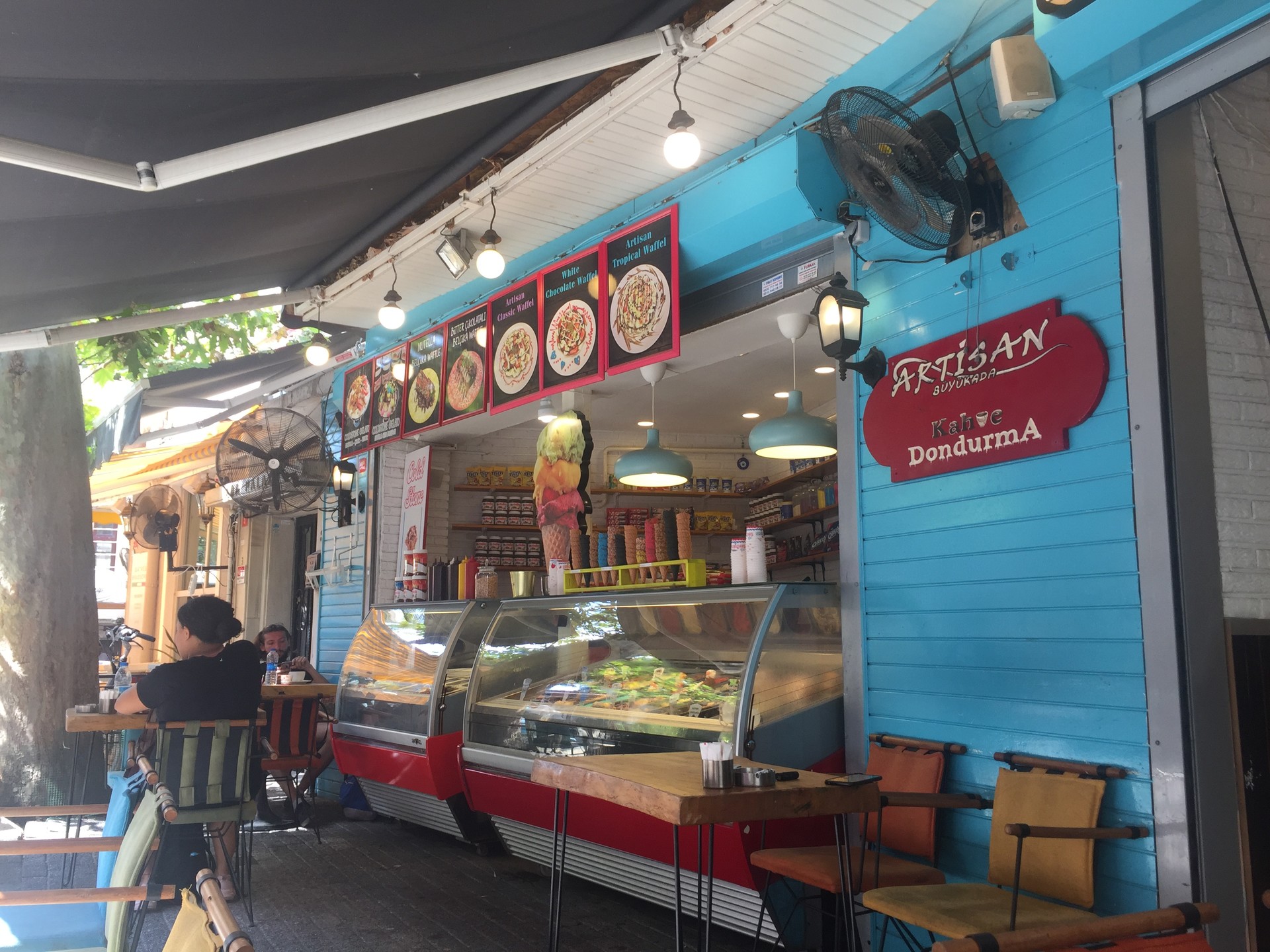 Exploring on wheels
As I said before, all the islands are vehicle-free (minus a few police cars), so if you want to cover a lot of ground in a short time, your only two options are to hire a bike or to catch a ride in a horse-drawn carriage. I decided I'd better compensate for that day's poor dietary choices and cycle. The rental shop I settled for – which charged just 10TL (£1.40) per hour – seemed pretty ideal. One of the men working there gave me 'the best bike in the house' (I'm sure they say that to every customer…), to which he attached an adorable fake-flower-adorned basket.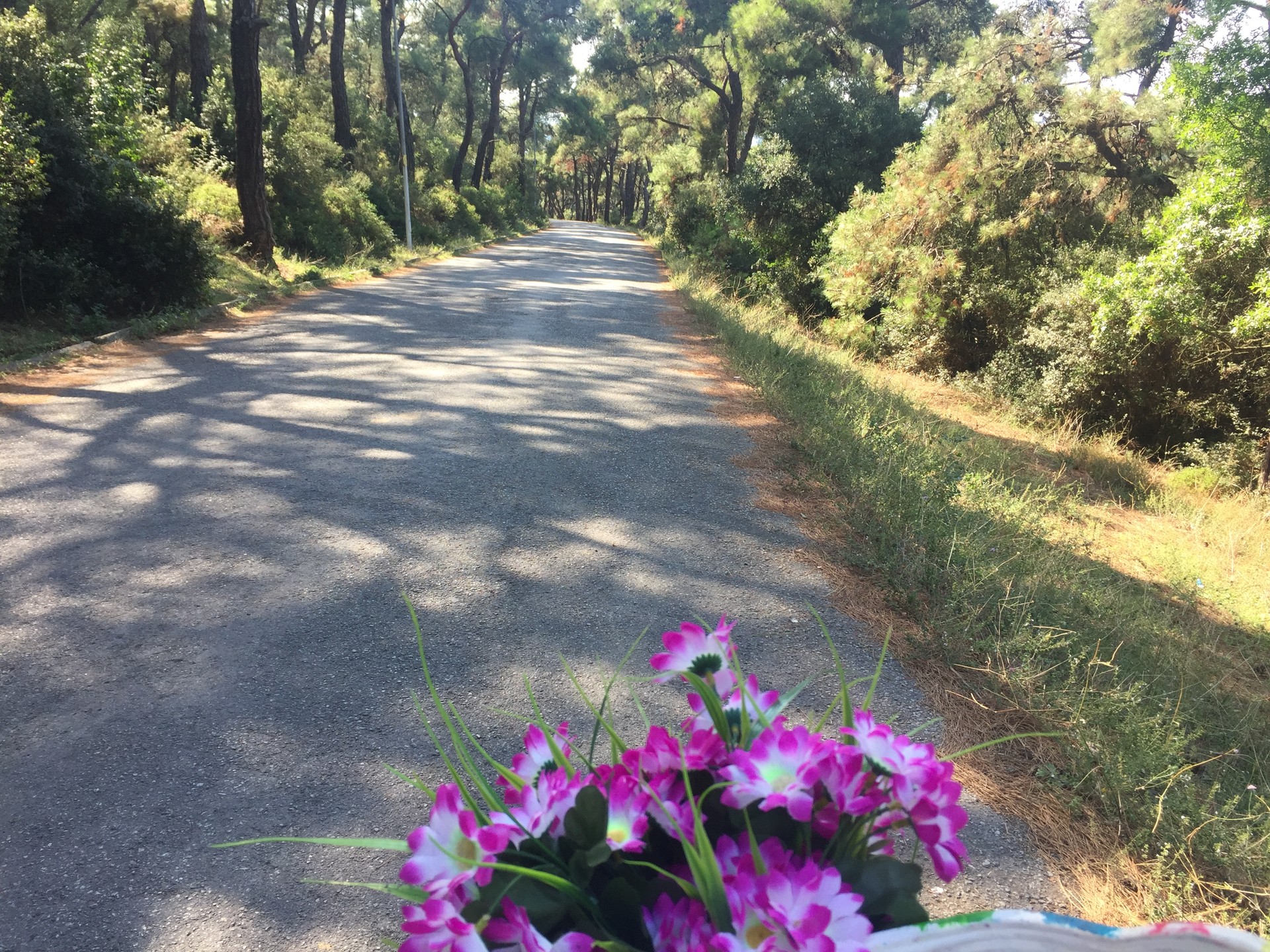 Within about two minutes of my journey, however, the chain had come off, and the basket had gone completely lopsided. I wheeled the thing right back to the boutique, expecting to be met with profuse apologies. Instead, a different worker took the bike from me apathetically, quickly repaired everything, then handed it back over, without uttering a single word. Goodness knows how many times he'd already gone through this process that day.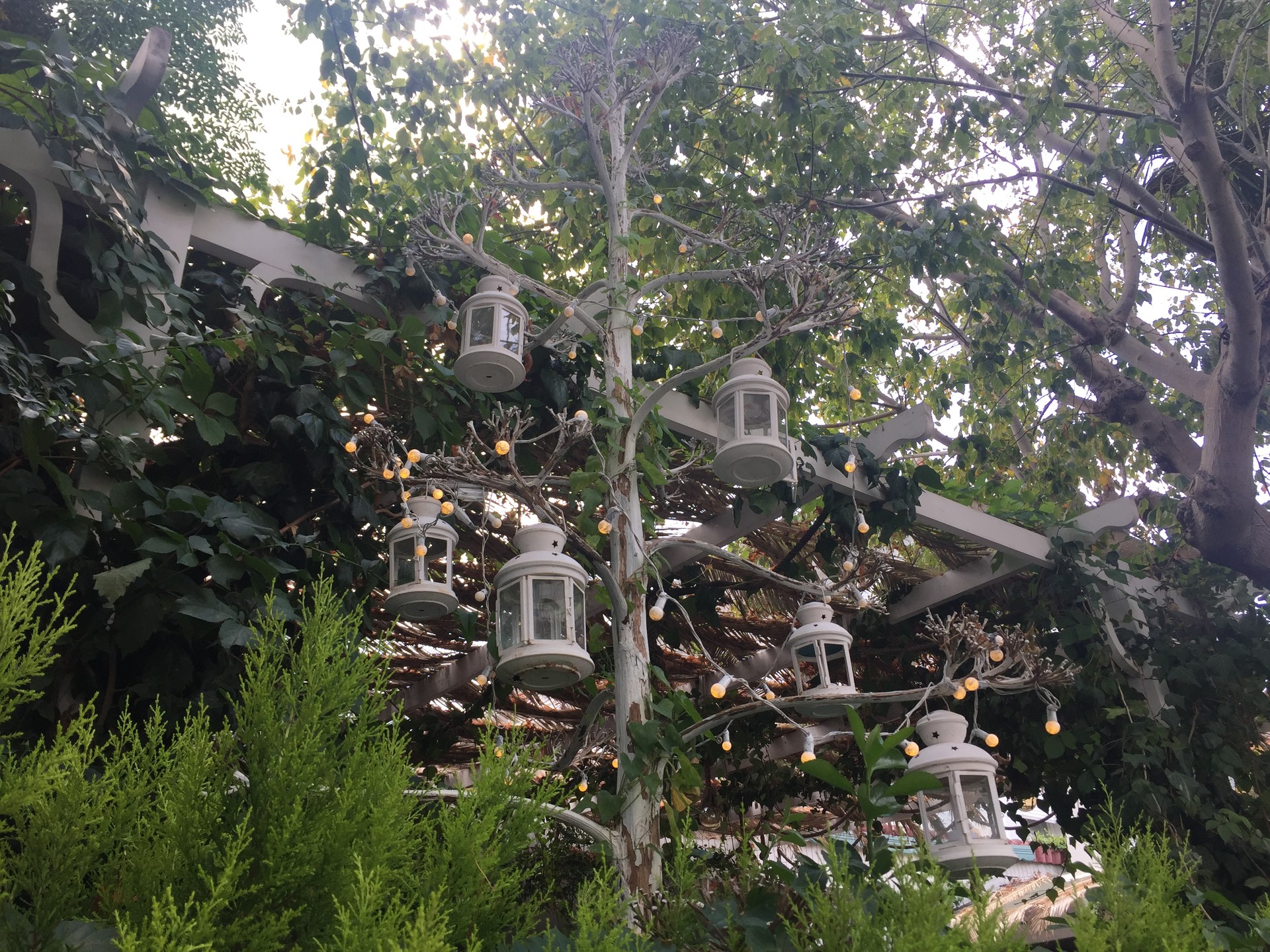 Back on the road, I decided to head in the direction of the hilltop Monastery of St. George Koudonas. Things started off well as I sped along the island's gorgeous, tree-lined streets, past extraordinary Ottoman era mansions. However, as soon as I hit the steeper roads, it was a whole 'nother story. Since my bike didn't have gears – at least not any that seemed to be working – I had no choice but to dismount, and since wheeling things uphill tends to be rather strenuous, I began to build up quite a sweat.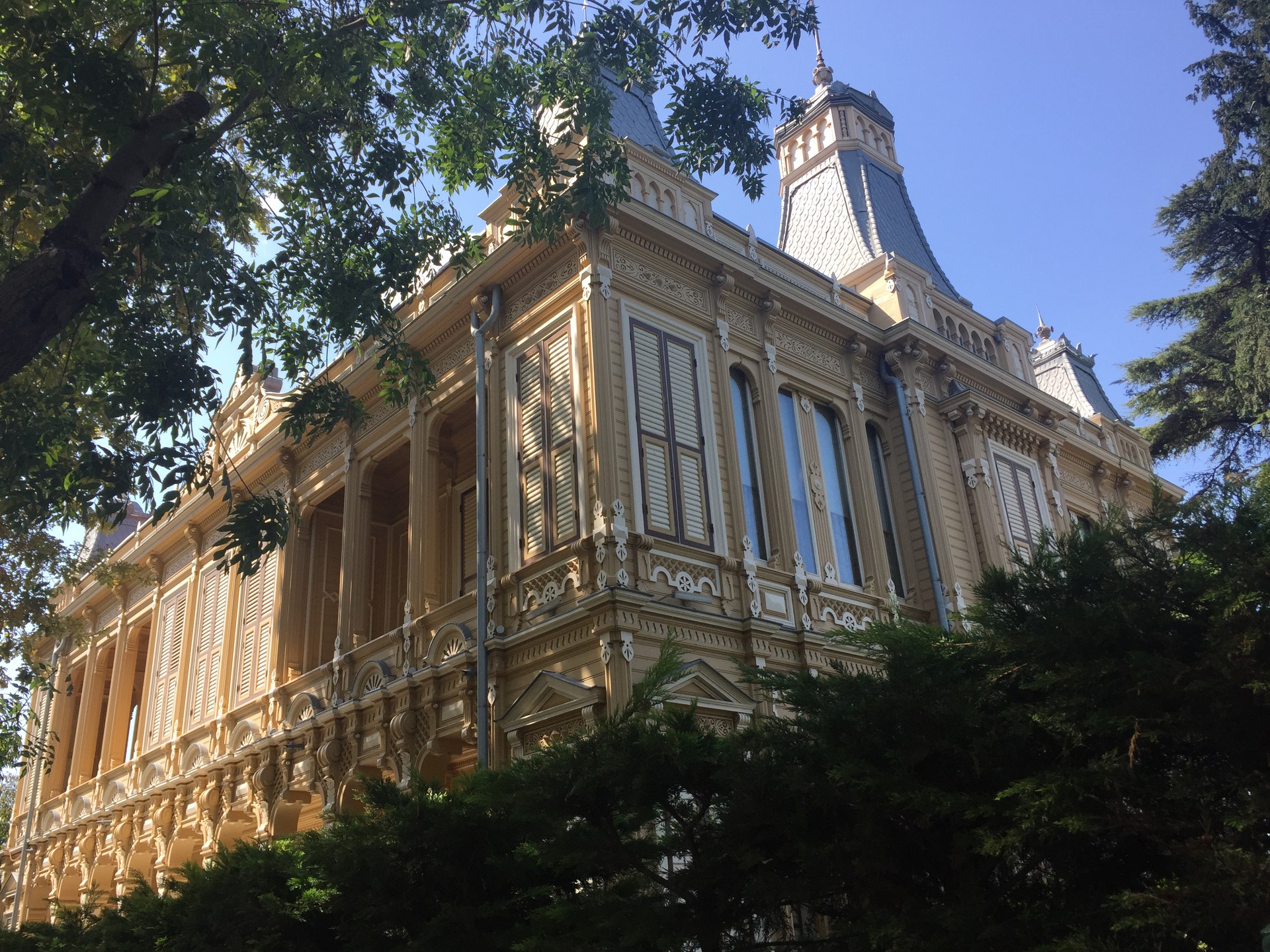 An arduous ascent
Thankfully, I soon arrived at an open square with a pathway leading off it up to the monastery, so I locked my bike up in a small parking area, bought a bottle of water, and began the next part of my ascent. What I thought would be a pleasant, speedy stroll turned out to be a pretty dismal half-hour hike. The views were incredible – I could see right over the sea to Istanbul – but the weather was unbearably hot. Everyone around me seemed to be suffering, too: even if their expressions weren't as miserable as mine, their faces were certainly all just as red and sweaty.
It wasn't all bad, however. I did enjoy browsing the various jewellery stands that had been set up along the pathway, and I was interested to find one or two trees whose branches were strewn with papers. These, I read in my guidebook, were actually messages to God, written by people coming up to the monastery in centuries past to pray for their sick relatives.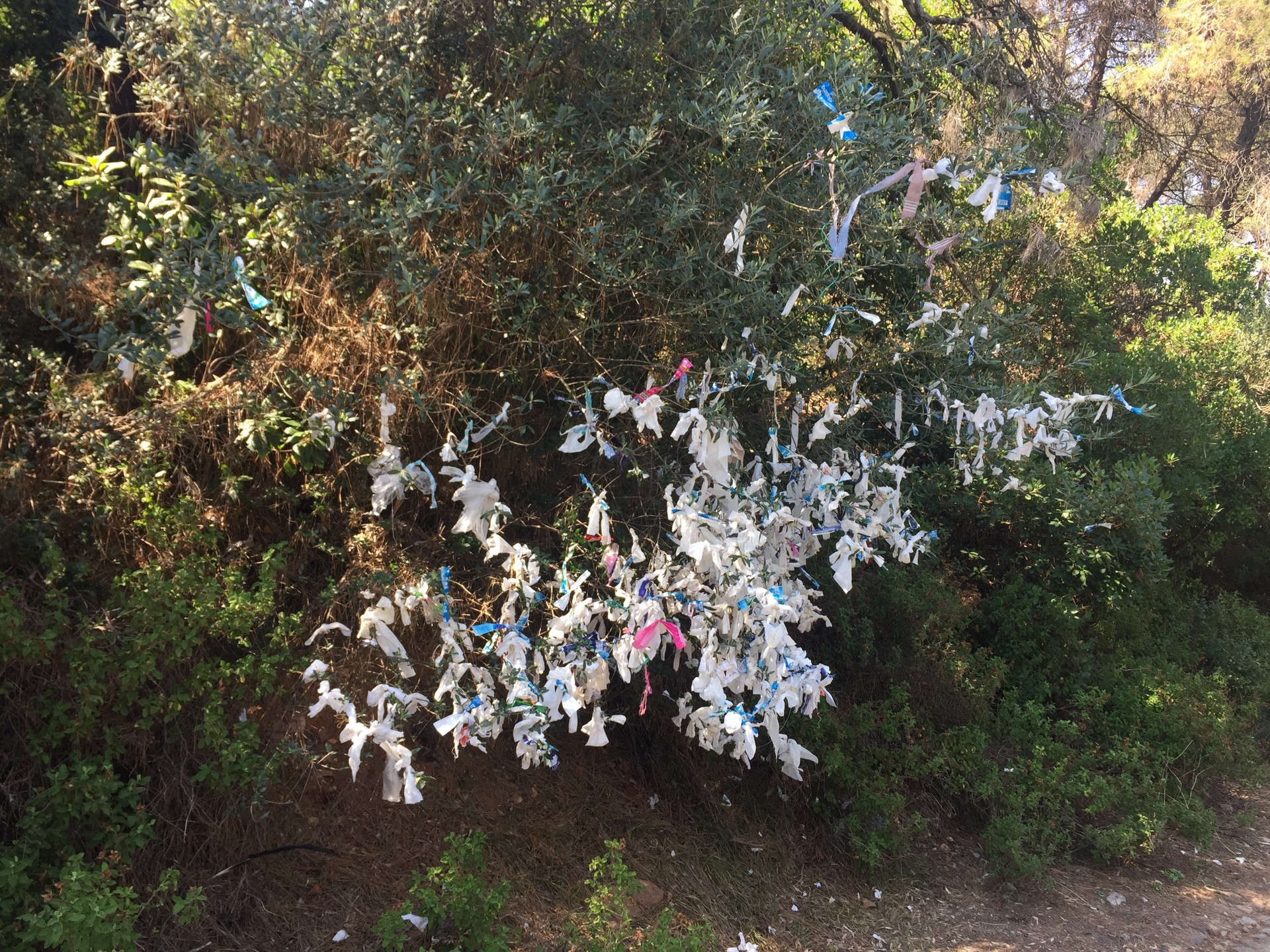 The Monastery of St. George Koudonas
After thirty minutes of seriously questioning my life choices, I finally arrived at the enchanting Monastery of St. George Koudonas. Only one room in the thousand-year-old complex was open, but its shimmering chandeliers and star-spangled ceilings certainly gave an idea of the institution's overall splendour. 'Maybe, just maybe,' I thought as I wandered around, 'that hike wasn't a total waste of time.'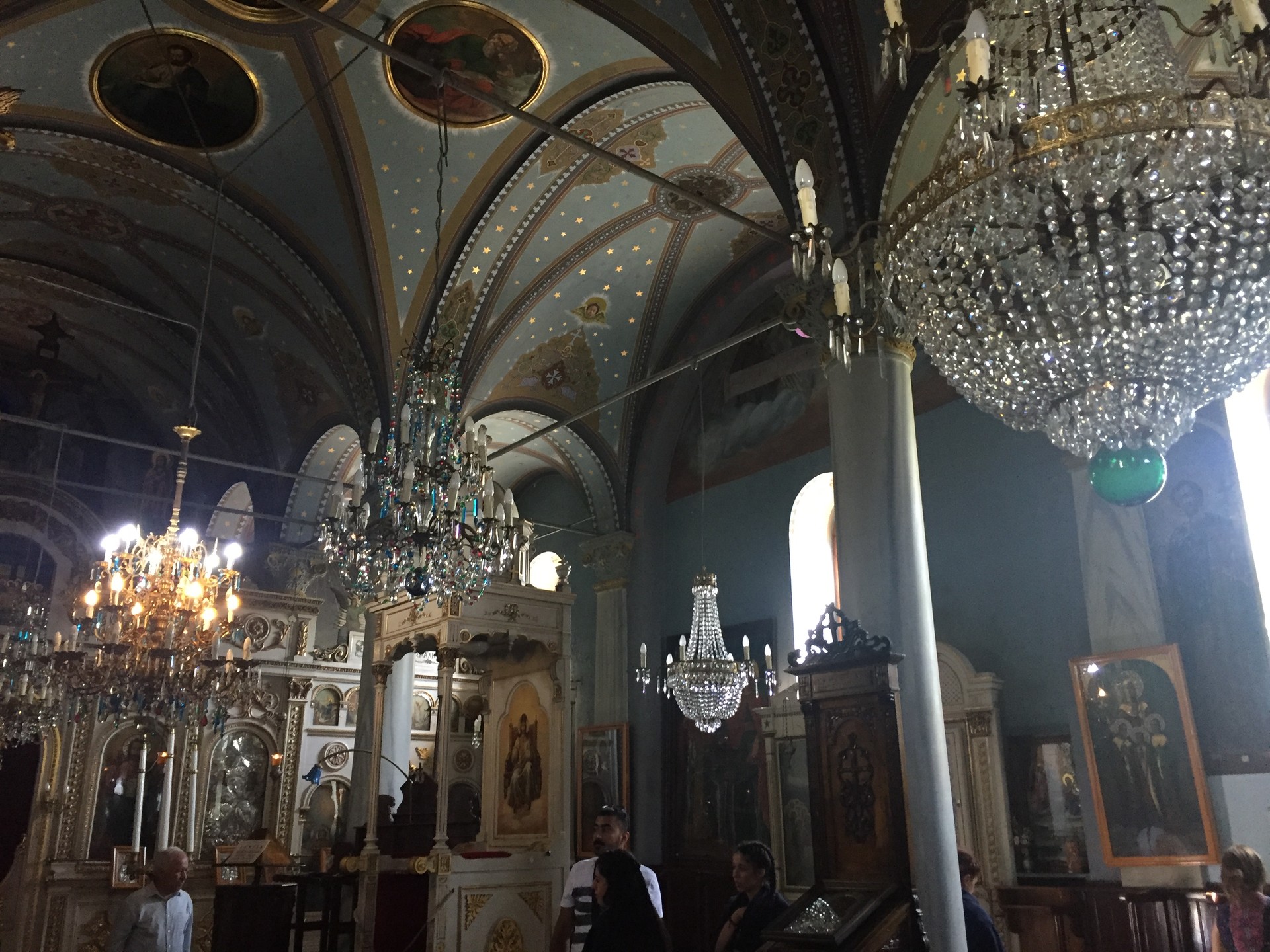 The Prinkipo Greek Orphanage
The walk back down to the bike park was, of course, far less arduous, and I felt rather smug rushing past people who were making their laborious ascent. I wasn't smiling for long, though, because getting to the next sight on my list – the eerie Prinkipo Greek Orphanage (Europe's largest wooden structure) – meant cycling to the top of a second hill! Luckily, this journey wasn't nearly as tiring – this hill was, after all, both smaller and less steep than the last one – and within ten minutes, I'd made it to my destination.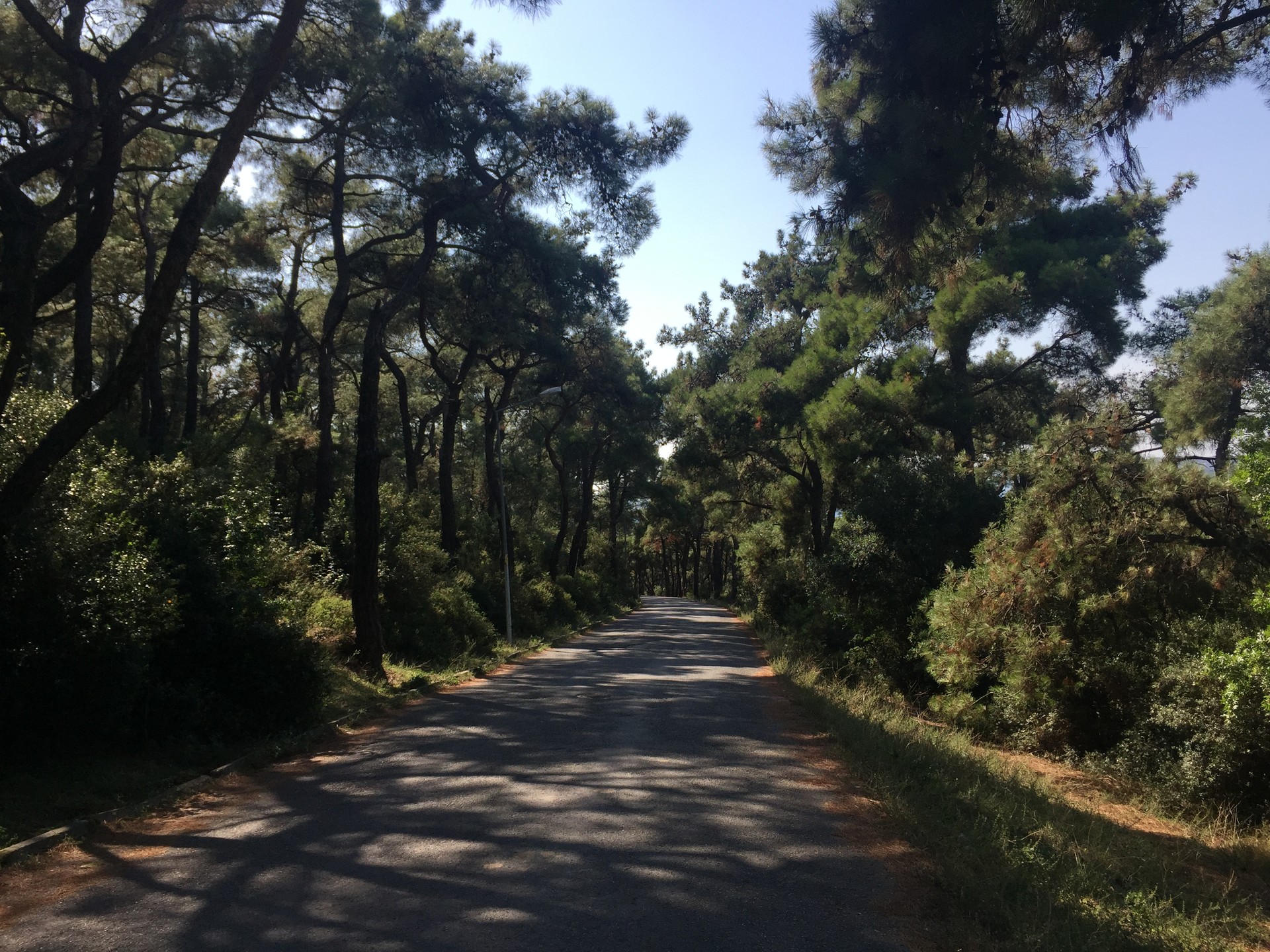 There wasn't, however, an awful lot to see when I arrived: the building, a noticeboard explained, had been closed since 1977, and had since been named one of Europe's most endangered heritage sites. As a result, there was no way any member of the general public was going to be allowed near it. Peering through the railings, however, I just about made out some of the rooms that belonged first to a luxury hotel, and later on to an orphanage. Some had columns in them; others were much less grand. All were totally deserted.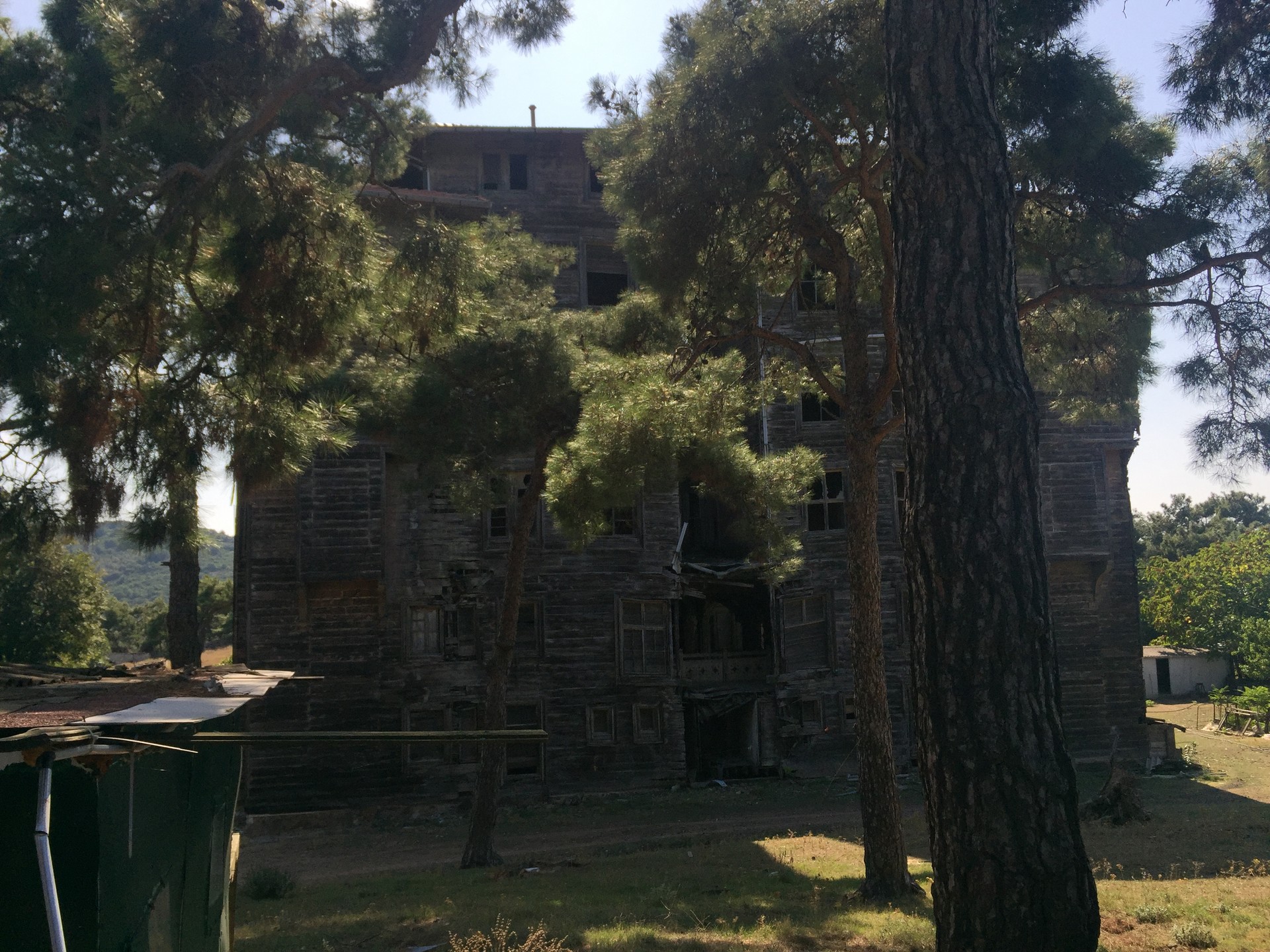 A rookie error
When I'd seen all there was to see here, I decided to make my way back up the other side of the island towards the bike rental shop. Too lazy to have a proper look at my map, I decided to trust my intuition: surely if I just took the opposite road from the one I'd arrived on, I'd do a full circle and eventually get to where I needed to be. I cycled for about a mile, then whipped out my phone to check that all was well. I seemed to be going in totally the wrong direction. 'Hmm,' I thought. 'There's probably just bad signal round here.'
And just like that, I allowed myself to cycle about ten miles along a road, which eventually brought me right back to the open square beneath the monastery and orphanage! I was distraught to say the least: yes, the ride had been wonderfully scenic, but no, I was not happy that all my pedalling in the blistering heat had amounted to nothing. Never mind – at least I knew now just to go back the way I'd come instead!
The defeated traveller
By the time I eventually did get back to the island's commercial centre, it was getting on for 16:30. My phone was on its last legs, my body was totally devoid of energy (completely my fault, I know!), and all I wanted now was to be back in Istanbul. The next ferry was due to leave at five o' clock, so I decided to kill time by eating an assortment of cakes in a café just next to the terminal building. Looking back, I rather wish that I'd spared a thought for my health and gone to see the house of Leon Trotsky instead, but I suppose when you're in a bad mood, sugar's going to cheer you up more than sightseeing.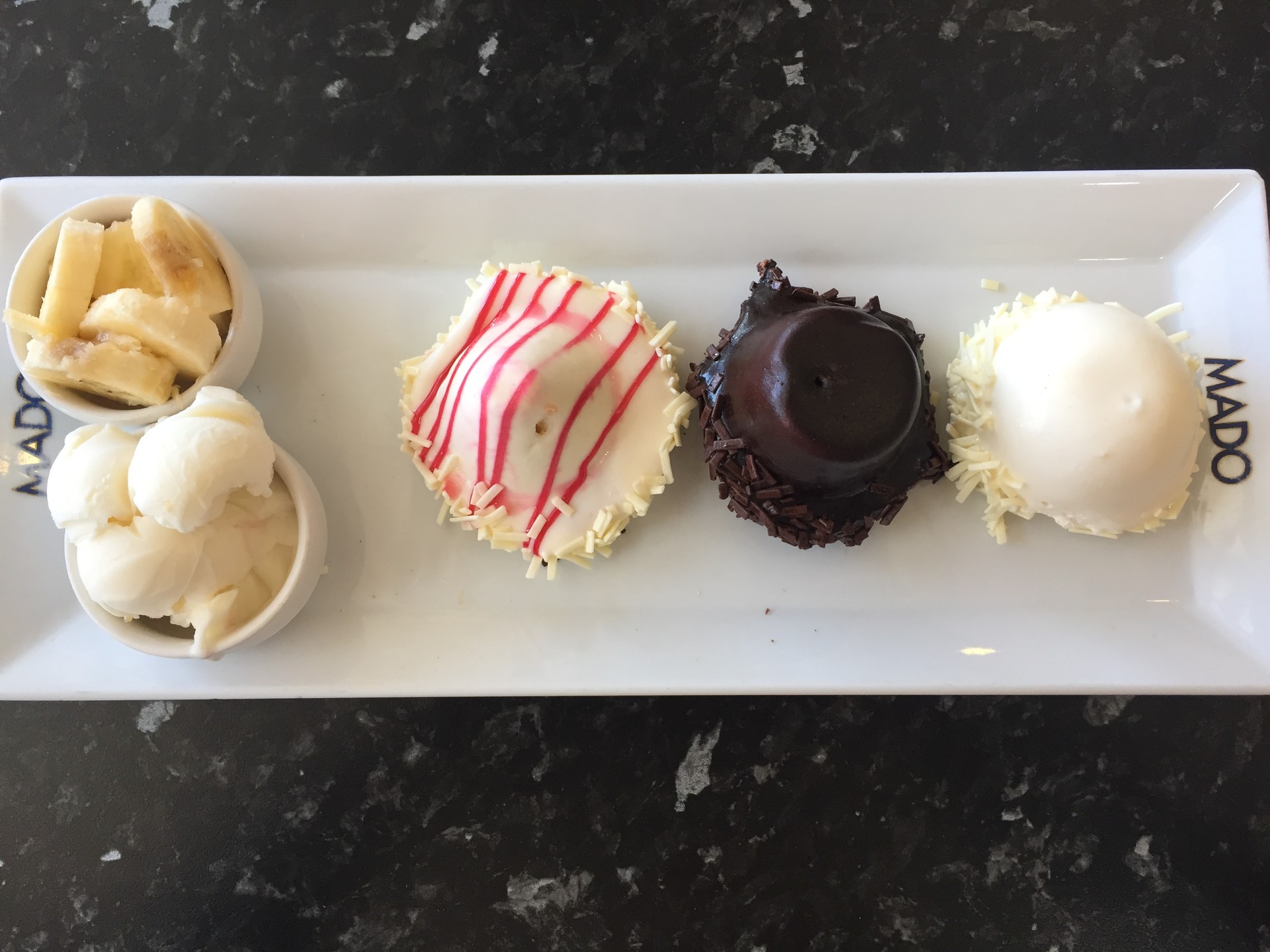 I slept most of the way back to Eminönü, so what should have been a tedious journey ended up being quite a pleasant one! I awoke just as we were cruising past the Maiden's Tower, and snapped up a few blurry photos.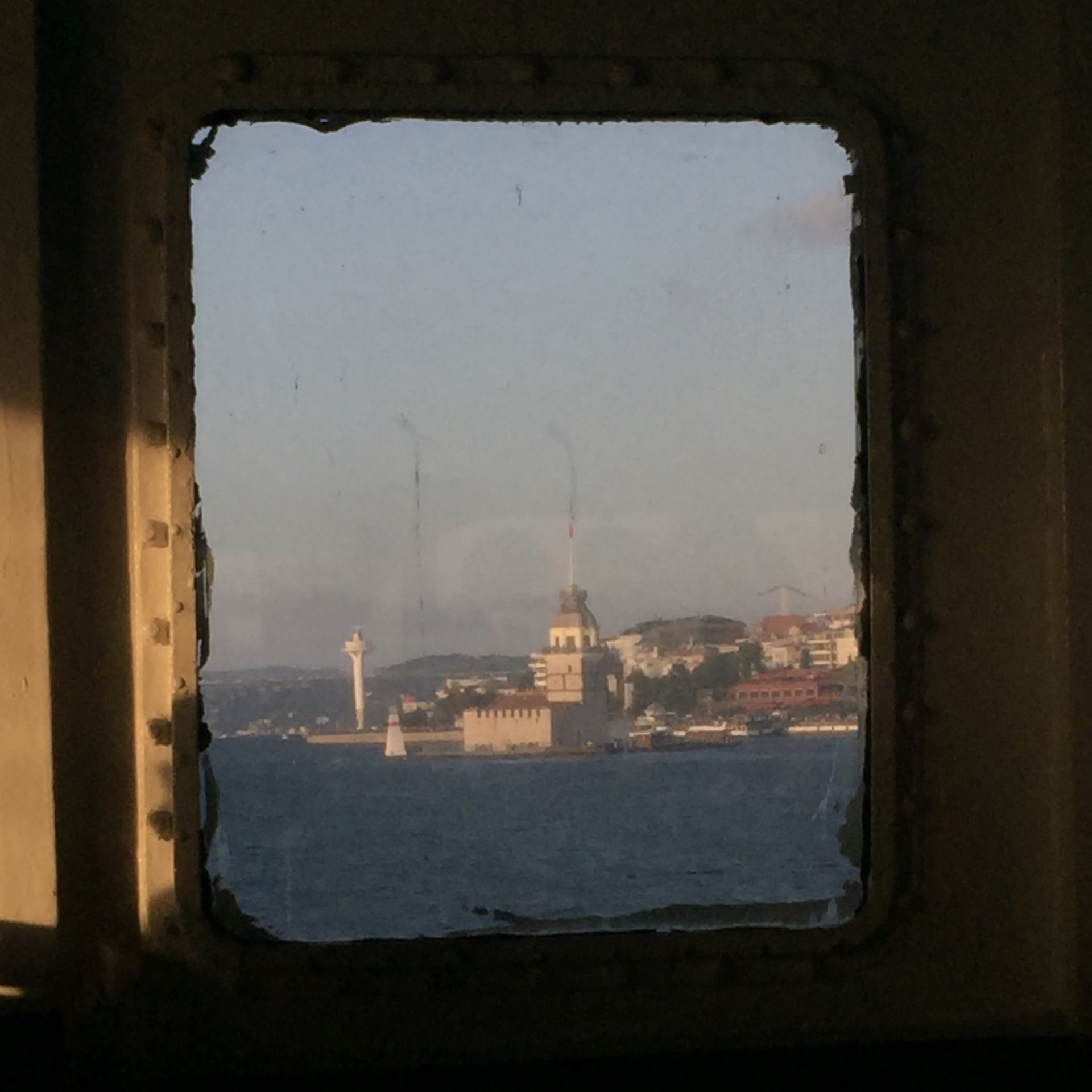 The rest of my evening was pretty uneventful. I'd been planning to treat myself to one last authentic Turkish meal, but in the end I was too tired to do anything but get a takeaway dinner from McDonald's. (I know my diet was absolutely atrocious on this day, but I promise it was an exceptional one!) Back at the hostel, I packed my bags, had a quick shower, and climbed into my bed for my final sleep in Turkey.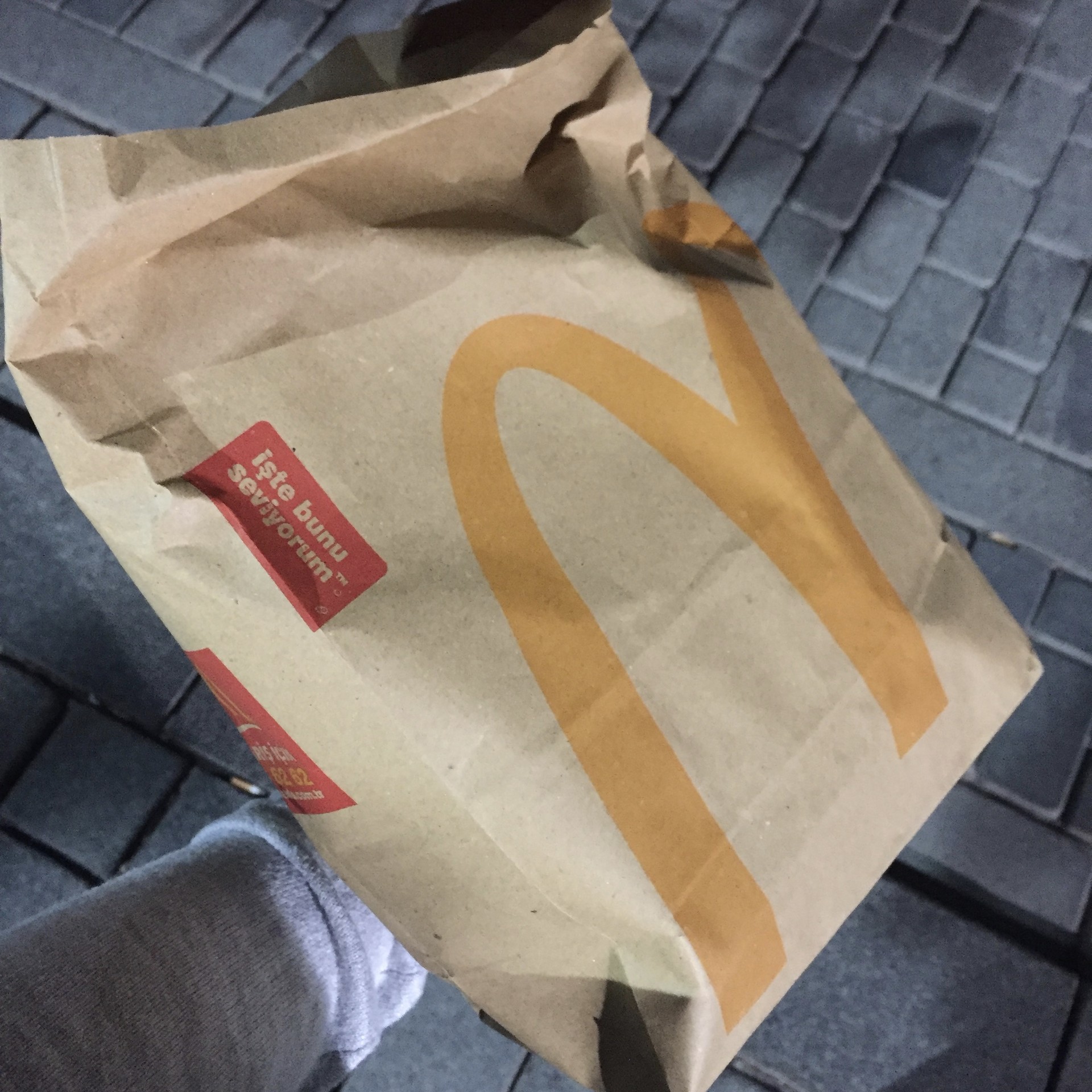 Final thoughts
At this point, you'll probably understand why I wasn't a massive fan of Büyükada. A lot of people I'd met in the hostel had raved about the island; I – thanks to a mix of overly high expectations, an aversion to really touristy places, and a series of bad experiences – came back, instead, rather disillusioned. I wouldn't necessarily discourage other people from visiting the Princes' Islands, but I certainly wouldn't recommend prioritising the place over mainland Istanbul. If you do, however, decide you'd like to pay a visit, here are a few tips:
Get a quick ferry! It took me two hours to get to Büyükada, and two hours to come back, but I really wish I'd opted for a faster – and slightly more expensive – service.

Pick a good bike rental company! If you're planning to hire a two-wheeler, make sure it has gears: you'll need them to get up the island's steep hills. Also, make sure you're not paying much more than 10TL per hour: some boutiques definitely overcharge.

Fuel yourself! Fill up with plenty of good food, and make sure to drink lots of water as you go (unless, of course, you want to die of exhaustion).

Bring sun cream! And a sunhat! And light clothes! (I was wearing jeans, and they were definitely stuck to me for most of the day.)

Consider bringing food over from Istanbul! Most restaurants on Büyükada are tourist traps, so you'll probably have a cheaper and nicer lunch if you buy it before setting off.

Know that there are beaches on the island! If you've been longing to have a swim in the sea, now's your chance. Just bear in mind that you'll have to pay to access these sandy shores.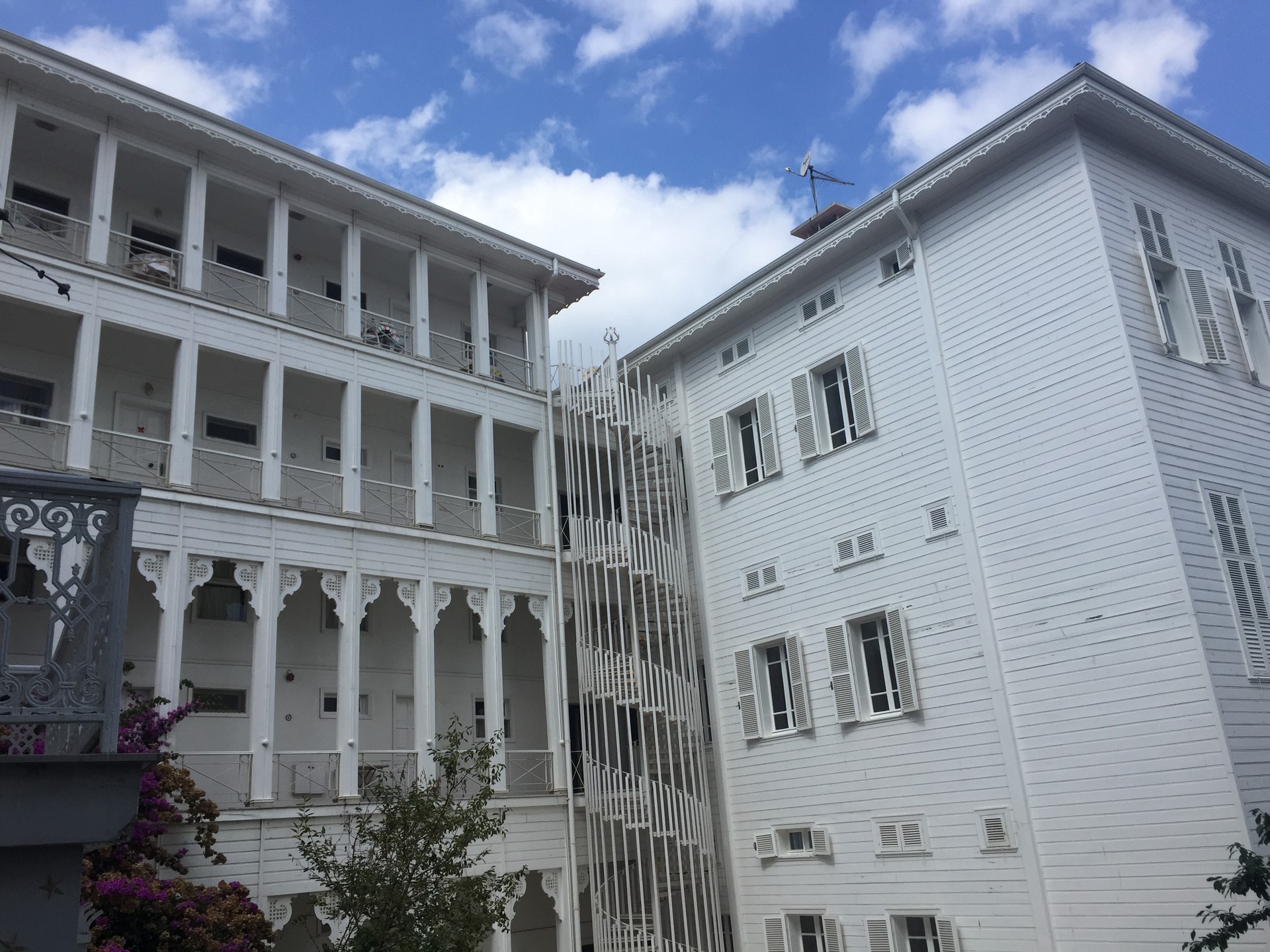 End of part eight
So there we have it: the eight and final installation in my 'Touring Turkey' series! I can't believe how quickly my trip passed by, but I had a wonderful two weeks of travelling, and cannot wait to go back to Turkey in the future. Thank you so much to all of you who've kept up with my adventures: whether you've read one article or all eight, I really appreciate your interest!
There'll be a few more general articles coming your way (one about restaurants in Istanbul, and one about Turkish baths), but for the most part, it's now back to reality for me! No matter how bogged down I get in daily life, thought, I know there'll always be a small part of my brain dreaming about my next trip away…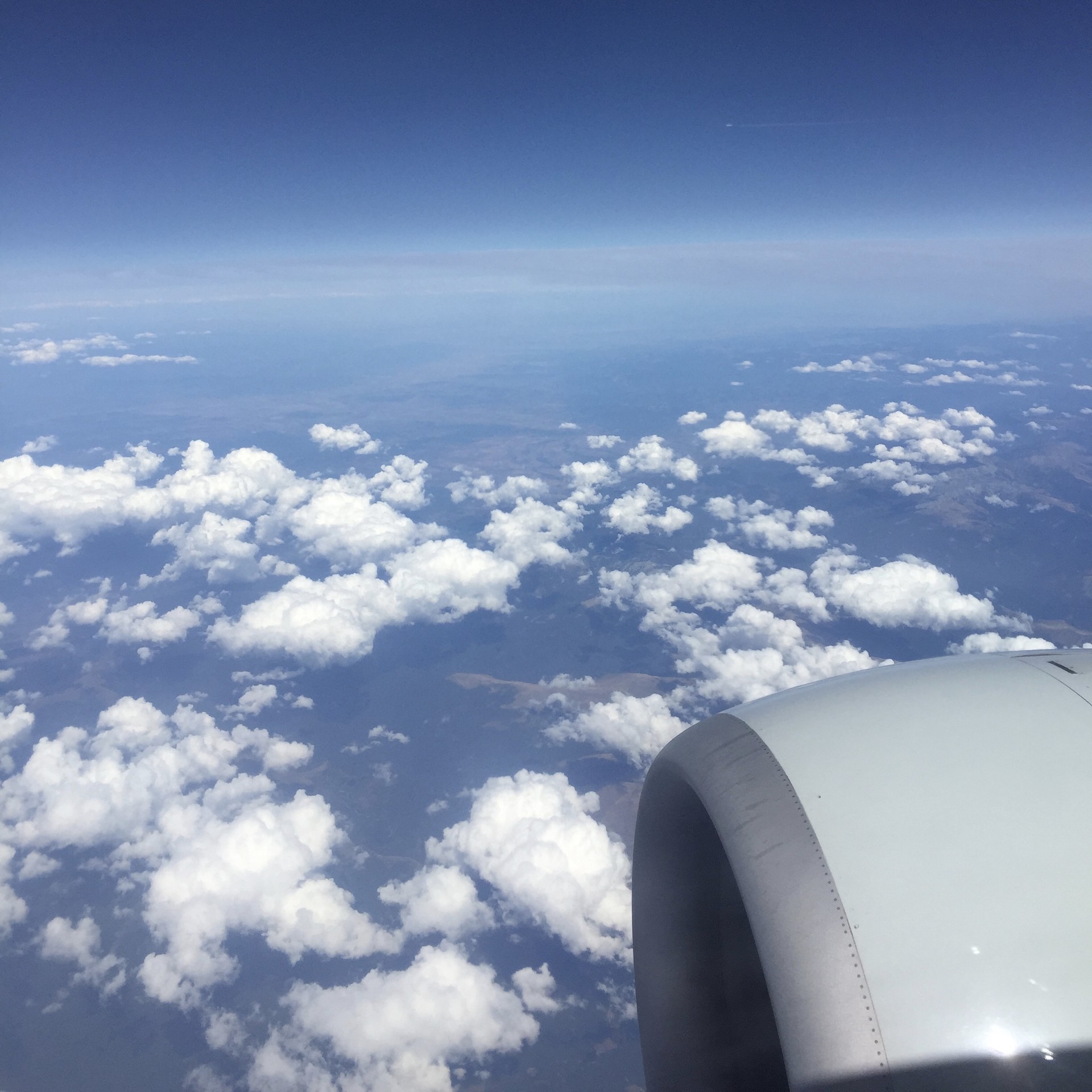 ---
Photo gallery
---
---
Content available in other languages
Want to have your own Erasmus blog?
If you are experiencing living abroad, you're an avid traveller or want to promote the city where you live... create your own blog and share your adventures!
I want to create my Erasmus blog! →