Strasblog Part Eleven: Four weeks left!
Salut! How are we all?
Last week signalled just a month to go now before I'll be back in England for Christmas! The three months I've been here have absolutely flown by, but I cannot wait to get back to 38 Arnhem Way and the rest of the Gilbert clan!
On Monday morning I woke up not feeling especially well and with about as much sleep under my belt as caffeine laden computer geek. As a result, I decided it was perhaps best not to bother with the lectures and seminars that render me zombie-esque on a normal day. Despite my less than 100% state, Monday and Tuesday were actually very successful days of work... how about that?!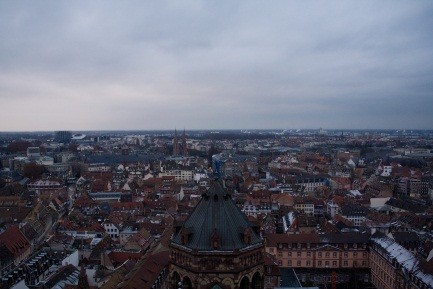 Wednesday I felt much better... for about ten hours. The reason for my sudden change in health was football that night, or should I call it murderball. Seriously, two players out of ten limped of injured, another two were made walking wounded and I finished the hour match essentially as a bruise with legs. Bad times...
Thursday was the date of my Operation Nordwind presentation. This presentation would make up my final mark for the module, would be for twenty minutes and would be in front of a class of thirty Frenchmen. I was so nervous I nearly vomited at least four times that afternoon. Anyway, it got to the time of my judgement and there was nothing else I could do but... begin. Unfortunately I think the nerves got the better of my accent (to the extent that sometimes I wasn't even sure what I was saying), but a part from that it went quite well, and I even got a round of applause from the class... I cannot tell you how good that made me feel. I look back now on that twenty minutes with a little smile, because how many times in my life will I get the opportunity to do that again?!
On Friday I went to dinner in a sick American diner before hitting up L'Artichaut pub again. It was a pleasant night of admirable company except for the strange ensemble of tramps (I really mean the street roaming kind) that were wondering around the room tormenting unsuspecting drinkers, getting into fights with lamp-posts and generally smelling the place out. We almost had to pay for another table and ice-creams as well, but luckily that got sorted without our party losing a single cent!
At the weekend I had another trip around the incredible Christmas market. It's unbelievable how different Strasbourg is since the market opened... a city that used to fall deathly silent at night is now flourishing, and boulevards that were vast spaces of emptiness are now jam-packed alleyways. That said, the sudden over-population didn't stop our group's enjoyment of the vin chaud, the salty pretzels and the stunning views of Strasbourg from the top of the Cathedral. My enjoyment of tourist spots in Strasbourg cannot be spread however to our Saturday pass-time of Ice Skating. It's a "sport" that is not only terrifying (to the extent I very nearly broke a hand gripping to it so tightly... again I'm sorry about that Kate... really), but it's also something that isn't natural and something that I don't think I will ever be able to do. Never again for me!
That's all for now guys, à plus tard les amis!
---
Photo gallery

---
---
Content available in other languages
Want to have your own Erasmus blog?
If you are experiencing living abroad, you're an avid traveller or want to promote the city where you live... create your own blog and share your adventures!
I want to create my Erasmus blog! →