45 kilometres of the Slovenian coast that will change your life
Hello, hello! Today I'm bringing you the last post from Slovenia, but the first time on the Adriatic coast. This ocean, which forms part of the Mediterranean Sea, boarders the following countries: Montenegro, Albania, Croatia, Bosnia and Herzegovina, Italy and Slovenia. If you're not an expert in the field of geography, you might think that Slovenia doesn't have a coastline (which is what I thought). But, in fact it does. This country doesn't just have amazing landscapes at the inner parts of the country (as you can see here), but its 45 sparse kilometres of coast has a lot to offer.
People from the coast, like me, living in Bratislava, we miss the sea a lot. There are days where we can cope with it better, and others worse. We also have days when we can't take it anymore, so we decided to leave Bratislava one Friday, and drive 560 kilometres non-stop to arrive at the Slovenian coast. And that's what happened! We headed straight for the motorway and whilst we drove through Austria, a storm threatened to end our lives above us. Whilst a deluge of water fell on top of us, it became obvious that only one side of the windscreen wipers was working so we could only see half of the motorway. It wasn't a trip for the weak hearted, honestly. But all of this was upstaged when we woke up the following day, had breakfast and we saw that the sky was completely clear and a shade of bright blue. We went to the beach.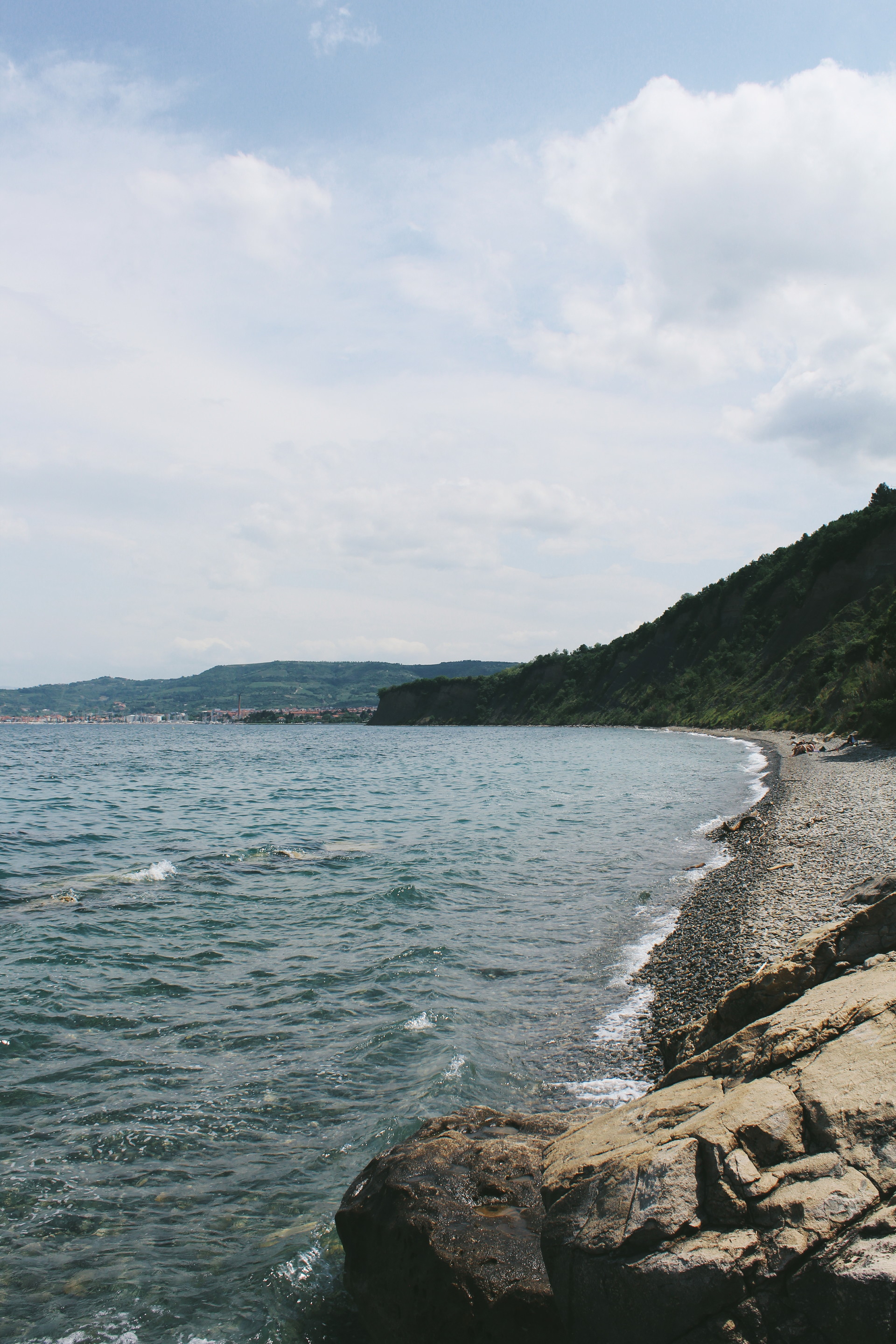 We were exactly in Izola. Of all the places on the Slovenian coast, it's not one of the most famous places like others such as Piran, Koper or Portoroz, but it's worth it. We stayed in a very practical apartment as it was a two minute was from the beach. We practised our Italian with our landlord. This zone is very close to Italy so it's not strange to hear Italian whilst walking through the streets.
It's true that Slovenia doesn't have beaches as we know them. There are no huge sandy areas not giant surfaces to put your towel down on, but rather small rocky coves. The terrain is a lot more wild. A lot of the time there'll only be a type of jetty where some boats dock, and you have to use some metal steps to get into the water just to take a dip. With regards to the water, when we went it was cold (it pretty much felt like the coldest days in Galicia) but we did also go at the beginning of May. Maybe in the middle of the summer it's more of a pleasant temperature. Anyway, it's only a question of acclimatising to it, so you end up adapting.
As we stayed for a few days, we went to two little towns: Izola and Piran. Next I will tell you what we did, how to get there, where we ate and my impressions about it all.
Izola
Starting with Izola, right where the urban area is, there are also a lot of rocky beaches along this whole coastline. The water is bright blue and makes you want to dive in. You can spend ages here, swimming and snorkelling. The promenade along the coast is very well looked after: the ground is perfectly tarmacked and the whole way is decorated with plant pots that have palm trees in them. These pots give the promenade an elegant touch. Around this zone there are some very well maintained gardens, with pruned bushes and a lot of flowers. Therefore if you want to go to the beach and relax, I would recommend this place. It's very calm as there was barely anyone there, and the environment was very relaxing. It's near the port area with all the boats, a lot of terraces to have breakfast or just eat, and loads of ice cream parlours with ice creams of all different flavours which are impossible to resist.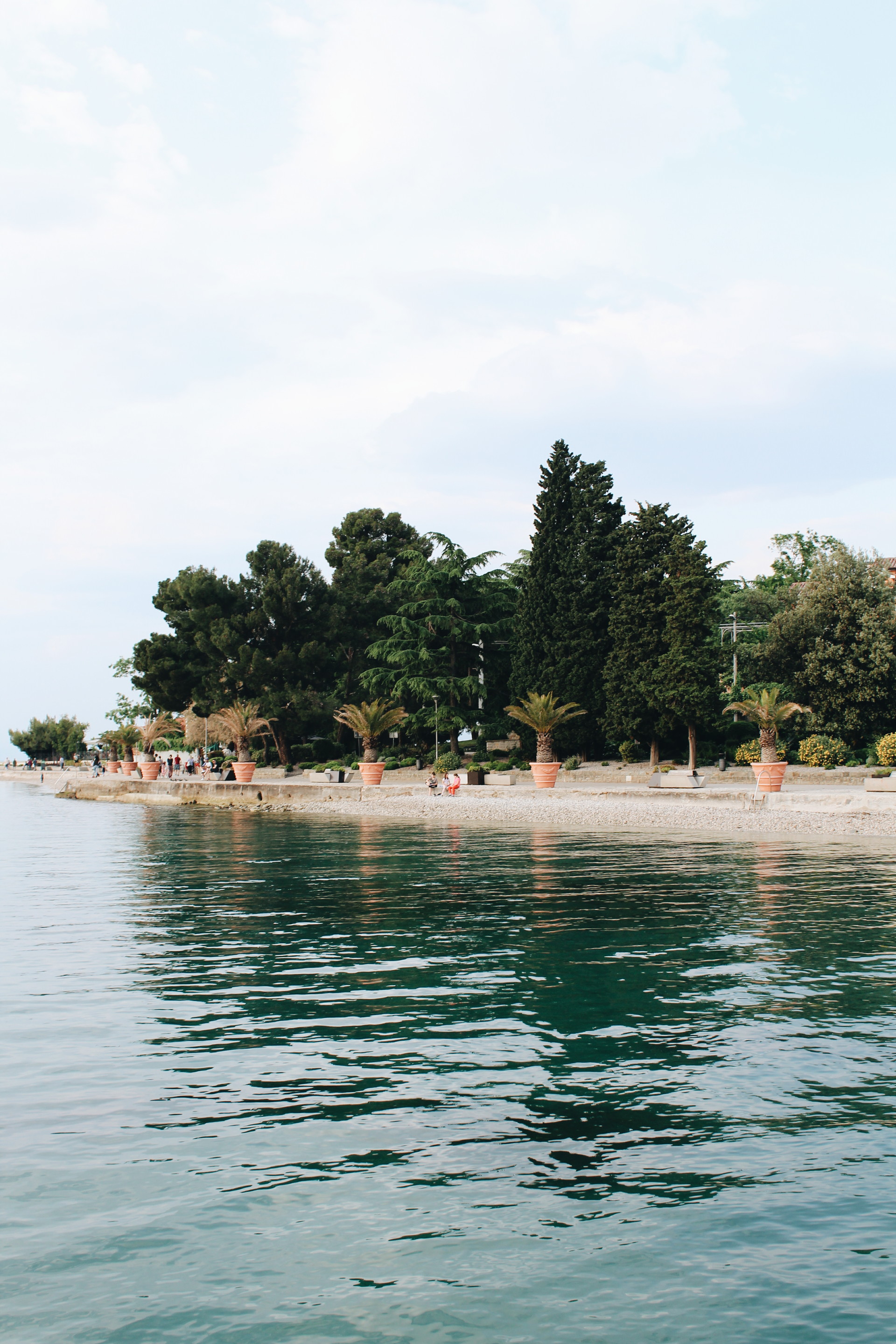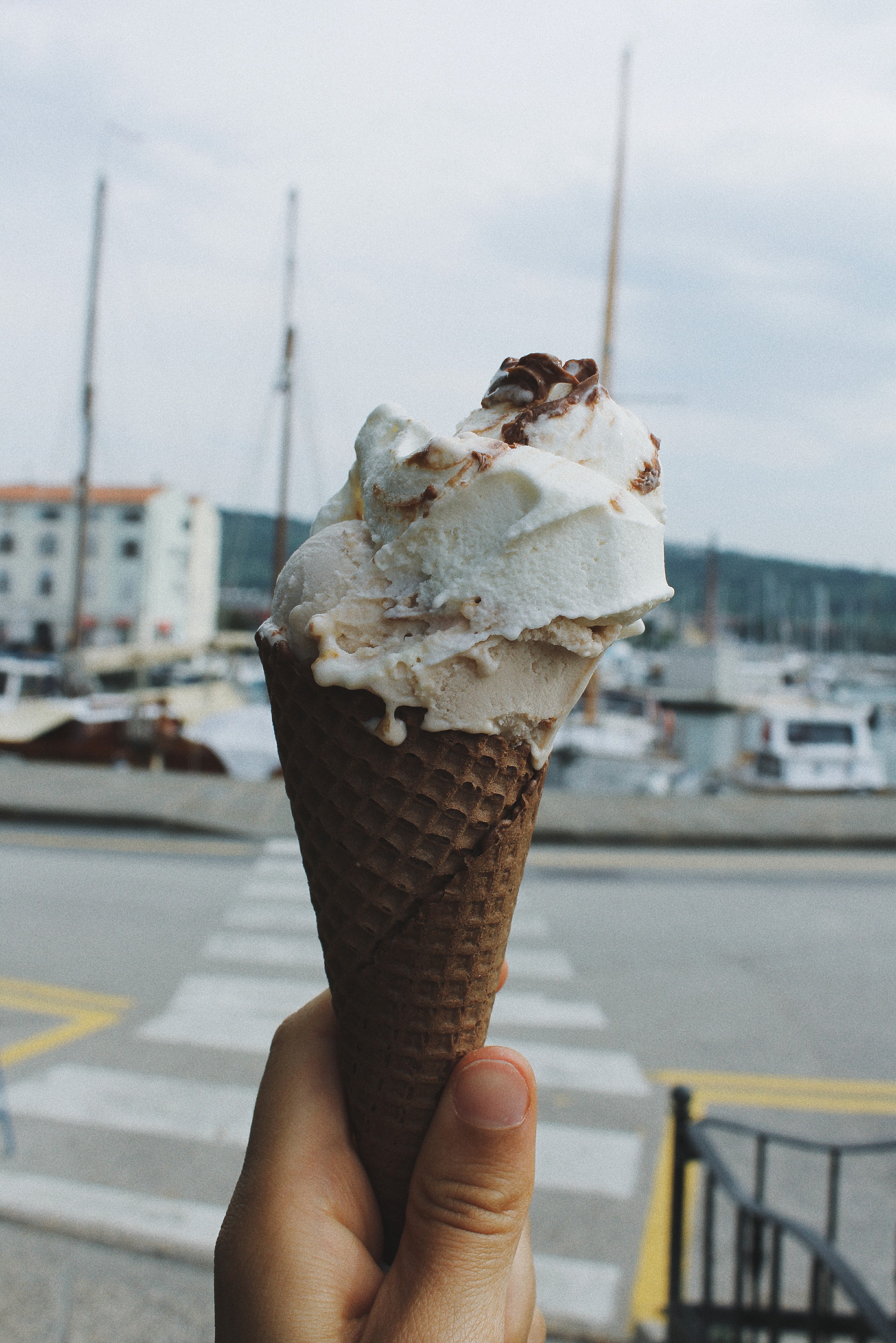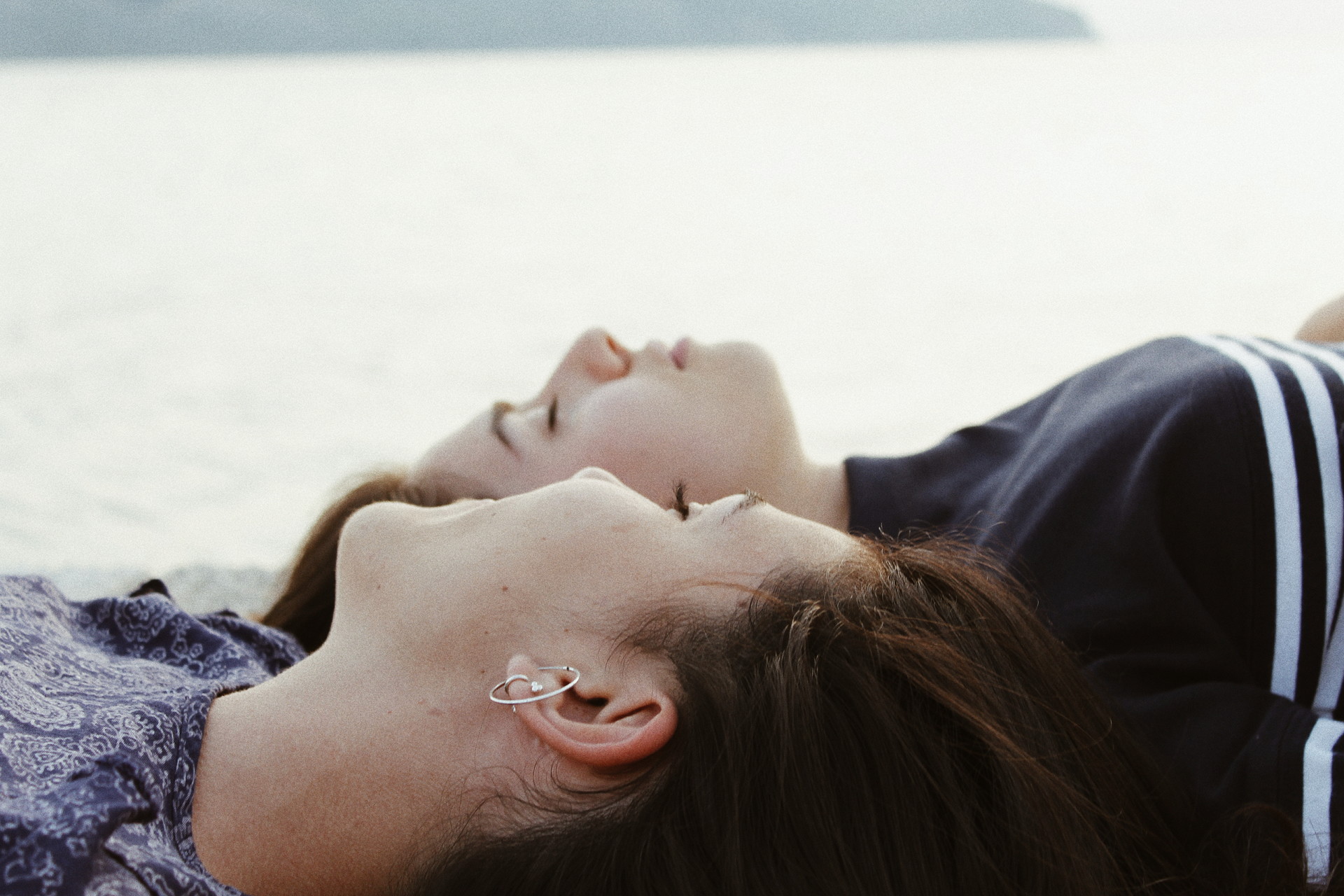 Strunjan
If you're more adventurous, the best option is to go to Strunjan. It's a natural park very close to here. We walked there and it took us about an hour. It's free to enter and right at the beginning they give you a map which highlighted the points of interest, and it gives you an idea of how big the park is.
In Strunjan you have to walk if you want to get to the best places. We walked pretty much on the edge of the cliffs on the way to the park's beaches. It's quite dangerous. In fact, on the way we found a memorial cross remembering a man who had died in that area the year before. There are safety precautions, for example a lot of the areas are fenced in, but even so, you have to be careful.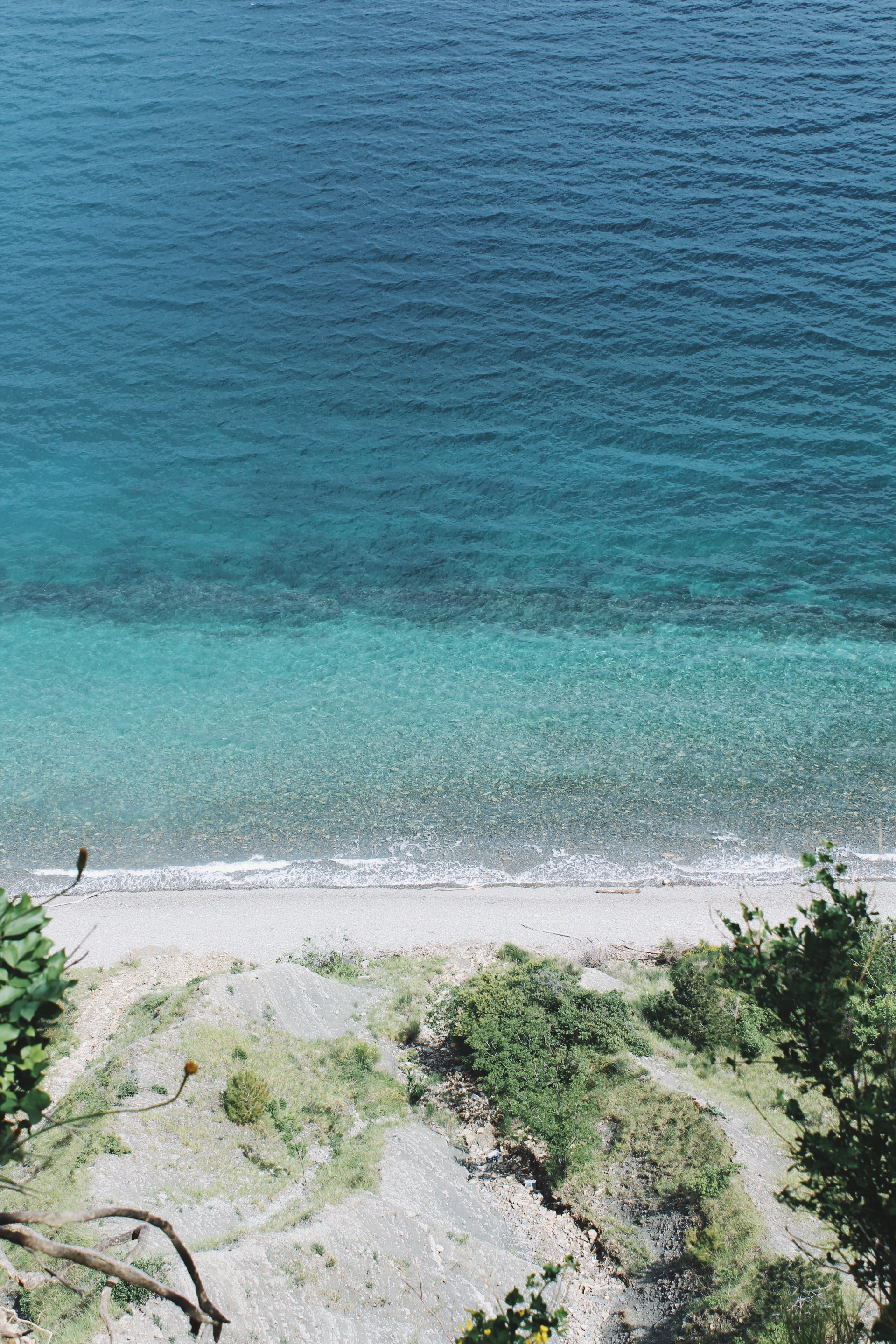 On the way down to its beaches, you can see some incredible landscapes. You can see the whole crystal clear coastline of the natural park. This only makes you get accelerate to get to the beach faster. The way there is quite steep and very muddy, but you couldn't put a price on what made up for it. The beach is an untouched territory, very wild, full of little stones, big rocks, tree trunks and absolutely no one around you. Swimming there is a delight, despite the water being freezing. You only have the sea in front of you, and the human eye can't see it, but Italy is right there too. We were there all morning and to go back, we didn't go via the mountain but we simply followed the rocky path that slowly but surely took us back towards the urban centre of Izola once again. On the way we found more little beaches and also a pier where we decided to stop and sunbathe for a while. Around this area there were people surfing and practising other water sports. There were also restaurants with sea views and very appetising dishes. As they often say, a picture speaks a thousand words, so here I'll leave some photos of Strunjan and the surrounding areas. The most surprising thing about this place for me was the colour of the water, even when it's cloudy the sea is an intense and very clear blue.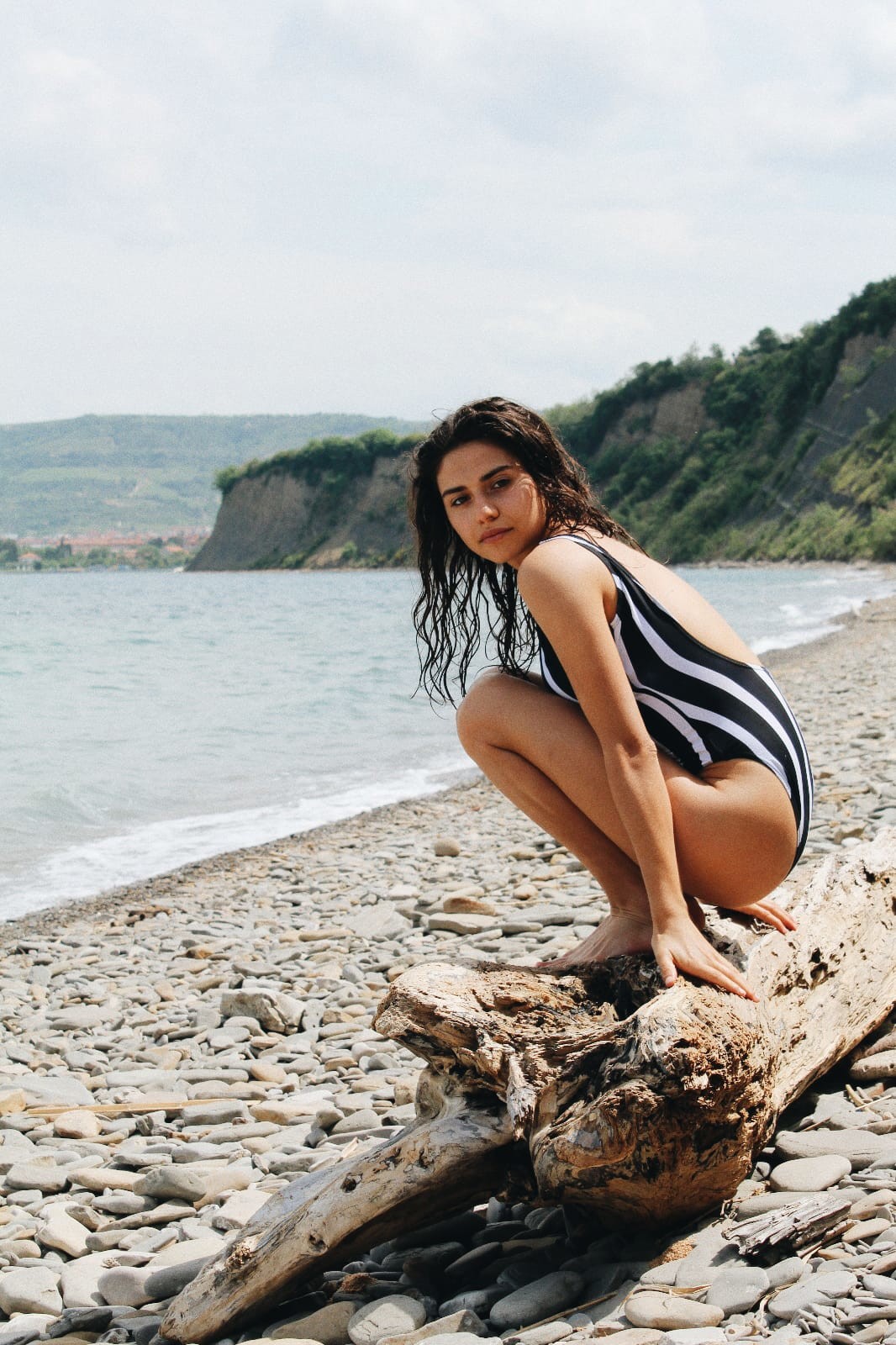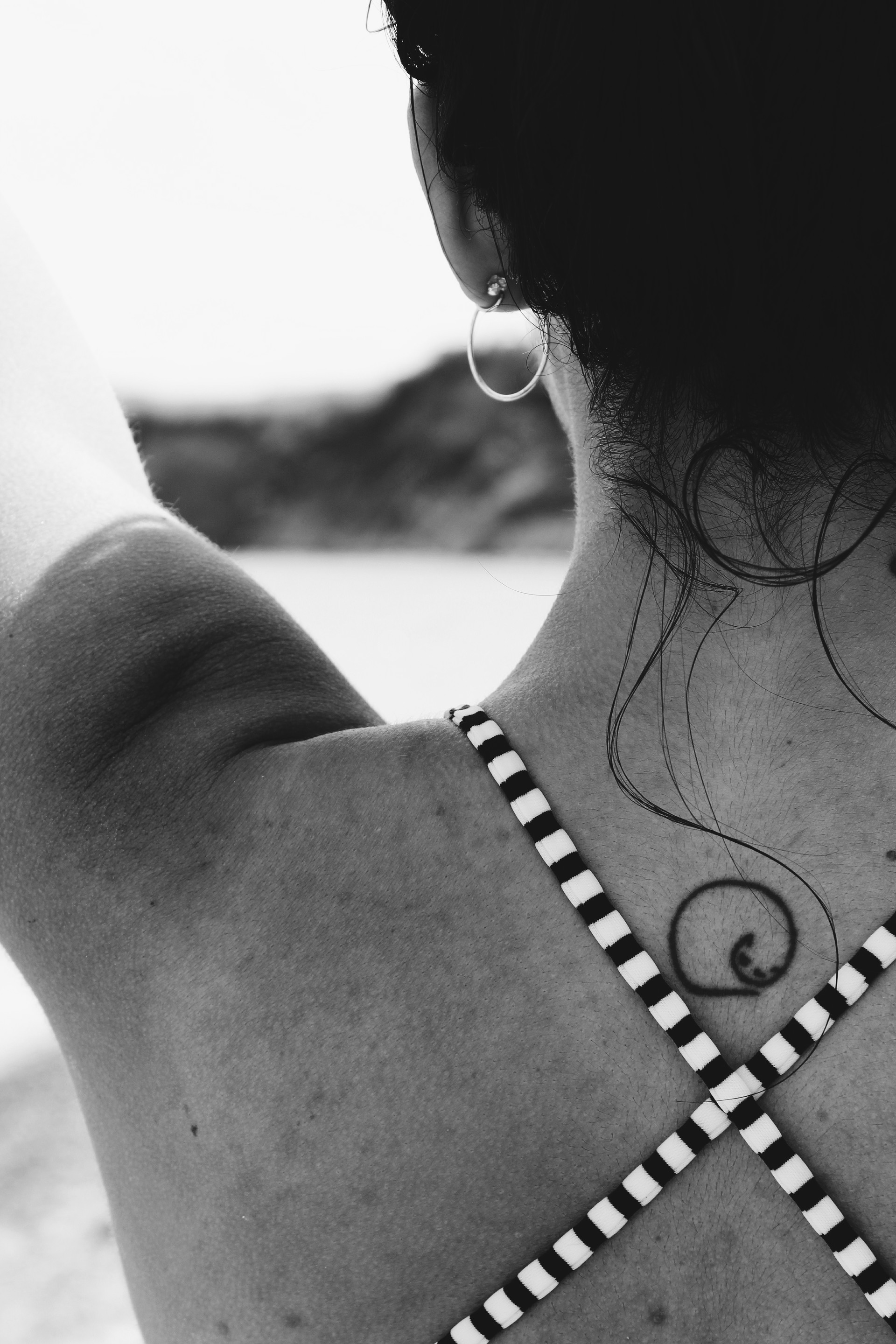 We got quite hungry, so once we got to the town we went to a restaurant where most of us ordered squid rings with potatoes and vegetables. It's a traditional plate I love, so I ordered the same thing every day because I just couldn't resist. In Bratislava, the fish and seafood aren't of the best quality so whenever I am near the sea, I make the most of eating fresh and tasty products.
The sun was already setting, so we ate in an Italian restaurant. I had an octopus salad and half a calzone that Pilar couldn't finish. It was a very cute restaurant with a terrace decorated with little flowerpots, full of flowers, that hung in the air. Afterwards, we went to the port of Izola to watch the sunset. We played the ukulele, sang songs by Shakira and enjoyed the sound of the sea. Look out though, because although it was hot during the day, the coldness hits at night and we were all covered up in our sweatshirts.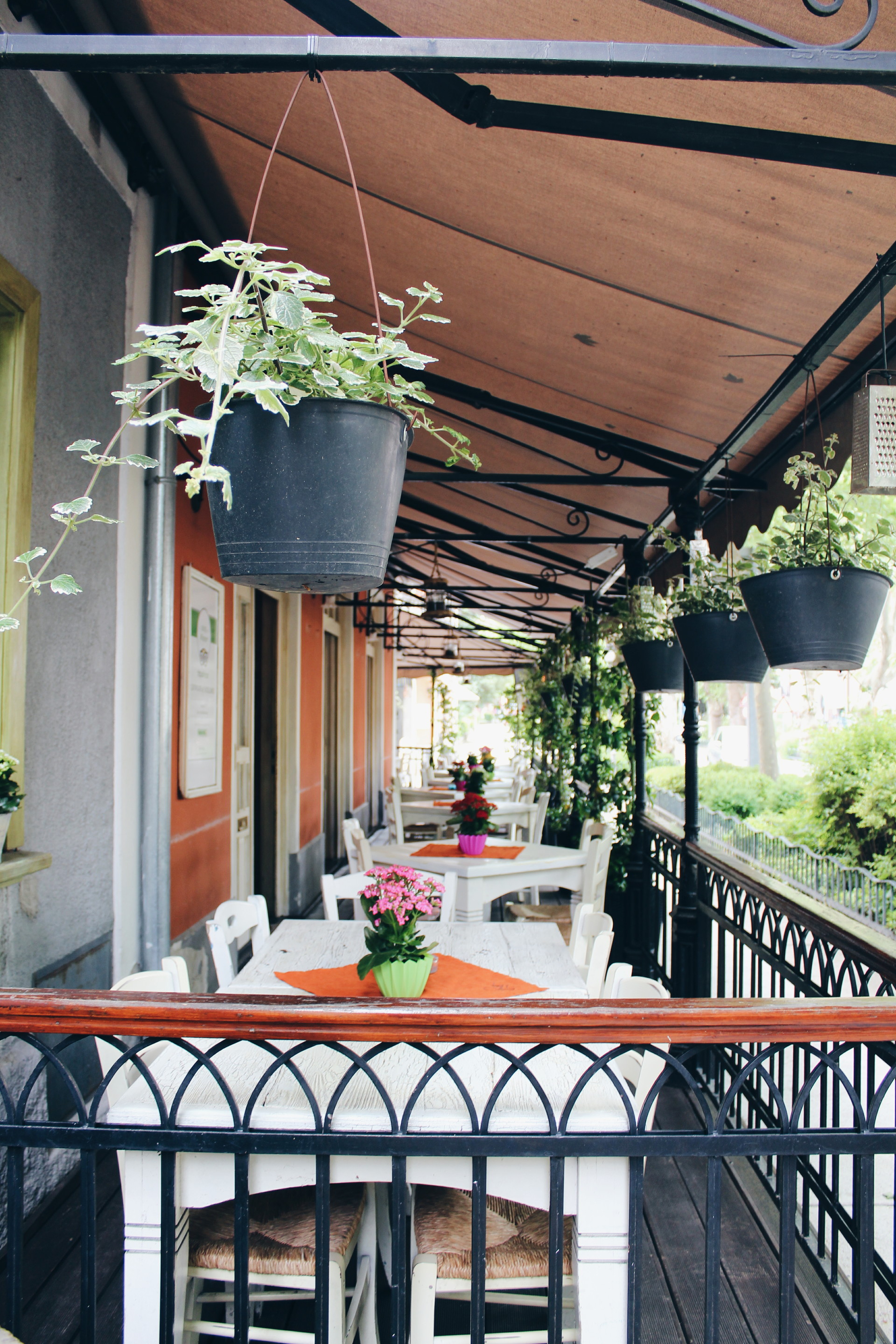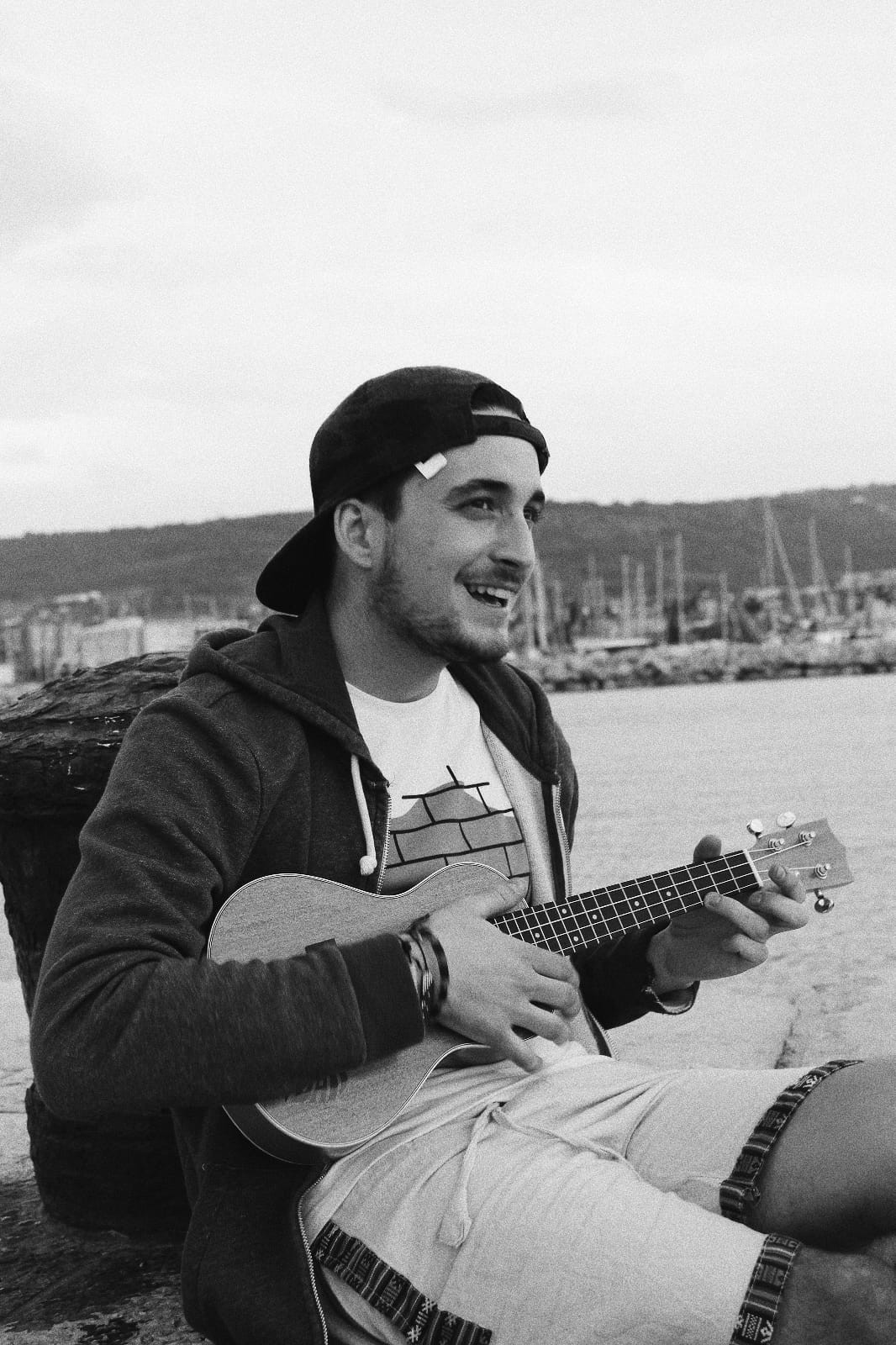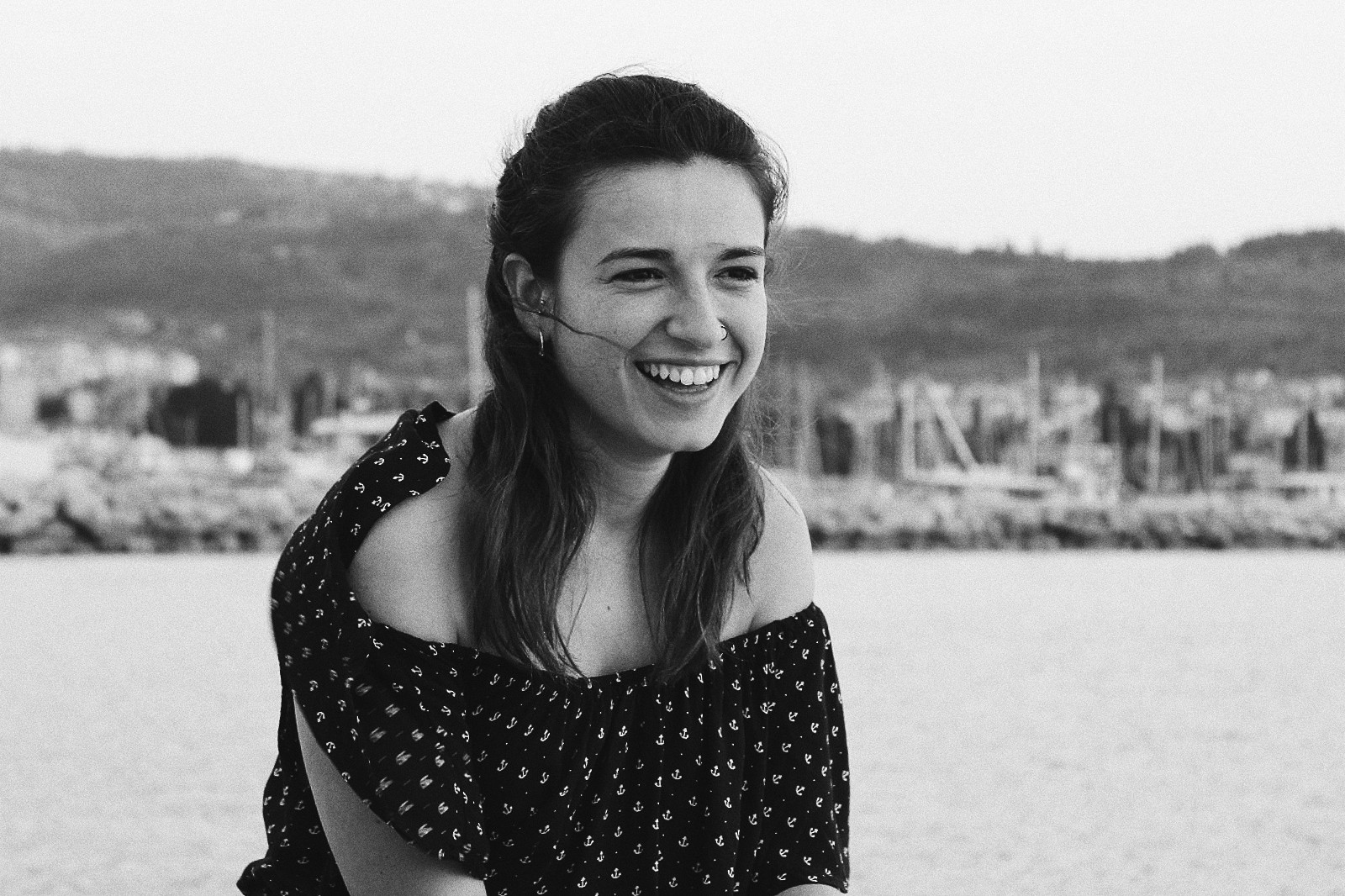 Piran
When we had squeezed everything out of Izola that we could, we decided to go to Piran, which is surely the prettiest town in Slovenia. It reminds me of Rovinj, in Croatia. Our surprise was that when we tried to start the car, it didn't work. The clutch was broken. We started to panic because shortly we had to go back to Slovakia and to tell the truth, taking the car back via tow truck wasn't really an option for us. We tried to get in contact with a mechanic, we asked the landlord of the apartment for help, and surprise surprise, all in a mixture of Italian and English. We don't speak Slovenian, and they don't speak Spanish, therefore those two languages were the two we had best in common. The mechanic arrived and straight away he told us that the clutch had broken and he had to change it, but he couldn't do it until Monday. So we had no solution. In this quite surreal and picturesque moment, two men walked past us and they truly were our guardian angels. They had a look at the car and told us how to start it. We had to push if we wanted to get going, so that is what we did for the rest of the trip. This did limit us a little because after this, all the places where we had to park the car were on flat ground. It would be impossible to push if we were either facing up or down a hill. We'd definitely get stuck.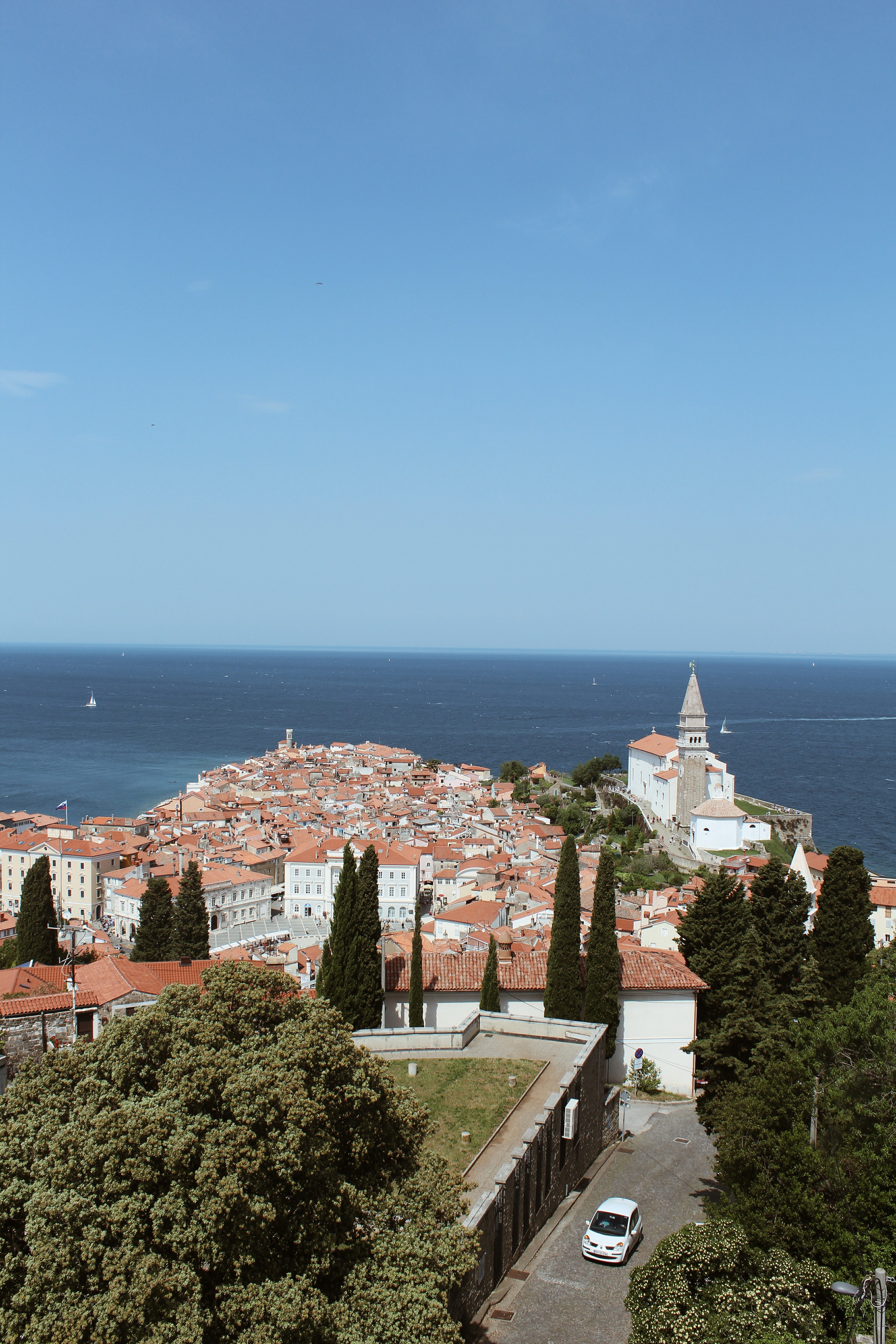 We were finally able to start, so we went to Piran. After finding somewhere flat to park, a little outside the town, we walked towards the centre. The streets of Piran are very similar to those of Izola. There were old houses where the shutters in different colours stood out, restaurants that give off exquisite smells to please the gods, and the sea bordering the entire town. Piran is bigger than Izola so you can spend a while exploring the streets. Before entering the city, there's a castle (€1.50 to get in with a student card), from where you can see the entirety of Piran. It's in a very strange shape that you'd be able to appreciate a lot better with a view from a drone, but we could say that it's like a headland completely full of little houses. Right at the end, the land is very pointed which makes a 15 or 20 degree angle. This is what makes this town so famous and unique.
In Piran, you can see St. George's Parish Church from where you can see the ocean at its wildest and most violent as the wind blows very strongly there. There's also Tartini plaza which is the main one of the area. From it you can see the clock tower of the church, which stands above everything. There are quite a few little houses of different colours, but the majority of them are brightly coloured, and they seem like soft and warm homes, which gives it uniformity with the rest of the town.
We ate in a restaurant which was in front of the sea. When I say that, I mean we were literally 3 metres away from it. There aren't any better views than this to have at dinner. Squid rings and pasta were our orders. Along this whole coastal zone, there are various places where there are little stairs you can use to get into the sea. We stayed on a type of jetty from where we could see all the little houses along the coast. The water was cold, but bit by bit I became accustomed, and in the end I swam a bit. Another original thing that Piran has are two green and red lighthouses. The two intensely toned colours stand out amongst the houses. Paloma and I went there for a while to take some photos.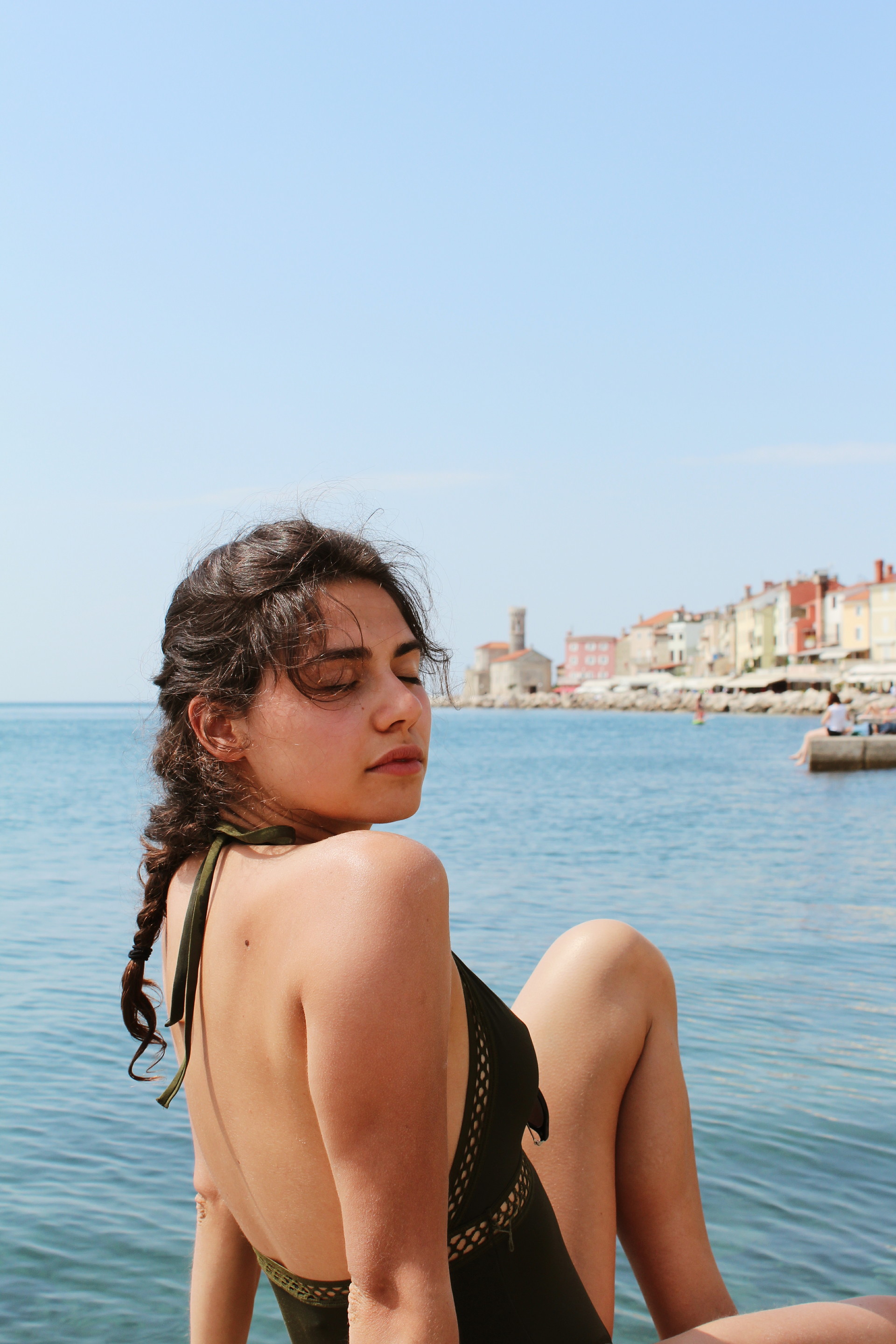 As I finish, I want to add that you can do a longer route than ours and go to other towns nearby such as Koper or Portoroz, although you won't have such good evaluations for these two. I don't think there's a beach, just ports from where you can directly dive into the water, which isn't any problem for me anyway. You can also go to Italy, Trieste, as it's only half an hour away.
Finally, we pushed the car, and went back to Bratislava. Those few days by the sea gave us strength and energy to be able to cope with our time away from home. I went back feeling very happy, as visiting the Slovenian coast isn't something that's very common and I love getting to know less known places and those you wouldn't go to "on purpose" per se. With this, I just want to say thank you to Bratislava for being my home, and for allowing me to get to know places that I would never have gone to if it was down to my own initiative. But now, new places arise every day from living so near to so many of them, which is great. And that's it for today! I hope you've liked it and enjoyed the photos. See you soon, and thanks for reading.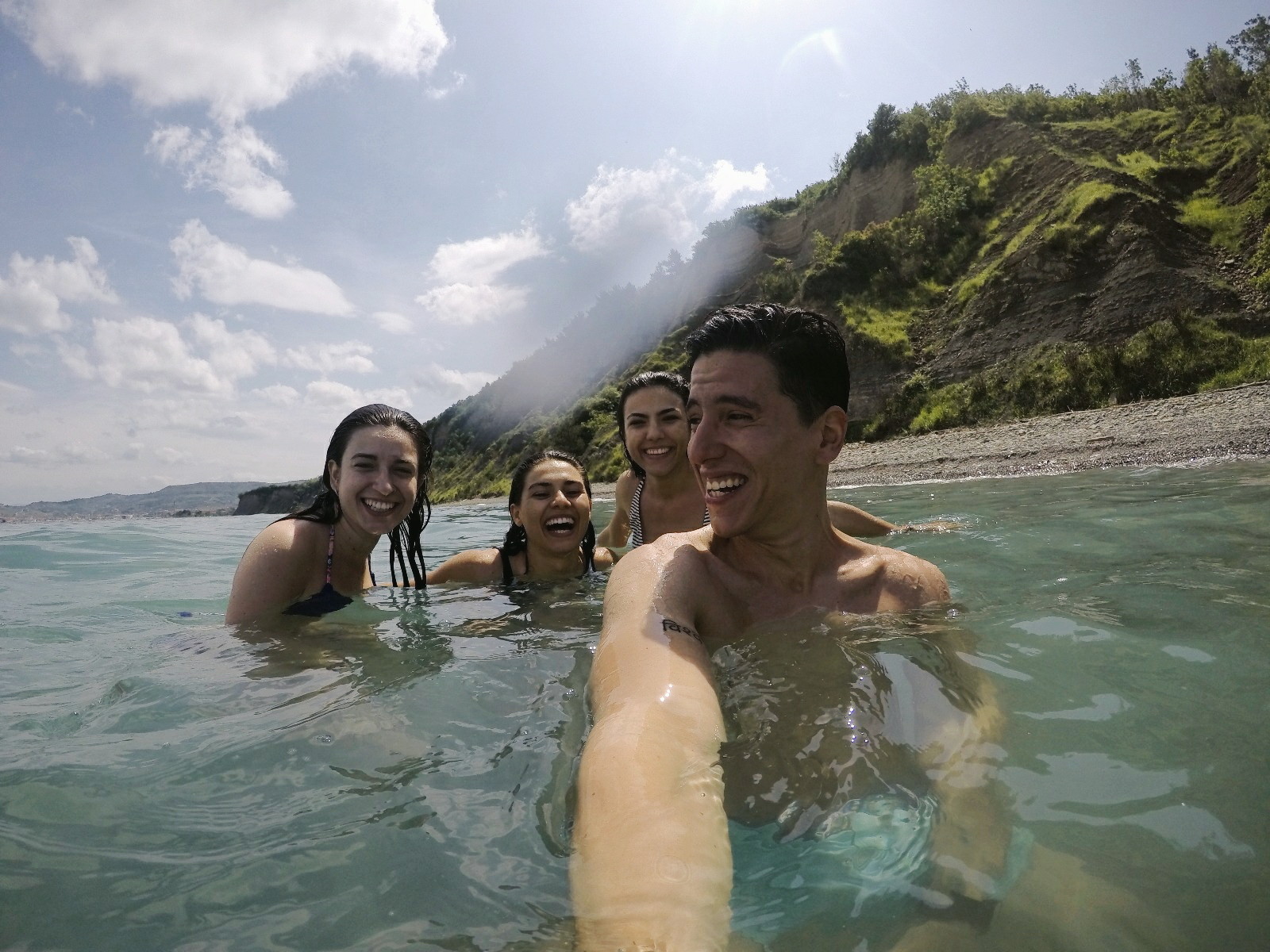 ---
Photo gallery
---
---
Content available in other languages
Want to have your own Erasmus blog?
If you are experiencing living abroad, you're an avid traveller or want to promote the city where you live... create your own blog and share your adventures!
I want to create my Erasmus blog! →