Lollapalooza in Paris (Part 1)
Architecture and landscape

8 / 10 points

Entertainment

10 / 10 points

Culture and customs

8 / 10 points

Transport

8 / 10 points

Gastronomy

6 / 10 points

Prices

6 / 10 points

Party

10 / 10 points

Weather

8 / 10 points
---
I was lucky to have the experience of being in the first Lollapalooza that Paris has ever hosted. In 2017 I was in Australia continuing my university studies. I was able to apply for a semester exchange in a university in France. I was overjoyed to find out and started to plan. Many of my European mates would tell me how crazy Europe would get during the summer for festivals and events. I was heading to Europe at the beginning of July.
The preparation
Since my exchange university in France began early September, I decided to spend time with the family in Spain on July and travel around Europe in August. So I was tight for time.. Unperturbed, I kept on researching for festivals while in Australia.
I checked out festivals in and around Spain. A few good artists here, another great DJ there, until a name caught my eye: Lollapalooza. Without having much expectations, I opened the link to the festival. The design was pretty wacky and colorful. Its a two day festival, I read. I scrolled down to the lineup, and that's where the excitement kicked in.
Milky Chance, Alt-J, Glass Animals, Red hot Chili Peppers, Imagine Dragons, Skepta, The Weekend and the list goes on! They also had about two dozen DJs performing. Some renowned such as DJ Snake and many others.
The performers were playing on four different stages. This allowed a separation for different genres. There were the two main stages, the alternative stage and the electro-dance music stage. I could barely hold my excitement. Less than five minutes, before even planning the logistics of the flights, I secured my weekend pass.
Fast forward a few weeks to mid June, I messaged one of my old mates living in Paris. She was in Australia for a years exchange in the past. I had the pleasure of becoming good mates with her during the time. She was living with her boyfriend at the time in Paris, which I thought was a perfect solution to not only meet up with an old friend, but save around ninety euros staying three nights in Paris.
I managed to catch up with her over the phone and the plan was set. I was excited as to get things on the road. Everything seemed to be going according to plan.
Fast forward to the twenty first of July and I was on my way by plane to Paris. I had originally planned to start my Eurotrip straight away. Although my family weren't too pleased that I wasn't staying the whole of July with them. I decided it wasn't really fair for them as I only see them about once every six months. And bought a roundtrip ticket. Well...atleast I saved in accommodation prices...
Paris
This was the first time I've ever visited France. I was overly excited. However, I decided to sightsee when I begin my Eurotrip in August. Armed with that knowledge, I beelined it my mates place. It was the first time travelling through Paris' metroline. It was insanely busy. I had never experienced anything like it. Lucky it was pretty efficient. The timings of arrival was almost perfect. I needed only two trains to get to my mates place. She lived just south West of the city. Only a short fifteen minute tram trip to Lollapalooza, which was being held in the Hippodrome de Longchamp.
It was still morning by the time I got off the train and marched to my mates place. She was staying in a small town. It was very pretty, the french architecture really shown. I was glad to know that even in the small towns outside the city it is easy to find so much charm and beauty.
I had to walk a steep trek down to get to her apartment. In the strangest coincidence, I met her boyfriend (who I had originally met when they were dating in Australia) on his way to catch the train for a weekend out. We greeted each other warmly, we didn't know each other well but we were in good relations. We caught up for about a moment before he had to rush to grab his train. We wished each other a fun weekend and parted ways. I continued walking on until I finally made it to her apartment.
We greeted each other downstairs, said our excited hellos and took the elevator to her place. I was so grateful that she provided me with her place that I bought her some Turon and Spanish liqueur to enjoy as a show of gratitude. It's always a bad sign if you serve people with your hospitality and they come empty handed.
Her place was very comfortable looking. Her large sofa acted also doubled as a pull out bed. I set my stuff around and we started catching up. I hadn't met my mate in more than a year. So there was quite a few things to talk about.
After awhile we went and enjoyed the warm night-air before heading back before midnight. I wanted to grab some early sleep to prepare for tomorrow. Many end up going relatively late to the festival for when their favourites start performing. I didn't want to miss any experiences. I didn't know many of the performers that were on show. So I decided to head off early to see them.
Day one
Early the next morning, I dressed in light clothing in anticipation for the heat and sun. I packed my printed ticket and started my twenty minute trek to the tram station. Just outside my mates apartment building there was a bakery. I couldn't resist trying the world famed french croissants.
Getting There
I quickly found out that the croissants, along with their Pain au chocolat (or chocolatine) were divine. The taste was sublime. I didn't expect the pastries to taste as good as they did. I reckon I had gotten used to the sugar smothered ones that I didn't anticipate how good these would taste.
My mood boosted and my excitement at an all time high, I kept heading to the tram. I made my way and jumped onto the first tram. It was enjoyable listening to the locals going by their everyday lives. It's an experience I always enjoy, seeing how the citizens of any country I visit act, react and go about doing whatever they are doing.
I got off the tram and began the long twenty minute walk to the venue. I saw many Lollapalooza enthusiasts walking alongside me as we crossed the bridge into Paris. The first event was beginning at 12:45 PM. I had an hour to spare, although it quickly seemed like it wasn't much time to spare. After the long trek to the outside area of Lollapalooza, we were all searched and told that we had to take a long zig zagging trek in the forest, guided by steel fences.
Along the way there were posters of Paris' mascot robots, dancers, skater girls and other colorful characters. There were also posters of all the different performing artists. It felt almost surreal. I heard excited voices, mostly in english. It seemed like many people had the same idea as I had and traveled to France for a good time.
I had been walking the path for what seemed like an eternity. Eventually I made it to a crossroad. Single day ticket holders stood to the left, full weekend ticket holds to the right. Without hesitation I walked to the right. Before me stood a growing crowd. They were lined up in different lines. Each line facing one of several gate entrances. They were playing today's top hits using a portable radio as I stood in the line.
After about twenty minutes, they opened the gates and started allowing us in. I presented my ticket, grabbed my bracelet and started walking to the main area. There was another five minutes of walking before getting to the main gate. On the way, we were provided with complementary energy packed juices to get us pumped.
The entrance looked like the gate to party Heaven, right before it all began. I quickly made my way inside as it took so much time getting here. With my small backpack and a heart full of excitement, I was ready for anything. I made my way to the first performance, Anna Kova.
First day performances
The few weeks after I bought my ticket, I decided to listen to some of the music artists I barely knew. Anna Kova had been one of my favourites of the unknowns. So I made my way to the Alternative stage, which is located close to the entrance, a few minutes walk away. A small group began crowding around as Anna Kova, her supporting musicians and backup singers were about to start.
The performance lasted about forty five minutes and it was pretty good. She treated the crowd as though they were part of one big family. Her singing was also pretty decent. It's a nice style you don't hear in the main radios too often. She combines her beautiful vocals with a sort of R&B style. Some songs she would sings, others she would outright spit rhymes without taking a breather.
It was not music I was used to, but I enjoyed it thoroughly. The crowd was slowly growing but still lively for its size. She ended her performance by bringing out all her backup singers who were different groups depending on which song they played. There was about ten of them. They all lined up and provided amazing backup vocals that was topped off with Anna Kova.
After the performance ended, we all cheered and praised the artist. I then quickly made my way to the Jeremy Loops performance which had just started at 1:30 PM. I didn't realise how large this area was until I had to walk from the Alternative stage, which is roughly at the centre right of the venue all the way to the far left where the two main stages were.
On the way there, I noticed a large Eiffel tower replica standing tall in the centre. It rose about ten metres into the air. Along the way I also passed some festival clothes shops, a Levi's jeans shop (absolutely random) and many eateries.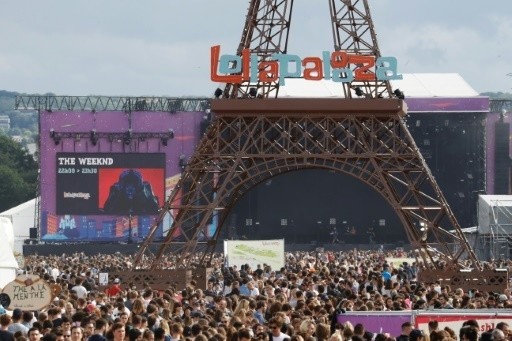 After criss crossing through crowds of people, I finally made it to Jeremy Loops. I was standing about twenty meters from the massive stage. It was the perfect spot to hear the music and have a comfortable sight of the large screen concert tvs.
At this point the festival was going on its way. The crowds started getting pretty large. The area I was in was particularly crowded. It made sense, Main Stage One and Main Stage Two were located less than a eighty meters from each other. Max Jury was performing in the stage (A decent artist, although I mainly listened to Jeremy Loops).
I found out that Jeremy Loops was on tour before in 2015 although it had been cancelled due to the Paris attacks. His concert was overall enjoyable. He had a couple of sing along songs. It was fun to sing with the growing crowd.
Tough choices
As with many festivals, there are multiple performances going on at the same time. I always had to make a tough choice of which one to pick. Most of the times if I found a good performer I would prefer sticking with them.
Luckily, I decided to do some research beforehand and listen to many of the bands and groups beforehand on spotify and youtube. It's the best way to make sure you enjoy your prefered artists.
In my case, I chose to stick around Main Stage One after Jeremy Loops clocked off. Lemaitre was performing. They are a Norwegian electro-music duo who had some pretty good songs. If you ever get the chance to listen to them, I would recommend listening to the song Stepping Stone. They were very lively, jumping around, cheering the crowd on, flashing lights and all. It was exciting and many of us in the crowd were dancing to some of their songs.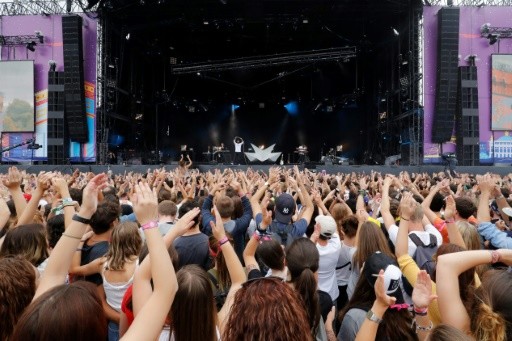 I decided to stick around until the last fifteen minutes. Then I strategically made my way to Main Stage Two to watch one of the several bands I was especially looking forward to this festival: Milky Chance.
Anticipated bands
Many singers around the world have use audio-tuning to make album songs sound especially good. The singer Clemens sounded absolutely amazing live. Milky Chance played many of the big radio hits such as Stolen Dance and some from their new album Blossom. I was blown away by how good they were. I was prudent enough to go earlier so as to get pretty close to the stage. If any of you haven't heard of the band, they're a german folk and rock band that have quickly started to gain prominence.
The lead singer's voice is especially good. I would definitely recommend looking into the band and some of their songs. Their origins, like many of the performers here are pretty humble and interesting.
I was feeling goosebumps all over my body by the end of it, At that point I was almost ecstatic that I chose to come to Lollapalooza. At this point it was 5:30 PM, I decided to head over to the Alternative Stage to watch the Glass Animals perform.
If you're into Alt-J, this lesser known band will provide a similar type of music but still unique in its own way. I also noticed that the smell of weed was more prolific in this area. The singer had an interesting voice. From this point Glass Animals became one of the most consistent bands I listened to for the next several months (from the groups of bands I barely heard of).
I recall the most memorable part of that concert At one point one of their songs, Pork Soda came on. Right before the song started, a random in the crowd managed to surf a whole pineapple onto the stage, which the lead singer gleefully picked up.
I was confused as, I then realised it was a running joke in that song. There was a specific lyric passage "Pineapples are in my head. Got nobody 'cause I'm brain dead" which explained it all. In essence, they are an indie rock band, but a lot more indie than actual rock. I definitely recommend them.
During this time, Skepta had been playing on one of the main stages. I wasn't a big fan of the bloke but I recalled how many of my friends from the UK fanatically enjoyed this group.
Chow Town
If you're hankering for a meal to enjoy, make your way down to Chow Town. This area is set up with multiple food vendours that will offer you a great meal to fuel you through the concert. They have a large variety of options to pick from. You could enjoy Pizzas and creamy pasta boxes from Italian vendors, Chinese food, Burgers, Vegan and vegetarian stalls, burgers, fries, Mexican, Middle Eastern and much more. They even offer juicebars that I would recommend going to as they offer you a Lollapalooza themed hard plastic cup for for a two euro deposit.
The way I see it, its a two euro souvenir from the venue itself. The two euros also fully pays for the cup as they order in large quantities. Every year they offer new restaurant chains and different types of food. This is the case for the regular Lollapalooza, I've read. I would put my money that it's the same case for Paris Lollapaooza. We'll figure it out by next year's Lollapalooza.
It was 6:30PM at this point but the summer sky still had some light to it. I decided to go grab some food before moving on to the next performance. This venue was massive, but it was packed to the brim. I had to wait fifteen minutes to order a large juicy falafel and some coconut and pineapple juice and some water. Concert food usually isn't cheap, for those who weren't aware. So if you're on a budget, bring sufficient muesli bars and energy food to keep you going. I walked over to the area before the main stage.
This area is a large grassy area where many families, couples and groups of mates were sitting. I sat down and enjoyed my much needed rich food. There were large screens to watch the concert from a distance. So you wouldn't miss a thing. It was starting to get a bit chilly. I found this a bit shocking but you have to keep in mind, I am in northern France.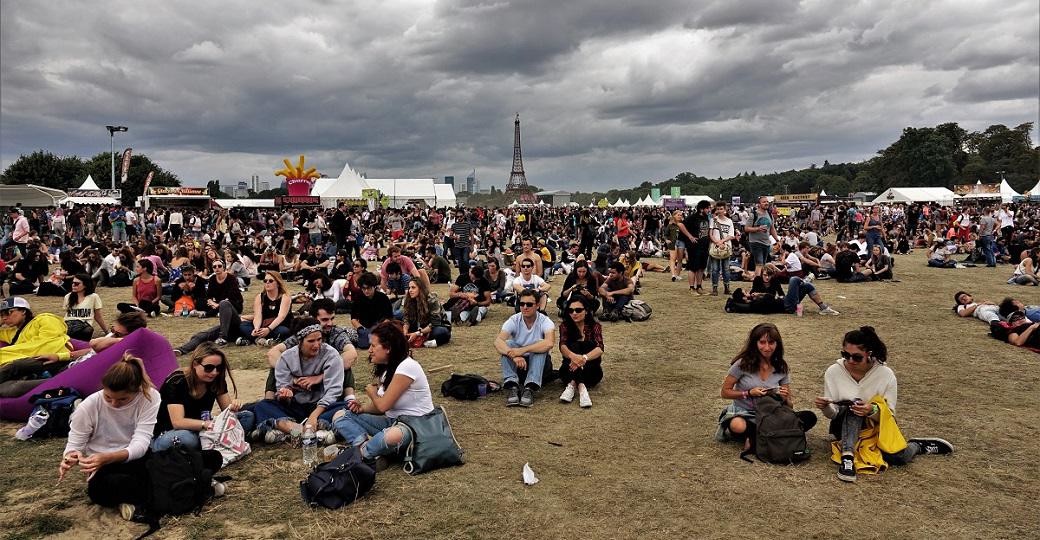 Back to the bustle
After my enjoyable meal and chilling for a bit, one of the screens was showing the performance of The Hives. It looked interesting so I made my way to Main Stage two. If I wanted to sum up The Hives in a few words, I'd describe them as a flamboyant rock band with great tunes and a cocky lead singer. I thought the days of lead singers acting full of themselves died in the 80s and 90s. Of course, it could simply be the character personality he's trying to act for the sake of the band. Regardless, they had some nice songs like 'Tick Tick Boom' and 'Try it again'. They were very lively and were successfully doing their best to transfer this energy to the crowd.
It was also interesting to see the makeup of the crowd. You had your chain wearing rockers, your well-dressed 'night out' girls and guys, people that look like they haven't graduated highschool, elderly people and all other sorts. I found it refreshing seeing all the different people from all walks of life. It shows how at the end of the day it's not too difficult to enjoy a great time from people who are not too similar to you.
I decided to stick around and rock out with The Hives until the biggest performers started playing (which are at the end of the day). They performed several hype songs, and advertised their band in between almost every one of them. I later read up about them. Apparently the band had begun in 1989, almost three decades ago. The lead singer Pelle Almqvist began the band when he was only fifteen years of age. I reckon if you're a good singer and especially lively, you'll have a higher chance of getting far in the music business. In their case, three decades seems pretty succesful.
After the band concluded, I found myself with an hour to burn. I had to choose between LP or The Roots if I wanted to listen to a band. Neither were really tantalising options. So I decided to check out the electro-stage out. The sun was mostly set at this point. The lights from electro-concert lit up the surrounding sky. I was thrumming with excitement. It took about fifteen minutes to reach to the other end of the venue with the large clouds flowing like one massive ocean. After swimming through the crowds, I finally made it.
Electro-music
The area was full of life. The music and deep bass thumping through massive stereos electrified the air. The crowd moved wildly around. Yellow Claw were performing and they were doing a pretty good job at it. I decided to spend roughly twenty minutes here. Enough time to get back and squeeze my way as close to one of the main event concerts as possible. It was a great experience dancing in the crowd, not knowing anybody and doing it out of your own pleasure.
Back to the Main Stage
No need to think about impressing anybody or eye contact or anything as such. After several songs, I had to almost drag my way out of the stage area to head to the main stage. Luckily there were two concerts going on in the surrounding stages so not too many people were queuing up to the very front. I squeezed myself in until I was only several metres from the stage. I was lucky enough to have a group of three superbly short girls in front of me. This allowed a spectacular view of the stage.
Then the wait began. One of my favourite modern bands that I used to binge listen to since the very beginning: Imagine Dragons. The anticipation was killing. The crowds were tightly packed. Glad I wasn't too claustrophobic. It also started to get cooler, thankfully. Being squeezed into a crowd is too warm of an experience.
It felt great to feel so alive. It might seem trivial to some, but travelling to the otherside of the world, going to a concert in a land you've never visited before, surrounded by nothing but enthusiastic strangers listening to music from all over the world, some you have been listening to for several years. It was an indescribable feeling,
The minutes slowly went by, after what felt like an eternity the last couple of minutes were passing. The lights dimmed by, I felt excitement coursing through my veins, the crowd was electric. The lights started to flicker, the crowd started cheering and then the lights shut off. The crowd completely quietened, then an explosion of colorful lights sprung to life! Imagine Dragon band members jogged on stage, the crowd imploded with joy. They played many greats hits such as On Top of the World, Walking the Wire, Thunder, Believer and many more. I sang to every single song. It was a great feeling to have such a great connection with the music and the band through the lyrics.
At one point, the lead singer, Dan Reynolds tore a hole through the bottom of his pants. He was such an enthusiastic and go-lucky guy. He laughed it off and even took off his pants. Dancing and singing in his tighty whities (they were actually black). He tried to peer pressure the lead singer, who was oen of his oldest close mates, to remove his pants, but he refused. He tried to use the crowd to peer pressure him but to no avail. Unshaken, he decides to continue with the next song pantless. It was an experience. We shared good laughs and a great sing along.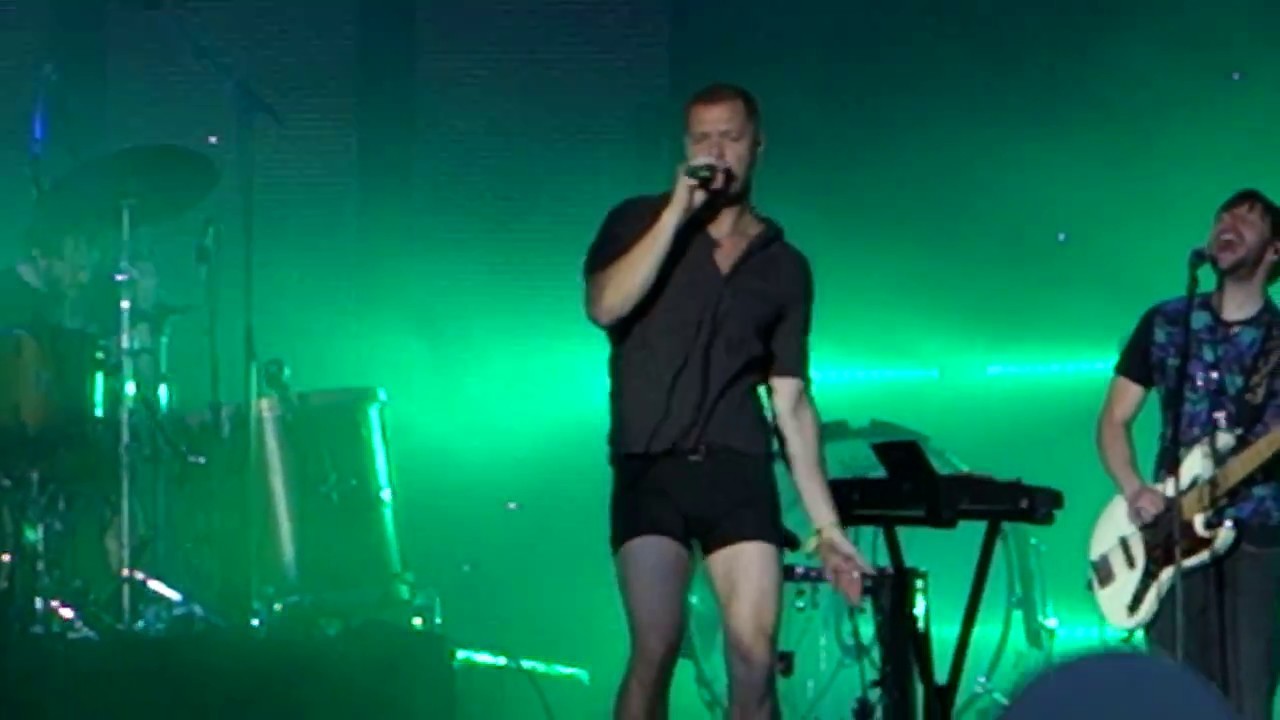 I also admire his mentality. In life very few things I would say are truly embarrassing. Most of the time it's how you react to it. If you decide to laugh it off, people would respect you that you don't allow such things get to you. That's exactly what happened there. Imagine it as media portrayal. If he ripped his pants and continued performing. People who catch photos of it would mock him online or innocently have a few laughs. While if he jokes about it and goes all out, he'll be portrayed as an easy going person that doesn't allow small things as such to get to him. It's all about the 'victim's reaction.
After a song without pants, he was given cargo shorts to finish off his performance. The whole thing seemed surreal.
They performed for an hour and a half. Not including encores. By the end of it I was buzzing. Adrenaline and excitement coursing through my body. I felt like I was on a high. They concluded the concert with Radioactive. The song that shot them to fame. We were all shaking and jumping with excitement. The Weeknd were performing on Main Stage one, but I wasn't too keen to listen to them. I decided to head home.from there.
Not calling it a night
It was 10 PM by the time it ended. Thousands of people were heading to one side of the venue to the other. After a fifteen minute walk, of what should've taken five minutes, I reached the large entrance with the huge Lollapalooza sign above my head. I walked through the steel fences, this time heading straight from the road rather than looping around like at the beginning of the day. A minute into the walk I heard loud bass thumping music. The high was coursing through my body and I realised, my night isn't over. I forgot that the electro-dance stage was still going in full force.
As it was nearing the end of tonight's performances, I started running back. Backpack bobbing against my back as I'm almost at full sprint. I made it to the stage and dived in. There were people dressed in neon clothes, some wearing masks, all of them having fun. I danced to many known and unknown tunes.
I was shaking a leg, busting a move and moving to every beat and bass drop. This was the first proper festival I had ever been to, and I loved it. You don't need any mates to enjoy a great time at a festival. I would still recommend grabbing a few friends to festivals as it'd be a great bonding experience.
Sweating and exhausted, the last song concluded and I hobbled to the entrance and made my way back. Along with large crowds leaving, there were police officers everywhere. It was pandemonium. I followed my original path to my tram. Fifteen minutes of an uphill trek I finally made it. The tram was full with exhausted festival goers as we all dropped off, few by few, to our destinations.
I went home, showered, chit chatted with my mate and passed out in the pull out bed. Too exhausted to move but glad that the first performance starts past noon. That concludes my unforgettable first experience at a festival and the first Lollapalooza in Paris. I was elated that I had another day to go.
---
Photo gallery
---
---
Content available in other languages
Share your Erasmus Experience in Paris!
If you know Paris as native, traveler or as exchange student... share your opinion on Paris! Rate different characteristics and share your experience.
Add experience →