Weekend trip Bavaria: Day 3 - Munich (Pt1)
The last day of this Bavarian trip was spent in the Bavarian capital – Munich, alongside my friends. After Nuremberg and Schwangau - for more details on the rest of this weekend check my articles about my first and second day in Bavaria - it was time to get to know Germany's "second capital city" - Munich, certainly a very different one from Berlin.
Actually, to meet João (our host friend in Freising) on the first day, I arrived at the bus station in Munich in time for us to have dinner, so he showed me one or two streets but it was not nearly a sample of what Munich has to offer, so we reserved Sunday to visit it properly and all together.
To enjoy as much time as possible in the city, we caught an early train from Freising (and as before, we had to buy a Bayern ticket for three passengers), leaving at Munich's central station – Hauptbahnhof.
From there, our plan was to start the day by going to the beautiful Schloss Nymphenburg, which is located on the west side of the city, a bit far from the center, so we had to catch some other transportation. I cannot remember which one exactly we choose, but it was either U-Bahn U5 to Lainer Platz and then bus 51/151, or tram 16/17 to Romanplatz.
After walking a bit, we entered the park by its eastern side, which gave us a great view of the exterior of this enormous palace, despite the crappy weather.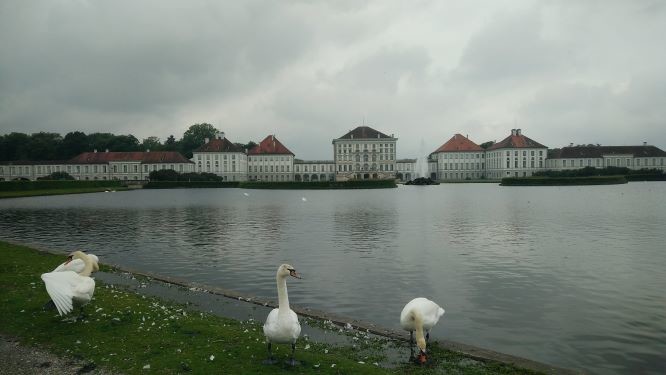 Nymphenburg Palace at distance – view from the outside lake
The outside lake you see in this picture, habitat of gooses and ducks, is of such massive extension that it takes you 10 minutes to go around, actually forming a canal of over 2 km that goes all the way to Grunwaldpark.
The "Castle of the Nymphs", as translated to English, was built in baroque style in the late 17th century and used to be the summer residence of the former Bavarian rulers of House of Wittelsbach. Having just one day in town, and a lot to cover, we chose not to visit the inside of the palace, but this is a good idea for those who have more time to spend in Munich! Check the official website for information on admission prices!
Around the palace, there is a 200-hectare park that started out as an Italian style garden, being later augmented and rearranged in French and then English styles. It really is gigantic, so we only explored a bit of it.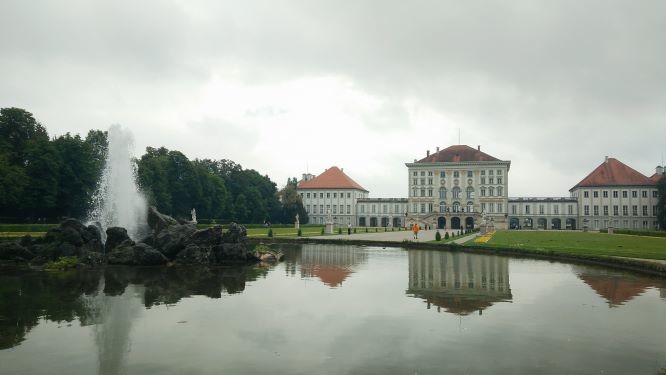 Nymphenburg Palace seen from the inner gardens
The main original baroque elements were conserved, as we can admire by the garden symetric design patterns - "parterre" (a very popular feature at the time and seen in many palace gardens around central Europe, for instances in Viena's Belvedere and Schönbrunn), giving a beautiful display.
The park is bisected by a large internal canal, leading from the palace's central pavilion to the marble cascade on the west side, all the way decorated with stone statues representing Greek and Roman mythology. On each side of this canal there is one big lake, and it is worth to take a look at the several small palaces and monuments found in the venue, that is just perfect for walks and to breathe fresh air in the city.
As you can hint from these pictures, it is truly beautiful, consequence of the many elements that compose the palace and the garden, but to get a real glimpse of this place's magnitude you have to see aerial shots.
Our only complaint was the weather… We were not so fortunate, so we did not get to see the bright colors and shining lakes. We got clouds and grey weather, typical Germany. I know I have been talking a lot about the weather on this trip, but it was rather annoying. Sometimes you see these beautiful pictures online of monuments and locations, and then you get a bit disappointed with what you actually see when you go there. Not that we were disappointed with the palace, but rain always ruins landscapes, besides being a massive inconvenient for travelling freely. Because who wants to carry an umbrella and get soaking wet while sightseeing?!
We did have a great time in Munich though, and I am sure that it is even more pleasant in a sunny day.
As we were carrying our luggage (again annoying), we were a bit tired but as young people willing to enjoy the most out of this last day in Bavaria, we decided to walk all the way until reaching the city center, following that external canal I mentioned before and then Nyphenburg Strasse. It only took us 40 minutes….
One of the many city gates existing in Munich is Propylaea, located on the square Königsplatz. It is a doric order temple-like structure from the 19th century, erected as a symbol of the friendship between Bavaria and Greece, thus being similar to the Propylaea of the Athenian Acropolis.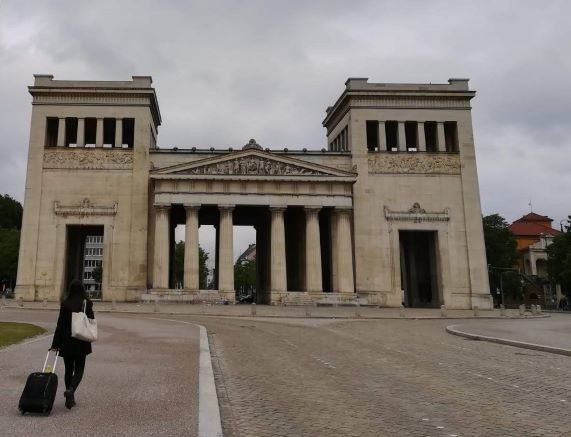 Walking towards Propylaea, at Königsplatz
Königsplatz is framed by several museum buildings, on one side the Glypothek (in ionic style, on the other side, the State Museum of Classical Art (in corinthian style). Clearly reporting to the european neoclassic style from the 19th century, this is a very cultural area, where we can also find the museums and Lenbacchaus on the north-west side, and further ahead after crossing the Propylaea, Alte Pinakotheke, Neue Pinakoteke and Pinakothek der Moderne, thus being refered as the gallery and museum quarter - Kunstareal.
Of course all the museus are worth the visit (so check the official websites for more information on prices and opening hours), but perhaps the most signficant are the "old, new and modern galleries" I last mentioned, that as a whole cover significant art collections from the 14th to the 21st century.
Alte Pinakothek, that houses the "Milestones of European Painting", is a unique concentration of artworks from Middle Age through Renaissance and Baroque, up to the end of the Rococo. The neoclassical building projected by architect Leo Von Klenze's (having been completed in 1836), was groundbreaking for European museum architecture at the time, providing the setting for this treasure of occidental art. I do not have a picture of it unfortunately, but you can look it up online.
Neue Pinakothek shows us art "From Goya to Picasso", having been founded by King Ludwig I in the mid-19th century as the first public museum in Europe exclusively dedicated to contemporary art.
On the other hand, Pinakothek der Moderne opened in 2002 and showcases modern art.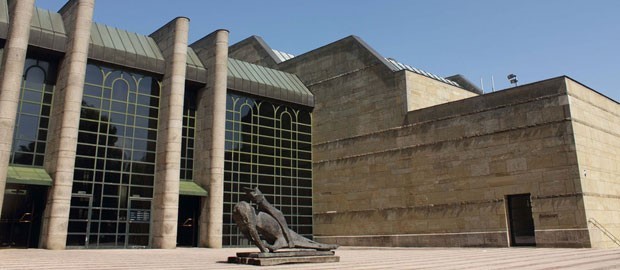 Neue Pinakothek
Not far from here is the "Bayerisches Staatsbibliothek", meaning the Bavarian library, as well as the University Library.
Considering all these buildings I have been describing and how close students are from historical venues or other iconic landmarks, we cannot help but to feel a little bit jealous of how lucky they are to be a part of such an inspiring artistic/cultural/historical district during their study years.
Having been walking for some time, we decided to head to Marienplatz, where the impressive new Town Hall - Neue Rathaus - is located, at the heart of the city.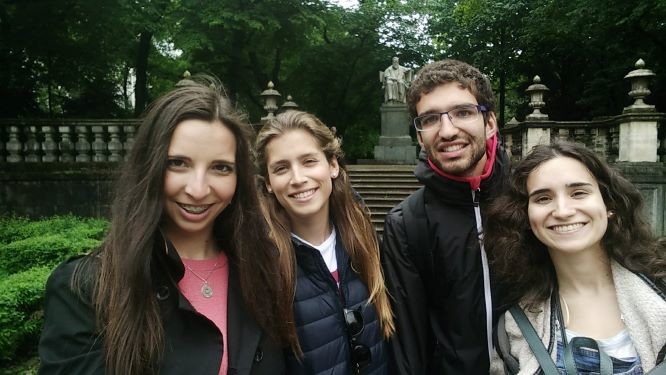 Selfie time while exploring Munich
Neue Rathaus is a magnificent neo-gothic building from the turn of the 20th century that architecturally dominates Marienplatz. It is a beautiful spot and a main, unskippable, attraction. This is probably one of the first images that you get when you google Munich, and there is so much to say regarding its design and features, both on the façades and interior, that it would take all day. Therefore, I advise you to admire such architectonic beauty from inside out.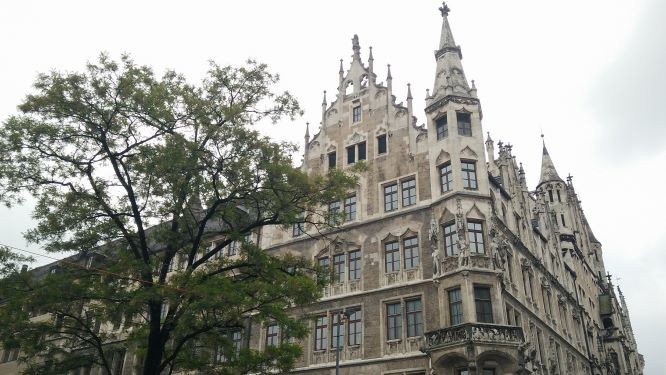 Back façade of Neue Rathaus
To enhance its fame, every morning at 11am and 12pm (and in the summer also at 5pm), its clock - "Rathaus-Glockenspiel" - consisting of 43 bells and 32 life-sized moving figures, chimes and reenacts two little stories from the 16th century. The famous clock puts on a show that lasts about 15 minutes (because the duration depends on what tune is played), and at the end, a small golden rooster placed at the top chirps three times, finishing this entertaining moment for delight of everyone reunited at Marienplatz.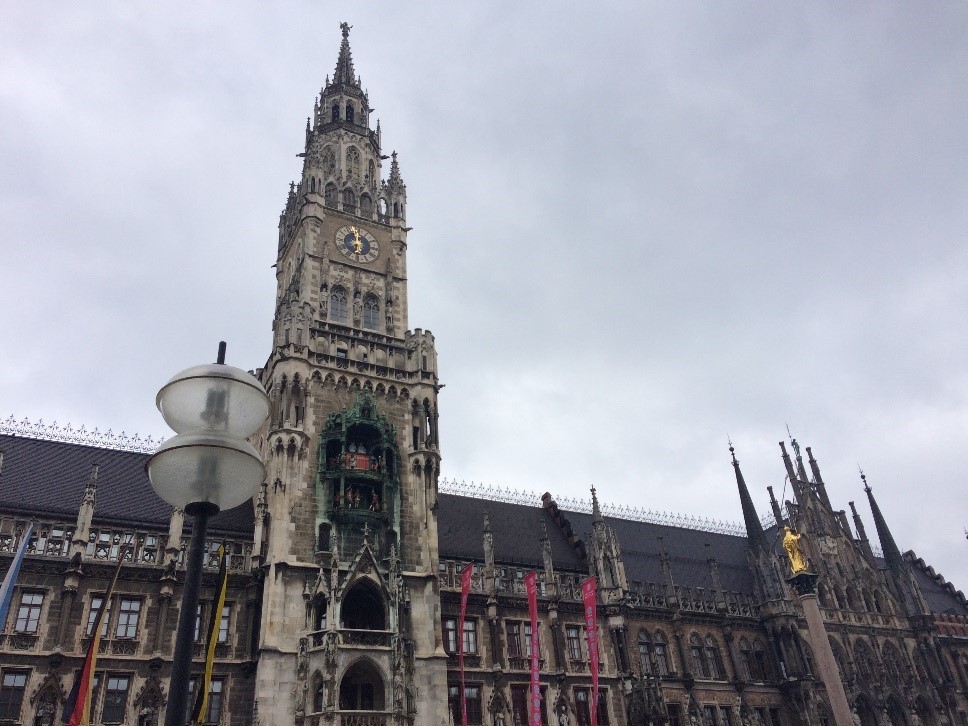 Neues Rathaus, at Marienplatz
The two stories portrayed are as follows. First, the top half of the clock plays the marriage of Duke Wilhelm V to Renata of Lorraine, with a joust in their honour being held between Bavaria and Lothringen, to which the winner are always the Bavarian knights. The bottom half comes second, showing the dance of the coopers, called "Schäfflertanz".
The telltale is that the coopers (local barrel-makers) have danced with hoops through the streets of Munich to "bring fresh vitality" and smiles to people's faces during 1517, a devasting year of plague. Hence, their dance became a symbol of perseverance and loyalty through difficult times. Traditionally, this dance is performed in real-life every seven years during the German Carnival. Those who travelled to Munich earlier this year, between January and Shrove Tuesday, were luckily able to enjoy this amazing, special performance.
Obviously, we thought it would be quite cool to see the 12 o'clock event, so there we were, appreciating the show from the square, alongside a million other people. It definitely something to enjoy if you have the chance.
After spending some time in the square, we followed Kaufingerstrasse, one of the main commercial streets. Here you can spot the remarkable red brick gothic style church - Frauenkirche ("Cathedral of Our Dear Lady") - considered a symbol of the Bavarian capital city with its two towers, that interestingly enough were actually built later, during the Renaissance, not necessarily matching the architectural style of the building.
Ending up at Karlplatz, we then strolled around to Sendlinger Tor, a southern city gate in the historic old town area of Munich. It once served as a fortification for defence purposes, and it is one of Munich's three remaining gothic town gates, besides Karlstor, that we had passed before, and Isartor, located on the opposite side of these two, near the Isar river's isle.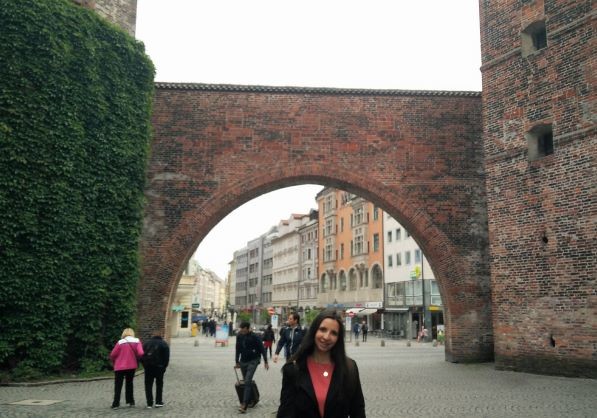 Posing at Sendlinger tor
Tired and hungry, we decided to have a beer and eat something! You simply cannot visit Munich without drinking beer (even though I do not like it), and what better place than Hofbräuhaus…
Stay tuned for part 2 of this day!
---
Photo gallery
---
---
Content available in other languages
Want to have your own Erasmus blog?
If you are experiencing living abroad, you're an avid traveller or want to promote the city where you live... create your own blog and share your adventures!
I want to create my Erasmus blog! →