Weekend trip Bavaria: Day 2 - Bavarian Castles
It's a known fact: Erasmus is not an unusual thing anymore. This is great for every student and it means that, just as me, other Portuguese friends from my University decided to go for the adventure of their lives!
The same way I was in Milan, João was in Freising (Munich) and Catarina and Francisca were in Vienna. So, the plan for this trip in mid-May (just before my birthday) was simple: we decided to meet in middle and get together in Germany, where João was, for a wonderful weekend!
Since Bavaria has so many great places to visit, we wanted to get to know not only its capital, but also the Bavarian castles near the town of Füssen, where the famous Neuchwanstein (a. k. a Disney castle) is.
And well, as you may have read, before meeting everybody I got the chance to visit Nuremberg, so check out on my blog what I wrote about this lovely Bavarian city!
Still on day 1, after all of us were reunited late at 11pm, we headed to Freising to get some rest. It turned out that Freising was not so close to Munich as we once thought - João's university campus was TUM School of Life Sciences Weihenstephan and the residence he was staying at was close to it, but a bit far from the main city's center.
Important note: If you have friends studying there, be prepared to spend >10€/day to get from Freising to Munich/Munich to Freising. We bought the Bayern Ticket for 3 passengers (39€/day) that you will find more advantageous if you are travelling with bigger groups. Go to the Bahn website for more info on the Bayern tickets!
Anyway, let's get to the Bavarian castles!
Day 2 of my Bavarian trip started really (really) early, as it took us one hour to get to Munich Central Station, where we caught the bus at 08h30 to Schwangau. The trip took approximately 2 hours and our arrival time (10h40) was ideal for a one-day visit.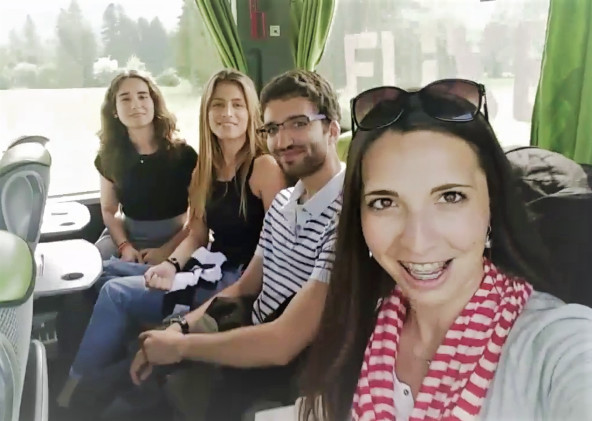 Flixbus ride - "Such an excited group of friends, so early in the morning... "
As we were getting to Schwangau, where the castles are held, the green sights were everywhere and we were already getting glimpses of the two castles – Hohenschwangau and Neuschwanstein.
When we arrived, we decided to walk around the area and visit some of the surrounding gardens of the Schwangau castles. There are many routes you can follow (not just the main ones), and since we did not have a specific plan, we just decided to explore freely and ended up having pleasant surprises in many viewpoints along the way.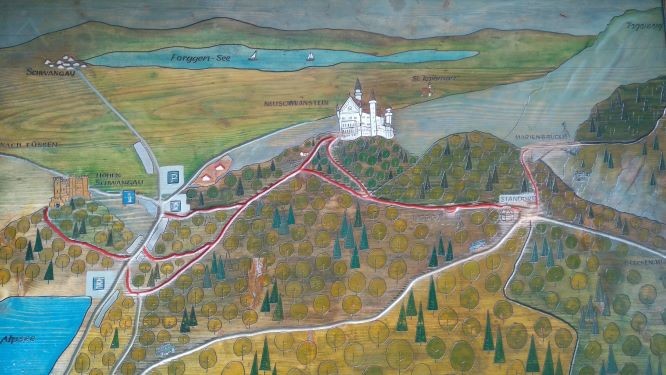 How to get around in Schwangau
The gardens of the Hohenschwangau castle are of easy access on foot and we started our walk there, where we took some (a million) pictures, perfectly happy and enjoying our morning spent around this colorful castle.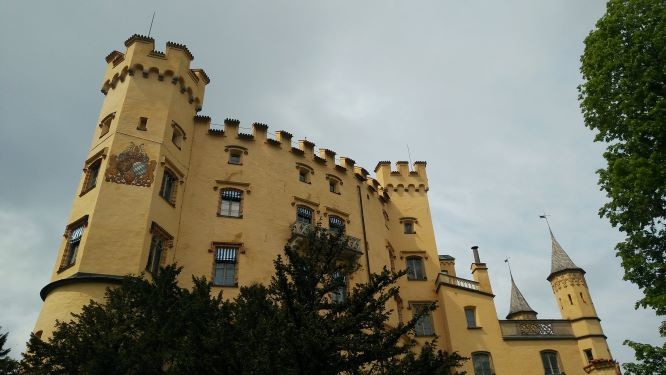 Hohenschwangau castle
This was where King Ludwig II, the "Fairytale King", spent his childhood; a castle that dates back from the 12th century and was the home to the knights of Schwangau. However, over the centuries this castle has been badly damaged.
Just a bit of historic context: in 1832, the later-acclaimed King Maximilian II acquired the medieval Schwanstein Castle and rebuilt it in a new Gothic style as today's Hohenschwangau Castle, after five years of work. He and his family used the Castle as a summer and hunting residence. After his death, his son Ludwig II designed the royal rooms on his terms.
The royal apartments, the gardens and the kitchen have been preserved and can be visited. The interior from the 19th century is still preserved until today.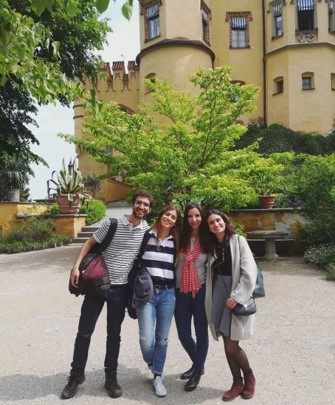 The four of us visiting the gardens of Hohenschwangau
If you like trekking and exploring nature landscapes, this place is perfect for you. As we were walking around, we ended up in this beautiful place near the Alpsee lake (located southeast of Füssen), where we could just enjoy the view and breathe fresh air.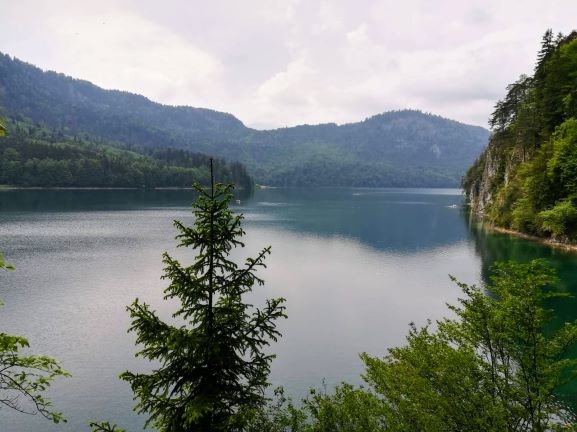 Viewpoint for the breathtaking Alpsee lake
I am not able to tell you exactly where we had to go to get this view to Alpsee… But it was not hard at all and did not require extensive time or physical effort.
One of the best features of this place is that it was not crowded so we enjoyed it peacefully. Tourists (especially the ones in excursions) usually go right up to the Neuchwanstein castle or the viewpoints up the hill so we do not find many circulating around Alpsee.
Depending on the time you have and what type of tourism you want to do, you will find some indications that will help you to know where to go. There are many directions you can take, so if you are planning a visit to Schwangau, you can check the maps available on-site and do your itinerary, including following some of the hiking paths. For our chosen "exploring as we go" near the lake, there were plenty of signposted paths through which we guided ourselves.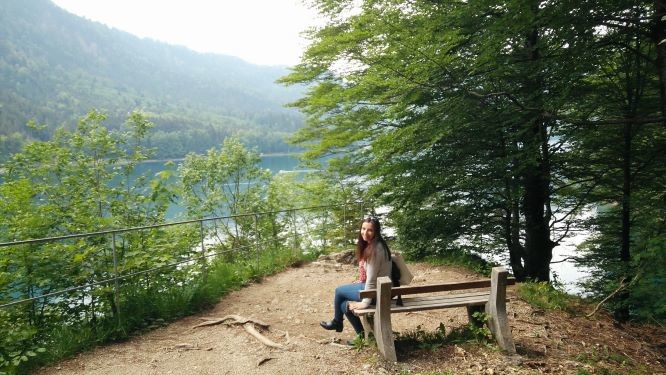 "Insert Instagram description like "
We had lunch (sandwiches and drinks that we had brought) around the lake as there are spots where you can seat back, relax and enjoy the view. This lake is a quite popular attraction as it is close to the castles and often come to shore wild swans.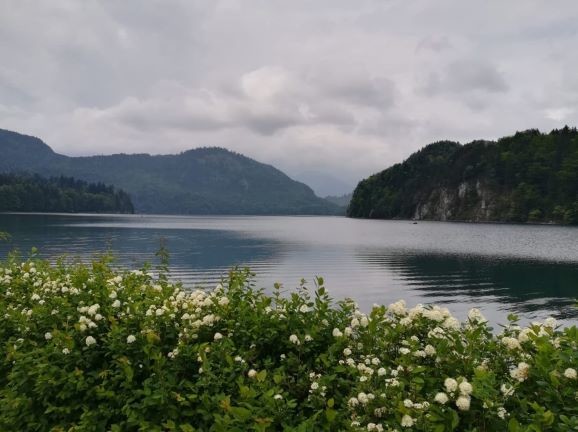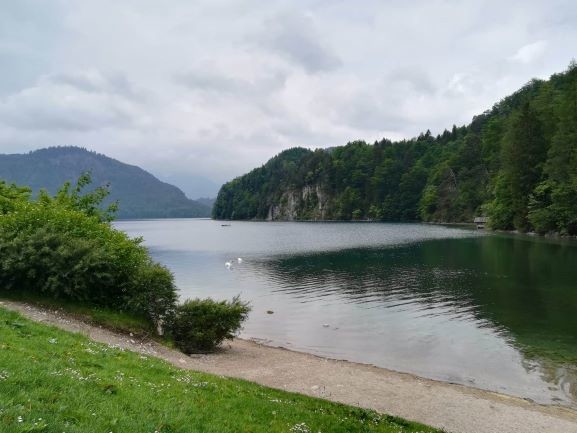 "Lunch with a view"
As you may have noticed in the pictures, the weather was not so good and it seemed that rain was on the way... Still, we got lucky that it only hit us later in the afternoon!
We then thought about the best way to get to Neuchwanstein castle. Unfortunately, we realized that we did not have the time to visit the inside of the castles… Even though the weather was not favorable, the whole place was filled with tourists and let's just say that the immense line for tickets was not time friendly. At all…
Instead, we decided to get a nice view of the Neuschwanstein castle by going up the hill. You can either go up on foot (it will take you about 40 minutes), get there through a horse-drawn carriage or use the shuttle bus. For the latter, you can buy a one-way or round-trip ticket to take you up there and bring you back down.
For all the information about ways to get to the castles and visit them, you can check the prices and timetables at the official website.
We took the shuttle option and hopped on a bus that was quite packed… When we arrived, there were again multiple choices for exploring, as there are many viewpoints and places to take a look at the castles up there.
One of them is Marienbrücke, the Queen Mary's bridge, near the shuttle stop. Contrasting with our calm and relaxed walk in the morning, here there were many tourists and the bridge was always fully occupied with people.
Because of this, the entrance is controlled, and you may have to wait for a while until you get there. And let us not forget the actual exercise involved in this "trekking" - it is not an easy, straight walk and with so many people doing the same, you have to be cautious not to fall, especially if the land is slippery, as it was this day.
But, once you are there, you have a beautiful and panoramic view to the Neuchwanstein castle. Even though you will find it difficult to take a picture without tourist photobombing, it is worth it and overwhelming to be up there experiencing such a breathtaking view.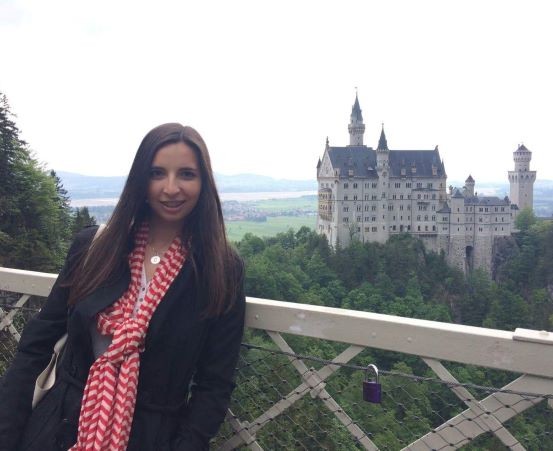 Neuschwanstein castle seen from Marienbrücke
Neuschwanstein castle is one of the most visited castles in Germany and one of the most popular tourist destinations in the world!
Its construction was ordered by King Ludwig II in the late 19thcentury. As the king admired Richard Wagner's work, Neuchwanstein castle was built in his honor and the rooms were inspired by Wagner's opera characters. Its name literally means "New Swan Castle" referring to "The Swan King". By this time, castles no longer had strategical and defensive purposes and even though it looks medieval outside, its inside was equipped with state-of-the-art technology for the time.
The magnificent landscape surrounding the Neuschwanstein castle, located on the top of a hill and overlooking the Hohenschwangau valley, enhances the fairytale feeling you get when visiting this area. In reality, it was this particular castle that inspired Walt Disney to create its Magic Kingdom.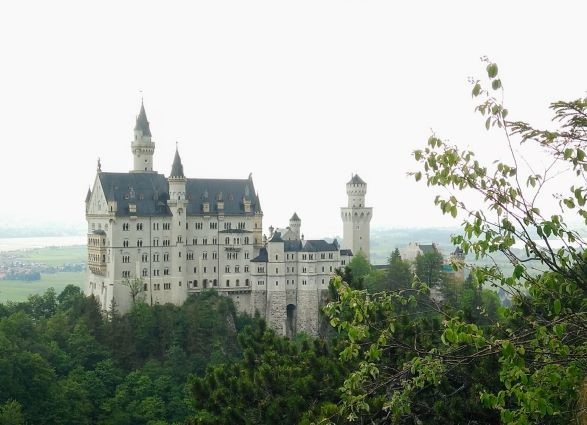 Neuschwanstein castle - the inspiration for Walt Disney's Magic Kingdom - upclose
And from up there, there is also a nice view to Hohenschwangau, the other precious castle we saw earlier. Exploring a bit more by going through trekking paths, we took some pretty good pictures from such high-point lookouts.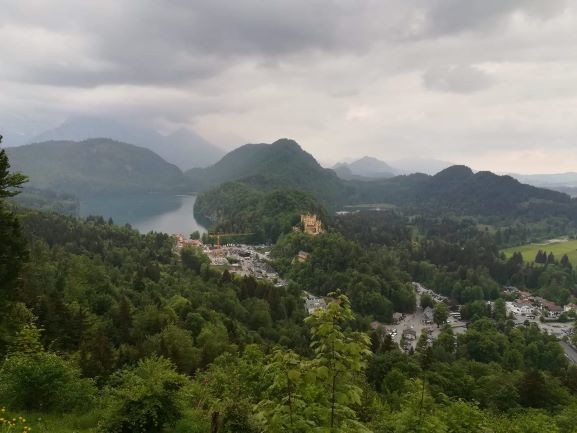 Scenery from a higher viewpoint spottingHohenschwangau castle
All of this was before rain poured heavily at around 4 pm, and so we were desperate to find shelter as we had to wait for the shuttle bus to bring us down. This was the least favorite part of the day. We were prepared with umbrellas and coats, but it rained for about one hour, and obviously each bus that would come uphill would get jammed right away, as there were so many tourists waiting as well…
Finally, back to the starting point, with the rain slowing down, we took the time we had left to go to a cute traditional coffee house/ restaurant. There we drank hot chocolate and cappuccinos and shared an Apfelstrüdel. It was a warm and cosy, and simply the perfect way to end our afternoon before heading back to Munich.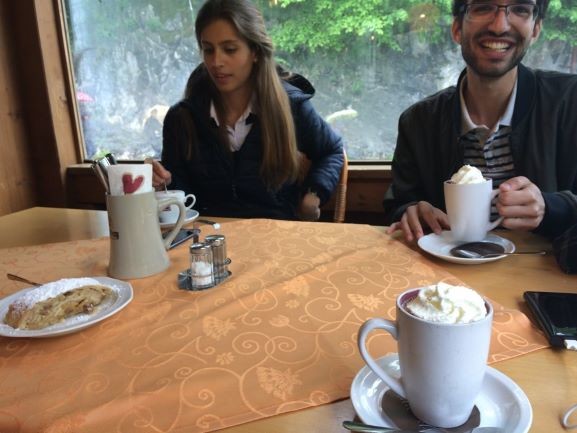 Super yammy hot chocolate, cappuccino and Apfelstrüdel afternoon snack, as we much needed!
To sum up, this one-day visit to the Bavarian Castles was definitely worth it! It was a day full of walking, trekking, sightseeing and overall, fun. The weather was not in our favor – you never know in Germany - but we managed to get the best out of it and, according to our phones, we walked 16 km in total.
Considering we did this trip on a Saturday in May, the crowds were expected, but it did not stop us from enjoying this fairytale village.
A note for the future is that we should get tickets for the castles in advance and maybevisit Schwangau in the summertime to avoid the troublesomeness of rain. I would also say that with good weather, a whole weekend trip - there are several options for local accommodation- is better in order have enough time to visit the castles inside and explore all the viewpoints outside.
Despite all possible inconveniences, Nature and those wonderful constructions are perfectly aligned in this magical place, providing visitors with a peaceful, and simultaneously astonishing, experience, onethat we will be fondly remember.
We returned to our friend's dorm a bit exhausted but very happy and prepped a nice homey meal to get us ready for the last day in Bavaria … Next on this journey, of modern Munich!
---
Photo gallery
---
---
Content available in other languages
Want to have your own Erasmus blog?
If you are experiencing living abroad, you're an avid traveller or want to promote the city where you live... create your own blog and share your adventures!
I want to create my Erasmus blog! →