My Experience at IULM University in Milan
Facilities

6 / 10 points

Quality of the college

10 / 10 points

Is it easy to pass?

10 / 10 points

Activities

8 / 10 points

Tuition fees

4 / 10 points

Faculty

10 / 10 points
---
In this post I will describe my experience at the IULM Open University of Languages and Communication in Milan. My student journey in this university started here in the academic year 2012/13 and will end in March 2016 when I will graduate.
IULM in General
If one day you plan to apply to IULM, first and foremost you'll have to consider the fairly elevated course fees as it is a private university. The study courses offered by the departments are mostly based on communication, foreign languages and media. The 3-year bachelor course that I took was in interpretation and communication, which is aimed at qualifying students as interpreters or translators. In order to apply you just have to do so online on the university website and pay the first fee charge; they don't require any kind of admission exam. I would recommend to future IULM students to apply as soon as the courses become open as the degrees have a limited number of students, so you could risk not being accepted if all places become filled up immediately. For the department that I chose, it is required to sit an assessment test before the classes start - in any case, it does not stop you from being admitted. During the first few weeks, each student gets assigned a professor that they can turn to whenever in need of help.
One thing that I admire about IULM is their organisation of various events that take place during the whole year and include prominent professional figures such as writers, translators etc in their guest list. During these fascinating events they speak to students and in most cases they take place in the main lecture hall in the university.
For IULM students it is also possible to take part in sports activities such as the football tournament, or in cultural activities such as the theatre lab. However, I can't share my personal opinion on this subject as I never managed to participate in them myself.
How to reach the University
IULM is situated in the southern area of Milan; to be exact near the "Romolo" railway station and metro. Unfortunately it's not in the city centre like the other universities, but it's however easy to reach via the "Romolo" stop on the green M2 metro line. Once you pass the suburbs, you just have to follow the signs on the station's walls to reach the exit, from which you arrive immediately at the university. As you reach the street level, you will see the university building that rises over the horizon and you won't miss it.
If, like me, you have to attend some classes in the Carlo Bo campus for linguists (only for students in the interpretation department), the route is a little bit longer. It would be quite difficult to explain in this paragraph how to reach it by foot, but the university offers a shuttlebus service for the students that leaves every morning from the Romolo station and reaches Carlo Bo in around five minutes.
The Campus and its Structure
I must admit that the IULM campus is not the biggest of all universities in Milan. However, this could be considered a positive as all university buildings (the canteen, library, book shop and student accommodation) are situated in the same area and thus are easily reachable between themselves. The university has eight buildings: six of these are numbered. The IULM 1 is the main building and represents the whole university campus - it is here that I sat most of my exams and where I had most of my lessons. The building has six floors which are accessible by lift or escalator. The lecture halls are all amazing! As it's a fairly new university, the whole building is well-designed both inside and outside. Here's one picture of the IULM 1 building from outside building 4: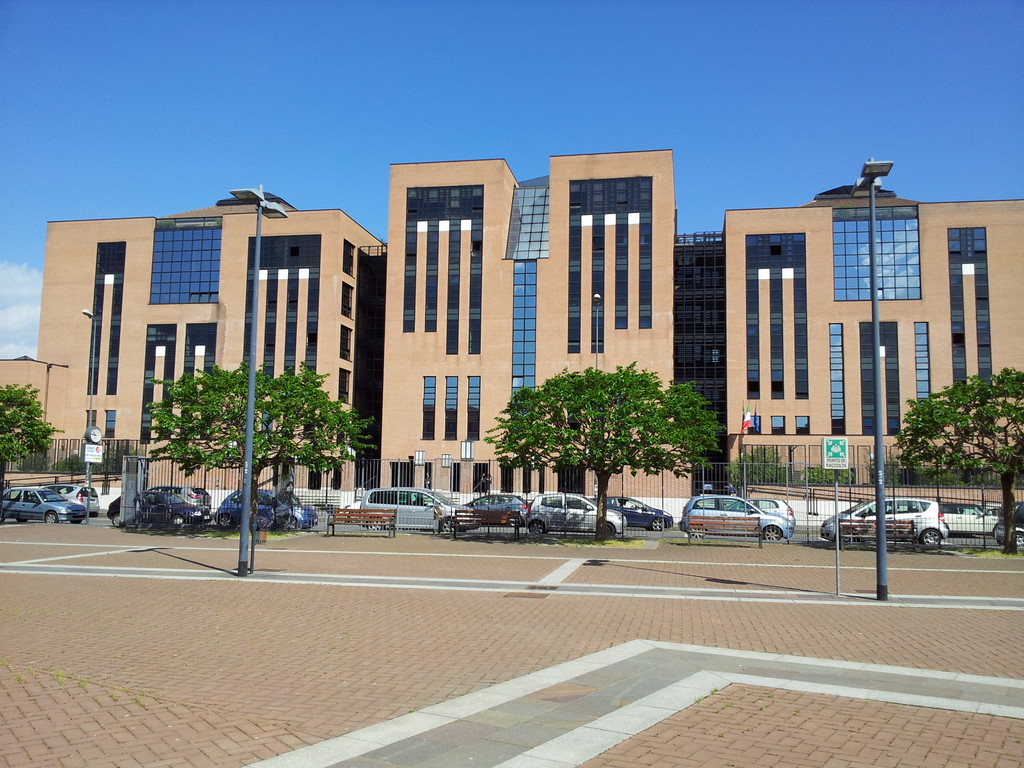 In the picture below, here's a glimpse of the campus during a February afternoon. Going from left: IULM 2, IULM 1 and IULM 6 (Disclaimer: I am the author of the picture, if you happen to also find it on Wikipedia. To clarify, this is the link to my page:https://wiki/User:DaveM93 e questo è il linkdell'immagine: https://commons.wikimedia.org/wiki/):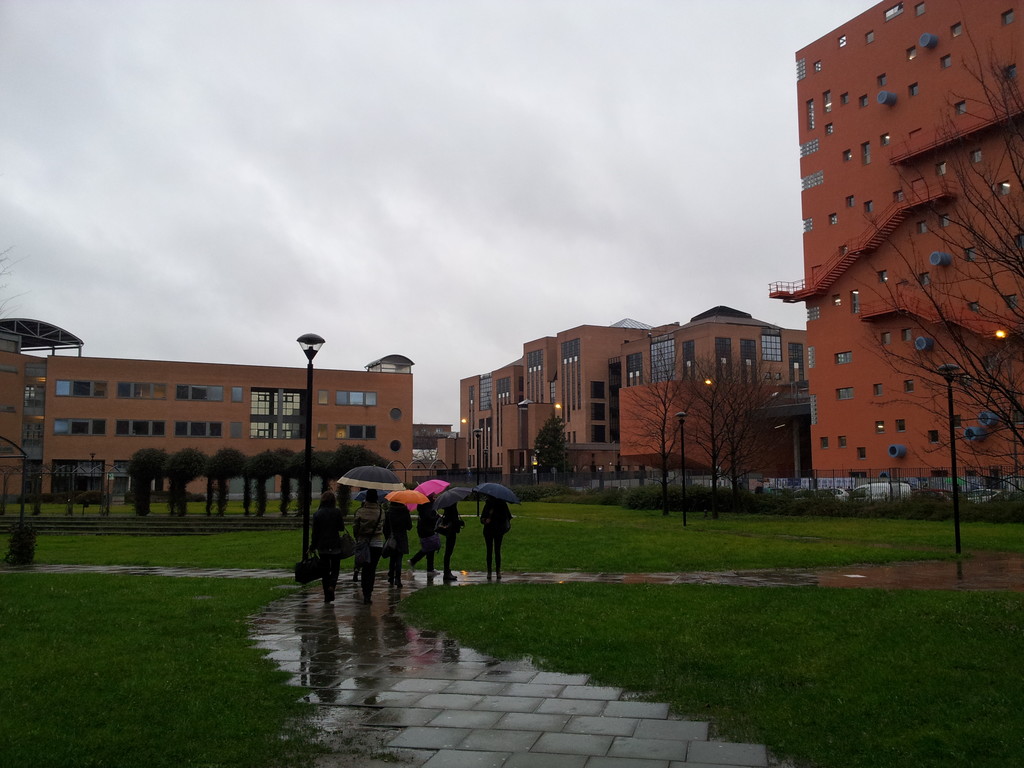 The following picture shows the IULM Residence, which is the student accommodation building: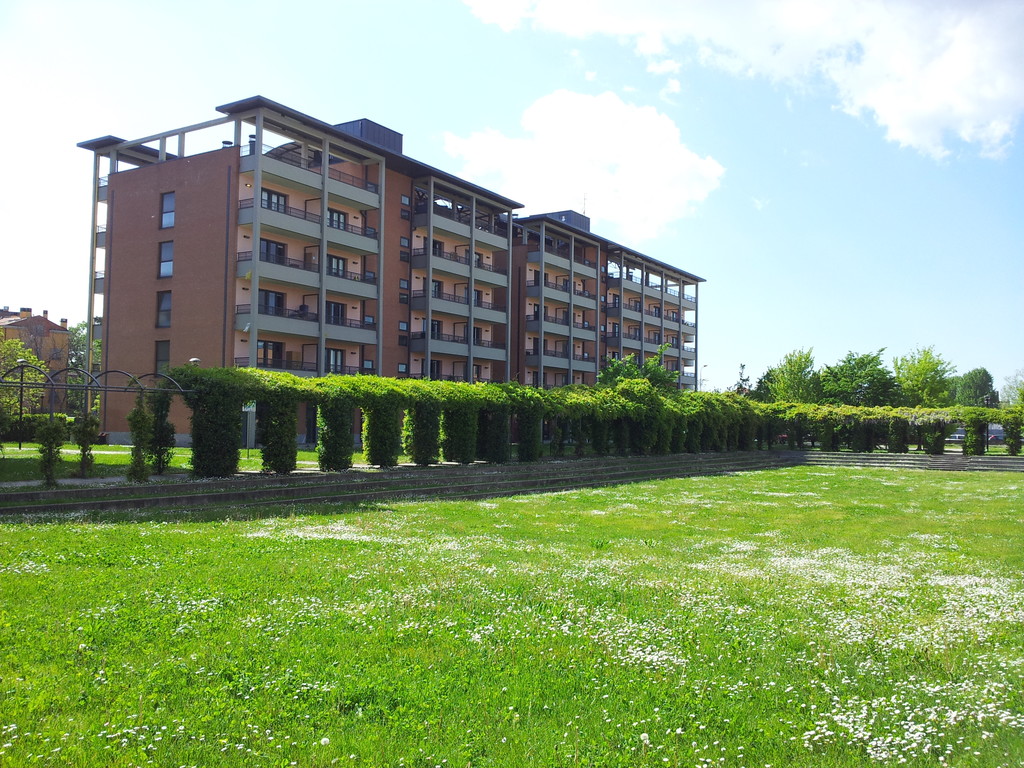 The Library
From the various buildings and services offered in IULM 1 I'd like to state that in the library I have only ever had extremely positive experiences. I have taken advantage of their services many times over the years, borrowing material that I needed for my studies and looking at previous dissertations of past students from my course. Due to the extensive collections that are offered by the library, I always found what I was looking for and in some cases I could even borrow books for more than a month. From the library you can also access the study room, which has a number of very comfortable study spots, complete with good lighting and wall sockets, where you can spend whole afternoons studying. The only negative thing that I found was that very often and especially during the lunch hour, many students did not follow the university's rules and chatted loudly or even started eating at the study desks.
Canteen Service
The university canteen is found in IULM 6, which was opened just this year. On this occasion I do have one criticism: considering it's a university canteen, the meal costs are too high and it is not good value for the portion you get. In my opinion, the service was much superior before the canteen was moved to IULM 6. On the other hand, the university offers two other places where you can eat: the first, where many students go on a daily basis, is a café on the ground floor in IULM 1. Here you can have both breakfast and lunch. The second one is the literary café which is next to the IULM Residence. If you want to have lunch in a quiet spot without being crammed between the crowds or queueing for ages, this is the perfect place.
The Lectures
I was completely satisfied with the lectures over the years at IULM (I was only here for the first two years of lectures as during the third I was in Bordeaux on an Erasmus exchange). Before describing the courses, I'd like to specify that I will only refer to those in my department (interpretation and communication). If you decide to apply to IULM for this bachelor, there will be two foreign languages to take: English is mandatory for all and the second language is a choice between French, Spanish and German (I chose French). From second year there's also a possibility to attend a course on Russian language and culture or on Scandinavian language and culture, with a focus on the Danish language. When there are enough students who want to take part, there are also short courses in Arabic and Chinese.
The teaching staff are made up of qualified teachers and all are experts in their sector. All the teachers of foreign languages are interpreters or translators from whom you can directly learn the techniques of such a profession. Many of them are native speakers, which is fundamental for us students when learning a foreign language.
The foreign language tutorials are all obligatory and are held in the Carlo Bo school of linguistics. Each language course is made up of these classes: active translation (written translation from Italian to a foreign language), passive translation (from the foreign language into Italian), spoken mediation, consecutive interpretation and grammar. In order to achieve an excellent teacher-student ratio during the classes, the university generally allows only up to 25 students in each class. This was a very positive aspect that I admired during my studies: in this way, following the professor becomes very easy. The language tutorials are considered the most difficult part of the course - all other lectures in Italian literature, anthropology, modern history etc. do not require mandatory attendance and are all held in IULM 1's lecture halls. Here we were not divided into smaller groups like in the tutorials mentioned above, but we are all in large lecture halls of more than 100 students.
Conclusion
All in all, I had a positive experience at IULM. From an educational point of view, I learnt many important things during these three years, both in terms of my studies and in terms of general knowledge that goes beyond foreign languages. Additionally, I met many great friends and it was a pleasure to study with them during these years. To wrap up this amazing experience, I chose to publish this sendoff picture taken in December 2013 during a class party just before the Christmas holidays: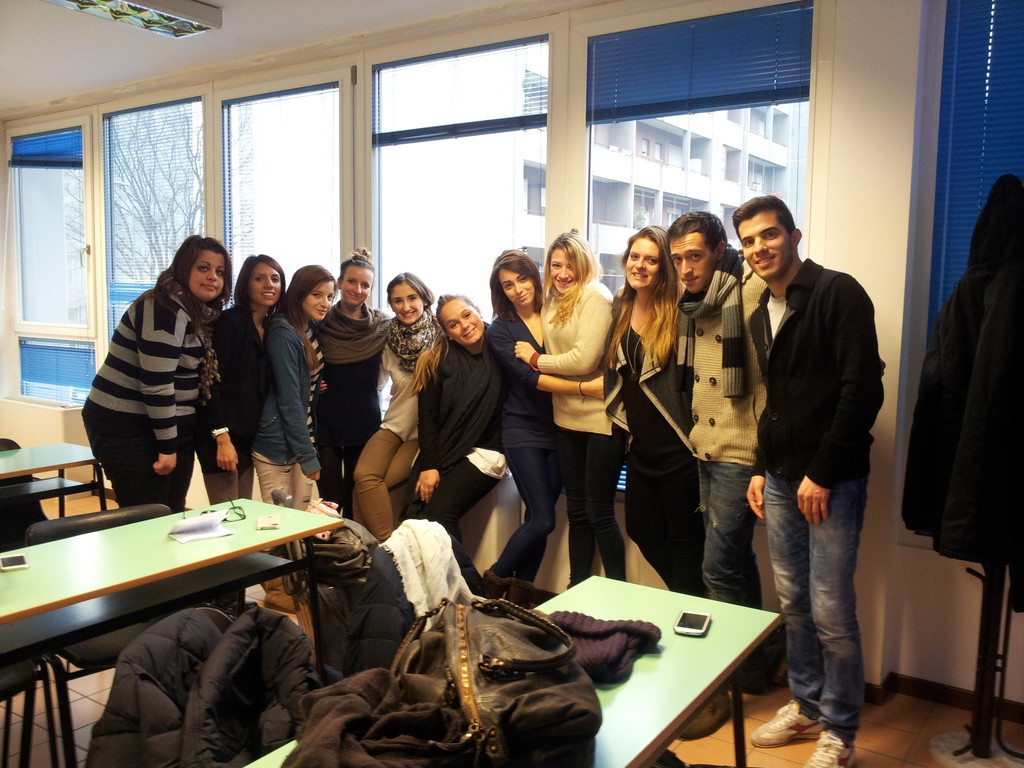 ---
Photo gallery
---
---
Content available in other languages
Share your Erasmus Experience in IULM University of Languages and Communication!
If you know IULM University of Languages and Communication as native, traveler or as exchange student... share your opinion on IULM University of Languages and Communication! Rate different characteristics and share your experience.
Add experience →